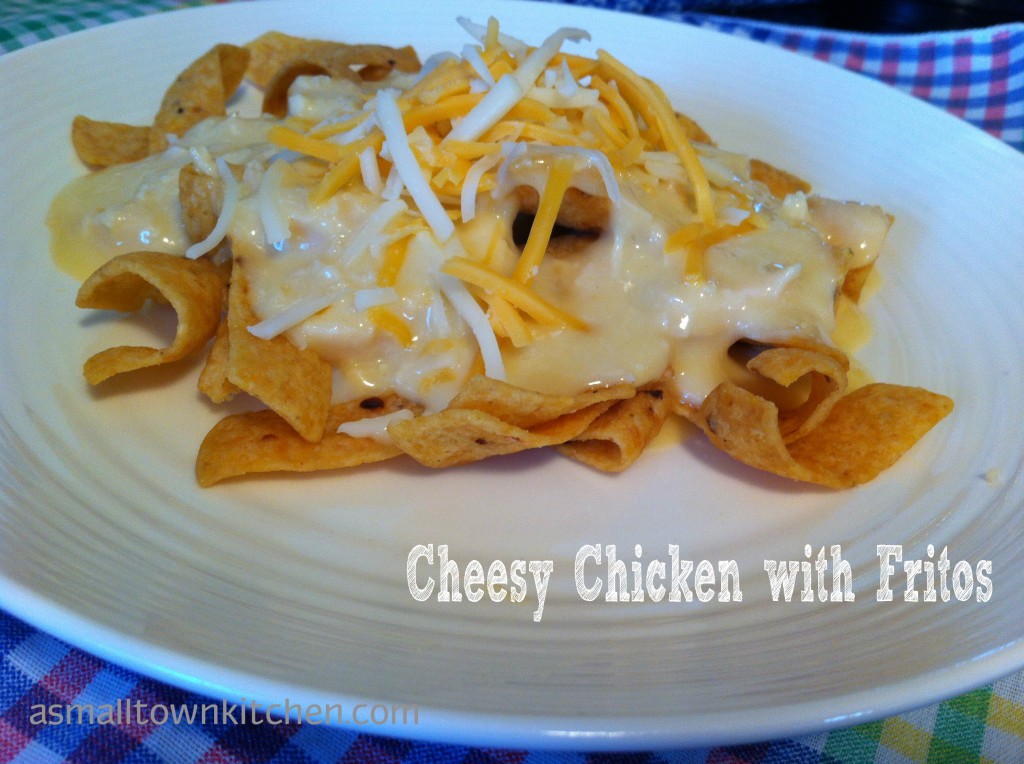 I do not know exactly why this concoction taste so good.
It may be the chickeny, cheesy, creamy sauce, full of chunks of chicken.
It could be the salty, crunchy, corny taste of the fritos.
Maybe, it is when you mix the two together, that makes you want to keep scooping this fun (weird) combination into your mouth until your plate is clean.
Who knows? My sister Niener Wiener, invented this recipe years ago…way back…when I was in college (dust the cobwebs off my diploma). Or, at least that is when I first remember eating it.
Of course, I made the mistake in making this for the Oldest Daughter years ago. Now, she was not only was craving Apple Crisp, but was also craving this easy to make and easy to eat chicken recipe. Oldest Daughter even stopped at the store and the bought fritos.
What was a mom to do, especially after a rather long day chasing kids at school, when I was given the option of making such a simple meal for dinner?
Well, I did what other tired  (overworked) moms would do and made it.
Anywho, I thought I would share the recipe with you!
I know it does not contain all the food groups. You will notice, you do not see any green veggie on my plate, though I did make a salad full of cherry tomatoes with fat free dressing to go with it. Does that help?
Just don't look at the back of the frito bag (32 original chips for 160 calories), just eat it and enjoy it.
You just have to like chickeny, cheesy, creamy, full of chunks of chicken poured over crunchy, corny, tasty fritos.
Seriously, who doesn't.
Here is what you need.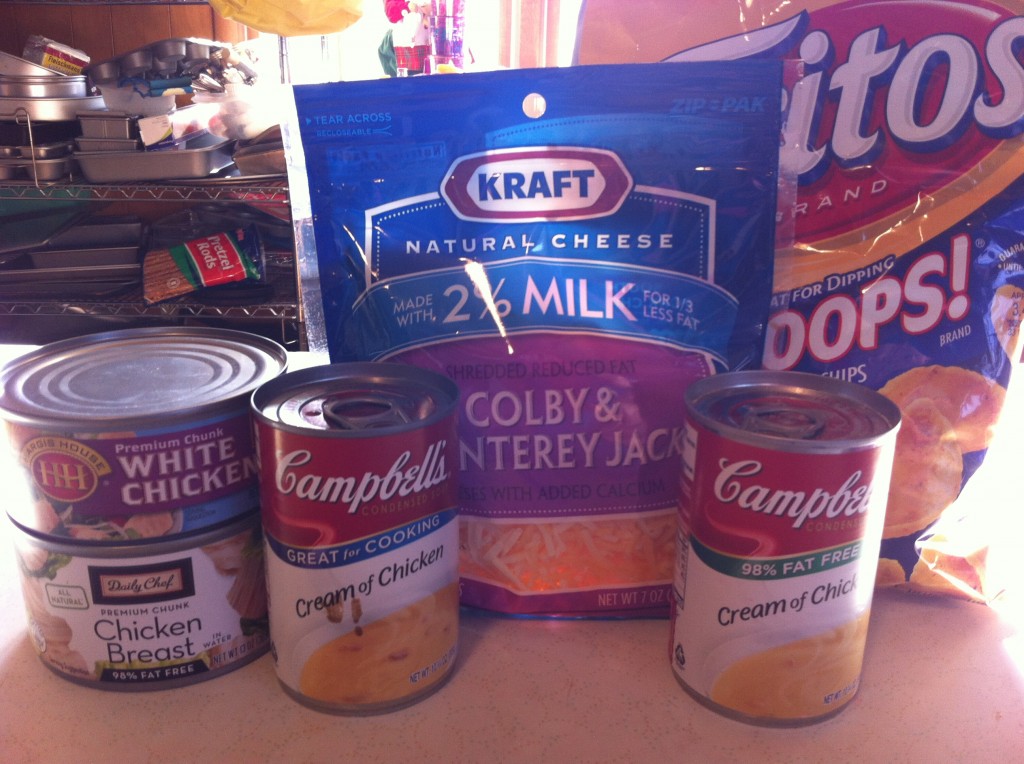 You will need two cans of white chicken, 2 cans of cream of chicken soup, 2 cups of either  shredded cheddar cheese (my favorite) or a combination of cheese (that is what I used cause it was in the fridge), milk and of course, fritos.
Drain the water off the chicken, and put the chicken in a medium sauce pan. Add in the cream of chicken soup.
Pour in the milk, and the sprinkle the cheese on top.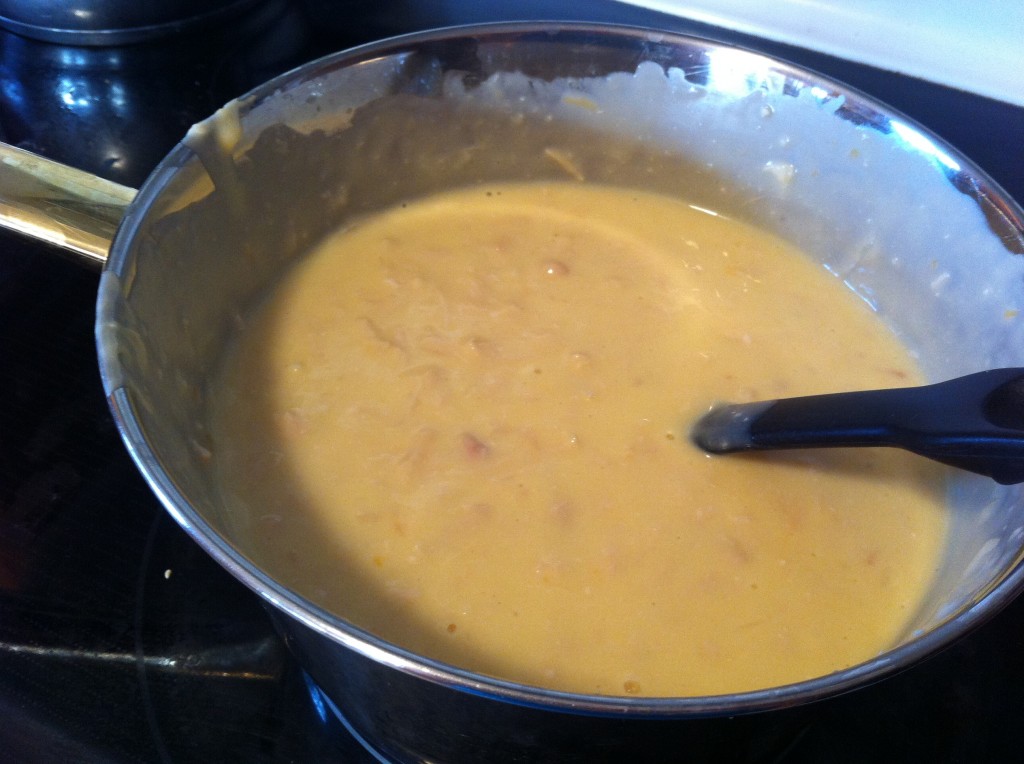 Slowly heat on medium heat, stirring constantly, until the cheese melts and the mixture starts to bubble. I break my big pieces of chicken apart with my spoon as I stir it.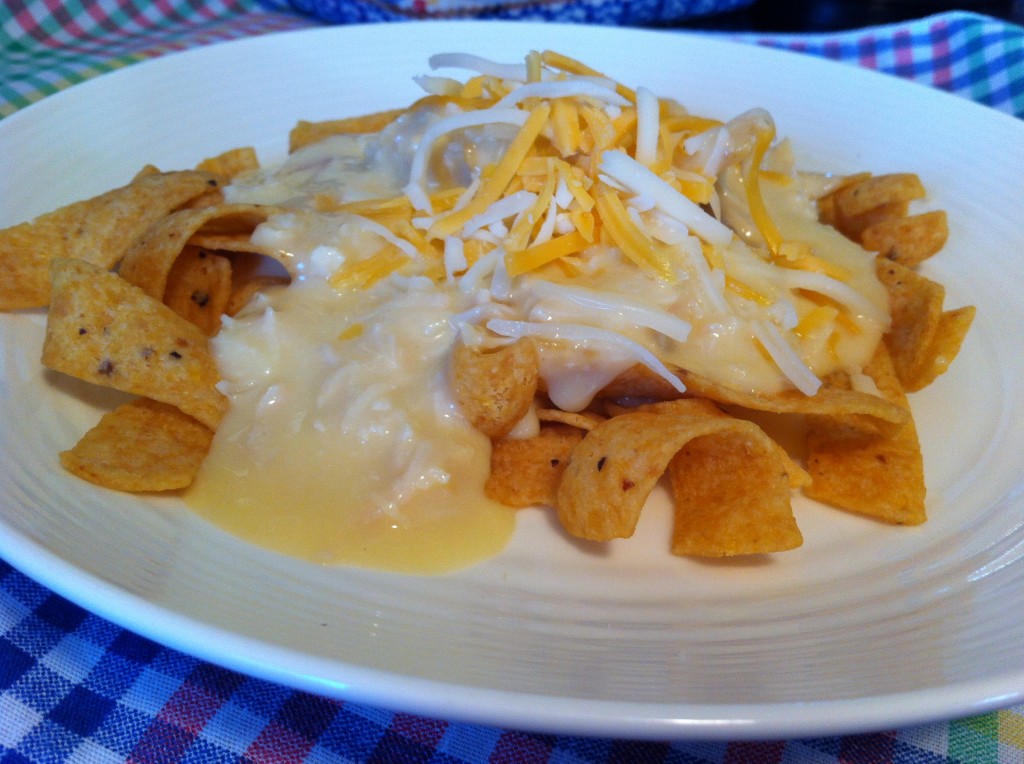 Now, all you have to do get a get a handful of fritos, put them on a plate and pour some Cheesy Chicken over them.
Oh…and don't forget to grab your fork. : )
Here is your recipe:
Cheesy Chicken with Fritos
Recipe from Sister Neiner Wiener
Ingredients:
2–13 ounce cans of white chunk chicken breast
2–10 ounce cans of cream of chicken soup
1 1/4 cup of milk
2 cups of shredded cheddar cheese
Bag of Fritos
Directions:
Drain the water off of the chicken. Put the chicken, soup, milk and cheese into a medium sauce pan. Heat on medium, stirring continuously, until the cheese melts and the mixture is bubbly.
Serve over fritos or another chip of your choice.
Enjoy!
Becky
Other Post you may enjoy reading.
Broccoli Rice Casserole                     Messy Marvins                               Chicken Pot Pie