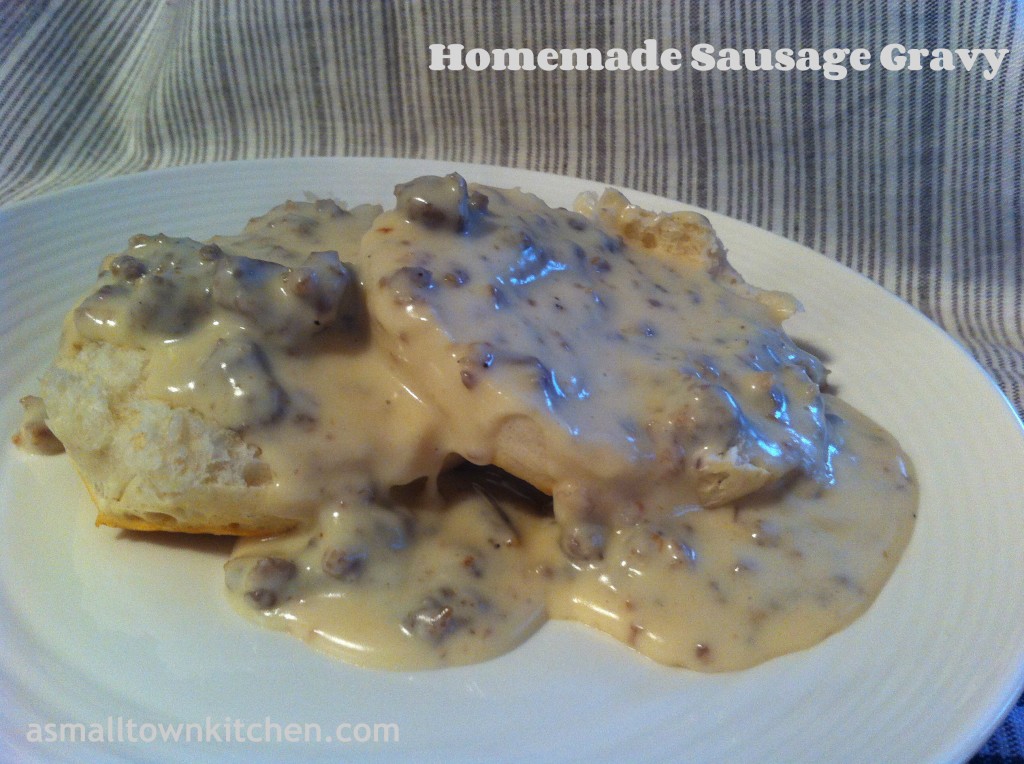 Brrr it is cold outside. Mid Missouri woke up to snow on the ground and snow blowing off the roof tops. Fortunately, we went to the store  yesterday to stock up on essentials. So, we are all snug as a bug, with plenty of food in the cabinets to feed us well, until this artic air moves away from us in a few days.
In the meantime, I am cooking.
Oldest daughter who does not cook, has been hinting at craving homemade sausage gravy all week, along with potato soup. The nerve of her ; ). She even went to the grocery store to buy the ingredients I needed to make them.
She is pushy too, isn't she? ; )
Really, I don't mind. What better way to spend a cold, wintery day, than making warm yummy goodness in the kitchen? (besides watching classic movies all day with a cup of hot tea.) So, when I went to bed last night, I knew that I would be getting up and making gravy for all the young'uns here at the house. Oldest grandgirl, texted me this morning to see if I was awake. Then she came up to see if I was out of bed yet.
She is as pushy as her mom…: ).
I threw on some clothes and went to work in the kitchen. It no time at all the gravy was ready.
When oldest grandgirl tasted a little bit, she asked me if this was homemade gravy and I said, "yep." She told me she could tell the difference. The kiddos were swimming in happy gravy bliss this morning, eating gravy.
They are a little gravy crazy.
Me and my son the Super Hero, just ate biscuits with sausage and jelly. We are not big gravy eaters. I really do enjoy making gravy, and I do taste it to get it just the way I think it should taste. But, you won't see me with gravy on a biscuit too often. I think it is because I love jelly (I was using my homemade strawberry rhubarb jelly) on my biscuits better.
Anywho, I thought I would post my recipe for sausage gravy. I have been making this gravy for years, just like this. I make it when we camp out  and go on vacation too. I really do not measure anything, and just kind of throw it together. This morning I took the time to measure and write all the ingredients down just for you. Now, if you wake up to a blustery morning with snow and wind,  you can warm your family up with homemade sausage gravy. I cheated this morning and used canned biscuits. I know, I know, I wish I could have made some homemade biscuits. But, when you have to clean the kitchen, before, you cook, I did not have time to make everything from scratch. It did not stop anyone from eating and enjoying breakfast.
I hope you enjoy this recipe too.
Here is what you need to make my Homemade Sausage Gravy.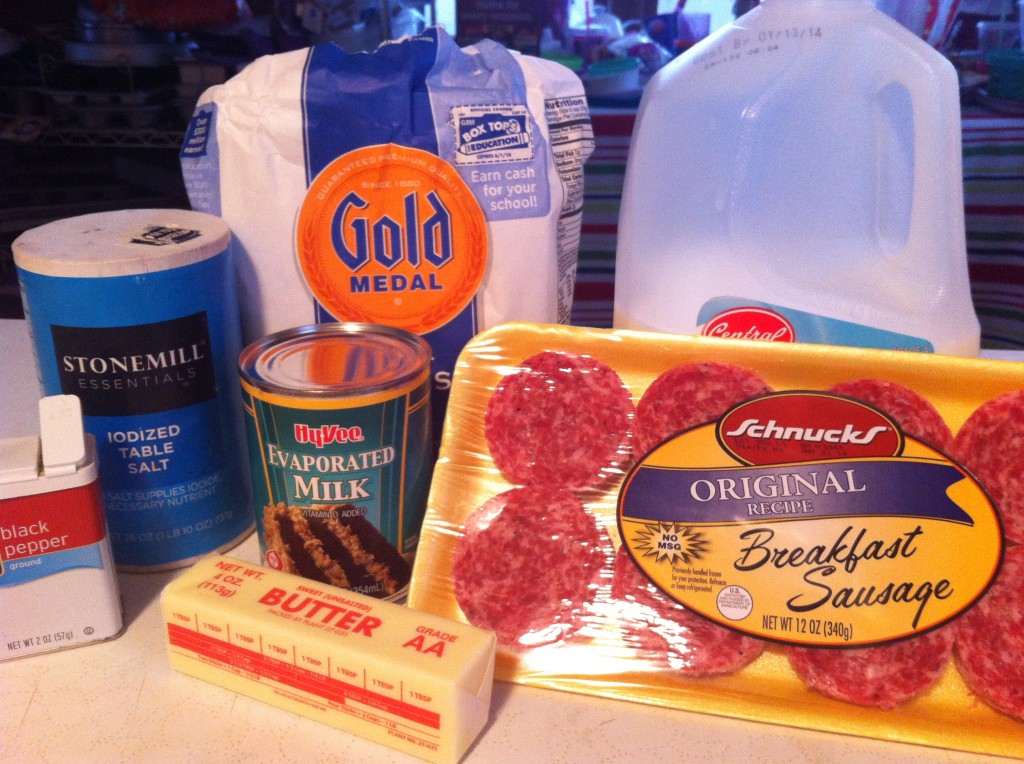 I guess I need to talk about my choice of sausage. I like a sausage that does not have a bunch of fat it in. So, I generally choose sausage patties cause I can see what the sausage looks like. I know that you are suppose to have sausage grease to add the flour too, but I use butter instead for my fat.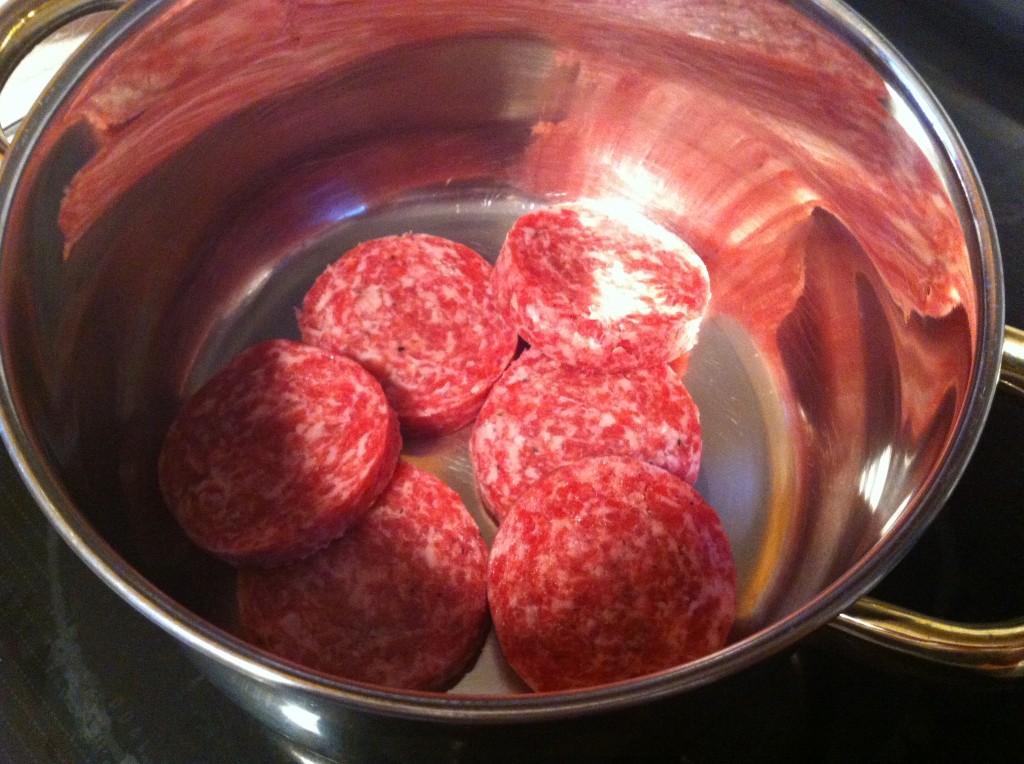 The first thing I do is fry up the sausage. I know it seems strange to break apart the sausage patties, but this way you do not have a bunch of gristley fat in your gravy. Yuck.
When you fry the sausage up, break the patties into small bite size pieces. Fry until all the pink is gone. You will not have much or any fat from your sausage. Now, I add 4 tablespoons of butter to replace the fat.
Stir the butter with the sausage until the butter melts. Next, add in four tablespoons of flour.
Stir in the flour and cook for one minute. This gets the flour taste all cooked out. Now, add in the can of evaporated milk.
Stir and cook the gravy until it becomes thick. The gravy needs to boil to get to its full thickness.
Now it is time to add some milk. Depending on thick  you like your gravy, that is how much milk you add to it. I added an additional 3/4 of a cup of milk. Then I cooked the gravy for a little longer and tasted it. Lastly, you salt and pepper to taste. Sometimes the sausage can be salty, so be careful how much salt you add.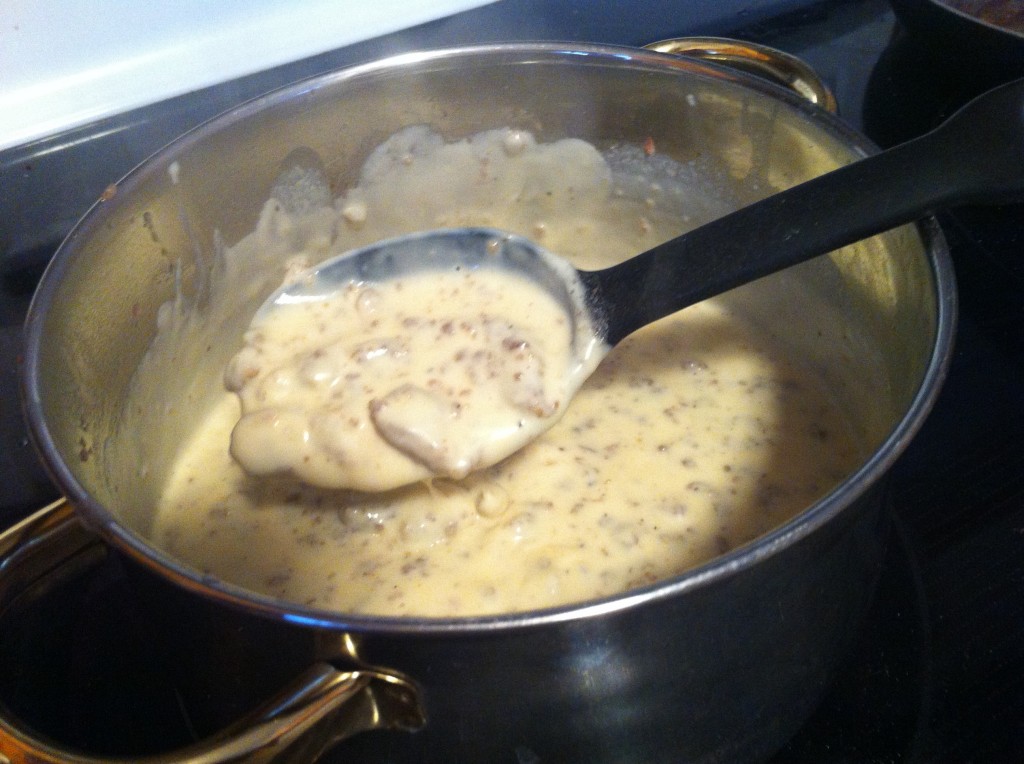 Walla……That is all there is to making homemade gravy.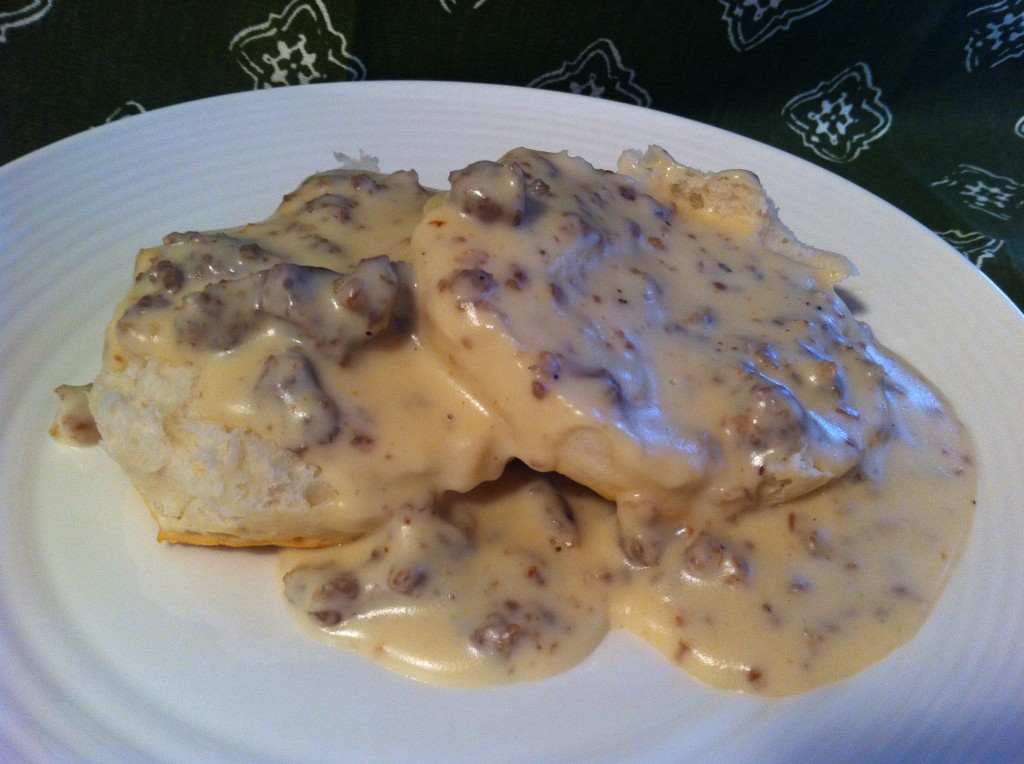 Pour some hot gravy over some biscuits and dig in!
Here is your recipe.
Homemade Sausage Gravy
Ingredients:
8 ounces lean sausage
1 – 12 ounce can evaporated milk
4 tablespoons butter or margarine (I used butter)
4 tablespoons flour
3/4 cup milk
Salt and pepper to taste
Directions:
Brown the sausage and break into small pieces. Brown until all the pink is gone. Add in butter and stir until the butter is melted. Add in the flour. Stir the butter and sausage with the flour to coat all the pieces. Cook the flour with the sausage and butter for one minute to remove the raw flour taste. Slowly pour in the can of evaporated milk. Stir continuous until the gravy comes to a boil. It will be thick. Add enough milk to thin to your desired thickness of gravy. (I used 3/4 cup of milk). Continue cooking and stirring until the gravy comes to a boil. The gravy will not reach its full thickness until it comes to a boil.  Add salt and pepper to taste.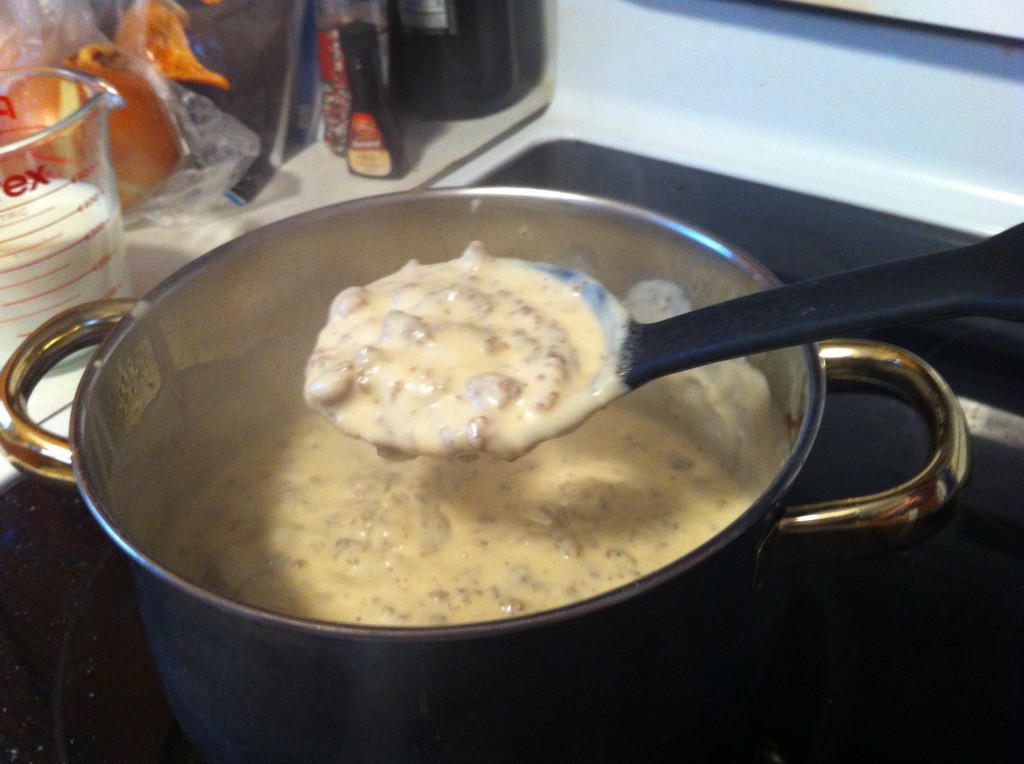 All I was left with this morning was a empty pot of gravy.
Stay warm today.
Becky
You might also like these recipes:
Baking Powder Biscuits                          Strawberry Quick Bread                                Banana Bread