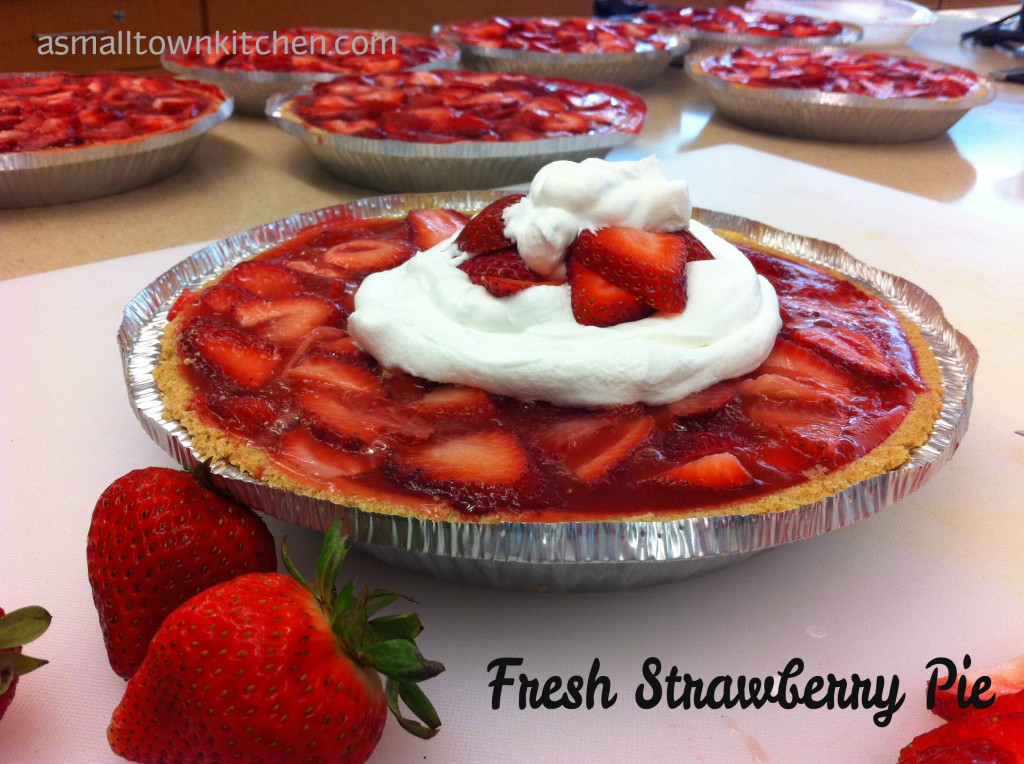 Whew, I am so sorry it has taken me a couple of weeks to finally post a new recipe!
These last two weeks have been packed with all kinds of teaching summer school fun, that finally, just ended last week.
So, now I can officially say that I am on summer school break.
I can finally sing the song, "Schools Out for Summer!"
I am SO behind in posting so many amazing recipes that I have made over the last couple of months, that it will take me several days to get them posted.
Anywho, I wanted to start off with this super easy Fresh Strawberry Pie.
At the end of the regular school year, I wanted to make treats for all the secretaries, guidance department, media center, custodians and the principals. This school year has been great, but a bit of a challenge opening up a brand new school. The end of the  school year was a great time to send treats and to celebrate that we survived ; ). There were just too many staff that I wanted to make treats for individually, that I just did not have enough time in the day to make it happen. So, I decided to make a pie or two for each department.
Am I a genius or what?
Even though Company and I did not have any strawberries to speak of this year because of the un-cooperating weather, a local store had strawberries on sale at a great price. I found a simple but delicious fresh strawberry pie recipe out of a old cookbook that I bought at a flea market and I went to work (at school) making strawberry pies.
Seven pies altogether.
I know it is a tad past strawberry seasons, but I still see great prices at the stores on strawberries. If you are looking for a easy, fresh, delicious summer pie, try a go at this recipe.
Here is the step by step directions with photos: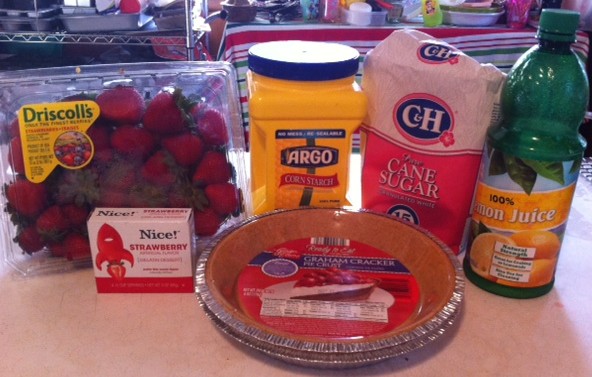 You will just need a few ingredients to make this simple but scrumptious pie.
In a sauce pan measure in the water and the corn starch.
Add the sugar and stir. Cook over medium, stirring to prevent lumps.
Bring the sugar and cornstarch mixture to a boil. Turn off the heat and the add the jello.
Add the lemon juice. Stir the jello and lemon juice in.
To speed up cooling the jello filling, I poured it into a bowl to cool. Find a volunteer to slice the strawberries. (this was Company's job haha)
Stir the jello mixture (just in case a film formed on top while cooling). Fill the pie plates with strawberries. (I have also used a BIG bowl and mixed the filling and strawberries together first and then put in the crust. Either way works.)
Pour equal amounts of the filling over the strawberries. Place the pies in the fridge for a least 4 hours to set up.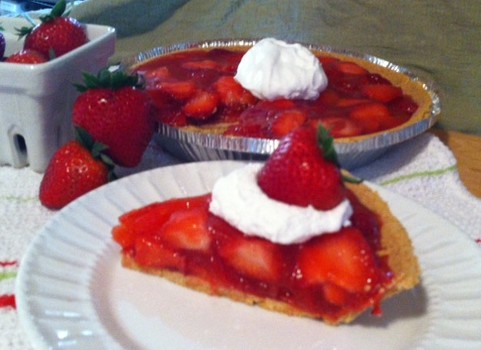 When it sets up, it slices up beautifully. Garnish with cool whip and sliced strawberries.
Before I give you the recipe, I just want to tell you a couple of details about the recipe changes I made to suit me. I used store bought graham cracker crust. The recipe will make enough filling for two small pies. I will be giving you the original recipe that will make one large 9 inch pie using a store bought pie crust. There you go! You can decide which size better fits your needs : ) or pie cravings.
Here is the recipe:
Fresh Strawberry Pie
Adapted from Old Cookbook
Ingredients:
1 quart (4 cups) washed, stemmed and sliced strawberries
1 and 1/2 cup sugar
1 (3 ounce) pkg. strawberry gelatin
1 and 1/2 cup water
1 tablespoon lemon juice
1/4 cup cornstarch
1 baked 9 in pie shell (or 2 small store bought graham cracker crust)
Cool Whip for topping
Directions:
In a medium sauce pan, combine the water, sugar and cornstarch. Heat and stir until thick and clear. Remove from the heat and stir in the gelatin and the lemon juice. Let the gelatin cool.
In a large bowl, place the sliced strawberries. When the gelatin cools, pour the gelatin over the strawberries and combine. Make sure the gelatin is evenly combined with the strawberries.
Pour the strawberry filling into the prebaked pie shell, or into the graham cracker crust.
Put the pie/pies into the refrigerator to firm. This will take about 4 hours.
Decorate the top of the pie with cool whip and sliced strawberries if you want.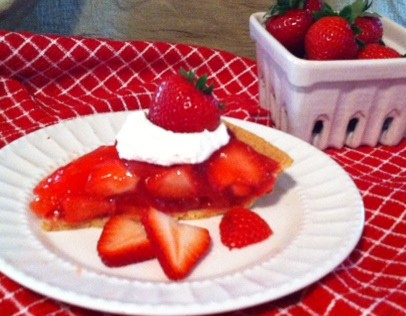 Enjoy the flavors of summer!
Becky
Other post you may enjoy reading:
Blackberry Cobbler                       Strawberry Rhubarb Crisp           Broccoli Rice Casserole