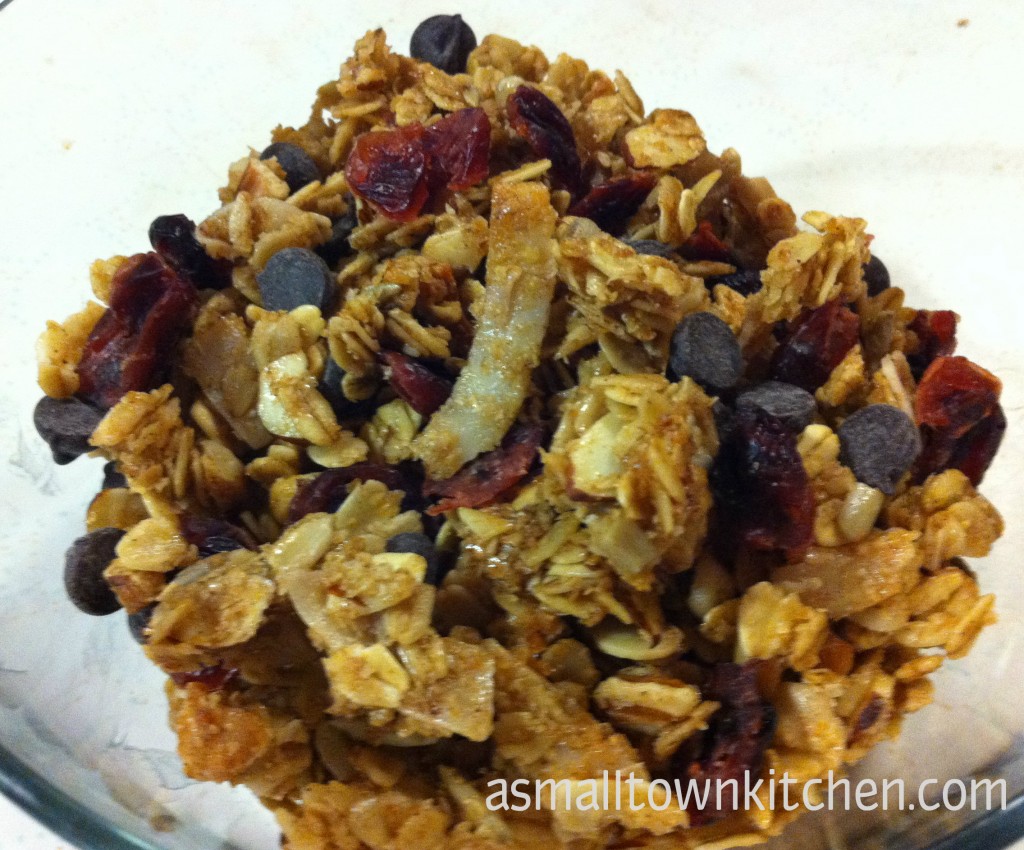 I can always tell when I have bought too many great holiday cooking magazines.
I am on recipe overload.
It happens to me this time every year.
I am looking for yummy recipes to make for my annual goodie trays I make each year as gifts. I like to change it up a bit and make at least one new tasty treat to add each year . When I was looking at bread, candy and pies recipes, I kept running across granola recipes.
Who makes their own granola anyway?
When I ran across another granola recipe, and this one had cranberries and dark chocolate chips added in, I decided I might have to give it a try. I looked up several recipes and started comparing them. I had no clue you could make granola so many different ways. I decided to put two recipes together to make one that had the, "right goodie," combination I was looking for.
Buyer beware. Homemade granola is not cheap to make. My biggest expense was the honey and maple syrup. I went to the local natural health food store to purchase most of my items. I spent almost $33. Did you faint? Do you need some smelling salts???? The cost sounds worse than it really is. I only used 1/4 cup of the maple syrup that I paid a little over $10 for. I used 1 cup of the honey I paid almost $13 for. I have enough left over for 3 more batches. I also have enough of everything else for one more batch. BUT, I already had most of the nuts at home in the freezer. So, the cost does not include the almonds, pecans and walnuts or even the chocolate chips.
I can tell you, my oldest daughter who does not cook, loved it. My oldest grand girl loved it. I took a mason jar full of granola to work today for a gift because it just looks so good. It also makes at least 12 cups of granola. Enough for you to hide a couple of cups to keep all for yourself.
Are you tempted to make some yet?
Does eating warm, fresh granola right out the oven convince you?
Look how easy it is, and maybe you will answer yes. Here is how you make it.
In a large bowl or container (I had to switch to a bigger one) measure out the rolled oats, sunflower seeds, coconut, wheat germ and oat bran. Next add the combination of nuts you want to use. I used a cup each of almonds, pecans and walnuts. You could use all one kind of nut if you want to.
In a sauce pan, measure out the brown sugar, honey, maple syrup, salt, vanilla and cinnamon.
Pour oil in the sauce pan and stir. Bring to a complete boil.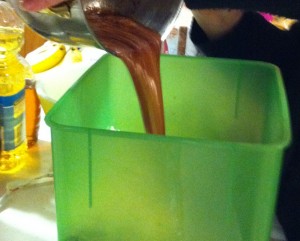 Pour the hot, bubbly mixture over the oat mixture. Stir, Stir, Stir until all the little oat pieces are coated.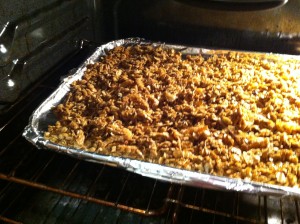 Take half of the granola mixture and spread out on a large foil lined baking sheet. Bake at 300 degrees for 10 minutes and stir. Bake another 10 minutes and stir and bake an additional 2 to 3 minutes dependant on how dark you want it. Be careful, right now, you can over cook this really easily. The oats will harded when they cool off.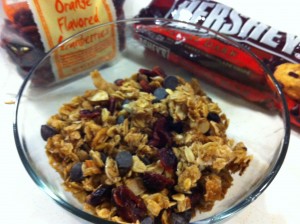 When the granola cools completely add some raisins or cranberries (or any other sweetened dried fruit) and some chocolate chips. This time I used dark chocolate chips. You can also leave these out. Have fun and just eat it how you like it.
Have I convinced you to make some yet??? or do you think I am a nut and a flake…..
Homemade Granola Recipe
Ingredients:
8 cups of rolled oats
1 1/2 cups of wheat germ
1 1/2 cup oat bran
1 1/2 cup fancy shredded dried coconut
1 cup sunflower seeds
1 cup finely chopped almonds
1 cup finely chopped walnuts
1 cup finely chopped pecans
1 1/2 teaspoon salt
1/2 cup brown sugar
1/4 cup maple syrup
3/4 cup honey
1 cup vegetable oil
2 tablespoons cinnamon
2 tablespoons vanilla
2 cups sweetened dried cranberries or raisins
1 to 2  package of dark chocolate chips
Directioins:
In a large container mix together oats, wheat germ, oat bran, coconut, sunflower seeds, pecans, walnuts and almonds.
In a sauce pan measure in, brown sugar, honey, maple syrup, cinnamon, salt, vanilla and oil. Bring to a full boil stirring constantly.
Pour over the oat mixture and stir together.
Preheat oven to 300 degrees.
In a large foil lined cookie sheet, spread half of the granola mixture out and bake for 20 to 25 mintues. Be sure and stir ever 10 minutes.
Do not overcook. Granola will harden when it cools.
Cool completely
Add cranberries and chocolate chips.
Enjoy!!
Becky