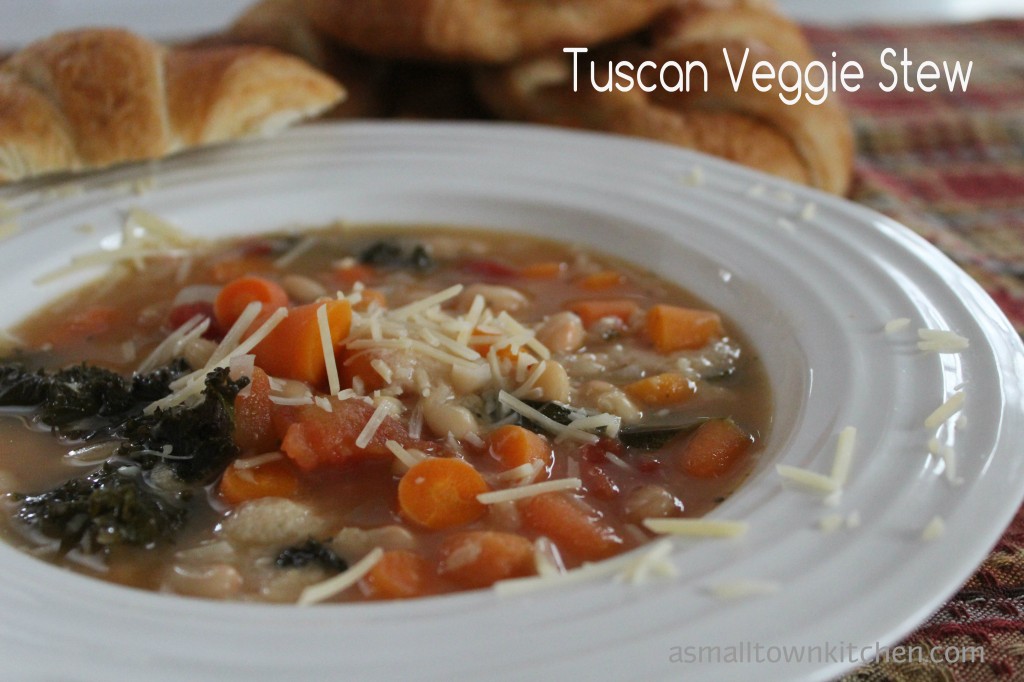 If you have been reading and following along with me on my recipe and garden PLUS chicken journey, you already know by now that I love soup!
AND, what better time to have soup than in the spring and summer.
No, I am not teasing you…honestly I am not.
I mean you have heard of soup and salad or soup and sandwich meal combinations, right?
If that soup just happens to be made from a medley of veggie goodness and we grow veggies in the spring and summer….that makes this soup pretty perfect for making a big batch now that spring has sprung.
In the spring and summers I do not crave those creamy soups that I do in the winter when there is snow outside and a snow day from school.
I prefer a broth and veggie laded soup that has a great flavor.
This one just happens to have kale in it. MMM…I just happen to be growing kale in my raised garden beds.
Ok, so maybe you are not a kale fan…you can put spinach in this soup instead of the kale….and I just happen to be growing that too.
See…I told you this soup was perfect : ).
I spied this recipe in my Mom the Princess's Good Housekeeping magazine a few months ago. I really wanted to make it because it had kale in it and Oldest daughter and I love kale. The  broth and veggie combination sounded like it went perfect together too. So, I was anxious to make this soup.  There was one little tiny thing I was hesitant about putting in the soup and that was the stale bread. Not because it might not taste good, but because I do not like soggy bread or crackers. I do like soggy bread so bad that I do not even dunk my cookies in milk.
Yes, I am weird.
I did follow the recipe and make it with the stale bread in it and it was fine, but next time I make it, I will be using gnocchi or a small pasta in the soup instead of the stale bread..
I forgot to mention that this soup also freezes well. I love to take soup I have made at home and froze to take to work for lunch.
MMMM soup in spring and summer….
Now, I just need a sandwich…preferable with bacon on it…lots of bacon, to go with my soup!
Hope you give this super simple delicious soup a try!
Here is what you need: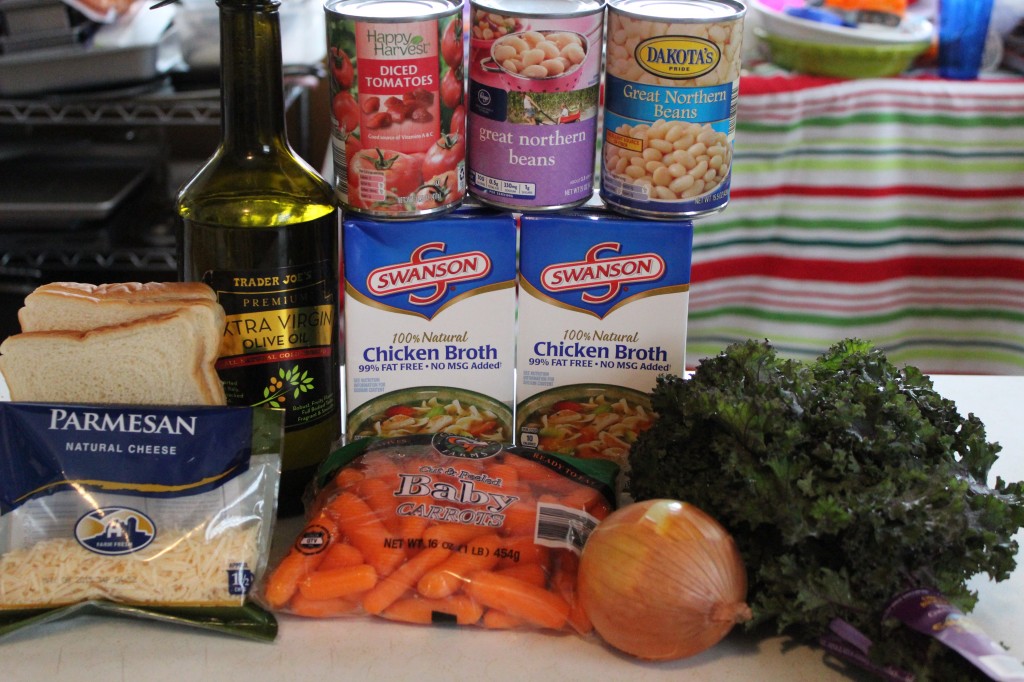 You will need some chicken broth, carrots, onion, kale, white beans, diced tomatoes, olive oil, parmesan cheese and some stale bread. Now…I did sneak in some roasted garlic flavoring in after I taste tested it. I love me some garlic!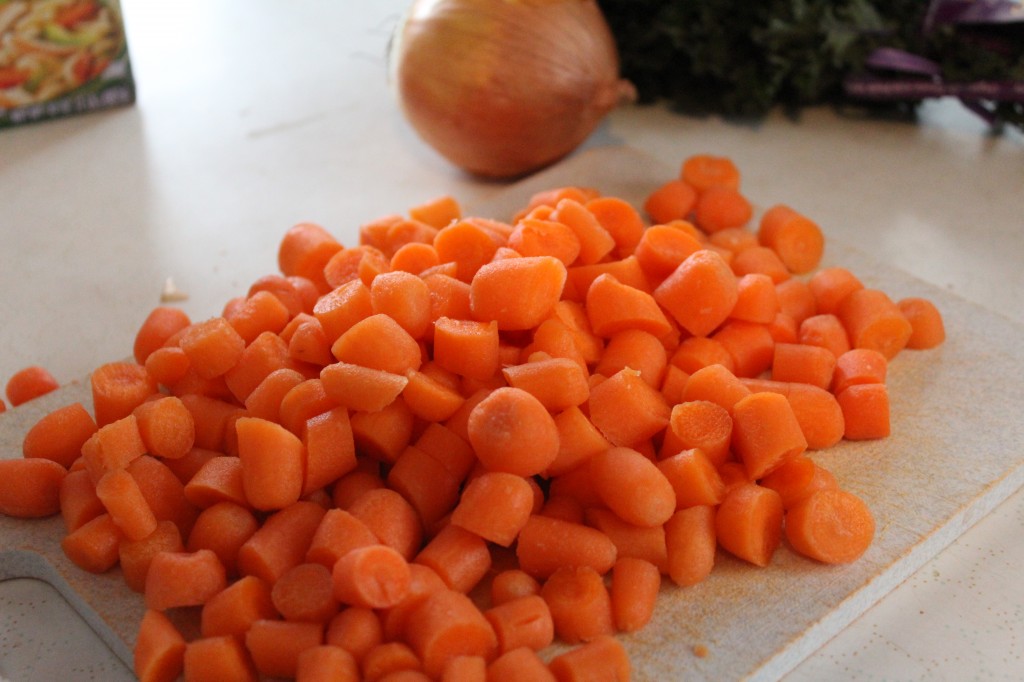 First thing you do is chop up the carrots.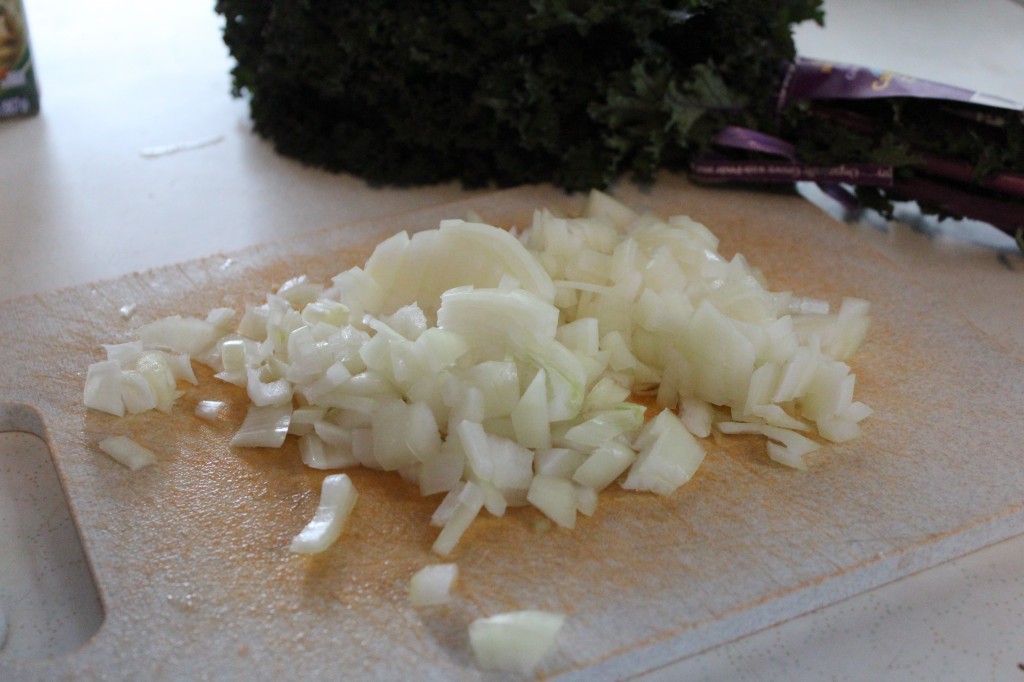 Now you dice up the onion.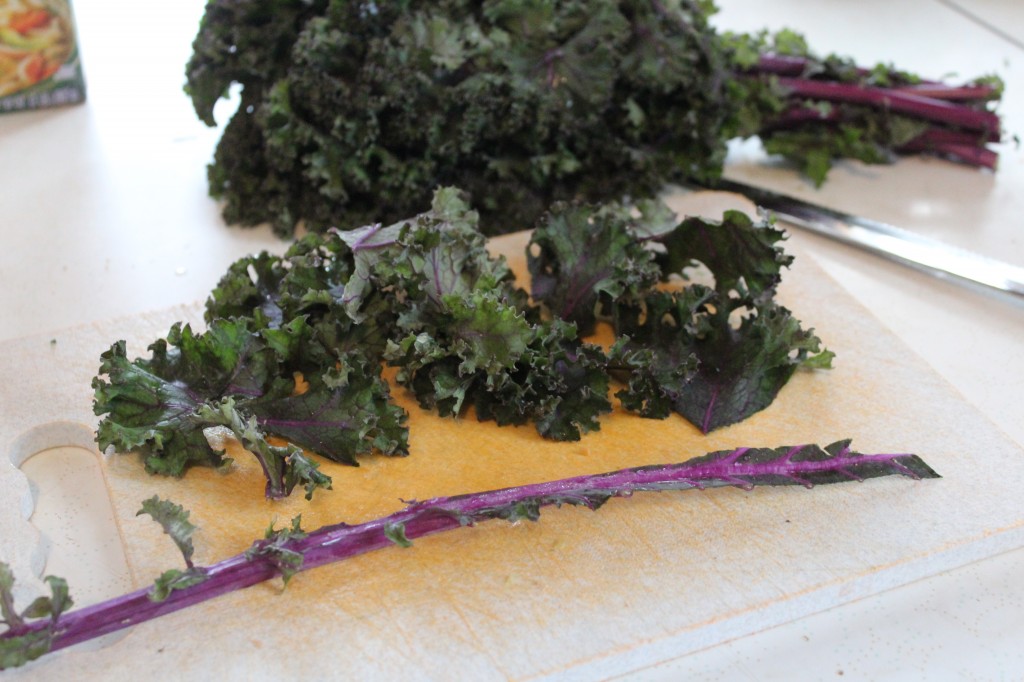 Be sure and take the stalk out of the kale first. Then you cut or chop the kale into large chunks.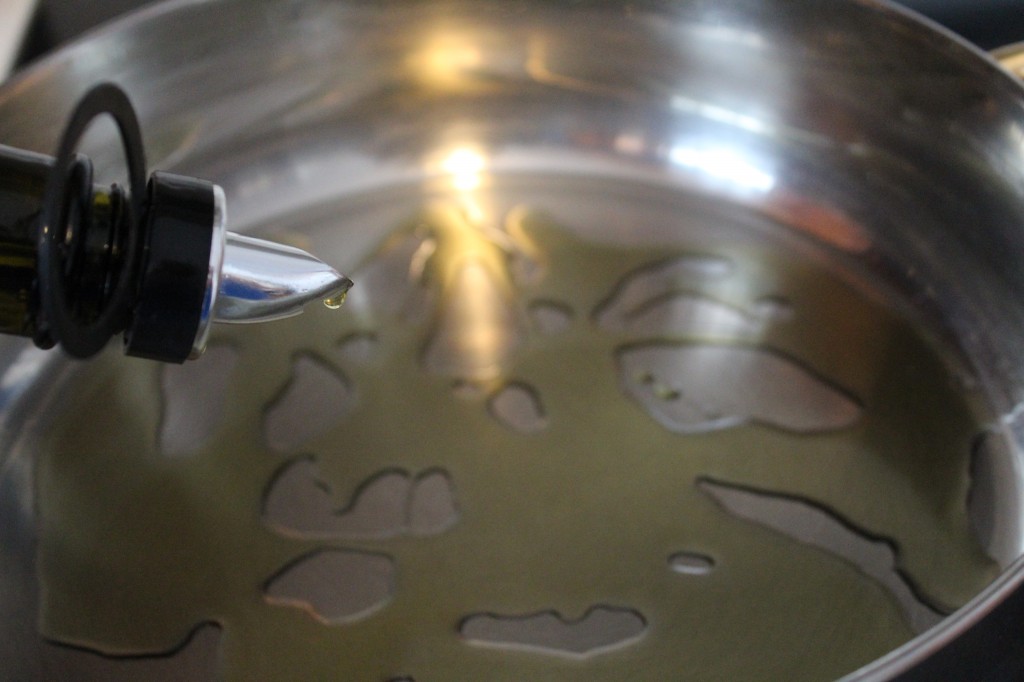 Heat up some olive oil on medium heat in a large sauce pan.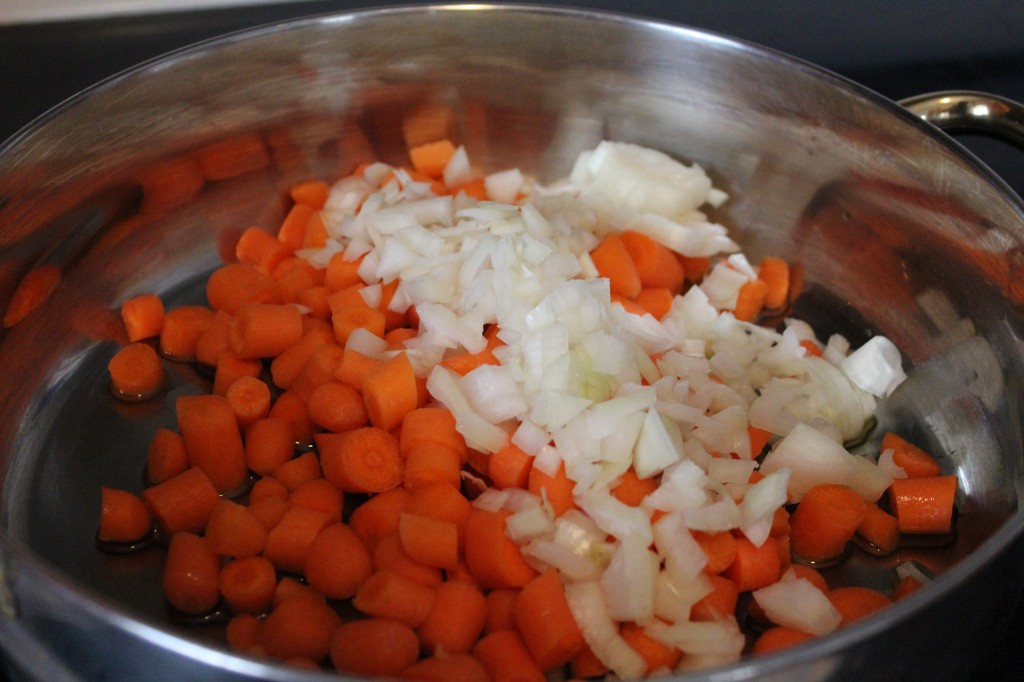 Saute the onions and the carrots.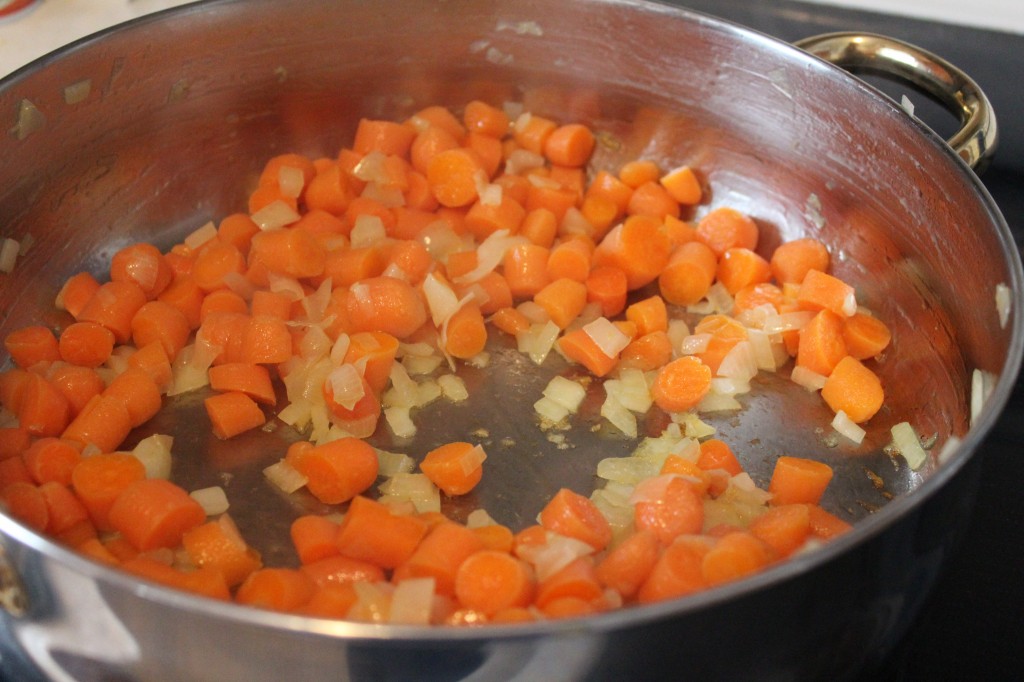 They should start to get tender.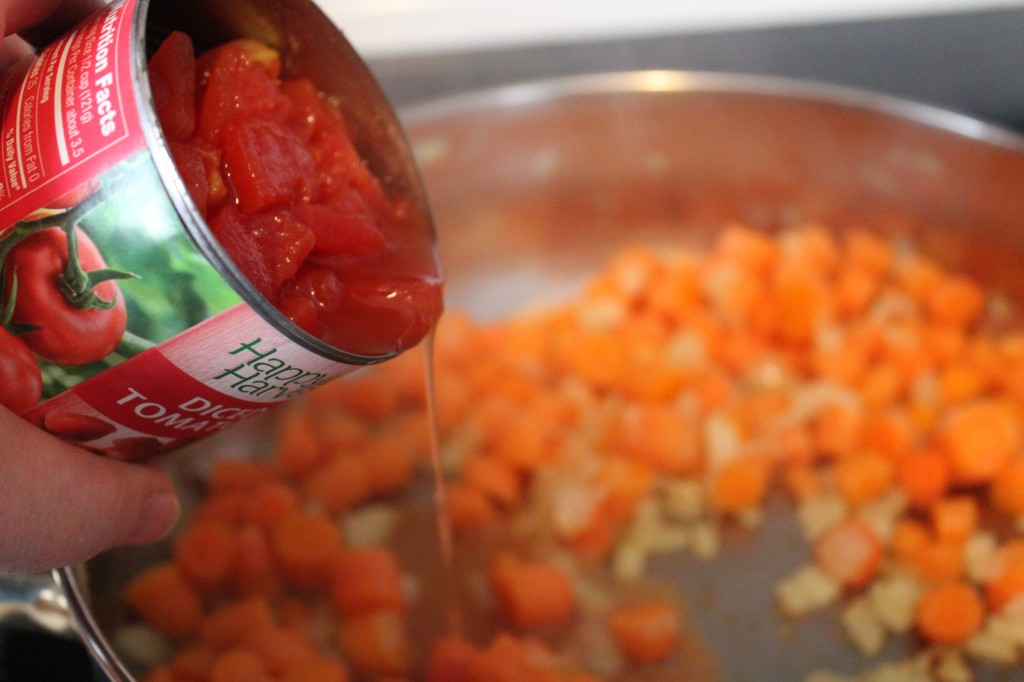 Pour in one can of diced tomatoes.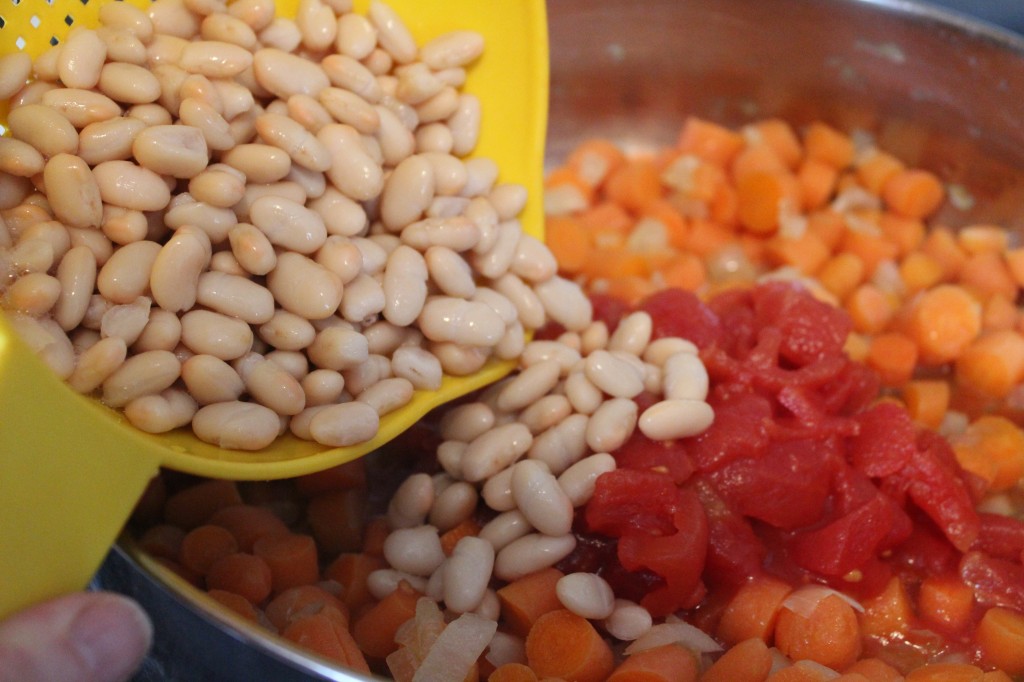 Add in two cans of white beans, drained and rinsed.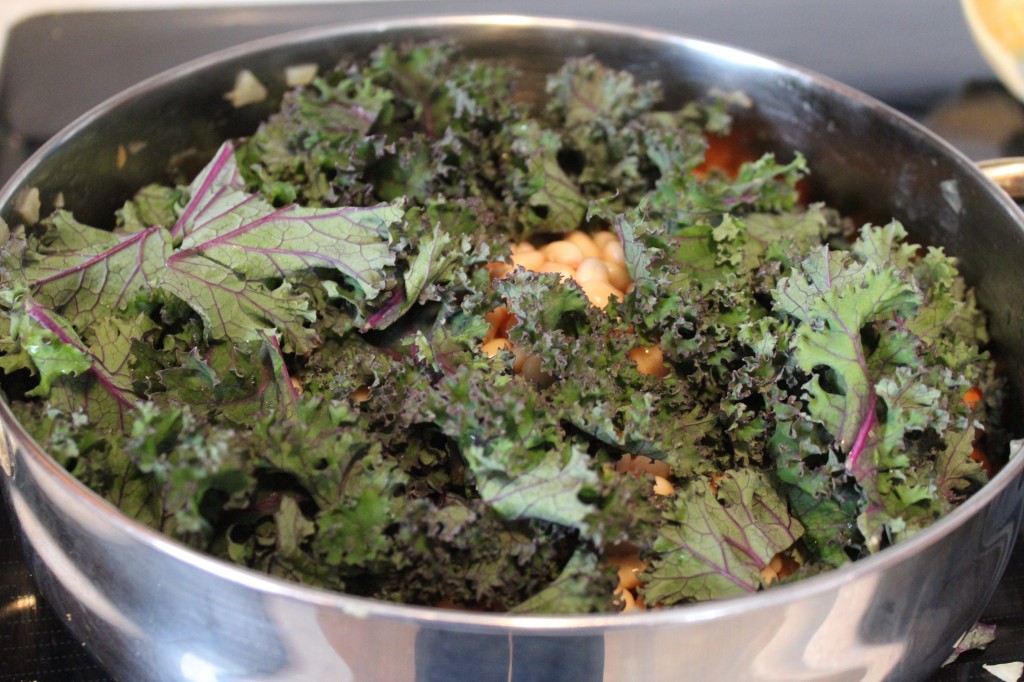 Now add in all that kale. Don't worry it cooks down.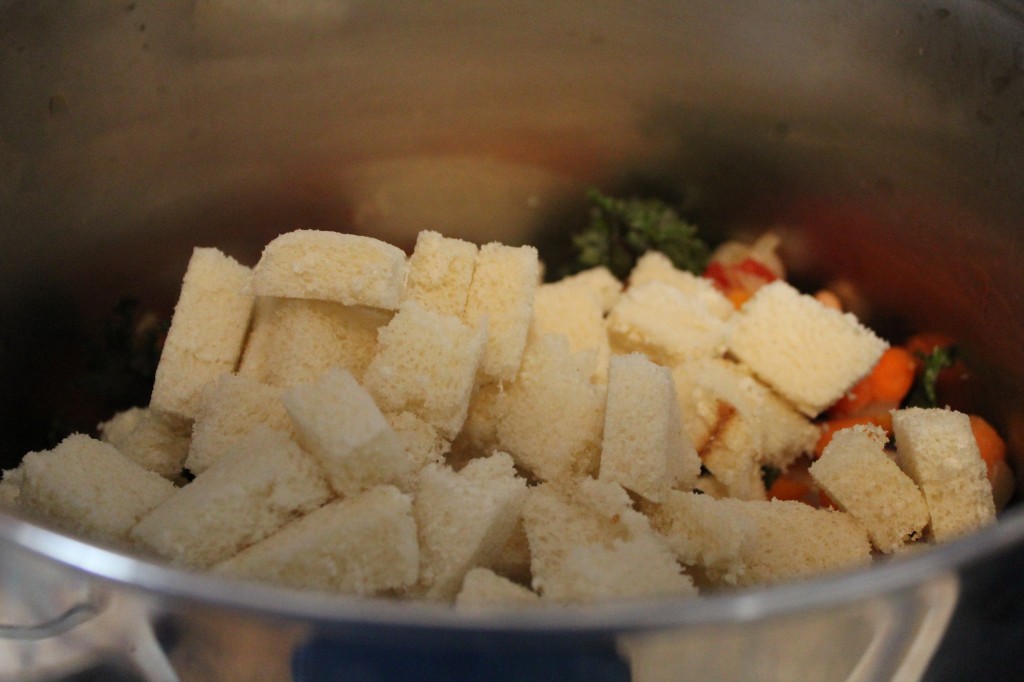 Add in your stale bread cut into chunks. (next time I am going to try potato gnocchi instead.)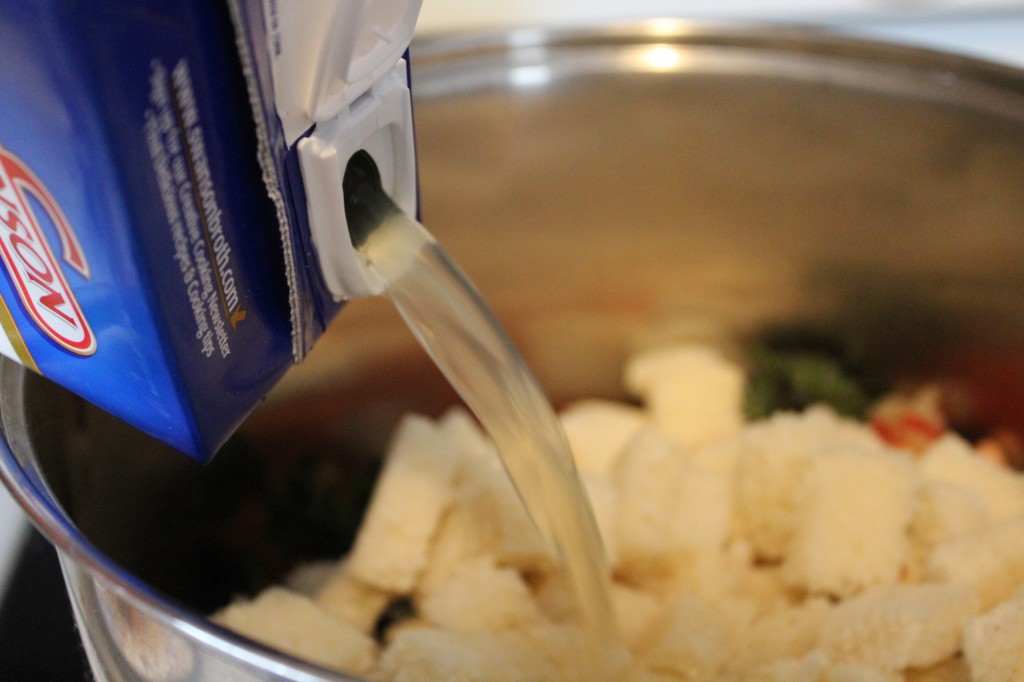 Pour in you chicken stock.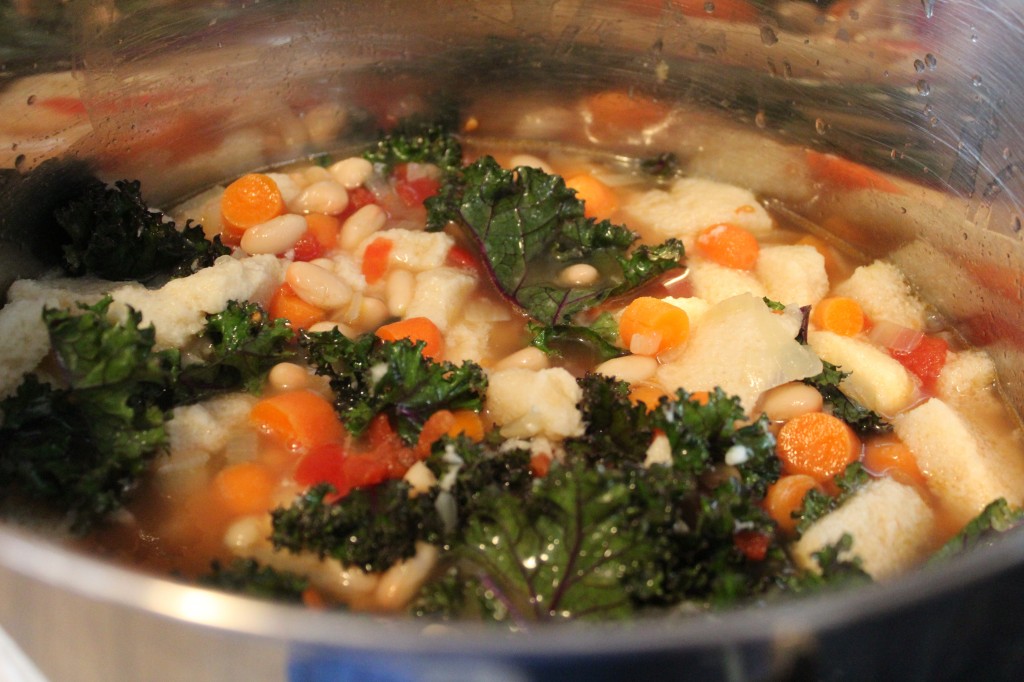 Let simmer until the kale is tender, about 20 minutes.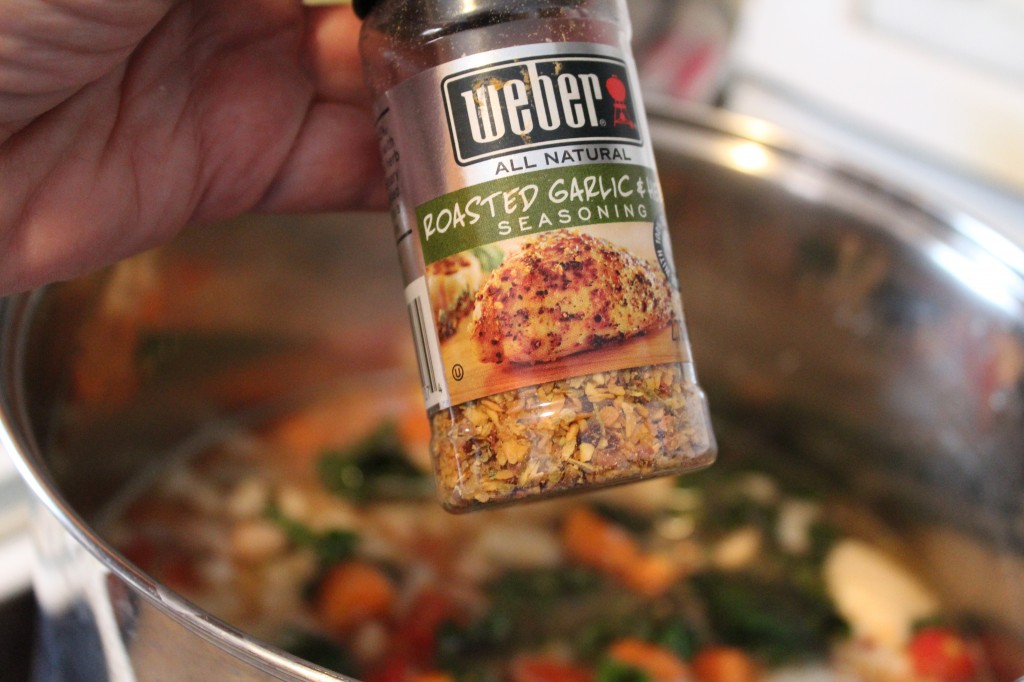 Do a little taste test and add some seasonings if you want. I add in some roasted garlic seasoning cause I love garlic. It was about a teaspoonful.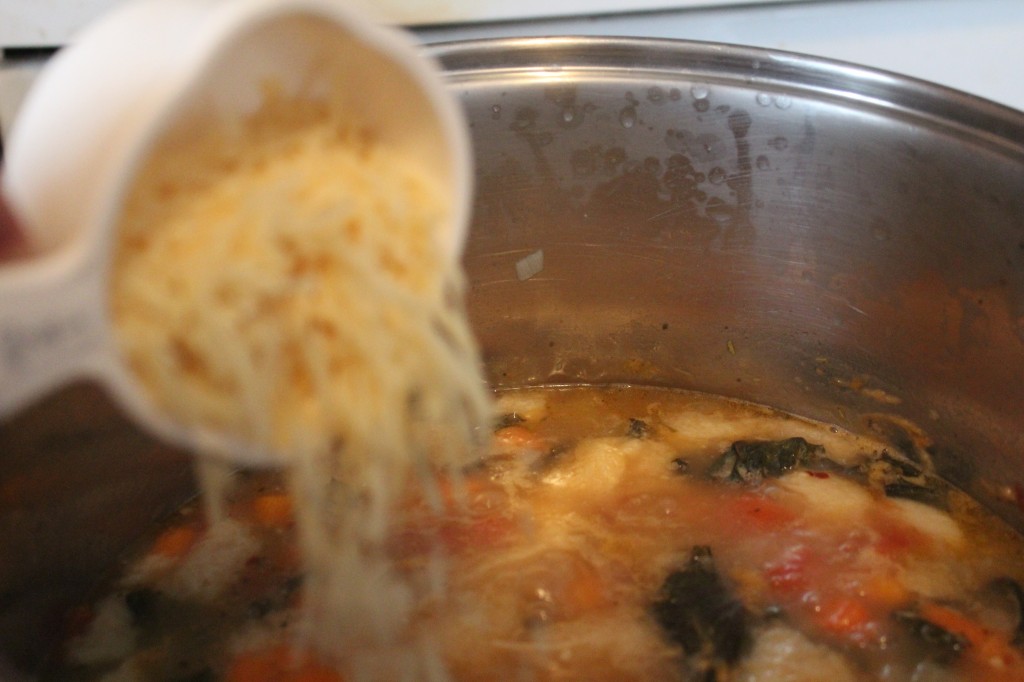 Lastly, add in the parmesan cheese and give it a quick stir.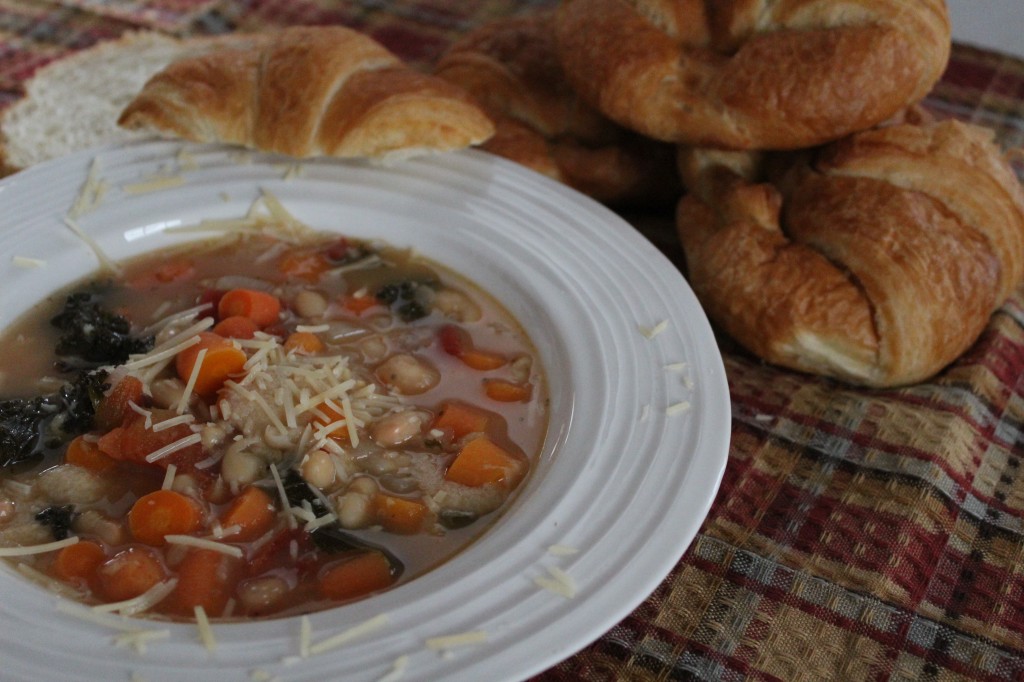 And, now it is ready to eat!
Adapted from Good Housekeeping
Ingredients:
3 to 4 tablespoons olive oil
1 pound of carrots, chopped
1 medium onion, finely chopped
2 quarts Vegetable or Chicken broth (I used Chicken)
1 bunch kale Tuscan or curly, stalk removed and chopped
4 ounce of stale bread turn into small pieces about 4 cups worth (you could substitute the bread for gnocchi, tortellini or even a small pasta, I would just use 1 to 1 1/2 cups worth though)
2 can white beans rinsed and drained
1 – 14 ounce can of diced tomatoes
1/3 cup parmesan cheese (additional amounts make be served as a garnish)
Directions:
In a large stock pot, heat oil on medium and saute the carrots and onions. Cook for 10 minutes or until vegetables are starting to get tender.
Add the broth, kale (after removing the stalks) bread, beans and tomatoes. Simmer for 20 minutes or until Kale is tender. Stir in the parmesan cheese and serve.
You can garnish with parmesan cheese or olive oil if you want.
This recipe is so quick and simple to make and taste so good!
Enjoy!
Becky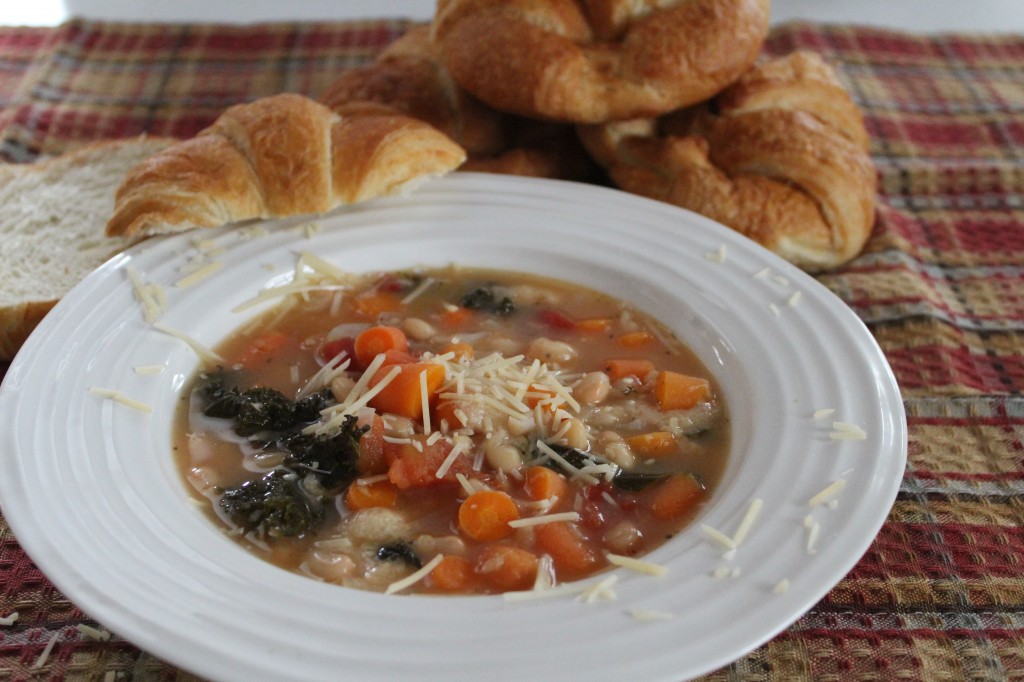 Other post you may enjoy reading:
Glazed Strawberry Bread                                                      Apple Sour Cream Crumb Pie