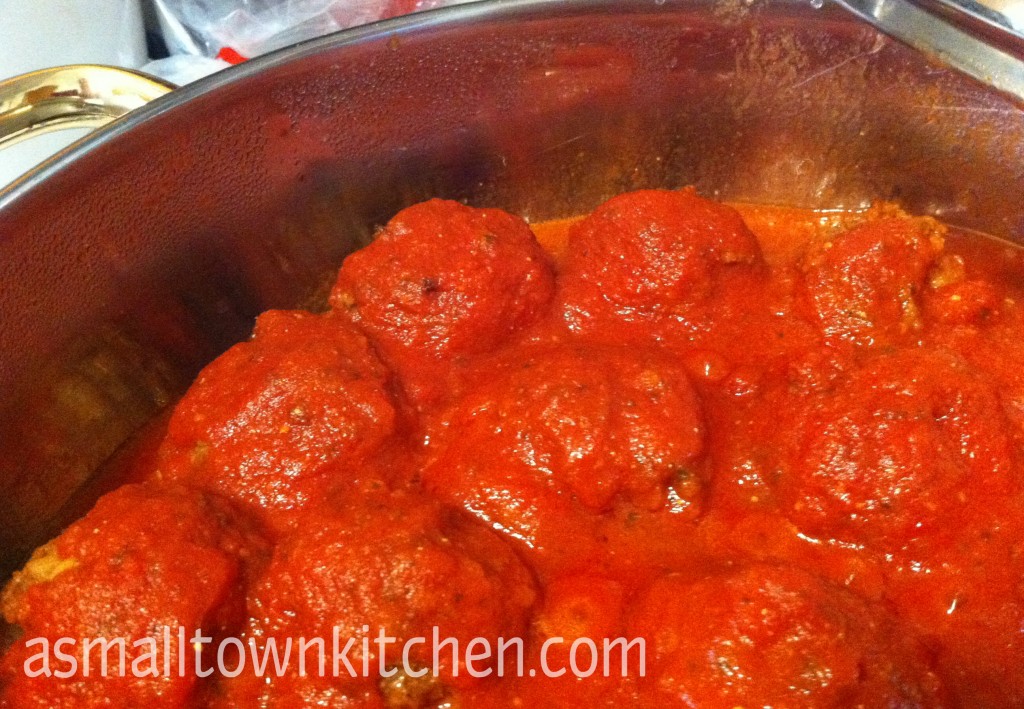 I have a confession to make. I don't always make home made meatballs. Whew…..I am glad I got that off my chest! I can make do with those rubbery, bouncy meatballs from the grocery store when I am in a hurry. Like when I need to make an appetizer to take to school for a party or when my kids want a few meatballs for their spaghetti. But lets face it. Those rubbery, make do, meatballs from the freezer section at the grocery store does not even come close to meatballs you can make at home. After I made these meatballs, I thought, these are not hard at all, and wondered why I did not make them more often.
These meatballs can be used to put in spaghetti or put in a sandwich, which is what I did with them. They are tender and tasty! A little round ball of juices and seasoned ground beef. I do not recommend them for meatballs appetizers that you would skewer with a fork. They are too tender for that. Add them to your spaghetti sauce right before you serve it or just put them right on top of a big pile of spaghetti and sauce. I took mine and put them in a french bread bun with melted cheese for a wonderful sandwich. They were very filling and a definite leftover goodie for your fridge. My kids took the leftovers and put them in sauce for spaghetti and froze  them in the freezer for later.
This recipe makes 16 to 20 large meatballs, so you will have plenty for a couple of meals or more!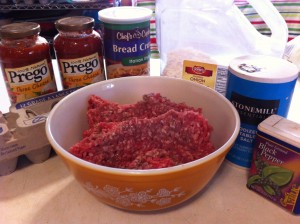 The recipe I am giving you takes 1 1/2 pounds of hamburger. My package was almost  3 pounds so I had to double the amounts.
Crack your eggs into a bowl and beat together.  Next chop you onions. I was out of onions so I used re-hydrated onions.
Salt and pepper the meat.
Add in the beaten eggs and chopped onions.
Add is prepared spaghetti sauce and Italian bread crumbs.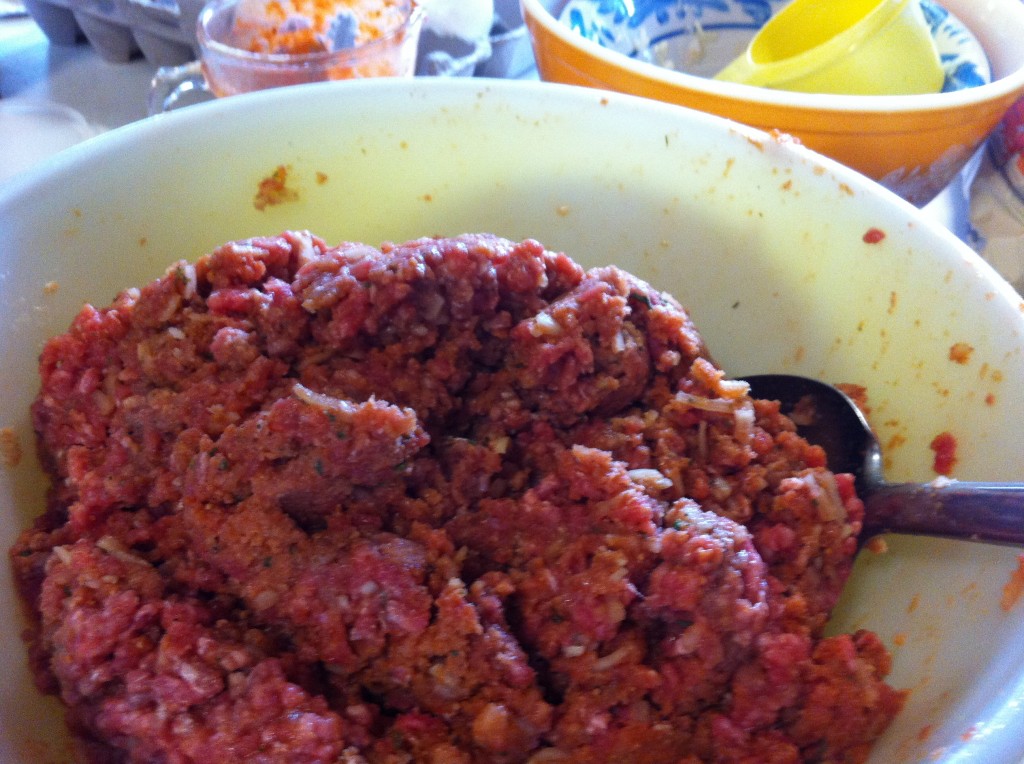 Gently mix the mixture together until all the ingredients evenly mixed.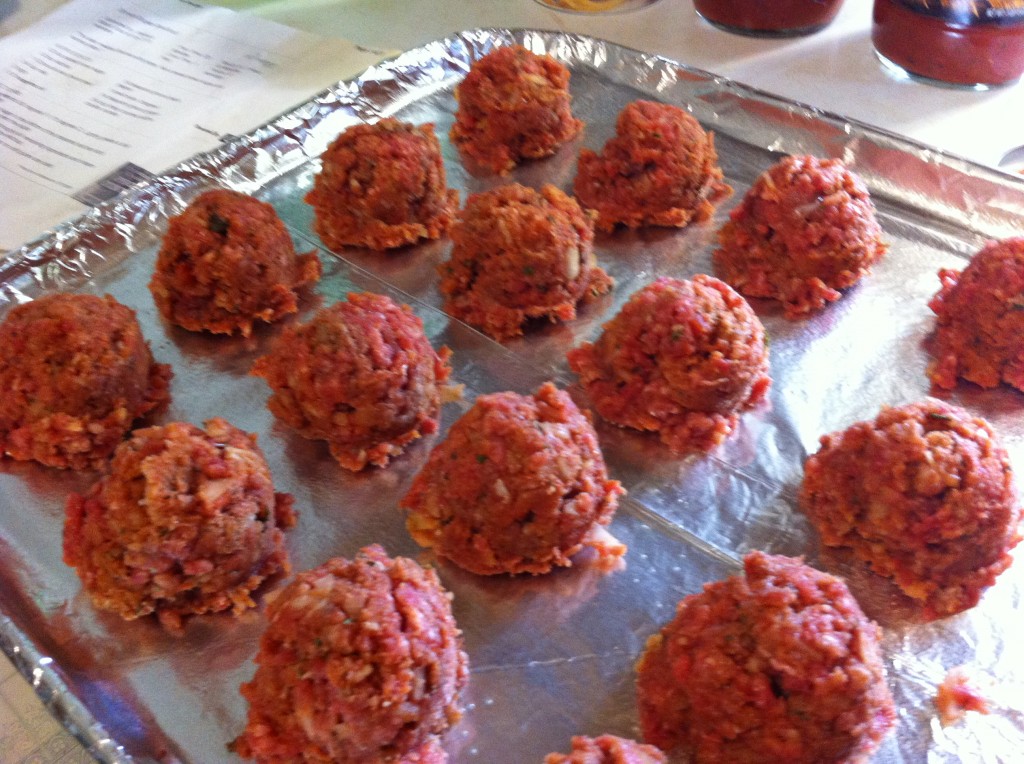 Using a cookie scoop, scoop out the meatball mixture and place on a foil lined cookie sheet.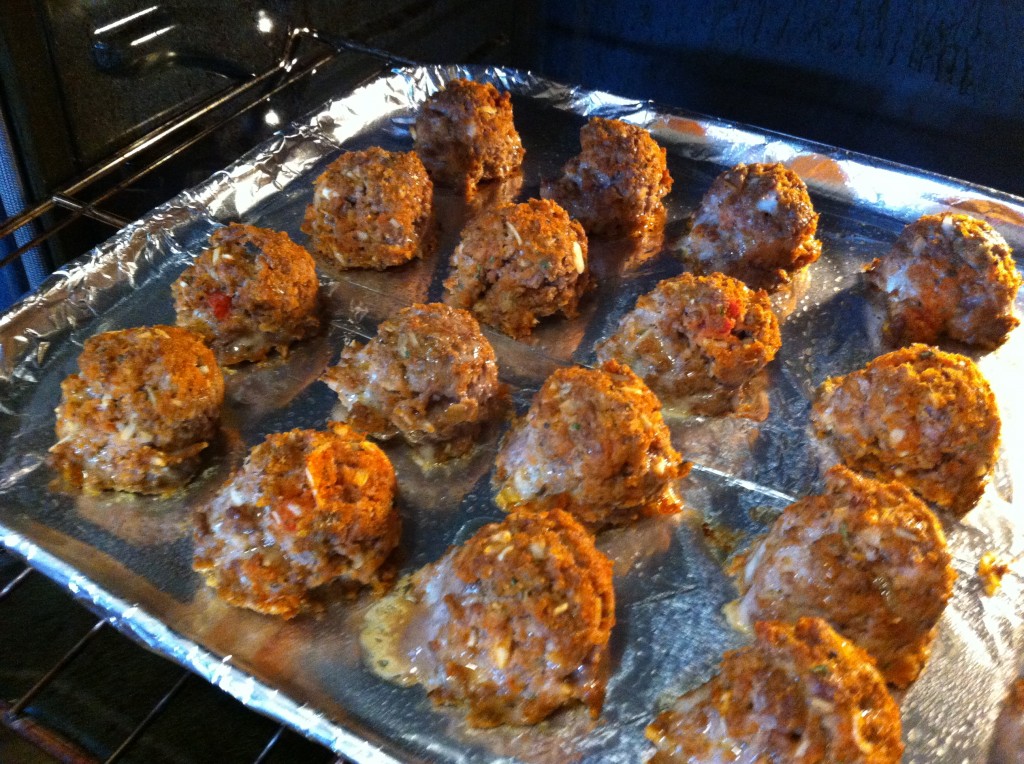 Bake for 20 minutes in a 350 degree oven. If you feel like you want to freeze a few meatballs till later, now is the time to grab some and put in a bag for the freezer.
Gently take meatballs and put in a large deep sided pan. Cover the meatballs with prepared spaghetti sauce and slowly simmer for 10 minutes.
I cut my roll in half and dug out a little of the bread in the middle. I lightly butter the bread and broiled it in the oven until lightly brown. I laid a couple of pieces of provolone cheese on one half of the roll. Carefully place meatballs and sauce in the other half of the roll.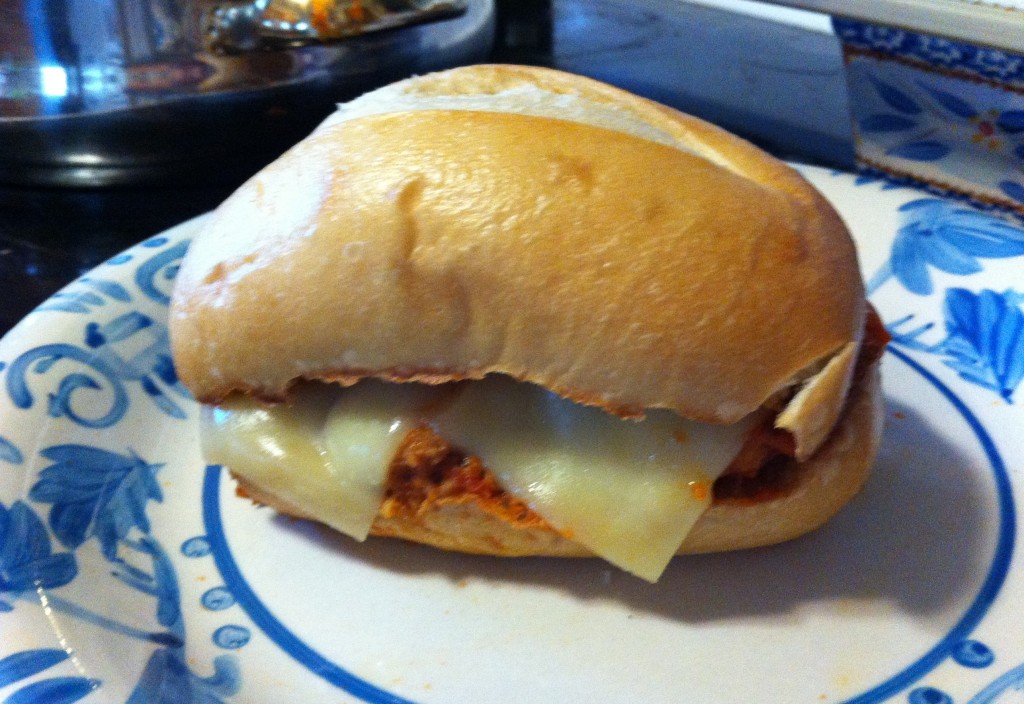 The heat from the meatball gently melts the cheese. Add some chips or a salad for a perfect lunch or dinner.
Hamburger Meatballs
Recipe adapted from a Allrecipes
Ingredients:
1 1/2 pounds of lean ground beef
3/4 cups of prepared spaghetti sauce (I used Three Cheese Prego)
2 eggs, slightly beaten
1 1/2 teaspoon salt
1/4 teaspoon black pepper
1 small onion, chopped
3/4 cup Italian bread crumbs
1 1/2 jars of prepared spaghetti sauce.
For sandwiches you will need rolls and cheese of your choice.
Directions:
Preheat oven to 350 degrees.
In a mixing bowl, mix eggs, salt, pepper, onion, 3/4 cup of sauce and bread crumbs.
With cookie scoop, scoop out meatballs and place them on a foil lined cookie sheet.
Bake for 20 minutes or until juices are clear.
Place meatballs in large pan and cover with remaining speghetti sauce.
Simmer for 10 minutes.
Serve with speghetti or make into meatball sandwiches
Enjoy!
Becky