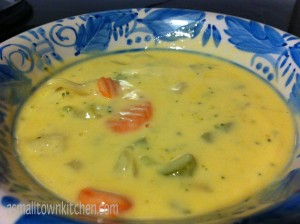 It is time to pull out the soup pot! Cold weather has hit good ole Missouri and what better way to warm your toe-sies than to eat some soup. My PIC (sister in law) emailed me today to get my recipe for cheese soup. OOOOwww that sounded good. I had not even thought of making soup tonight for dinner. I was set on making pigs in a blanket. Those piggies have got to wait till tomorrow for lunch, cause soup is on the menu.
What makes this soup so convenient to make is that you probably have most of the ingredients in your pantry. I did stop on my way home from work and buy the frozen veggies just cause I did not want to do a freezer dive to find some. (okay…give me a break…it is Friday right?) I did find some on sale for a dollar a piece to redeem myself. I even froze the leftover for my next soup inspired night.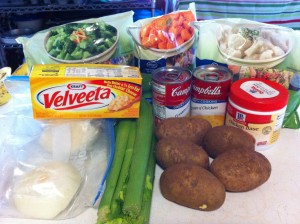 You will need some onions, celery, potatoes, milk, cream of chicken soup, chicken bouillon, velveeta and frozen carrots, broccoli and cauliflower. Oh and I forgot 4 cups of water : ).  I substituted chicken base for bouilon because that is what I had, and it worked great. I had two half onions left over from something else and celery already in the fridge.
First thing you need to do is heat some oil in the bottom of your stock pot (I used olive oil). Next chop up the celery and onions. Add the celery and onions to the hot oil and saute until the onions are translucent.
Slowly pour 4 cups of water in to the pot with the onions and celery. Next add the bouillon (I used a dallop of chicken base). Then bring the stock to a simmer.
Now it is time to dice the potatoes.
Once the stock in simmering add the diced potatoes and the frozen vegetables.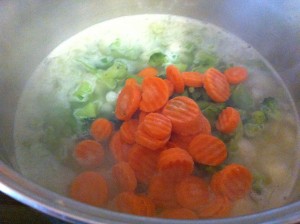 We are over half way there!
Simmer everything in the soup pot until the vegetables are slightly fork dinner.
Next, stir in the cream of chicken soup, the diced velveeta and the milk.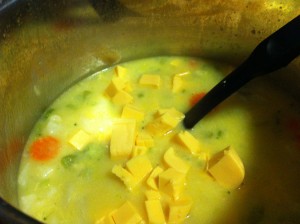 Ok…stop drolling….in just a minute you can eat some.
Gently stir the cheese  until it is melted.
That's it! It is time to eat!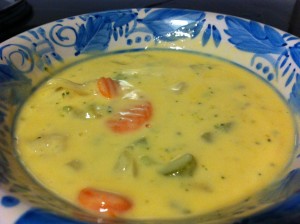 This soup really hit the spot! So much so I took a picture of it and sent it to PIC (sister in law) and said, "look what we are having for dinner."
 She texted back and said, "U R Evil,"
 I felt so bad I sent her a picture of my second bowl.  
It makes up for the picture she sent me of ribs on the grill my brother made a couple of weeks ago.
All is fair in soup and grill.
Enjoy this recipe! 
Becky
Velveeta Cheese Soup 
Ingredients:
4 cups water
4 chicken bouillons cubes
1 cup chopped onions
1 cup chopped celery
1 pound Velveeta cheese
2 cans cream of chicken soup
1 cup milk
2 1/2 cup diced potatoes
1 box frozen cauliflower
1 box frozen broccoli
1 box frozen carrots
Directions:
Saute onions and celery in a small amount of oil in the bottom of a stock pot. Saute' until the onions are translucent. Slowly pour in water. Add chicken bouillon. Bring mixture to a simmer. Add in diced potatoes and frozen broccoli, cauliflower and carrots. Simmer the vegetables until they  are almost fork tender. Stir in cream of chicken soup and diced velveeta cheese. Gently stir until the cheese is melted. Pour in the milk and stir to combine.
Serves 6 to 8.