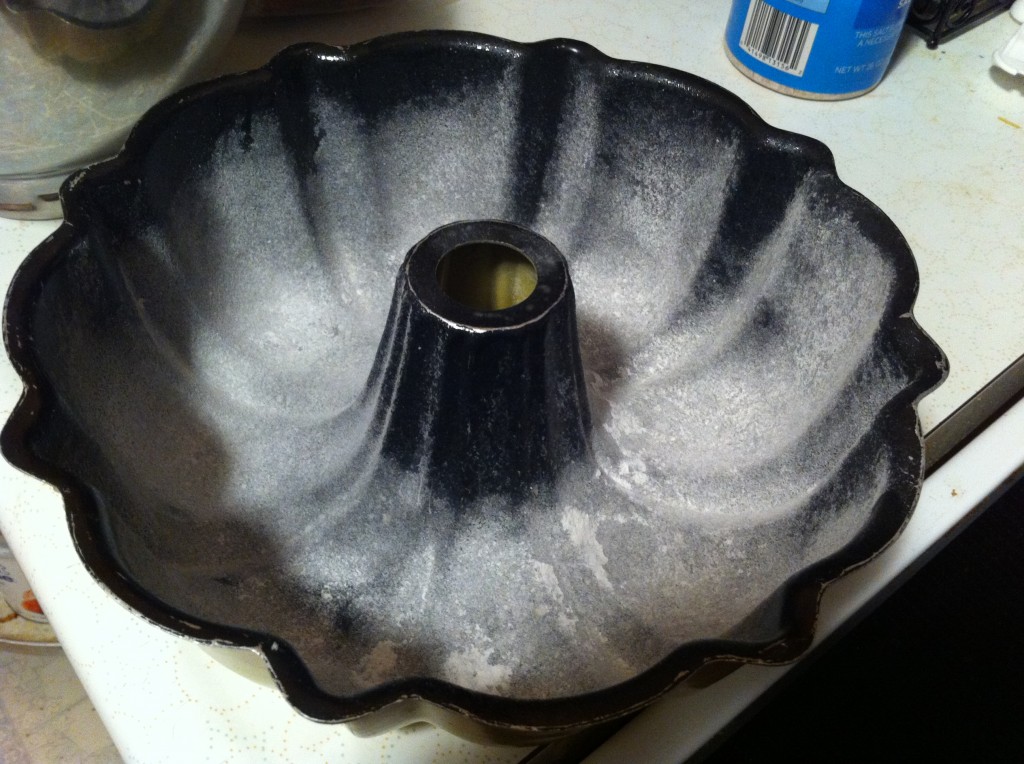 Does this pan remind you of the movie, "My Big Fat Greek Wedding?"
Bundt…Bundt…Bundt cake.
If you have never watched this movie is one of those funny family movies that two totally opposite kinds of family have to unite when their children get married. It is a total hoot and I laugh pretty much all through the whole movie.
But….getting back to my post…."Can this cake be saved?"
Last weekend I was attending an annual ladies day at church. I had signed up to bring a dessert and some bake potato toppings. I spent most of the week in my (very little) free time looking for just the right recipe to take to the ladies day. While I was out shopping I found this magazine with fall recipes and ran across this beautiful Caramel Apple Bundt Cake.
It looked divine.
It just so happens that I had a bunch of apples that I picked at Company's house the Sunday before.
So Caramel Apple Bundt Cake seemed like the perfect dessert to take.
The Friday night before the ladies day, Company came over and helped me make this cake…or rather distracted me while I tried to make this cake. I had to hunt long and hard to find my Bundt cake pan. When I did find it, there was a BIG spider in it and I practically threw it across the kitchen. This should have been my warning not to make this cake….but no….I did not pay attention to the signs to make something else. After Company killed the spider, I washed the pan out with HOT water and plenty of dawn and got it already for this fabulous fall apple cake.
After much time layering the batter and chopped apples and making another layer of batter and chopped apples, I finally got the cake in the oven at 10:45 at night.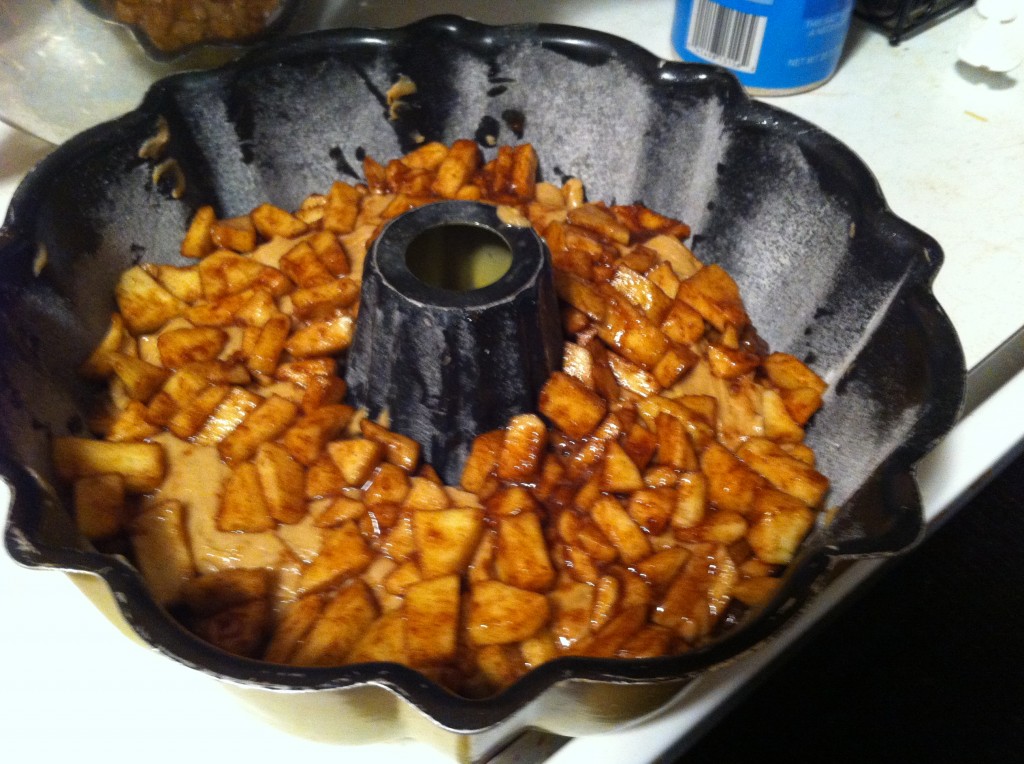 It takes a hour to bake…..
I sent Company home and I patiently waited for the cake to bake.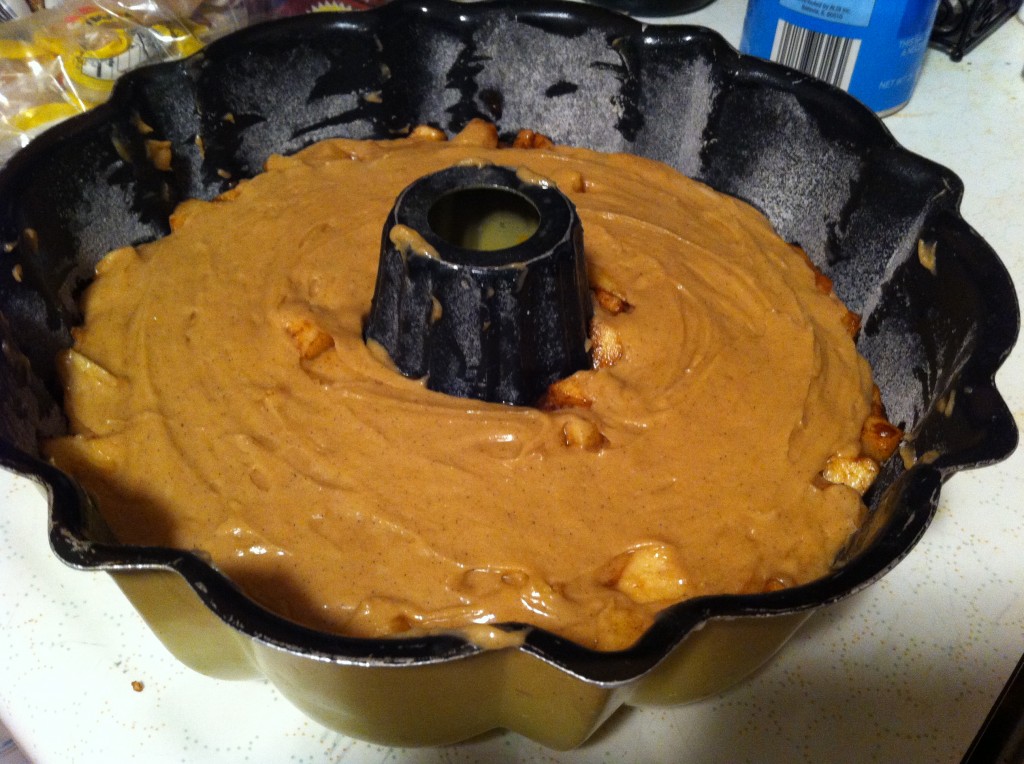 This is what it looked like before it went into the oven.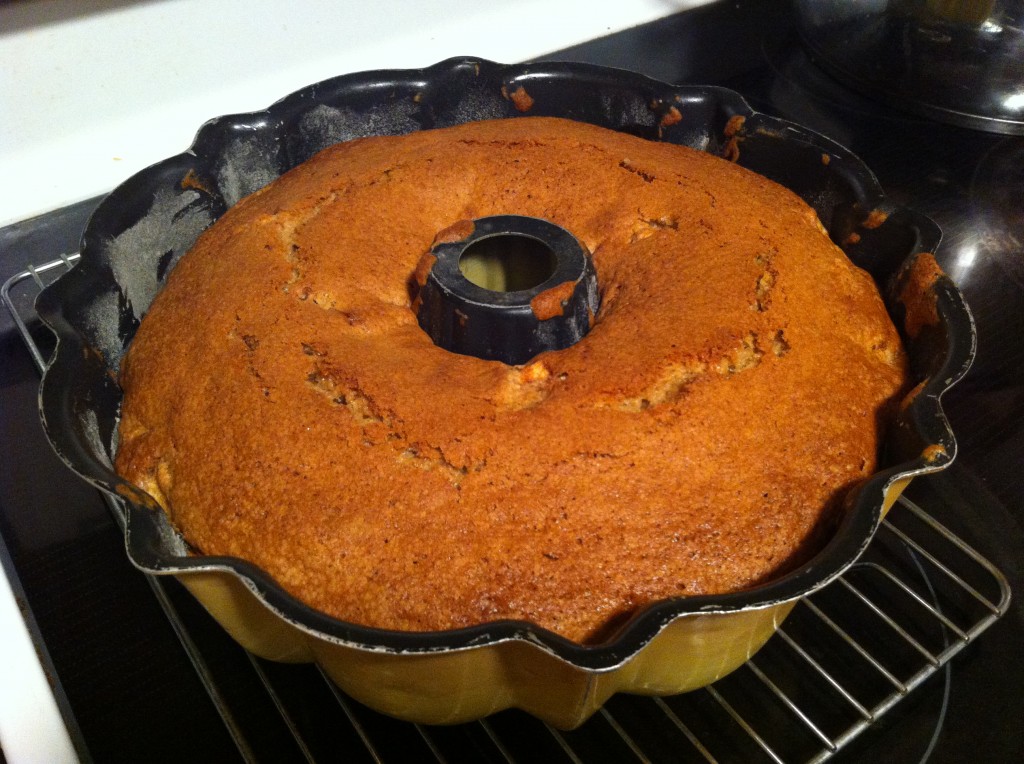 This is what it looked like when it came out of the oven.
I was so relieved! By this time it was past 11:30 and I still had to let it cool off for 10 minutes before I turn the pan over and take the cake out.
This is when disaster struck!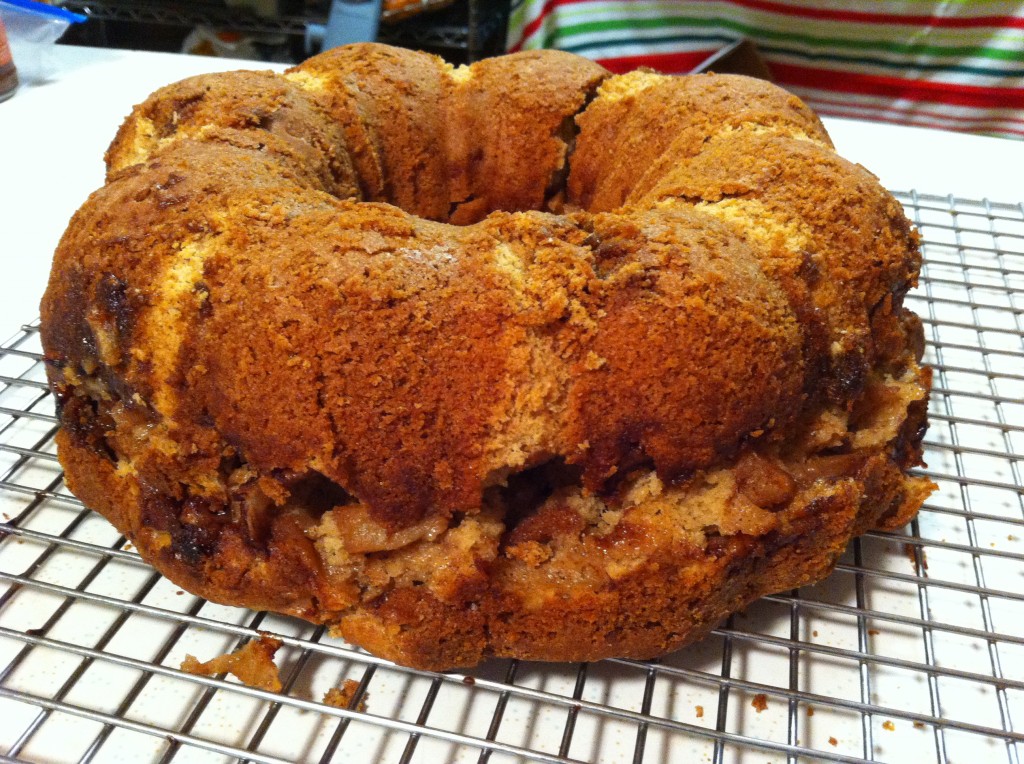 The cake split in half when I took it out of the pan.
I even broke the top in two in one place.
I just looked at my broken cake in disbelief.
I think my pan is old and warn out, and even though I sprayed and floured it, the top of the cake stuck in the pan when I turned it over.
It is midnight, I need a dessert in the morning by 8 am and I am ready to go to bed.
I just decided to wrap the cake together with saran wrap and put it in the fridge.
I did the whole Scarlett O'Hara thing and decided that I would think about it tomorrow….tomorrow is another day.
So….I got up at 6 am in the morning and made a caramel apple blondie pie. I guess I was in the mood for caramel apples.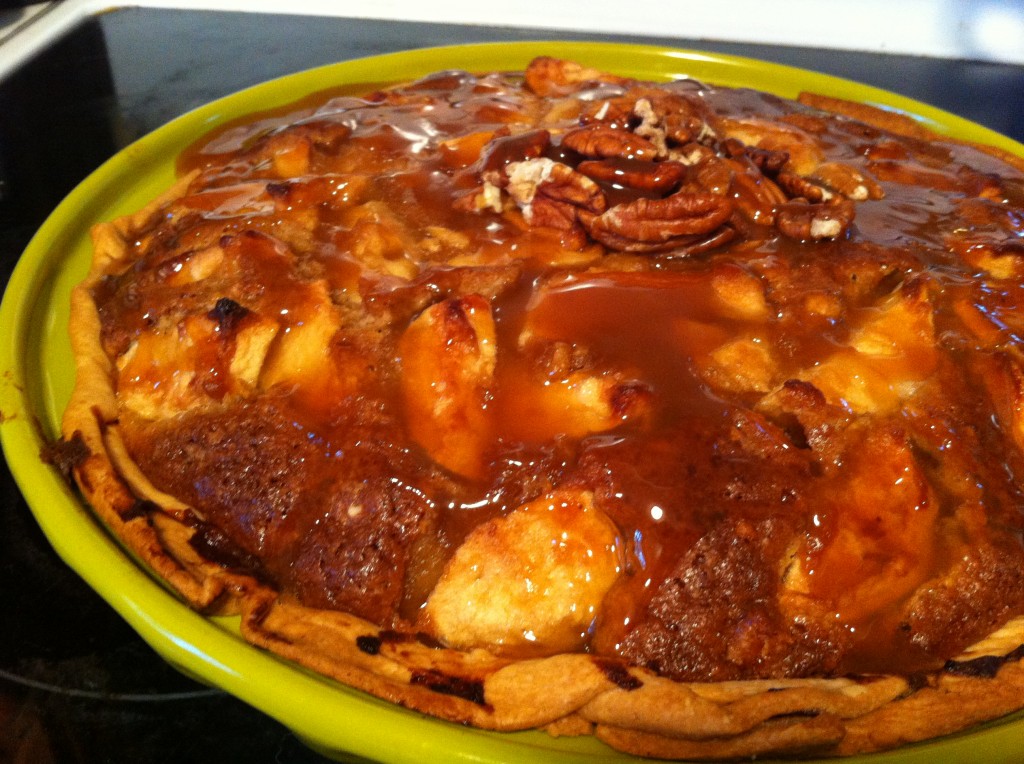 This is what it looked like. I will post about this pie later on this weekend.
Even though I had a nice looking pie to take to the ladies day, I still had that broken, neglected cake hiding in the refrigerator. I decided to bring it out to see if I could, "save the cake."
I went ahead and make the cream cheese icing and heated up the caramel ice cream topping and went to work.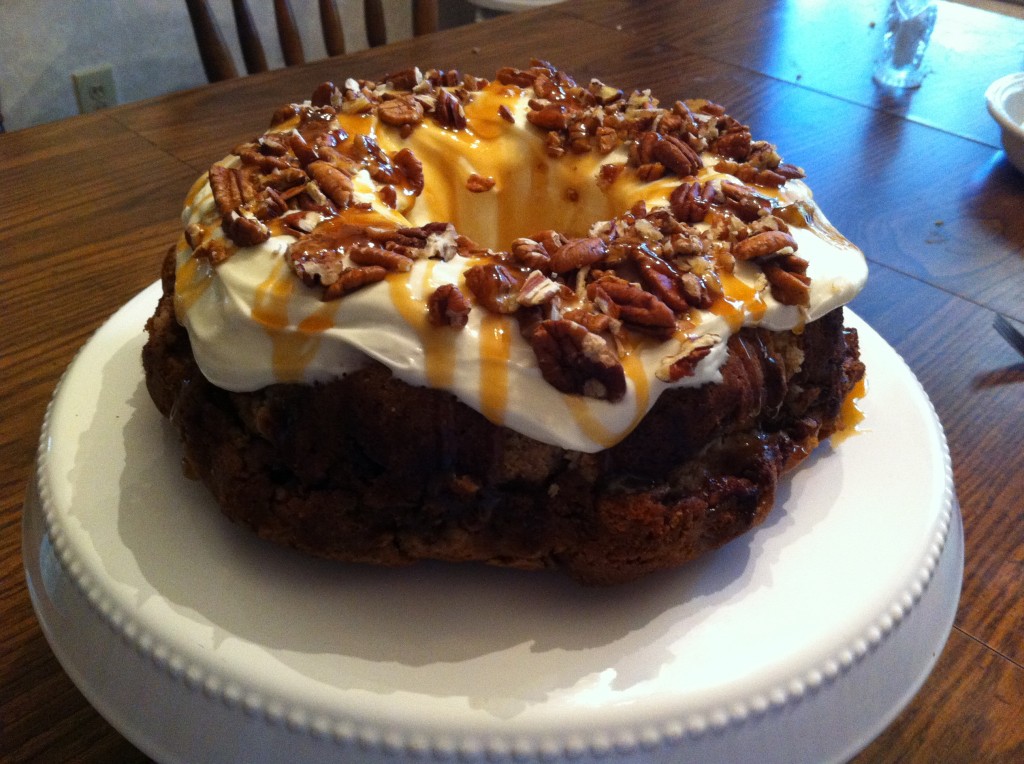 Did I say I chopped pecans and put them on top too?
What do you think…did I save this cake?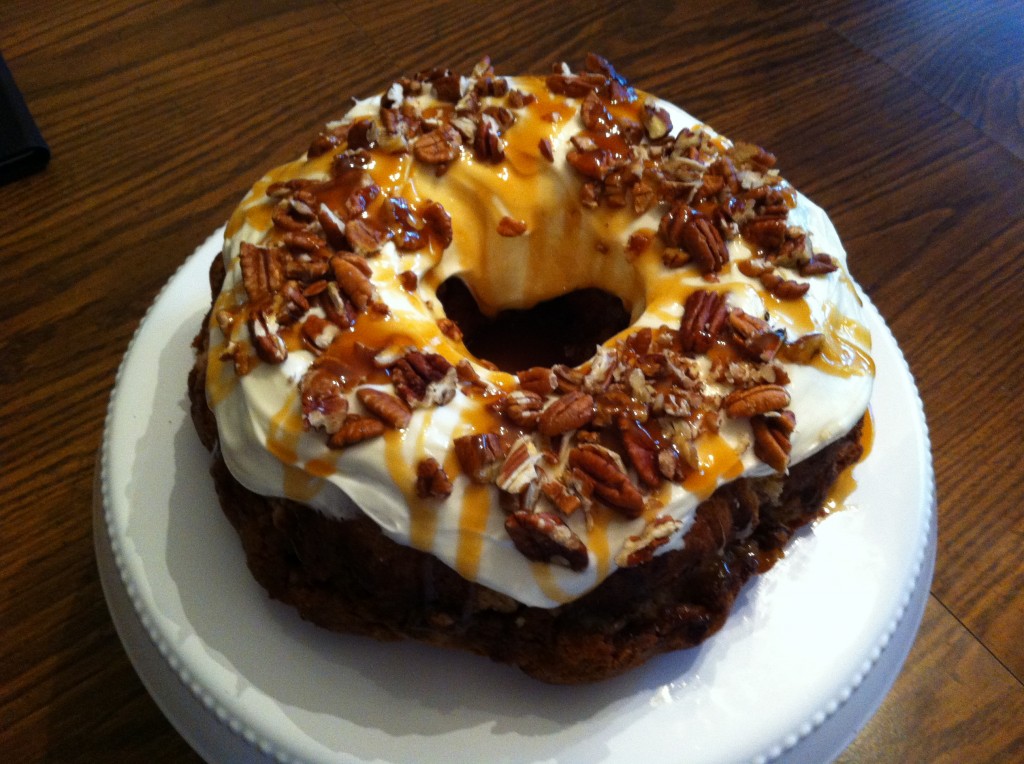 I spread the cream cheese icing over the top of the cake. Covered the icing in chopped pecans and then drooled hot caramel topping over the top.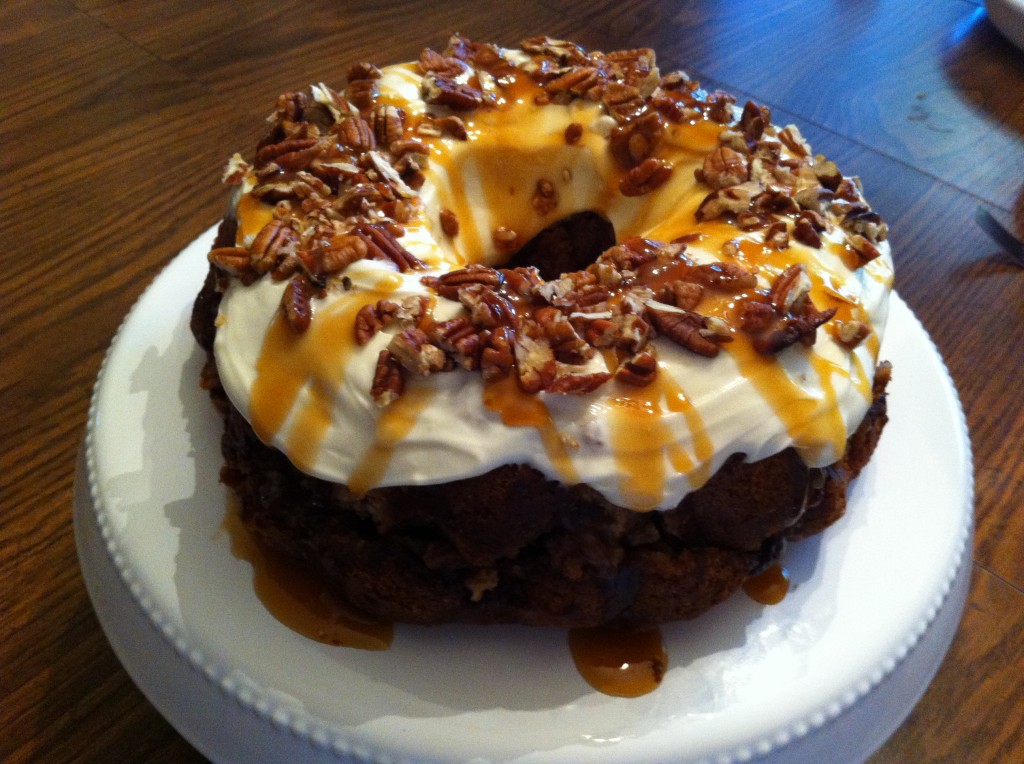 I think I saved the cake!
I took TWO desserts to ladies day and did not bring home one crumb of either one.
Anywho….I guess the moral of this story is, that when a cake does not come out perfect to our eyes and the outside it broken and a little battered, it is what's on the inside that counts. This cakes was filled with hand picked apples, coated in lots of brown sugar and cinnamon and baked with love. The ladies got two desserts and I brought home a empty cake plate and pie pan.
You know what else I got out of this whole thing?
I get to buy a NEW bundt cake pan.
Have you ever had this happen to you when you were baking for a special event? What did you do? I would love to hear from you.
I will get both of these recipes posted in the next few days!
Becky