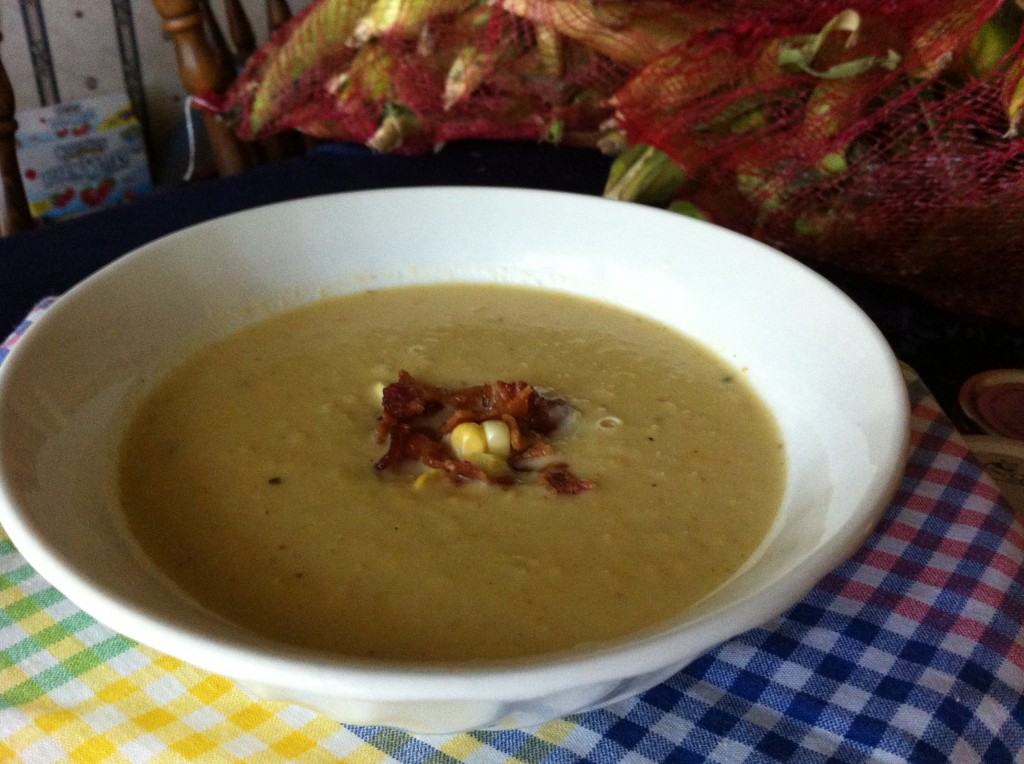 Step right up folks and take a look at corn soup.
I don't know if you ever ate at Chili's last year, or if you did, tried their corn soup.
Thier soup was amazing.
Then by jeepers, they took it off their menu.
Boo Hiss!
Oldest daughter who does not cook and I was so dissapointed. We loved it so much, we had gained at least 5 pounds eating their corn soup, with salad and chips. (you know, the all you eat menu item)
I have been looking around and checking out recipes for corn soup, until I finally kinda put two recipes together. It might not be quite as good as Chili's (maybe because I had to clean the kitchen after I made it) but oldest daughter who does not cook told me tonight she thought it was amazing!
Anywho, with all that fresh corn on the cob I purchased yesterday, I need all the corn recipe I can get my hands on.
Seriously though, this is good soup. You will need a blender or food processor to process the corn to a smooth consistency. I had to use my little smoothie blender, and it worked just fine. (I had been borrowing my brothers food processor for a couple of years until he finally needed it back….so now I guess I need to ask for one for Christmas.)
Here is the recipe and the step by step instructions.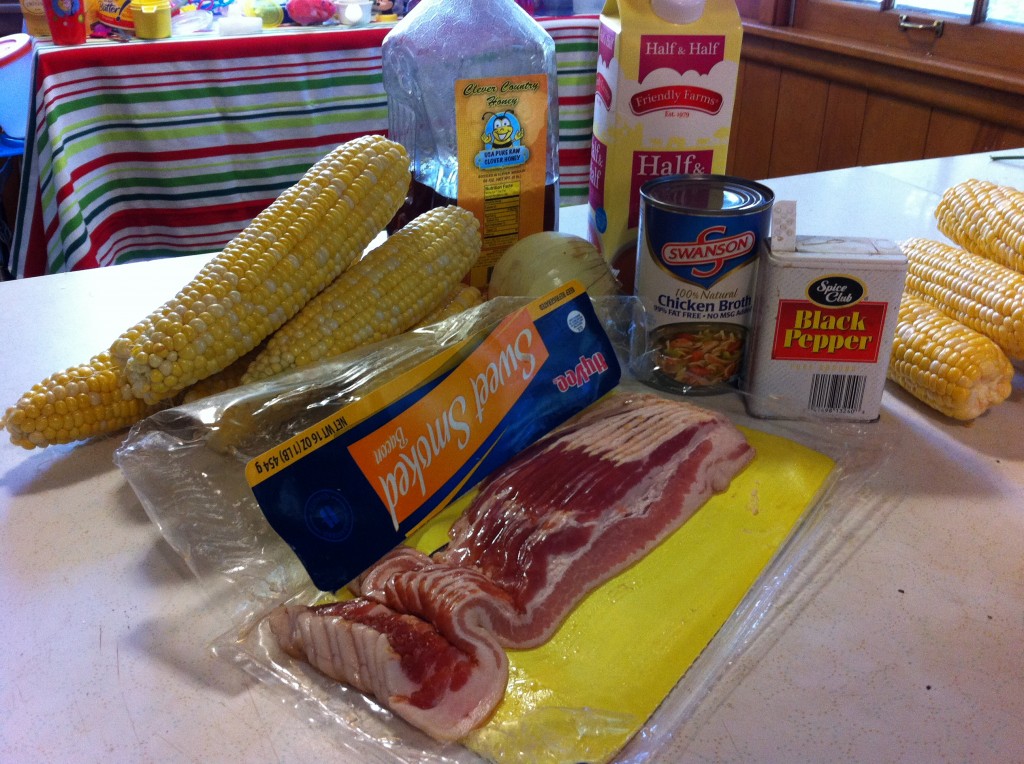 Here is all it takes to make some fresh off the cob, corn soup. If you do not have half and half, use whipping cream or whole milk. I like using the fat free half and half and it saves a million calories.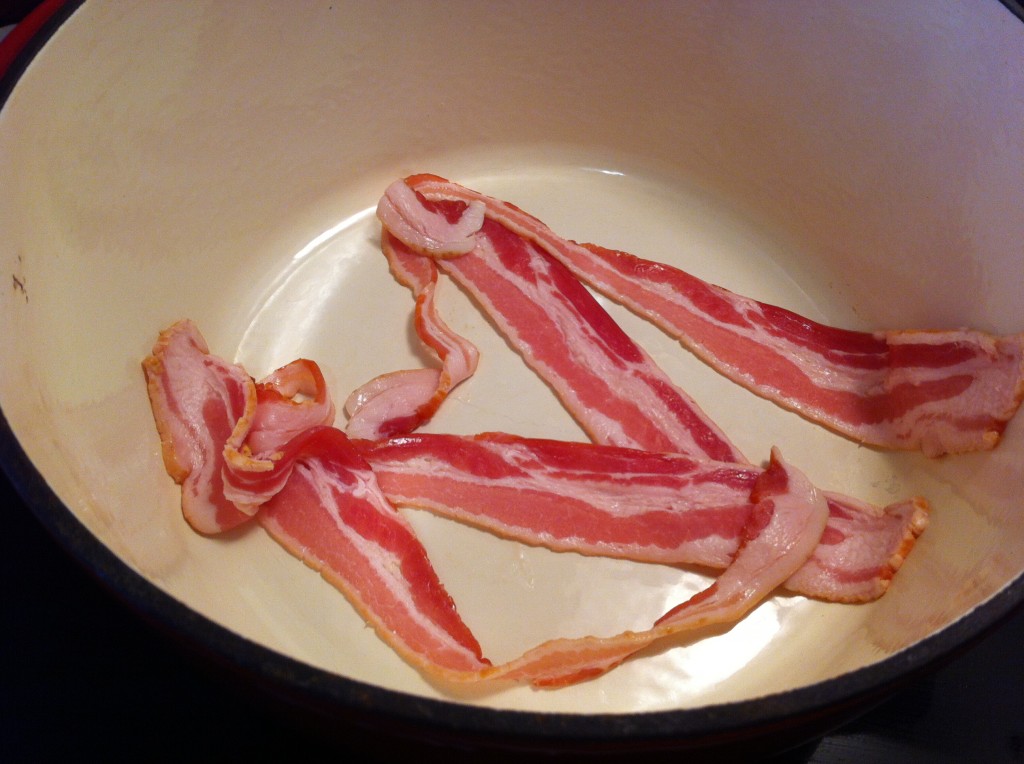 In a dutch oven or stock pot. Fry four pieces of bacon until crispy. I used my dutch oven that oldest daughter who does not cook bought me for Christmas, cause she is keeping a tally of how many times I have used it since she bough it for me. This is the third time haha.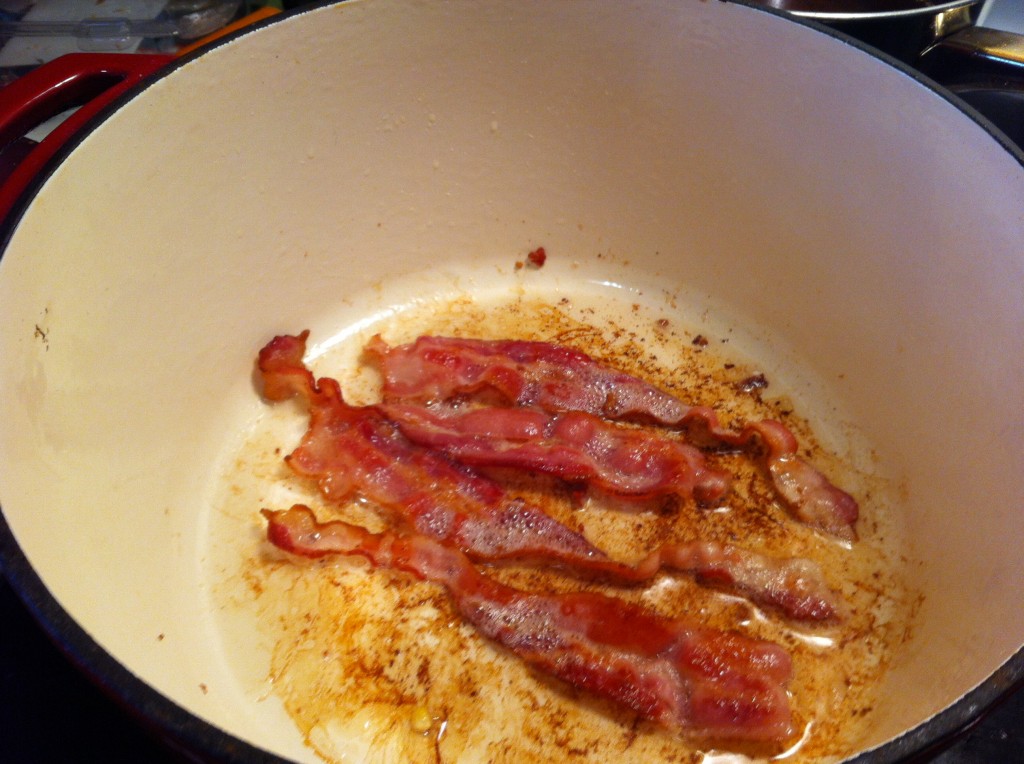 Take the bacon out of the pan and drain on paper towells. You will use the bacon as a garnish for the soup.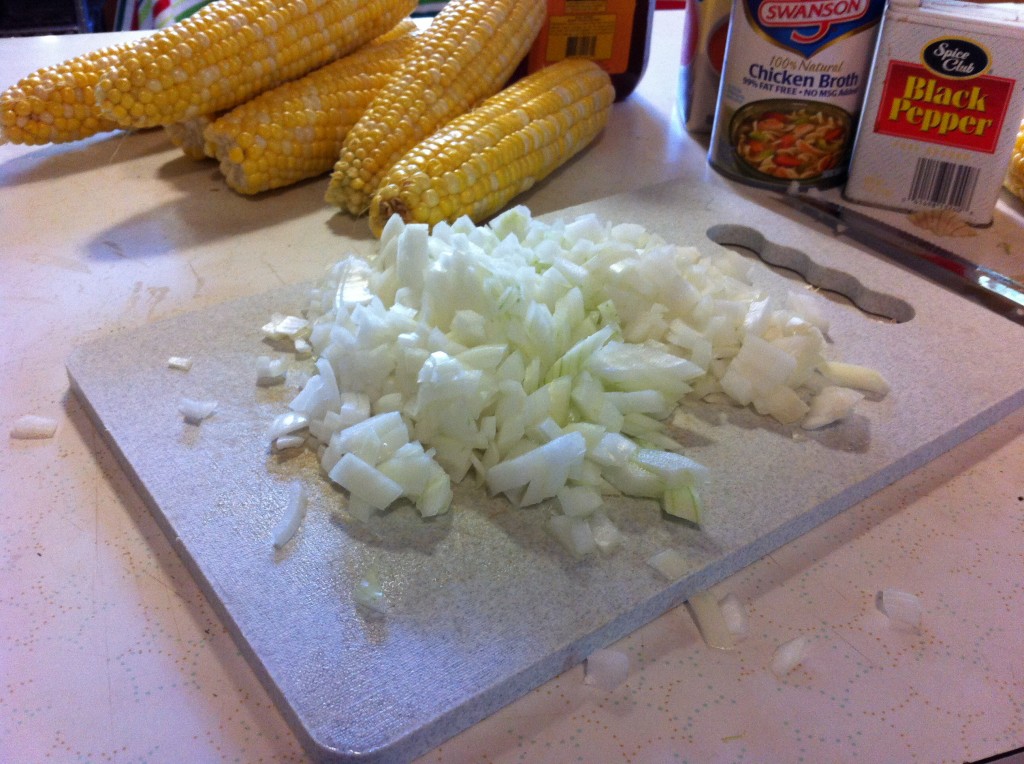 Now, get out your kleenex and chop up one medium size onion. I used a yellow onion.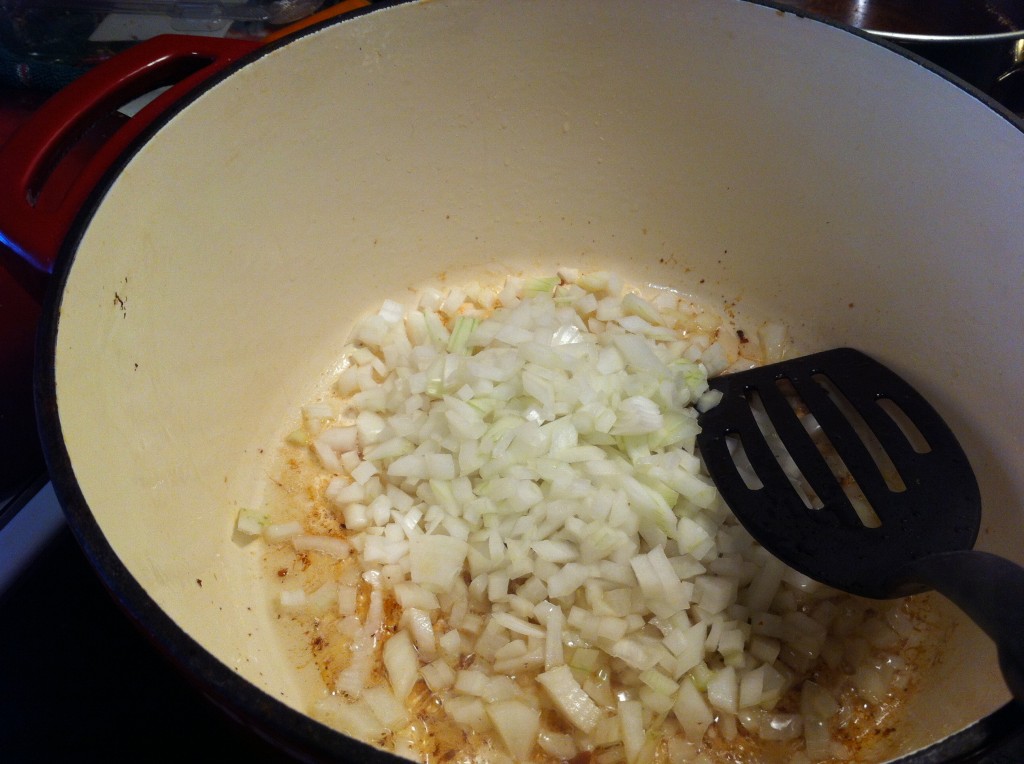 Toss the choppped onion into the bacon grease left from frying the bacon. Saute the onions for around 4 to 5 minutes until they are translucent.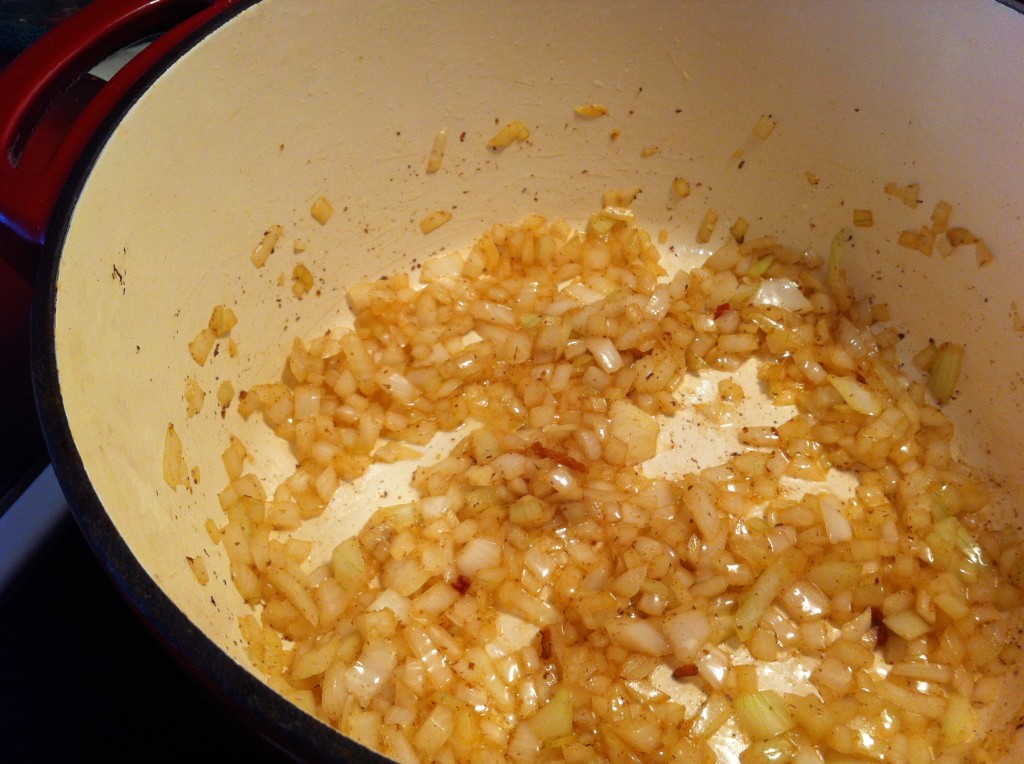 That is what mine looked like after I sauted them.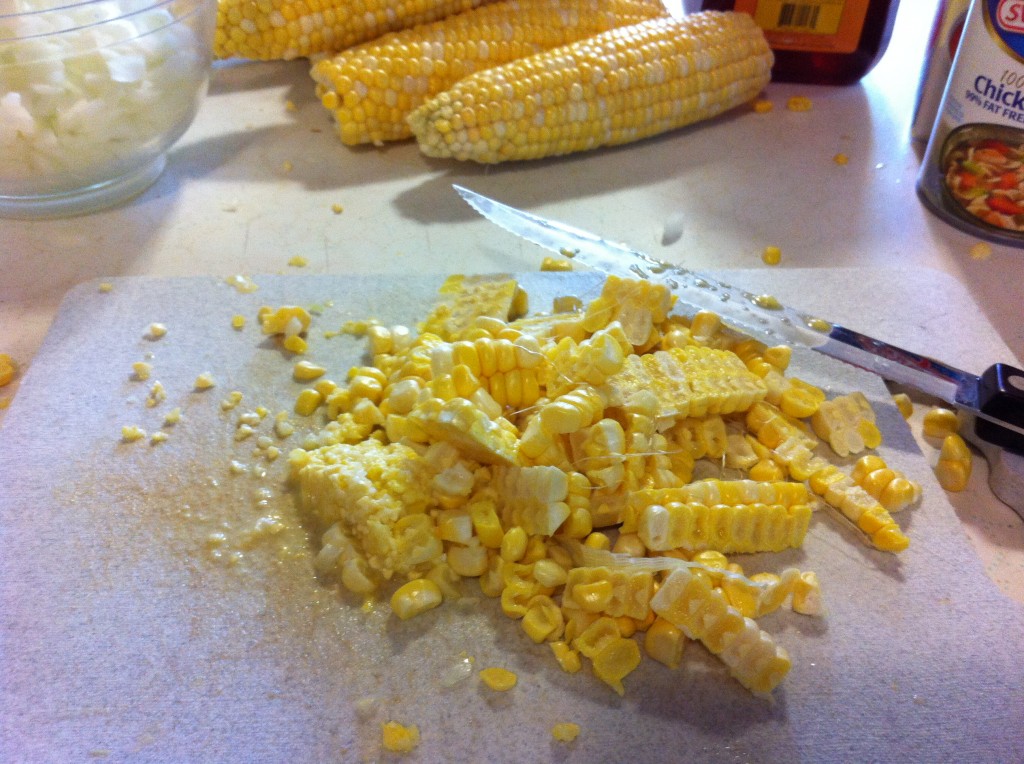 Cut the corn off of 6 medium size corn cobs to make around 3 cups of fresh corn.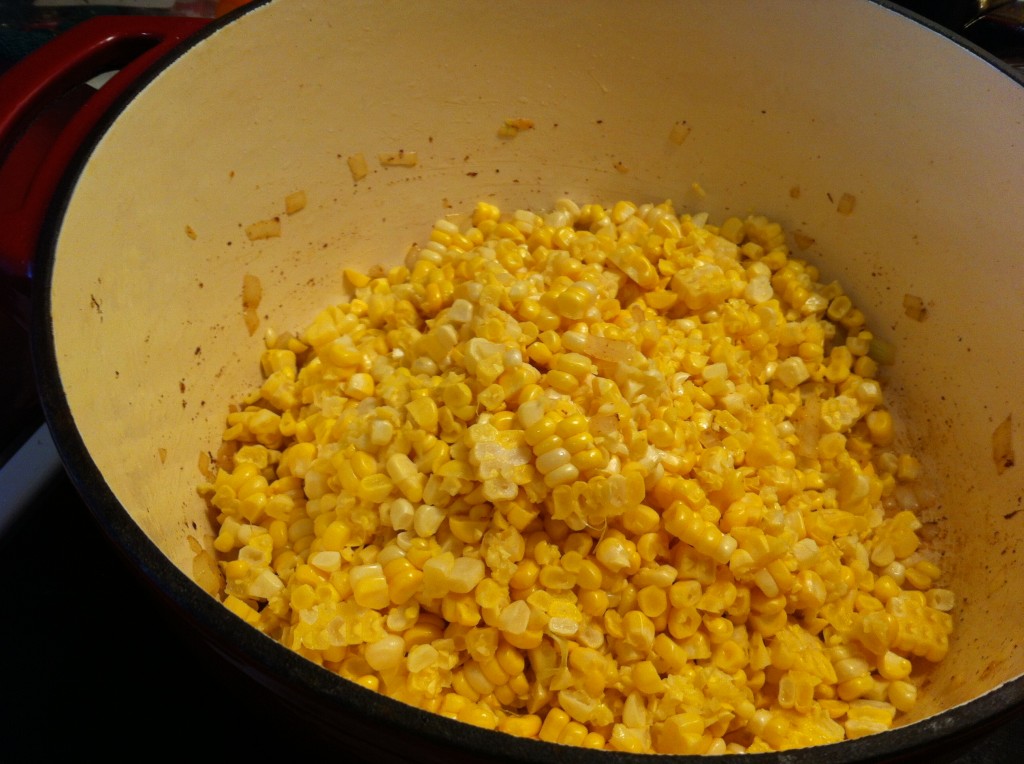 Add the corn to the onions and saute together for another 5 to 6 minutes. Be sure and stir occasionally to keep from sticking.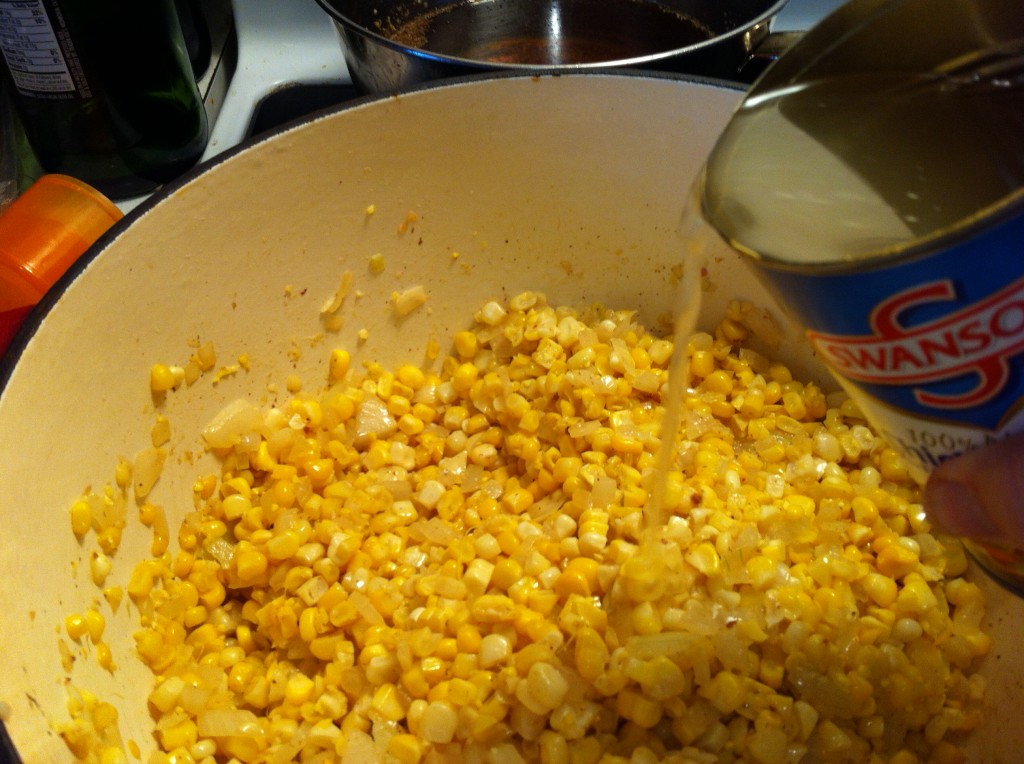 Pour in the chicken stock to the corn and onions.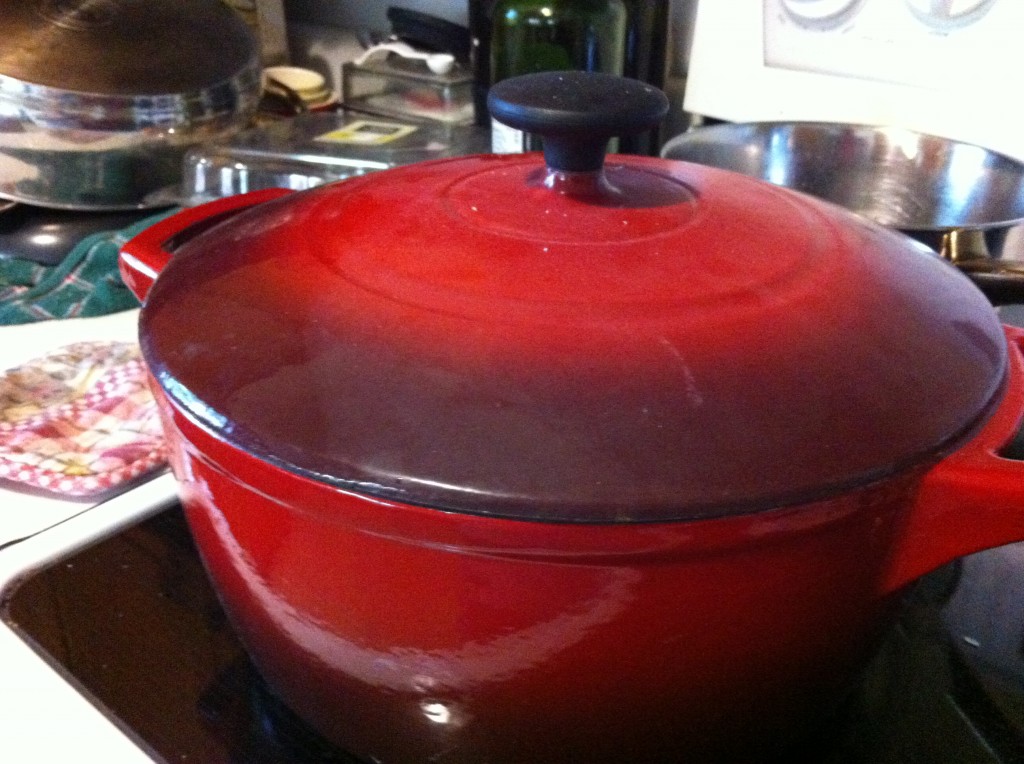 Put the lid on the pot and simmer for 20 minutes.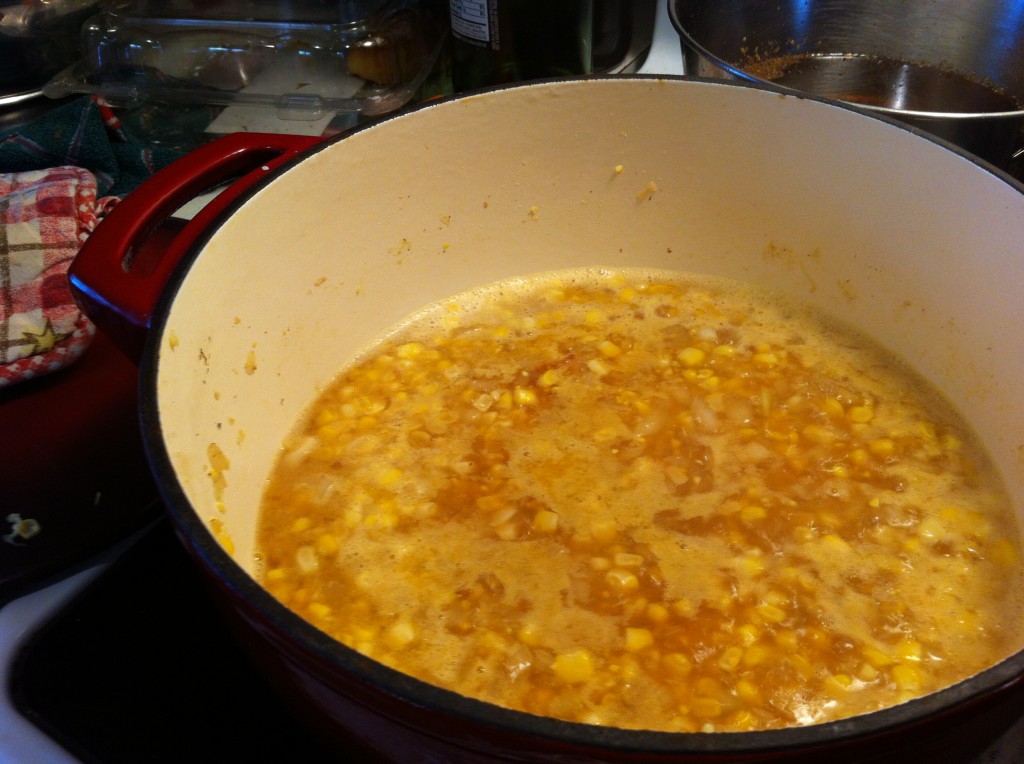 The corn and the onions should be super tender after simmering for 20 minutes.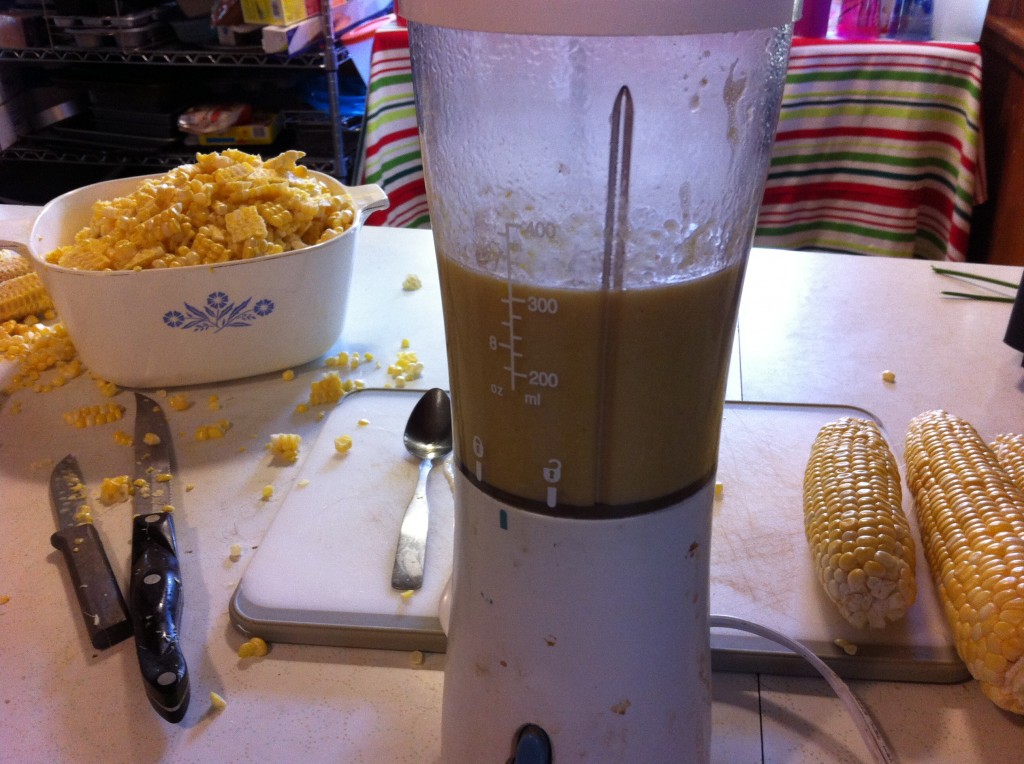 In a food processor, blender or in my case my smoothie blender, blend the corn soup to a pretty smooth consistency.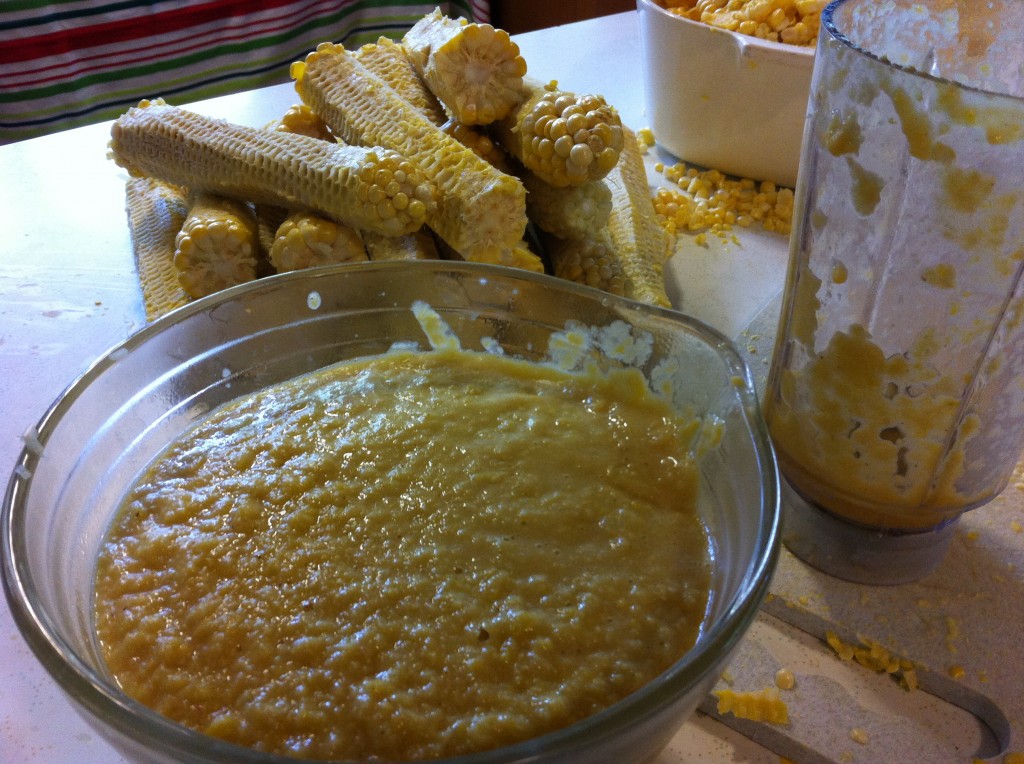 It should look like this when you puree it.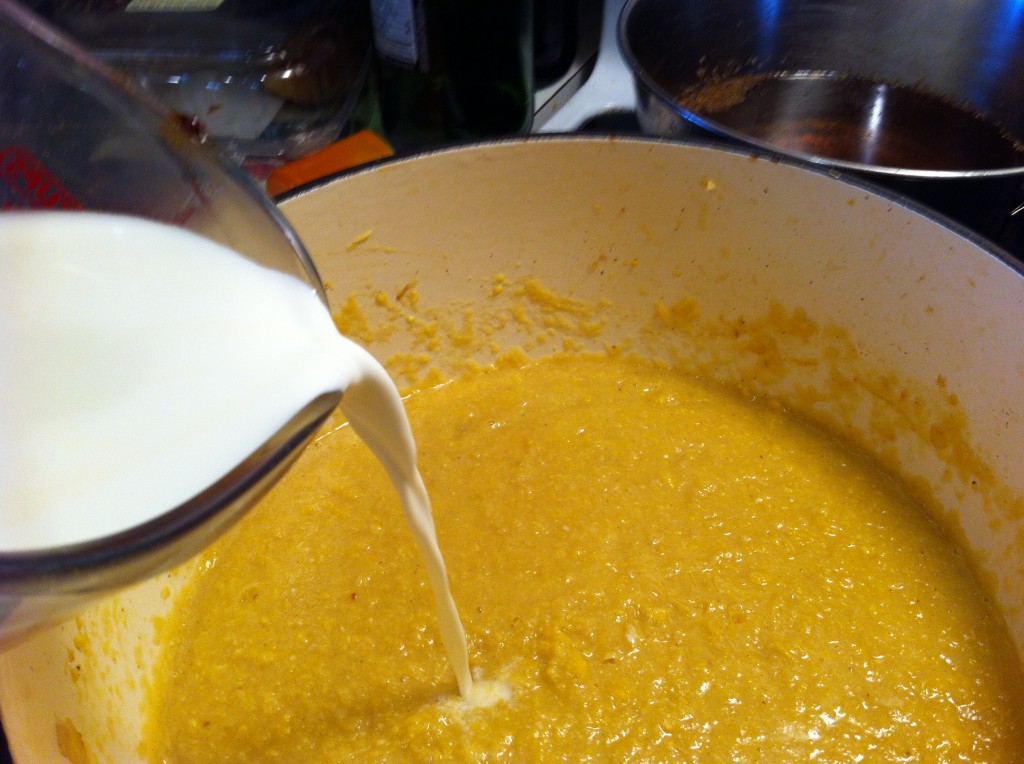 Put the soup back into the pot and add the half and half.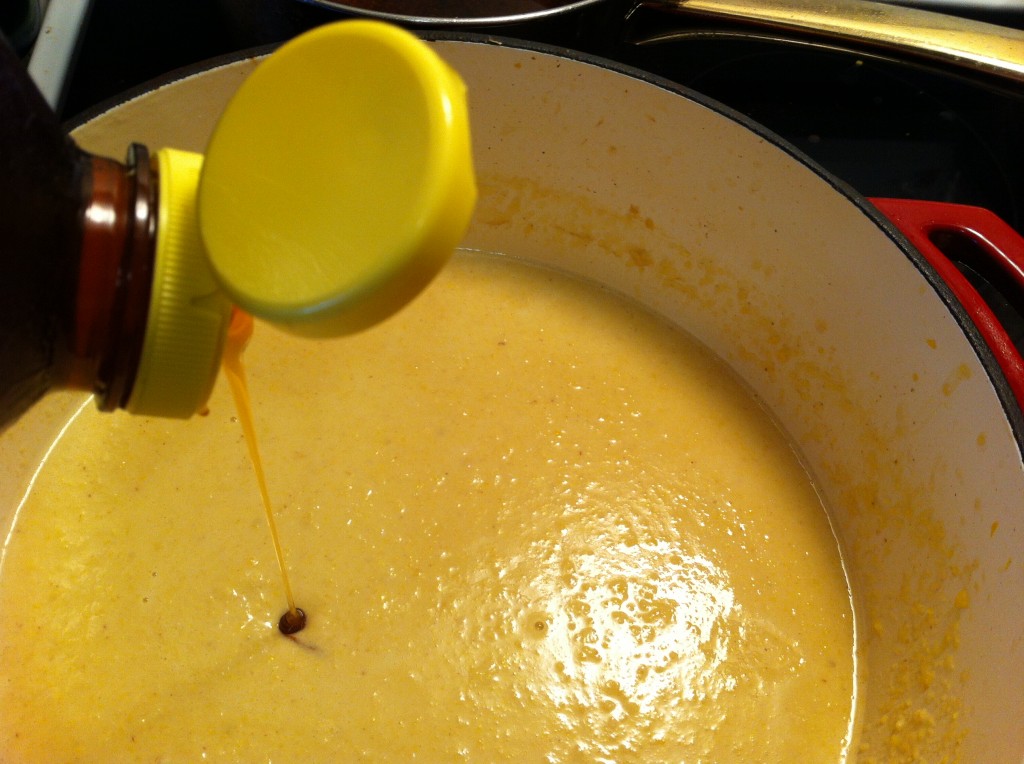 Add salt, pepper and a little cumin. I added a tablespoon of honey, but that is optional. Be sure and taste the soup to see how much to season.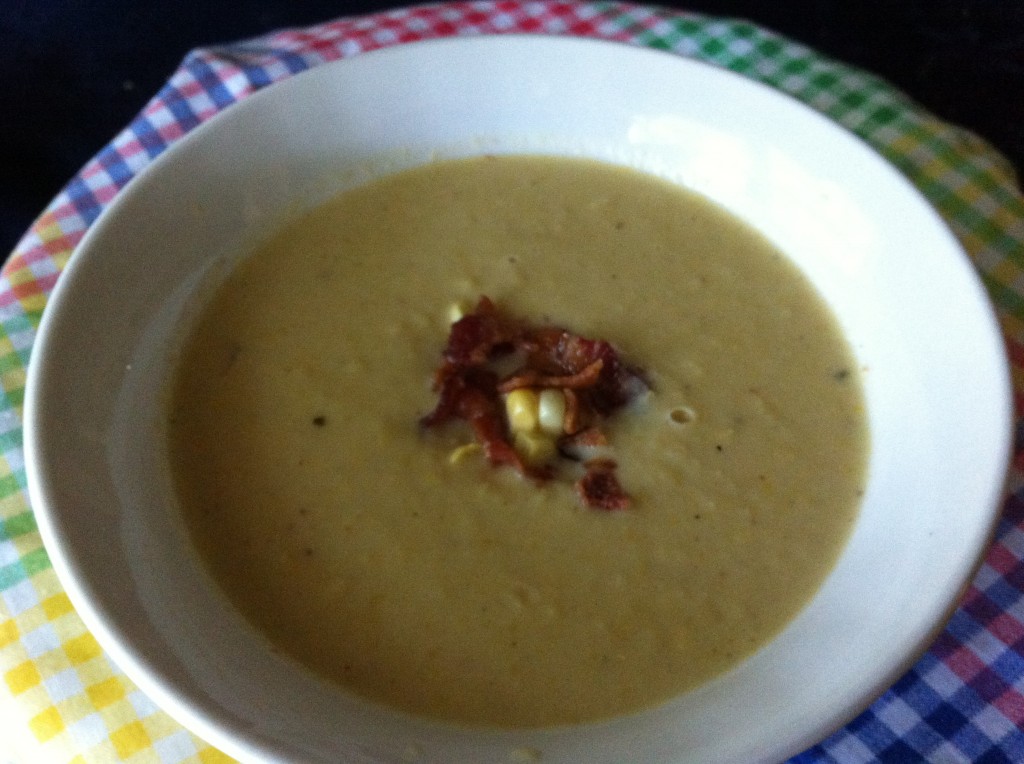 Serve the soup warm with a bacon crumble garnish. I even added a few raw cut kernals on top of mine. This soup can be served cold if you like too!
Here is the recipe!
Creamy Corn Soup
Ingredients:
4 slices of bacon
1 medium chopped yellow onion
6 ears of corn with the kernals cut off (about 3 cups)
3 cups of chicken broth
1 and 1/2 cup of half and half
Salt, pepper, cumin to taste
1 tablespoon honey (optional)
Directions:
In a dutch oven or stock pot, fry the bacon until crispy. Remove the bacon and reserve to crumble on top of soup as a garnish for later. Using the bacon grease, add the chopped onions and saute for around 5 minutes until they are transulcent.
Next, add the corn and saute together with the onions for another 5 minutes.
Add the chicken broth, cover with a lid and simmer for 20 minutes or until the corn and onions are tender.
Using a food processor or blender, puree the soup until smooth. Do this is small batches as the soup is hot.
Put the pureed soup back into the dutch oven and add the half and half.
Taset the soup first and then  season with salt, pepper, cumin and honey. Be careful not to over season.
Garnish with crumbled bacon and dices tomatoes if desired.
Enjoy!
Becky
Here is some other soup recipes you might enjoy making.
Creamy Butternut Sqaush Soup                                             Chicken Gnocchi Soup