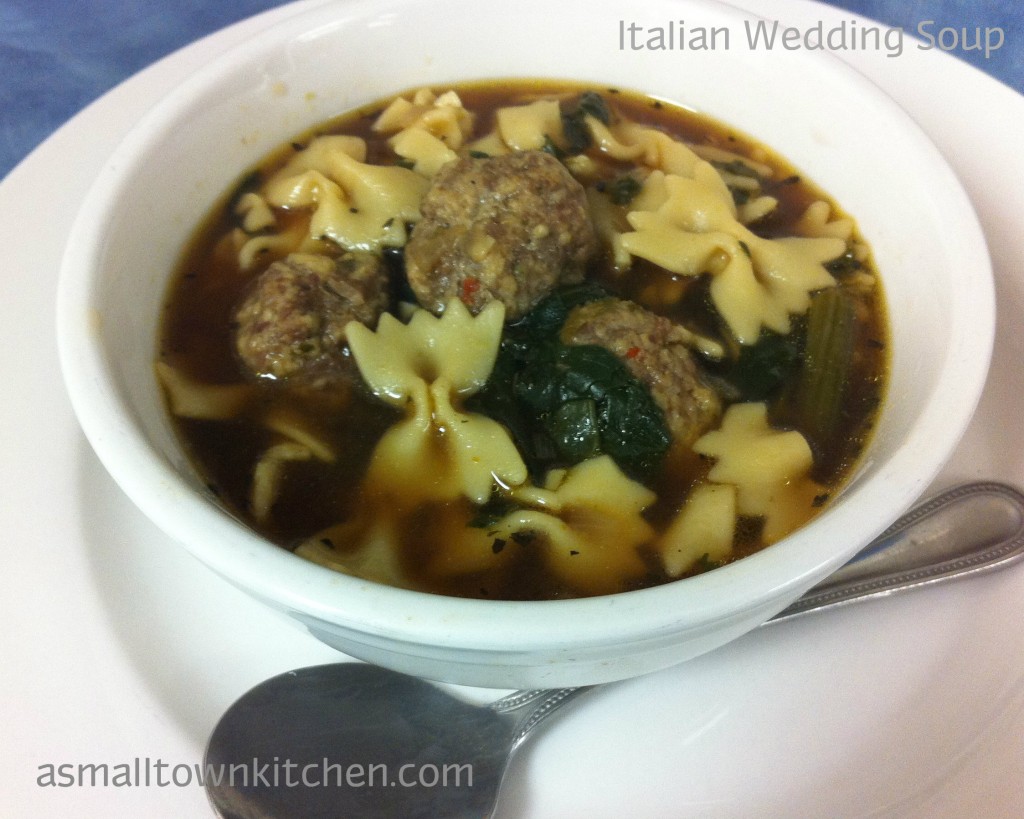 What is your favorite comfort food….besides chocolate? ; )
I have to say that my favorite comfort food (besides chocolate) is hot rolls and delicious soup.
I can eat soup in the summer, fall, especially the winter and spring.
I guess that means I eat soup all year long.
I am slow sometimes.
When I was asked to cater in dinner for the science department at my school this past week (and where I made The Best Chocolate Cake),  I decided I would make two kinds of soups. I have several favorite soup recipes to choose from.
Here are a few of the soups I make that I have posted about.
   Velvetta Cheese Soup                      Taco Soup                      Butternut Squash Soup
Well, I love soup, and I hard time choosing which kind of soup to make. There was this one soup I have not made in a couple of years that I really love. It has small little homemade meatballs with miniature bow tie pasta floating around in a vegetable beef broth. It goes perfect with hot rolls.
Hot rolls + soup = comfort food to me.
Yes, that is how math works in my head. If I really need to add ( 1 + 1) I have to ask oldest daughter who does not cook.
Anywho….
Ding Ding Ding….I decided to make Italian Wedding Soup.
I found this recipe a few years ago on the Taste of Home website and I have tweak it a bit to suit my taste. That is the beauty of making homemade soup. You can add more vegetables, different vegetables or even chicken meatballs instead of sausage and beef.
Have fun with this recipe.
Make it the way you want it to taste.
This post is all about comfort food not complicated food.
Enjoy!
Becky
Here is your grocery list and step by step instructions: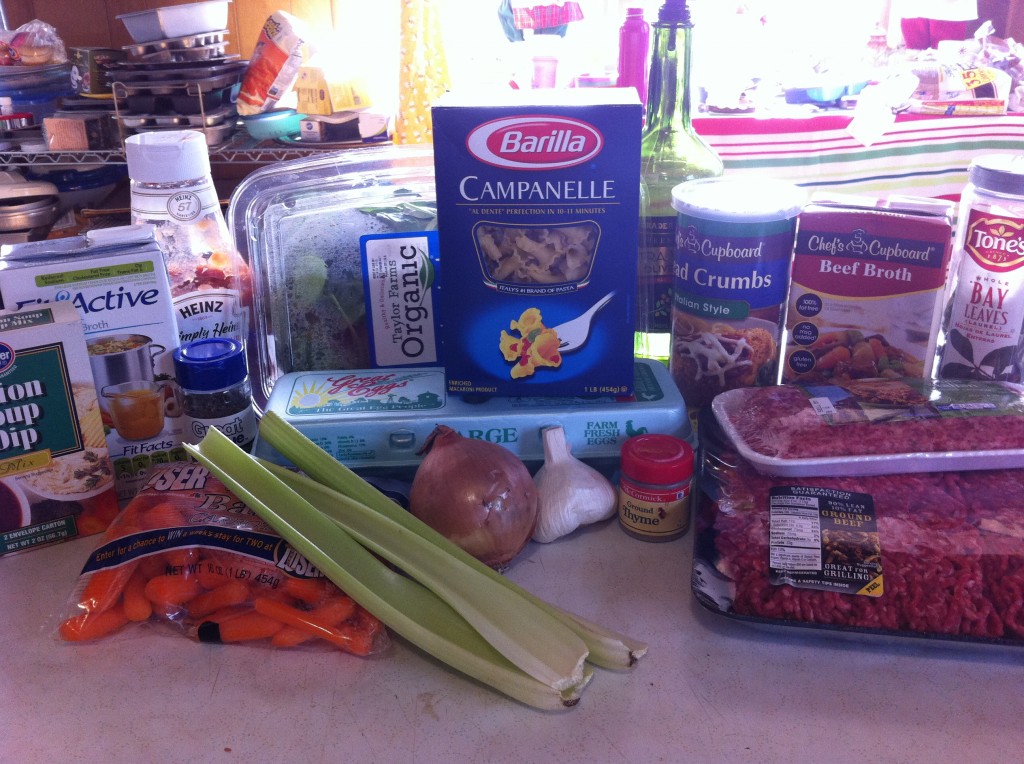 This soup has both chicken and beef broth in it. You can purchase premade or you can make it from soup base. I bought premade this time from Aldi's. I was pretty impressed with it. It tasted pretty darn good plus it did not have any msg in it. Also, I used fresh spinach but you can use frozen spinach if you prefer. Also, I decide to use mini bow tie pasta, just cause I wanted too….use what ever pasta you have on hand.
To make the meatballs start by putting 2 eggs in a mixing bowl. Add in the season bread crumbs.
Mix the bread crumbs  and the eggs together to combine. Next add the Italian sausage. I used mild Italian sausage.
Add the hamburger and combine all the meatball ingredients. On a large greased foil lined cookie sheet place the 3/4 inch meatballs. I used my smallest cookie scoop. Bake at 350 degrees for 15 to 18 minutes. Drain the meatballs on a paper towel.
 You could make these meatballs ahead and freeze them in the freezer until you are ready to use them.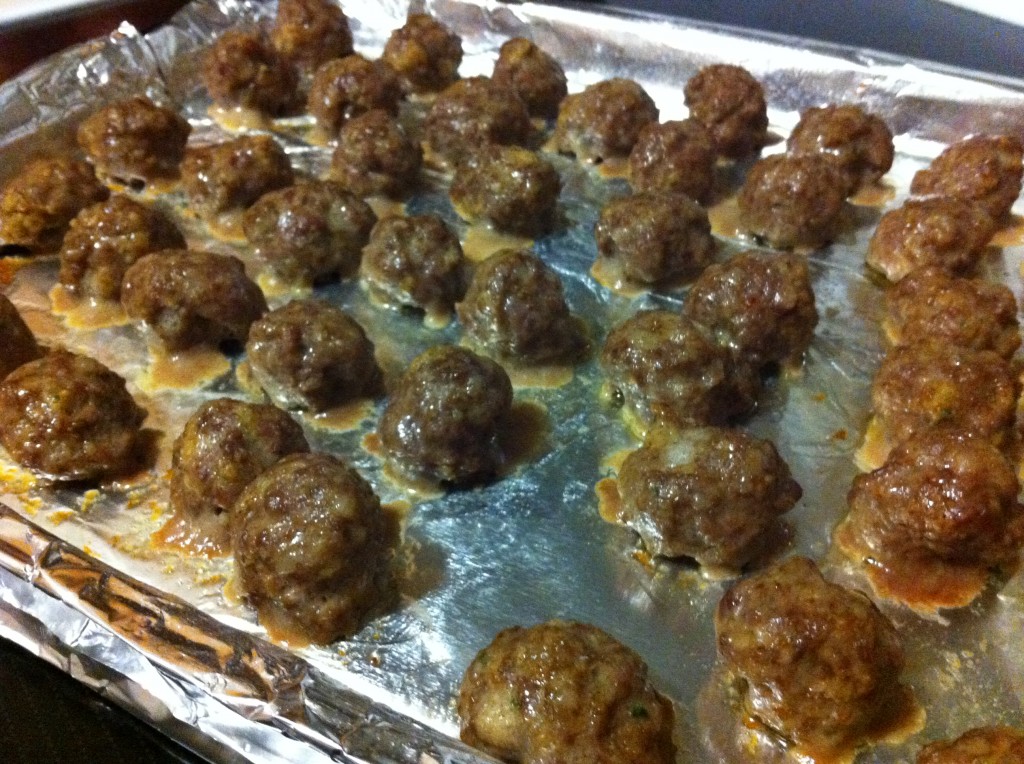 This is what they look like when they come out of the oven all cooked. They are the perfect size for your spoon.
Next step….The Soup.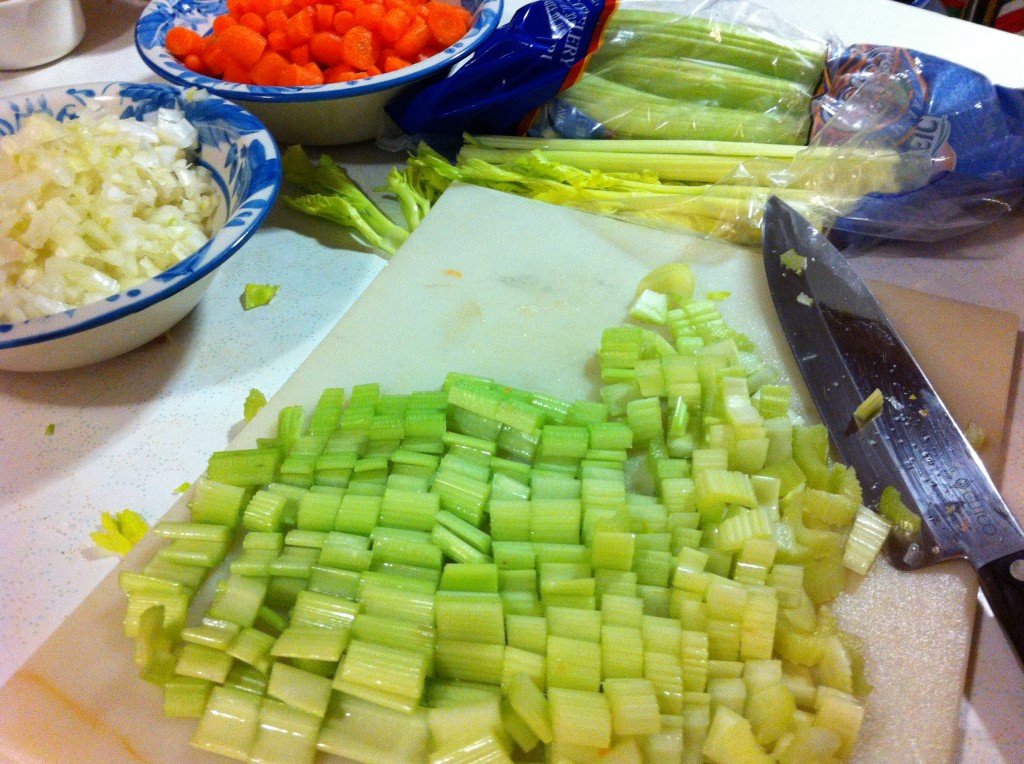 Dice up the celery, onion and the carrots.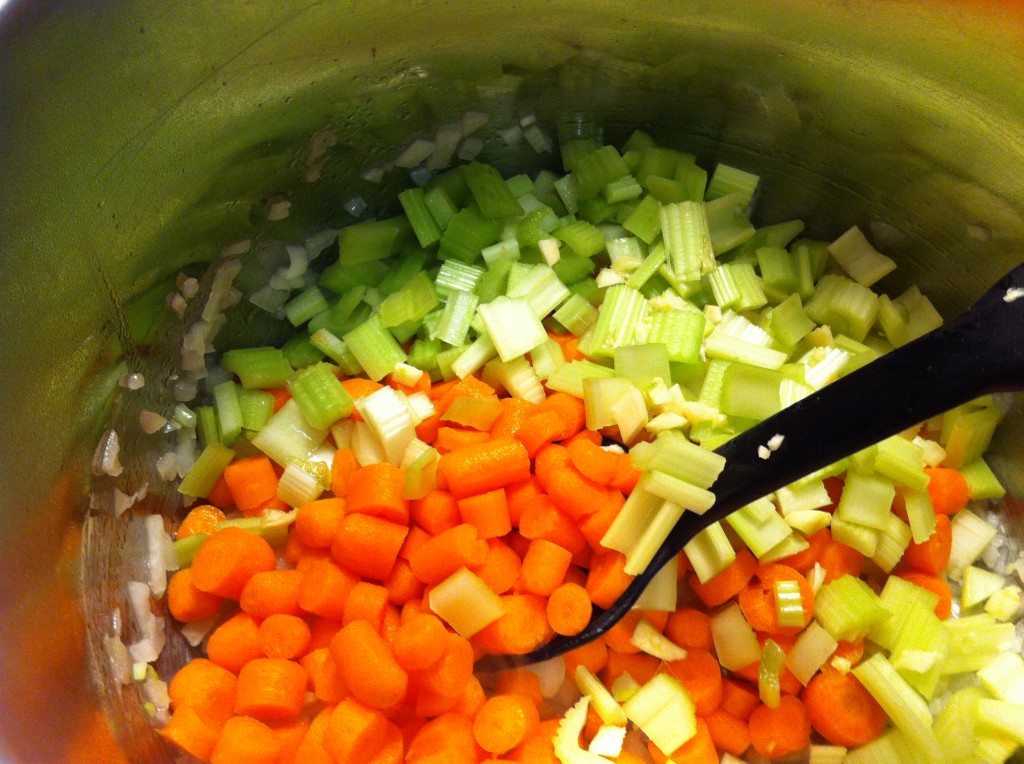 In a dutch oven or a large stock pot heat up the olive oil. Add the chopped vegetable and saute.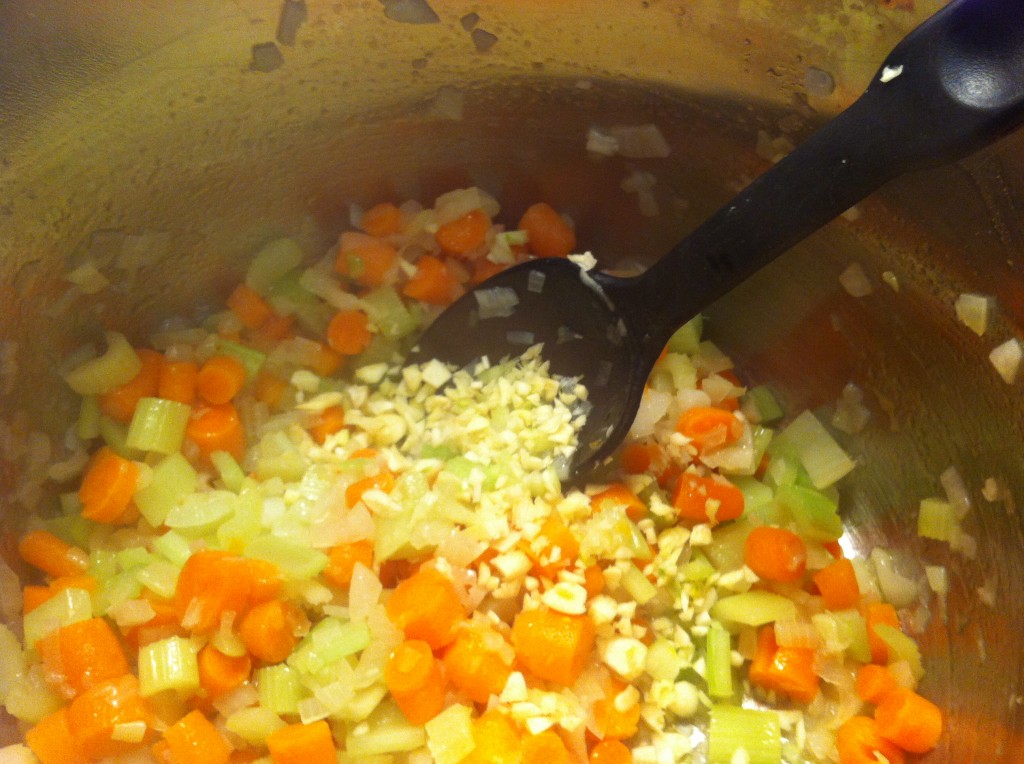 Saute the vegetables until they are tender.
Pour in the chicken and beef broth. Next add in the onion soup mix.
Next add in the ketchup and stir in. Add in the basil, thyme and bay leaves.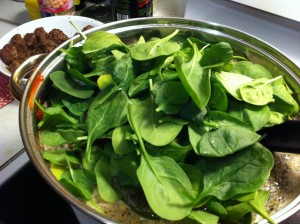 Add in fresh or chopped frozen spinach along with the meatballs. Bring the soup to a boil and simmer for 30 minutes.
Now it is time to add the dry pasta. Add the pasta and cook for another 12 minutes until the pasta is tender.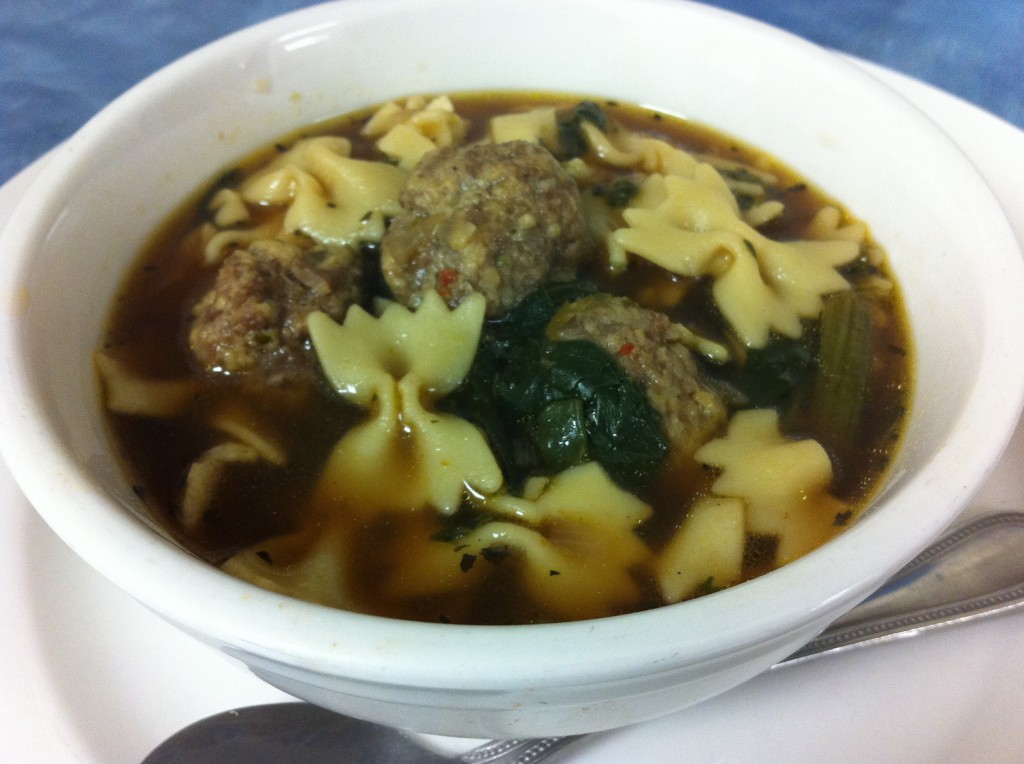 Easy Peasy, Nice and Easy!
Soups on….now where are the rolls?
Enjoy the day!
Becky
Here is the recipe
Italian Wedding Soup
Adapted from Taste of Home
Ingredients:
2 eggs slightly beaten
1/2 cup seasoned bread crumbs.
I pound ground beef. I used 90 % lean ground beef
I pound Italian Sausage. I used mild.
4 to 5 medium carrots, sliced
5 celery ribs, diced
1 large onion, chopped
3 garlic cloves, minced
5 tablespoons olive oil.
4 cans chicken broth
2 cans beef broth
1/2 pound of fresh spinach, chopped or 1-10 ounce package of chopped  frozen spinach
1 and 1/2 teaspoon basil
1 envelope onion soup mix
5 tablespoons ketchup
1/2 teaspoon thyme
3 bay leaves
2 cups of uncooked mini bow tie pasta (you can use any pasta of your choice)
Directions:
In  large mixing bowl, combine the eggs and the bread crumbs. Add the ground beef and the sausage. With a mixture, gently mix all the ingredients to combine. You can also do this by hand if you do not have a stand mixer. Shape the meat mixture into 3/4 inch meatballs.
Line a large cookie sheet with foil and grease. Preheat oven to 350 degrees. Place the meatballs onto the greased foil lined cookie sheet and bake for 15 to 18 minutes. Drain the meatballs on a paper towel.
In a large stock pot or dutch oven, saute the carrots, celery and onions in the oil until tender.
Add the mined garlic and cook another minute.
Stir in the chicken and beef broth, basil, soup mix, ketchup, thyme, spinach and bay leaves.
Bring soup to a boil. Add in the meatballs and simmer for 30 minutes. Add the pasta and cook another 12 to 13 minutes or until the pasta is tender. Remove bay leaves and serve.