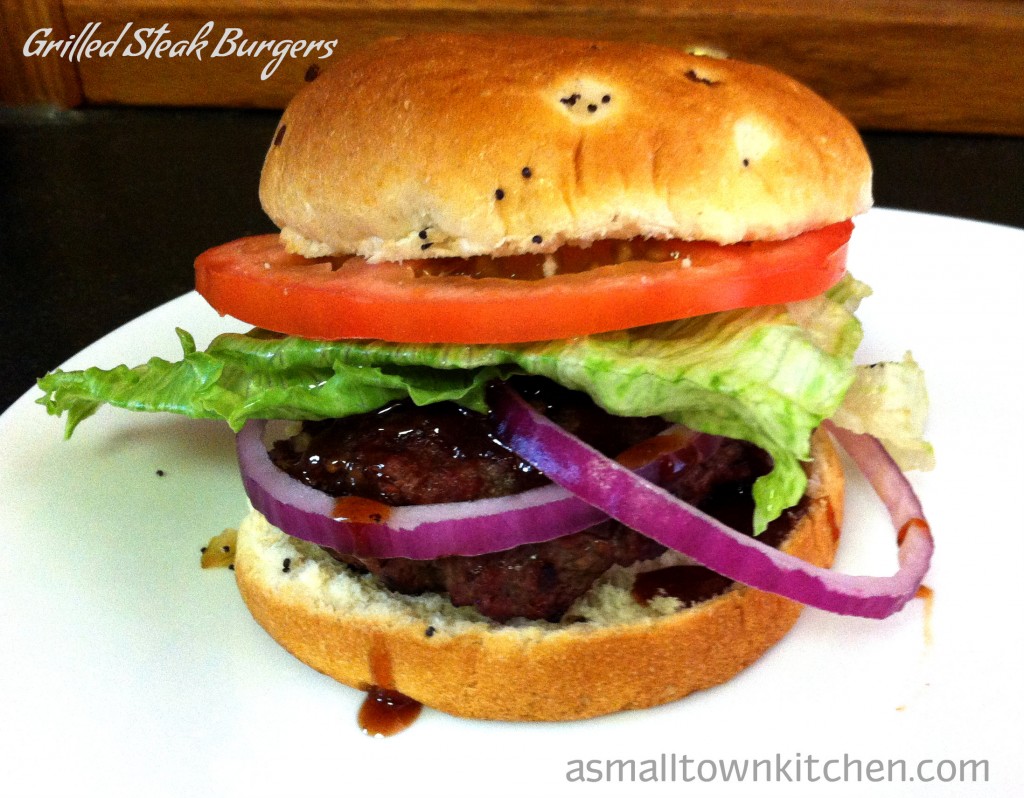 Am I the only one out there missing the smell of smoke, waifing up from the barbecue grill?
The delectable aroma of barbecue smoke that makes you want to guess what is grilling on the grill.
If you are like me, you love the taste of food cooked on the grill.
I love the charred parts, the grill marks and the distinctive smell that grilled food produces.
I am always jealous when I come home from work and my neighbors are grilling and making the air smell so delectable while  my grill sits cold and empty.
I just want to follow the smell of the smoke and invite myself to dinner.
I use this strategy to meet my neighbors.
I know this has happened to you.
Or do you have a better strategy?
If you do, please let me know.
Anywho, as I sit here watching the snow melt, I am day dreaming about a eating a grilled steak burger.
A few months ago, before central Missouri was blanketed with snow along with blowing cold air freezing our ear lobes, at went to my brother Robert and PIC's house for a visit.
I love to go there for a visit.
We usually go to the outlet mall to shop, buy sweet goodies to eat and my brother barbecues for us.
That weekend, I brought with me a recipe for steak burgers that I found from America's Test Kitchen.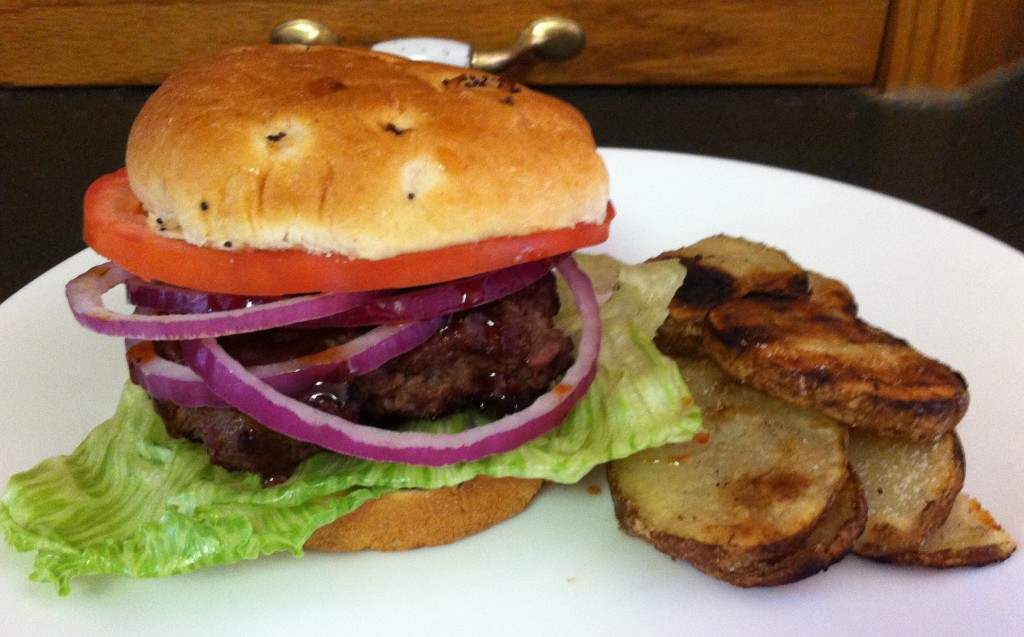 It is a steak experience on a bun.
Since fat is one of the things that make a burger taste so great, and since ground steak is really lean,  you  add melted butter right in with the ground meat. You get the great taste of steak, the juicyness from the butter and the added bonus flavor of sauteed garlic.
Spring is right around the corner. You will want to save this recipe to bring your grill out of winter hibernation.
Your grill will thank you and so will your taste buds.
Here is your step by step instructions: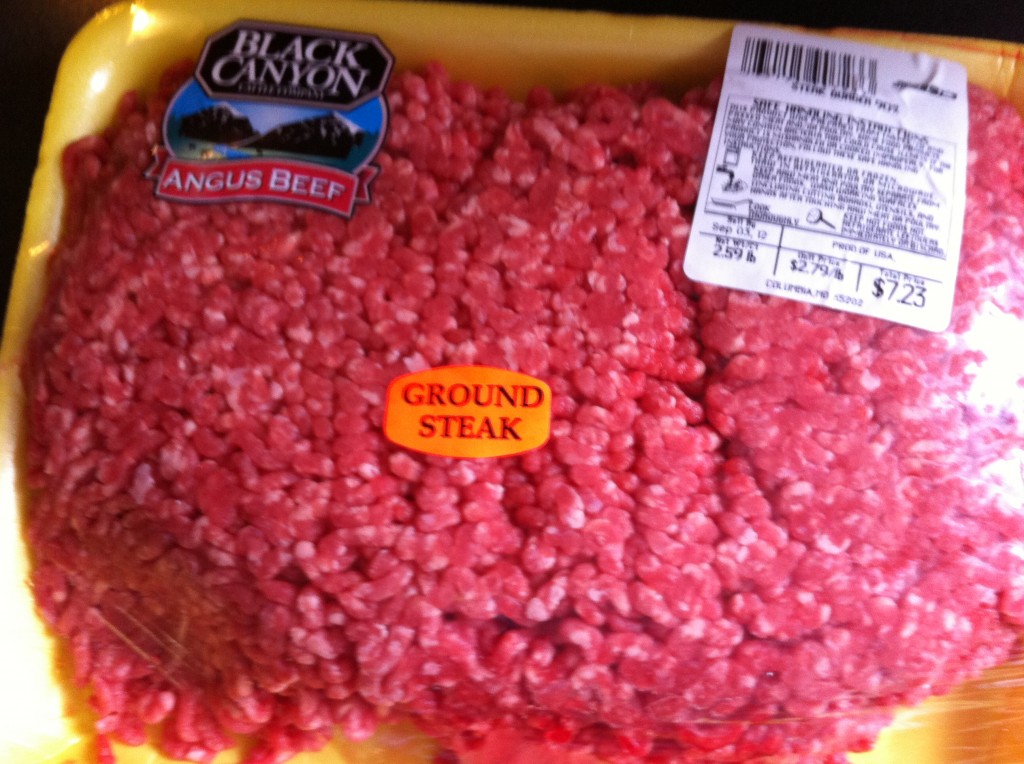 First off you will need some steak burger. I just happen to luck out and find some on sale. You will also need some fresh garlic, unsalted butter, onion powder, peper, salt and soy sauce.
You will need to peel 2 cloves of garlic and mince them up. I had more ground steak so I had to use three.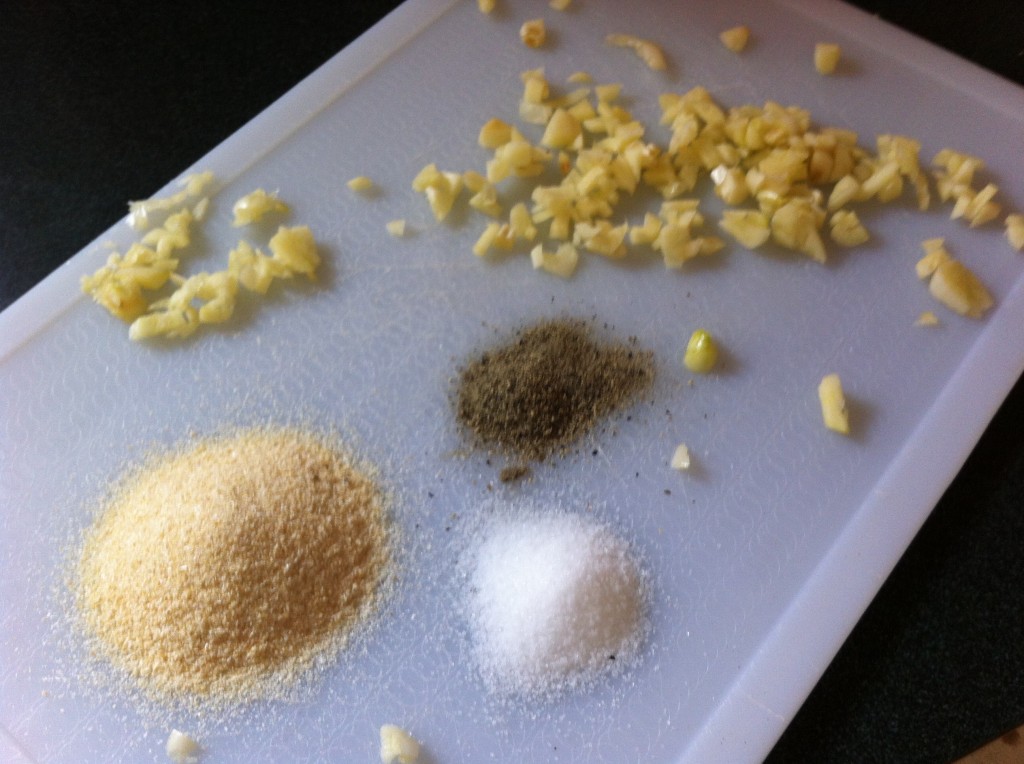 Measure out the onion powder, pepper and salt.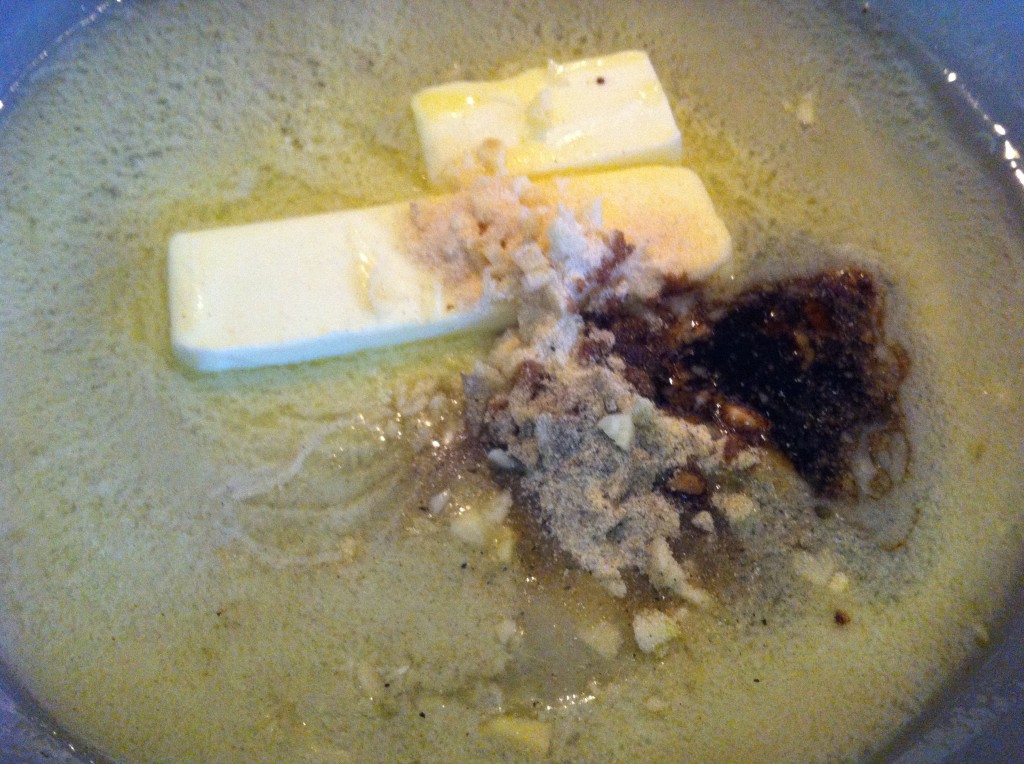 In a sauce pan, melt the butter. Add the garlic, seasonings and soy sauce. Saute for one minute. Cool for about 5 minutes.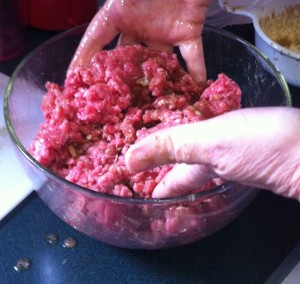 Add the cool butter mixture to the ground steak and gently knead in.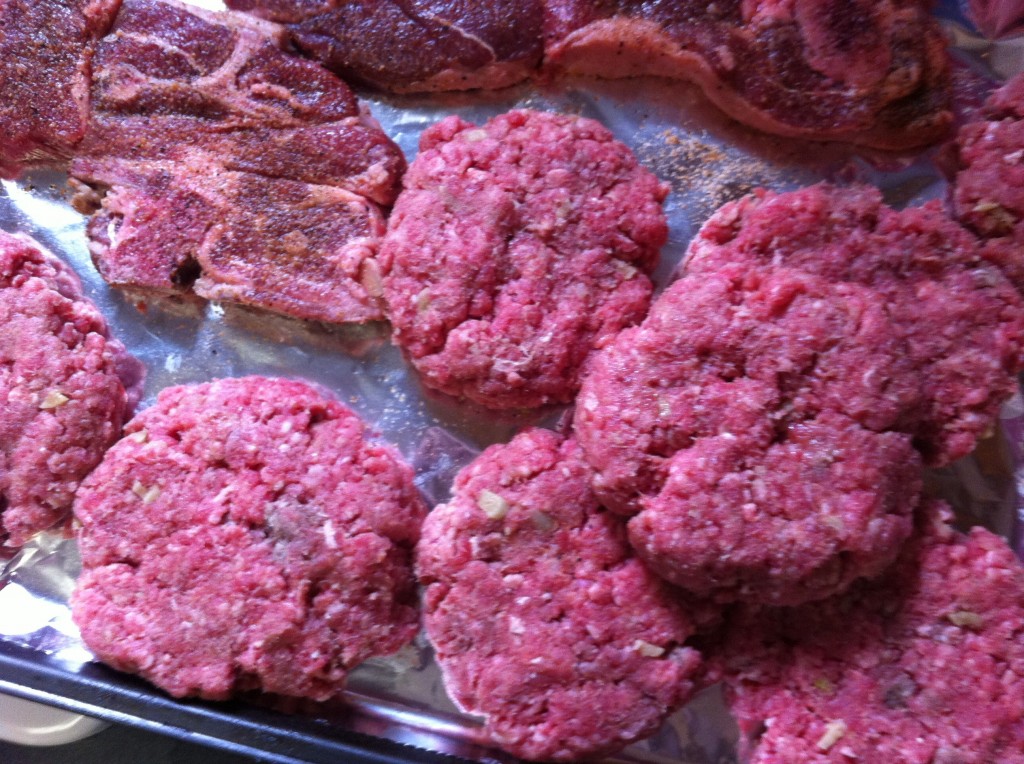 Form into 3/4 inch thick patties. Looks like some pork steak wanted to sneak in on the grill action.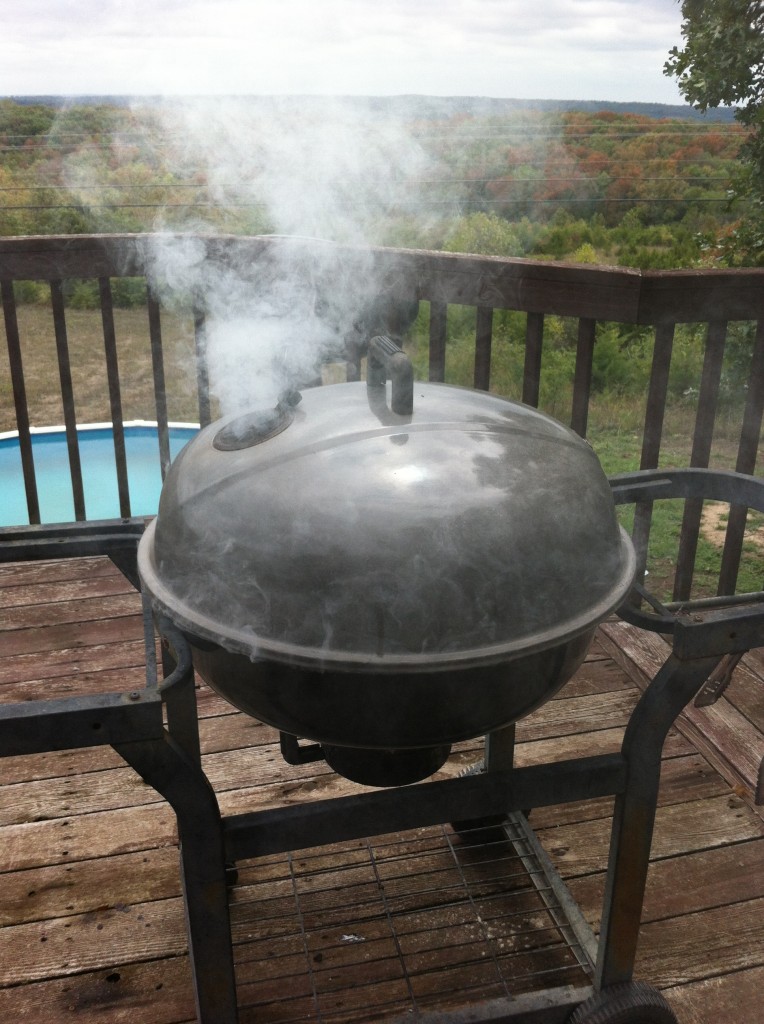 Now, it is time to go find a smokin hot grill.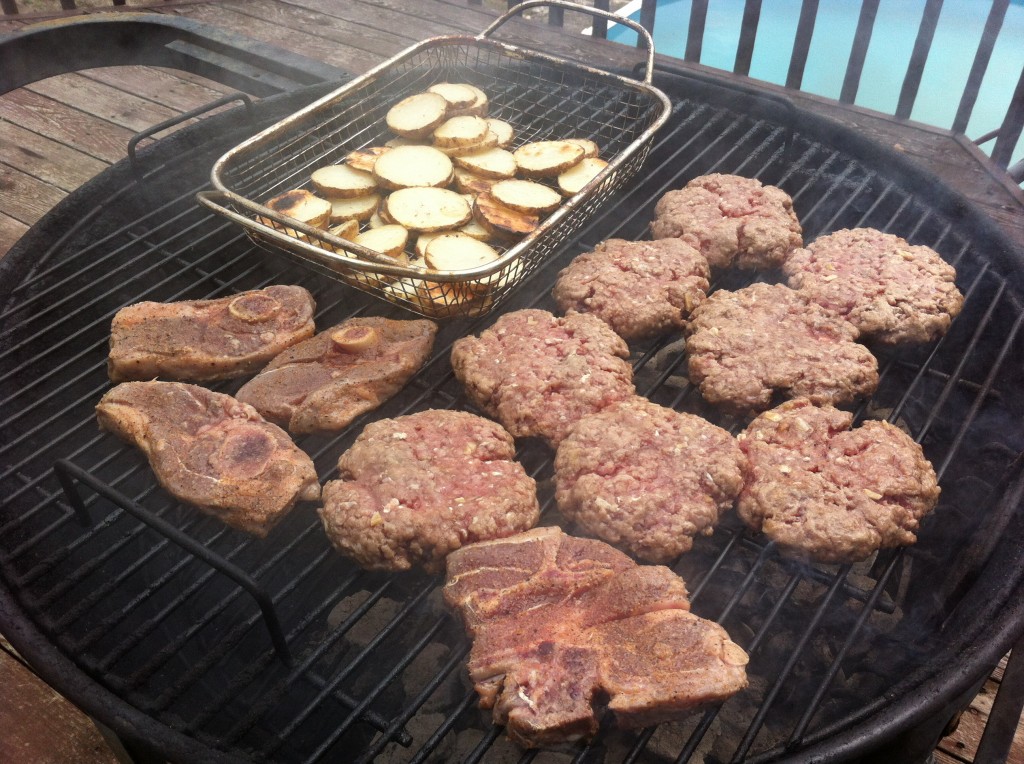 Place burgers on a hot grill.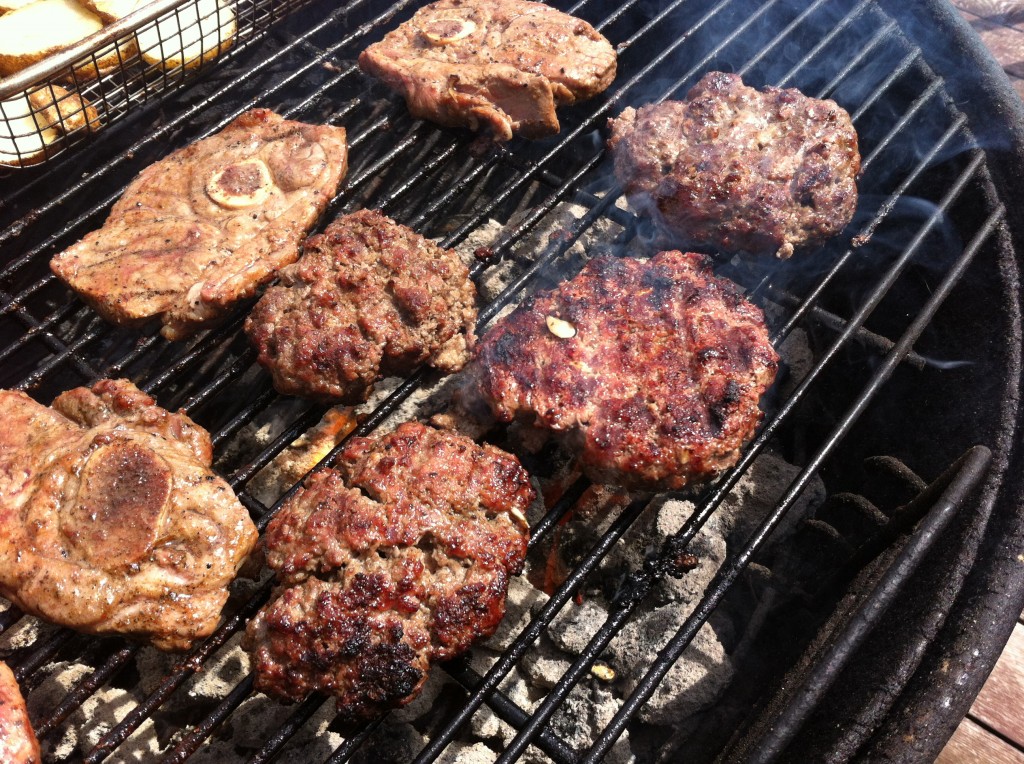 Grill on both sides until you get to the done-ness you prefer. I like mine medium to slightly pink so that would be approximately 8 to 10 minutes on the grill. Flipping the burgers half way through the cooking time.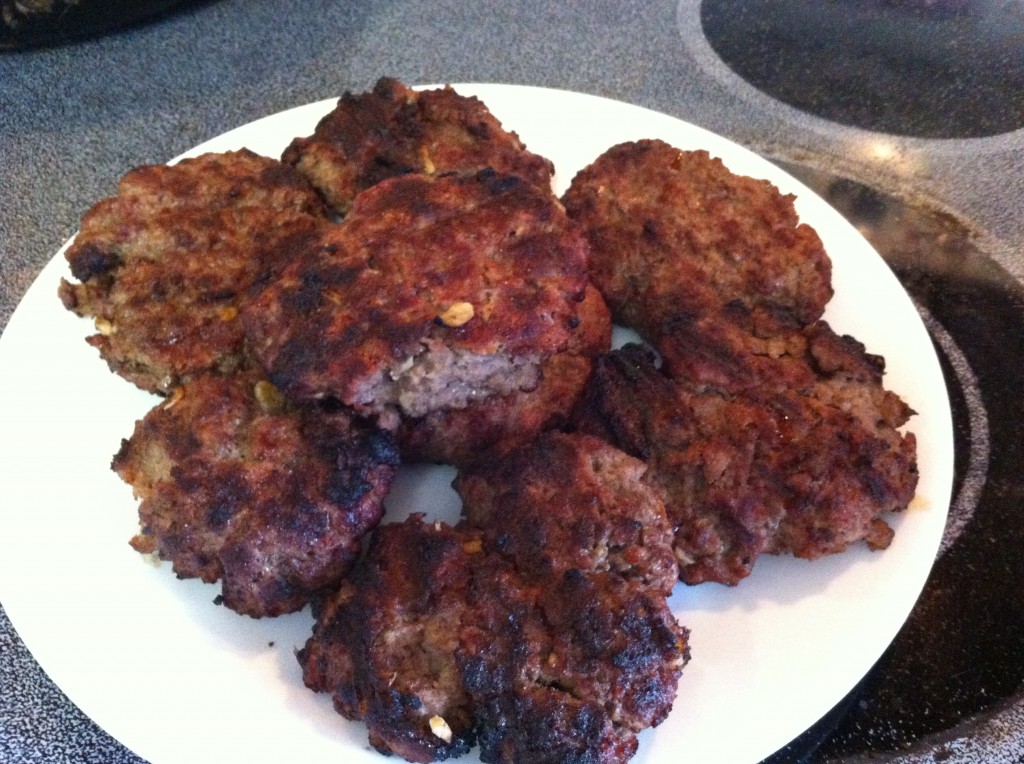 Here is your plate of perfectly grilled steak burgers. Can you see the speck of garlic peeking out. Sorry….that is my bite : D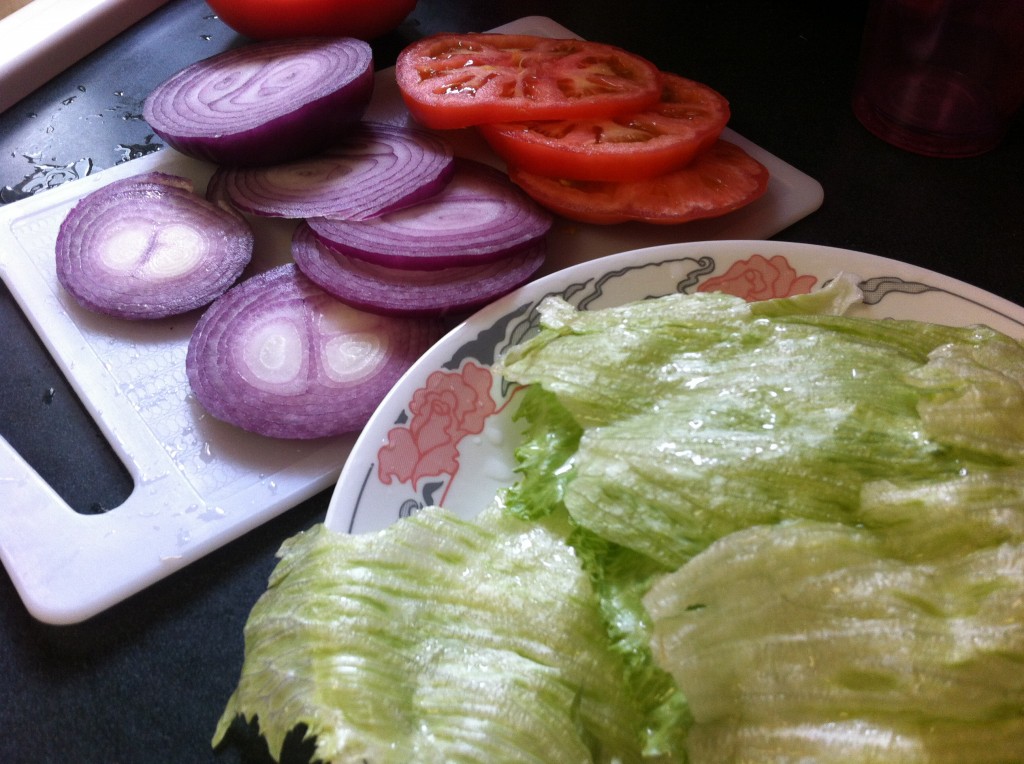 While Robert was grilling PIC and I sliced up some tomatoes, sweet red onions and tore some lettuce leaves.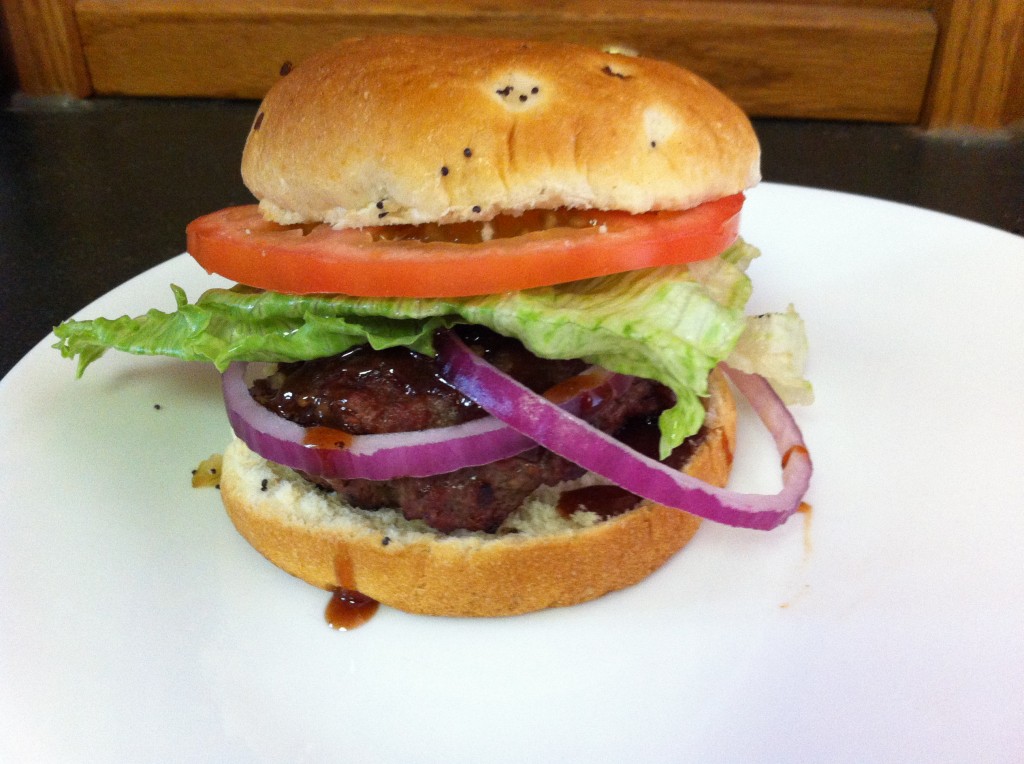 We used onion buns to top on our buns. See that little drip of sauce. That is Robert's secret sauce.
 I would give you the recipe, but it is secret.
Hence the name, "Secret Sauce."
He won't even tell me how to make it. He reminds me of a mad scientist when he makes his secret sauce. I know it has brown sugar in it and that is good enough for me.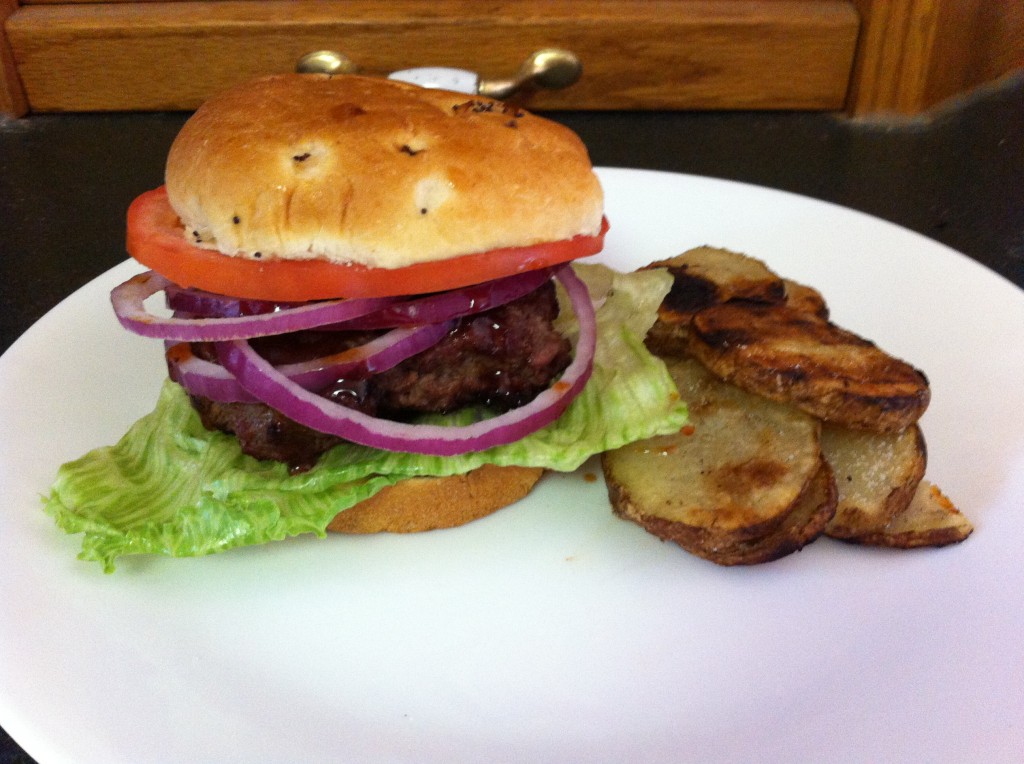 I keep telling myself spring is almost here. You can put money on it that as soon as I get my grill ready,  I will be grilling these steaks burgers first thing.
Or, maybe I will just make another visit to my brothers house and have him grill them for me.
Get your grill ready and invite your friends over for grilled steak burgers.
It will be a steak experience they will not forget.
Enjoy!
Becky
Here is the recipe:
Grilled Steak Burgers
Adapted from America's Test Kitchen
Ingredients:
6 tablespoons unsalted butter
2 garlic cloves, minced
2 teaspoons onion powder
1 teaspoon pepper
1/2 teaspoon salt
2 tablespoons soy sauce
1 and 1/2 pound ground steak or 90 percent lean ground sirloin
4 onion buns or regular hamburger buns if you prefer.
Directions:
In a sauce pan, melt the butter. Add in the minced garlic, pepper, salt, soy sauce and onion powder. Saute for about one minute. Set aside to cool for about 5 minutes.
In a large bowl put in the ground steak. Add the cooled butter mixture. Gently knead the butter and ground steak together.
Make into four 3/4 inch thick steak patties.
Place on a hot grill. Heat grill for five minutes  before placing the patties on the grill.
Carefully grill the patties. They will be tender and they start to cook and firming up.
Grill for around 4 to 5 minutes on each side, or until desired done-ness.
Serve with fresh lettuce, sliced onions and tomatoes.
If you have some secret sauce that is great too.
If not, you can use your favorite barbecue or steak sauce.
Enjoy!