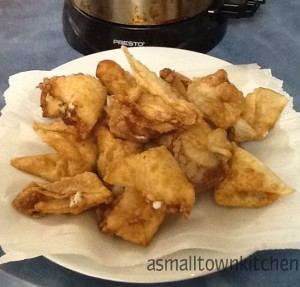 This past week I did a look through at all the left over ingredients I had in the refrigerators at school. Had lots of ketchup, salad dressings, mustard, a few cans of biscuits (we made microwave monkey bread a few weeks ago),  margarine (I can't afford real butter on my school budget) a onion, (that I threw out), a carton of milk from the cafeteria (that I drank, don't worry it was mine) and about 20 boxes of cream cheese. The cream cheese was left over from the 32 cheesecakes we made a couple of weeks ago. You can read about it here 32 Cheesecakes and Counting
What do you do with 20 boxes of left over cream cheese?
I was asking you that! : )
Originally, each kitchen was going to make their own cheesecake. After making so many cheesecakes and getting treated to left over cheesecakes, the students in my class will only eat cheesecake again if it came from The Cheesecake Factory.
I had this easy little recipe for crab rangoons. The students were a little, let's say, CRABBY, when I mention it. It took a little bit of coaxing, "it's crab rangoons, or notes and a power point." Surprisingly they all of sudden were very excited to make crab rangoons!.
Go Figure!
In a bowl mix together softened cream cheese, imitation crab meat, chopped green onion, garlic salt, soy sauce and worcestershire sauce.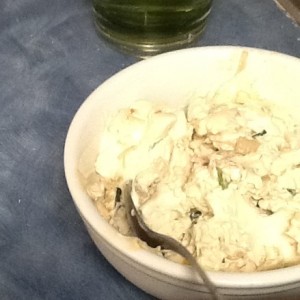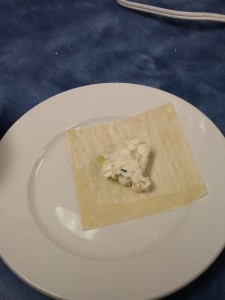 Take a small amount of filling and place it in the middle of a wonton wrapper.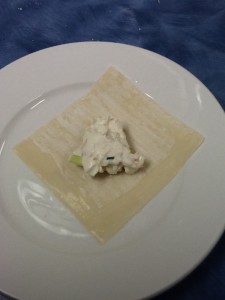 Wet the bottom half corners with water.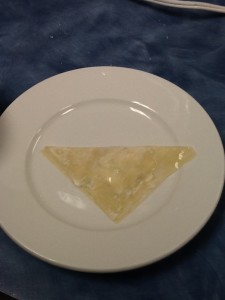 Fold over to seal the crab rangoon filling in and press shut. The water works like glue to seal it together.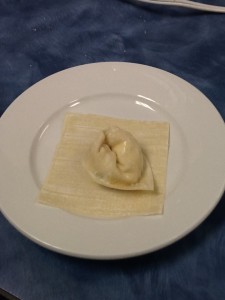 Wet the two top corners and make a crescent shape out of the crab rangoon and seal the top corners together. Whalaa!!!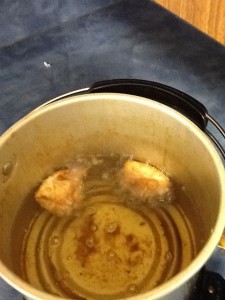 Put them in a deep fat fryer at around 370 degrees. Fry to a nice golden brown.
A little too light……………………………a little too brown………………………..Just Right!
Reminds me of a nursery rhyme.
My little crabs, who did not want to make crab rangoons did not stay crabby for long : )…..relief!
Here is to another week of being a FACS teacher!
I still have 6 boxes of cream cheese left……wonder if I can freeze it?
Becky
Easy Crab Rangoons
Ingredients:
1- 8 ounce package of cream cheese, softened
4 ounces of chopped imitation crab meat
1/2 teaspoon of soy sauce
1/2 teaspoon of worcestershire sauce
dash of garlic powder
1 green onion chopped
1 package of wonton wrappers.
Directions:
Heat vegetable oil to 370 degrees.
Mix the cream cheese, crab meat, soy sauce, worcestershire sauce, garlic powder andgreen onion in a bowl.
Put a small amount of the filling in the middle of the wonton wrapper.
Wet the bottom two corners with water and fold over to seal the edges.
Wet the top two corners with water and curve into a crescent and seal the top two corners together.
Drop carefully into the hot oil and fry until a golden brown.
Serve warm with sweet and sour sauce.
This recipe makes around 30 crab rangoons.