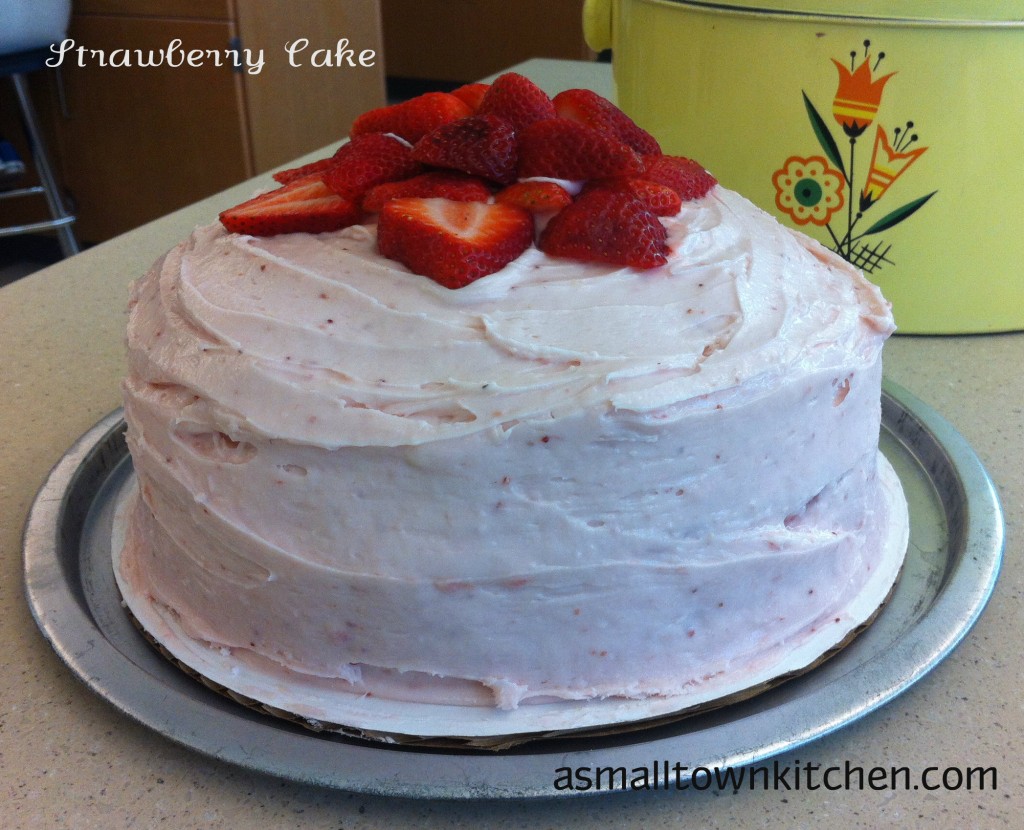 One of the highlights (at least for me) teaching summer school, is that our school does a Fun Food Friday.
We come up with a theme and all the teachers bring food in to share.
This is a fun time for me to try new recipes and have the teachers try them out.
Teachers eat anything….you know that don't you? : )
On the first fun food day, I brought in this Strawberry Cake. I found the recipe in a Southern Cake Magazine, and it looked way too good to pass up from trying it out.
There was not a crumb left over from this cake.
I have even been asked by a couple of teachers to make it for them and they will pay me.
Woohoo….money in the bank!
Anywho, before I left for vacation in Branson, I made this cake again for a teacher friend of mine. She is paying me to make it for her Aunt's birthday party.
How cool is that?
I am always humbled when I get asked to cater something or make a cake. Cooking and baking is just something I love to do.
Now I wish I could say that about cleaning the kitchen.
Below, is a shorten, step by step instructions on how to make this cake.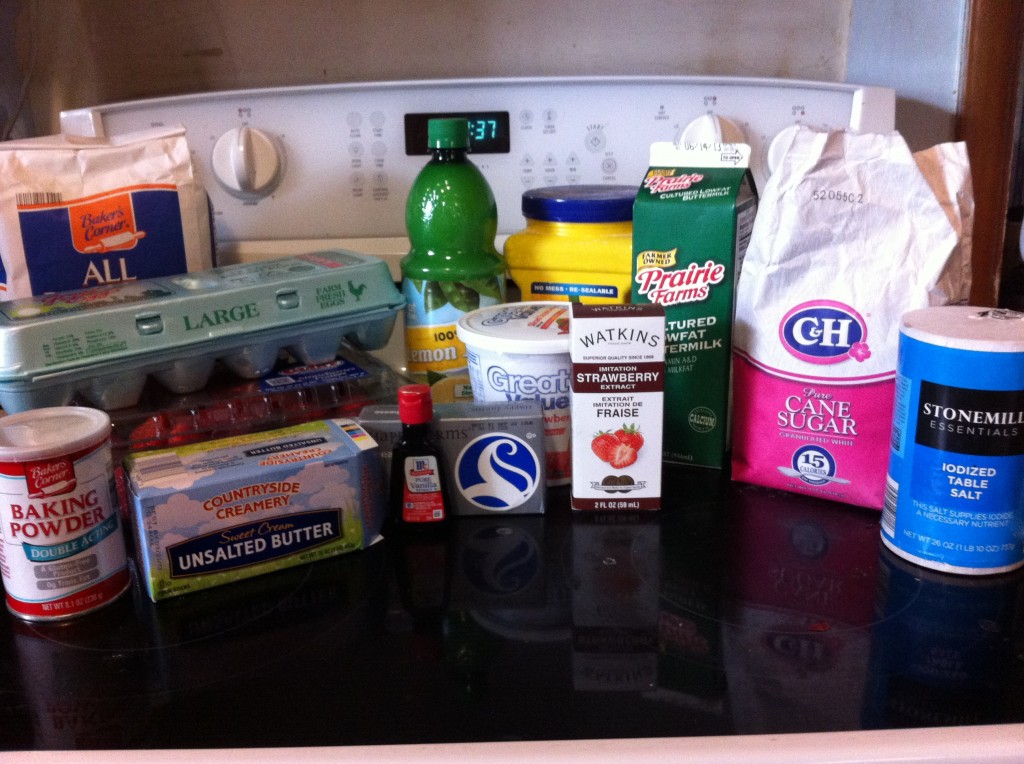 These are the ingredients you will need to make this show stopping cake.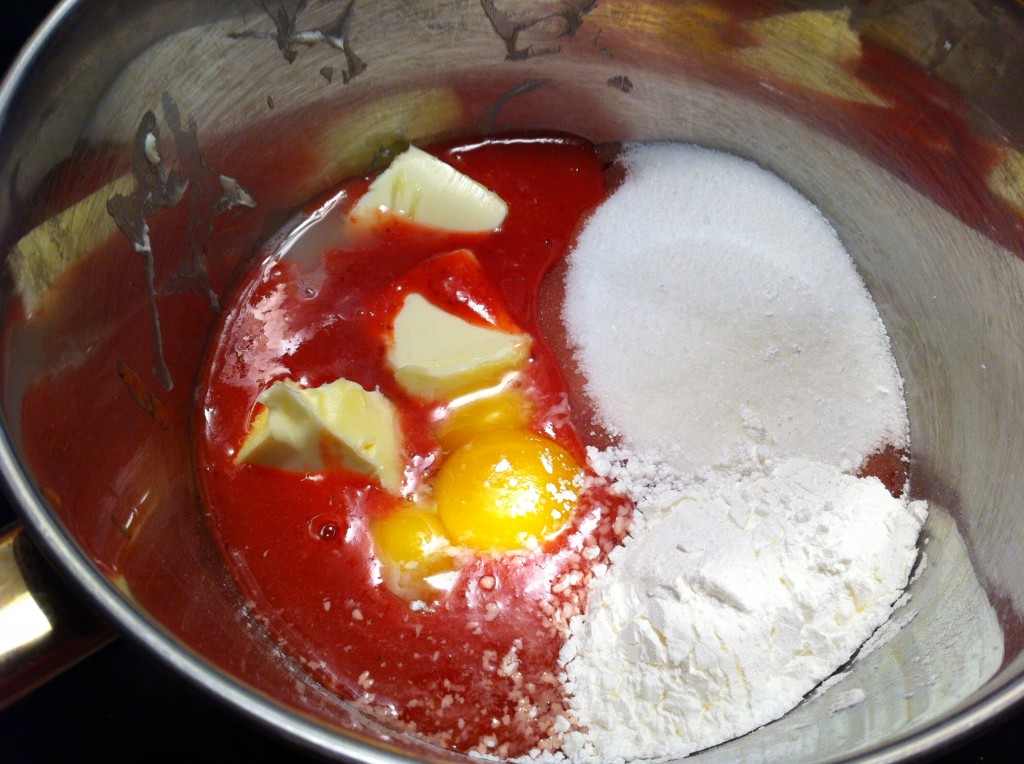 First thing you need to do is  make the strawberry curd filling. You will need to cook, egg yolks, sugar, corn starch and drained frozen strawberries, until thick. Then add in butter and strawberry extract.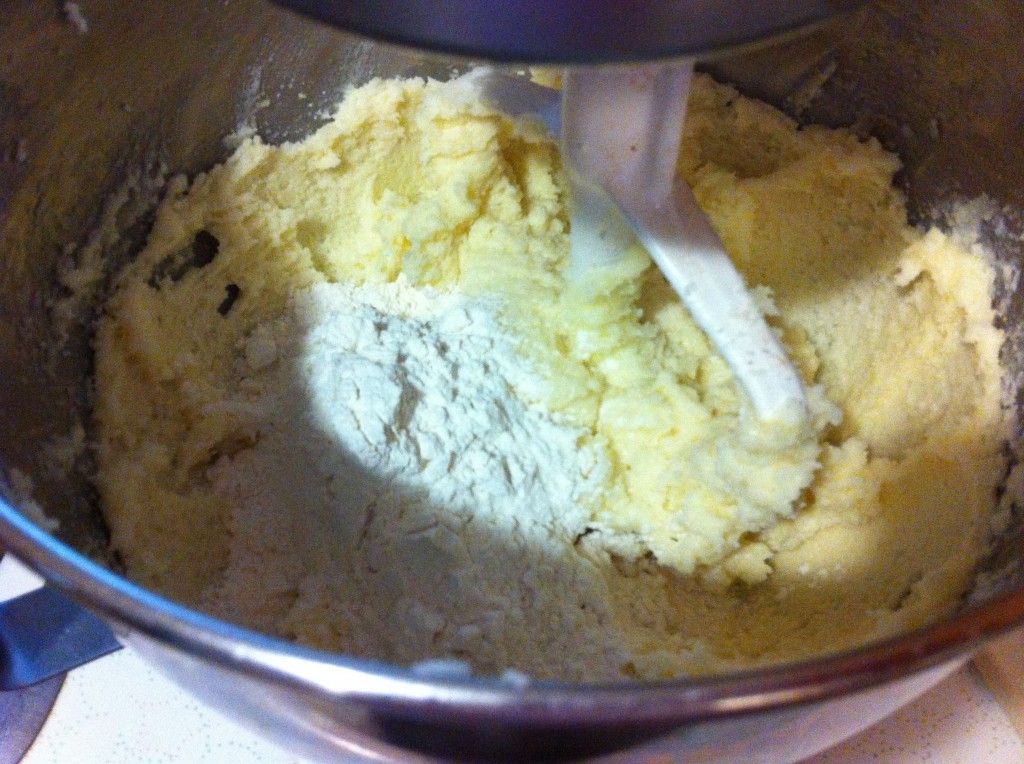 Next,  you need to make the cake batter. Take butter and sugar and cream together. Add vanilla. The alternate flour, baking powder and salt mixture with the buttermilk.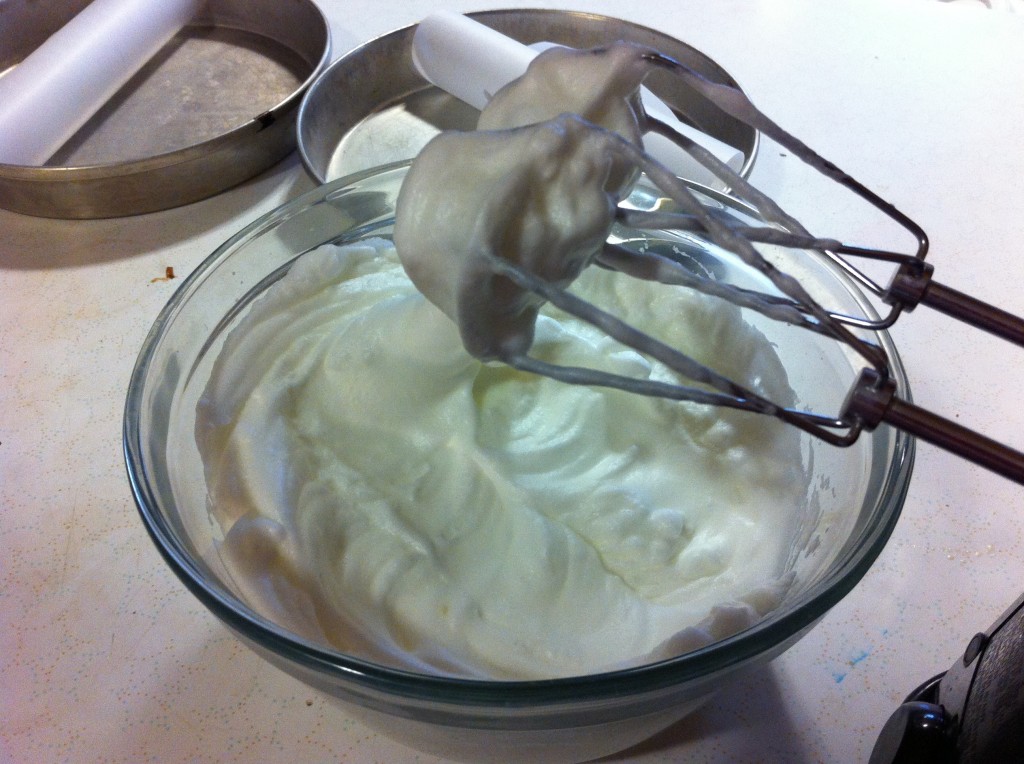 Next whip up 5 egg whites until stiff.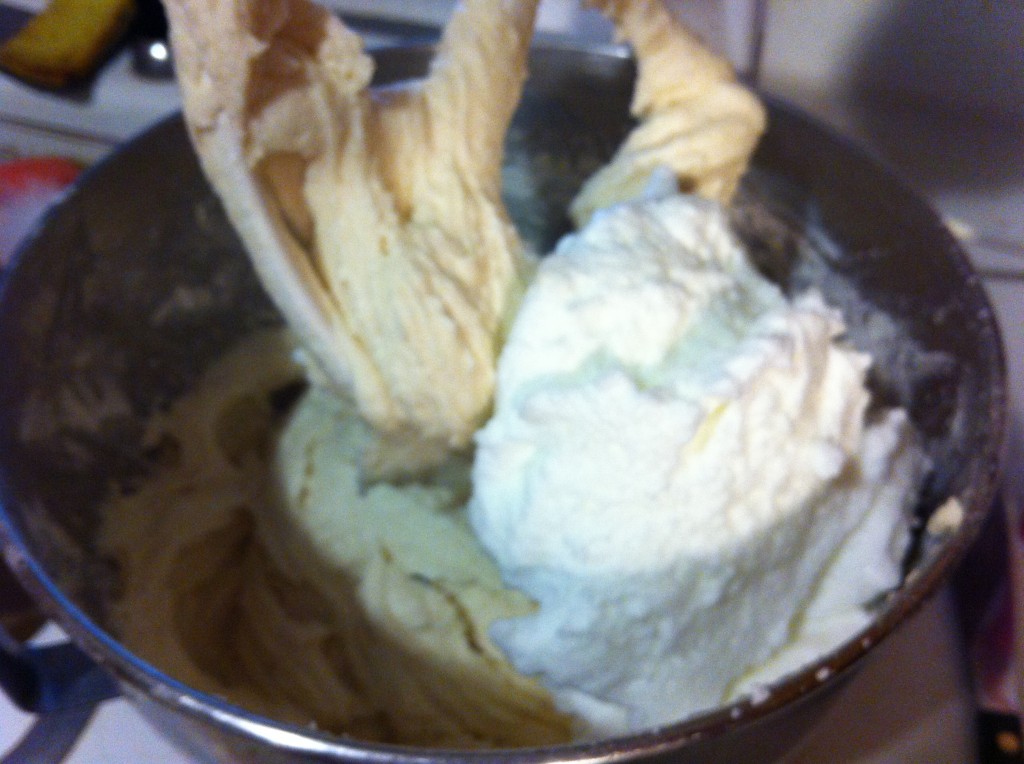 Fold in the egg whites with the cake batter.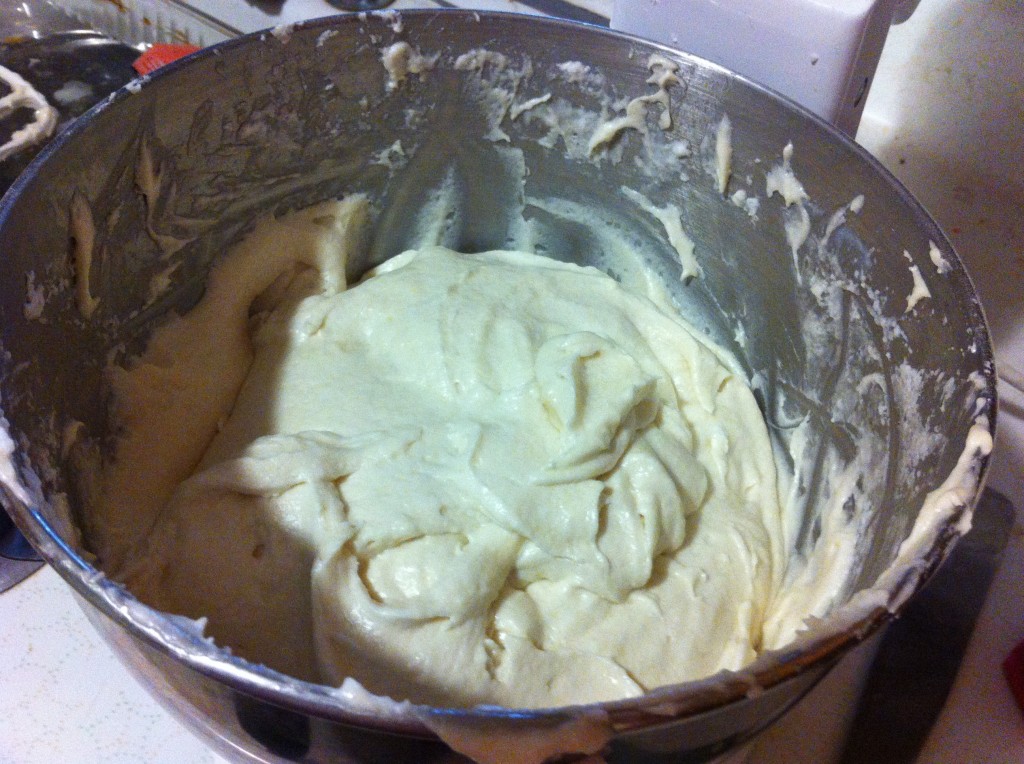 This what the cake batter looks like when you get all the egg whites and cake batter folded together.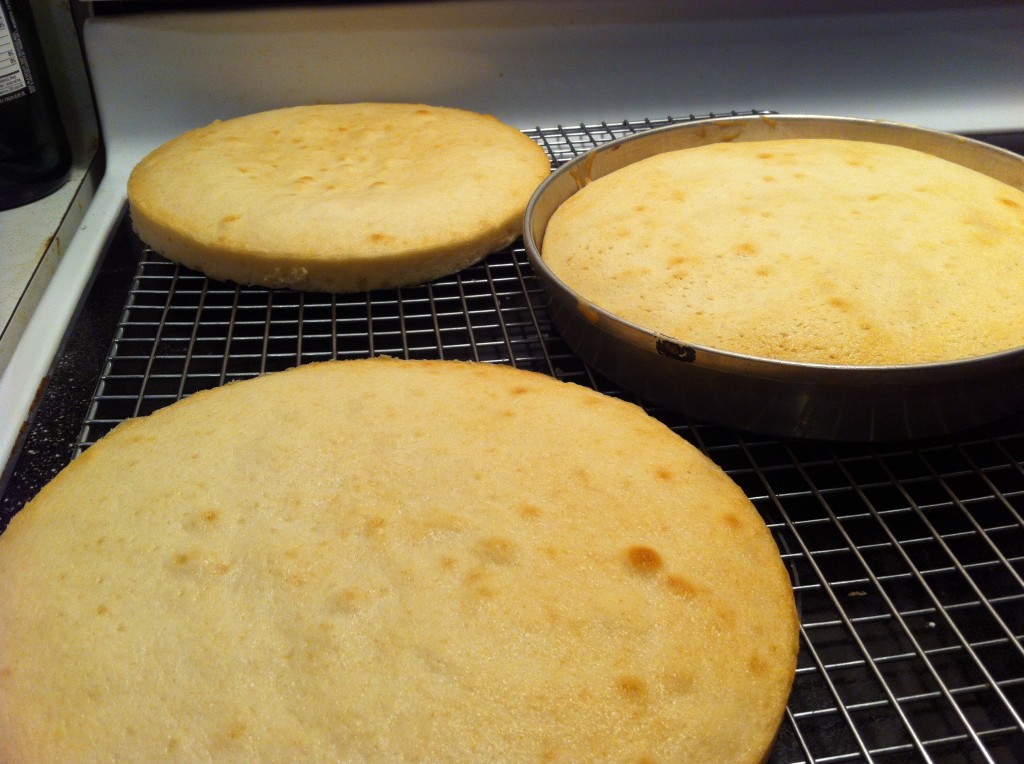 Spread batter evenly in three 9 inch round cake pans and bake till done.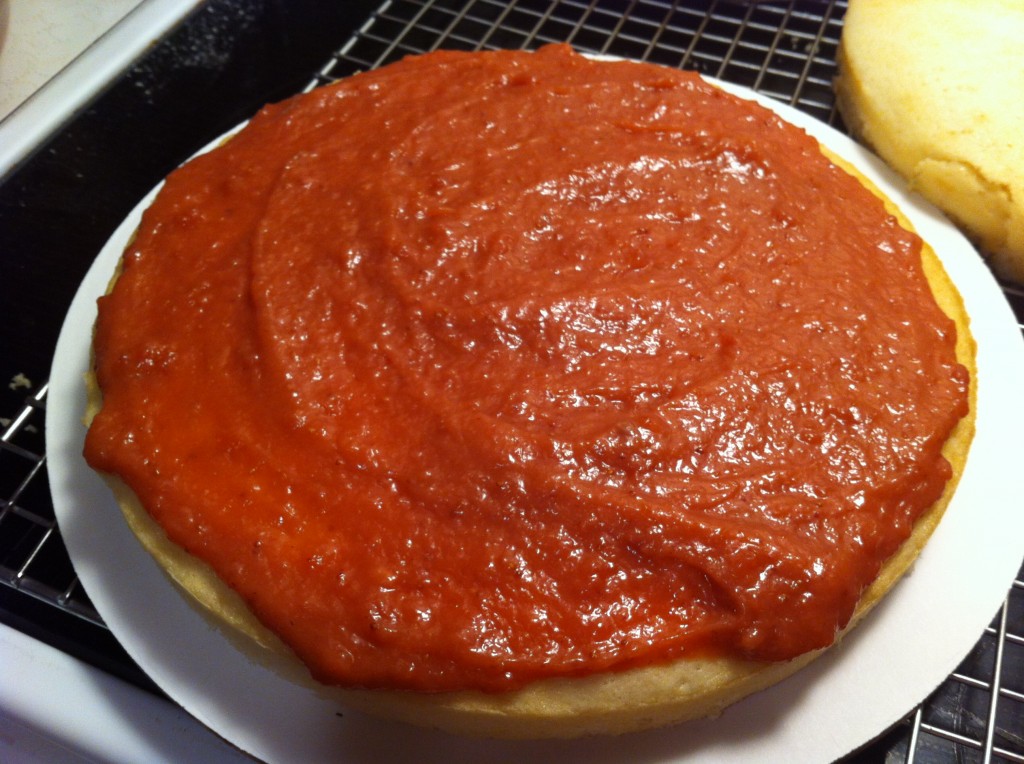 Remove cakes from pans, and cool completely. Then spread strawberry curd on top of the two of the cakes.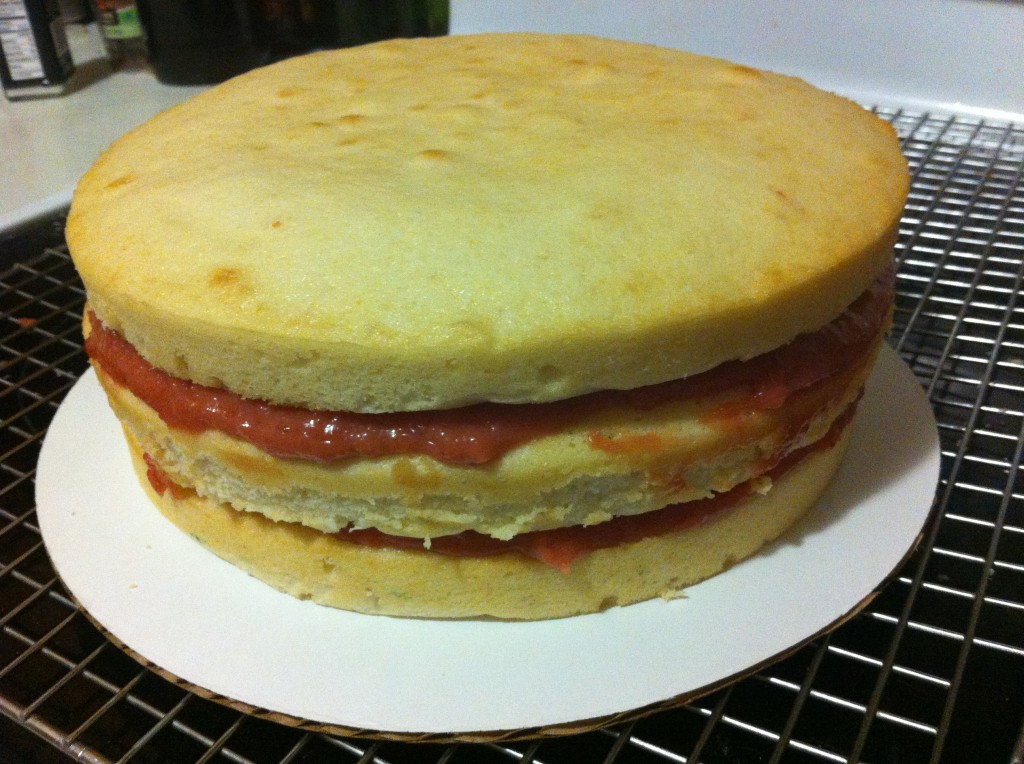 This is what it looks like all layered with the strawberry puree filling.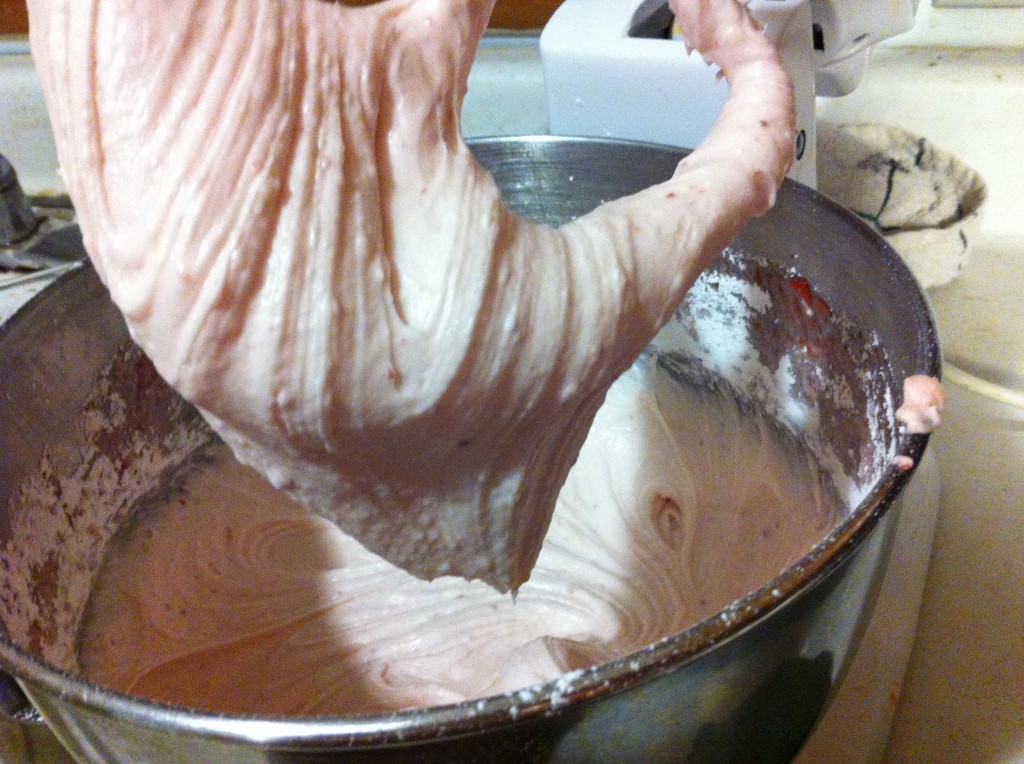 To make the yummy strawberry icing, cream together butter and cream cheese. Add some strawberry peree, extract and powdered sugar.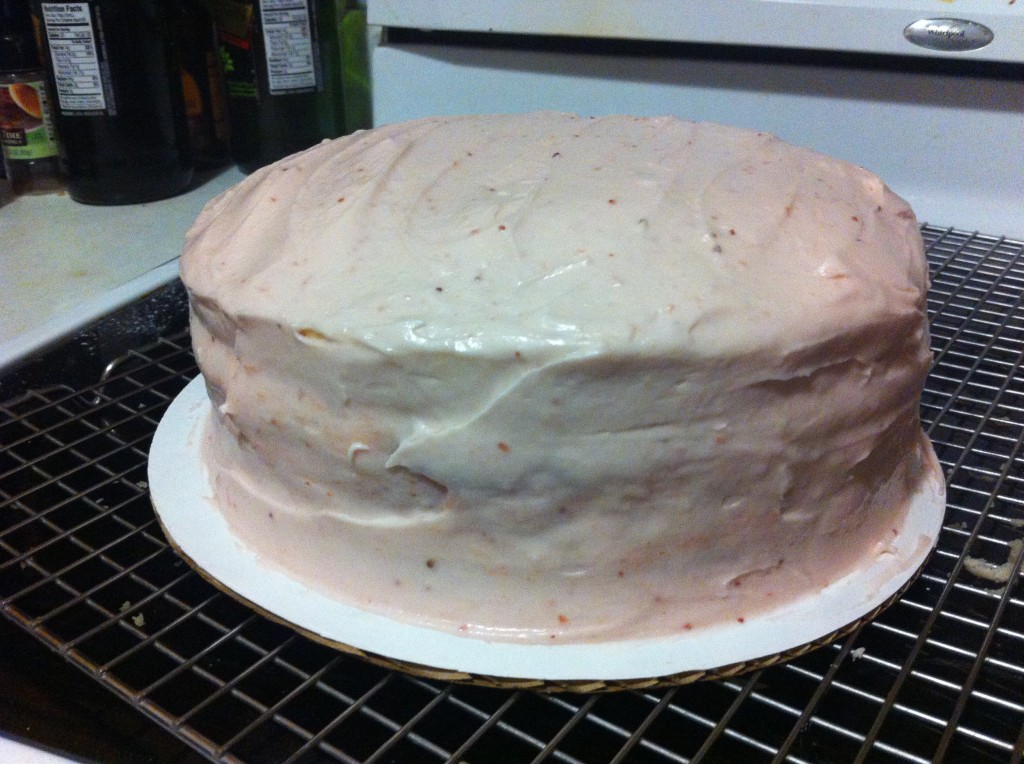 Now you can spread that yummy frosting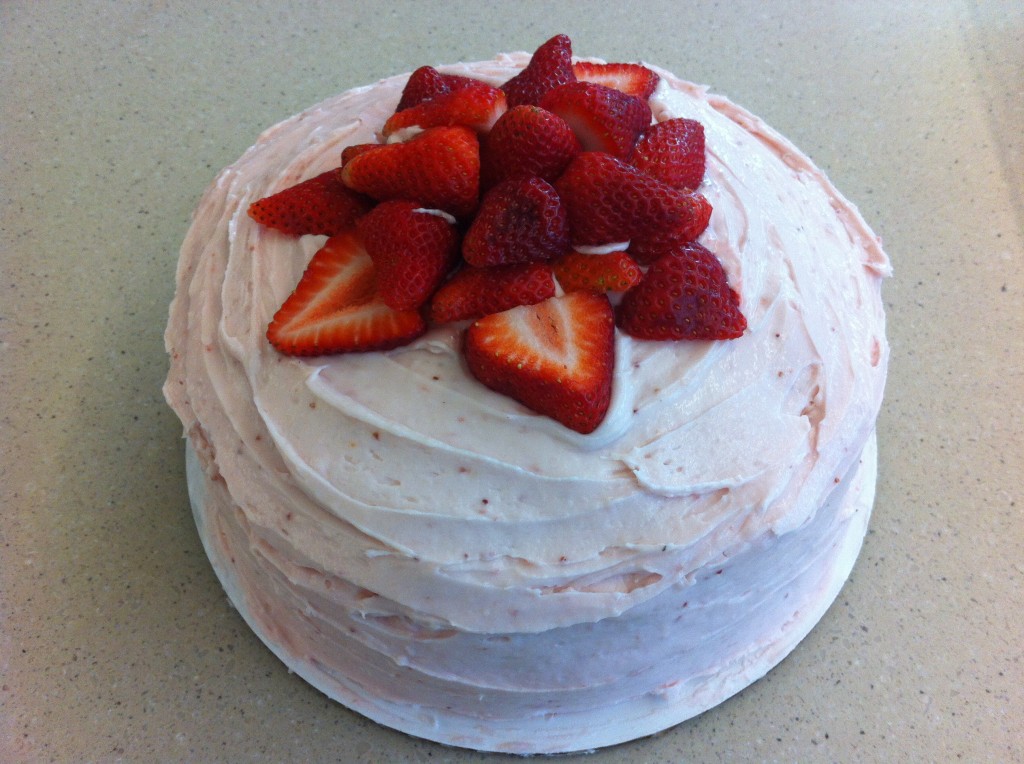 Now, decorate with some cut strawberries.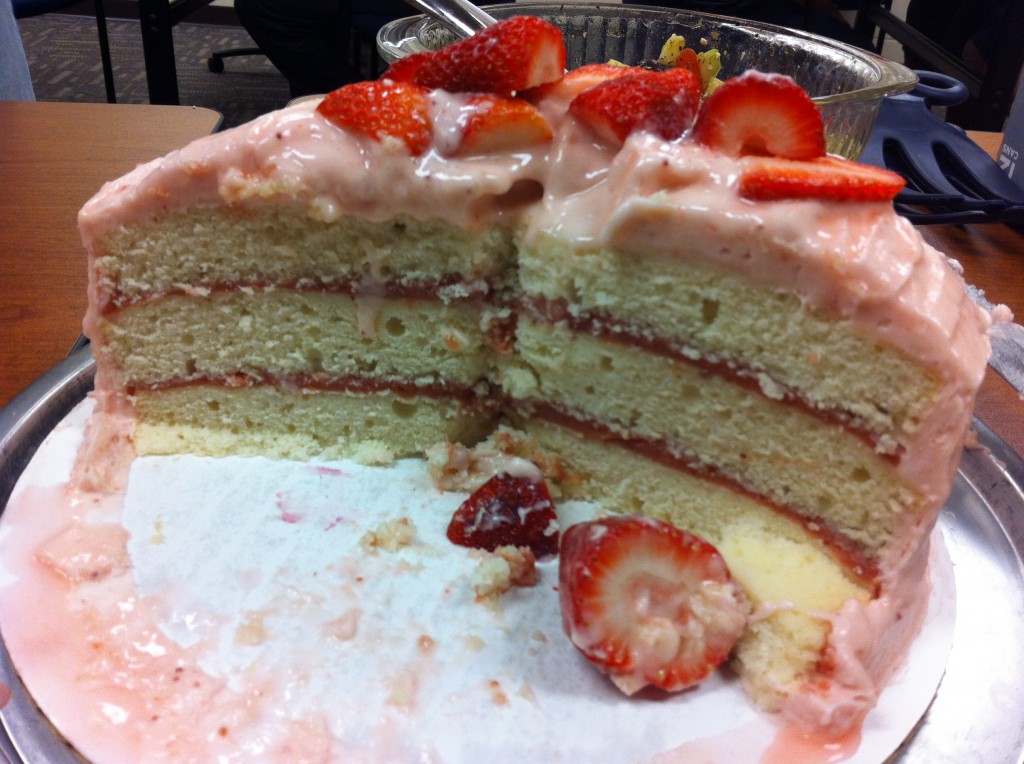 Then watch it dissapear.
How much would charge if you made this cake for hire?
I would love to know!
I never know how much to charge.
Here is the recipe for this beautiful and deliscious cake.
 Strawberry Cake
Adapted from Southern Cake Magazine
You will need to make a strawberry curd filling, three white cakes and a strawberry frosting.
First make the Strawberry Curd (so it can cool)
Ingredients
1–15.5 ounce package of frozen sliced strawberries in syrup. Please thaw and drain the juice.
1/2 cup sugar
2 tablespoons cornstarch
3 egg yolks
1 tablespoon lemon juice
1/4 cup butter
1 teaspoon strawberry extract
Directions:
In a food processor  or blender, process the drained frozen strawberries. Resever 1/2 cup for the frosting.
In a s heavy sauce mix together sugar and cornstarch. Add puree, egg yolks and lemon juice. Cook until very thick, whisking the mixture all the time. This should take around 8 minutes.
Remove from heat and whisk in butter and strawberry extract. Let mixture cool.
Cake Batter Ingredients:
1 cup butter sofened
2 cups of sugar
1 teaspoon vanill extract
2 and 3/4 cups all purpose flour
2 and 1/2 teaspoon baking powder
1/4 teaspoon salt
1 cup whole buttermilk
5 egg whites
Directions:
In a large bowl, beat butter and sugar together (I used my stand mixer) until they are fluffy. Add vanilla and mix together.
In a different bowl, sift together the flour, baking powder and alt. Add the flour mixure to the butter mixture, alternating it with the butter milk.
In another bowl, whip the egg whites until they form stiff peaks.
Fold in the egg whites, a third at a time with the cake batter.
Divide the batter between the three pans and bake until the centers are done. This took around 20 minutes in my oven.
When the cakes are baked, cool on a cooling rack  and remove from pans and cool completely.
Strawberry Frosting Ingredients:
1/2 cup butter, softened
1 (8 ounce) package of cream cheese, softened
1/2 cup of the reseved strawberry puree (it is what you saved from the strawberry curd recipe)
1 teaspoon strawberry extract
6 cups f confectioner's sugar (I call this powdered sugar)
Directions:
In a large bowl, beat the butter and cream cheese together until it is very smooth. Add the strawberry puree and the strawberry extract, mixing them together with the butter and cream cheese mixture. Gradually add the confectioners' sugar, beating until smooth and spreadable.
To Assemble the cake:
Spread the strawberry curd on top of one cake. Put a cake on top of it, and spread strawberry curd on the top of the cake. Place the third cake on top of that one. Frost the cake with strawberry frosting. Add a finishing touch of sliced strawberries to the top of the cake.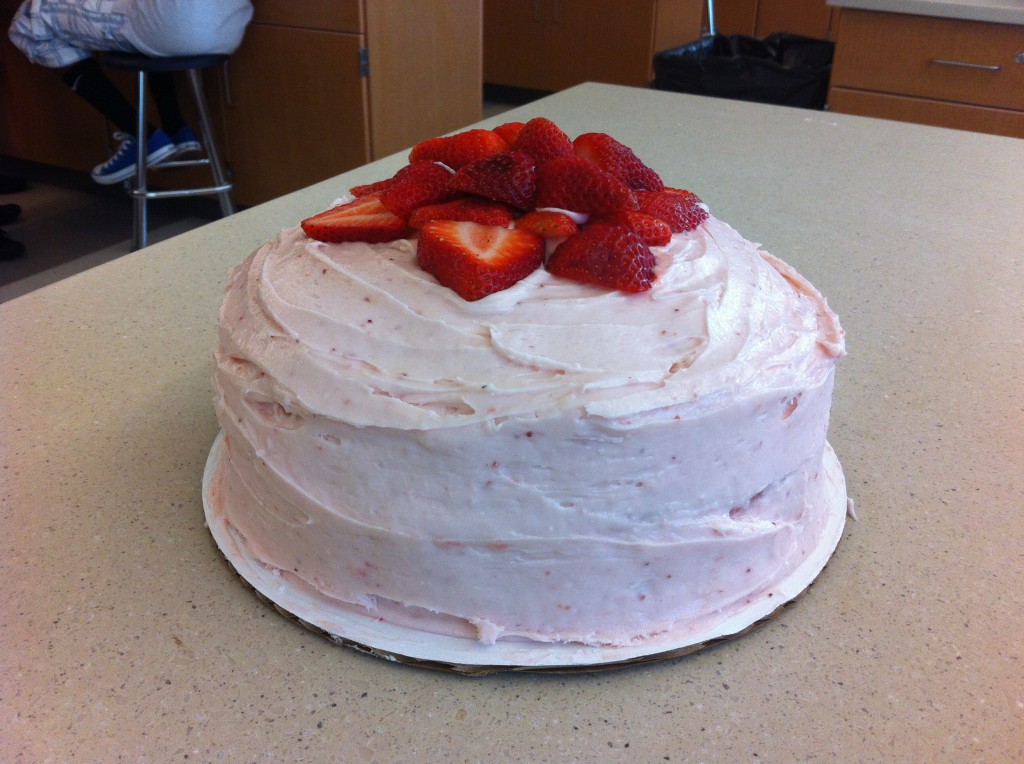 Here is what the cake looks like all finished.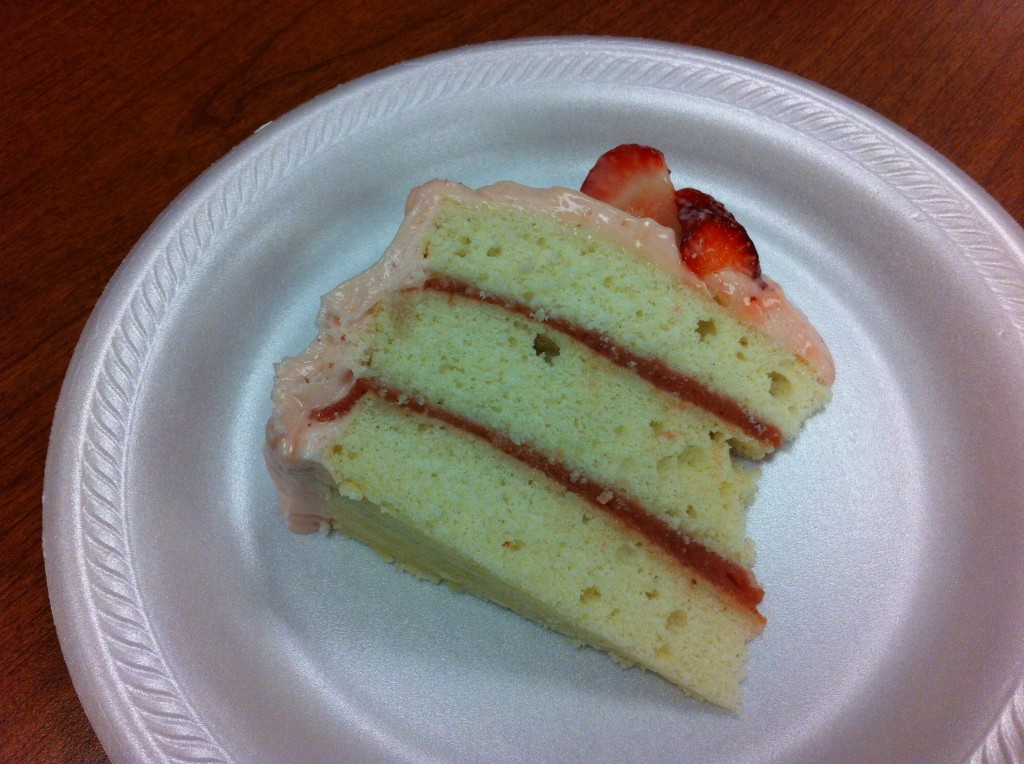 Tell me how you like this cake!
Here are links to a few other cake recipe you might like to try.
The Best Chocolate Cake                 Dad's Key Lime Cake                                Banana Bars
Enjoy!
Becky