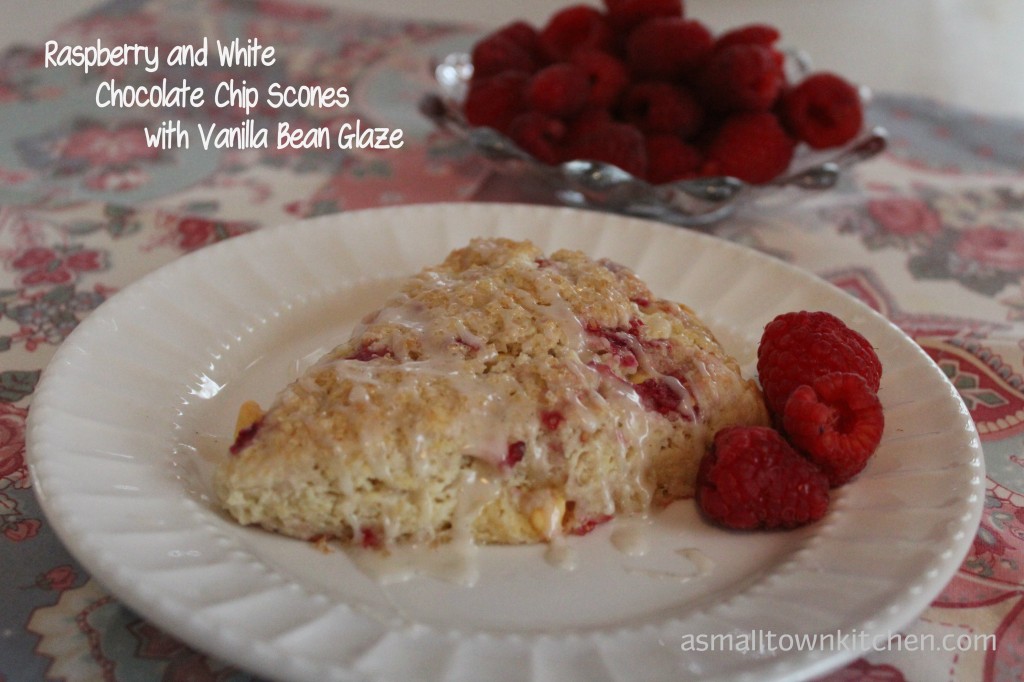 Not sure if I have ever told you that I do not like to eat eggs.
Yes, I have backyard chickens and love collecting, counting and sharing my little egg shell wrapped yumminess, but I really do not like scrambled eggs. I technically eat eggs in backed goods…but that is like a cake or a cookie. : )  Believe it or not, I have really gotten better about eating eggs over the last few years. I have started eating the occasional boiled and deviled egg. Progress!
So, why am I talking about eggs when I am posting a recipe about delicious and moist, fruit and white chocolate filled scones covered in a drizzle of vanilla bean glaze.
Well, it is because these are the things that I like to eat for breakfast.
For those of us who do not eat that traditional breakfast of eggs, bacon and toast, we are experts at finding other breakfast combinations.
Pancakes, biscuits and cereal (which is what I had for breakfast this morning).
Which by the way…does include bacon! Ha!
Let's talk scones. I do not want a dry, tasteless, biscuit like scone that you need a ton of marmalade to make it taste good. That does not mean that I do not like a scone that is covered in marmalade…you should know me better than that. Let just forget the dry and tasteless part…ok?
This recipe for Raspberry and White Chocolate Scones is moist and every crumb taste gooooood! It is sweet but not too sweet and the raspberries add that bit of tartness that I love.
These scones lasted for about 5 minutes after they were glazed.
Yes, about 5 minutes….I barely got to take a picture of them!
It is cool this morning in Mid Missouri. So, make you some hot tea and some warm scones and warm up that tummy.
It will make you happy!
Here is what you will need for the scones, the ingredients for the glaze is a little further down: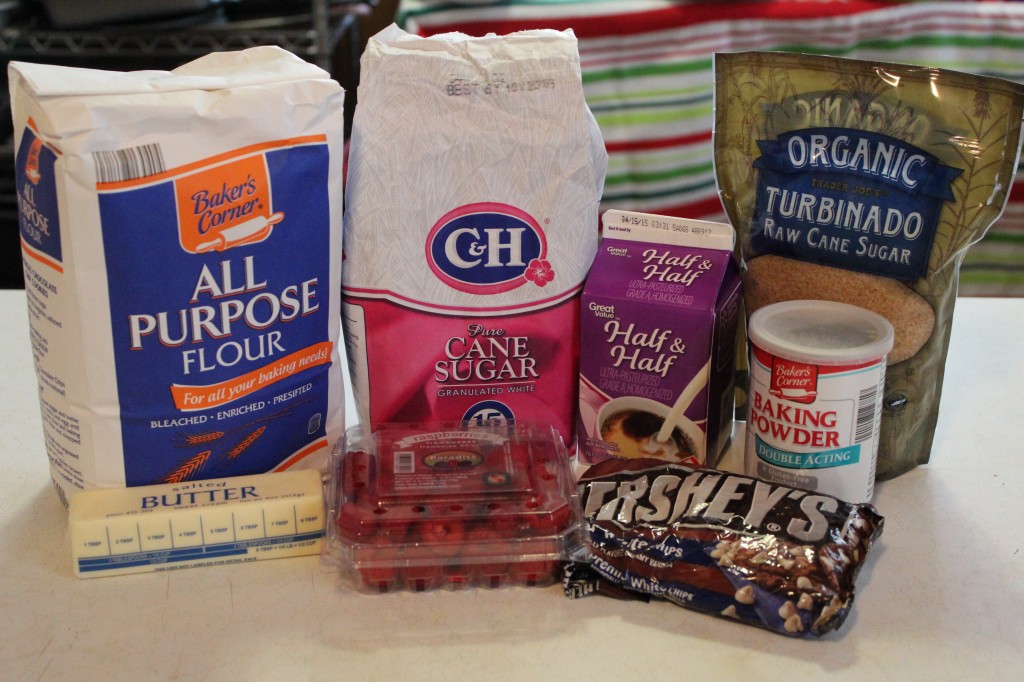 You will need flour, salt (I forgot to put the salt in the picture), baking powder, sugar, whipping cream (I was out so I used half and half and it worked fine), butter, raspberries, white chocolate chips and a course sugar to top them with. I used turbinado raw can sugar, but you can use a course sanding sugar like this too.
This is from Wilton brand sanding sugar.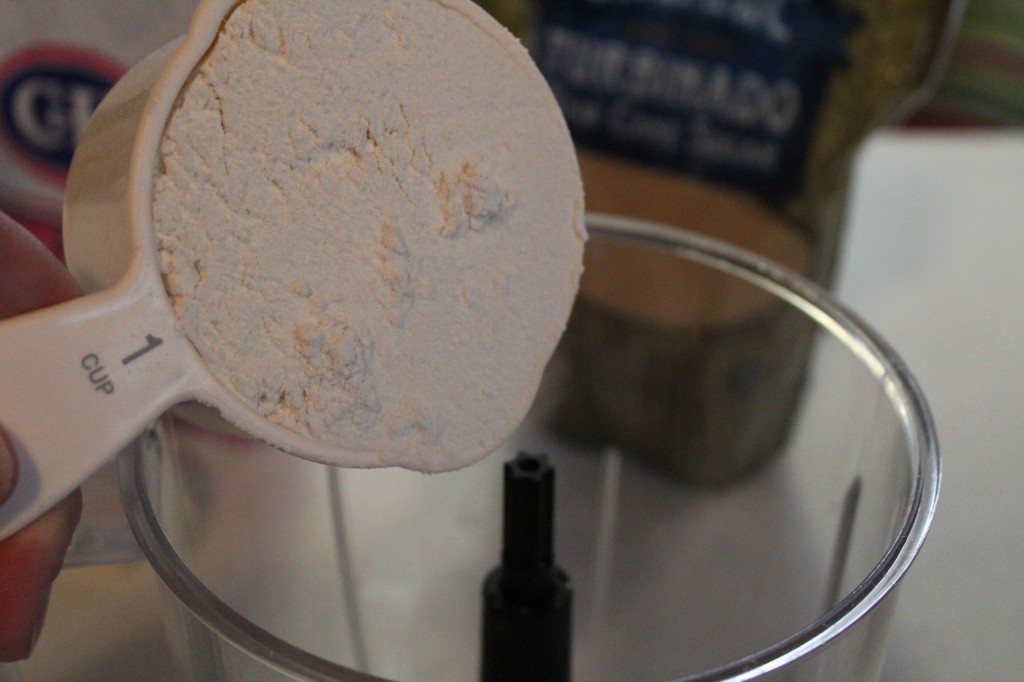 I used by little blender to mix my scones together, but you can definitely use a pastry blender to cut in your butter. First, measure out your flour and put it a bowl or your little blender.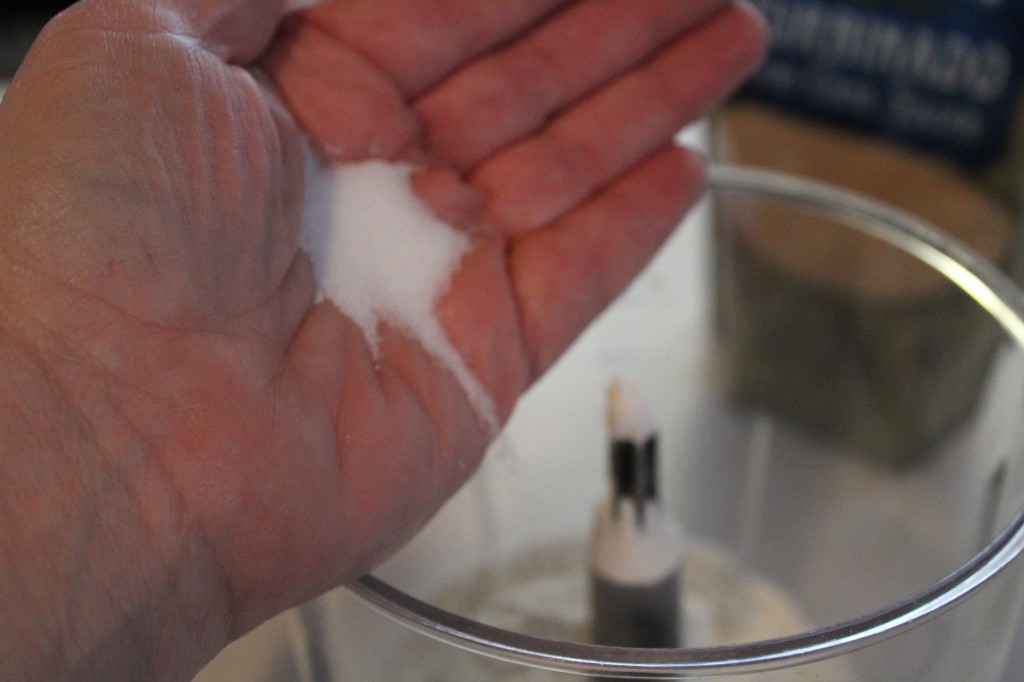 Add in the salt.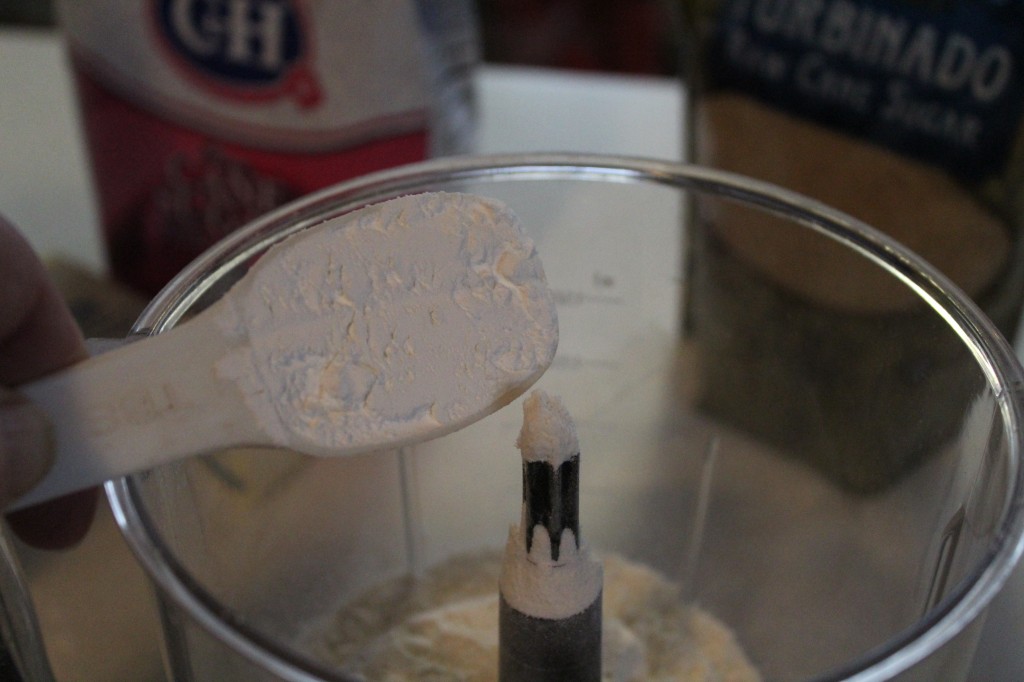 Now the baking powder and mix together.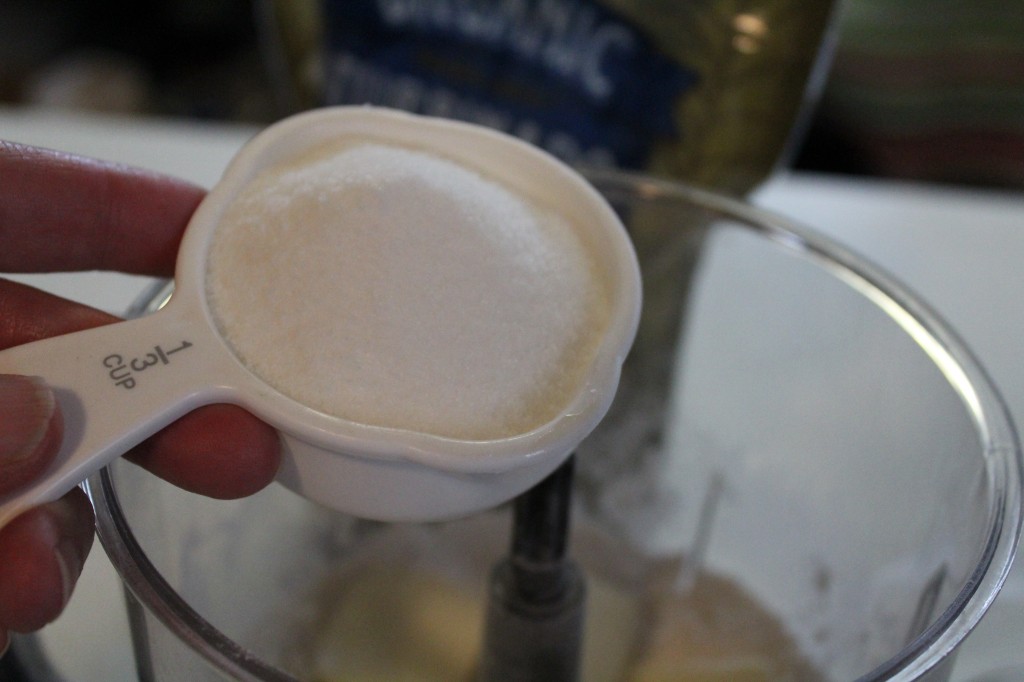 Stir in the sugar.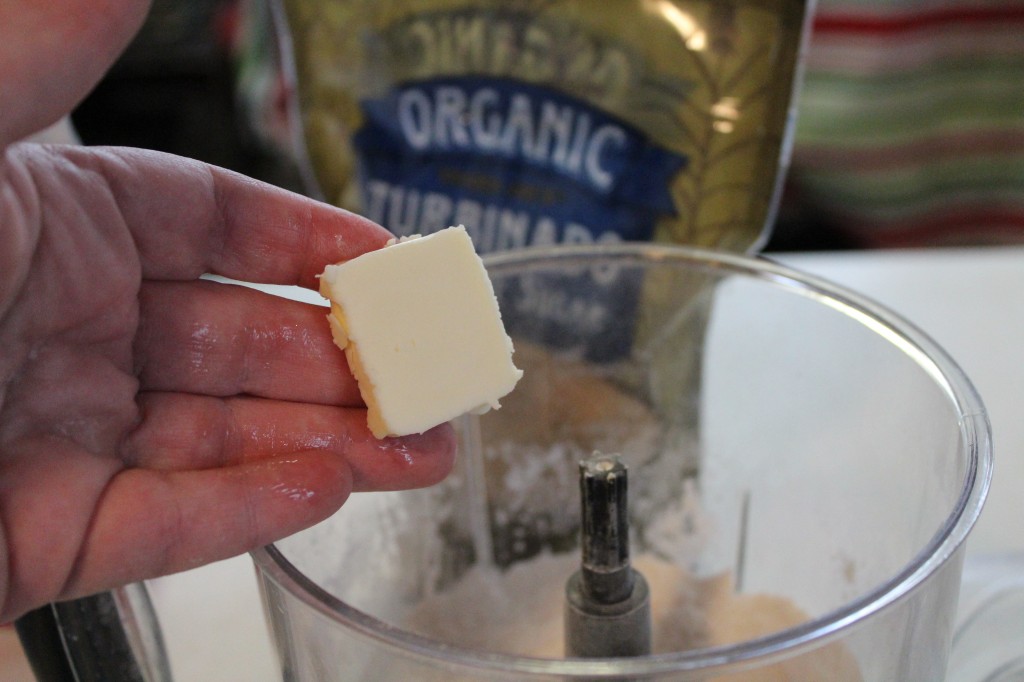 Add in the cold butter slices and cut in with a pastry blender or pulse a few times on your blender.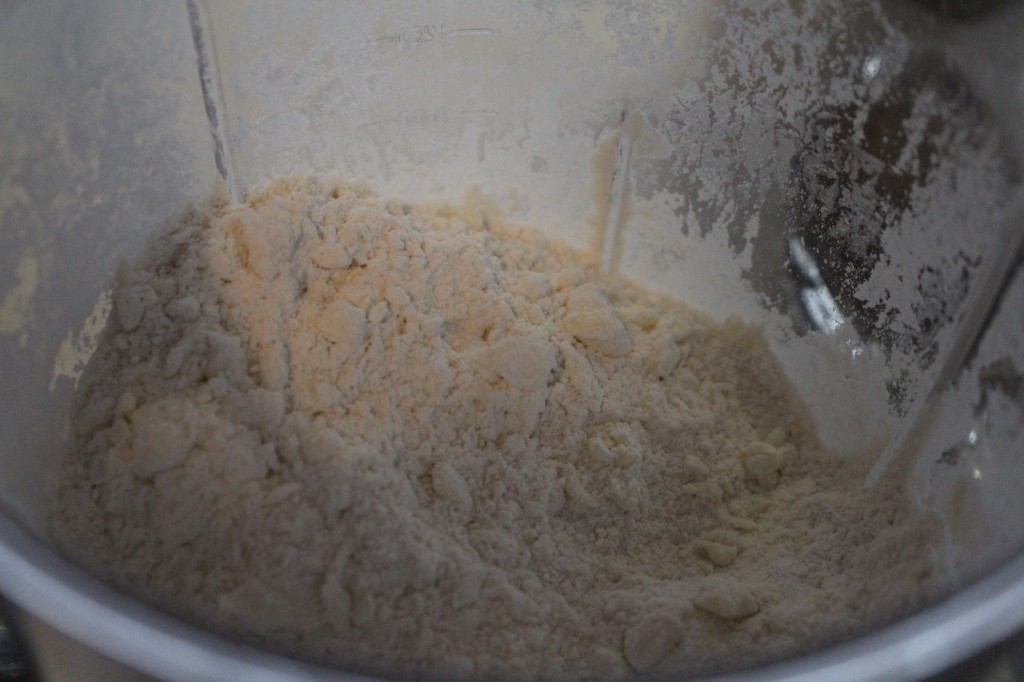 Your dough should start looking like crumbs with small pieces of butter.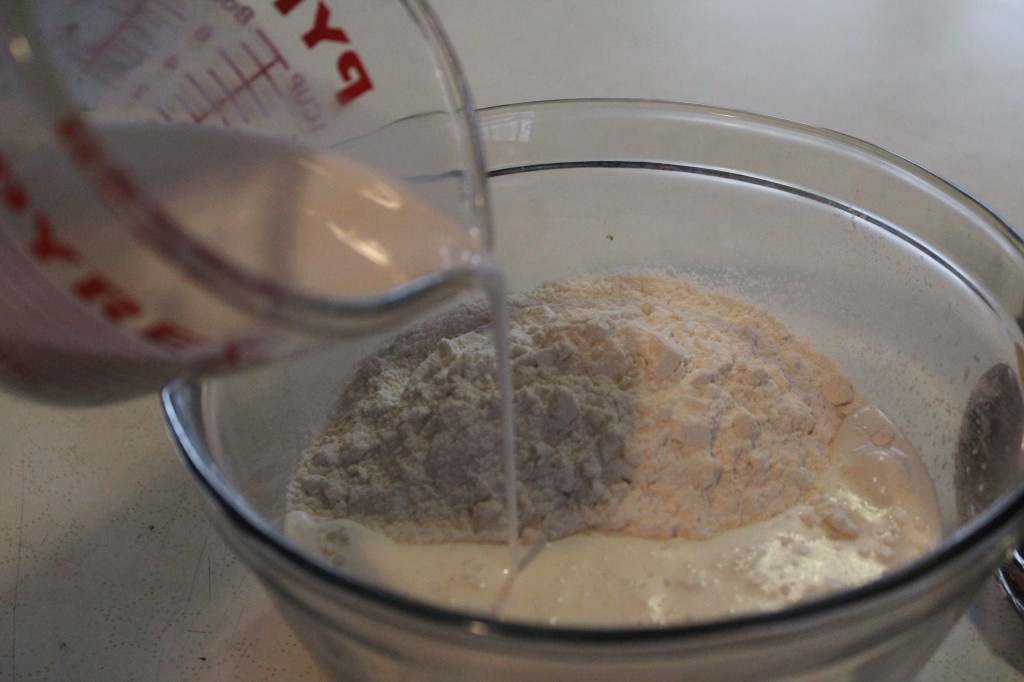 I transferred my flour and butter mixture to a bowl. Now, pour in the whipping cream (I used half and half) and stir together, gently.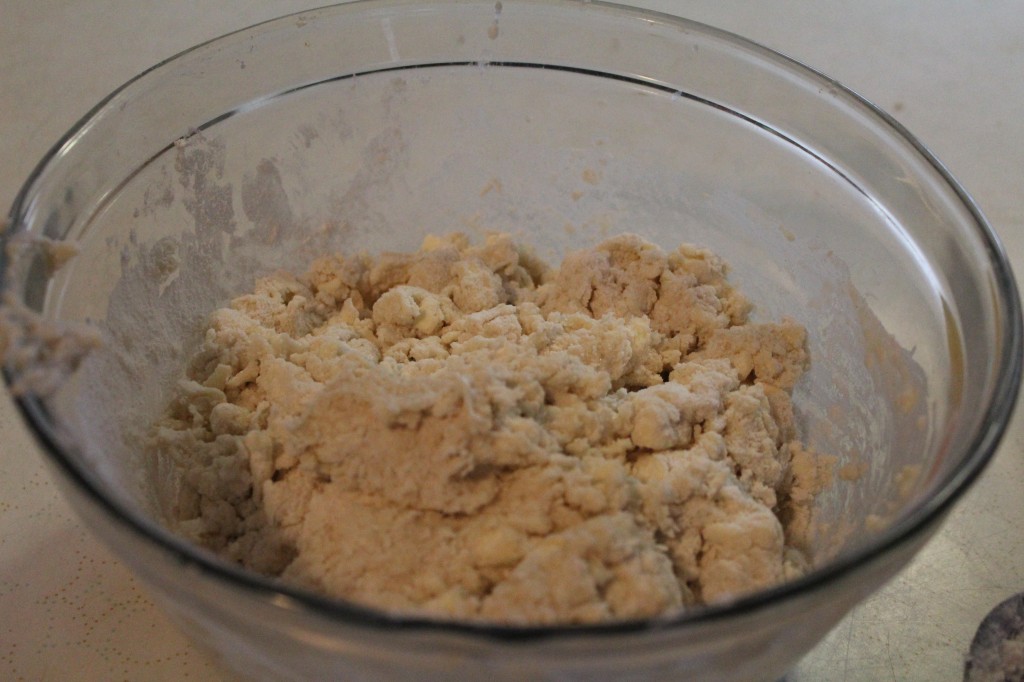 The dough will start to take shape.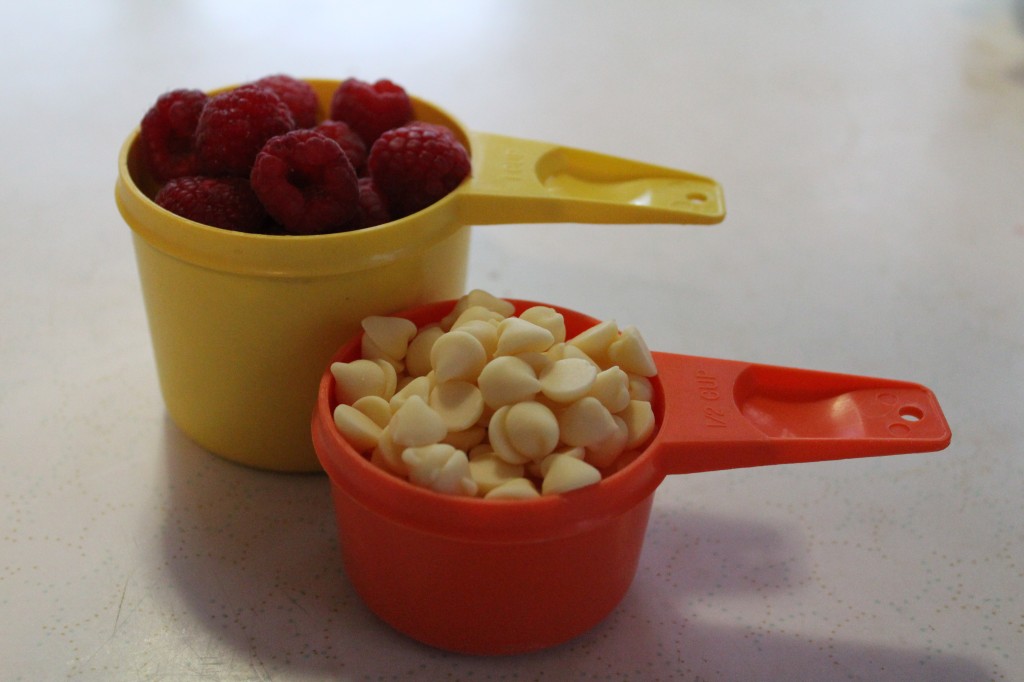 Measure out your raspberries and white chocolate chips.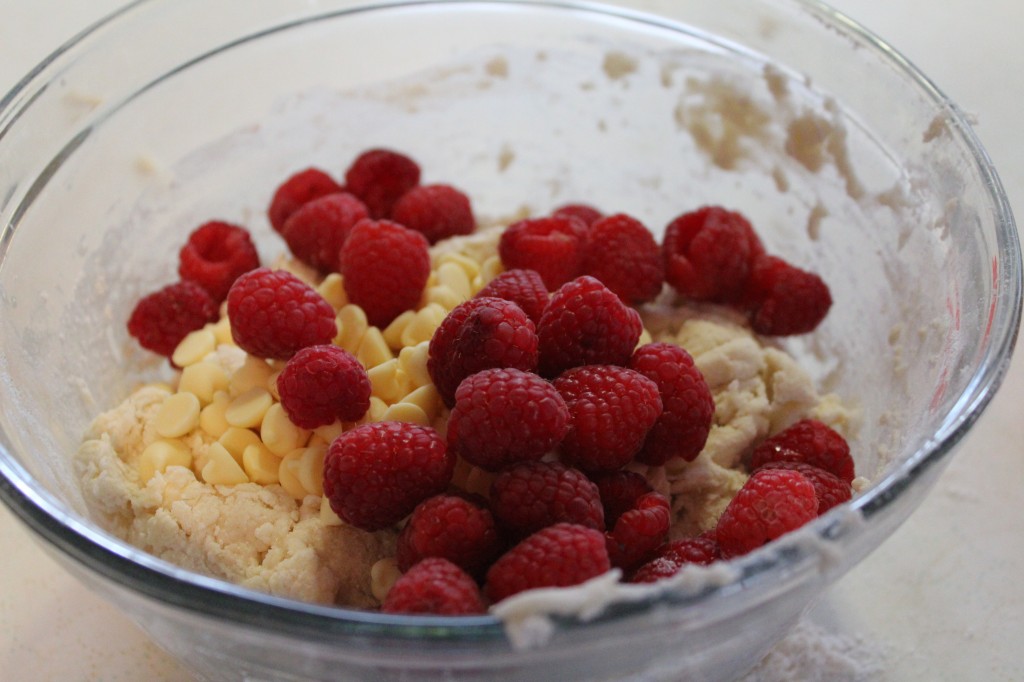 Add in to your dough and gentle knead in the dough. Be care not to break apart all the berries and be gentle during this process.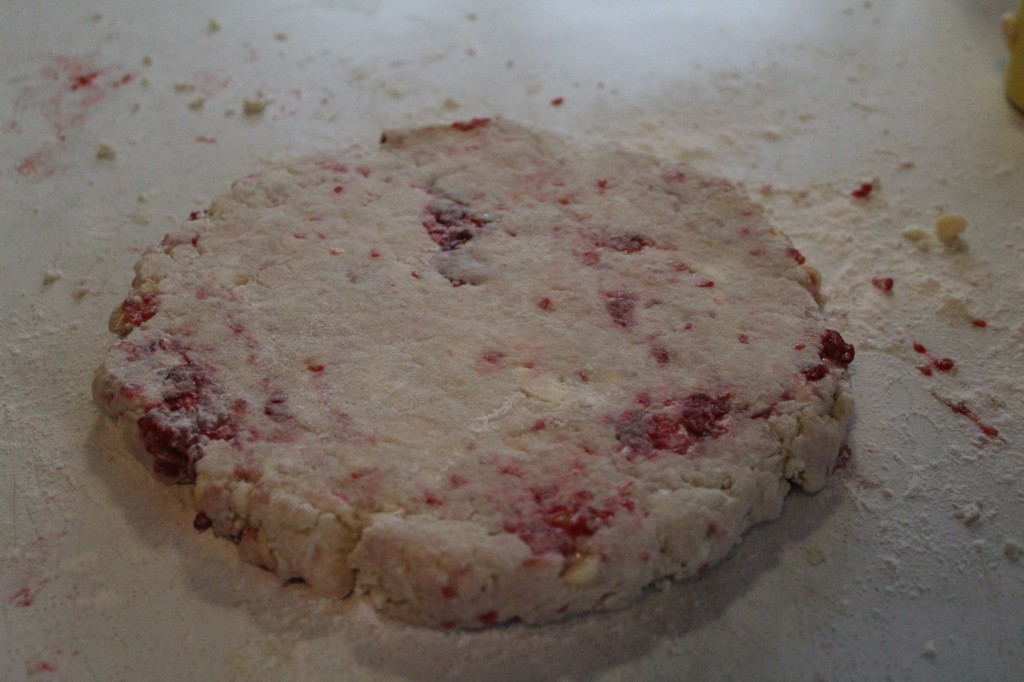 Form the dough into a nice circle.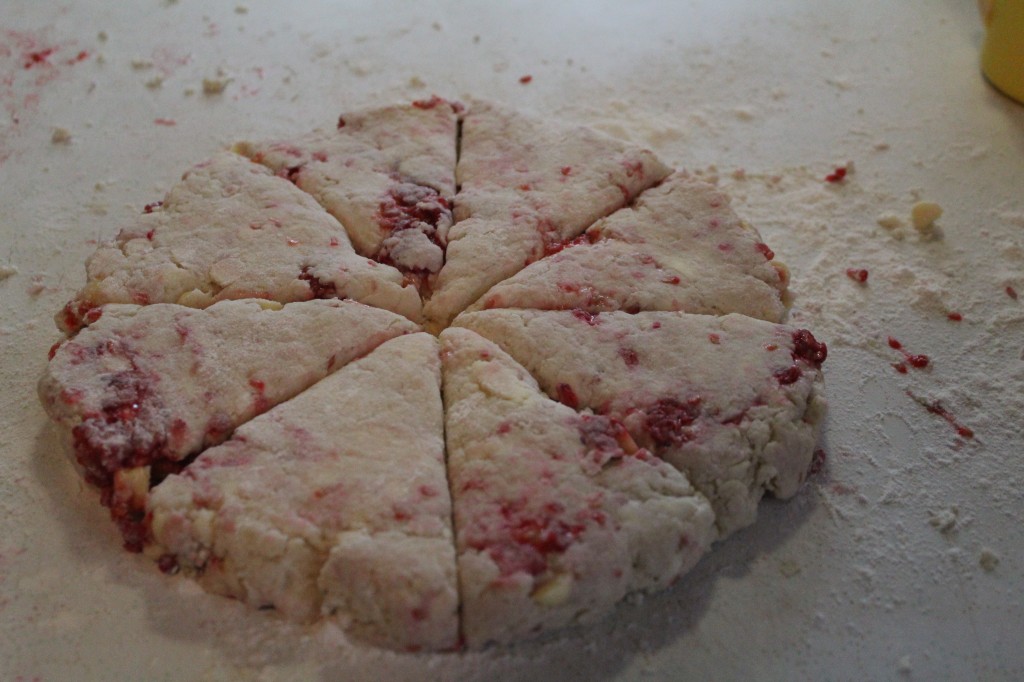 Cut like a pizza into  8 wedges.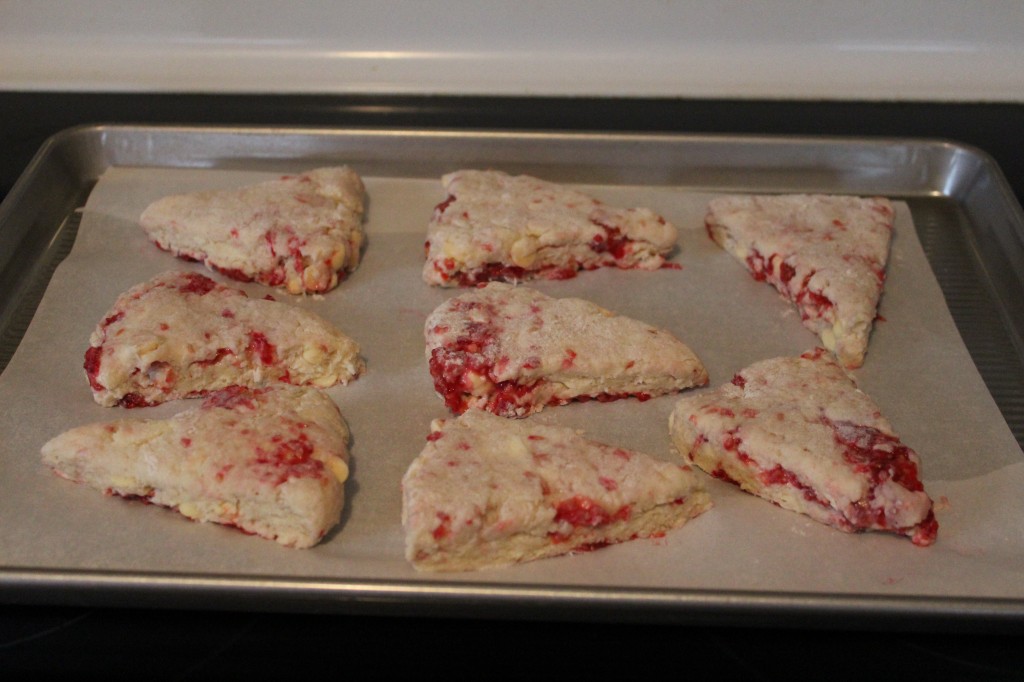 Place the scones on a parchment lined cookie sheet.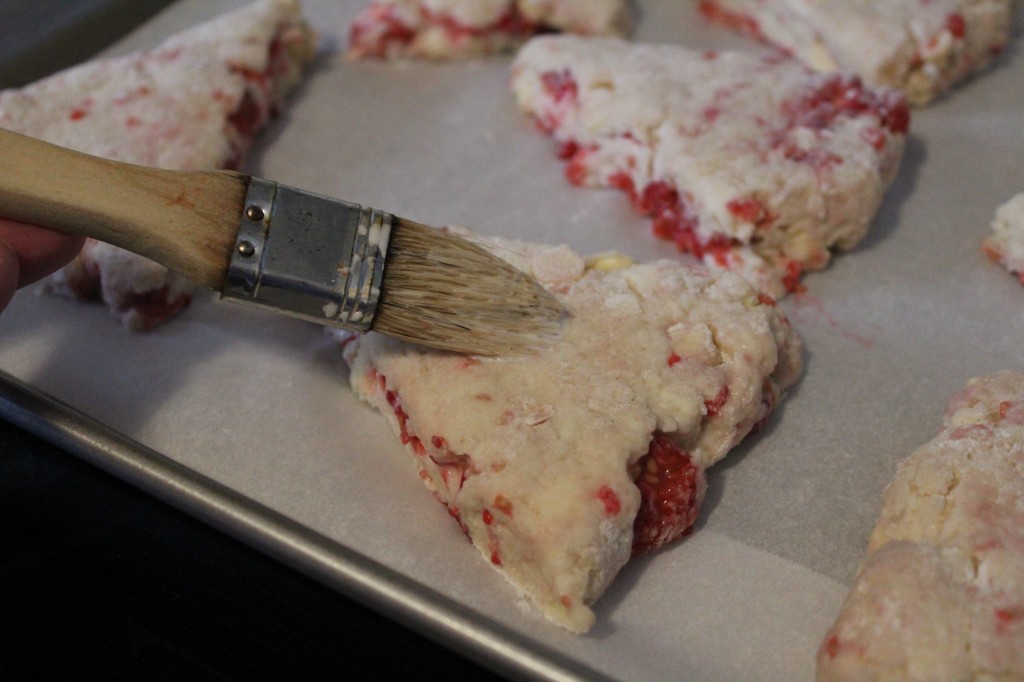 With a pastry brush, brush the tops of each scone with half and half.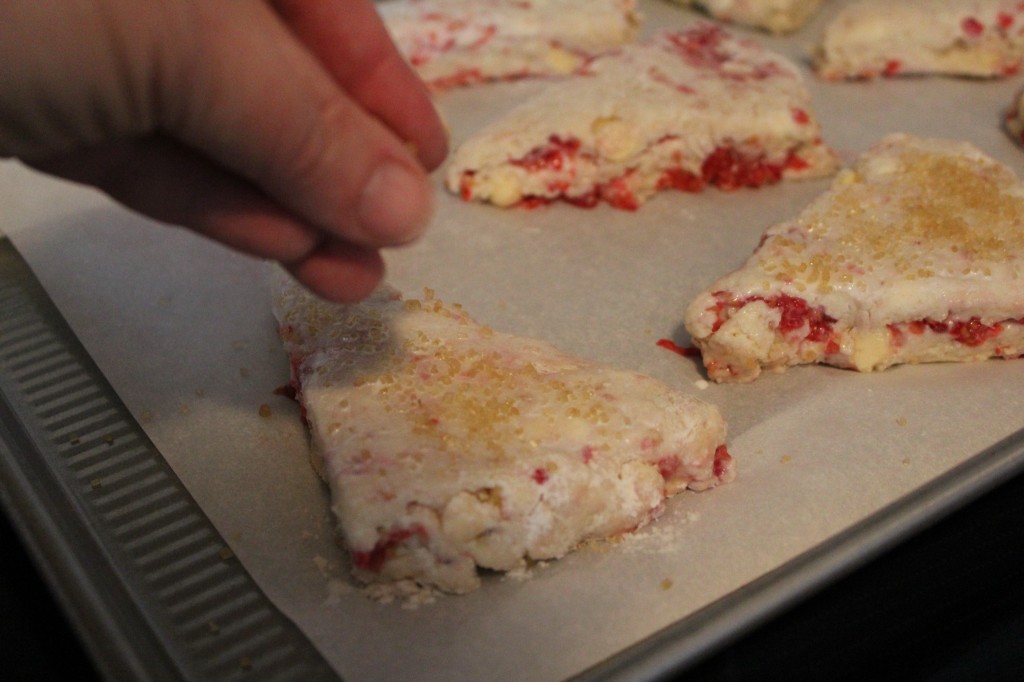 Sprinkle with turbinado sugar or sanding sugar. I love the little sugar crunch on the top. YUM! Put the scones in the oven and start baking. While the scones are baking, make the glaze.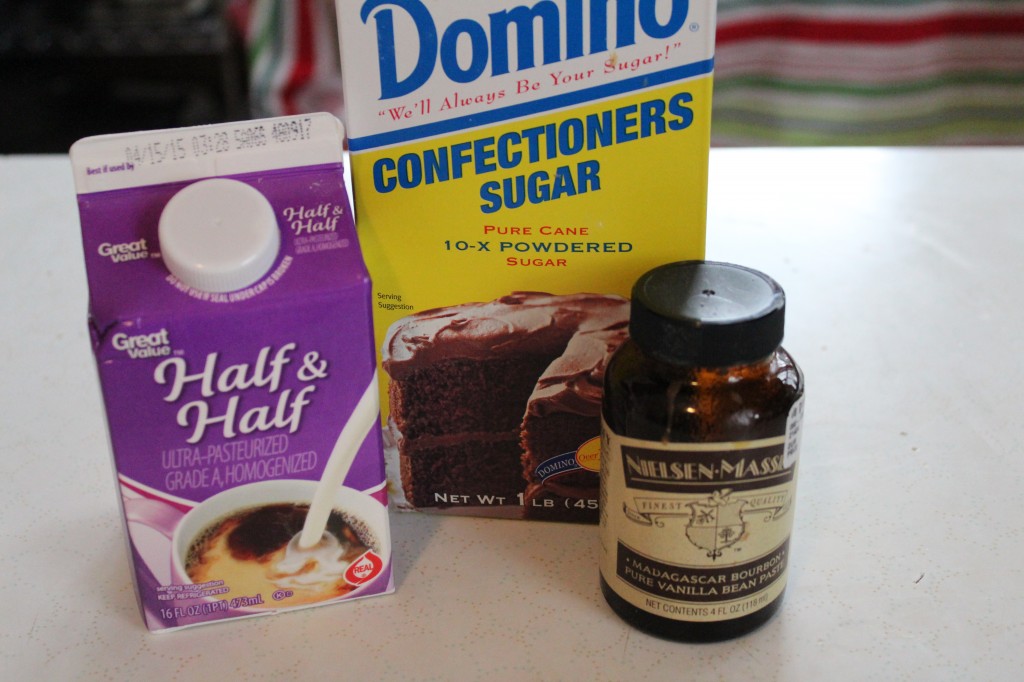 You will need some more half and half, powdered sugar and vanilla bean paste. If you do not have vanilla bean paste, just use vanilla.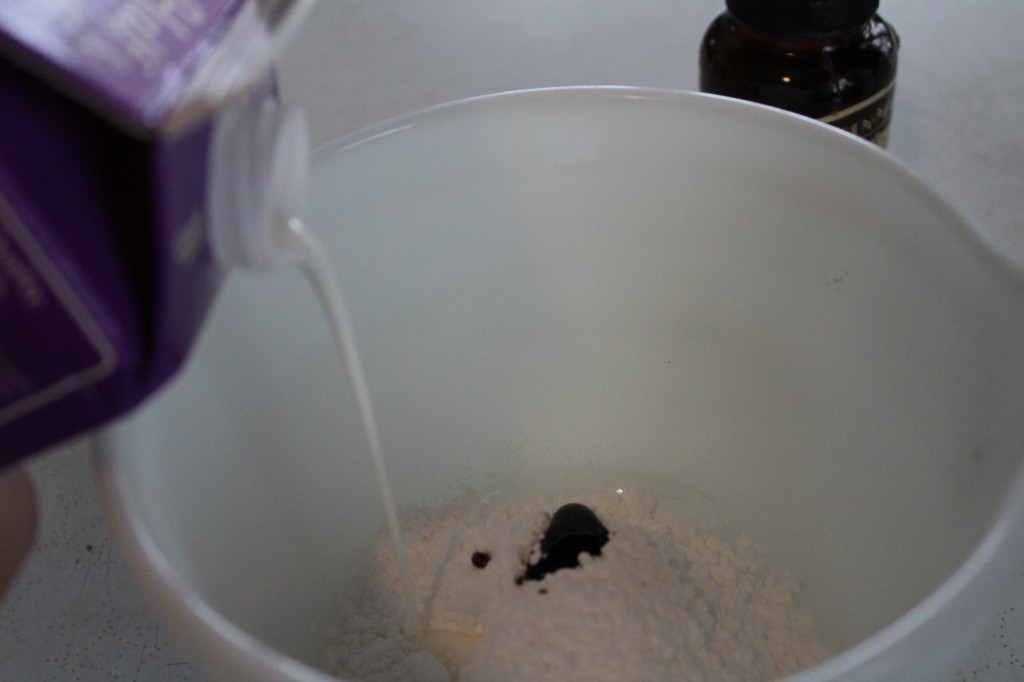 Add the powdered sugar, half and half and the vanilla bean paste.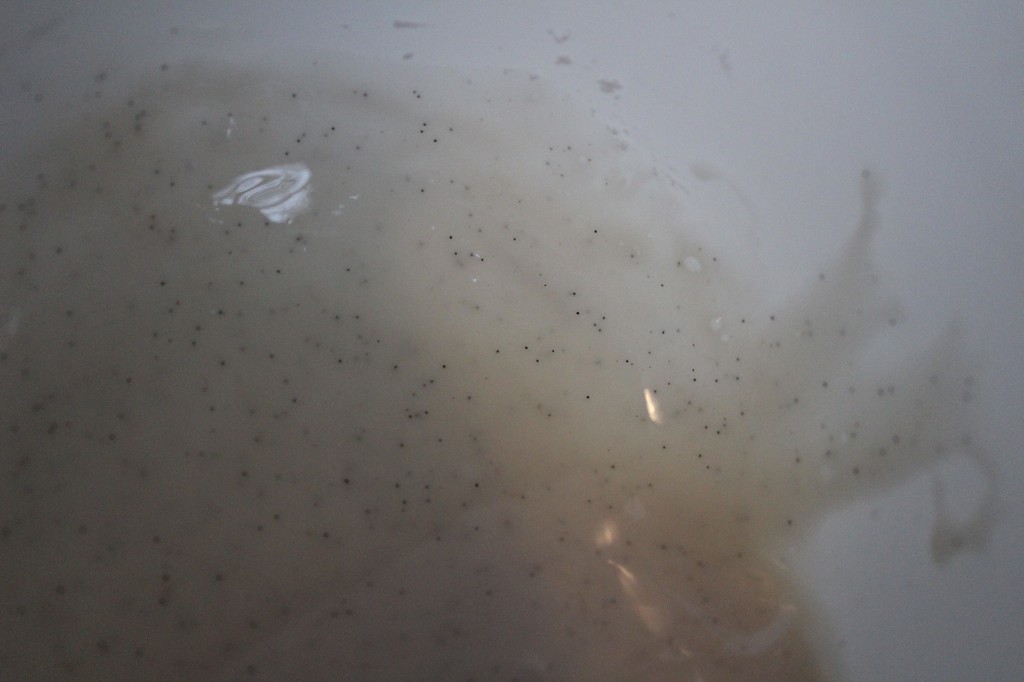 Stir together until smooth. I LOVE the little bits of vanilla beans.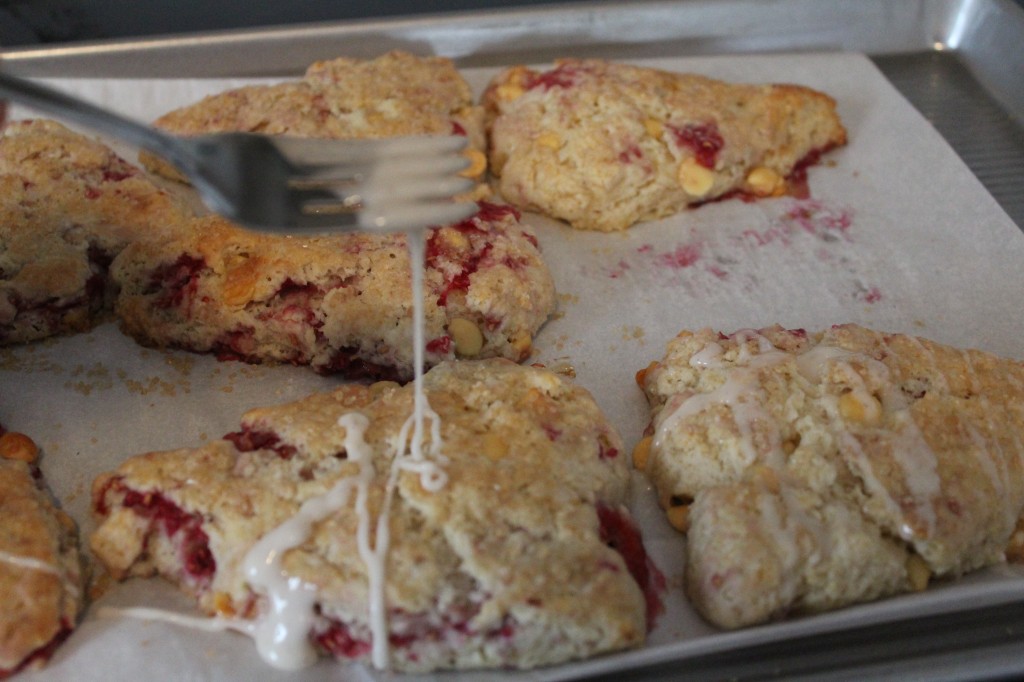 When the scones are warm and just out of the oven, drizzle the glaze over each one.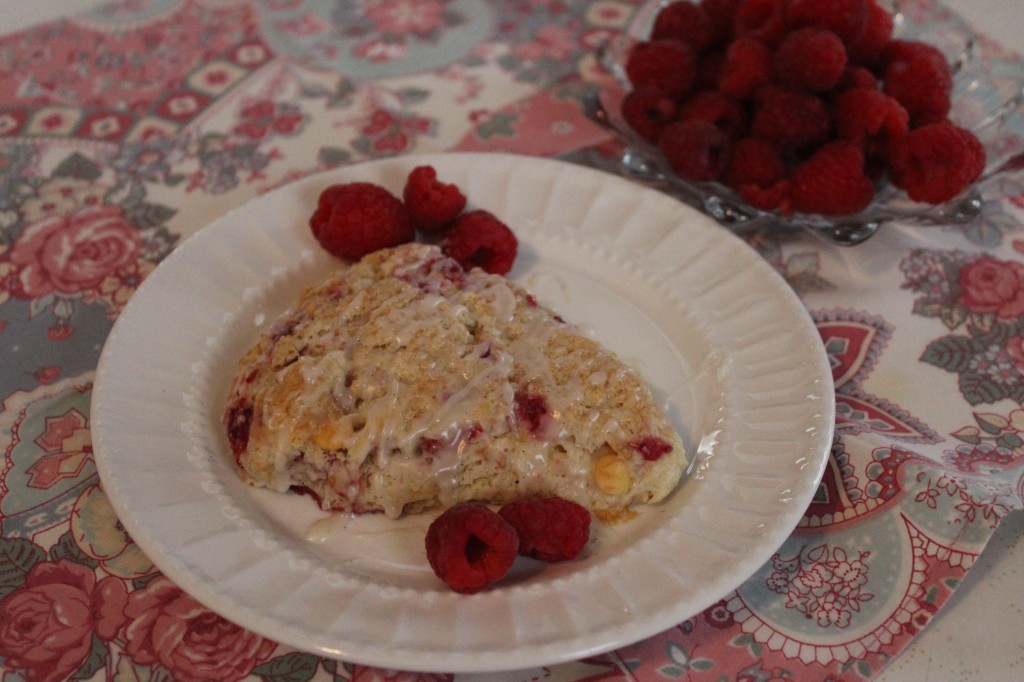 There you go!
You might not even need bacon to go with them : ).
If you are looking for a special breakfast or an afternoon tea scone, I think you will love these!
Here is the recipe:
Adapted from Southern Living
Raspberry and White Chocolate Scones
Ingredients:
2 cups of all purpose flour
1/3 cup sugar
1 tablespoon baking powder
1/2 teaspoon salt
1/2 cup cold butter cut into 1/2 inch cubes
1 cup whipping cream (save 2 tablespoons to brush on top of scones)
2/3 cups of fresh raspberries
1/2 cup white chocolate chips
Sanding sugar
Ingredients for the glaze:
1/2 powdered sugar
1 to 2 tablespoons milk to thin consistency ( I just went ahead and used my half and half)
1/4 teaspoon vanilla (I used vanilla paste)
Direction:
In a large bowl (I used my little blender) mix together the flour, salt, baking powder and sugar. Cut in the cold butter with a pastry blender until the mixture starts to look like crumbs. Pour in the half and half (save 2 tablespoons to brush on top of the scones) and gently stir to start forming a dough. Add in the raspberries and white chocolate chips. Gentle knead them in. Take the dough out of the bowl and form into a circle. Cut the dough like a pizza into 8 wedges. Brush each scone with the reserved whipping cream and sprinkle with turbinado sugar or a sanding sugar. Place the scones into a  450 degree preheated oven and bake 13 to 15 minutes until light golden color.
While the scones are baking, stir together the milk, powdered sugar and vanilla paste.
When the scones come out of the oven, drizzle with the glaze.
Now, try not to eat all of them!
Enjoy!
Becky
Here are some other post that might interest you: