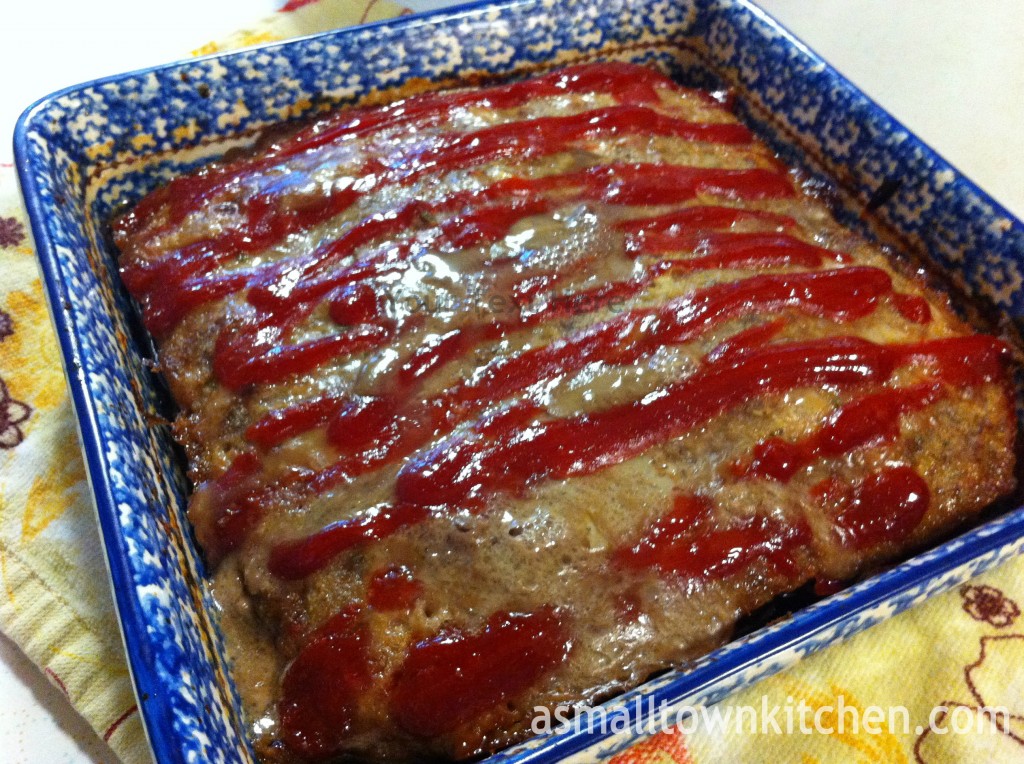 Have you ever had to figure out how to make a meatloaf that everyone in your family will enjoy? Baby college girl is home for the weekend and she wants "home cooked" food. The big question now is what to make that every one in the house will eat. Every one in the family chose BBQ Meatloaf.
 You should try this recipe. Really, you should try this recipe. I know it seems weird to put brown sugar on the bottom of your meat loaf pan and then covering that brown sugar with ketchup. But, it really does work. While the meatloaf bakes in the oven, the brown sugar dissolves and slowly flavors the meatloaf. It is not overly sweet….. no need to worry about that.  I bet you have most of the ingredients in your cupboard and fridge/freezer. If you don't have Italian bread crumbs just substitute crackers. If you don't like onions but love the flavor just use some onion powder instead.
Don't let a recipe own you. Own your recipe. What I mean by that is, don't be bogged down by every little ingredient. Especially for something like meat loaf. Look in your kitchen, see what you have. Even if you are out of ketchup, you can use BBQ sauce. But seriously,  can a kitchen ever be without ketchup?! A Ketchup outage at my house sets off a four alarm kitchen emergency!!! Ketchup is the glue and hamburger is the paper…..go forth and make meatloaf, BBQ style!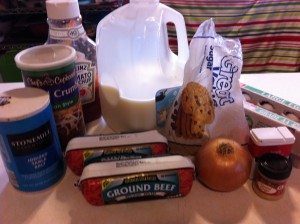 Here is the ingredients for the meatloaf. I just literally went through the cabinet and fridge and found everything I needed. I am sure you can too. : )
First thing you do is cover the botton of your pan with brown sugar. I used some brown sugar that was getting a little dry. I would not use this brown sugar in cookies or any baked good, but for this recipe, this is the perfect time to get rid of some long on the shelf brown sugar. Next, cover the brown sugar with ketchup. I just squirted rows of ketchup. I did not even bother to smooth it down.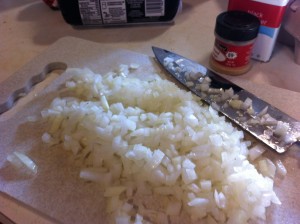 If you are using fresh onions, now is the time to chop up a small onion. I cried a few tears over this. Not because we do not like onions, we do. It is just chopping onions makes me weepy! Boohoo…..where is a paper towel when you need one?
Put 1 1/2 pound of ground hamburger to a large mixing bowl. (I used  2 pounds of hamburger and just adapted my recipe for a little more hamburger). Crack two eggs into a bowl and beat.
Add the slightly beaten eggs and the chopped small onion.
Pour in the milk and add the Italian bread crumbs.
Add a little salt and a little pepper.
Add a little bit of ground ginger and start to mix in the mixer. You can use your hands if you want. I am too lazy : )
Do not over mix the hamburger mixture or it will make your meatloaf tough.
Spread meatloaf mixture evenly over the top of the brown sugar and ketchup bottom.
Spread the top of the meatloaf with ketchup. Put it into a 350 degree oven for a hour or until the juices become clear.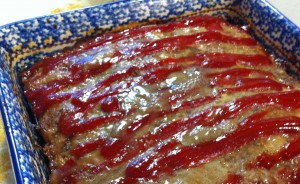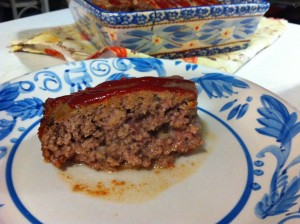 It comes out juicy with a slight caramelized BBQ flavor on the side…mmmm…
Don't you love ketchup???
We do!
Enjoy,
Becky
Brown Sugar Meatloaf
Recipe adapted from Allrecipes
Ingredients:
1/2 cup brown sugar
1/2 cup ketchup
1 1/2 pound lean hamburger
3/4 cup milk
2 eggs
1 1/2 teaspoon salt
1/4 teaspoon pepper
1 small onion, chopped
1/4 teaspoon ground ginger
3/4 cup Italian bread crumbs
Directions:
Preheat oven to 350 degrees. Lightly grease a 5 by 9 inch loaf pan.
Press the brown sugar in the bottom of the prepared loaf pan and spread the ketchup over the sugar.
In a mixing bowl, mix thoroughly all remaining ingredients and shape into a loaf. Place on top of ketchup.
Spread some ketchup on top of your meatloaf if you desire.
Bake in a preheated oven for 1 hour or until the juices are clear.