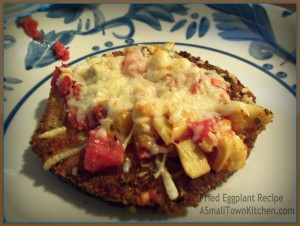 Today marks the first day of Fall.  What better way to celebrate the arrival of cool, crisp air than to make a little fried eggplant. Not too long, long. long ago, I thought eggplant was a food that only vegetarians ate when they were really hungry. I mean, who eats a purple, egg looking vegetable, that leaks water? Right?
 My first encounter with eggplant was when I was in high school. I worked at this drug store and one of the pharmacy ladies brought in a eggplant sandwich. She proudly showed me this sandwich novelty and told me that everyone at her commune ate it.  Hmmm….They must have been really hungry. She offered me a little taste. I politely declined.
 My mistake.
Fast forward a college degree, many years, and a trip to a local restaurant where I was out to lunch with some teachers during a break from beginning of school meetings. A teacher at my table ordered fried eggplant appetizers. (Did she secretly live in a commune?)   It a wink of an eye, a heaping plate of french fry looking eggplant arrived at our table. They were fries in disguise! I had to try them. They were crunchy. They were delicious. They had a sprinkling of cheese on top. I was addicted.  
I now love purple looking egg shaped vegetables. I have made them several times but I have gone back to that restaurant many times and ordered their eggplant appetizer.
They make me happy.
I hope this recipe will make you happy too!
Start off with a couple of nice eggplants. Slice them into 1/4 inch slices.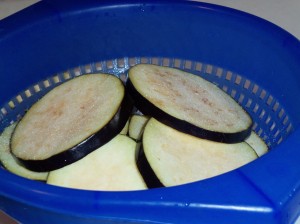 Line a strainer with paper towels. Salt the eggplant lightly on each side and place in a strainer. Let the egg plant "weep" in the strainer for at least 45 minutes. This will allow all the extra moisture to drain out, leaving your eggplant ready for frying.
Take the eggplant out of the strainer and pat dry. Dip egg plant in a egg and milk bath and coat with Italian bread crumbs.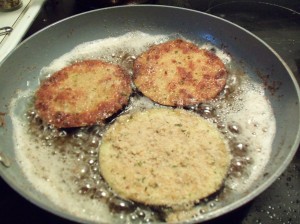 Place well coated eggplant in a frying pan with 1/2 inch of vegetable oil. The oil should be heated to around 360 degrees. After you fry them to a crispy brown, place them on a paper towel to drain.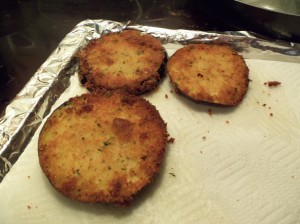 You could eat these little crunchy flying saucers now. Serve them warm with a little ranch dressing.
Lock yourself in a closet and eat them all yourself.
 I would never tell!
 Or, you could top them with saute'd tomatoes, garlic and artichokes in olive oil. Then top them with parmesan cheese and bake in the oven till the cheese gets all melty.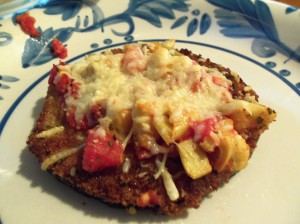 Now, hide in a lock closet and eat them. Or, share them.
They are perfect. They are a meal.
Enjoy!
Becky
Recipe for Fried Eggplant topped with tomatoes, artichokes and parmesan cheese.
Ingredients:
2 medium eggplants sliced in 1/4 inch slices
salt
2 eggs
3 tablespoons of milk
vegetable oil (enough to fill frying pan 1/2 in full) to fry the egg plant
2 cups Italian bread crumbs
4 roma tomatoes (seeded) diced in 1/4 cubes
1 jar of artichoke hearts (in water) drained and diced
2 cloves of garlic minced
3 tablespoons olive oil (to saute the tomatoes, garlic and artichoke hearts)
3/4 cup of shredded parmesan cheese.
Directions:
Slice the eggplant into 1/4 inch slices.
Line a large strainer with paper towels and place in the sink or place the strainer on a cookie sheet (to catch excess water).  Lightly salt the sliced egg plant on both sides and place in the strainer. Let the eggplant "weep" for at least 45 minutes to release excess water. This will help in making a crispier fried eggplant.
Take the eggplant out of strainer and pat dry with a paper towel.
In a medium bowl, beat together the eggs and milk.
Dip the slices of eggplant into the egg and milk mixture. The dip the eggplant into Italian flavored bread crumbs. Thoroughly coat both sides.
Heat 1/2 inch of vegetable oil in a frying pan to around 360 degrees. Fry the egg plant on both sides until it is lightly brown and crispy.
Place eggplant on paper towel to drain.
Take the roma tomatoes and take the seeds out. Dice the tomatoes into 1/4 inch cubes. Drain the artichokes hearts and dice. Mince the garlic.
In a sauce pan, heat 2 tablespoons of olive oil. Saute the tomatoes, garlic and artichokes hearts for approximately 4 minutes.
Measure equal amounts of tomato mixture and place on top of each fried eggplant slice. Place the eggplants on a foil lined cookie sheet. Heat the oven to 375 degrees.
Sprinkle shredded parmesan cheese on top of each eggplant slice. Place the fried eggplant slices in the oven and bake until the cheese is melted.
Serve warm with your favorite dipping sauce.