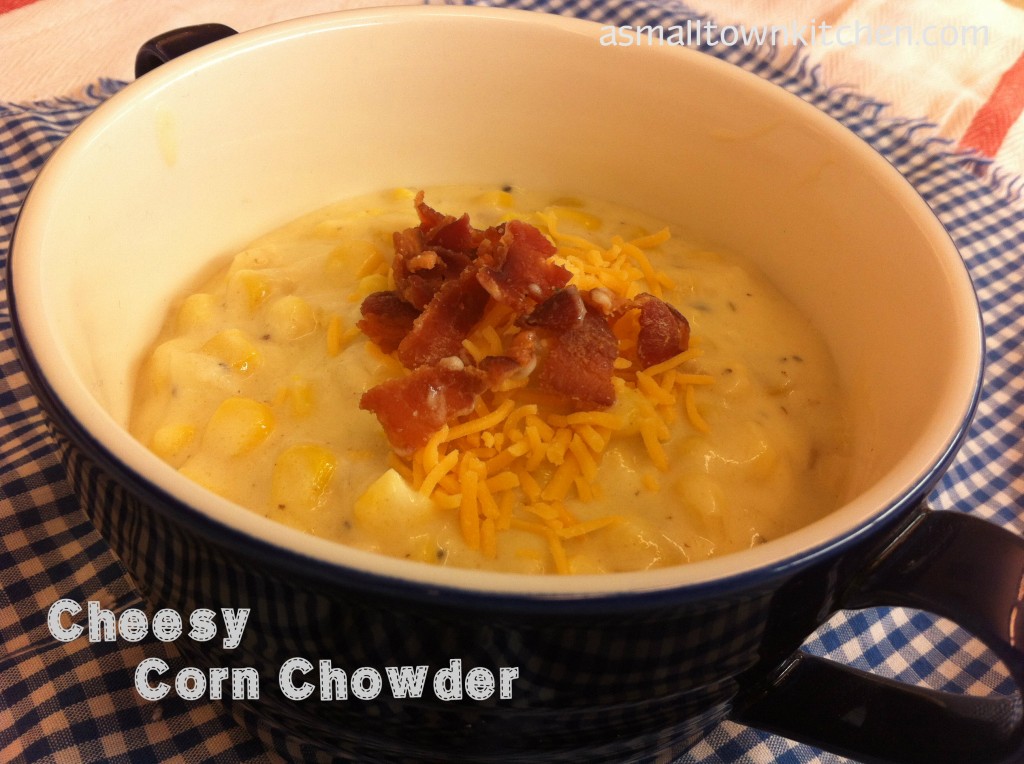 Yesterday, I was helping to make food for a crowd of about 80 or so. It was the monthly treat day that different department provide snack, desserts or lunch for the entire staff. Our departments provided a bunch of soups and chilis for all three lunch shifts and it turned out great. I volunteered to make this Cheesy Corn Chowder and my Chicken Gnocchi Soup, along with the Coconut Cream Cake, Peanut Butter Sheet Cake (I will post this yummy recipe in the next few days) and 10 loaves of the Crusty White Bread.
I have loved corn chowder after I tried my first bowl down at Branson last summer.  I have been looking for an excuse to try my hand at making my own, and treat day provided me my perfect opportunity. I looked and looked for a recipe that had the combination of ingredients that I thought I would like. When I finally ran across this one from Ina Garten, I knew it was time to finish my search. I did change up the amounts on some of the ingredients a bit. I wanted mine a little thicker, so I added more flour. I also wanted a more creamy taste, so I added more  half and half. I also wanted a little more cheese flavor, so I added more cheese. I got raved reviews on this chowder on Friday. I am taking the left overs to The Princess's house for lunch tomorrow after church. I am sure that Mom and Dad will go corny over this Cheesy Corn Chowder.
You will go corny too! LMK (let me know) if you give this chowder a try!
Here is what  you will need.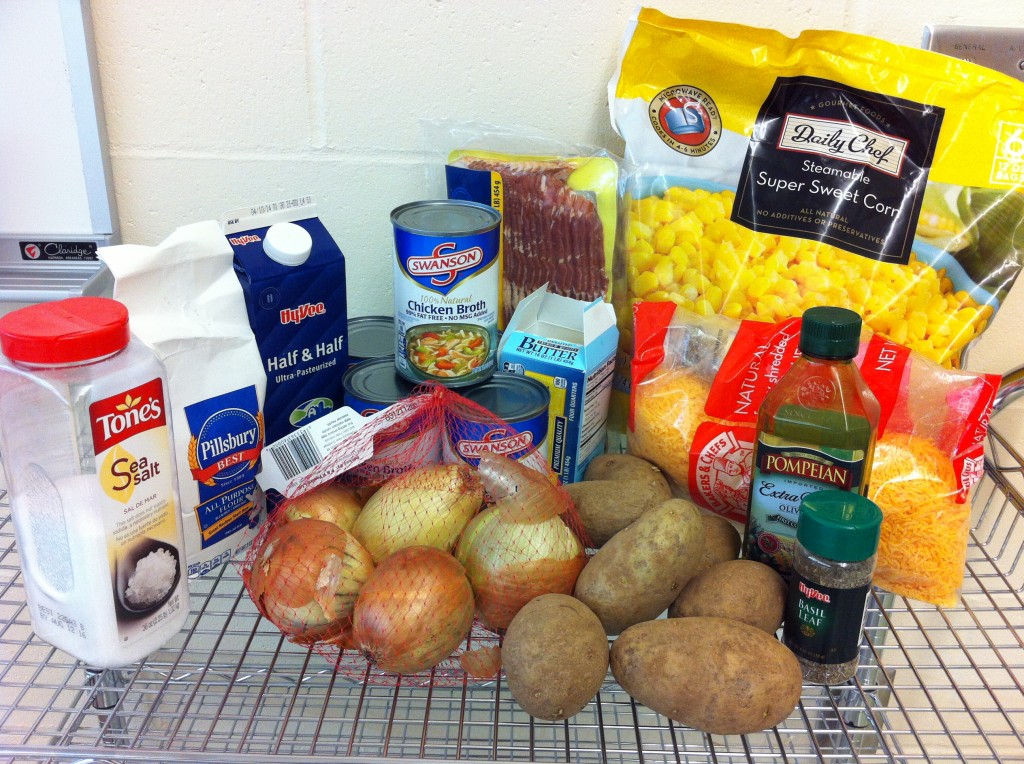 You will need corn, of course : ), potatoes, onions (lots of onions) flour, salt, pepper, basil, butter, half and half, olive oil, chicken broth, olive oil and cheese.
First thing you need to do is chop all those onions (or talk a someone else into it like I did), then cube the potatoes.
The first thing you will need to do is fry up the bacon in little pieces. I used some kitchen shears to cut the raw bacon into little squares before frying off. When the bacon is fried, scoop out the bacon and pour the bacon grease into a large stock pot.
In the large stock pot, put the bacon grease, olive oil and butter and melt together. Add the onions and sauté until tender.
Once the onions are sautéed, add in the flour and cook for a minute, stirring while the mixture becomes thick.
Pour in the chicken stock. Now add in the chopped potatoes. Simmer until the potatoes are tender. Stir occationally.
Add in the frozen corn and the half and half. Season with basil, salt and pepper to taste. Simmer on low, until the corn is heated through.
Add in the shredded cheese and stir until the cheese is melted. Now, it is all done.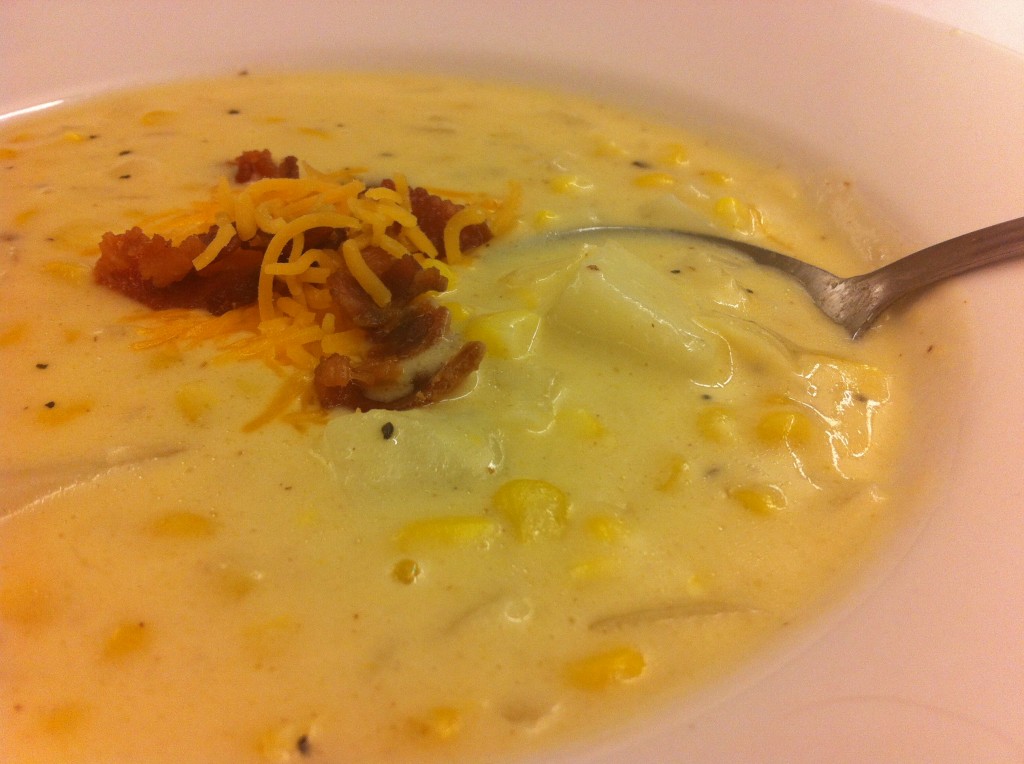 Served with shredded cheese and the fried bacon pieces.
That is all there is to it!
Make this large batch of Cheesy Corn Chowder to keep you warm until Spring is here.
Here is the recipe.
Cheddar Corn Chowder
Recipe adapted from Ina Garten
Ingredients:
8 ounces of bacon (I cooked a whole pound package, cause you use the bacon for garnish when you serve it and we love bacon around here)
1/4 cup olive oil (or you can use vegetable oil if you do not have any)
5 cups chopped onion
4 tablespoons butter
3/4 cup flour
2 teaspoons sea salt
1 teaspoon black pepper
1 teaspoon basil
10 cups of chicken stock
4 cups of half and half
6 cups diced potatoes
10 cups of sweet frozen corn kernels
3 cups shredded cheddar cheese
Directions:
Using kitchen shears or a sharp knife, cut the raw bacon in small strips. In a large (and I mean large) stock pot, fry the bacon until the bacon is crispy on medium heat. Leaving the bacon grease in the bottom of the stock pot, strain out the crispy bacon to use as a garnish for the soup when you serve it.
Add the olive oil and the butter to the bacon grease. Keeping the heat on medium, sauté the onions until they are translucent.
After the onions are sautéed, add flour, salt, pepper and basil. Cook and continuously stir the flour and onion mixture for about 3 minutes.
Pour in the chicken stock and stir,
Add in the diced potatoes. Cook until the potatoes are tender.
Add in the frozen corn and the half and half.
Cook for around 5 more minutes, or until the soup is heated through.
Add in the cheddar cheese and stir until all the cheese is melted.
Taste the soup, to see if you need to add more salt or pepper.
Serve and garnish with bacon and cheddar cheese.
Enjoy!
Becky
Other post you may enjoy:
Velveeta Cheese Soup                                  Poppy Seed Bread                              Oven BBQ Brisket