What is a catalina? It is a coupon you get printed out when you buy certain items at a grocery store. Last week at my local Gerbes they were having a great catalina deal. If you buy 5 of certain items you would get a catalina worth $5 off your next purchase. I did three transactions. With each transaction I received $20 worth of catalinas.
Well, I used $40 worth over the weekend to purchase grocery items to make "home cooked" food for baby college girl. This included oranges she took home with her…..she did ask first : ). I still had $20 left to use and they expired today. I made a quick trip to Gerbes to pick up a few things. I gathered a few coupons to use but did not have time to really have a strategy. My main objective was just to use them before they expired.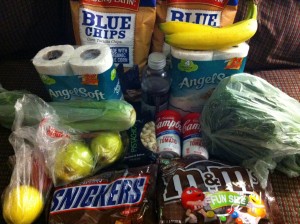 This is what I picked up.
2 bags of Blue Chips. On sale for 2 for $6. I had coupons to make them $2 each.
2 cans of Campbell tomato soup bowls. On sale for $1 each. With coupons I got them for .50 cents each
2 Soft and Gentle 4 packs. On sale for $1 each. With coupons I got them for .50 cents each.
1 vitamin water on sale for .89 cents…..no coupon….I was just thirsty.
1 bad of Wonderful Pistachios on sale for $2.99 with coupon I got it for $1.99.
2 bananas
3 pears
4 apples
1 bunch of Kale
1 bunch of celery
and just in case I make it home early enough tomorrow for trick or treaters  2 bags of Mars candy on sale for $2.50 each with coupons $2 each.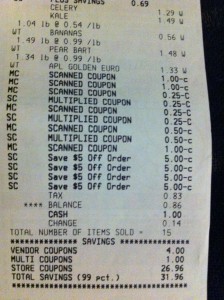 I paid $. 83 cents for all of it. A total of 99 percent savings.
Whohoo!!!
Ummm….what do I want for a snack….home made kale chips, pistachios or maybe a snickers…..
Trick or Treat!
I want something GOOD to eat!
Anybody want a snickers????
Becky