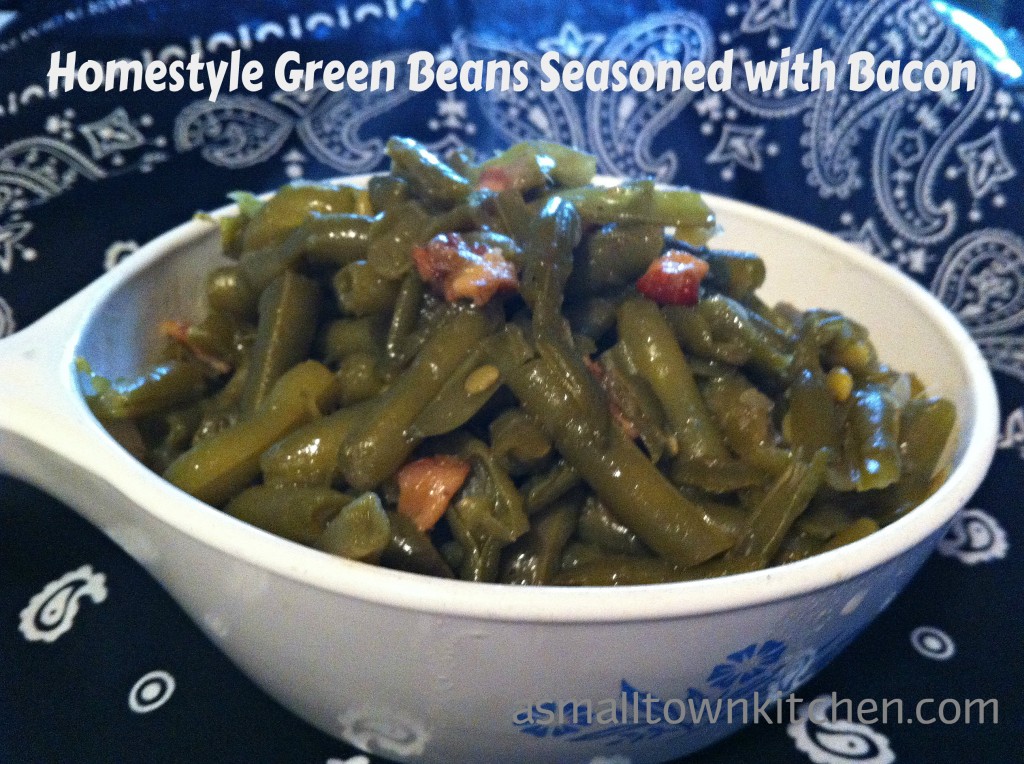 This  past summer, at Company's house, I tried my best to grow green beans. They would pop out of the ground and make some blooms and then either the geese, deer or some green bean hungry animal would steal them all. GRRRRR……
Last year it was my back yard varmit that ate my green beans and tomatoes.
I finally gave up growing my own green beans  (until next spring) and just decided to buy some fresh green beans. I found a great deal on green beans for .99 cents a pound and bought three pounds. My favorite way to cook them is with some bacon and onion AND if I have some small new potatoes I like to throw some potatoes in too.
This Homestyle Green Recipe is not a exact science. It all depends on how many green beans you have. So this recipe is for making a full pot of green beans. But don't worry, just add less of everything if you only have one pound of green beans. I like to cook my green beans for a couple of hours, until they get soft and, I know this sounds crazy, but it kinda makes a green bean gravy. In other words the green beans cook down as the water evaporates and all this great flavor makes into the broth/gravy.
YUM!
Anywho, it is time to get started!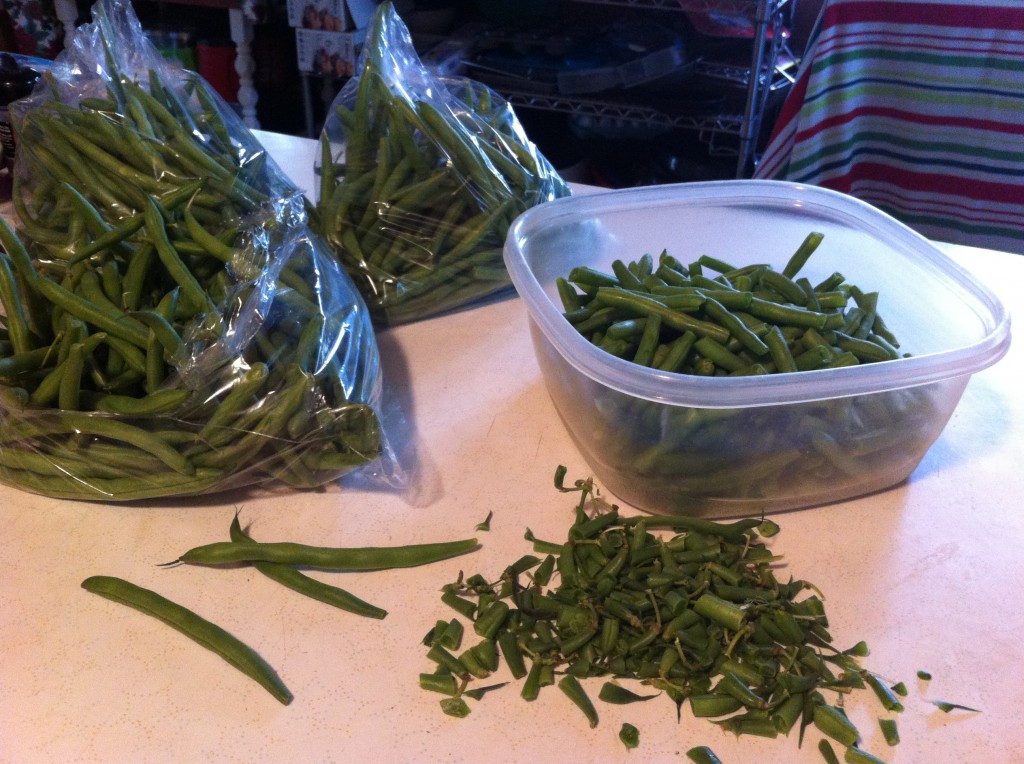 First thing you need to do is snap the ends off the green beans and snap them in half.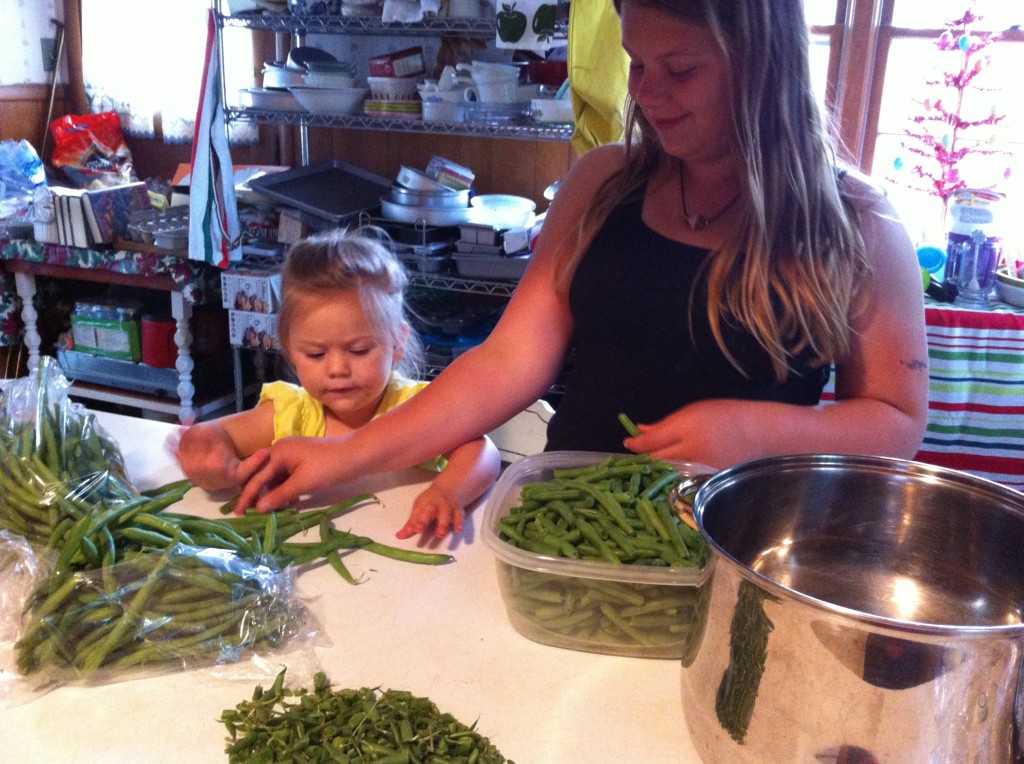 It is more fun if you can recruit some help for this. (please don't look at my very untidy shelf with my extra pans on it) : )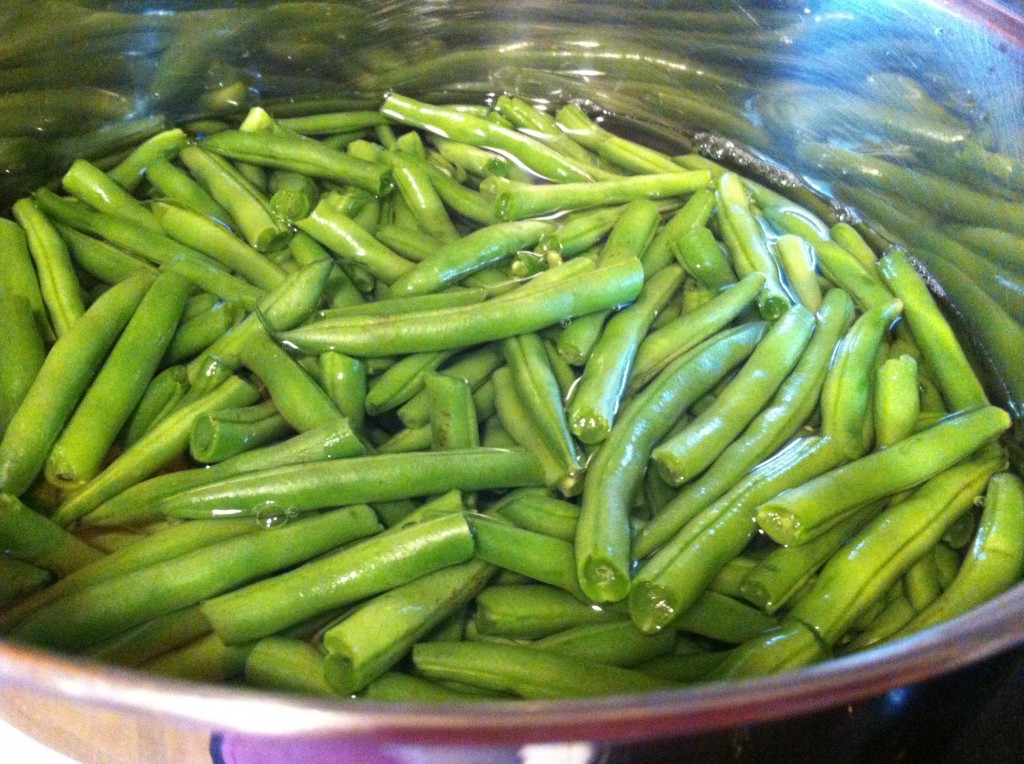 Rinse the green beans and then put them in a stock pot and fill  with just enough water to cover with them.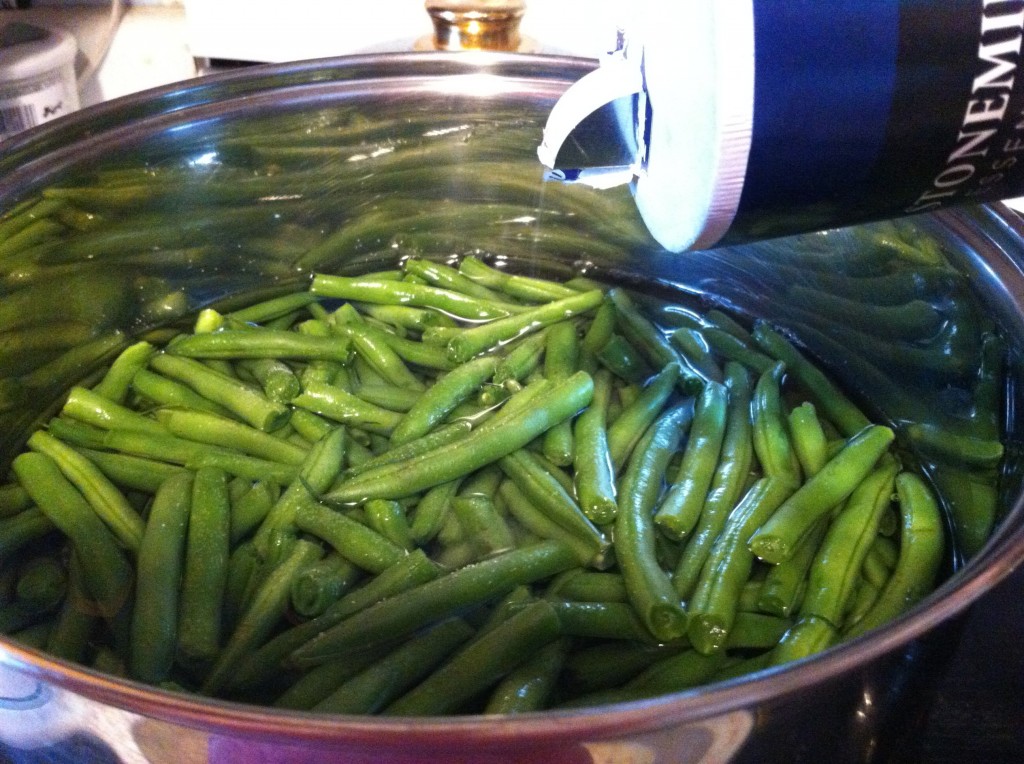 Add teaspoon of salt. (I do not add much salt right now. I let them cook down before I really season them to taste).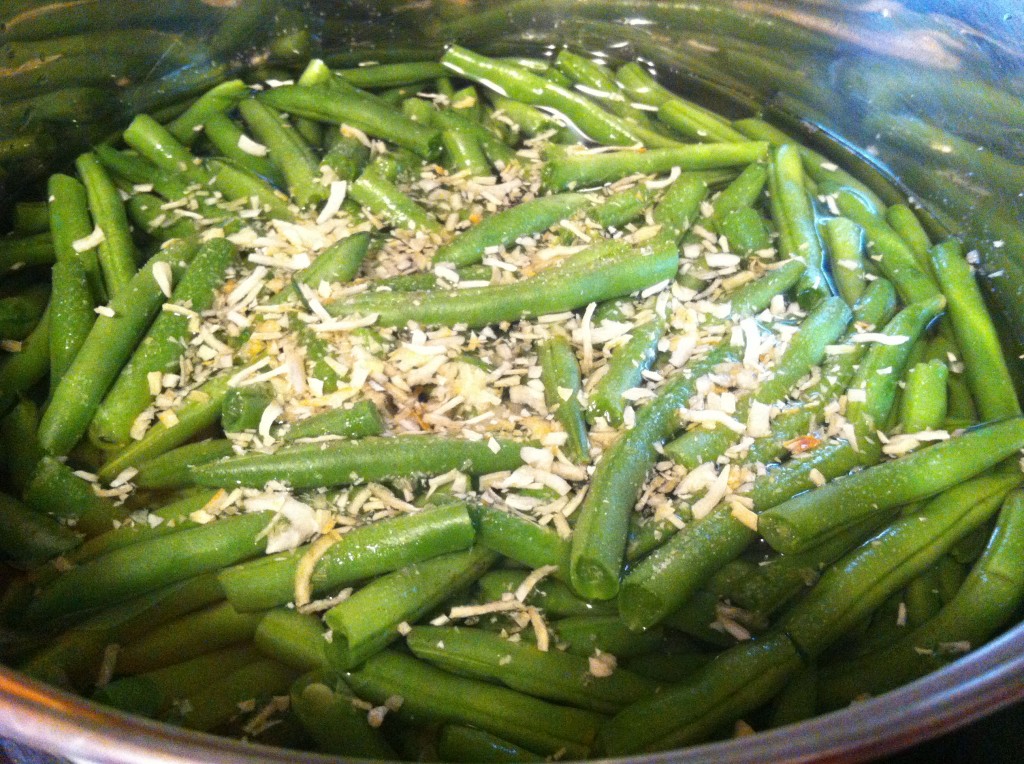 Add in some  dried mince onions or a large onion diced up. I am using diced minced onions because Company does not like onions and I can hid them (sorta) in the green beans if I used the dried dice onions. You can certainly use a fresh diced onion.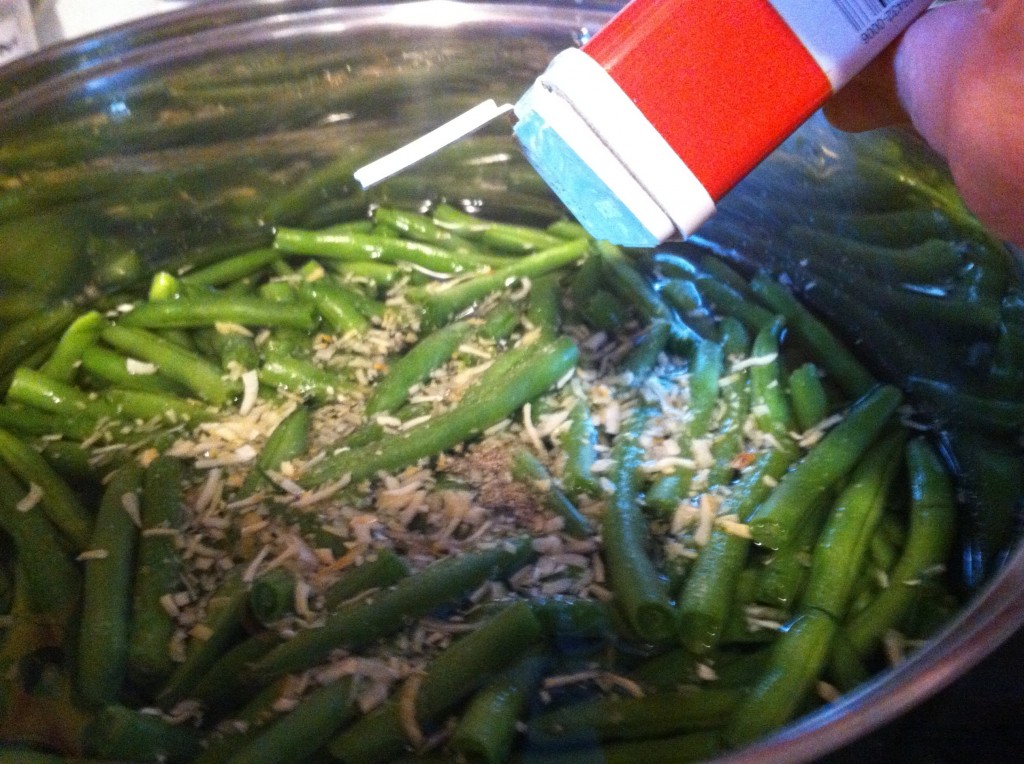 Add a teaspoon of pepper.
Turn on the heat to simmer and start cooking the bacon. I go a head and start the beans to start cooking the beans while I fry the bacon because it takes a bit to heat up the water and beans.
While I have my beans started I cut up the bacon in small pieces and fry until crispy. I used about 8 slices of bacon. I like to fry my bacon first because I like the bacon texture better than just putting in raw bacon in the green beans.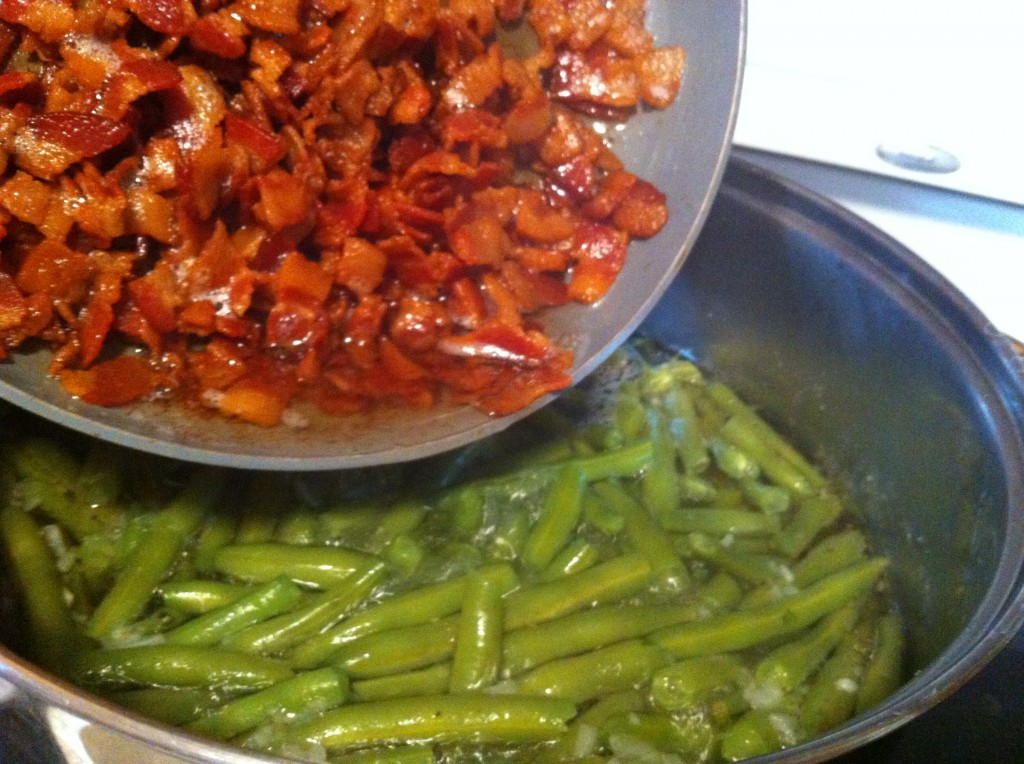 When the bacon is crispy, add the bacon and some of the bacon drippings. I used almost all of my bacon drippings.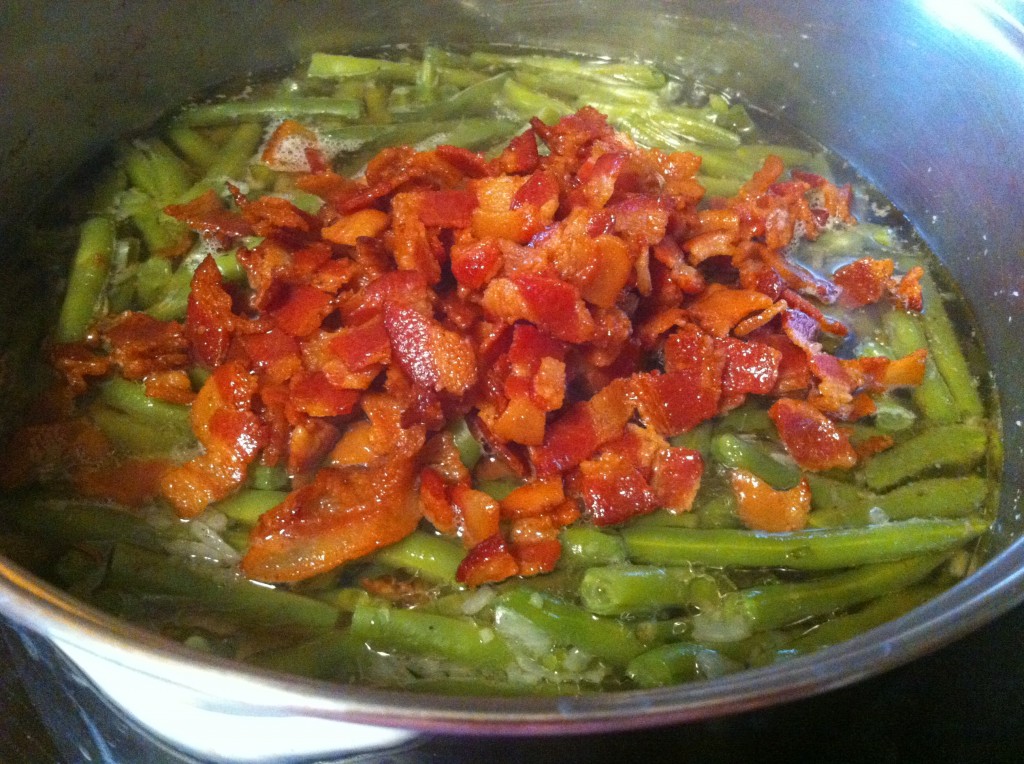 Stir the bacon and drippings in the green beans. Let the beans simmer until tender. I cook mine about 2 hours on low for three pounds. Make sure that all you water does not simmer away and scorch your beans, add more water, a little at a time if you need to. It will take less time if you have fewer green beans. When the green beans get to the texture I like, I taste them and then add more salt and pepper until I get them to taste.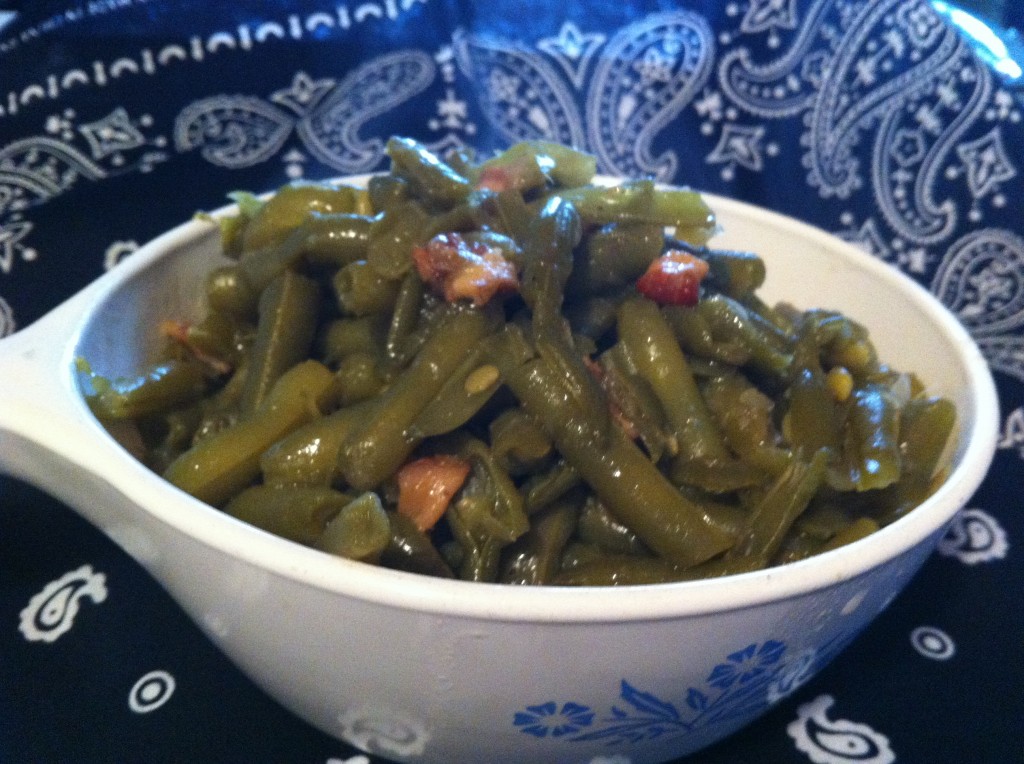 Here they are!
See how easy they are to make!
I can eat a whole plate of these green beans!
Here is the recipe (sorta)
Homestyle Green Beans seasoned with bacon and onion
Ingredients:
3 pounds of fresh green beans, snapped and rinsed
1 large onion diced or 1/2 cup dried minced onion
8 slices of bacon, diced and fried saving drippings for seasoning
Directions:
Put green beans in a large stock pot. Barely cover with water. Add in the onion and bacon. Add bacon drippings, (I used almost of my drippings) Salt and Pepper. Simmer for 2 hours approximately being careful not to let all the water simmer out and scorch your beans. When the green beans get to the texture you like, then season to taste with more salt and pepper if you like.
Enjoy!
Becky
Here is some other post you may enjoy reading:
Brown Sugar Meatloaf                  Sour Cream Apple Pie            Sausage Stuffed Acorn Squash