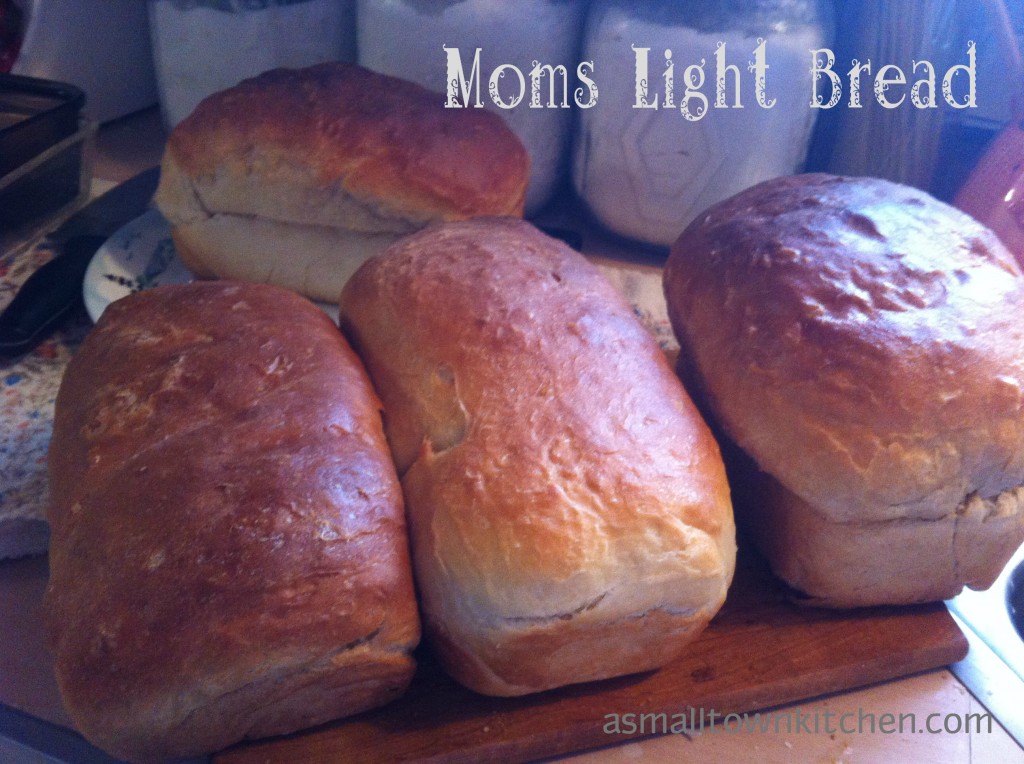 My Mom, the Princess, grew up calling this bread, "Light Bread."
I think she got the term from my grandma.
I call this bread, "homemade memories of childhood goodness."
"Us Kids," Niener Wiener, Me, Jeanie Beanie and Brother, would wait in mouth watering anticipation, until the first hot loaf would finally come out of the oven.
Warm, lathered with butter, crusty and tender.
We were hungry little tow heads, that could (and did) devour as much bread as we could until Mom would finally shoo us from the kitchen.
Us kids, loved and still do love, Mom's Light Bread. It magically switches our middle age brains into believing we are young, tow headed (not gray) and very hungry kids again.
MMMM…..Mom's Light Bread.
Jeanie Beanie and I, just happened to have our spring break out of school, at the same time this year. Jeanie Beanie started planning a couple of months ago that she wanted Mom to teach her how to make homemade bread over break. I just invited myself to join in on the fun. So a week or so ago, over spring break, us two girls, went to Mom's and made bread. We. Had. A. Blast. Not only did we hang out with Mom all day, my Aunt Pat and cousins Myra and Connie came for a visit too. We had our own little family reunion. We ate warm light bread with homemade strawberry jam and (real) butter.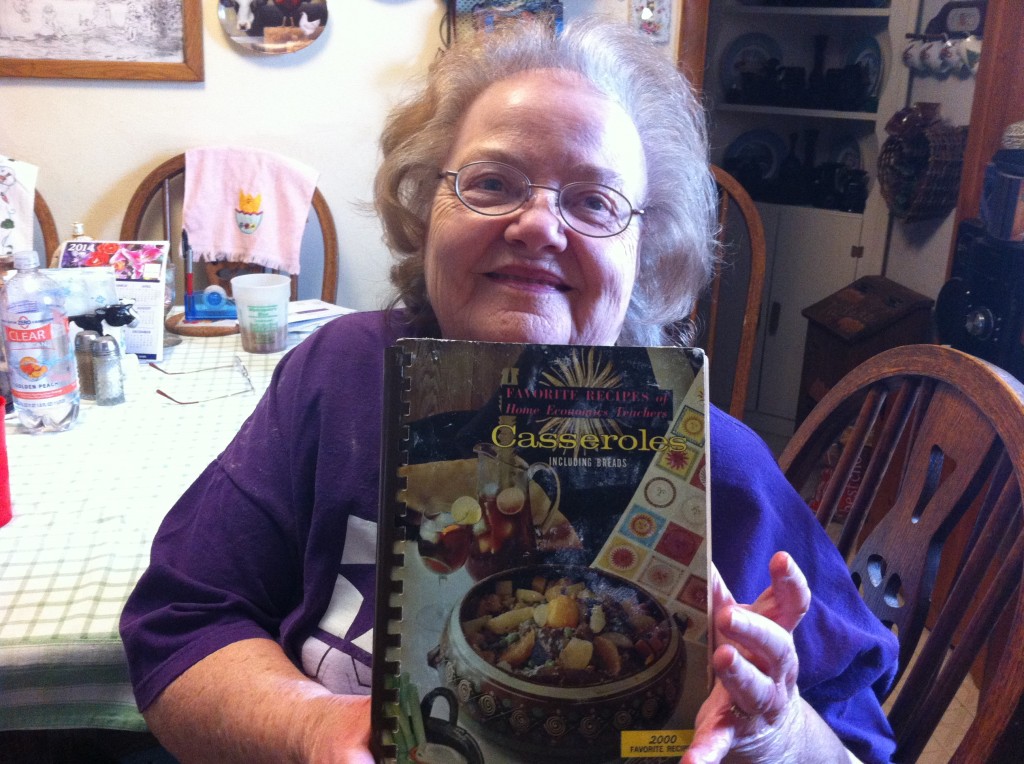 Here is a picture of the beautiful Princess holding her cookbook with her bread recipe in it.
There is a story about this cookbook, that I will have to tell you all about another time. Don't worry I won't forget to tell you all about how my mom lost her prized recipe.
Promise.
Anywho, back to making bread. My Mom is a serious bread maker. She has not made her bread in years (cause she lost her recipe) and of course she had hip replacements, breast cancer and a mastectomy.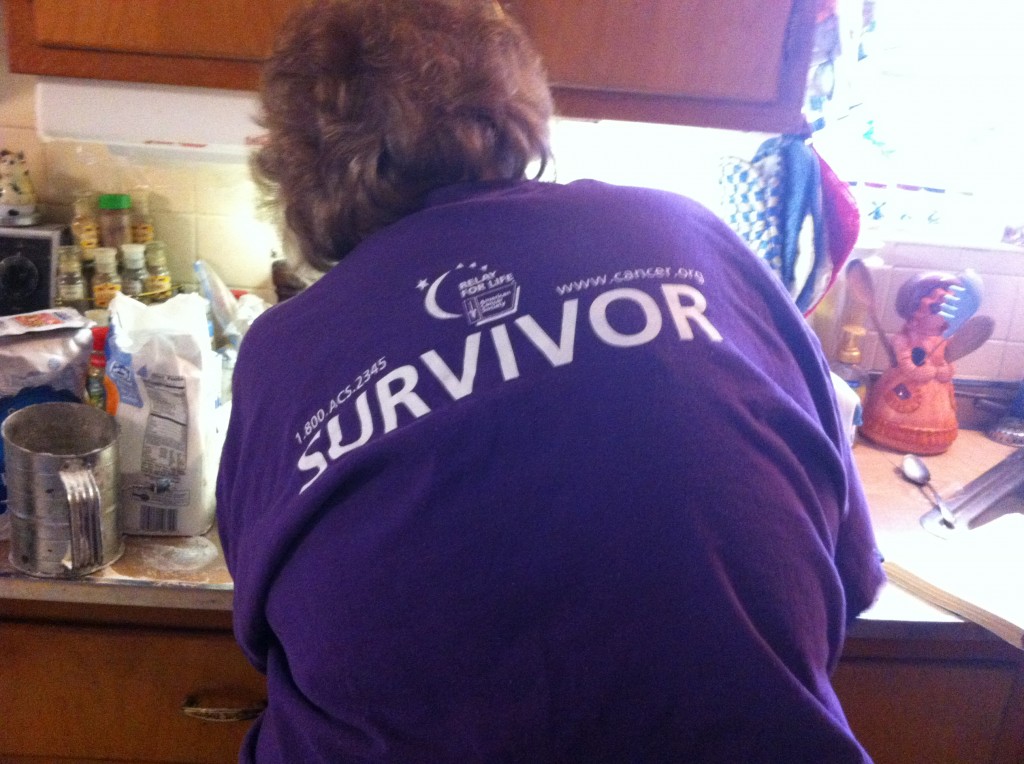 But, my Mom is a survivor and she just keeps moving forward. She got busy making her bread so fast, I hardly had time to take pictures. I had to keep telling her to slow down. I think I  managed to get all the step by step pictures on how to make Mom's bread. Whew….she wore me out : ).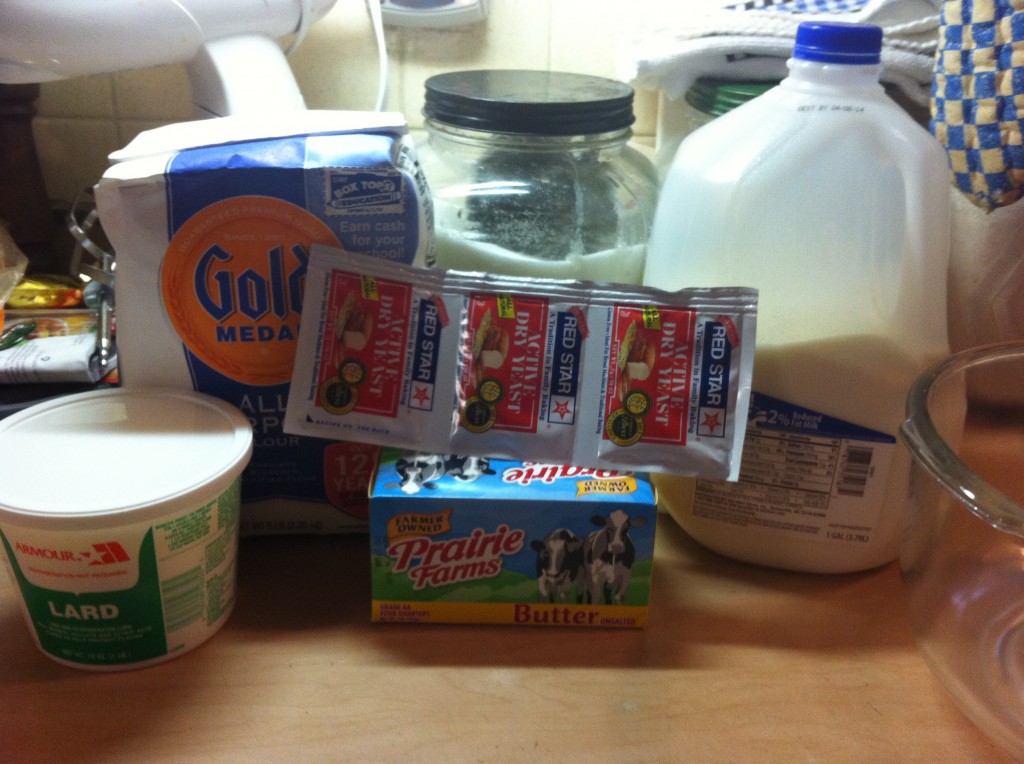 Here is what you need, some butter, milk, yeast, flour, salt and lard to rub on top of the rising dough and to grease your pans with. Mom says lard makes all the difference.  Criso or lard….the choice is up to you. : ) I can just tell you I bought a small container of lard cause Mom said so.
First thing you need to do is dissolve the yeast in some warm water and stir it up to get all the lumps out.
In a large mixing bowl, add together the lard and  warm milk.
Add the dissolved yeast to the warm milk and lard mixture. Now add in your sugar and salt.
Now, here is secret number one to my Mom's bread. Mom firmly believes in sifting the flour into the milk mixture.
She sifts a little flour and then mixes it up with her mixer. Then she sifts in some more flour.
She sifts in as much flour as she can mix with her hand mixer. (the mixer got a work out that day).
Next, Mom dumps the sticky dough on a flour covered counter and kneads in more flour.
She kneads in enough flour to make a soft dough. She makes sure she kneads the dough at least 10 minutes to help make the dough tender.
When the dough is ready. She put the dough in a bowl greased with lard. She also gently spreads lard on top of the dough. She covers the dough with wax paper to rise in a warm place.
When the dough rises, Mom takes the dough and punches it down. Then, puts the wax paper on top and lets it rise again, for a double rising.
After the dough has risen for the second time, Mom takes the dough and pinches off circles of dough and forms them into rolls.
She puts the rolls in a pan greased with lard (again). She took the rest of the dough and formed two loaves of bread. Yes, the pans were greased with lard. Let the dough rise until doubled in the pans. until at 400 degrees until browned.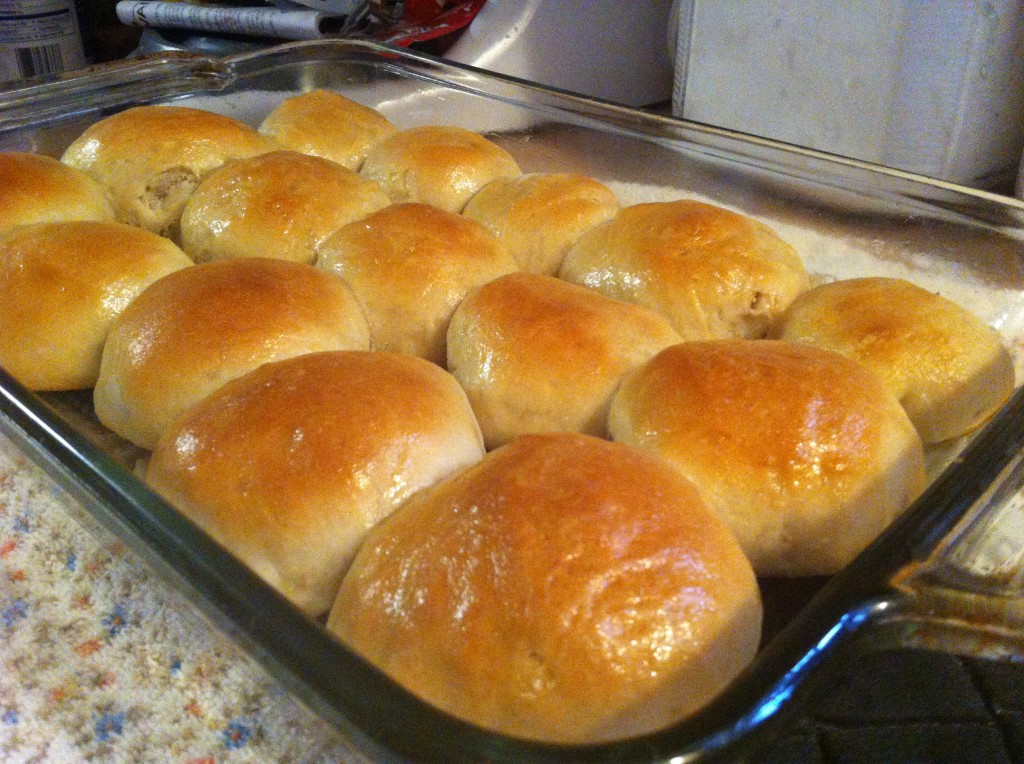 As soon as they come out of the oven, Mom brushes the rolls with melted butter.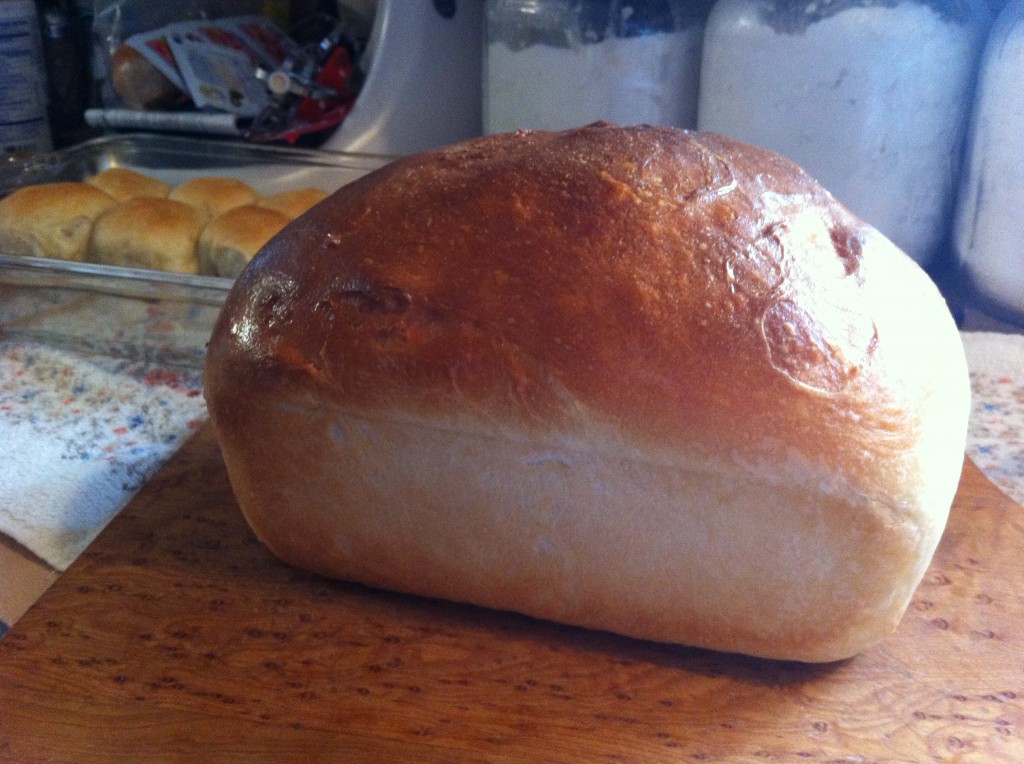 She brushes melted butter on the loaves of bread too. Doesn't this bread look good enough to tear off a big piece?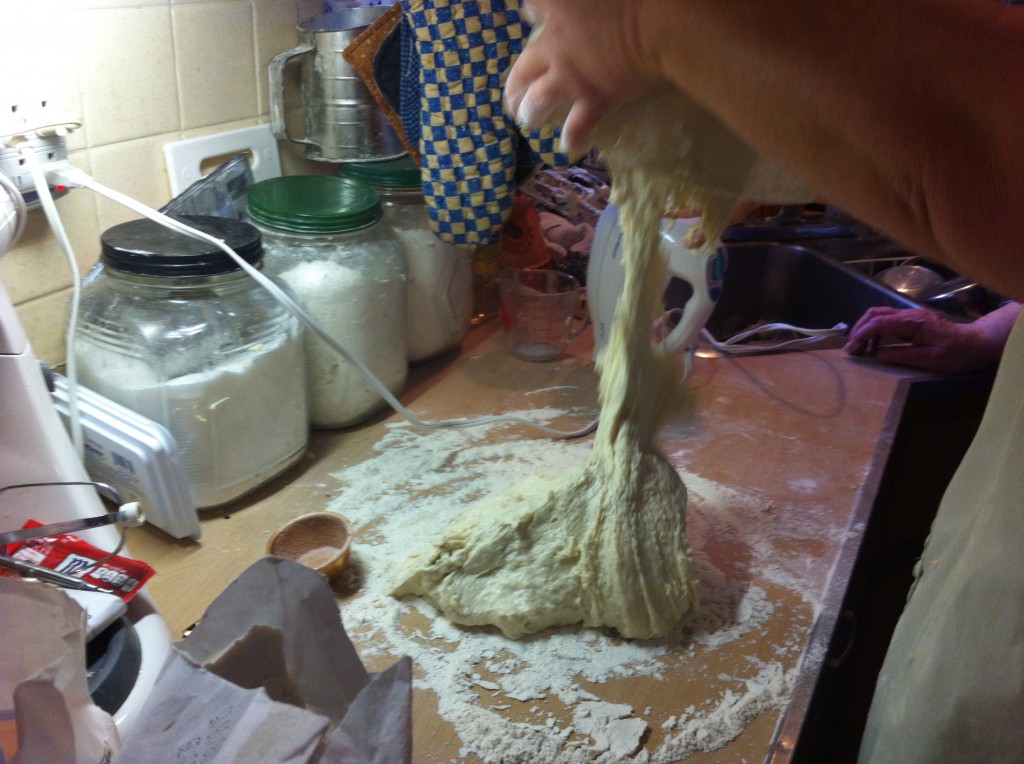 Jeanie Beanie got to make some bread too. Mom keep a close watch as sis made her bread. She should get first place on her technique for kneading bread. Go Sis!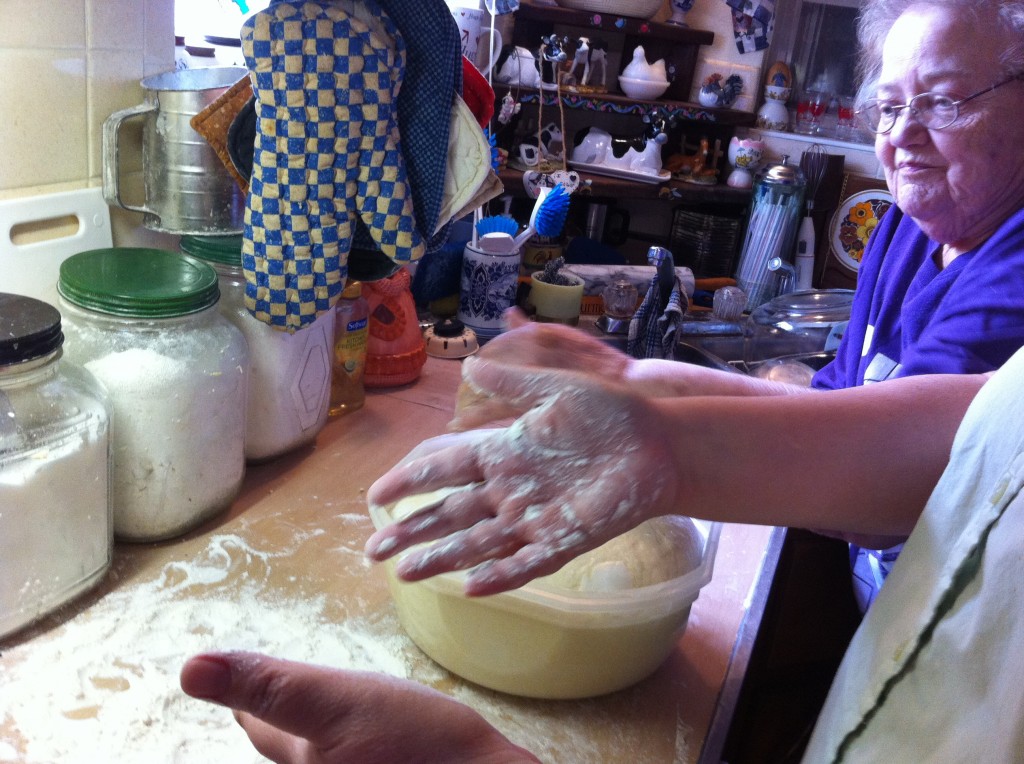 Jeanie Beanie managed to get her dough in her (lard greased) bowl just in time to rise before Aunt Pat and cousins Myra and Connie came to visit. I just wish I would have gotten a picture of all of eating bread. Boo!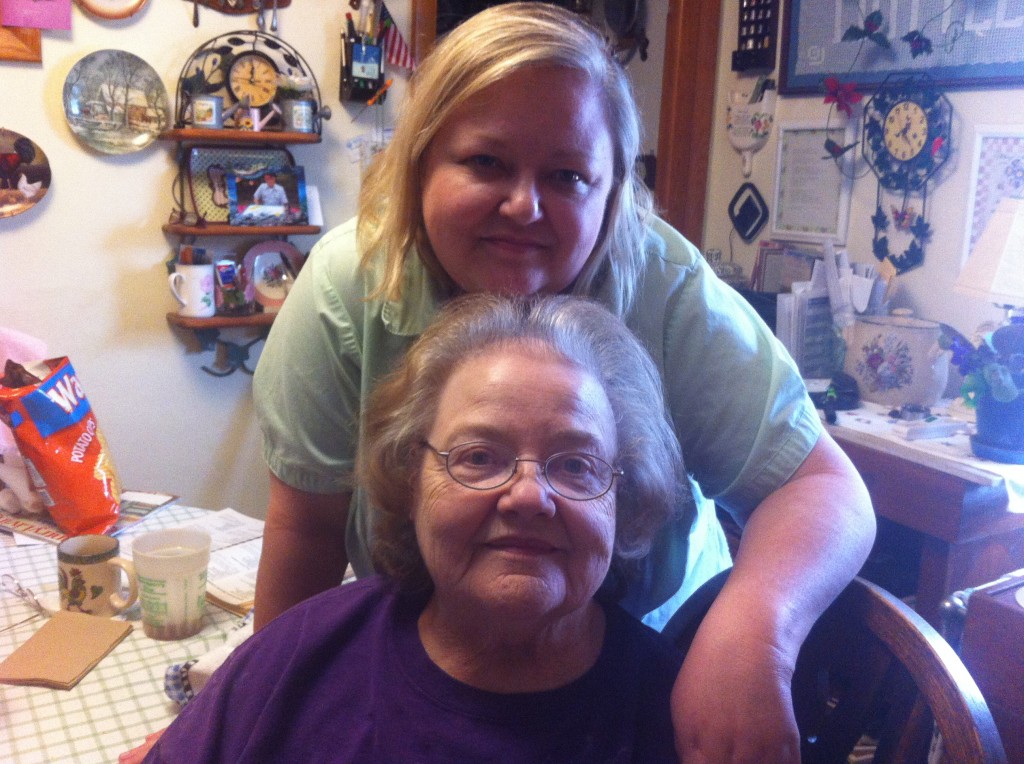 I did get a lovely picture of The Princess and Jeanie Beanie, though…: )
Thank you for hanging in there and reading my long post about such a special day I had with my sister and mom!
Family.
Family and warm bread.
The perfect combination!
Here is the recipe.
Mom's Light Bread
Adapted from Favorite Recipe from Home Economic Teachers.
Ingredients:
1/2 cup warm water
2 packages of dry yeast
3 1/2 cup warm milk or water
1/4 cup sugar
2 tablespoons salt
10 1/2 to 11 1/2 cup flour
1/4 cup lard or shortening. (more for greasing the bowls, top of bread and pans)
Directions:
Soak your yeast in warm water for 5 minutes. Combine yeast mixture and warm milk or water with sugar and salt in a large mixing bowl. Beat in 3 to 4 cups of sifted flour and lard into the liquid until smooth. Add remaining flour, mixing until the dough leaves the sides of the bowl. Turn your dough out onto a floured surface and knead  the dough for 6 to 10 minutes. Adding additional flour if necessary. Knead dough until it is elastic and smooth. Place the dough in a lightly greased bowl. Grease top of bowl and cover with waxed paper. Let rise in warm place about one hour or until double. Punch down and let rise again until nearly doubled. Dived the dough in four equal parts and shape into loaves or rolls. Bake at 400 degrees until brown, about 45 minutes for loaves of bread and 20 for rolls.
Yield 4 loaves.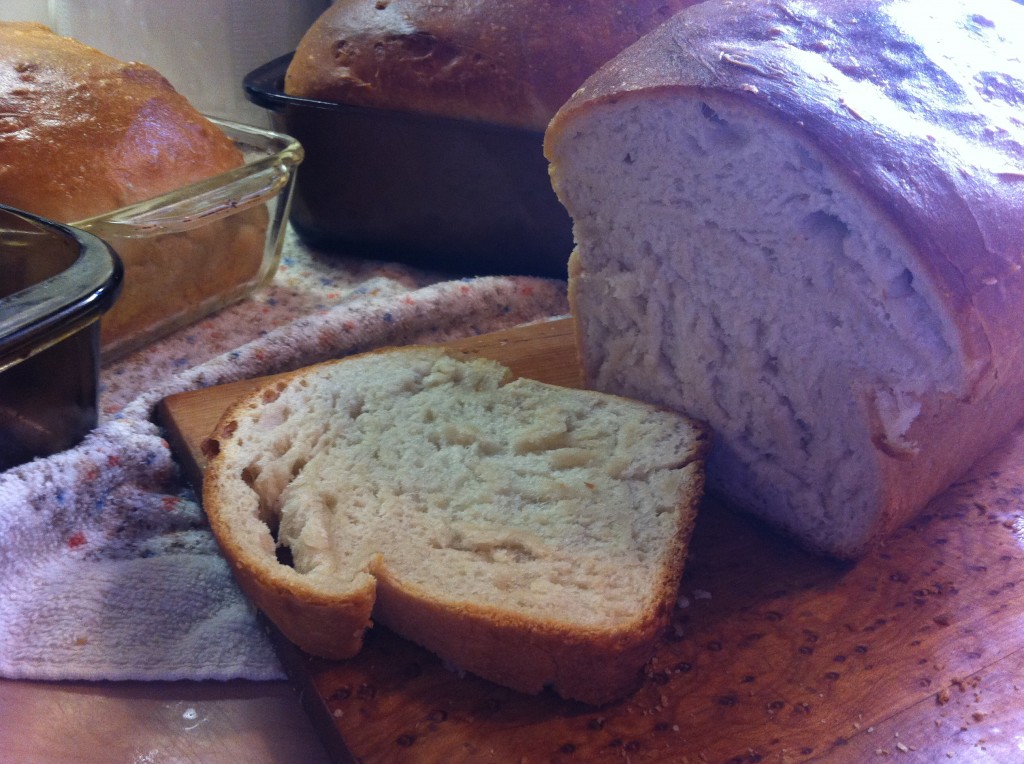 Now, all you have to do is slice it and eat it till it is all gone!
Enjoy!
Becky
Other Post you may enjoy reading:
Easter Bird Nest                                  Smashed Roasted Potatoes            Frozen Fluffy Strawberry Pie