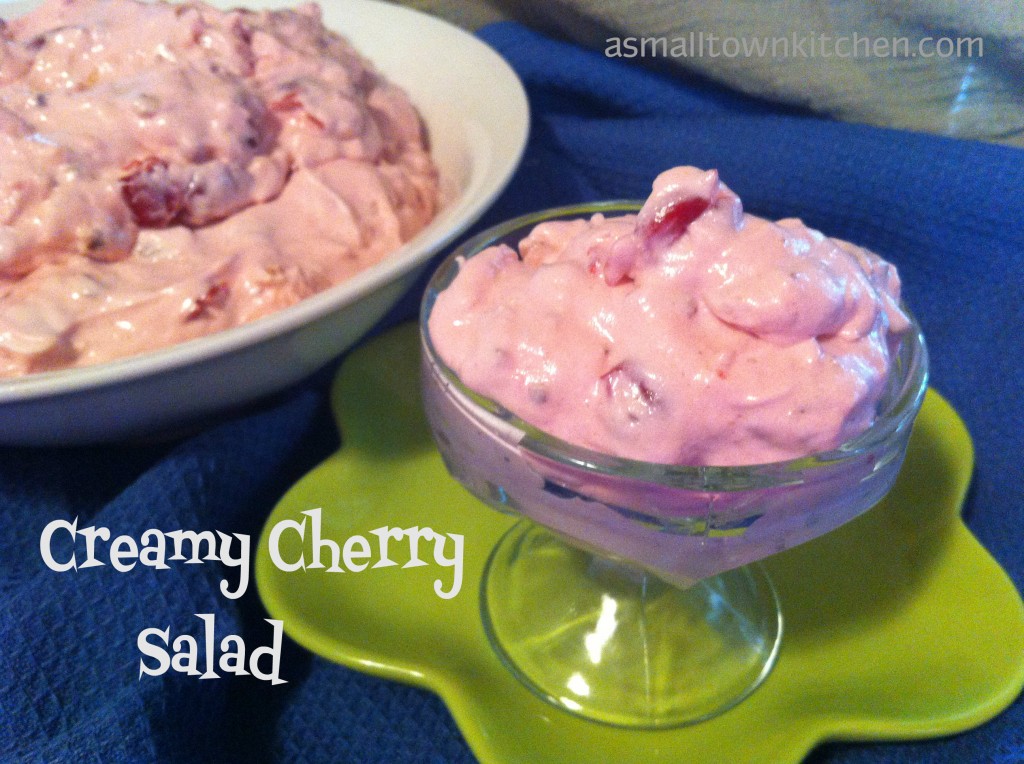 Does this picture want to make you run to the kitchen and get a spoon and take a big bite?
I hope it does!
We celebrated my Dad's 96th birthday last Saturday. (His real birthday was on Memorial Day) I was making a bunch of things to go with the Tickle Your Ribs BBQ that my Little Brother is famous for. (well…famous in our family anyway!) Saturday, he fought the rain all day to grill pork steaks and pulled pork, drenched in his home made bbq sauce. YUMMY! I was looking for extra special recipes to make to compliment all his hard work on his grill.
I had been eyeing this Creamy Cherry Salad recipe for a long time. I have been saving the recipe for months waiting for a special dinner to make it. Dad's birthday seemed like the perfect time! I had all the ingredients to make it too, except the sour cream (the one container I found had expired, poo). Super Hero son came to my rescue and went to the store to pick up the sour cream. In no time at all I had this beautiful salad made! You just open some containers, chop up some pecans, throw it all in a bowl and stir.
Easy Peasy Nice and Easy! (and delicious)
With the beautiful pink color and the pop of red from the cherries, it would be a perfect for Memorial Day, 4th of July or a Christmas dinner. (and any other time you want to indulge yourself)
Anywho, I took this dish and Niener Wiener wanted the recipe right away. (her DAR group theme is cherries this year and she wants to make it for their next carry in dinner, woohoo success!). I also made home style fresh green beans, that the grand girls helped me snap, Smokestack Baked Beans (recipe coming soon, Deviled Eggs and Strawberry Spinach Salad.
Here is all you need to make this quick and yummy recipe: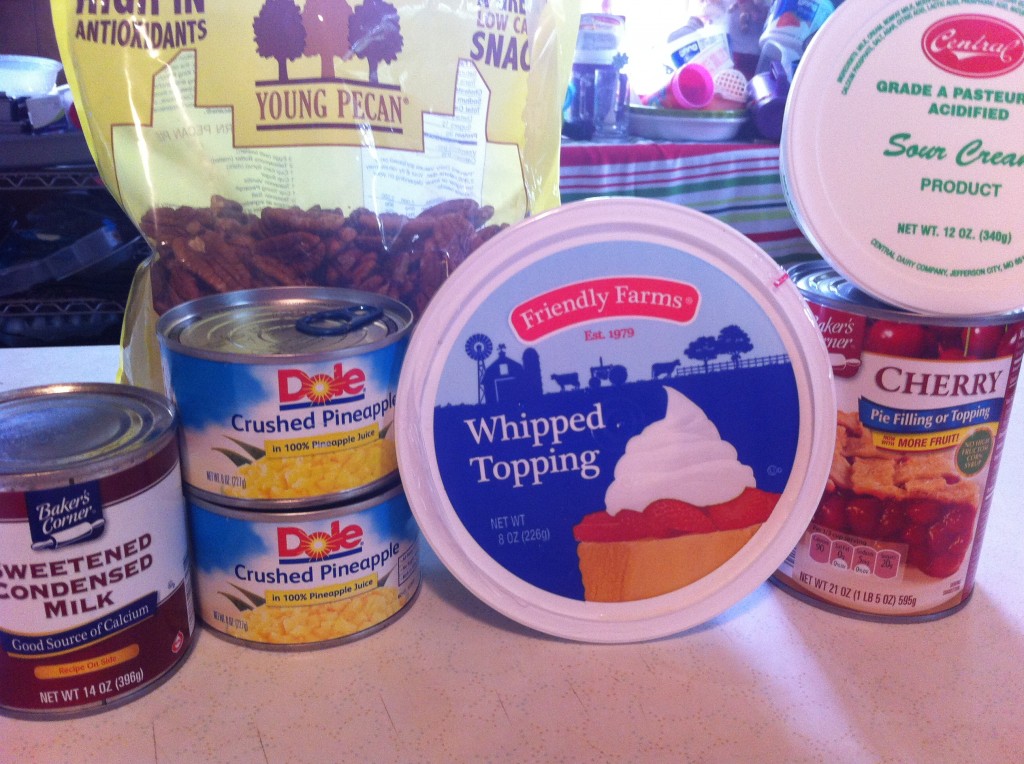 You will need one can of sweetened condensed milk, chopped pecans, 1 regular size can crushed pineapple, drained, (I  had to use to small cans because that is what I had on hand) some sour cream, 1 container cool whip and one can of cherry pie filling.
First thing I did was chop my pecans and drained the pineapple. (I saved the juice for the grand girls)
In a large bowl, (I was taking this to my dad's birthday party, so I was using a clear plastic bowl that had a snap on lid for travel) add the can of cherry pie filling and the cool whip.
Pour in the whole can of sweetened condensed milk. Add the drained crushed pineapple.
Add in the chopped pecans. Finally stir in the sour cream.
And then LOW and BEHOLD….you have a beautiful and deliciously creamy and yummy salad that looks like this….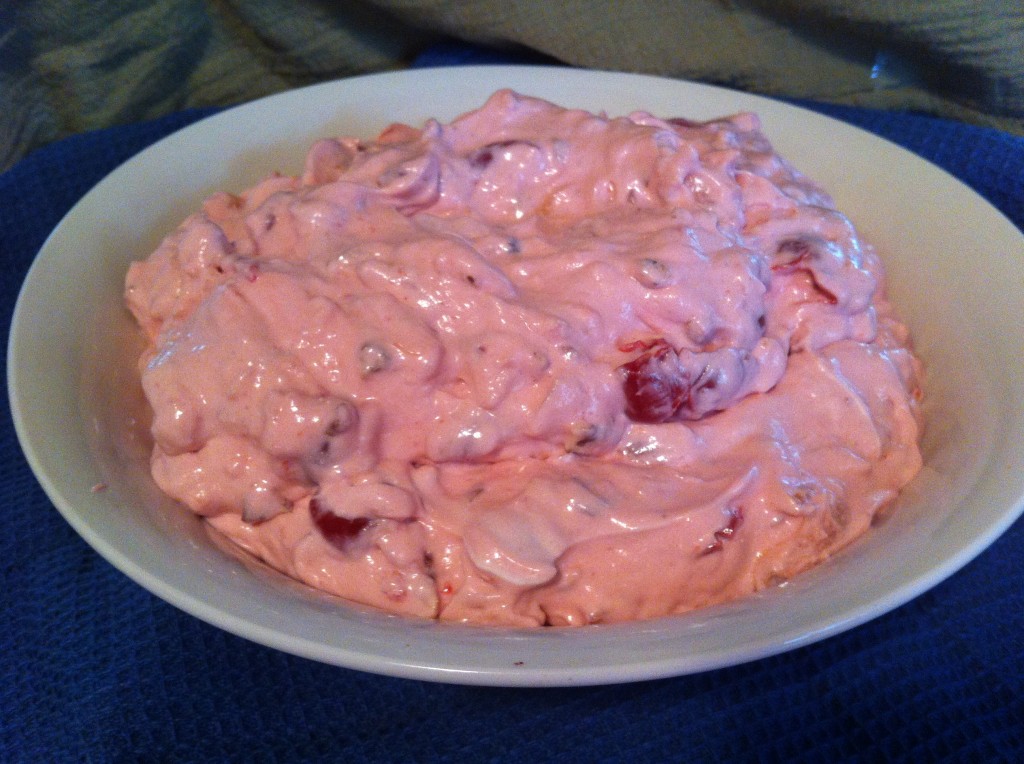 Are you ready to grab a spoon now?
Here is your recipe:
Creamy Cherry Salad
Adapted from old Silver Dollar City Recipe Cookbook
Ingredients:
1 (20 ounce) can cherry pie filling 1 cup chopped pecans
1 (9 ounce) container of cool whip
1 (20 ounce) can crushed pineapple, drained well
1 cup sour cream
1 can sweetened condensed milk
Directions:
In a large serving bowl, blend all ingredients together. Chill until firm. Serves 10 to 15.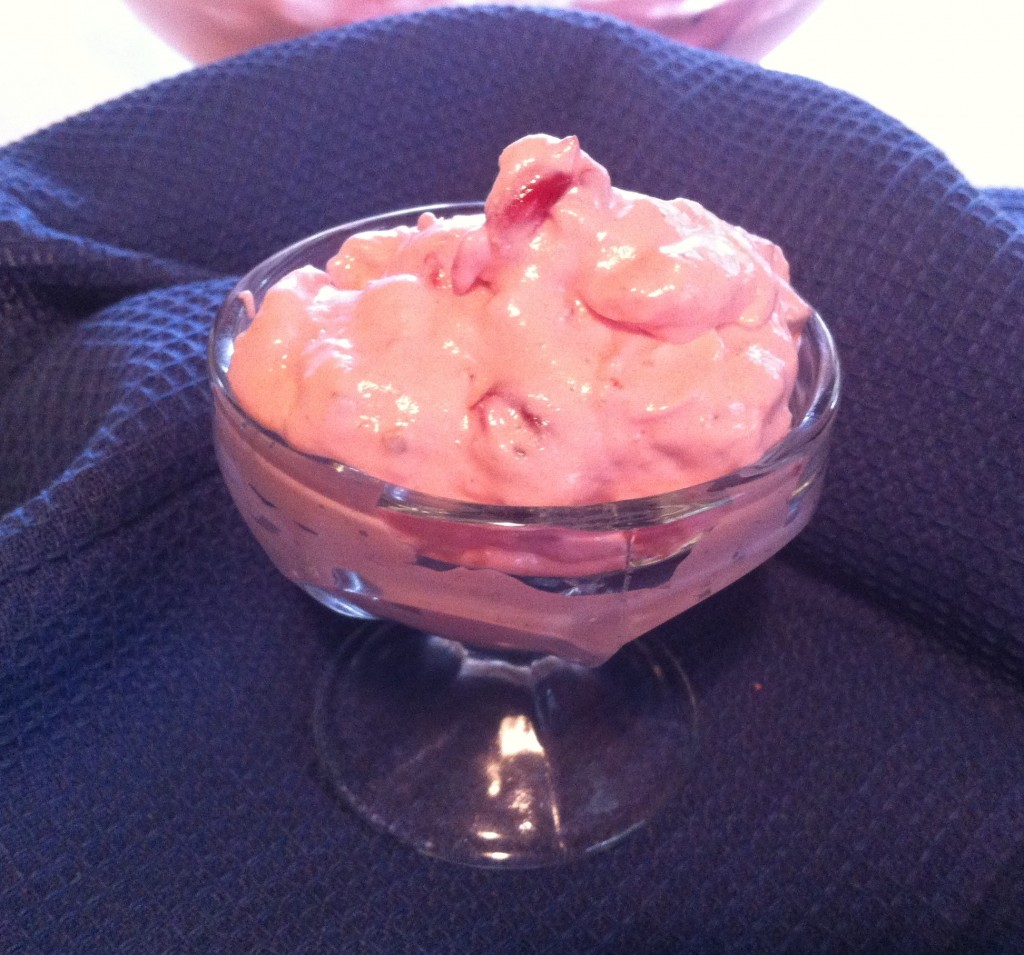 Enjoy!
Becky
Other post you may enjoy!
Vanilla Rhubarb Jam     Strawberry Pretzel Salad (coming soon)    Frozen Fluffy Strawberry Pie