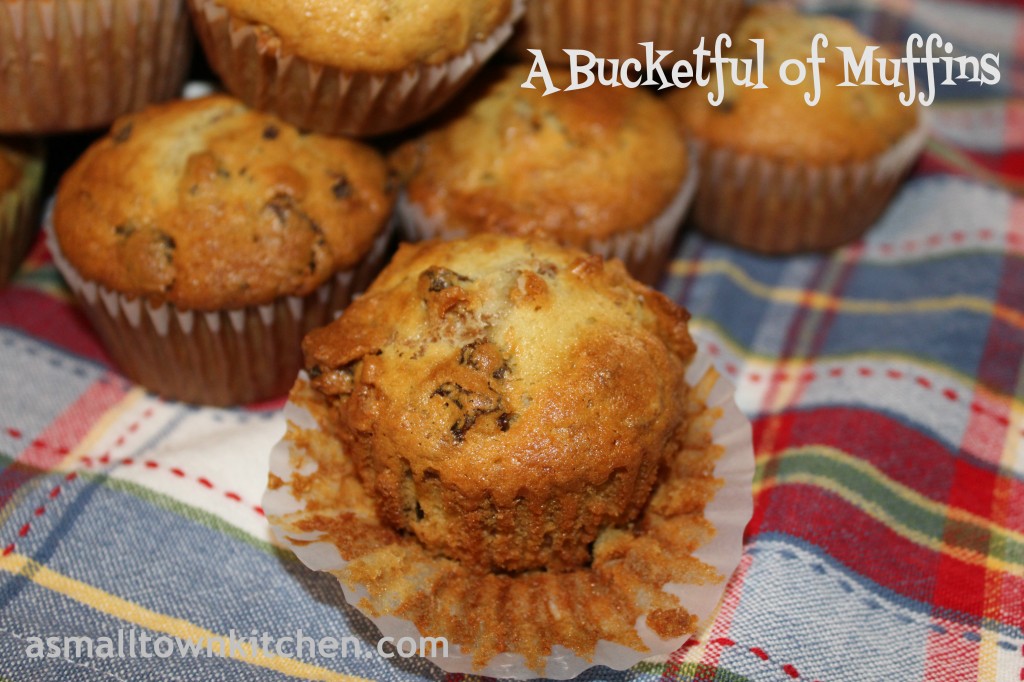 Have you ever had to cook for a crowd? Or just wanted to bake something that you could enjoy today and for later?
That is why I love to make these muffins.
When I had to start going to meetings before school, several of us teachers brought in enough goodies to feed all the teachers a nice breakfast. It is great to just hop in your car, drive to school, knowing that breakfast was there waiting for you. Yummy breakfast food to celebrate the start of school and to get you ready to go to all those FABULOUS meetings….. : ). One of the things that I made to share were these terrific muffins. They are full of raisin bran cereal and extra raisins. I love them so much, I made a batch for home and shared with Niener Wiener and Jeanie Beanie. I froze the rest in the freezer. All I had to do was pull a muffin out and microwave it for breakfast. It was like eating a fresh baked muffin. If you would rather bake a few of the muffins at a time, you can do that too. Just put the batter in the refrigerator and bake a few at a time. The only trick is that you do not stir the muffin batter after it goes into the fridge because it breaks down the cereal.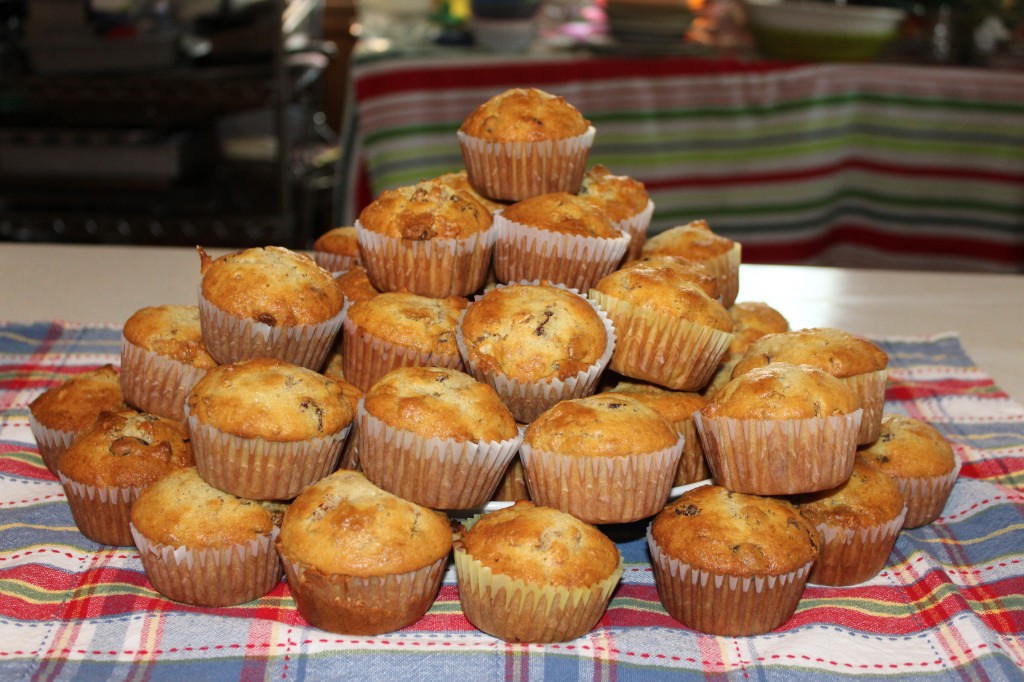 See, it really does make a bucket full of muffins!
Lets get started!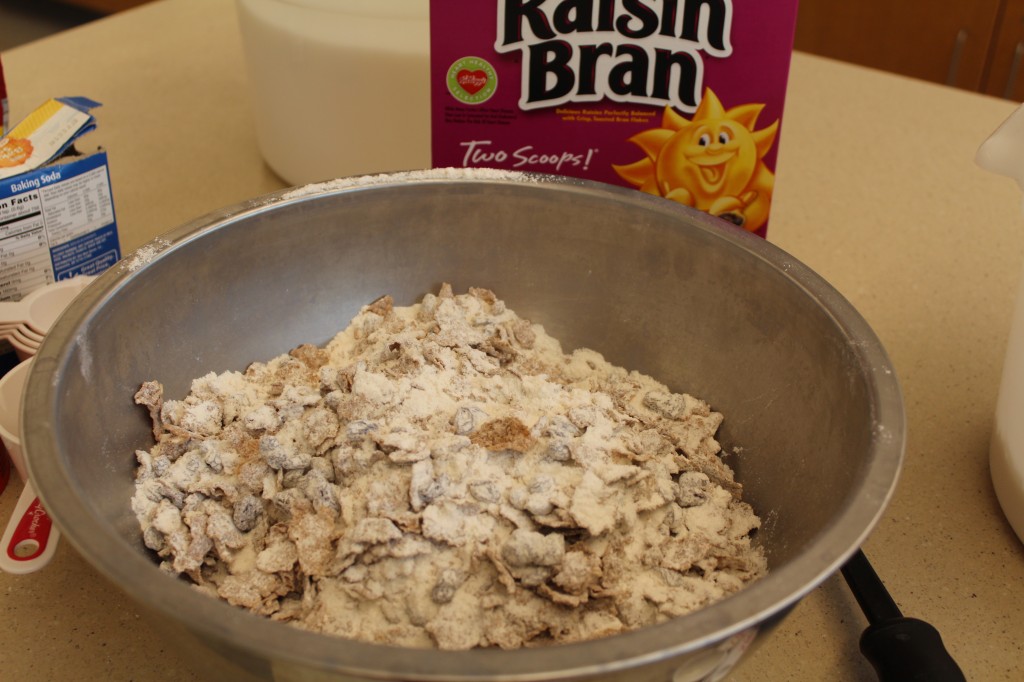 Can you tell I am making these at school? First thing you do is put all the dry ingredients together. This includes the flour, raisin bran cereal, sugar, more raisins, baking soda and salt.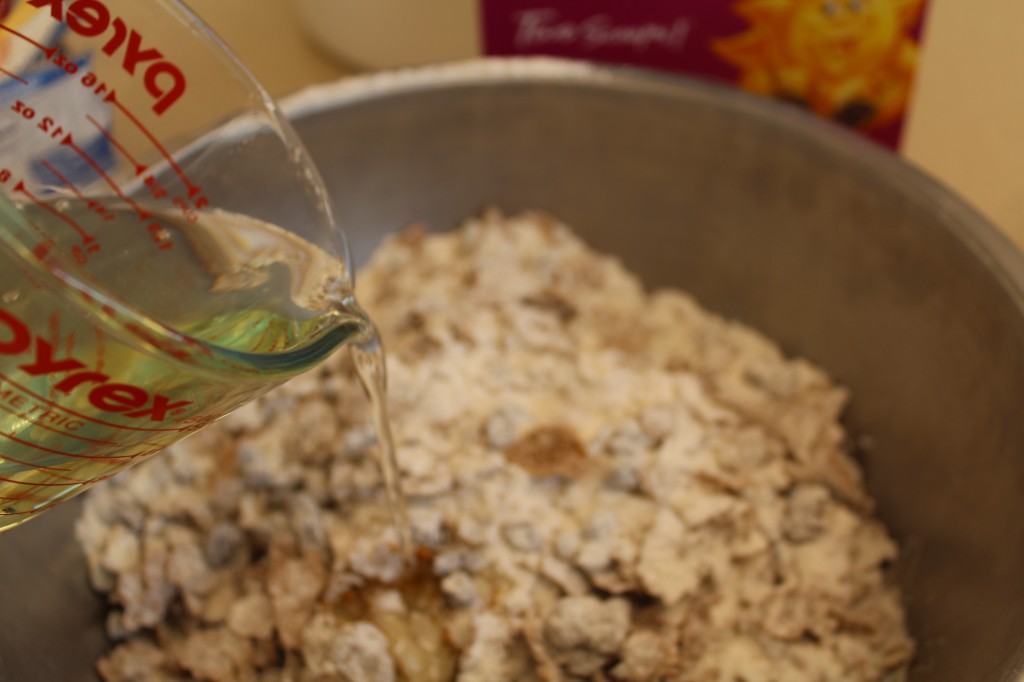 Add the oil.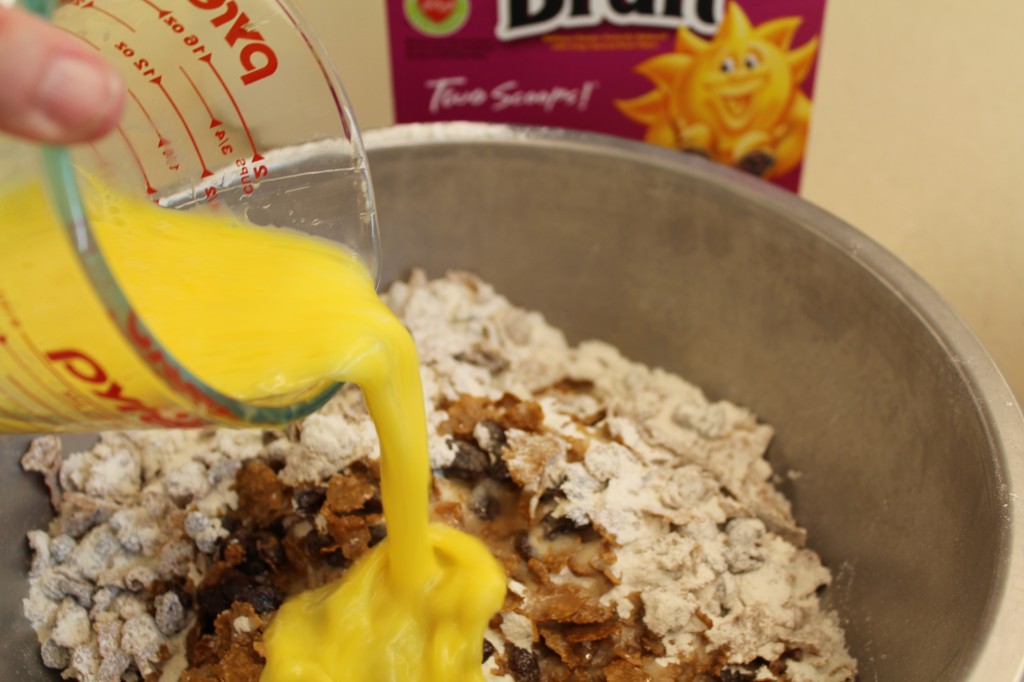 Add four beaten eggs.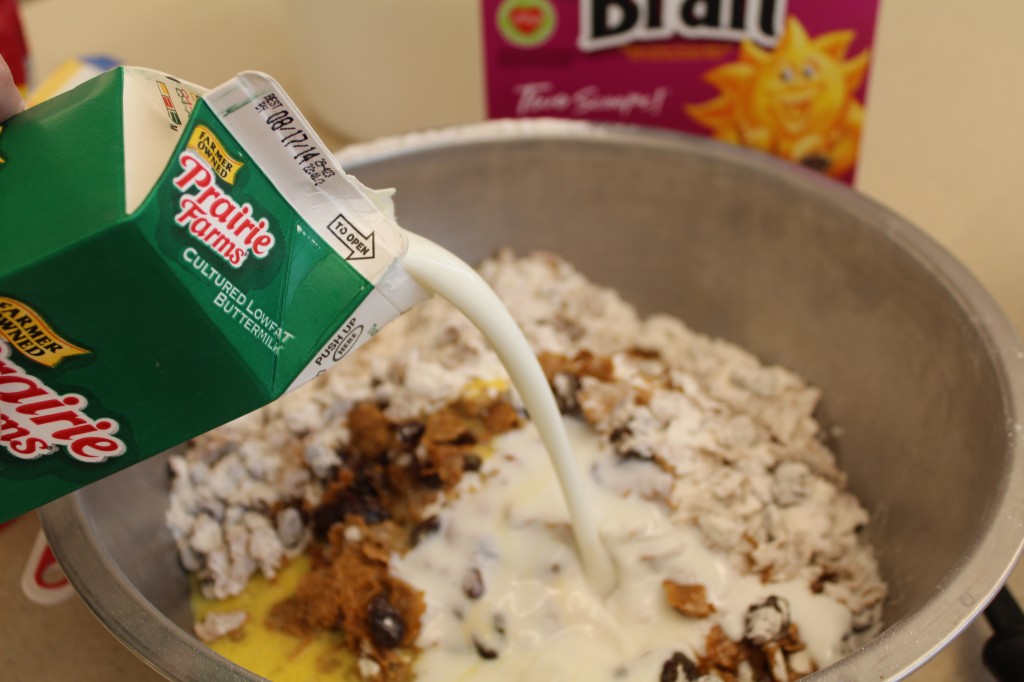 Add a whole quart of buttermilk.
Mix together, but do not over mix because it will break down the raising bran cereal.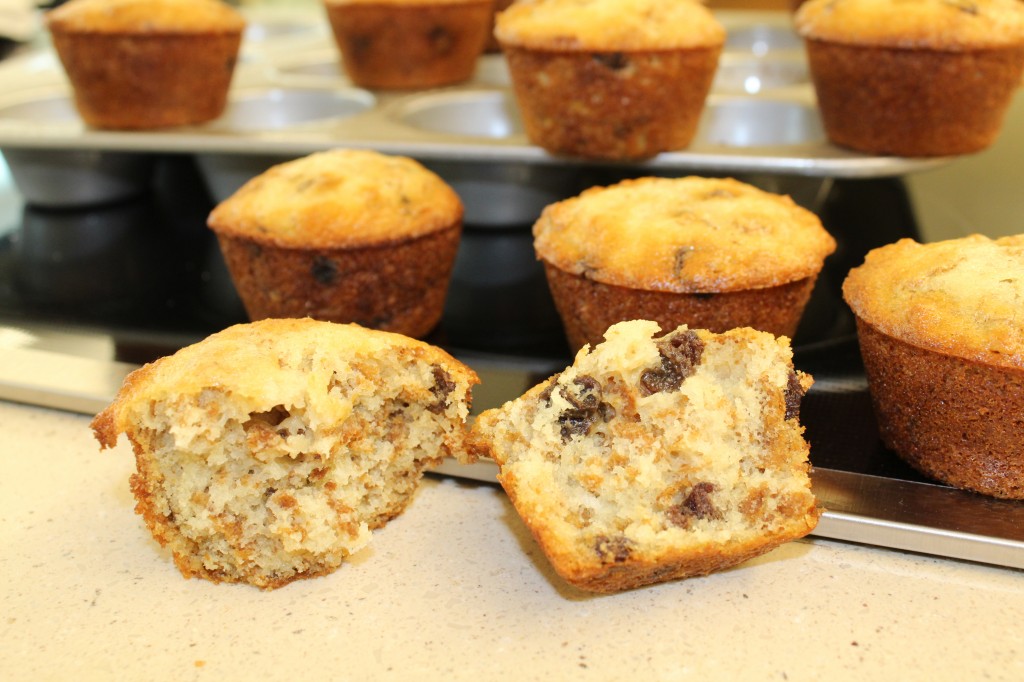 Bake muffins for 15 to 20 minutes in a 400 degree oven. I love the bits of cereal through the muffin.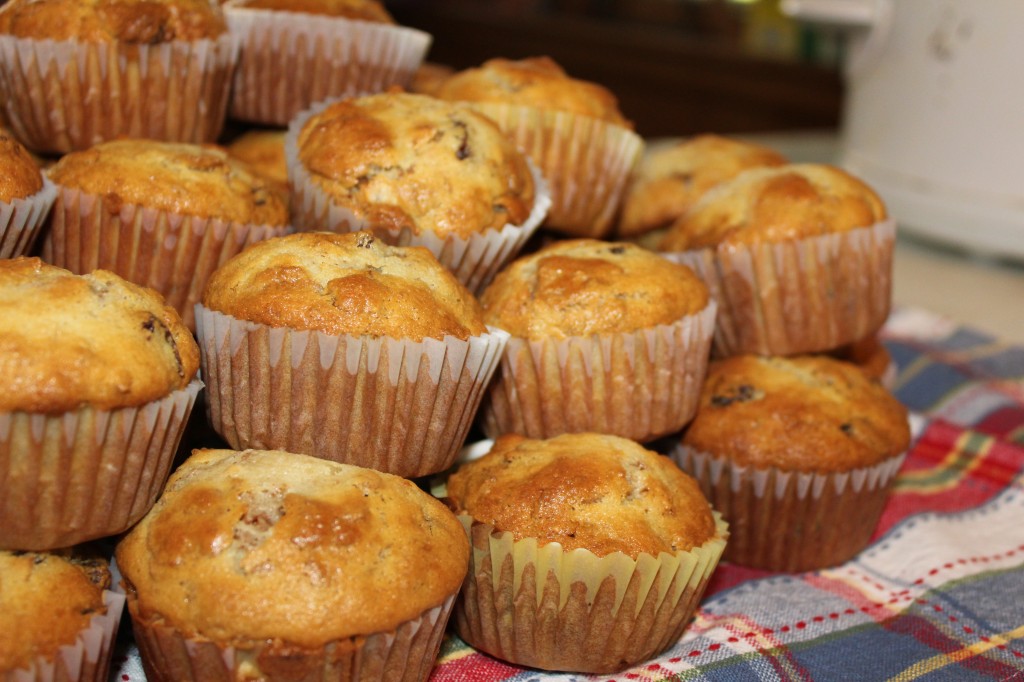 The recipe says that the batter will last in the fridge for 4 weeks. If you can make yourself wait that long before eating all of them.
As you can tell I made the whole batch!
These muffins are moist and dense at the same time. I love all the raisins!
Hope you do too!
Becky
Here is the recipe:
Bucketful of Muffins
Adapted from a old church cookbook I found at Salvation Army
Ingredients:
Dry Ingredients:
1–15 ounce box Raisin Bran Cereal
5 teaspoons of baking soda
5 cup of all purpose flour
2 teaspoons salt
2 cups of raisins
3 cups of sugar
Wet Ingredients:
4 beaten eggs
1 cup of vegetable oil
1 quart buttermilk
Directions:
Mix all the dry ingredients in a very large bowl. Mix well. Add in the eggs, oil and buttermilk. Stir together but do not over mix and break down the cereal. If you are not baking all the muffins you can store in a covered container in the refrigerator. Do not stir any time after mixing the batter together.
Bake muffins as needed (or all of the batter like I did) in a 400 degree oven for 15 to 20 minutes.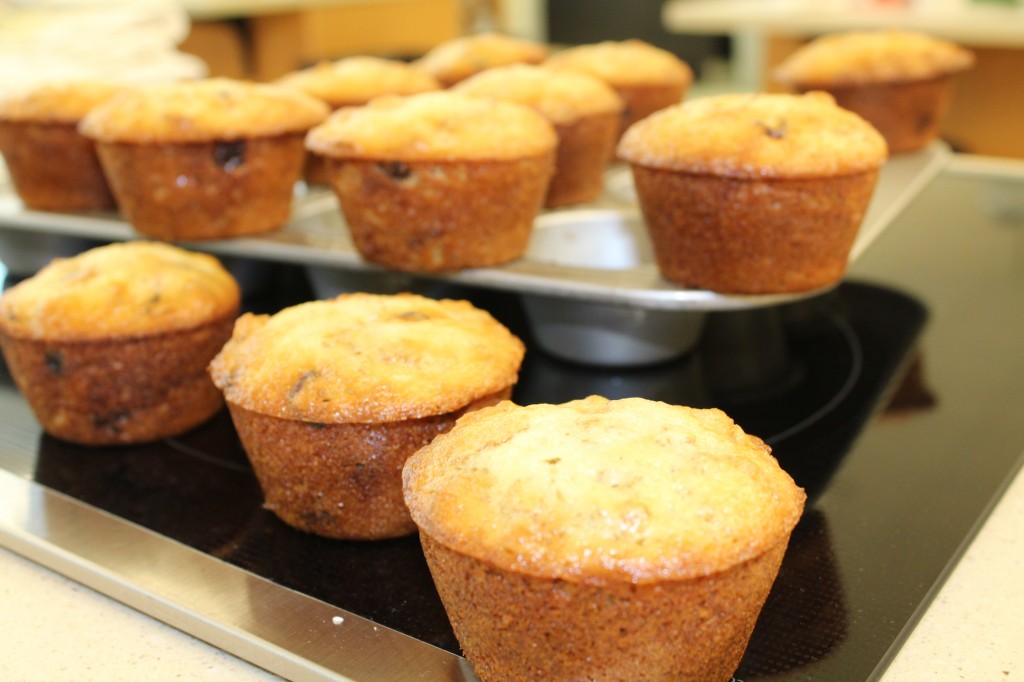 Other post you may enjoy reading: