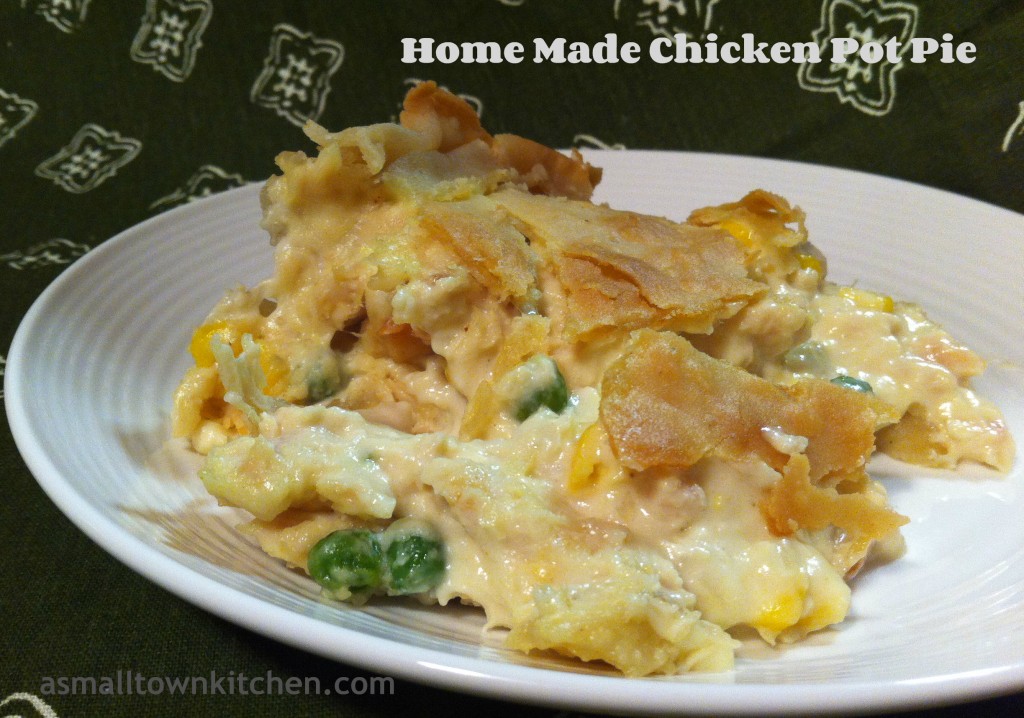 I am a goof ball.
Every time I go to Lamberts or Cheddar's, you can pretty much bet that I will order their Chicken Pot Pie.
I just love this stuff.
There is something about the creamy texture, all white meat and we can't forget the crust. A top and a bottom crust.
Comfort heaven on a spoon.
I don't know why I order chicken pot pie, when I can make this delish one right in my own kitchen.
Told you, I was a goof ball.
Anywho, Oldest daughter who does not cook, (but, can buy groceries) brought home this big package of boneless, skinless chicken breast last week. Not wanting them to go to waste, I baked them up over the weekend. I wrapped them up and put them in the fridge until I use them. Well, I was at Cheddars eating lunch with Niener Wiener yesterday, and of course I ordered my favorite, Chicken Pot Pie and it dawned on me that I could use up some of that baked chicken at home making my own homemade Chicken Pot Pie.
I love this recipe.
I have used this recipe and made it for family, friends and my own kiddos. I have shared this recipe many times. It is definitely a" keeper" recipe. One that you can whip together in no time, but taste like it took forever.
Here is what you need.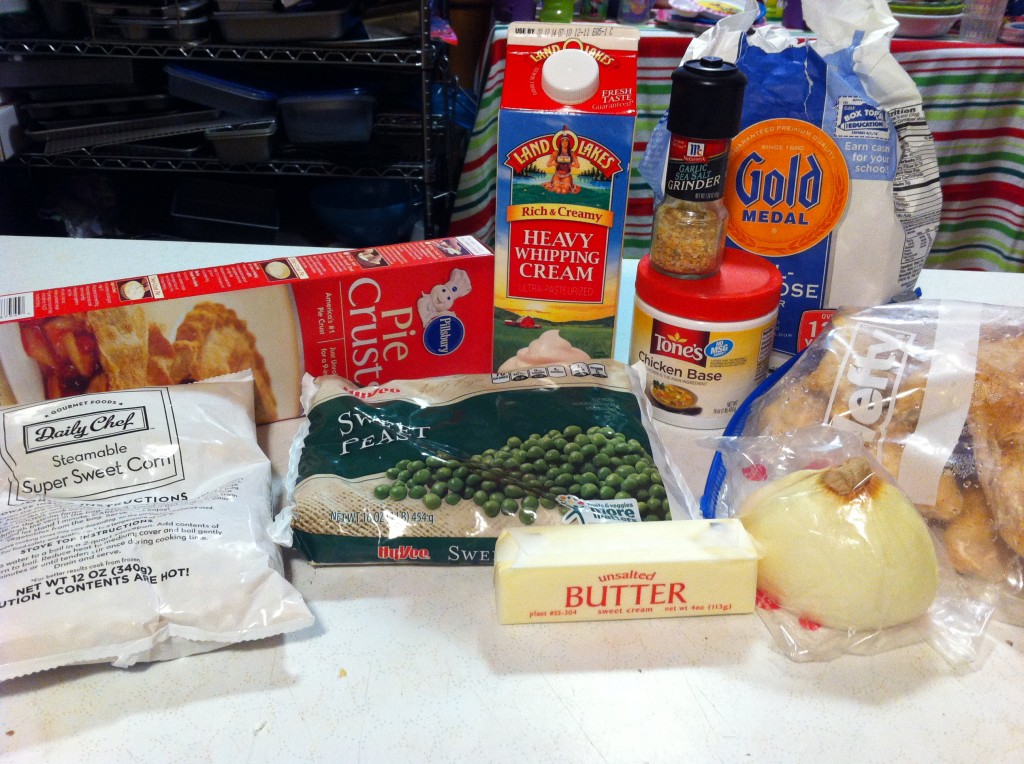 You will need some frozen corn and peas, butter, flour, half a onion, whipping cream, chicken soup base, minced garlic and pie crust. I like a bottom and top crust, but you can just put a top crust on if you want. Don't forget the seasoned bake chicken breast. I just baked mine in the oven with a little season salt on top. This recipe also calls for frozen carrots, but I was out of them. I am including the carrots in the recipe though.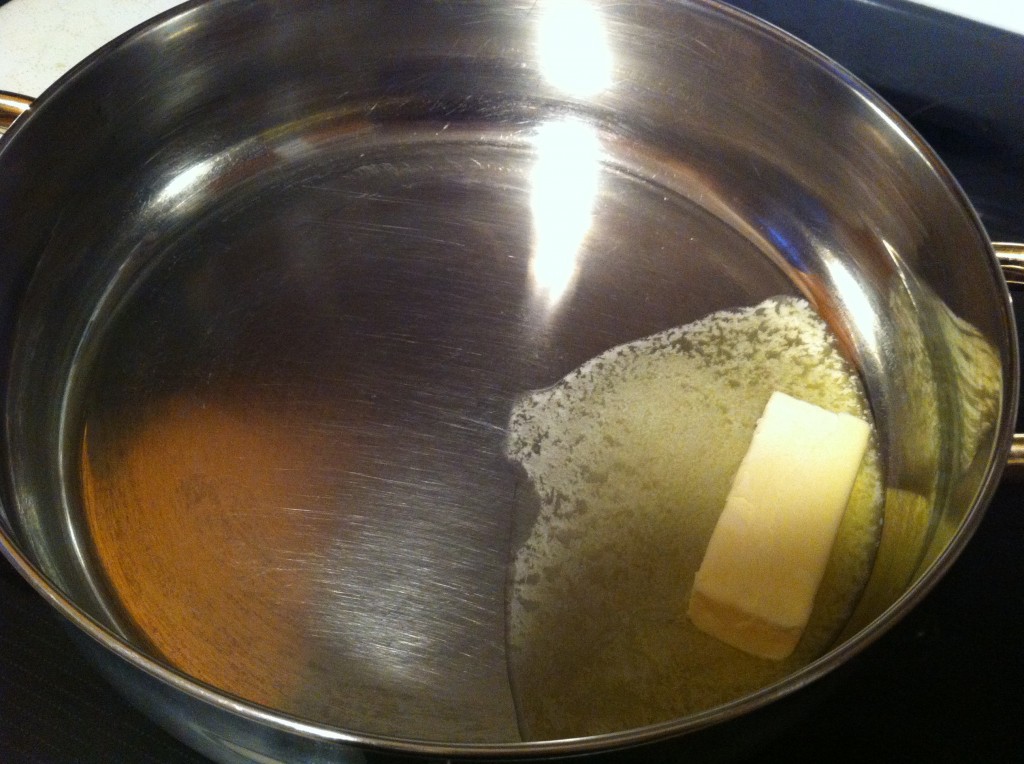 First thing you need to do, (besides baking your chicken and chopping your onion) is melt the butter.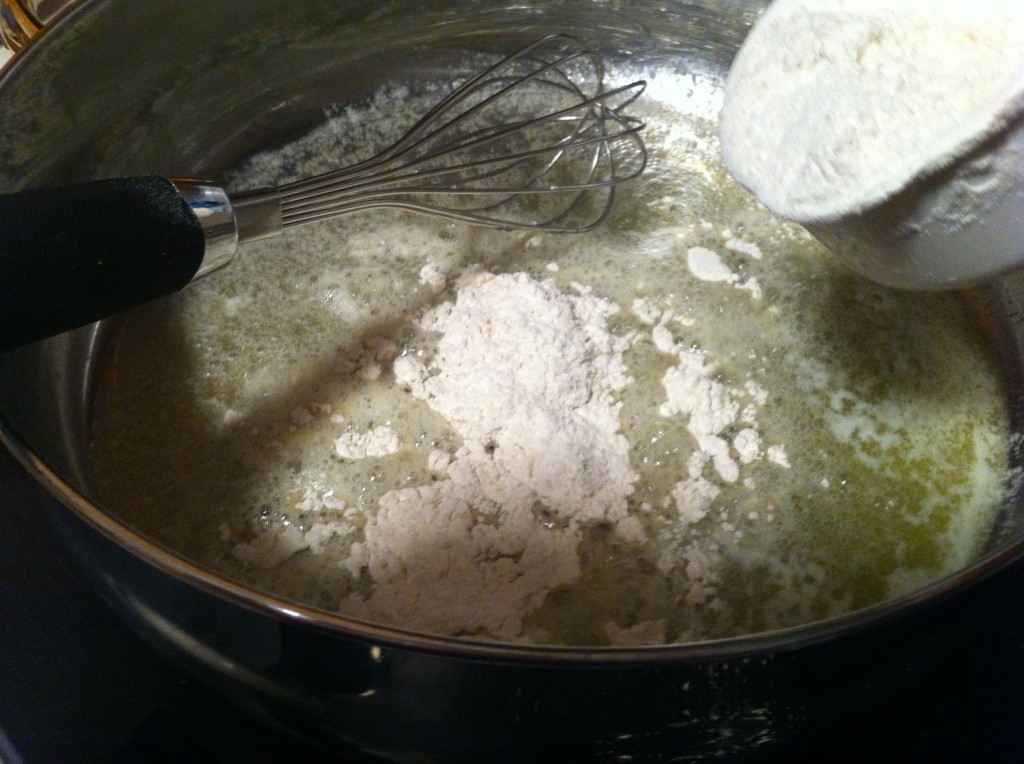 Now, add in the flour. Use a whisk to whisk in the flour.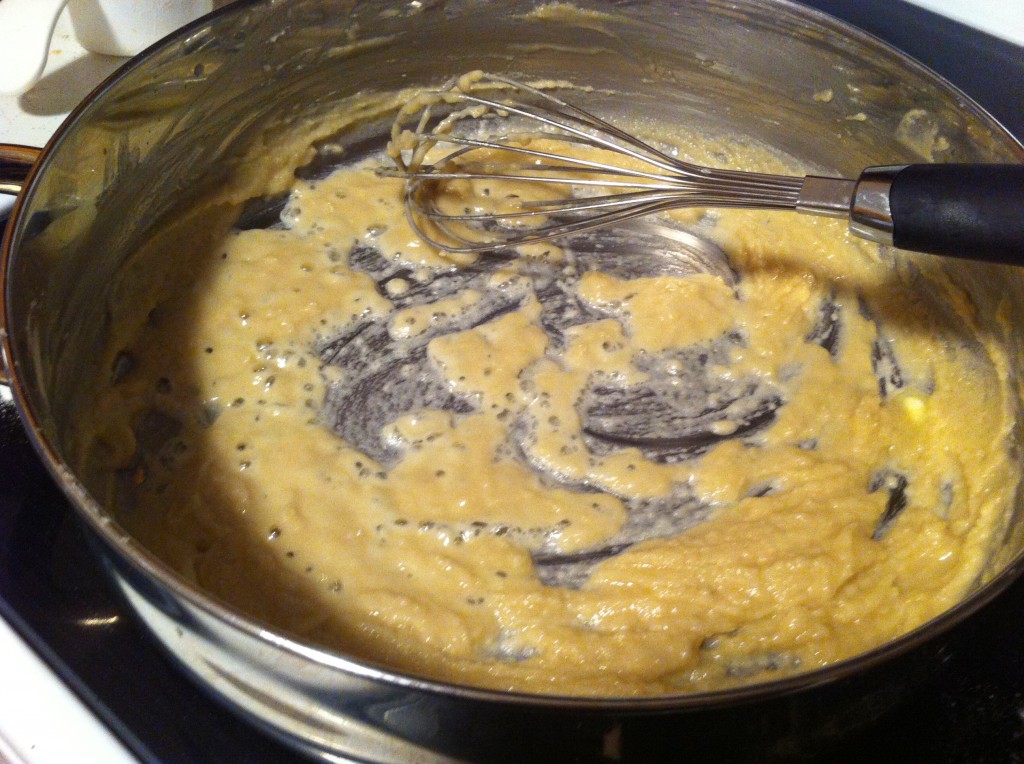 The flour will thicken the melted butter to a consistency of peanut butter.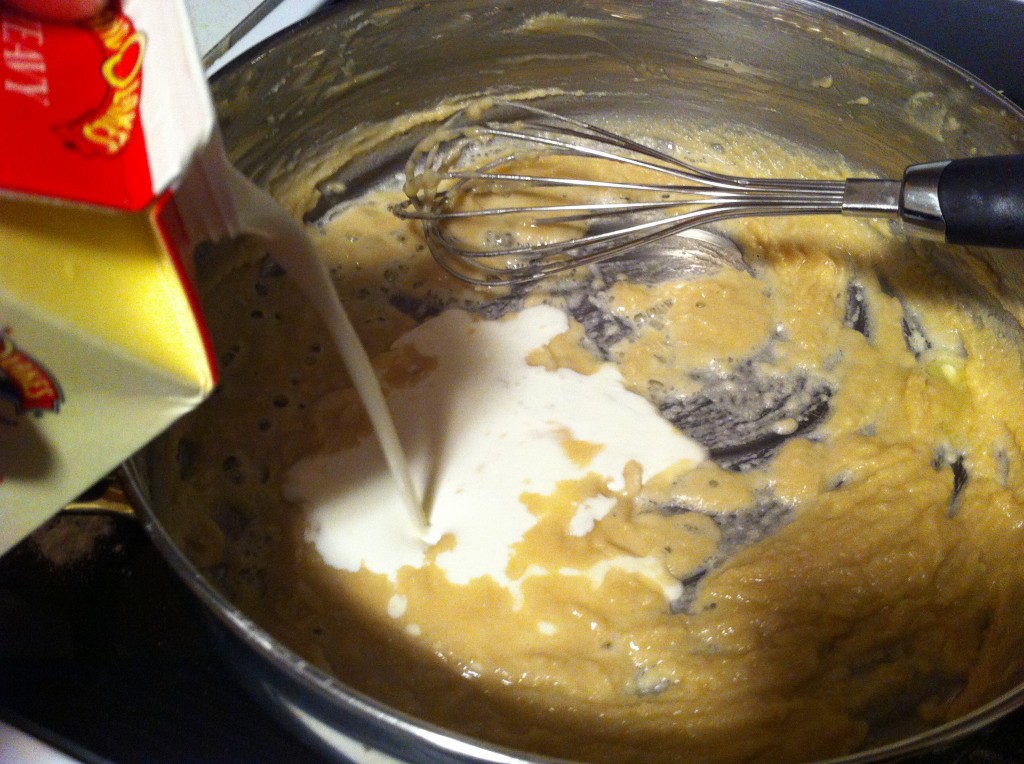 It is time now, to pour in the whipping cream. Whisk the cream into the butter/flour mixture.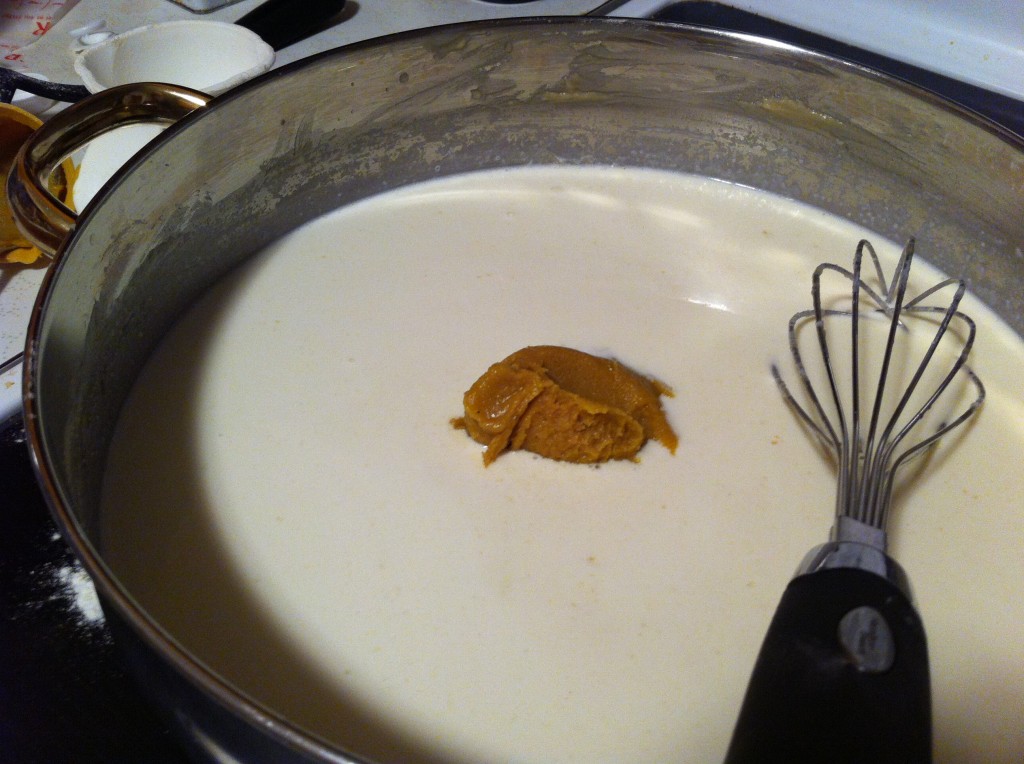 Add in the chicken soup base. You can find this in the soup aisle, normally on the top shelf.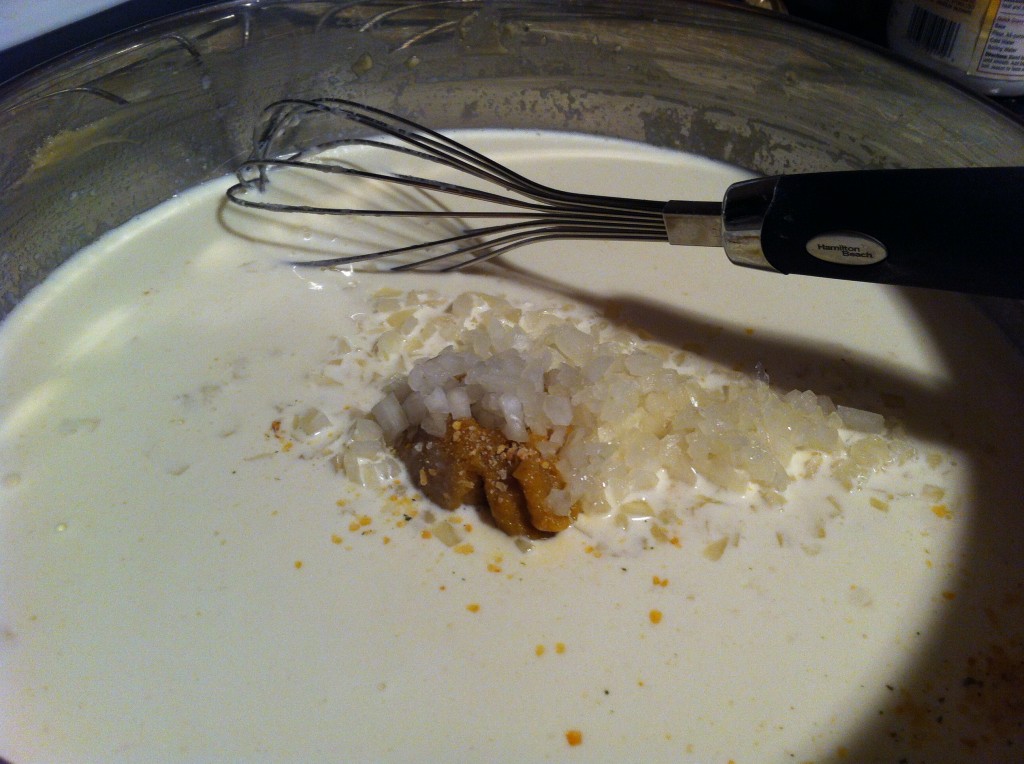 Now, add in your minced garlic and chopped onion. I was out of fresh garlic, so I had to use garlic powder.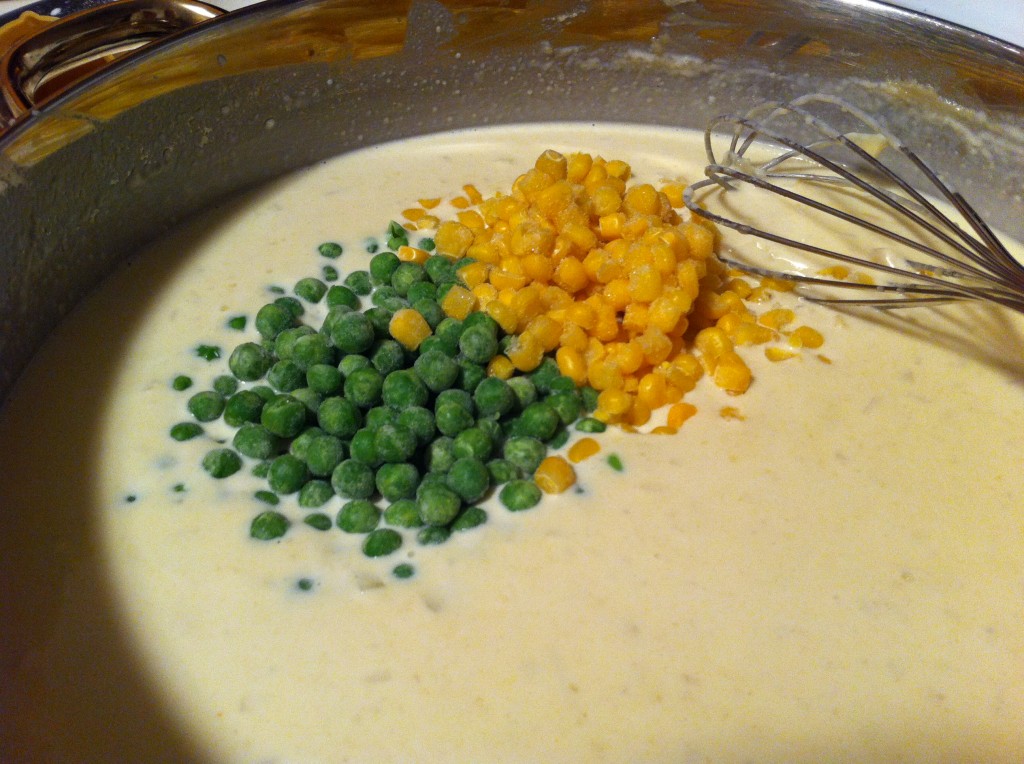 Now add in the frozen peas and corn. The recipe calls for frozen carrots too, but I thought I had some and I did not so…..this time I made it without the carrots.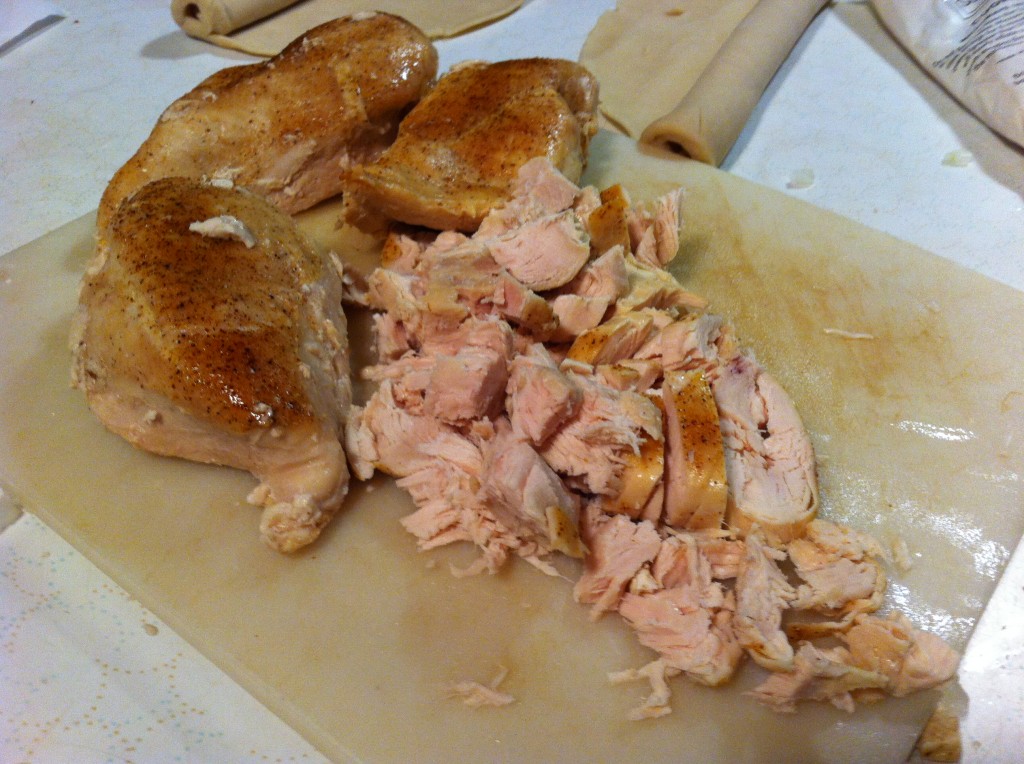 I took my baked chicken breast and diced them into bite size pieces.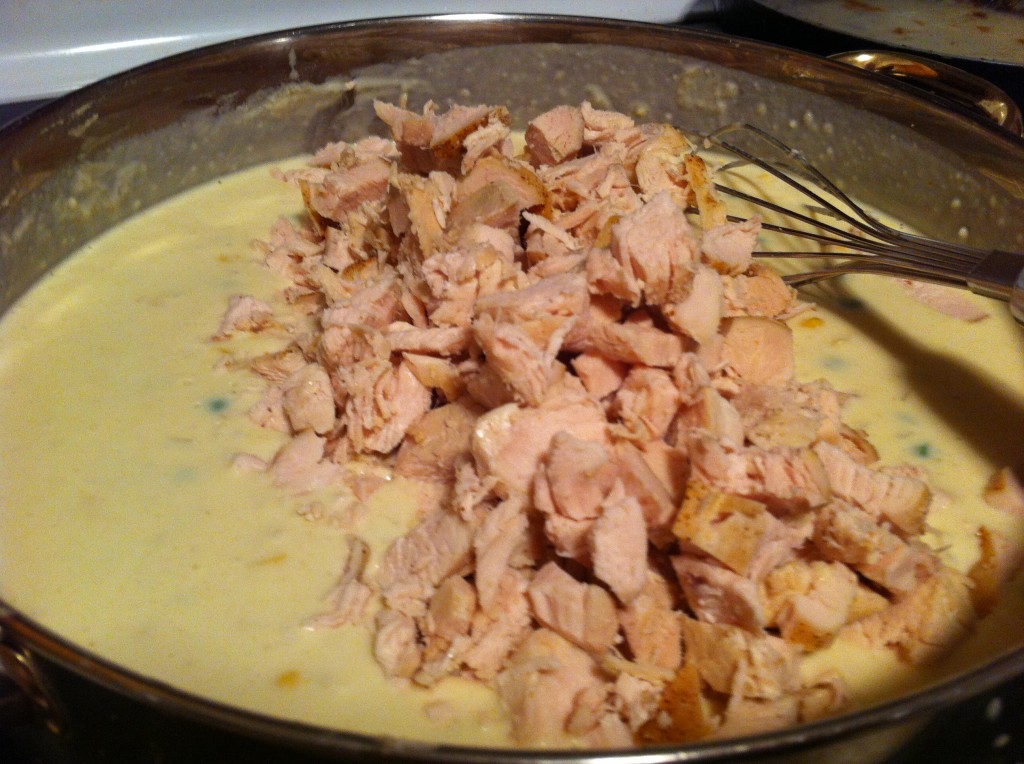 Add the diced chicken to the whipping cream mixture.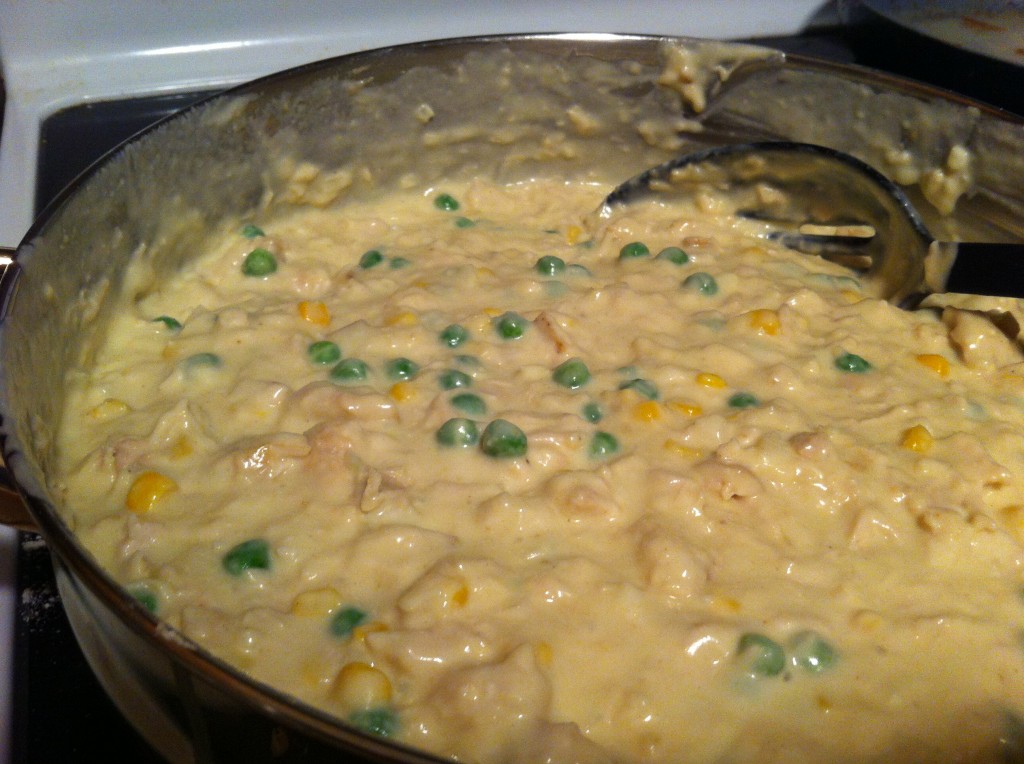 Heat the chicken mixture until it is thick and starts to simmer. Be careful to stir the whole time, so it does not stick to the bottom of the pan.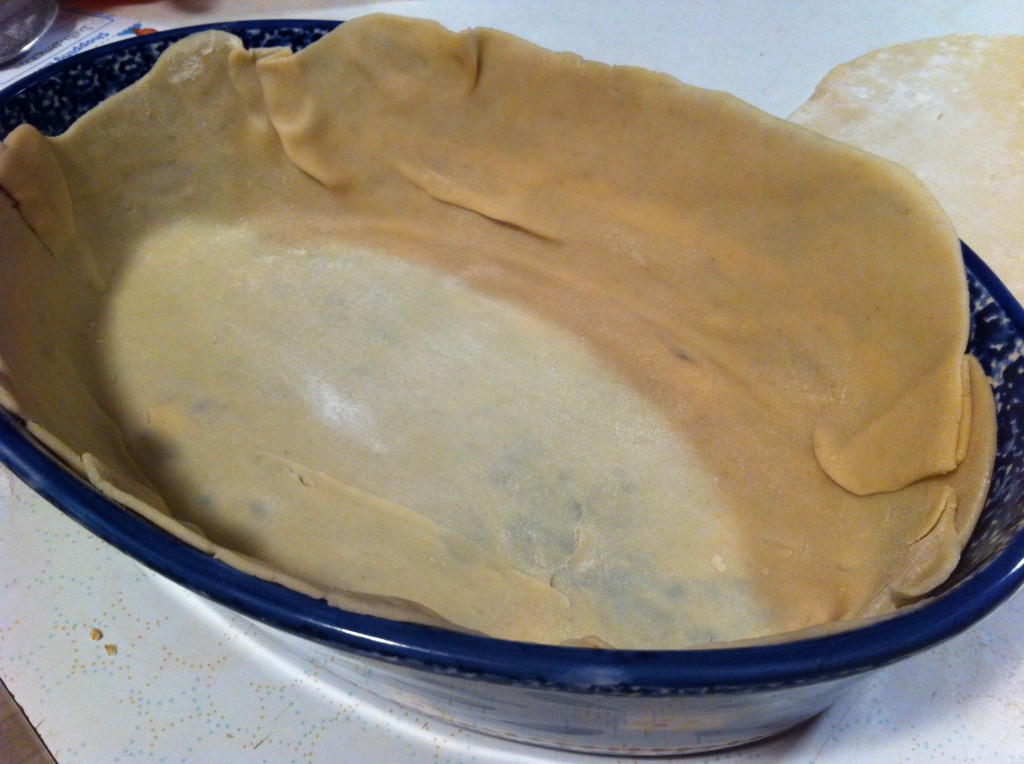 I was using my oval casserole dish. I rolled out my store bought pie crust to make it a tad bigger, and put it in the bottom and up the sides of the dish. If you have time, you can always make your own pie crust. I just happen to have these left over from Christmas, that I needed to use up.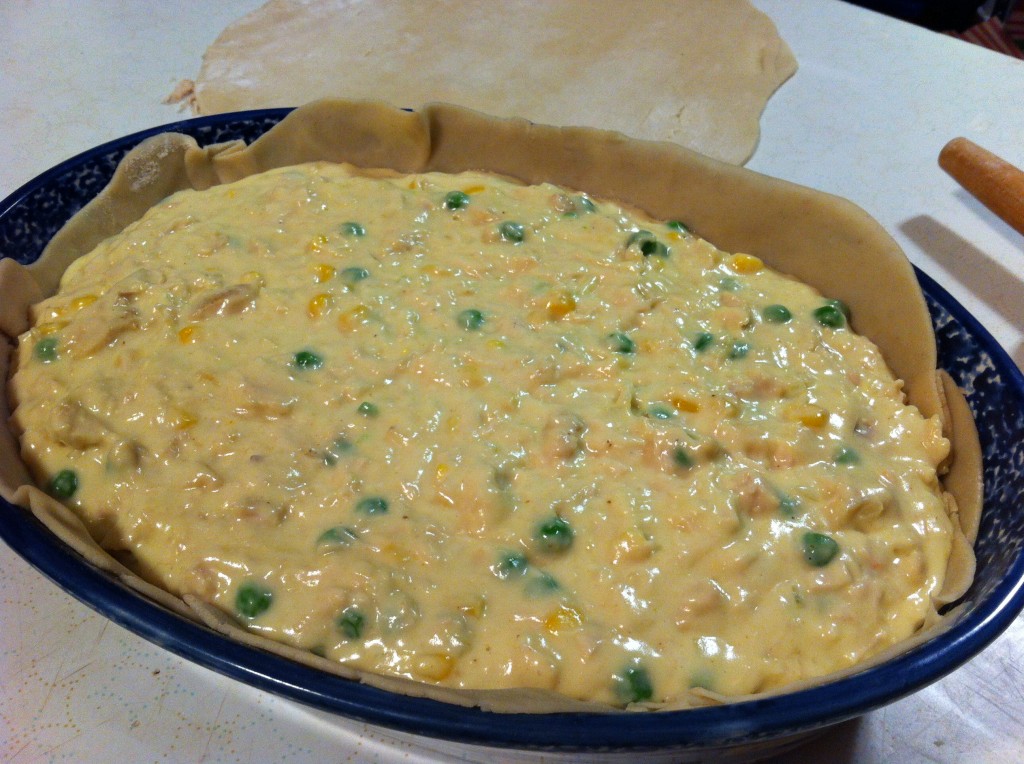 Pour the filling into the pie crust lined casserole dish.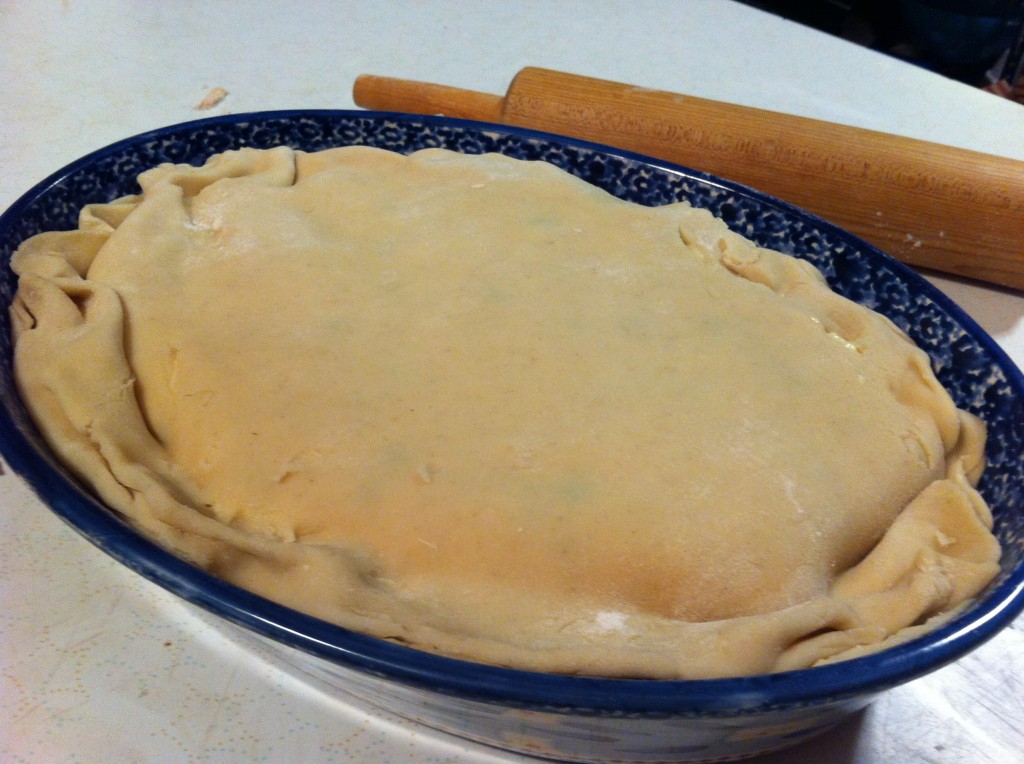 Now, tuck in the top crust, overlapping the sides. Put the Chicken Pot Pie in a preheated 350 degree oven and bake until the pie crust nice and brown. This takes about 30 minutes.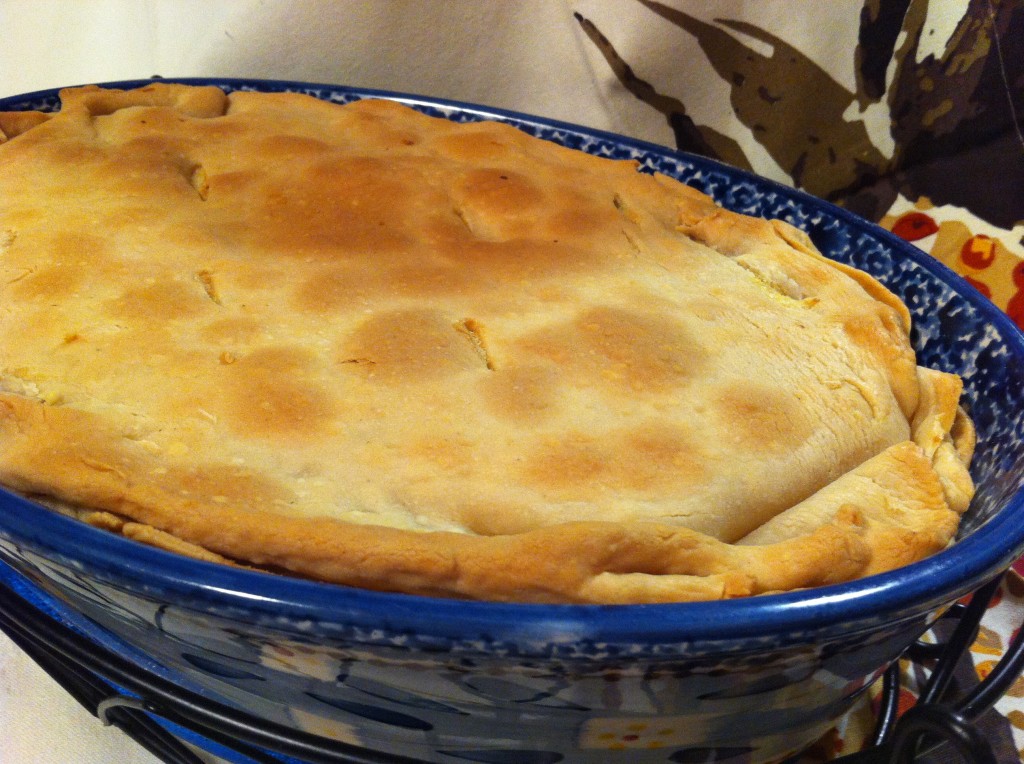 This is what it looked like when it came right out of the oven.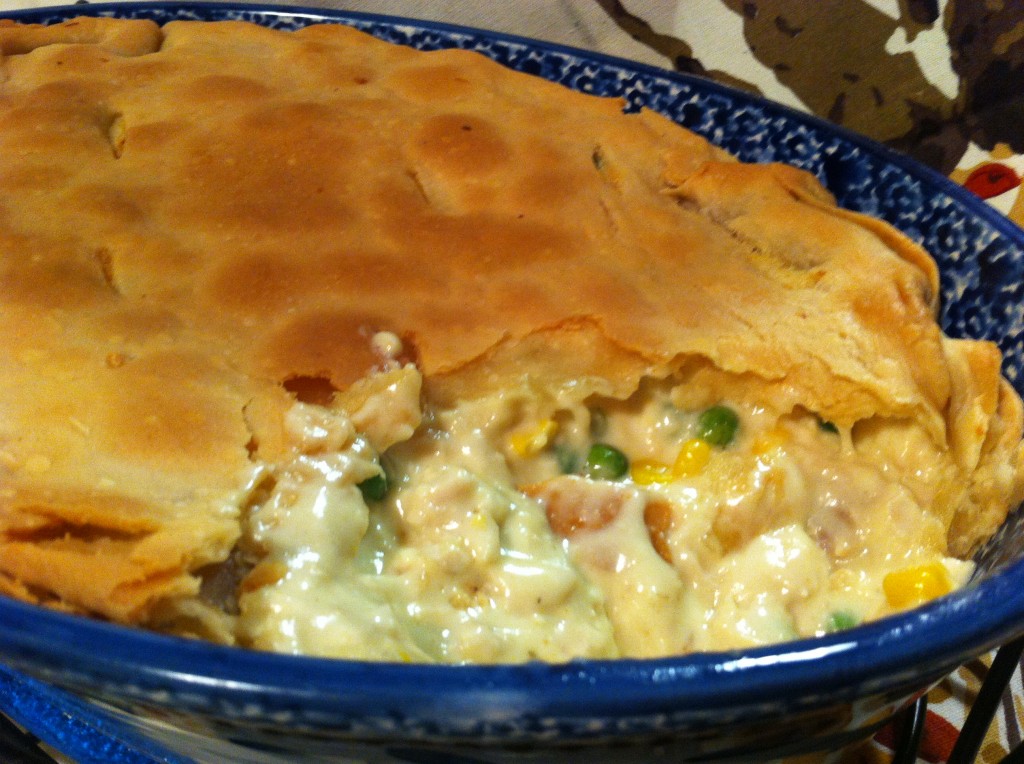 Here is what it looks like with a big ole scoop out of it. The first scoop was on my plate….: )
Here is the recipe:
Homemade Chicken Pot Pie
Adapted from Paula Deen
Ingredients:
4 — baked large boneless, skinless chicken breast. I season mine with season salt, covered with foil and baked until tender. Cut the chicken into bite size pieces.
1/3 to 1/2 cup of butter
2/3  cup of flour
1 quart whipping cream. I have also made used fat free half and half and it is still rich and delicious.
2 tablespoons chicken soup base
1 tablespoon of minced garlic
1/2 small onion, minced
1 cup frozen peas
1 cup frozen corn
1 cup frozen carrots
1 box of double crust premade pie crust (feel free to make your own pie crust)
Directions:
Preheat the oven to 350 degrees.
Have your skinless boneless chicken, prebaked with season salt. Cube the chicken into bite size pieces. Dice your garlic and onion.
In a large sauce pan, melt the butter. Add in the flour and whisk together. The mixture will get thick. Do not brown, but cook for one minute to get rid of the raw flour taste. Slowly pour in the whipping cream and continue whisking together. Add in the chicken soup base, garlic, onion and cook until thickened. Add in the cooked diced chicken and the frozen peas, corn and carrots.
With a rolling pin, roll out the premade crust to the desired shape of your casserole dish. My 2 quart oval  dish was the perfect size. Place the pie crust on the bottom and up the sides of the casserole dish. Pour the chicken filling on top of the bottom crust. Using the remaining pie crust, roll out the crust to fit on top of the pot pie. Place the crust on top of the filling. Overlap the bottom and top crust so the filling does not bubble out.
Bake for about 30 minutes or until the top crust is nice and brown and the filling is bubbling.
Now it is time to relax, eat some pot pie and take a nap. : )
Enjoy,
Becky
Other post you might enjoy:
Honey Cornbread                                   Microwave Monkey Bread                                 Lime Cake