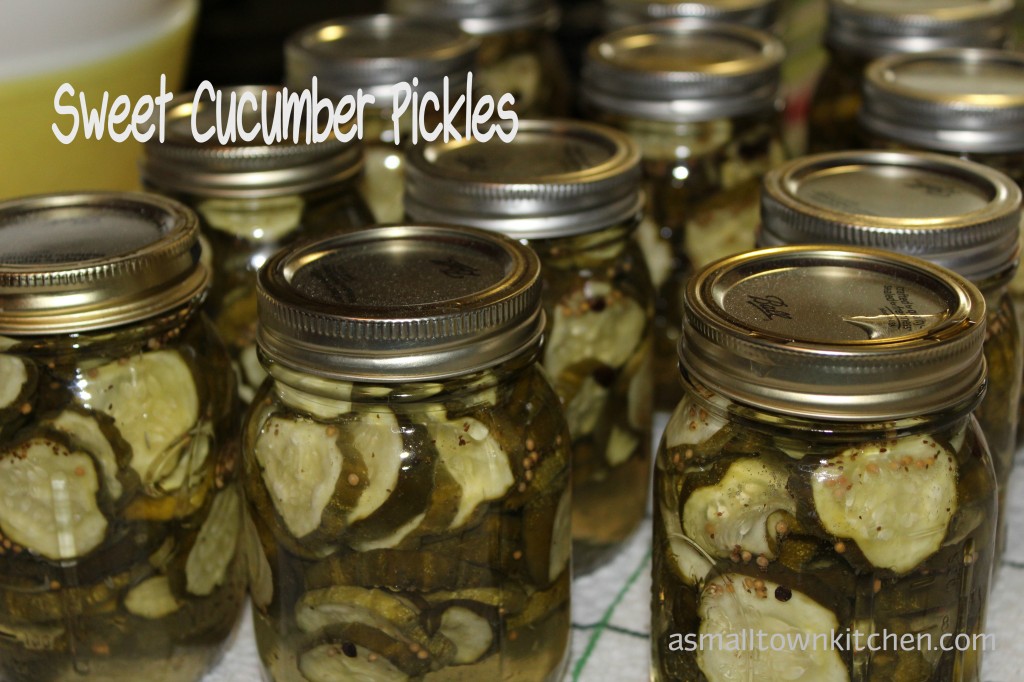 Have you ever made something, but then could not eat it for a couple of months?
That was me!
Or, have you ever found yourself so busy with family and work that you had to put off working on something you love doing for a few months, until things slow down?
That was me!!
It seemed, there for a few months, my life and free time was, "in a pickle!"
I guess that is my way of explaining why I have not posted in 6 long months!
I missed all my readers!
I missed posting my recipes and talking about my back yard girls as I affectionately call my chickens.
I missed everything there was to do about staying connected with everyone through this webpage.
So, I think my life is slowly, slowing down, and I can finally get back on track with posting and chit-chatting with everyone now.
You might have wondered what I have been up to the last few months, and I will explain in the coming recipe post, as I try to get caught up.
Even though, I might not have posted a recipe, my kitchen has been busy and so has my camera!
I have a ton of things to share!!!
One thing I will share now to try to explain my absence is that my Mom "The Princess" first had a breast cancer scare and then had a heart attack along with pneumonia right before the holidays. My super strong mom is a fighter though and is slowly getting her strength back and is now able to get out of the house some and going back to church.
Prayers were answered!
So anywho, I thought what was more fitting to get back to posting and get my webpage out of being "in a pickle," was to post about me canning sweet pickles.
So here goes!!
Sweet Cucumber Pickles!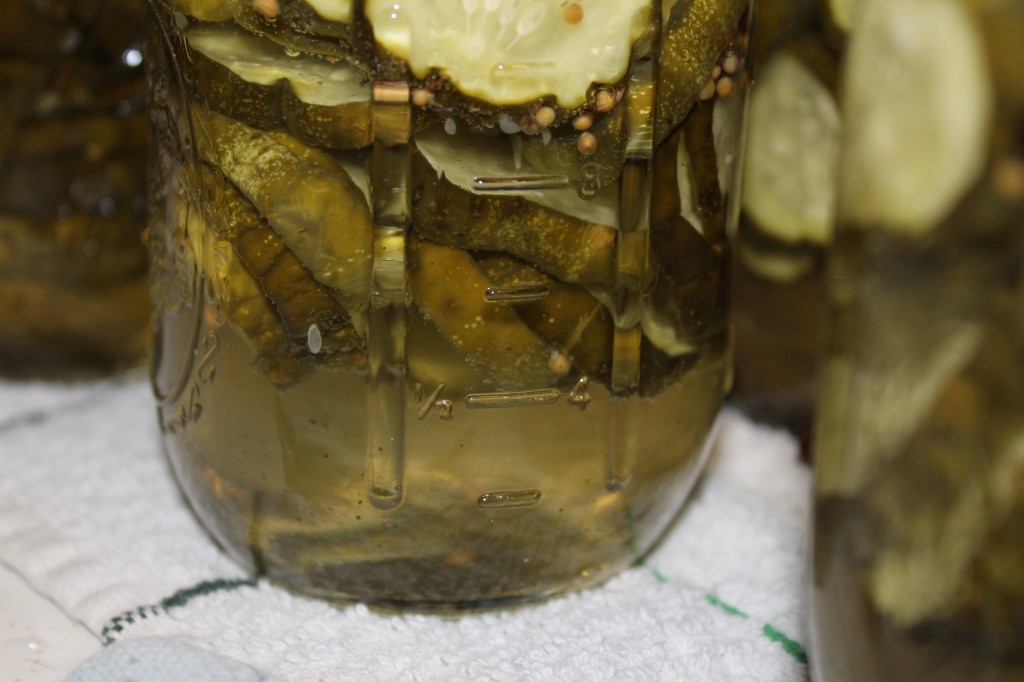 When I first made my pickles and water bath canned them, my pickles floated. I thought maybe I had acquired magic powers to get pickles to float, only to find out that after a couple of weeks they settled down and went to the bottom. I was later to learn that the air trapped inside the cucumbers had to slowly release for the pickles to stay where they were suppose too.
By the time the pickles were ready to eat, they decided to quit showing off and sit still.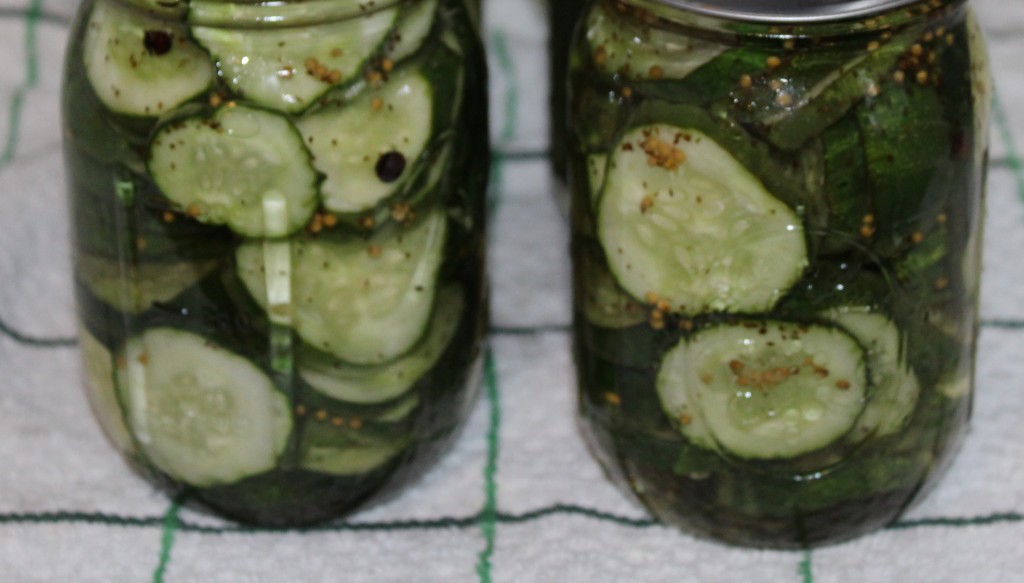 These little pickles are perfect to snack on and are the perfect size to put on little slider hamburgers.
Here is what you need to make these delicious little sweet pickles.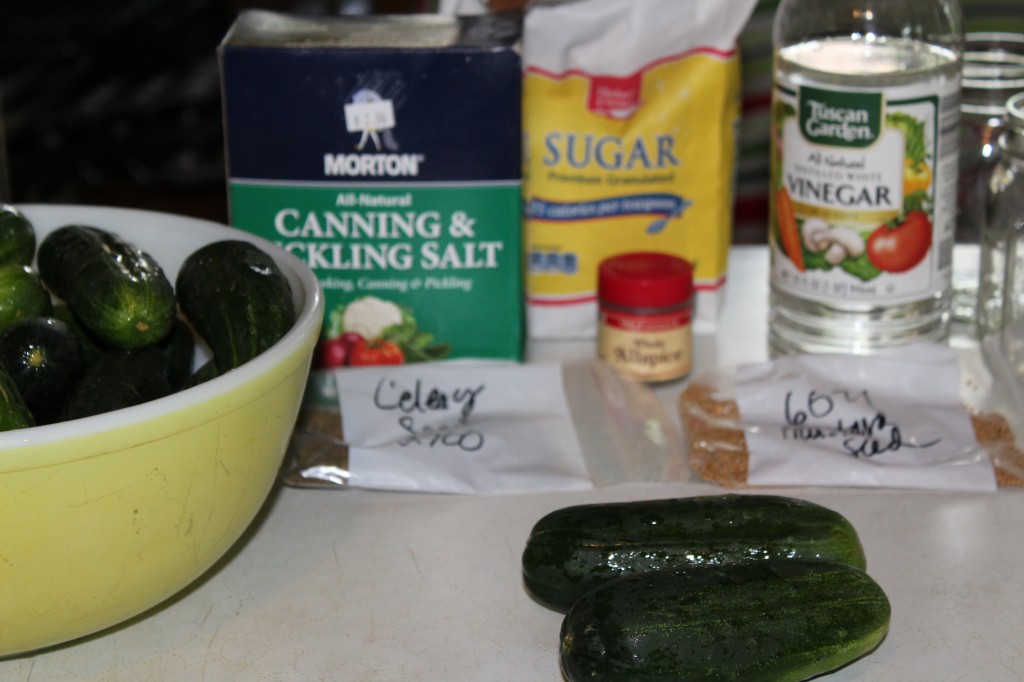 Pickling cucumbers, (not regular salad cucumbers that are bigger and longer) sugar, pickling salt, ice, vinegar (5%), celery seed, whole allspice and  mustard seed.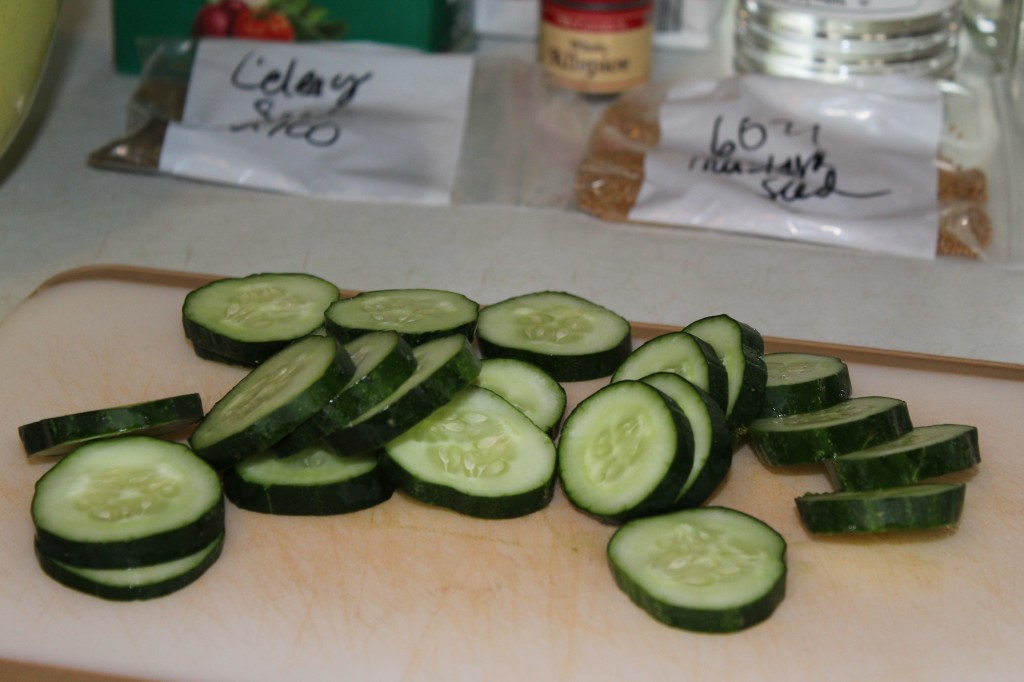 The first thing you need to do is cut the blossom end off the cucumber, (it can cause soft pickles) and then slice the cucumbers into slices. Mine are about 1/4 inch.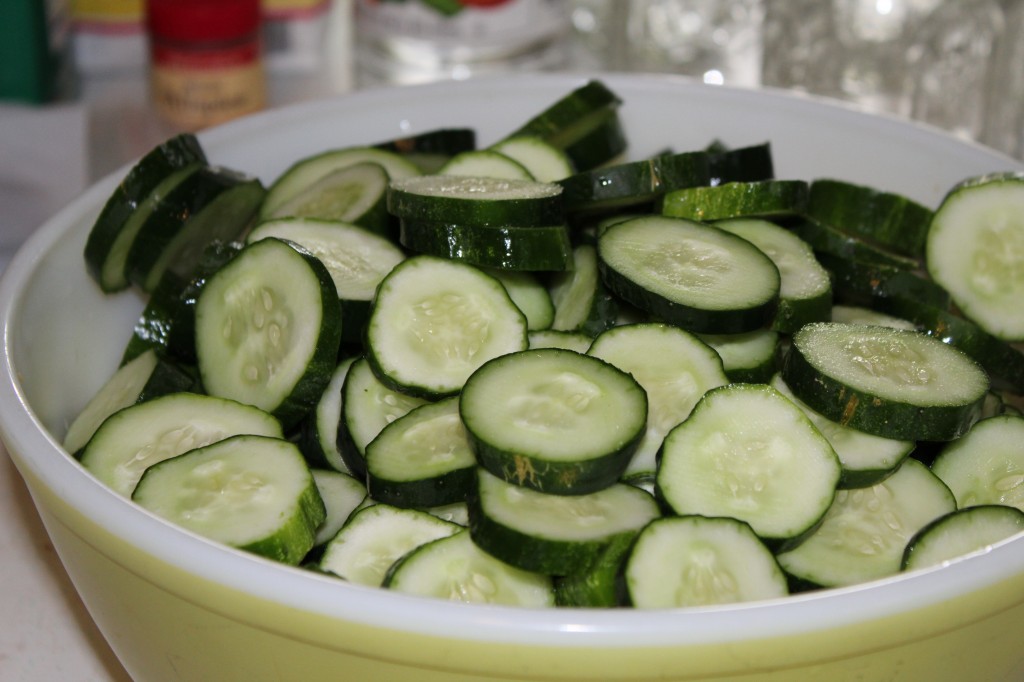 My sliced cucumbers filled up this big bowl.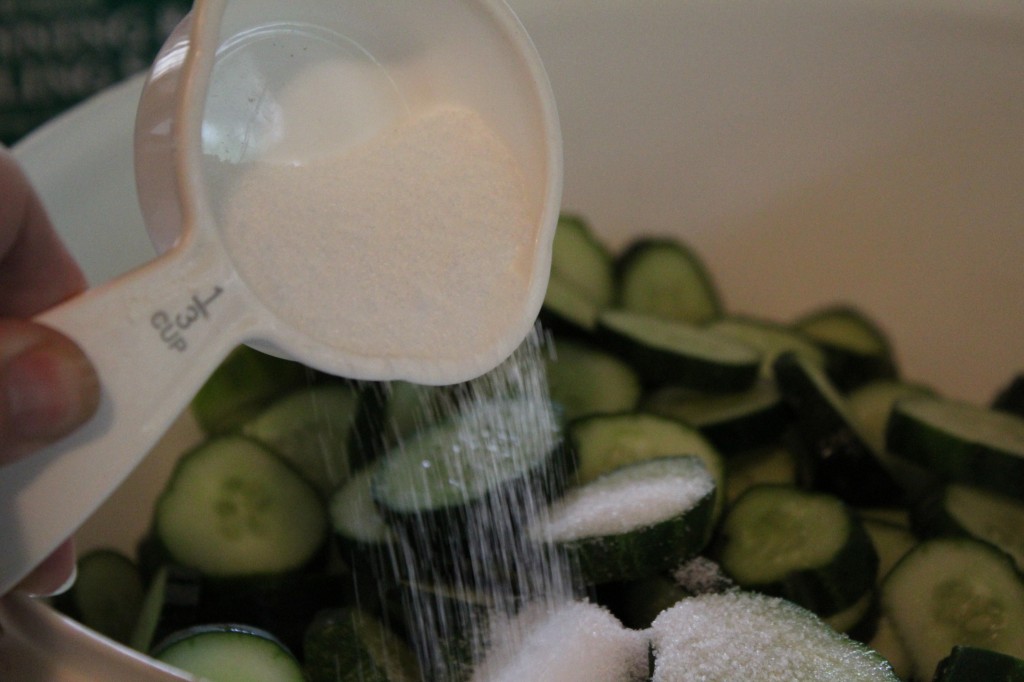 Next, sprinkle the pickling salt over the cucumbers.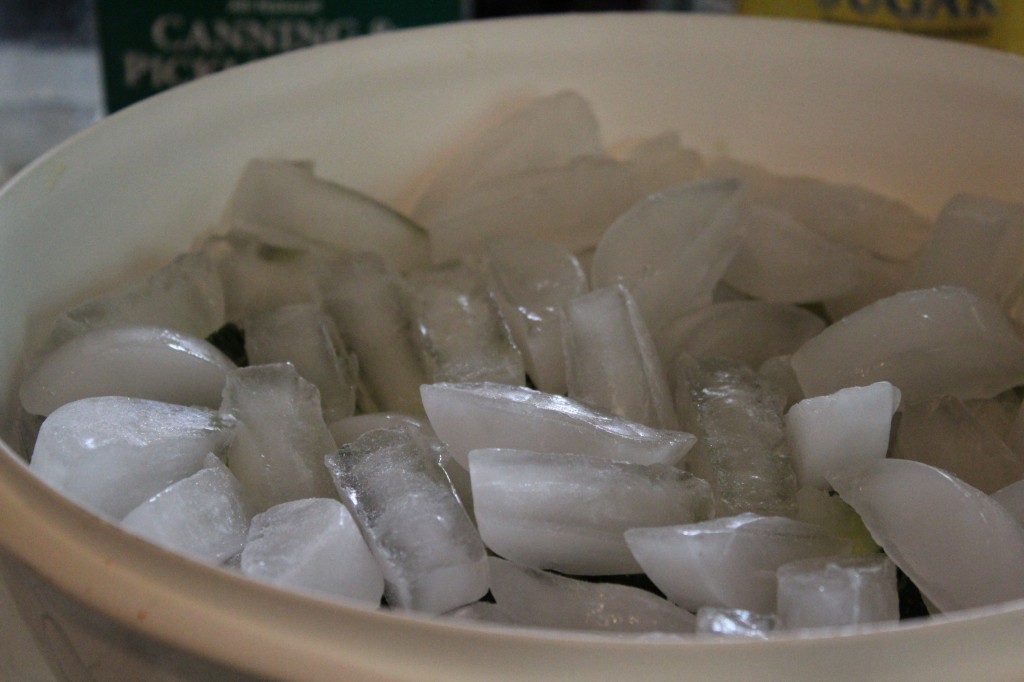 The next thing you do is cover the cucumbers with ice and put in the refrigerator for 3 to 4 hours. If the ice melts, add more ice. Now you can get all your jars, lids and rings out and set up for water bath canning….or you can take a nap, like me..LOL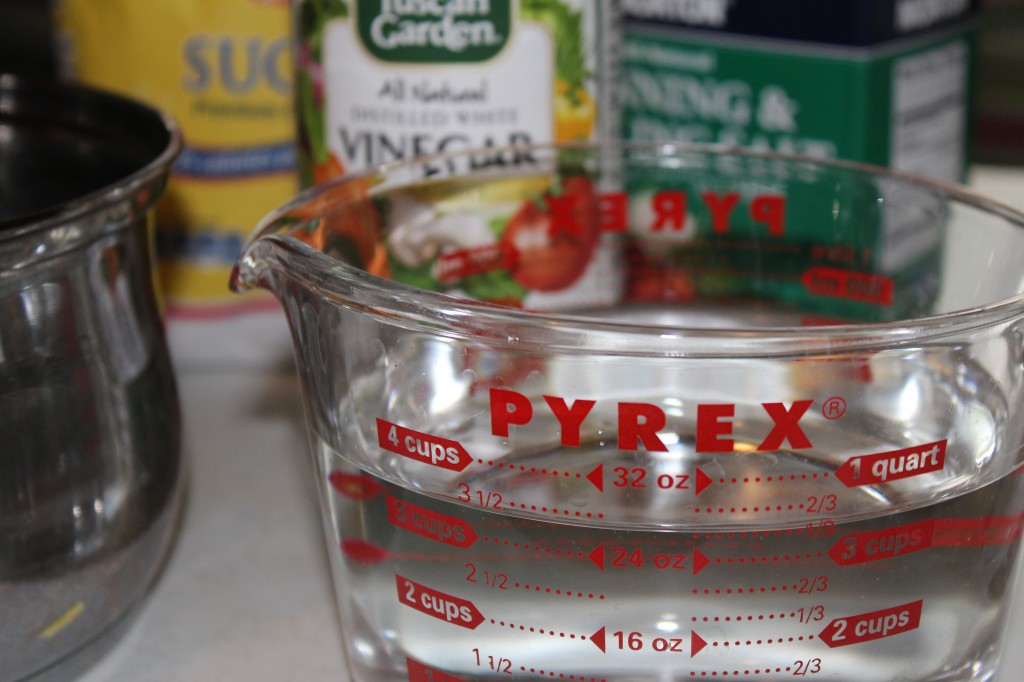 Time to make the brine. Measure out the vinegar and pour it into a large sauce pan.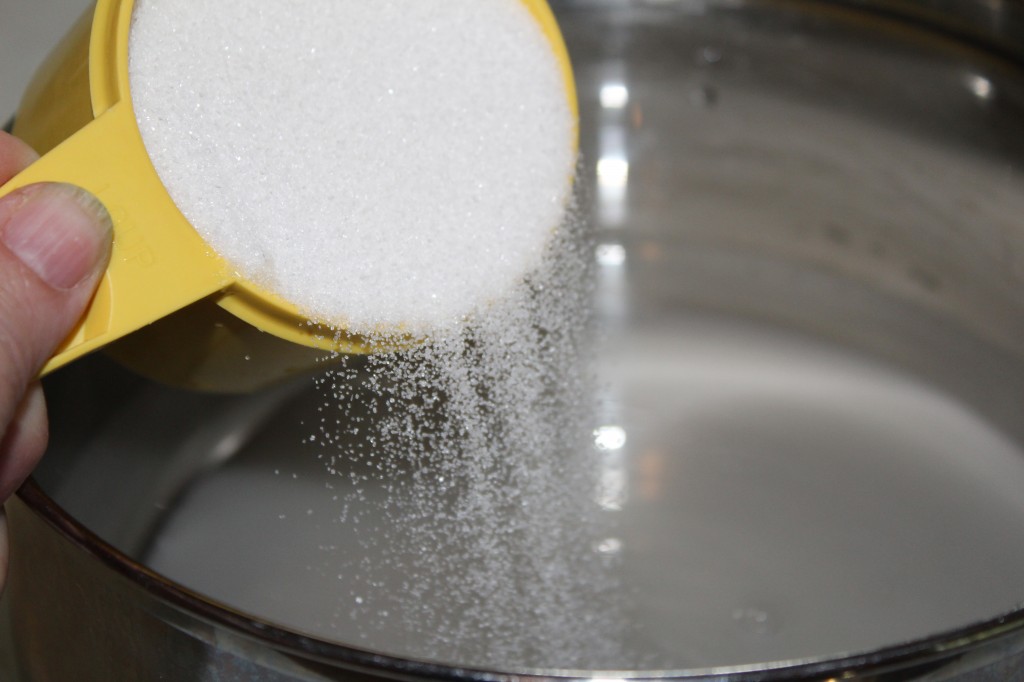 Add the sugar to the vinegar.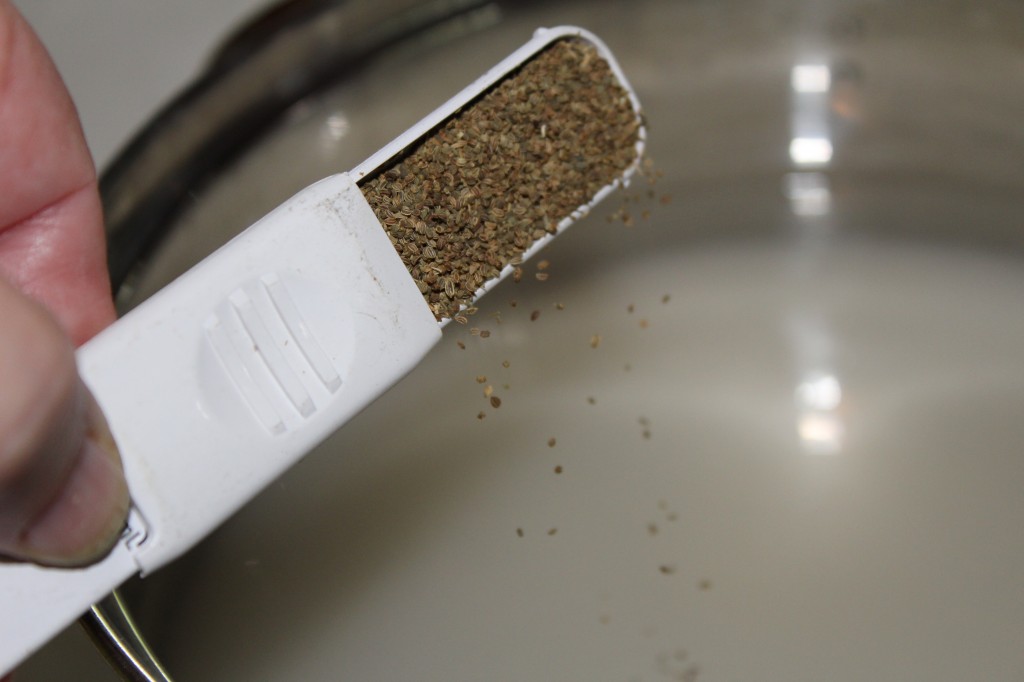 Add the celery seed to the vinegar and sugar mixture.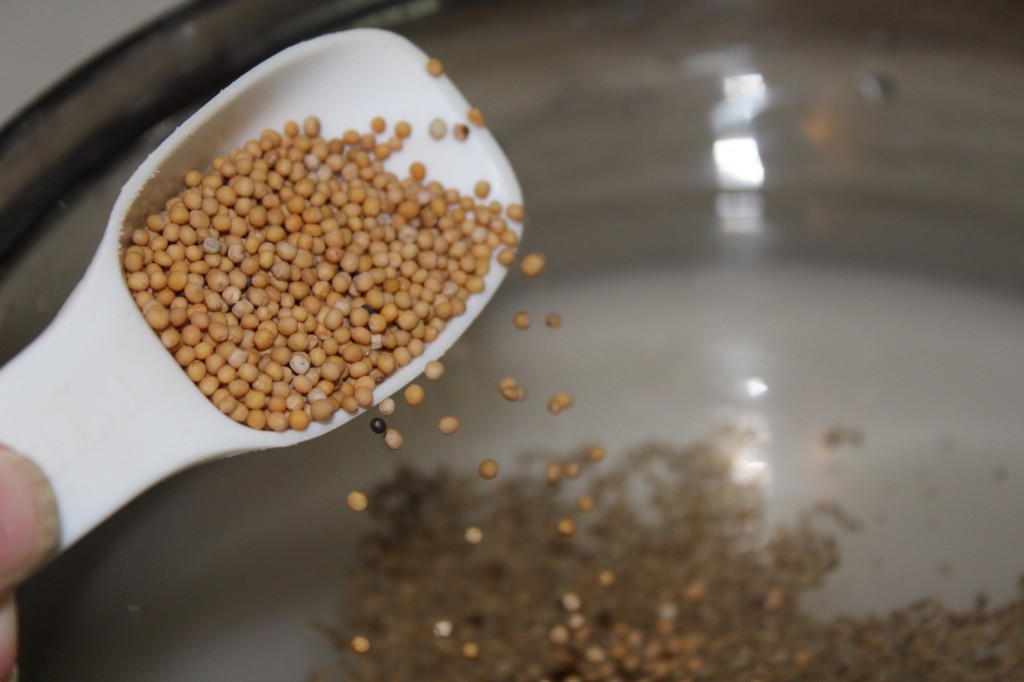 Next, add in the mustard seeds.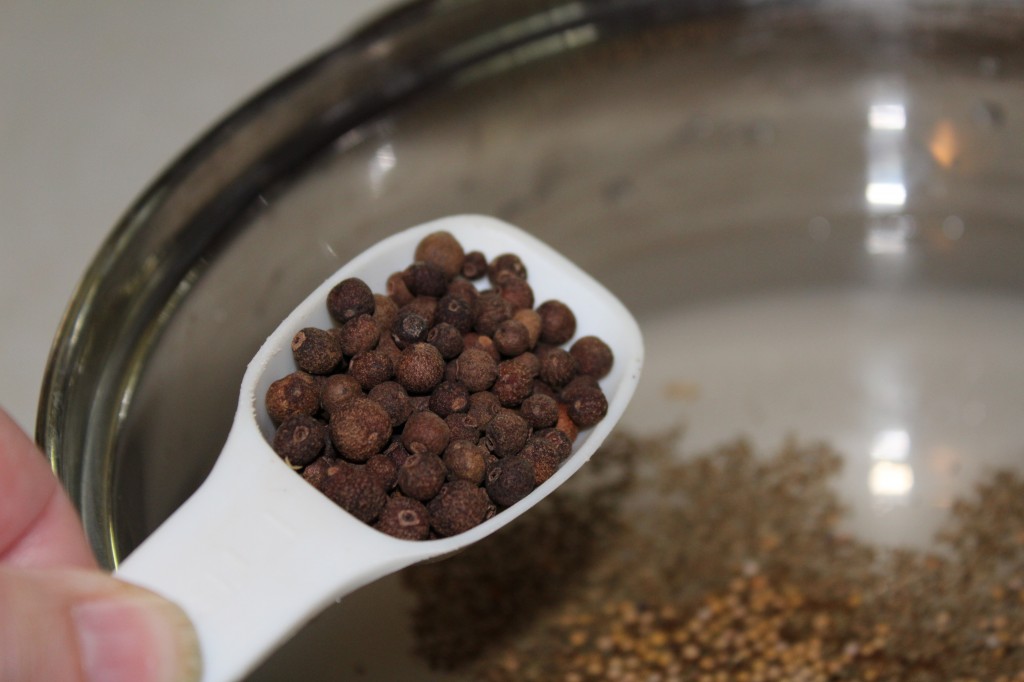 Now, add in the whole allspice. Bring the mixture to a boil.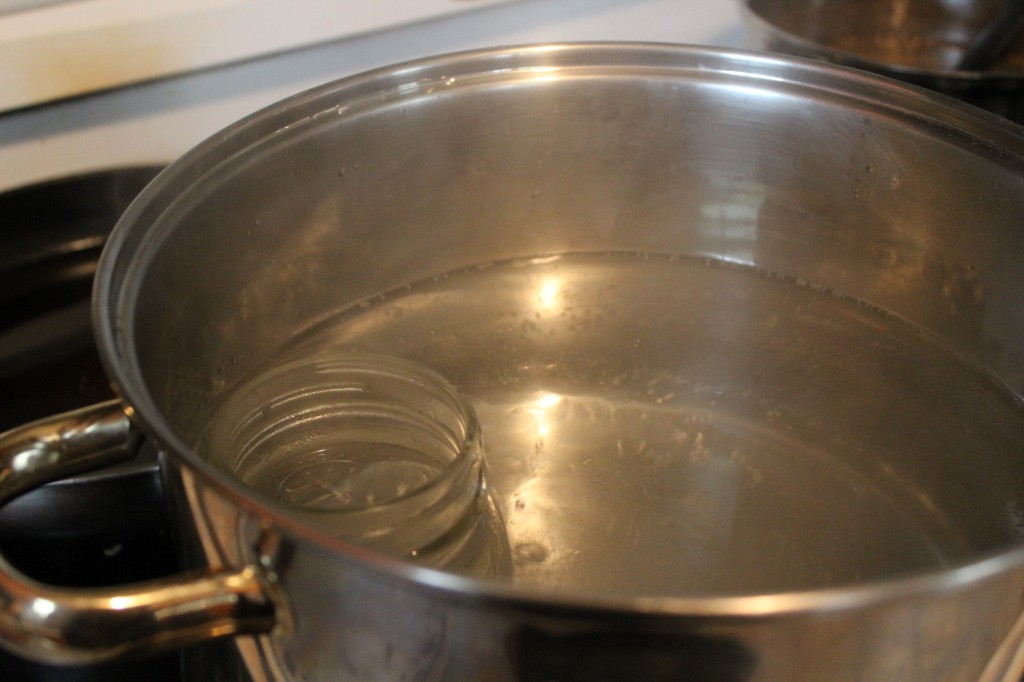 Be sure and sterilize your jars before you fill them with cucumbers. I do a dip in boiling water with my jars before I fill them up.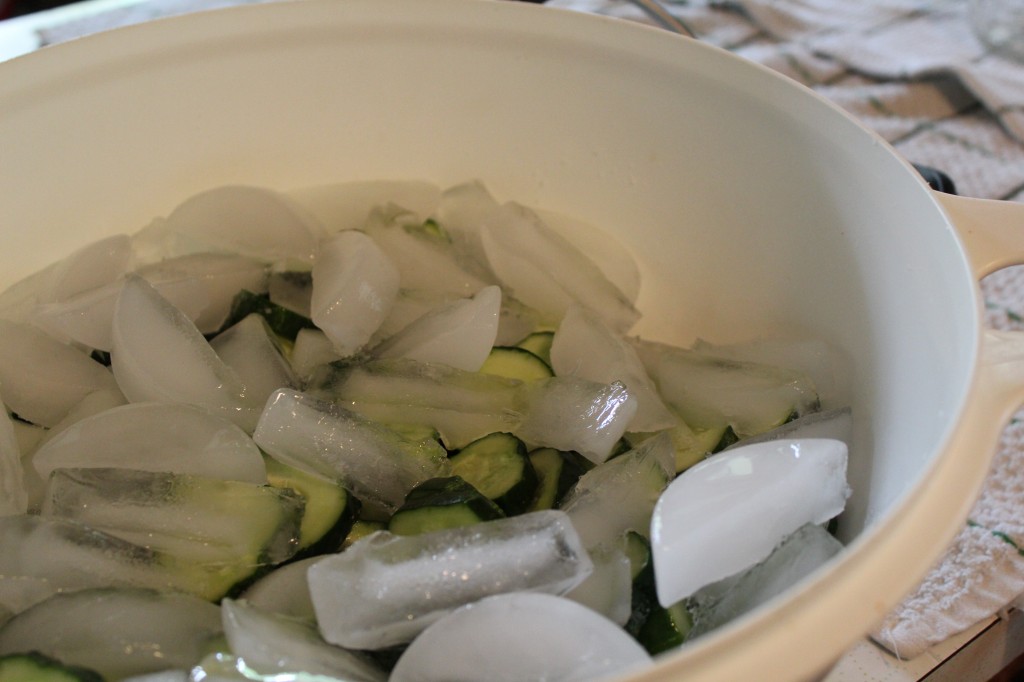 Take you pickles out to the fridge. See how much they have shrunk….LOL…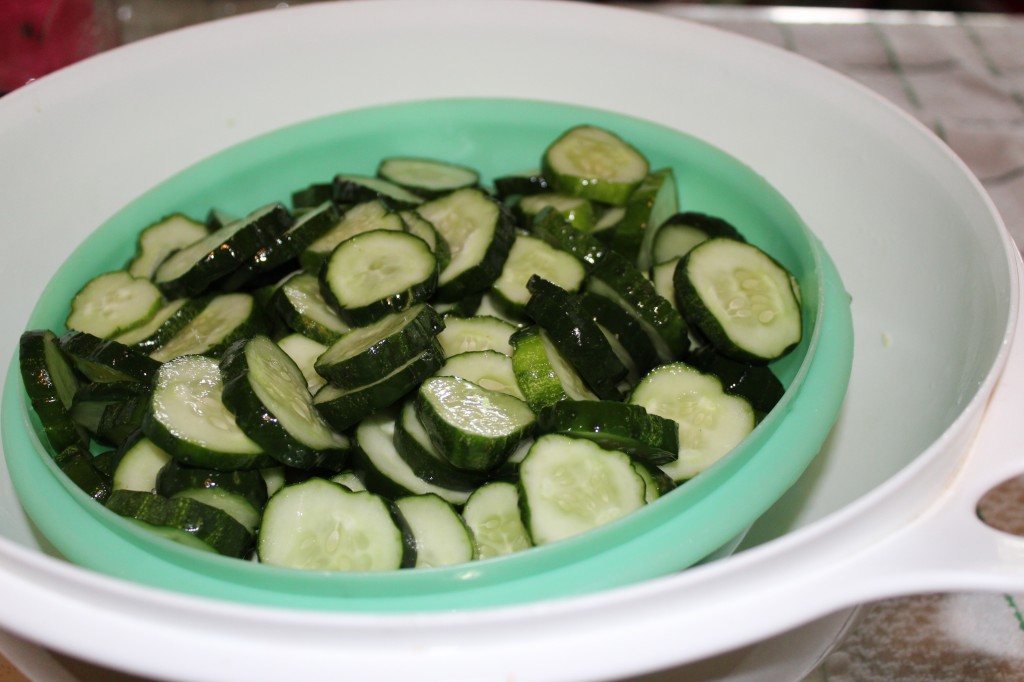 Drain the pickles and remove any ice that is left.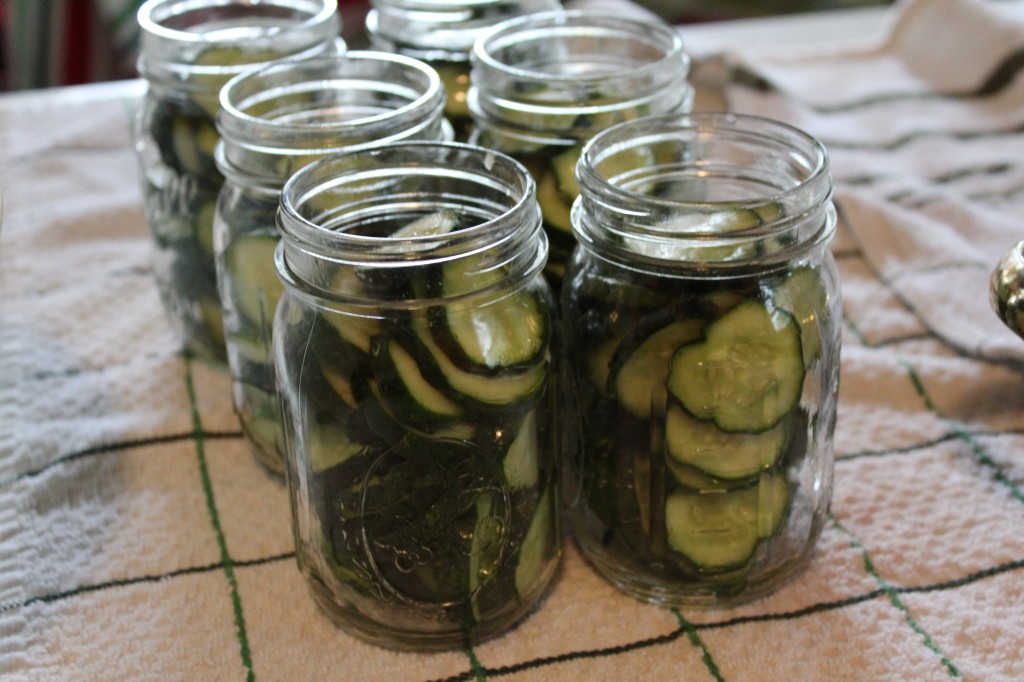 Fill each jar with pickles to 1/2 inch from the top. Try to pack tightly as the pickles will shrink as they are processed.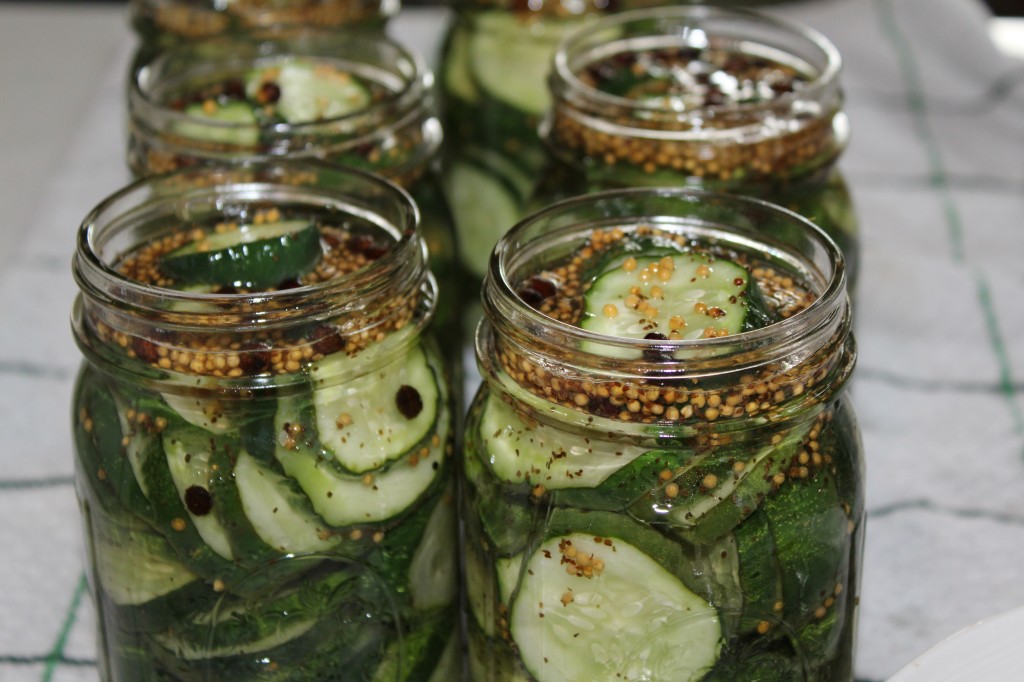 Fill the jars with the hot brine leaving 1/2 inch head space. Remove the air bubbles. You can do this with a wooden skewer but running it down the inside side of the jars.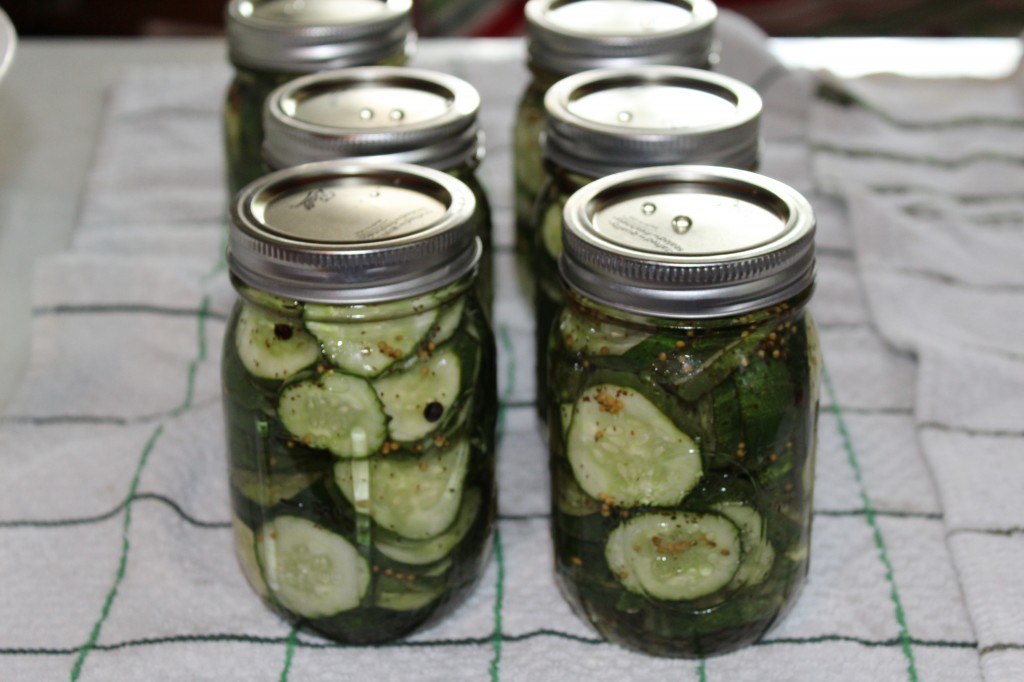 Wipe the rim of each jar with a wet paper towel to remove any syrup/brine and put on the lids and rims.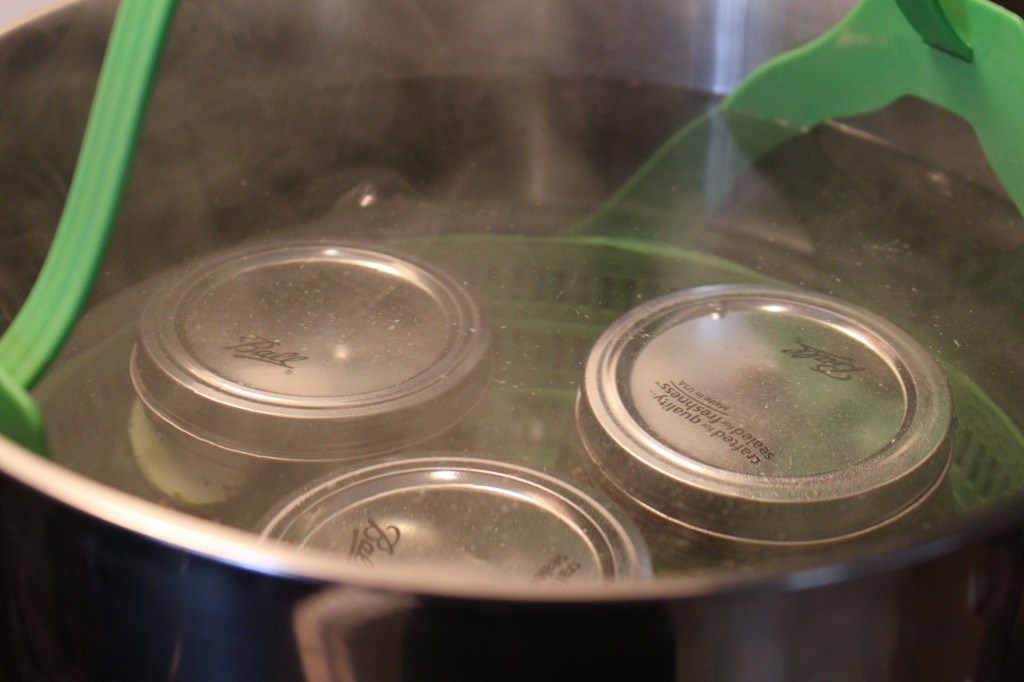 Water bath can or process the jars in boiling water for 10 minutes for pints or 15 minutes for quarts.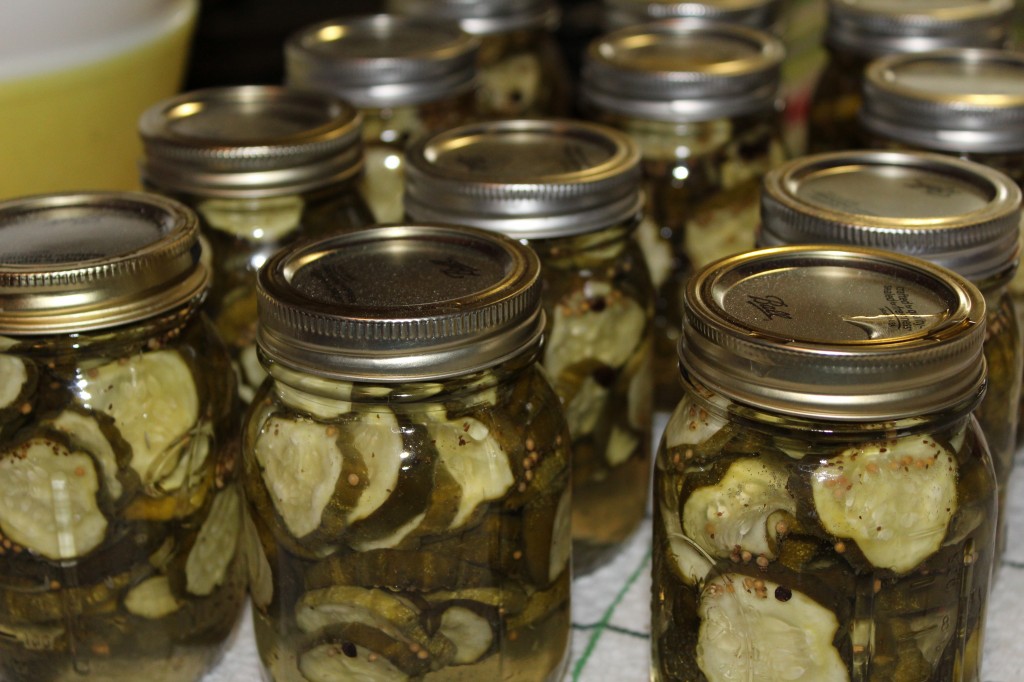 Now, here is one of my favorite parts….waiting to hear the pop of the lids after you take the jars out of the boiling water.
The hardest part of this recipe is waiting a few weeks (4 to 5) to allow the pickles to develop the ideal flavor.
As with any food that is canned, be sure to use a certified canning recipe and follow all the steps. Please refer to the Ball book of canning or  your local extension office  for complete instructions on water bath canning.
Here is the recipe.
This recipe is from Ohio Extension Office. They have a great video you can watch to assist you making these pickles. Here is the link. https://www.youtube.com/watch?v=Vo5Yx6ADsTg
Ingredients!
8 pounds 3 to 4 inch pickling cucumbers
1/3 cup canning or pickling salt
4 1/2 cups sugar
3 1/2 cups vinegar (5%)
2 teaspoons celery seed
1 tablespoon whole allspice
2 tablespoons mustard seed
Directions:
Cut 1/4 inch off the blossom end of the cucumber and discard. This blossom end can lead to soft pickles. Cut cucumbers into 1/4 inch slices. Place in a bowl and sprinkle with 1/3 cup canning salt. Cover with ice and put into the refrigerator for 3 to 4 hours. This will help draw the moisture from the cucumbers.
Combine sugar, vinegar, celery seed, allspice and mustard seed into a large saucepan. Heat to boiling.
Drain the liquid from the cucumbers.
Pack the cucumbers into the jars and fill the jars leaving 1/2 inch head space at the top.
Fill the jars with the hot canning liquid. Filling the jars to  1/2 inch from the top.
Remove any air bubbles. (you can use a wooden skewer to do this but running it down the inside side of the jars)
Adjust the lids and rings.
Water bath process for 10 minutes for pints or 15 minutes for quarts.
After procession and cooling, store the jars for 4 to 5 weeks to allow pickles to develop the best flavor.
As with any canning, be sure to use approved recipes and follow all the proper canning steps to prevent spoilage.
Enjoy!
Becky