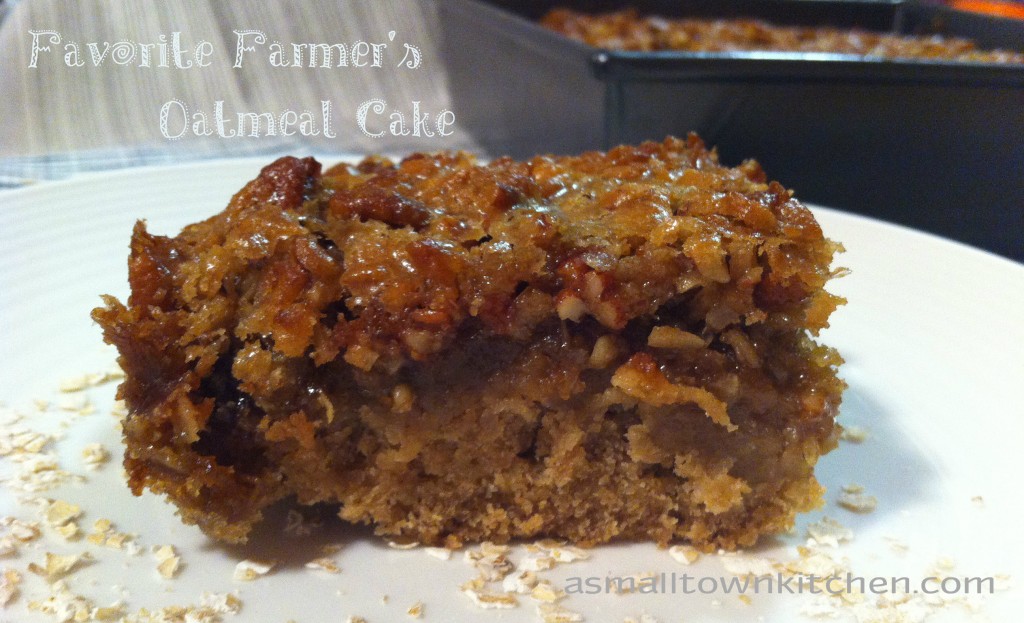 Jeanie Beanie is having a Par—tay!
Well, she  had everyone over for lunch after church yesterday. She made  Oven BBQ Ribs and a whole bunch more goodies. I am bringing my left over Frozen Fluffy Strawberry Pie.
Now, don't get all worked up, I did not just bring left overs ; ). I made a fresh batch of Grandma Jackie's Broccoli Rice Casserole, a loaf of Oatmeal Bread, and this scrumptious Favorite Farmer's Oatmeal Cake.
I saw this recipe in a Taste of the South magazine a month or so ago. It has taken me this long to finally get around to making it. I had a little bite last night and if I had not already eaten a big warm slice of the Oatmeal Bread, there might not have been any cake left to take to Jeanie Beanie's house. It has a moist cake bottom and you put a icing topping on top, that has coconut and pecans in it. You spread the topping on, and bake the cake a few more minutes and the topping (icing) bakes right on top of the cake.
Pretty amazing right?
Here is what you need to make this feel good and taste delicious cake: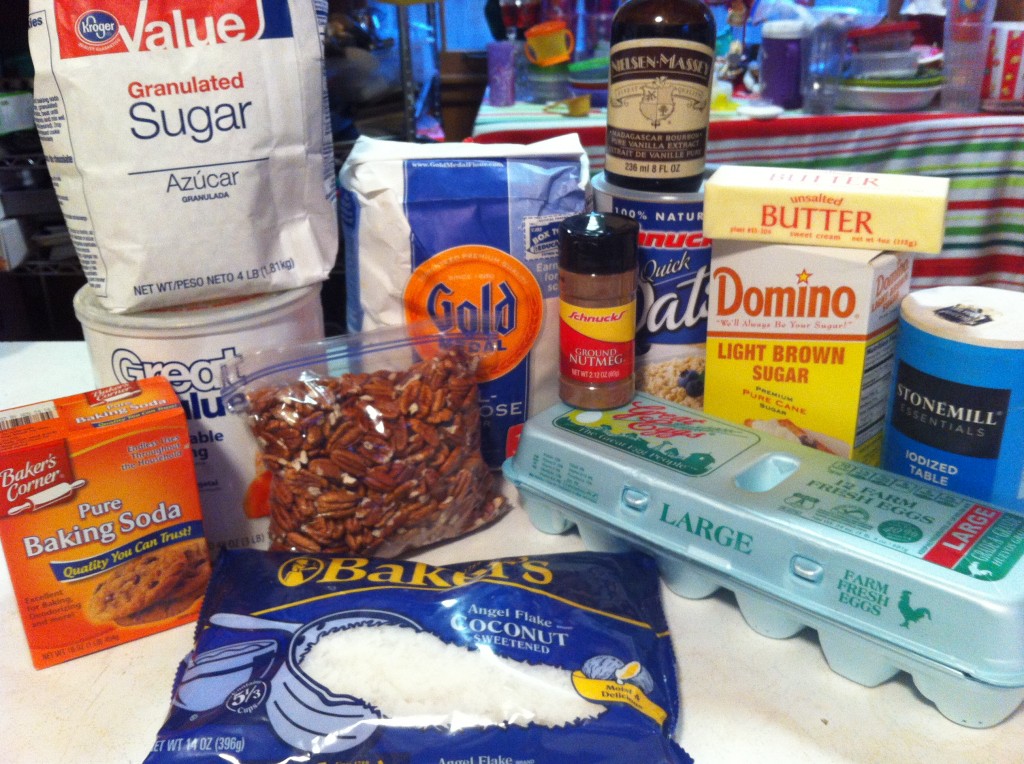 You need oatmeal, flour, brown and white sugar, eggs, baking soda, butter, nutmeg water, salt vanilla, coconuts and pecans.
Here is how you get started:
This is a part one of the recipe. The first thing you do is take the oatmeal and pour boiling water over it. Let it set for a hour until it thickens.
In a separate large bowl, beat together with an electric mixer the shortening, brown sugar and white sugar.
Next, you add in the two eggs and beat them in until they are fully incorporated.
Now, it is time to start adding the dry ingredients. Start by add the oatmeal that you softened with boiling water. Then add the flour.
Now you can add in the salt, baking soda and nutmeg. Then add in the vanilla.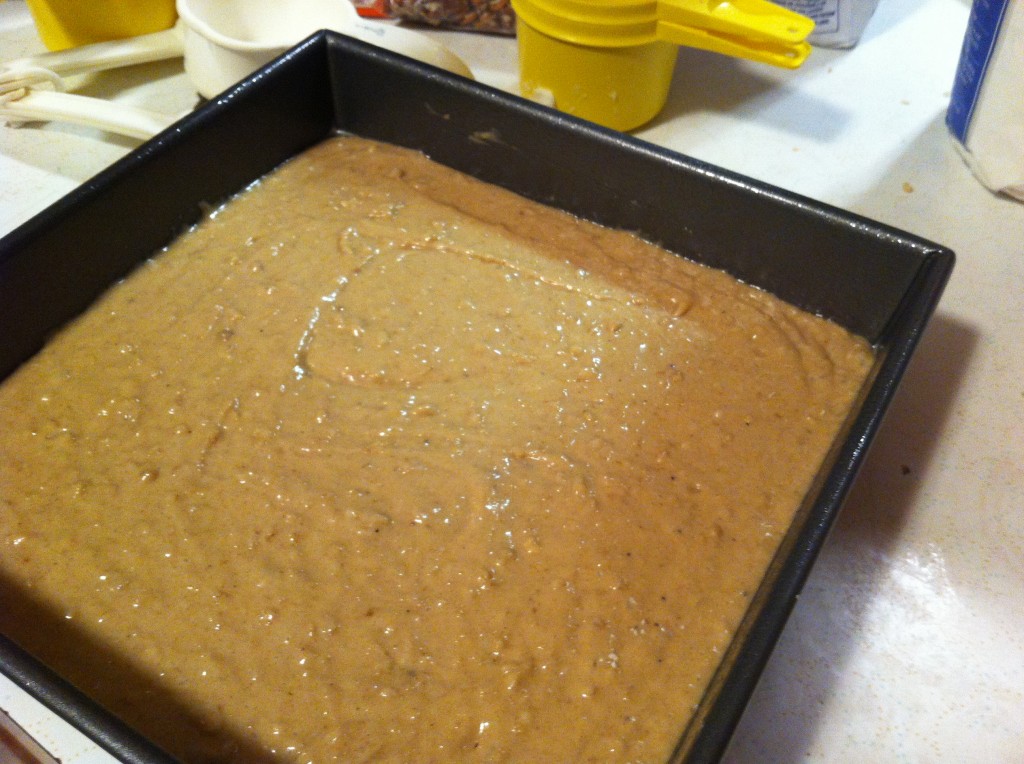 Mix all the ingredients together and pour into a greased 8 by 8 pan. Bake at 350 for about 30 minutes. Now you are done with part one.
This is part two of the recipe. In a medium bowl you can start putting together the topping. Put in the softened butter and the coconut.
Now, add in the brown sugar and the egg yolks.
Last, add the chopped pecans and mix everything together until it is well blended. Now, wait until the cake is baked until slightly brown on top.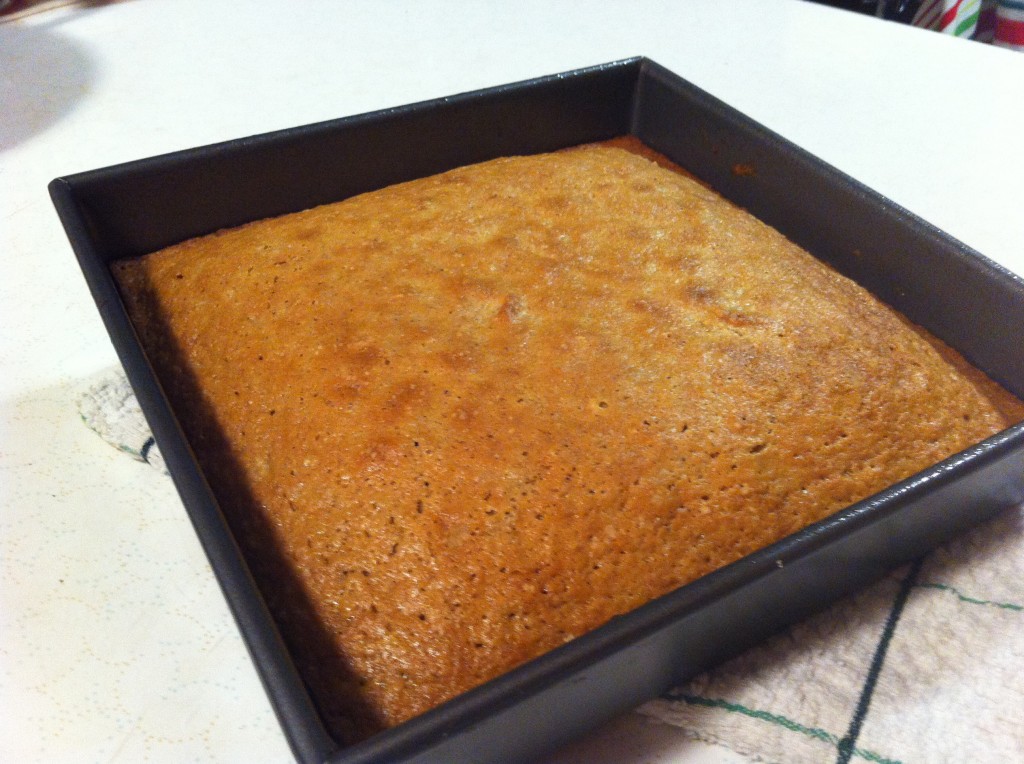 After the cake has baked for about 30 minutes take it out to put the topping on.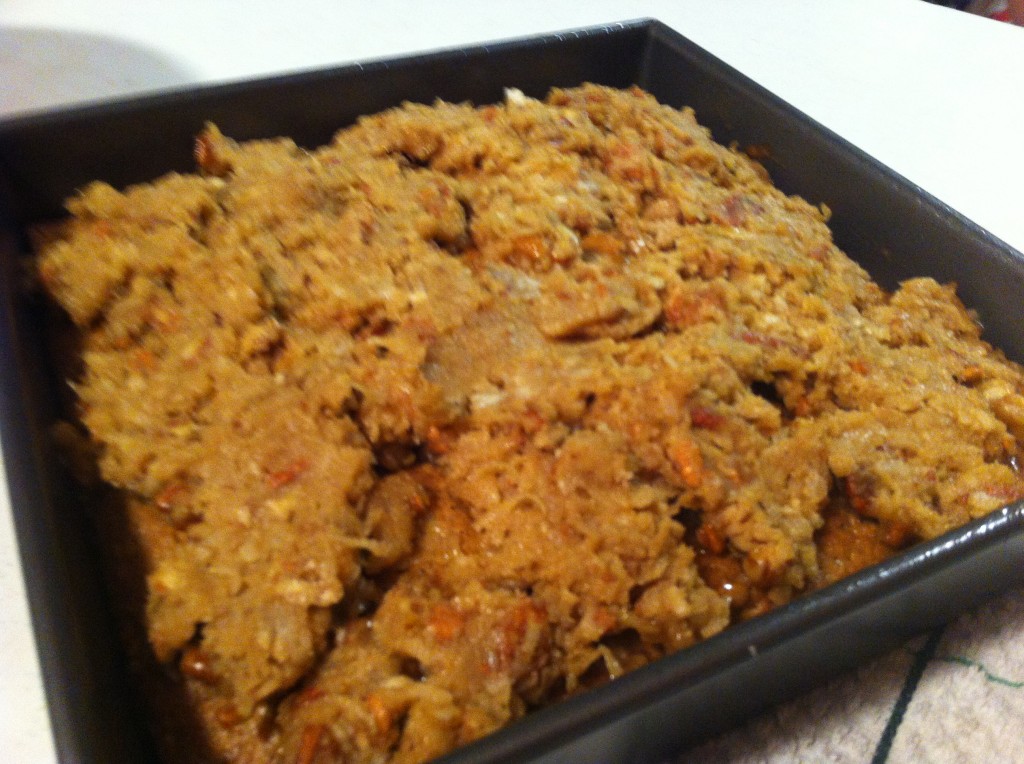 Spread the topping to top of the cake. Don't worry if you cannot spread it out evenly, the topping spreads as it bakes. Put the cake back in the oven for another 15 to 20, or until the topping is slightly brown.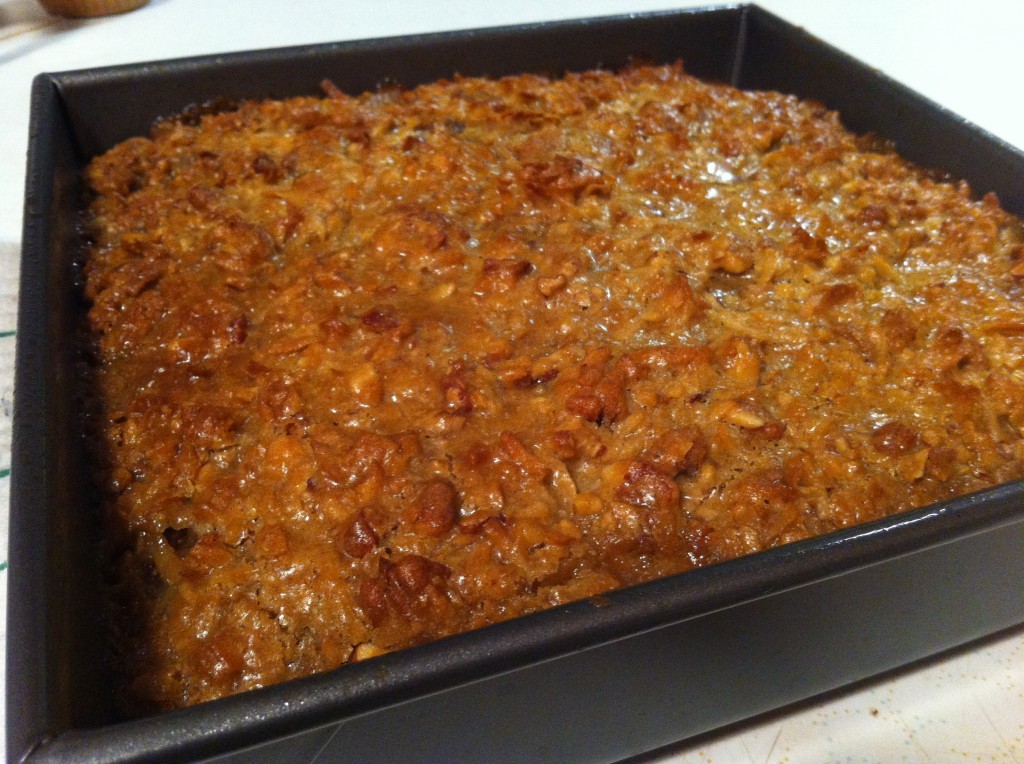 Here is a picture of it all baked up. : )
Here is the recipe:
Favorite Farmer's Oatmeal Cake
Adapted from Taste of the South Magazine (I love these magazines)
Ingredients:
(for the cake)
1 cup quick cooking oats (not instant)
1 1/2 cup boiling water
1/2 cup vegetable shortening
1 cup brown sugar
1 cup sugar
2 large eggs
1 1/2 cup flour
1 teaspoon baking soda
1 teaspoon salt
1 teaspoon nutmeg
1 teaspoon vanilla (I used pure vanilla)
(for the topping)
1/2 butter, softened
1 cup sweetened flaked coconut
1 cup brown sugar
2 large egg yolks
1 cup chopped pecans
Directions:
In a medium size bowl, combine the quick cooking oats and the boiling water. Let it stand until it thickens about 30 minutes. In a large bowl, beat the shortening, brown sugar and white sugar together until fully mixed. Add the eggs and beat in. Add in the thickened oatmeal, flour, baking soda, nutmeg, salt and vanilla. Beat all the ingredients together until they are combined. Pour batter into a greased 8 by 8 baking pan. Bake the cake in a preheated 350 degree oven for about 25 to 30 minutes, or until the top is slightly browned.
Make the topping while the cake is baking.  In a medium size bowl, combine the butter, coconut, brown sugar, egg yolks and pecans until combined.
When the cake is slightly brown on top, drop the topping by spoonful's on top of the cake. With a spatula, spread the topping over the hot the cake, being careful no to teat the cake.
Put the cake with the topping on, back into the oven and bake another 15 to 20 minutes, or until the topping is slightly browned. Be careful not to over cook the cake.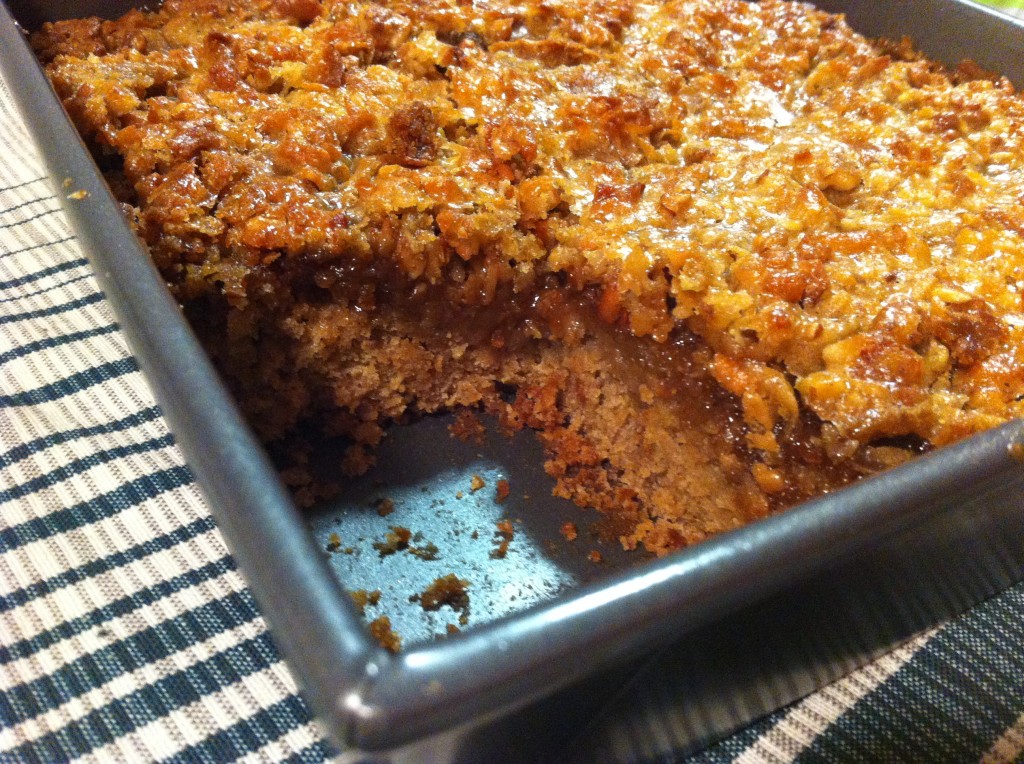 Don't you just want to stick your fork in it and take a bite.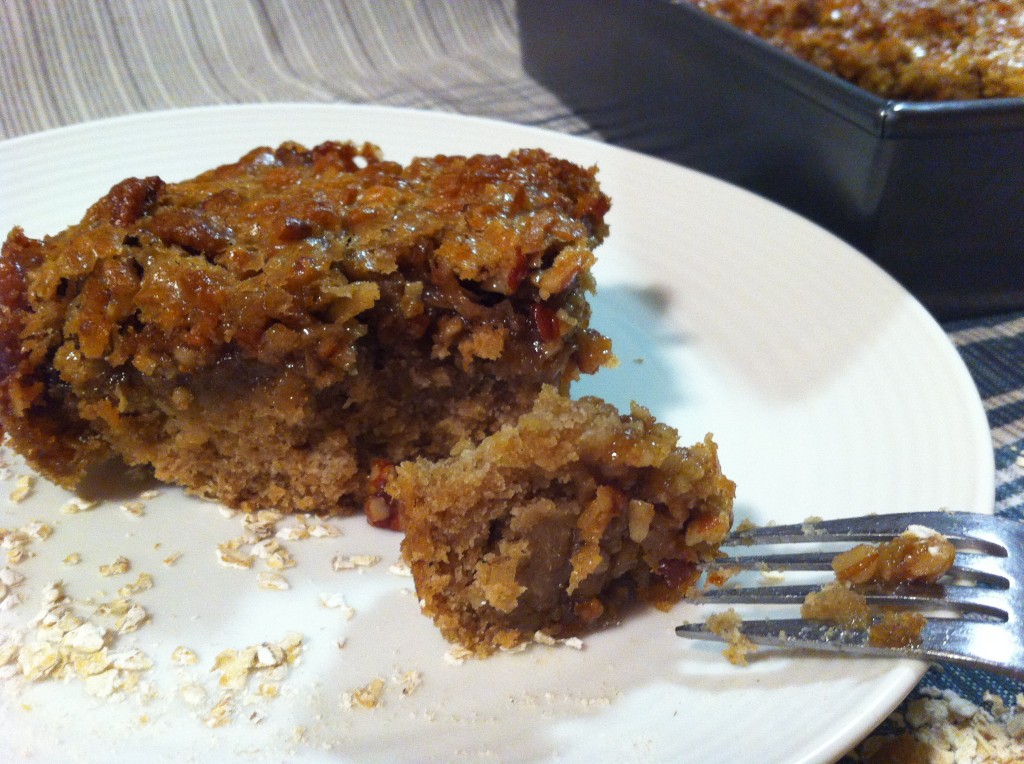 I sure did!
If you love oatmeal as much as I do, try making my Oatcake with Blackberries and Blueberries.
Enjoy!
Becky