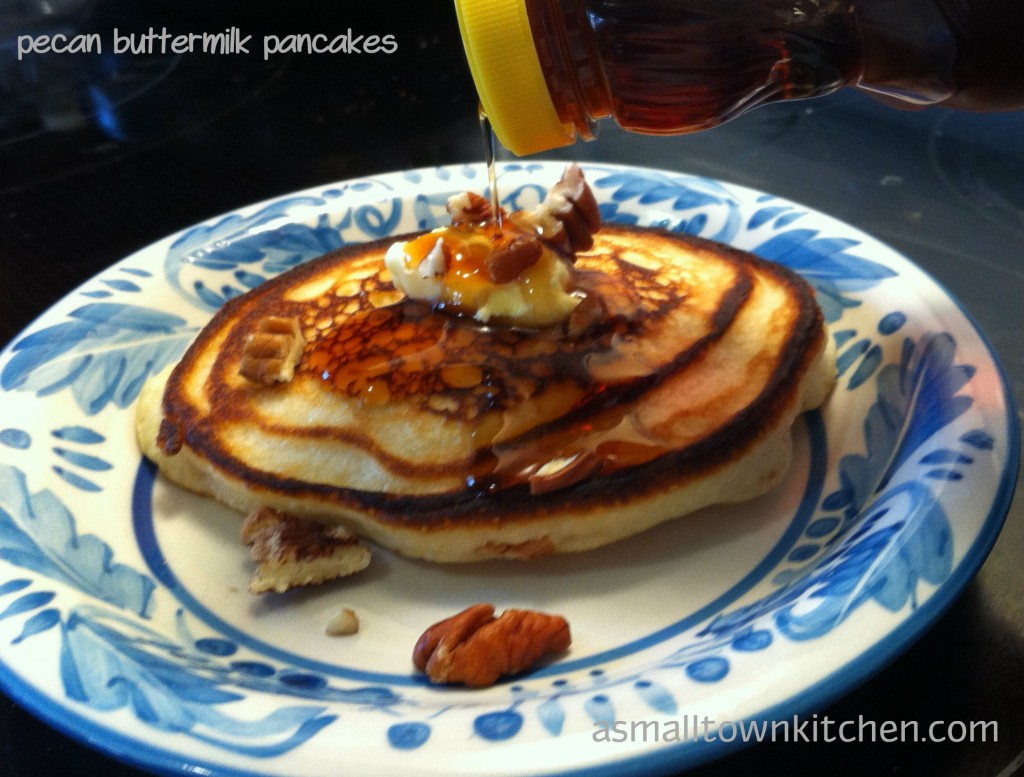 Good Morning!!!
The sun is shining this morning in mid Missouri….Yippee…
Three days ago this is what I had in my front yard..
It takes children with college degrees to be smart enough to run out after a tornado warning, large hail and pouring rain to collect large hail from the front yard.
Yes….this is my oldest daughter who does not cook. Obviously she does not have brains either. : D
Anywho…it is a fine, fine, fine morning in Missouri and it seemed like the perfect morning to make "home made" pancakes.
When I was growing up, The Princess could not just go to the store and buy a package of pancake mix, or stop by a IHOP,  to make pancakes for her four, always starving, perfect children. I use the word "perfect" here very loosely. When The Princess made us pancakes, she always made them from scratch and they always had this delicious little crunch ring on the outside edge. Mom always got this crunch ring by frying her pancakes with a little bit of oil, bacon grease, butter or lard.
Niener Wiener, Me, Jeanie Beanie and baby brother Robert loved her pancakes, especially the little crunch ring on the outside edge.
Did your mom make them like that for you?
This morning, on this fine day in Mid Missouri I was thinking about that those pancakes and that little crunch ring and thought I would surprise my munchins at home with home made buttermilk pancakes.
Aren't I the perfect Mom?
I use the word perfect here very loosely. : D
Anywho, I bought this simply divine cookbook yesterday at Sam's and it had a buttermilk pancake recipe in it that looked way too good to stay shut up in a cookbook. (I have a whole story to tell about this cookbook, so check back later today if you are the least bit curious)
I just happen to buy some real buttermilk yesterday at the store for another recipe I wanted to make and Walla….the pancake stars aligned and I realized I could make homemade pecan buttermilk pancakes.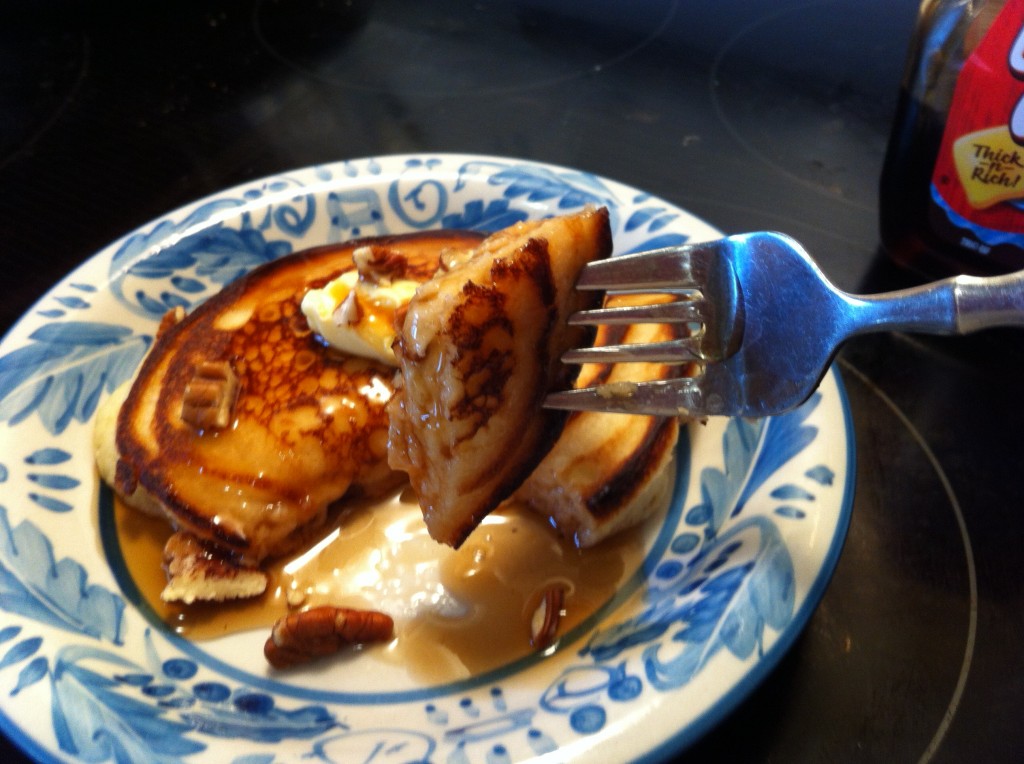 Here is my first bite. The outside crunch ring was perfect. The pecans were perfect. The only thing that was not perfect was that I only got one pancake. My little munchins downstair ran off with the rest.
How is that for a compliment?
It is the best kind!
So pancake lovers unite! If you want to make a thick and tender pancake with an outside crunch ring, this recipe will have you napping the rest of the day in pancake heaven.
Here is your shopping list and step by step directions: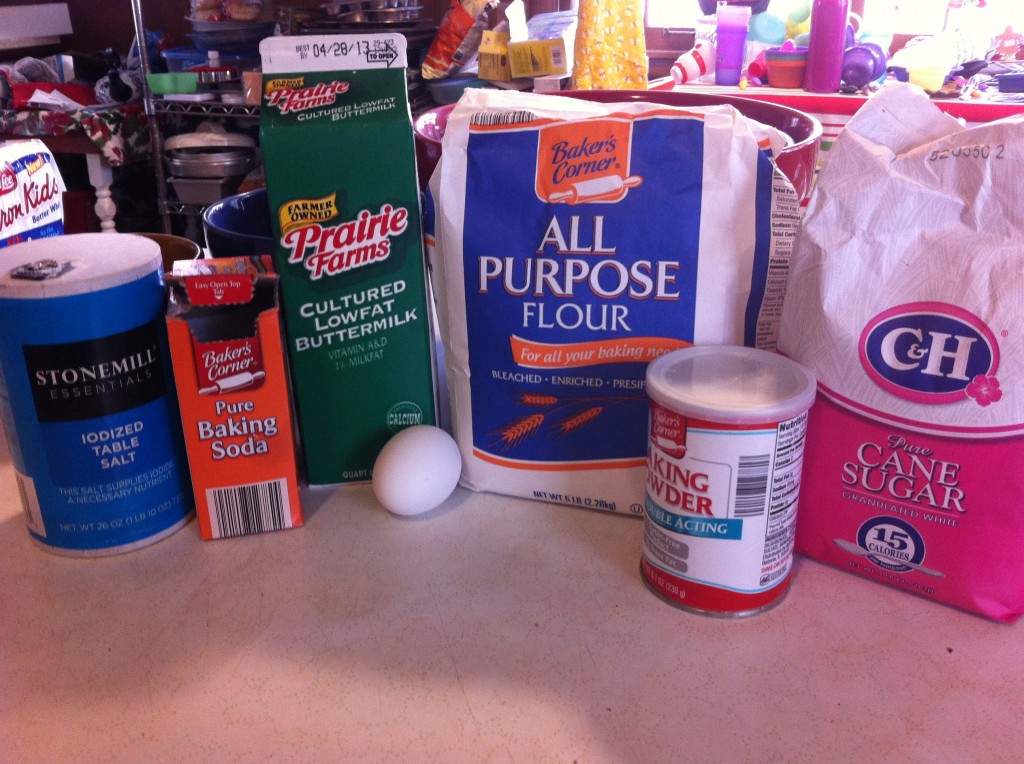 In my haste to taste delicious pecan buttermilk pancakes, I forgot to put the oil in the pictures. My Bad!
Measure the flour and put it in a medium size bowl. Next measure out the salt, baking soda, baking powder and the sugar.
Add the salt, baking soda, baking powder and sugar and whisk to combine.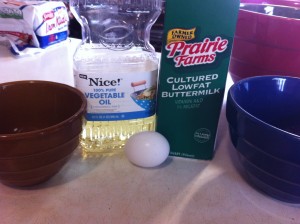 Now it's time to get out all the wet ingredients.
Crack the egg and add it to a medium size bowl. Next add in the vegetable oil.
Measure out the buttermilk and add it to the egg and the oil.
With a whisk, mix all the wet ingredients together, making sure the egg in completely mixed in. Pour the wet ingredients into the dry ingredients.
With a whisk, carefully combine the wet and dry ingredients together. Be careful not to over mix. The batter will be thick with small lumps.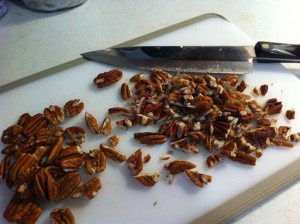 If you plan on adding pecans to your pancakes, now is the time to have a few chopped up and ready to go. My son the Super Hero, hates nuts.  But..he is out of town this weekend to attend a wedding.  So the Pee Cans are back on the menu and  ready to add to our pancakes.
In a medium skillet add a little vegetable oil. Pour in 1/4 cup of batter. You may have to spread it around a bit. If it is too thick in the middle the middle will not get cooked on the inside. Add a few chopped pecans onto the wet batter. Fry the pancake until bubbles start to rise. Carefully flip the pancake over to cook on the other side. See that lovely crunch ring on the outside of the pancake? Seriously, that is the best part besides the biets with the pecans, besides the part with all the butter and rich syrup…seriously this whole pancake is delicious.
Don't you just want a bite?
That is all there is to making fanatically delicious pecan pancakes.
Are you ready for the recipe?
Here it is.
Enjoy the day!
Becky
Pecan Buttermilk Pancakes
Adapted from Southern Living
Ingredients:
1 and 1/4 cups of all purpose flour
2 tablespoons sugar
2 teaspoons baking powder
1/2 teaspoon baking soda
3/4 teaspoon salt
1 large egg
1 and 1/3 cup buttermilk
3 tablespoons vegetable oil
1 cup chopped pecans (optional)
Directions;
In a medium bowl stir together the flour, baking powder, baking soda, salt and sugar. In a separate bowl whisk together the egg, buttermilk and the oil. Add the buttermilk mixture to the flour mixture and stir to combine. Do not over mix. Batter will have small lumps.
Heat a griddle to medium heat and add a small amount of oil. Measure out about 1/4 cup of batter and pour it on the hot  griddle. Sprinkle chopped pecans onto the wet batter, if desired. Cook until bubbles start to rise. Flip pancake over and cook on the other side.
Serve with butter and syrup or even some fresh berries.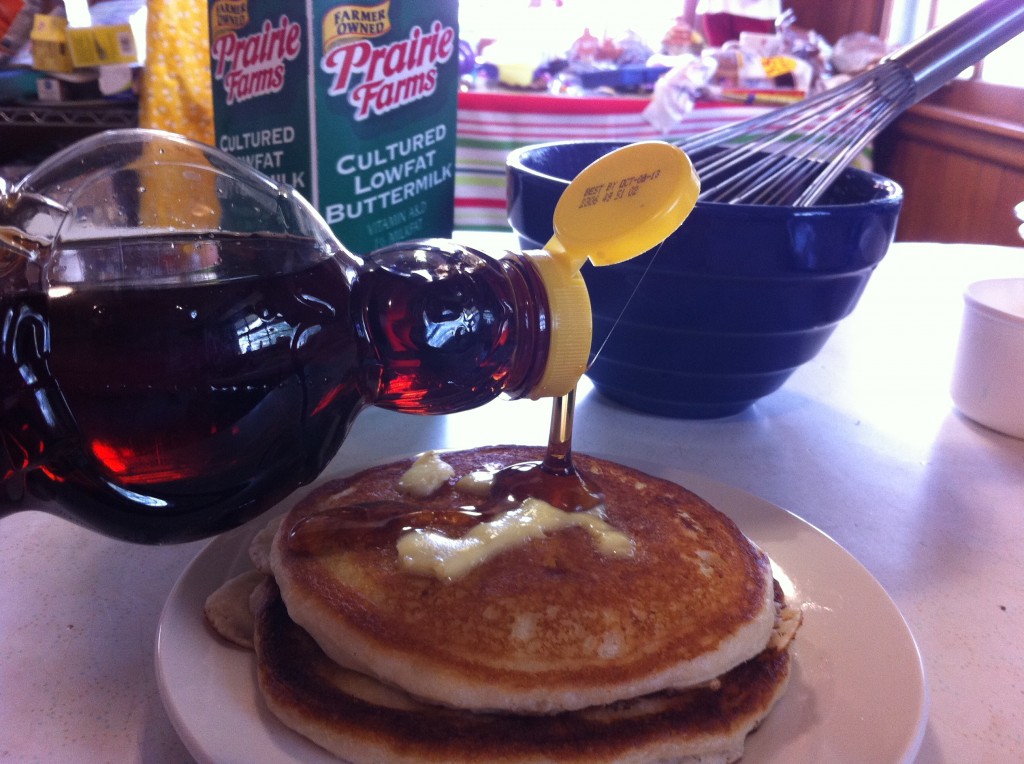 Can you make out the smiley face butter on top? You will have your family smiling too when you make them for your family. You might want to double the recipe.
Enjoy!
Here is another post from A Small Town Kitchen you might enjoy.
Baking Powder Biscuits                             Strawberry Bread