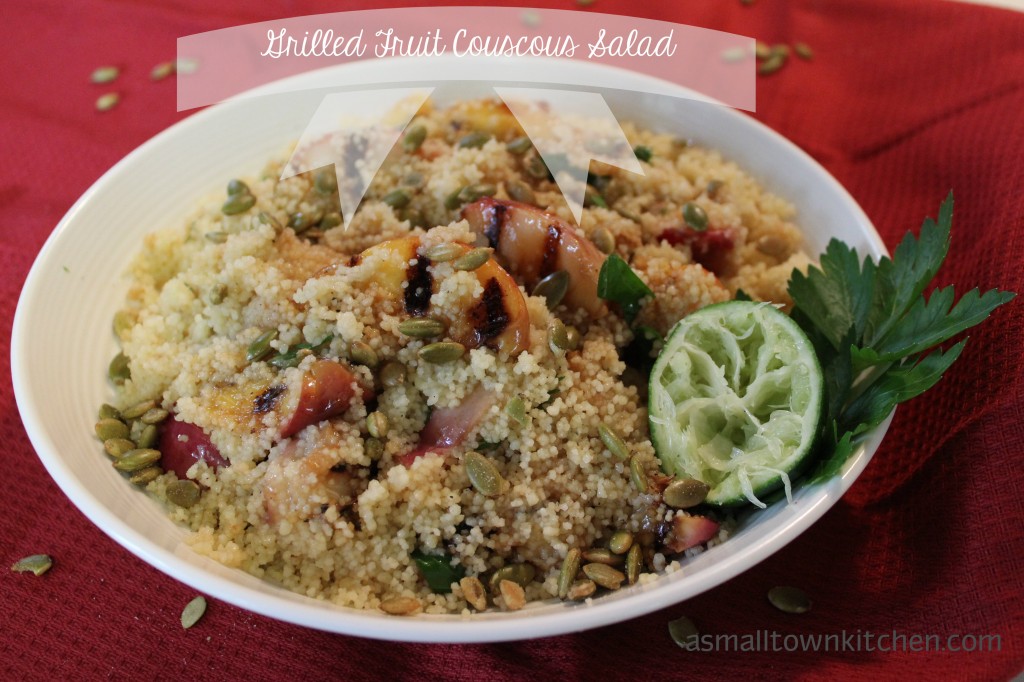 I have been buying small little boxes of couscous at Aldi's every few times that I go there to shop.
The funny thing is, is that I had never used any of it.
I think I must like buying it because of the cool name. Couscous Couscous…..
Or maybe it is the interesting shape of the tiny little pastas that have me intrigued.
Maybe, I just like buying groceries. Ha!
Needless to say, I was glad I had some in my pantry when I came across this recipe for Grilled Fruit Couscous Salad!
I love about anything grilled on a grill. I used my indoor grill to grill the fruit, and I am kinda glad I did because I did not have to worry about the fruit falling through the grates on my outdoor gas grill.  I cut my fruit in fourths and grilled it, but if  you were to do it outside you just grill the fruit that was cut in half. This would prevent the fruit from slipping. So really, indoor or outdoor, it does not matter which one. Just be careful no to let the fruit stick on the grill.
I also loved the ingredients in the salad dressing…olive oil, lime juice, spices and sweetened with honey. YUM!
Fresh cilantro and parsley too.
AND topped with those roasted and salted pumpkin seeds called pepitas. I love those things! They added that bit of tasty crunch to the salad.
I hope you will give this recipe a try!
Here is what you will need : )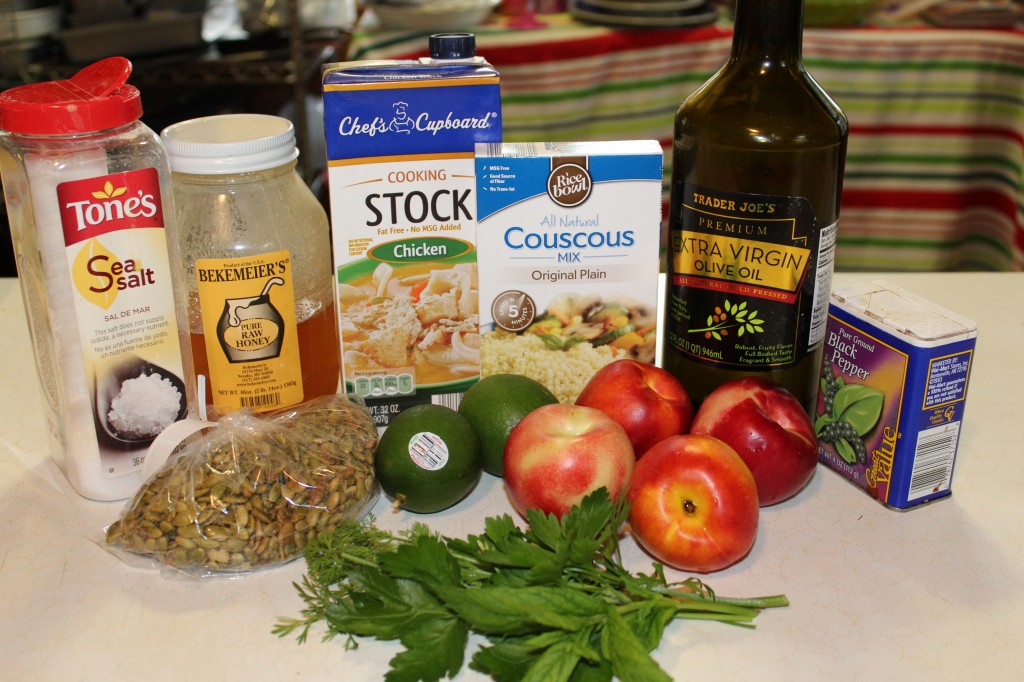 Chicken broth, couscous, olive oil, pepper, salt, honey, lime, nectarines and plums (I forgot to put the plums in the picture), fresh cilantro and parsley and the pepitas. I found these in the health food section of my grocery store. I have also bought them in bulk at my local Amish store. (Also I did not add an green onion to the salad, even though I love onions, because Company does not like onions.)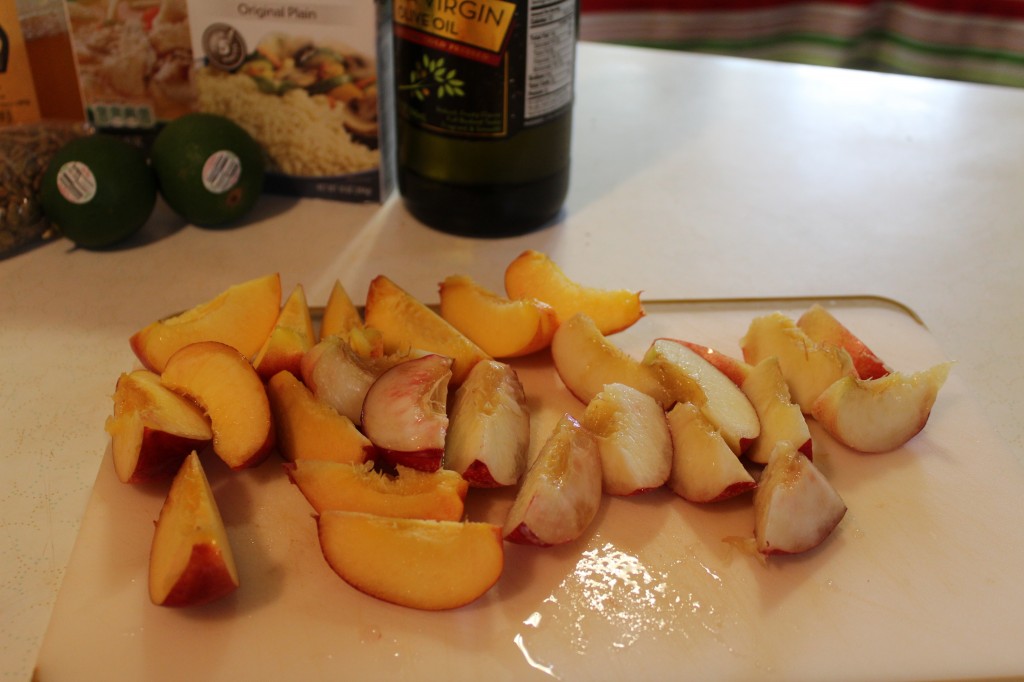 First t hing I did was quarter my fruit.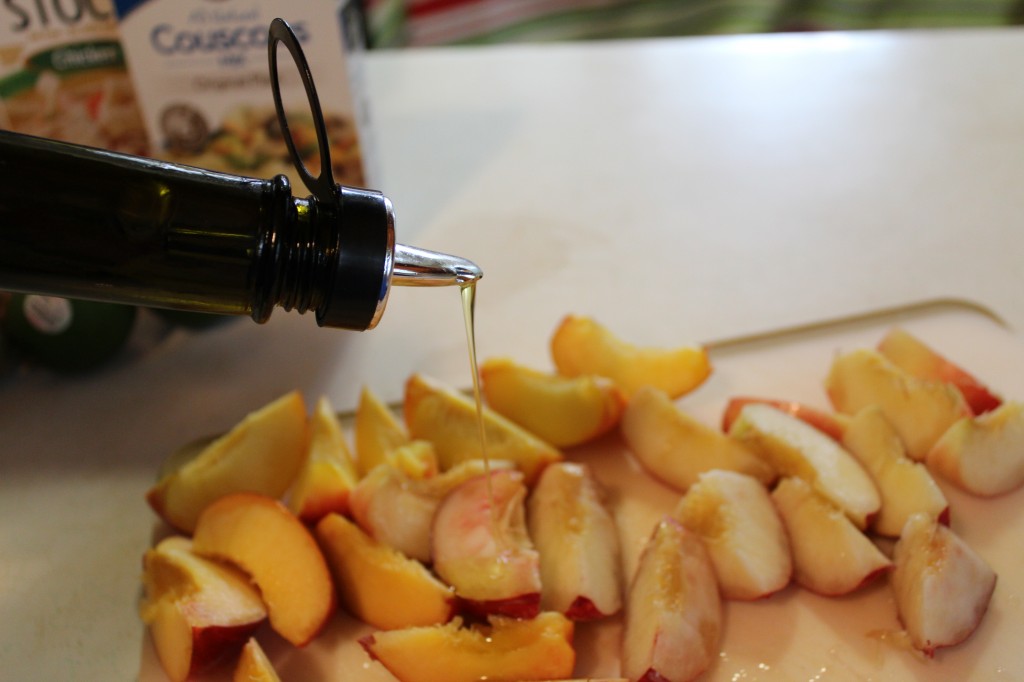 I drizzled olive oil on the fruit to keep it from sticking to the grill.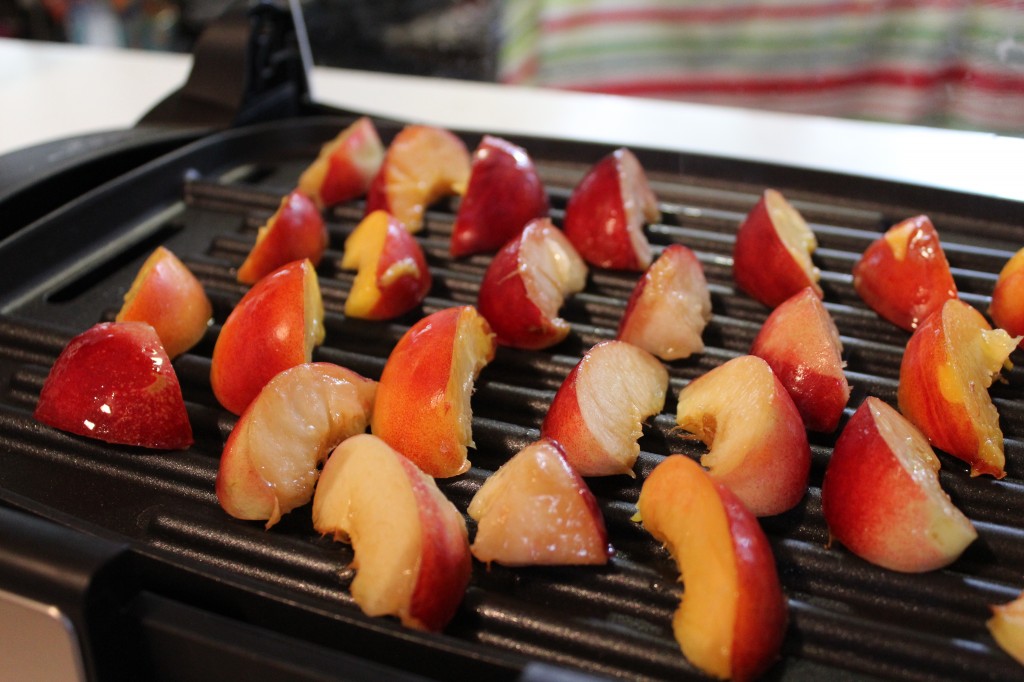 Then I put them on my indoor grill (feel free to use your outdoor grill) and I grilled both sides of them.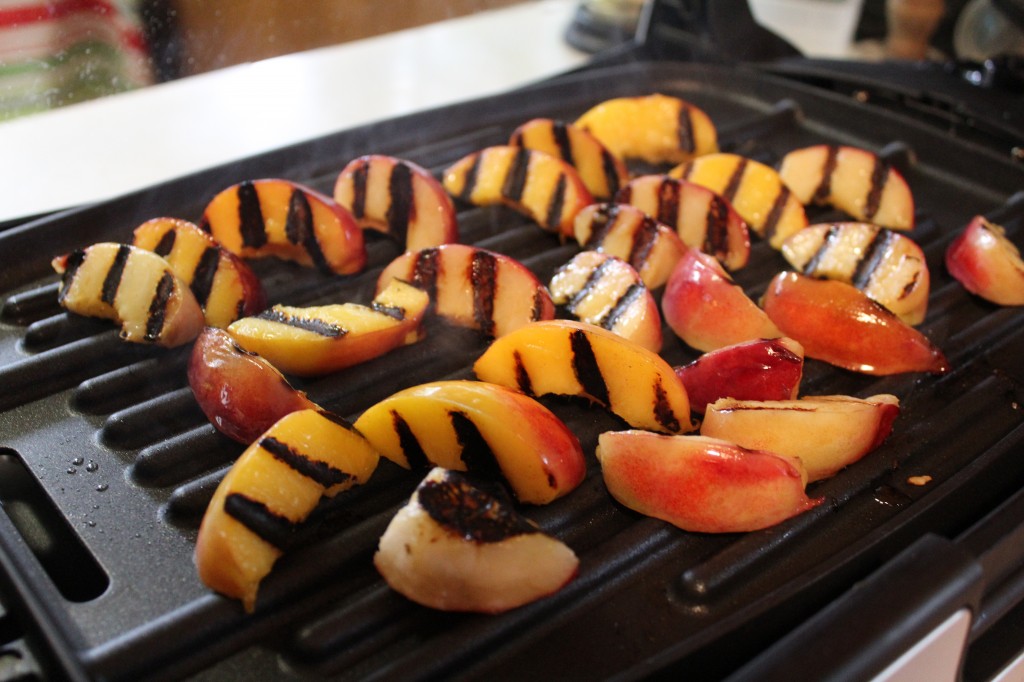 This is what they looked like grill. I love grill marks!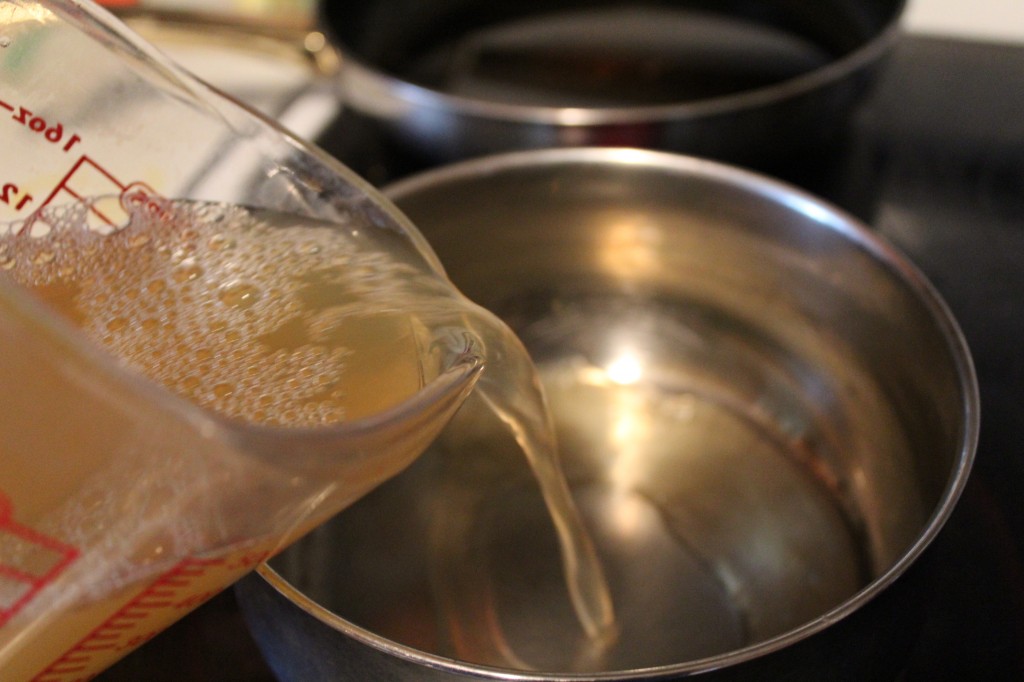 Then in a medium sauce pan I poured in my chicken stock and brought it to a boil. The chicken stock seasons the couscous, so be sure and taste your stock and make sure you do not need to season it up a bit.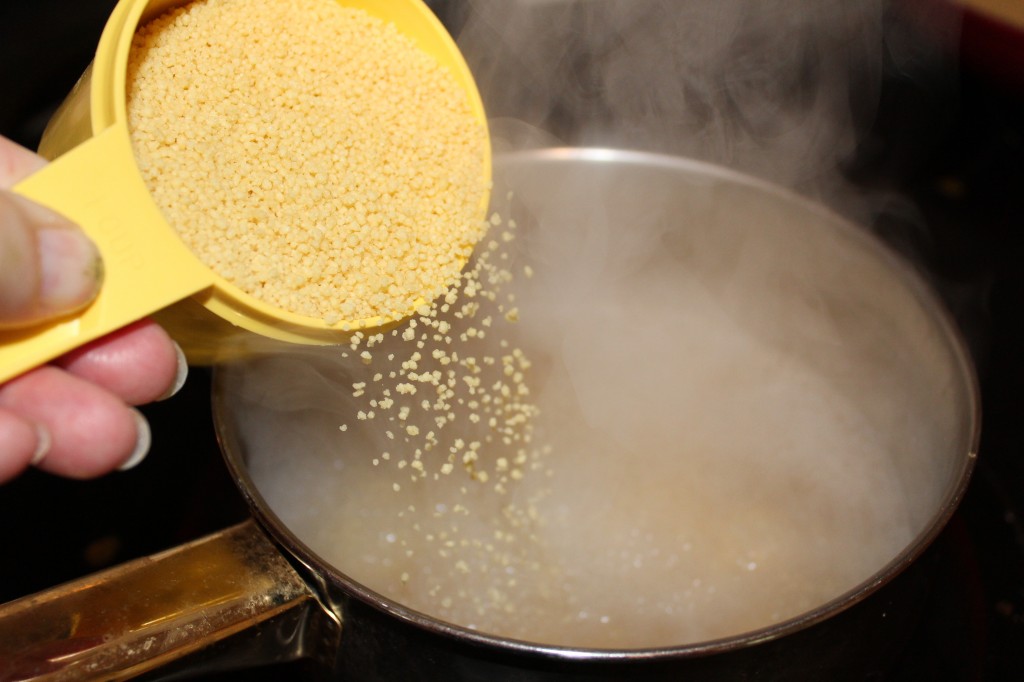 When the broth is boiling add in the couscous. Take the couscous off the heat and let it stand for 5 minutes and then fluff with a fork.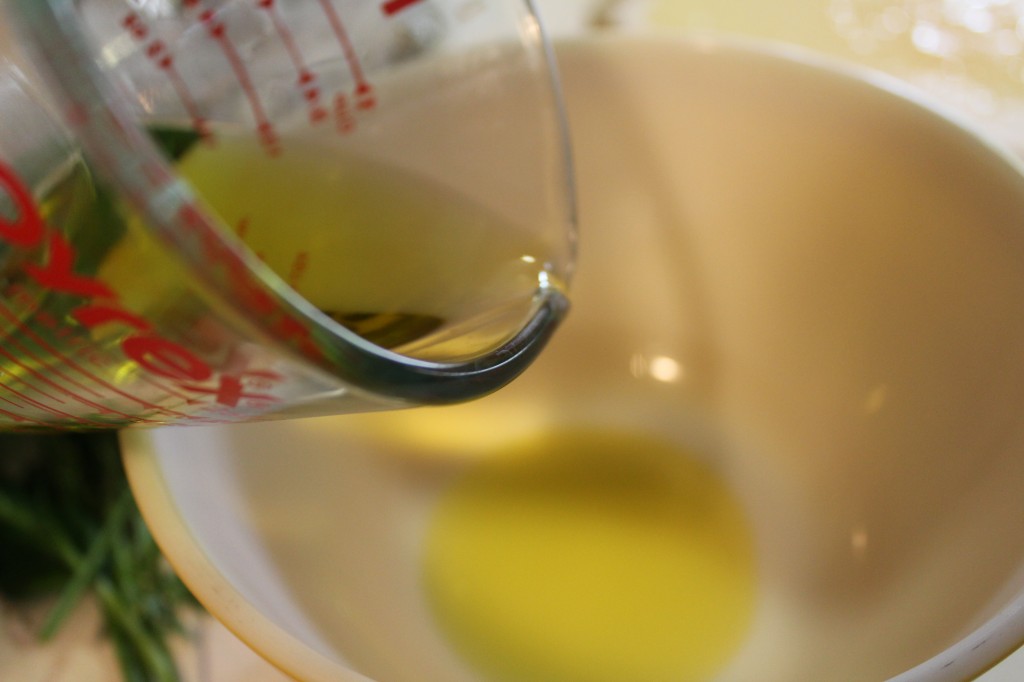 Now, lets make the dressing. In a medium bowl pour in the olive oil.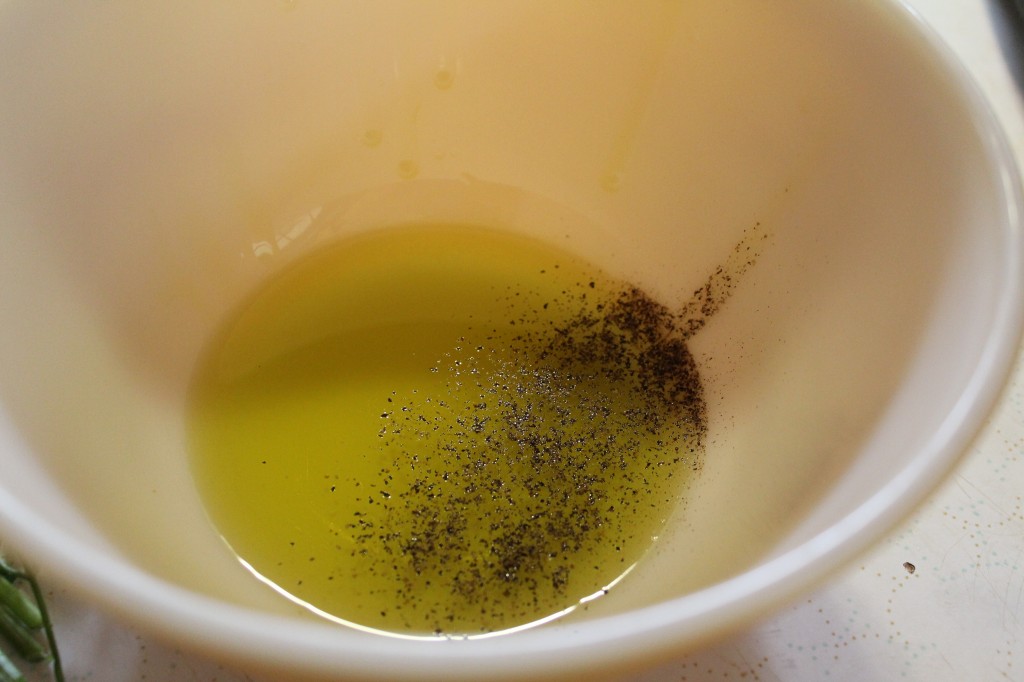 Add in some pepper.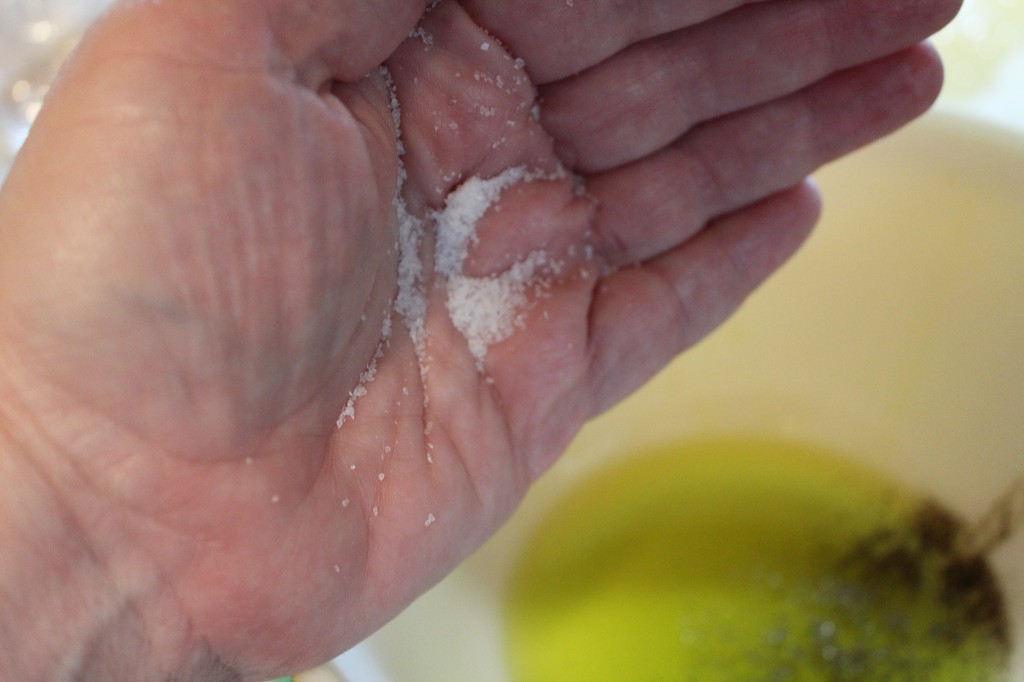 Add in some salt. I used sea salt.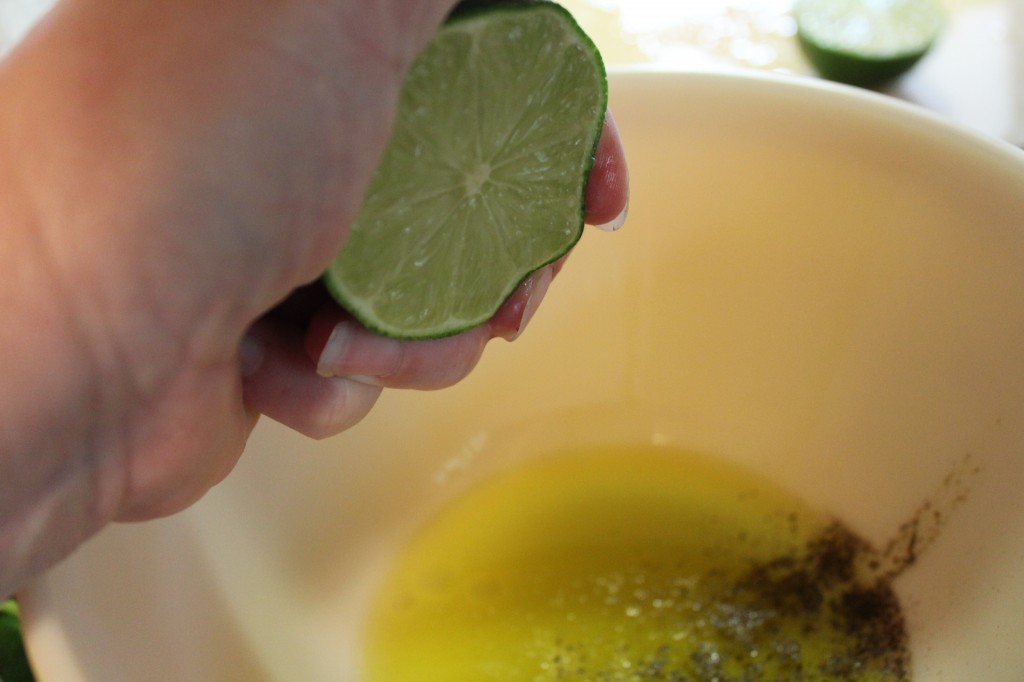 Add in some fresh lime juice.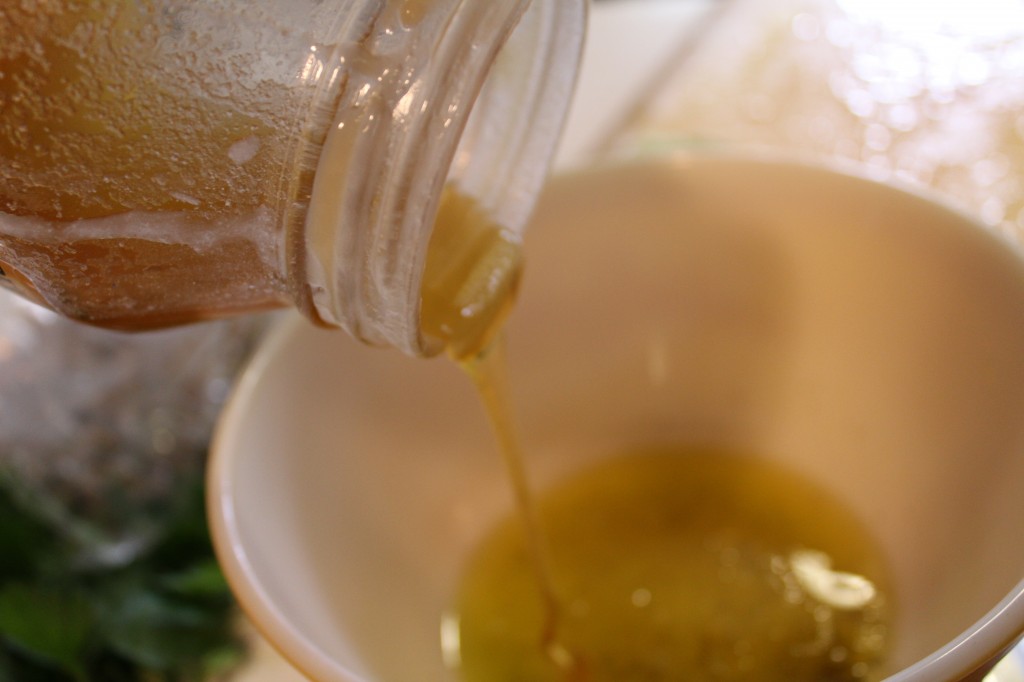 My favorite part….the honey.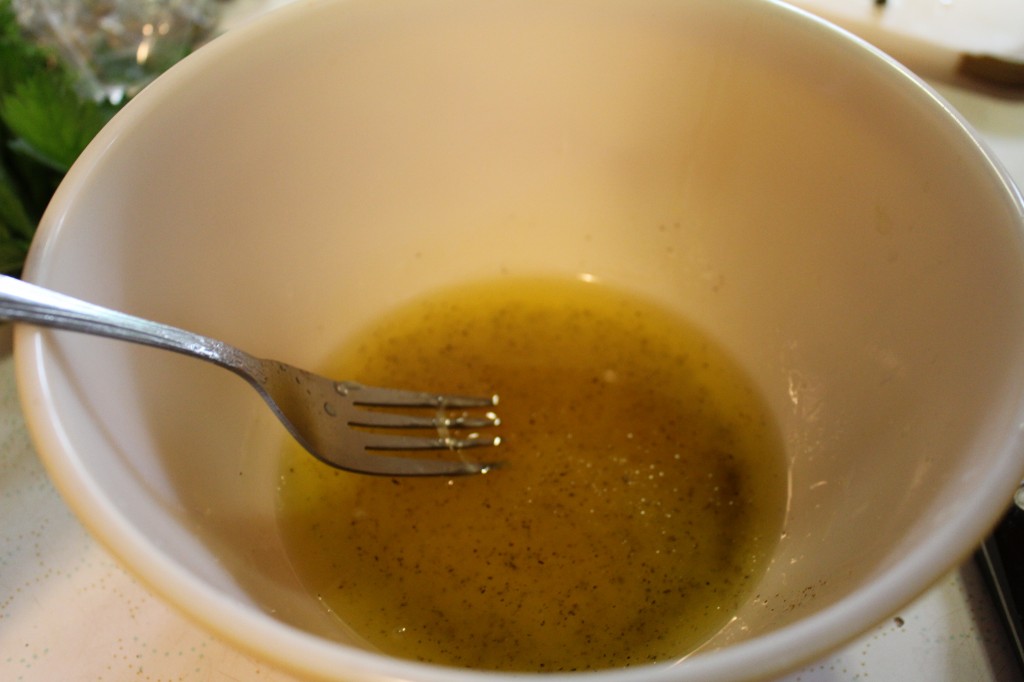 Mix together. This can also be done in a small blender. Give your dressing a quick taste and add more honey or seasonings to suit your taste.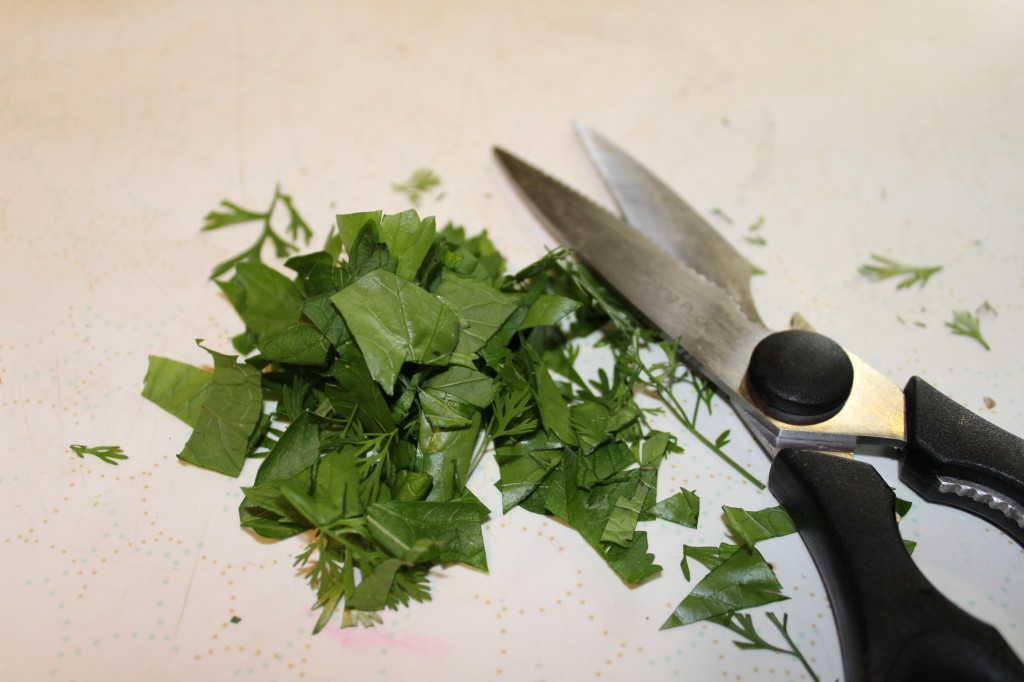 Cut your fresh parsley and cilantro, be sure and take out the stems of the cilantro.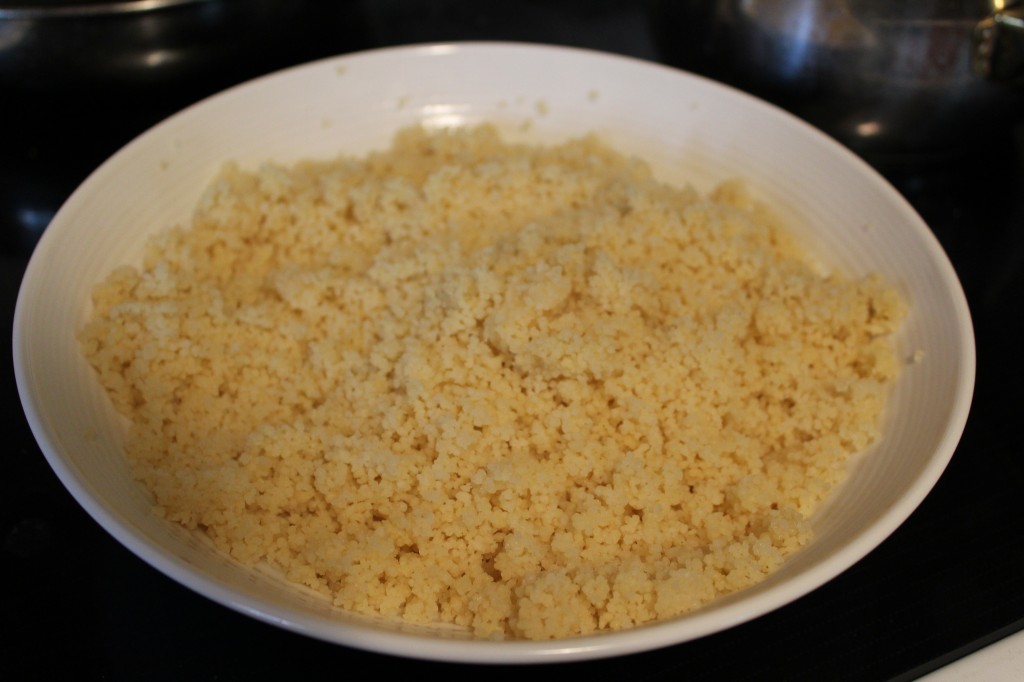 Put the cooked couscous in a large serving bowl.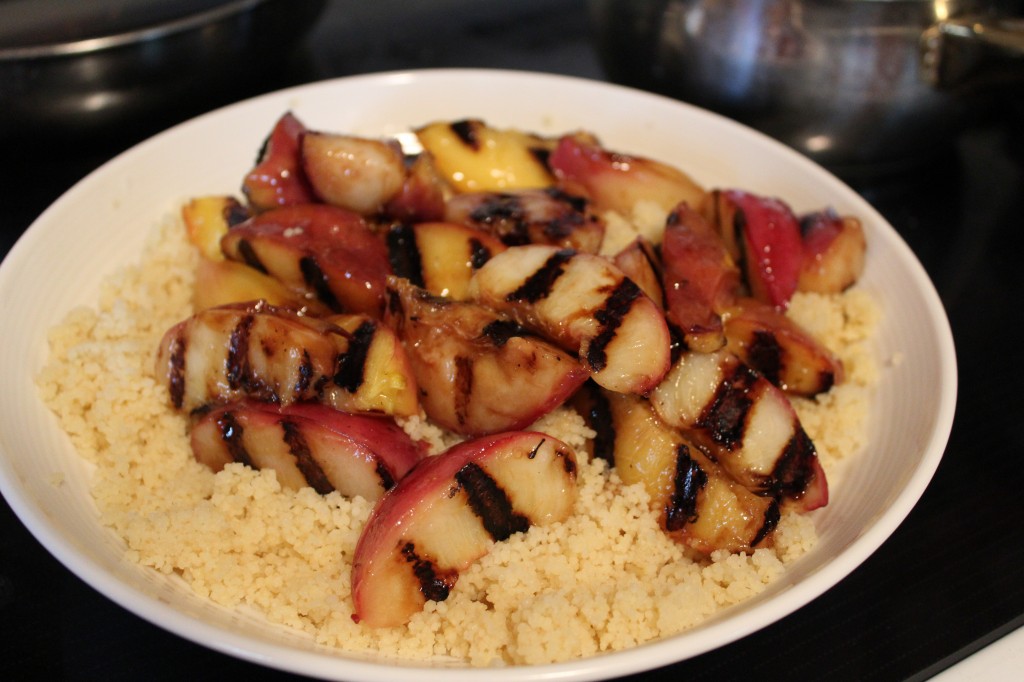 Add in your grilled fruit.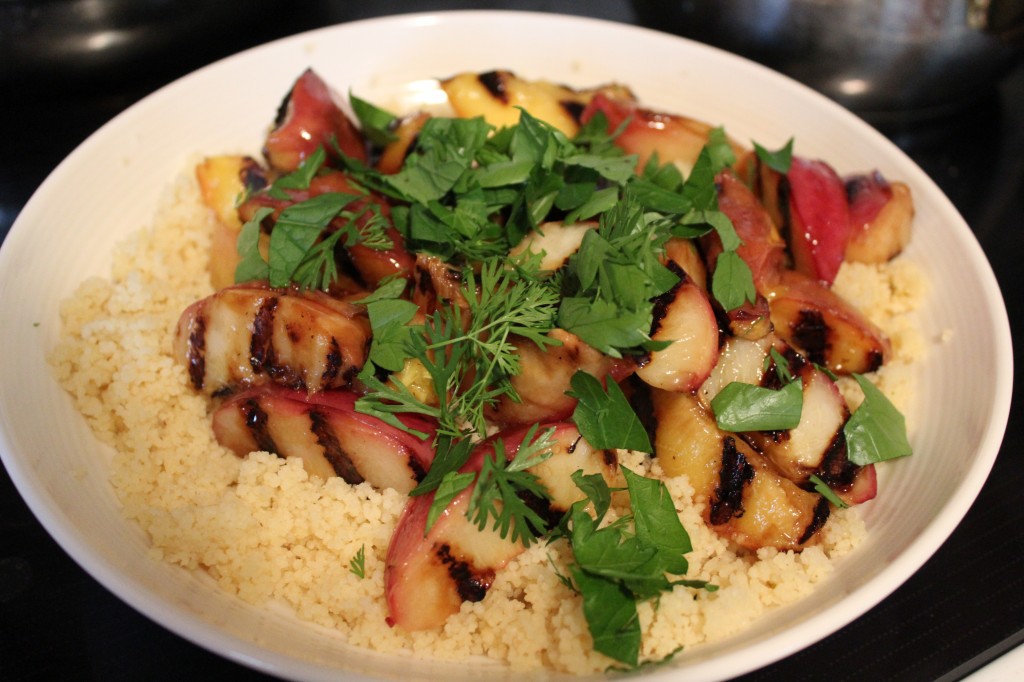 Top with your fresh herbs and if  you are using a chopped green onion, now is the time to add that in too.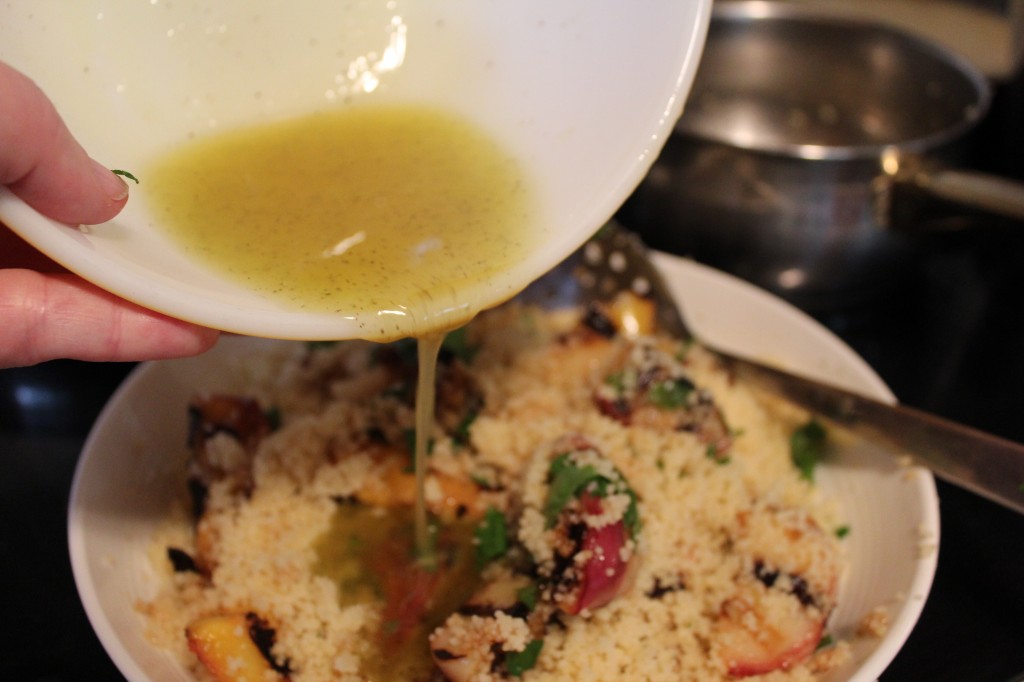 Drizzle with the dress and gently toss.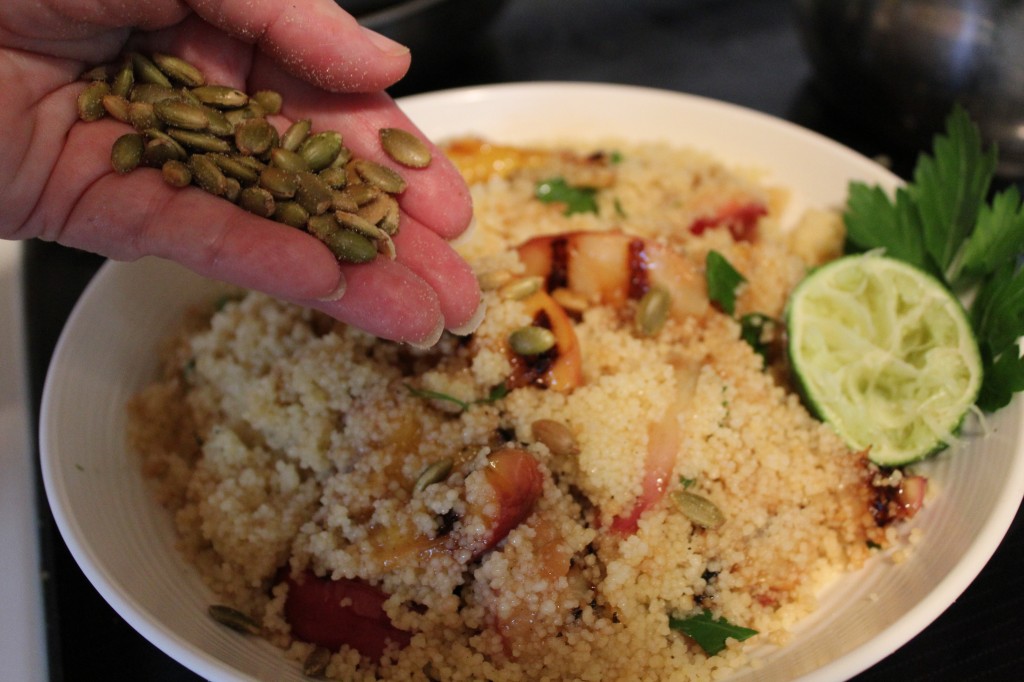 Top with the roasted pepitas (roasted and salted pumpkin seeds).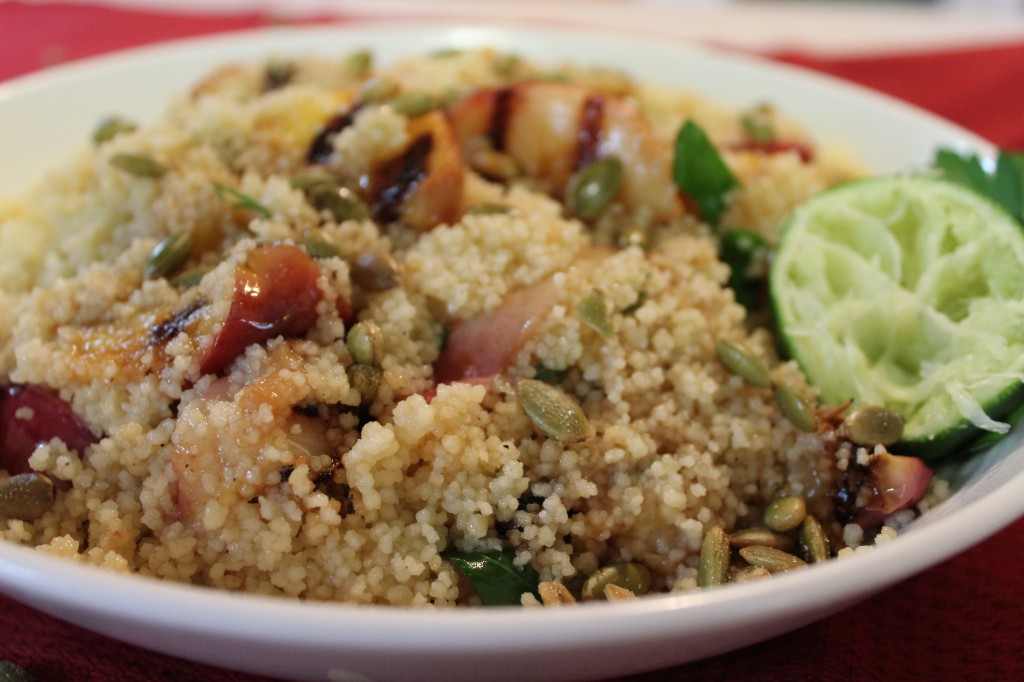 I decorated the salad with my squeezed lime and large parsley leaf.
Do you wish you had a fork??
I was glad I had a fork and a large bowl!
Enjoy!
Becky
Here is the recipe:
Adapted from Better Homes and Garden
Ingredients:
2 fresh plums, pitted and halved
2 fresh nectarines, pitted and halved
1/4 cup olive oil and 1 tablespoon to coat the fruit before grilling
1 1/2 cup chicken broth or you may use vegetable broth
1 cup couscous
2 scallions or green onions diced small
3 tablespoons lime juice (I used the juice from one lime)
2 tablespoons honey
2 tablespoons snipped fresh cilantro
1 tablespoon snipped fresh parsley
Garnish with salad toppings or I used roasted salted pumpkin seeds called pepitas. I buy them in the bulk health food section.
Directions:
Brush the fruit with olive oil. I cut mine in quarters and then put olive oil on them. I used my indoor grill and grilled both sides of the fruit unit I got nice grill marks. If you are using an outdoor charcoal or gas grill leave the fruit in half then quarter. In a medium saucepan bring the broth to a boil. Add in the couscous and remove from the heat. Cover and let stand for 5 minutes. Fluff with a fork.
Mix the dressing together in a small bowl. Whisk together the olive oil, lime juice, honey, 1/4 teaspoon each of salt and pepper.
In a large serving bowl, put in the couscous and then the fruit. Drizzle with the dressing and then cilantro and parsley. Toss together.
Garnish the salad with  your favorite salad topping or with roasted salted pumpkin seeds call pepitas.
Here are some other post you may enjoy! ; )
Freezing Fresh Corn                                                                Sausage Stuffed Acorn Squash