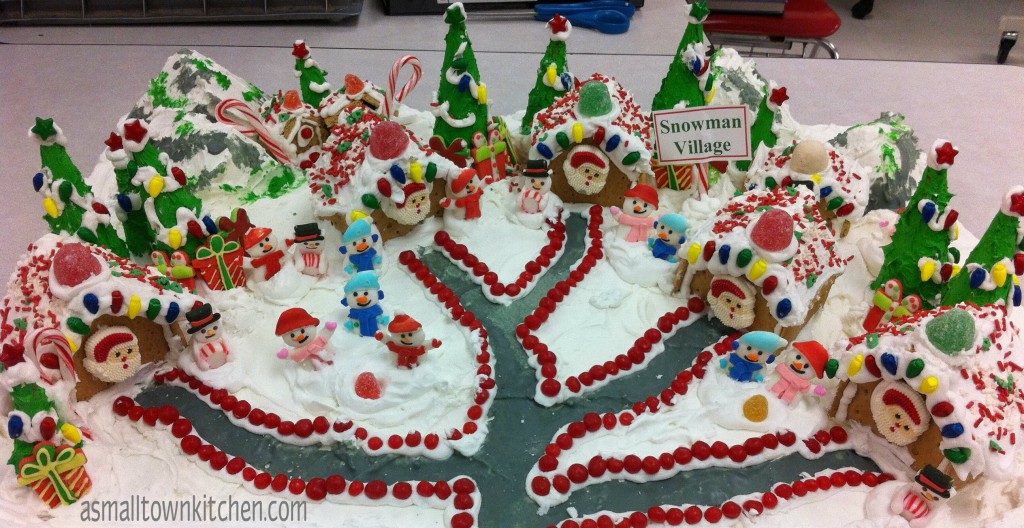 I think there is a vacancy over here at Snowman Village……I would suggest you bring a coat too : )
Every year since I became a teacher, my department has donated gingerbread houses to the local Holiday Inn. Our houses are added to their houses (created by their chef) to become one large gingerbread house display. The houses on are display in their lobby along with their big Christmas Tree.
I did not start adding houses until last year. Last year's theme (we always have a theme) was local landmarks.  I made a replica of the old bus station and a outdoor theater. If I can find the pictures I will post them later for you to see. This year our theme was kinda a woodland theme….not a real specific name. Three members of the club I co-sponsored each made a house. Two were very cute!
One got caught in an avalance(of students) . It got swept off it's base. We are going to try to repair it next week.
 I delivered the other two houses, forgeting to get pictures first. Drats!!! I will get pictures as soon as they are on display at Holiday Inn.
 For my houses I decided to do a Village with little trees sitting around. (that is the woodland part).
I was not sure exactly what I was doing. I just started cutting grahm crackers and icing them to gether to make an assortment of different size houses. I got a piece of plywood for the Industrial Tech teacher and starting building a little mound in the middle and added some mountains (little hills) on each side. I started adding the houses, then the trees. I made the little lanes and piped icing to put the red hots on. My co-sponsor, Jeanetta came and put all the red hots on and the little lights on the trees. Whew!! Lastly we added the snow people and surrounded the trees with presents.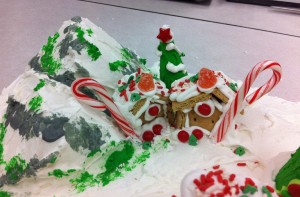 Here are little houses tucked next to a hill side.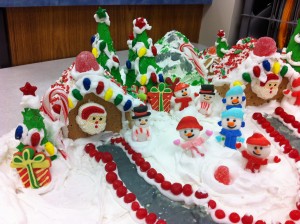 Here are a little bit bigger houses surrounded by trees. Plus little snow people waving at you. You can wave back!
Here are some more close up of the little snow people and their village.
I wish I would have taken pictures of the village in progress from start to finish. Oh well, that is just one thing (among many) that I need to work on.
When all the houses are assembled into one big display, I will post more pictures.
In the meantime, grab some hot chocolate and a jacket and stroll along the red hot lined lanes and visit with the little snow people.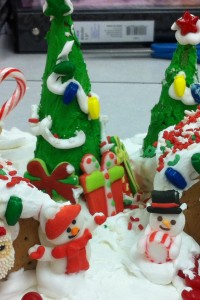 They might even give you a peppermint and a present with your name on it.
If you want to rent a little gingerbread house in the woods….you better hurry before the sign says "No Vacancies."
This was my FACS Teacher week in review!
Becky