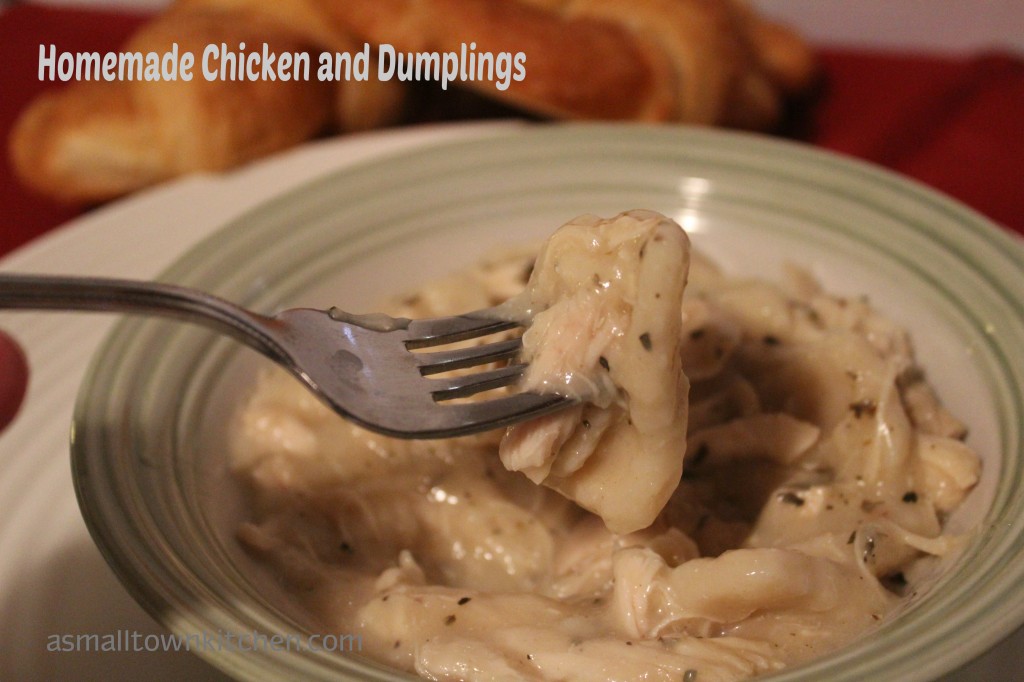 It seems like every time I go out to eat and I am craving some good old fashion comfort food, I order Chicken and Dumplings.
I think it is the cream, soup like broth (and you all know how much I love soup) and the tender dumplings AND if it is loaded with tender white chicken meat, it screams out comfort food.
Over the course of a couple of years, I have played around making chicken and dumplings and I could not quite get my dumplings quite right. They would either break apart in the broth or get so big in the broth, there would not be any broth left, leaving me a big clump and dumplings. UGH.
Well, I think I finally settled on a recipe. I found it at Mom, The Princess's house, in one of her Country Living magazines she had laying around. I adapted it slightly and totally fell in love with it.
Since I was using frozen chicken breast, I used my  electric pressure cooker to cook the chicken to save time. Not to worry if you do not have one. Just bake your chicken. No worries.
I mixed the dumplings up in a little blender, but you could use a bowl and a pastry cutter to cut in you shortening.
It is amazing how easy and delicious this recipe is.
So, if you are craving some good ol' fashion comfort food, give this recipe a try.
Here is what you need.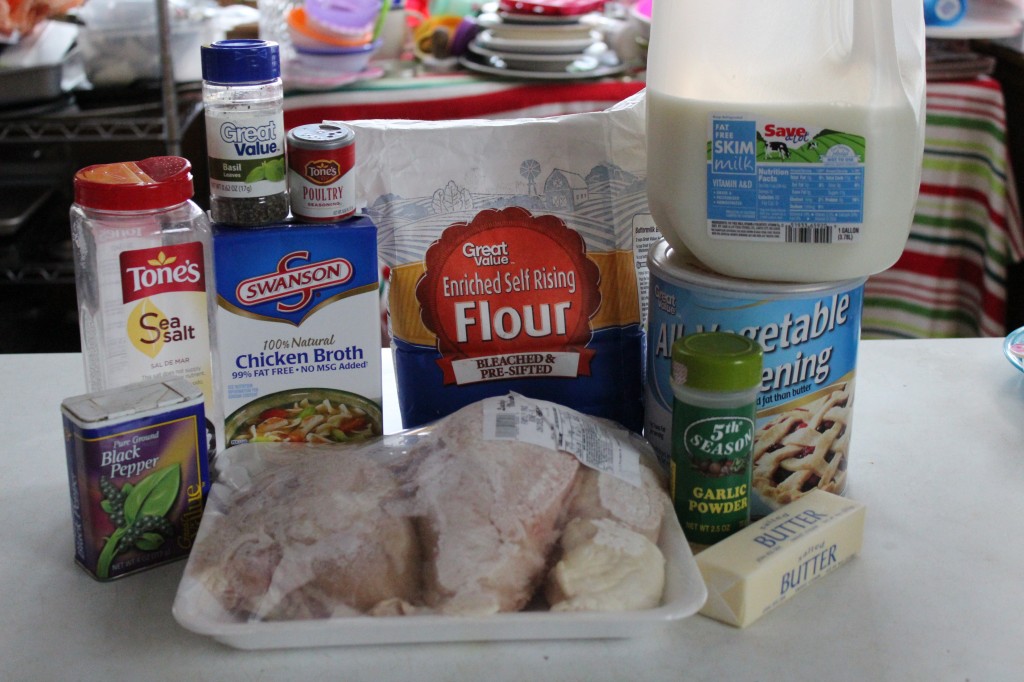 You will need some chicken breast, chicken broth, salt and pepper, garlic powder, butter, shortening, poultry seasoning, basil, self rising flour and milk.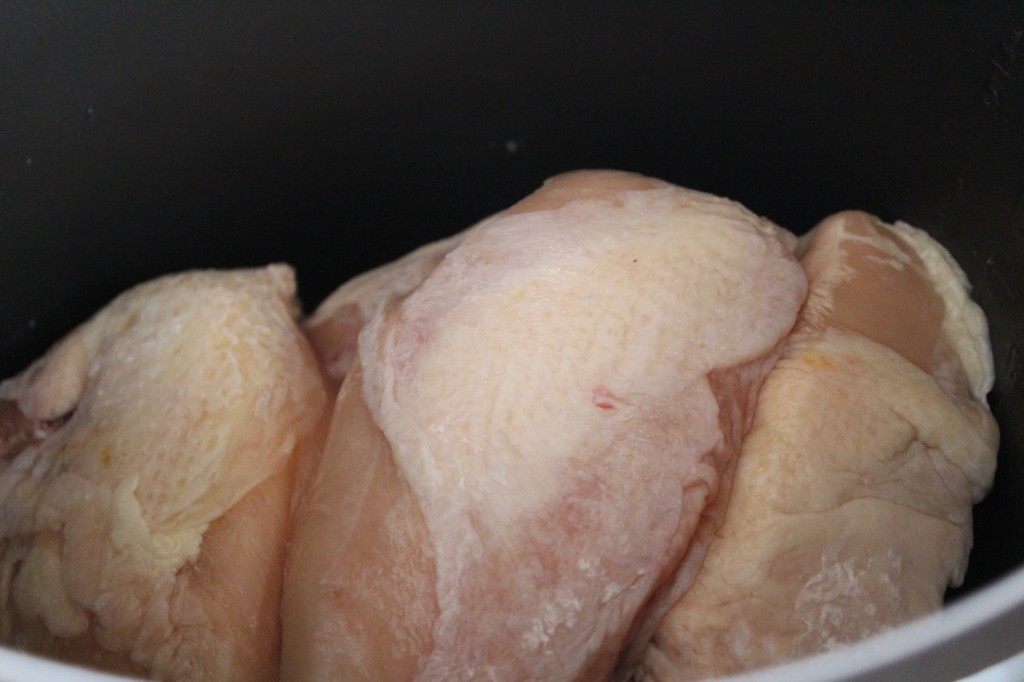 First thing I did was cook my chicken. I used my electric pressure cooker cause I was in a hurry, but you can bake  your chicken in a large casserole dish.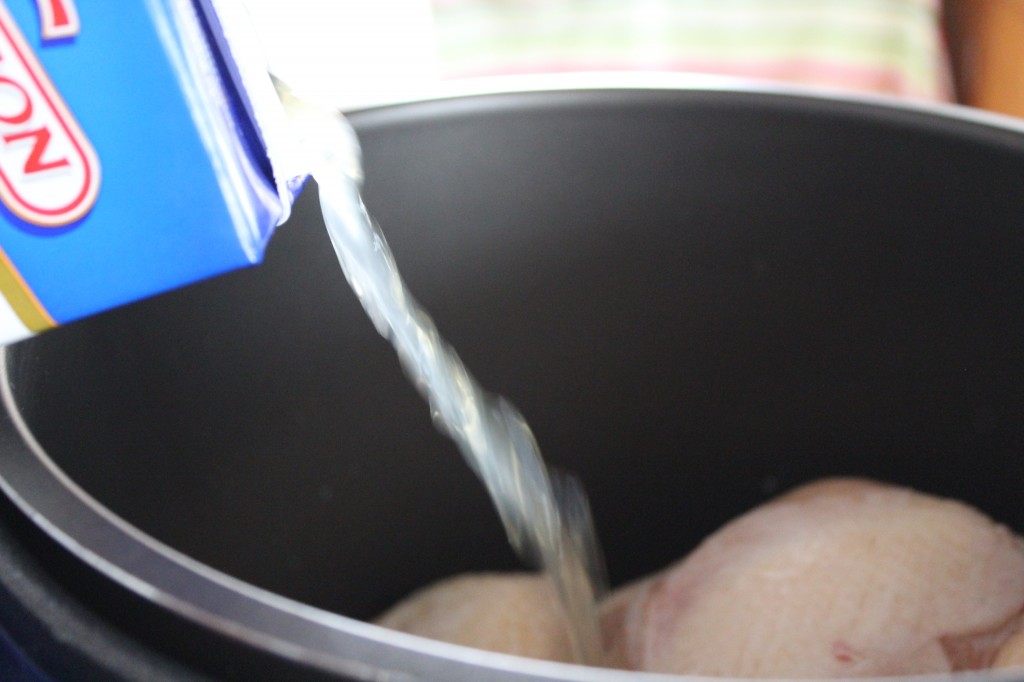 I put my chicken breast into the pressure cooker and poured in 4 cups of chicken broth.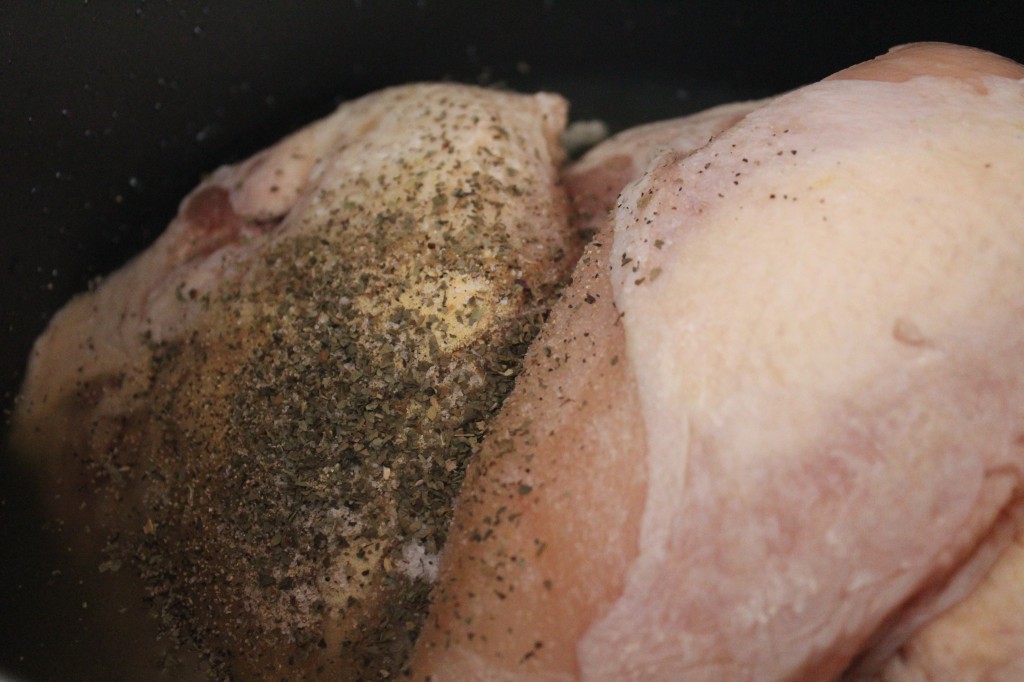 Season with salt, pepper, garlic salt and some basil. You can use thyme if you want instead of basil.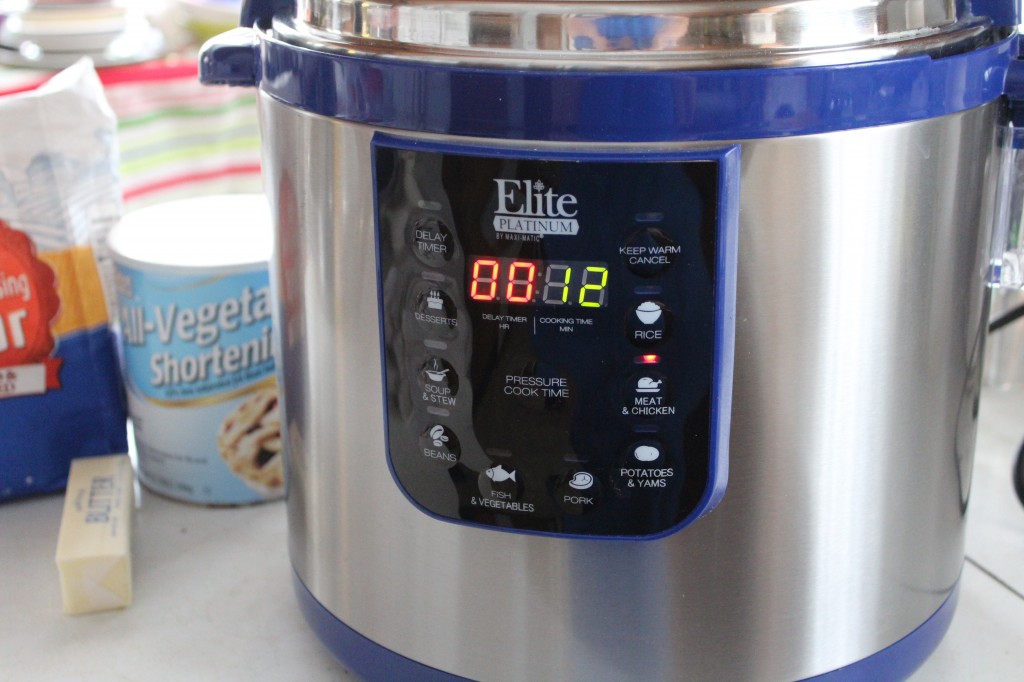 I put the lid on my electric pressure cooker and just hit the chicken button and wanted for the cooker to do the rest. If  you are using your oven and a casserole dish, just cover and bake your chicken at 375 degrees until the chicken is fork tender.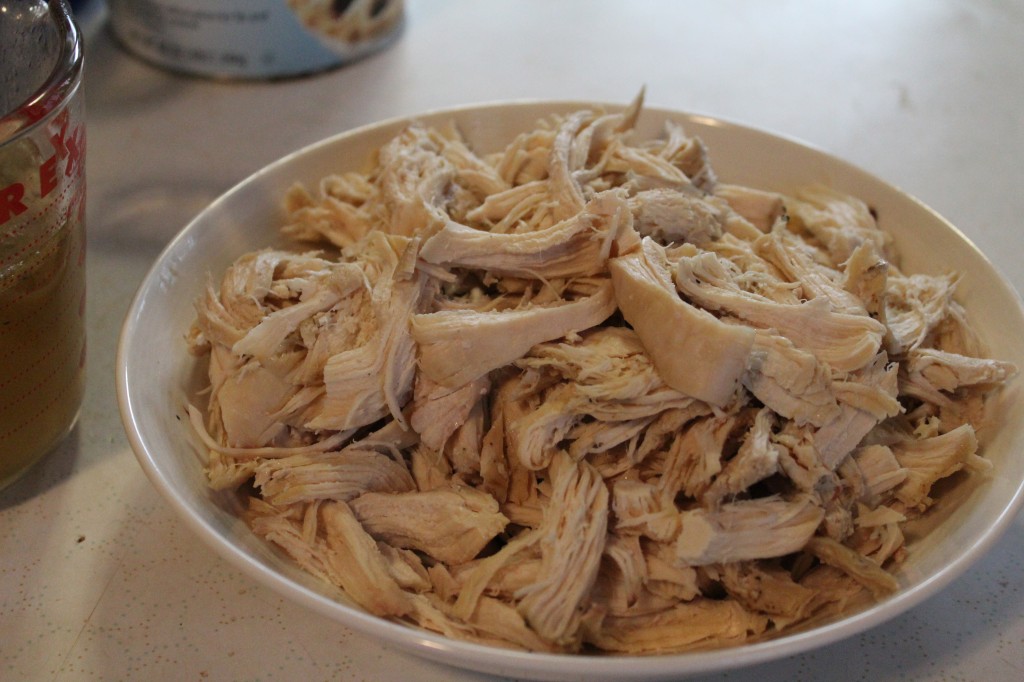 I took the chicken out and let it cool for 30 minutes and then I shredded the chicken.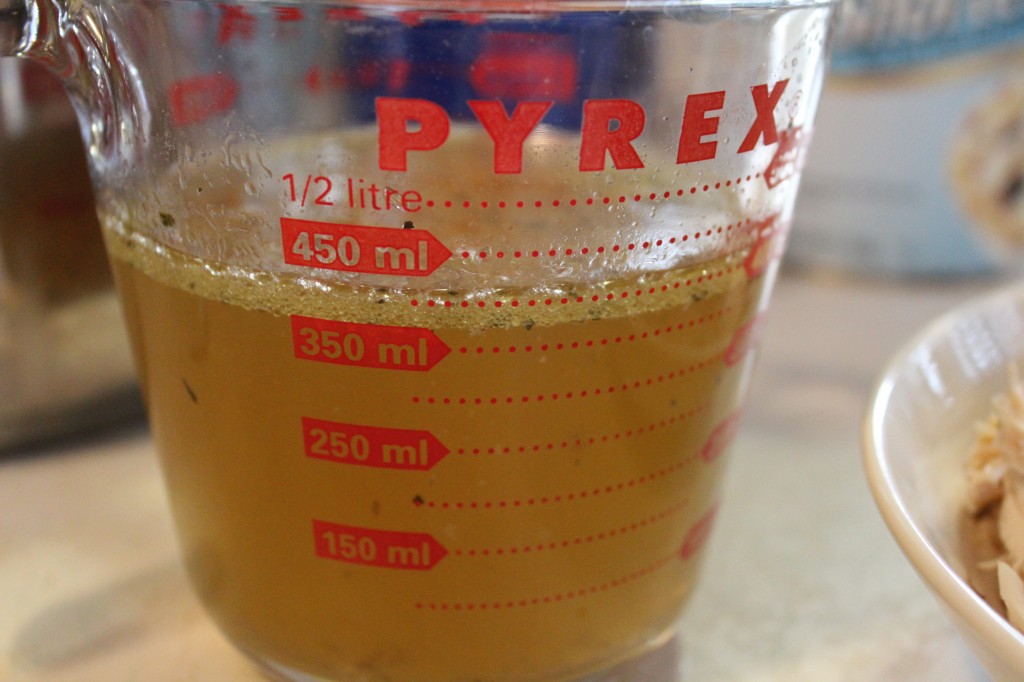 I saved the chicken broth and skimmed off as much fat as I could. You will use this chicken broth and add enough to total 8 cups.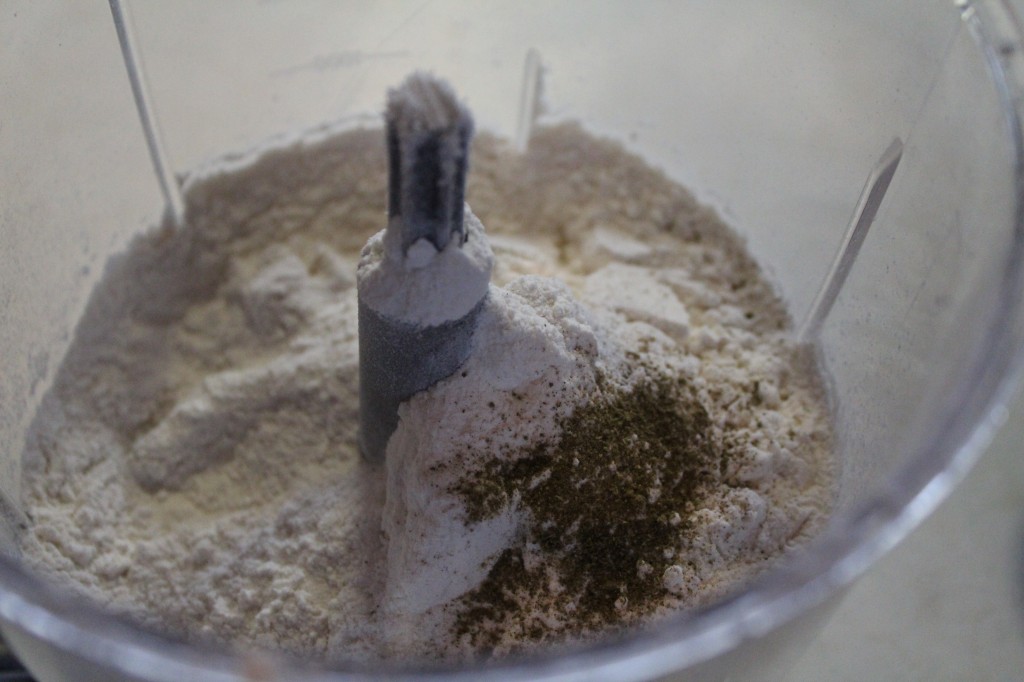 In a food processor or in a bowl with a pastry cutter, mix together the self rising flour and the poultry seasoning.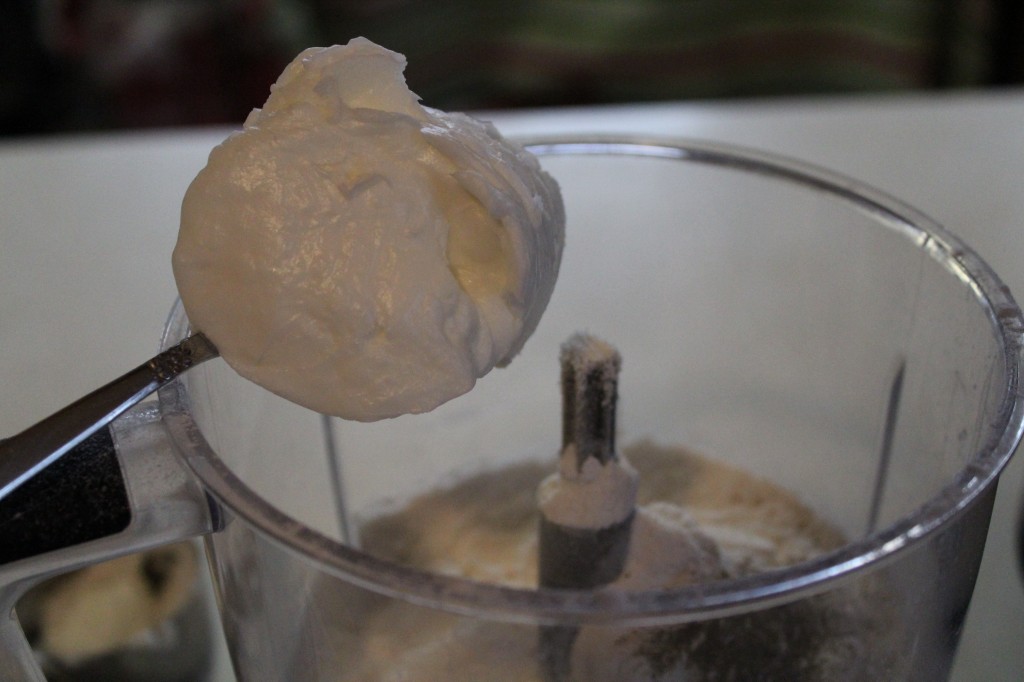 Add in the shortening.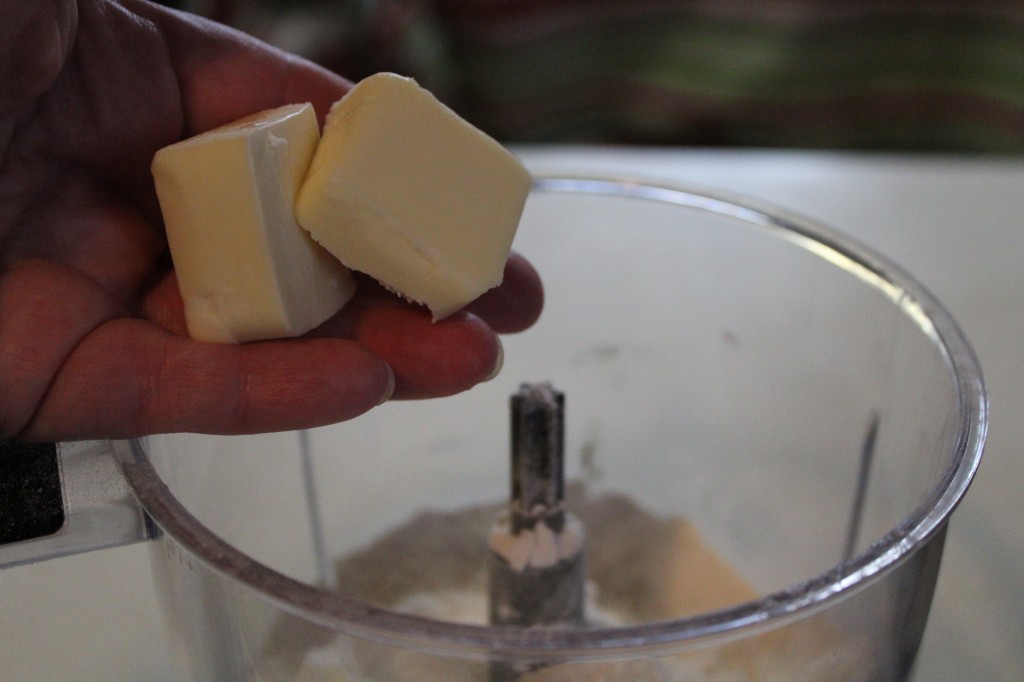 Add in your pats of butter. Using a pastry blender, cut in the shortening and the butter. If using a processor (I am using a small one) pulse until the shortening and butter is cut in and in small pieces.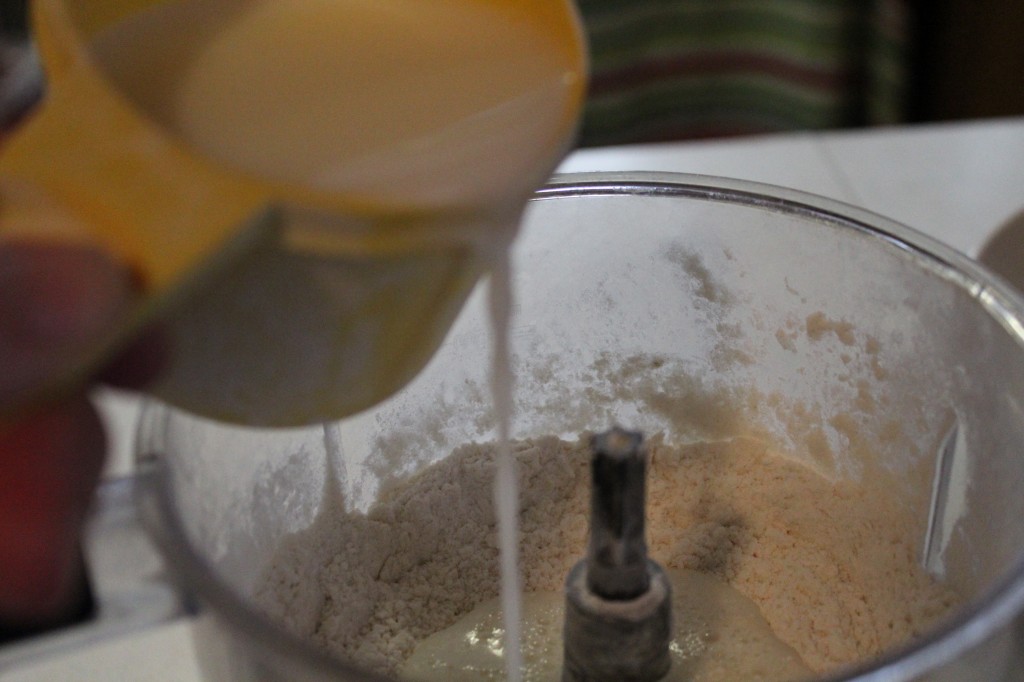 Stir in the milk and stir until a dough forms. It will be a little bit tacky.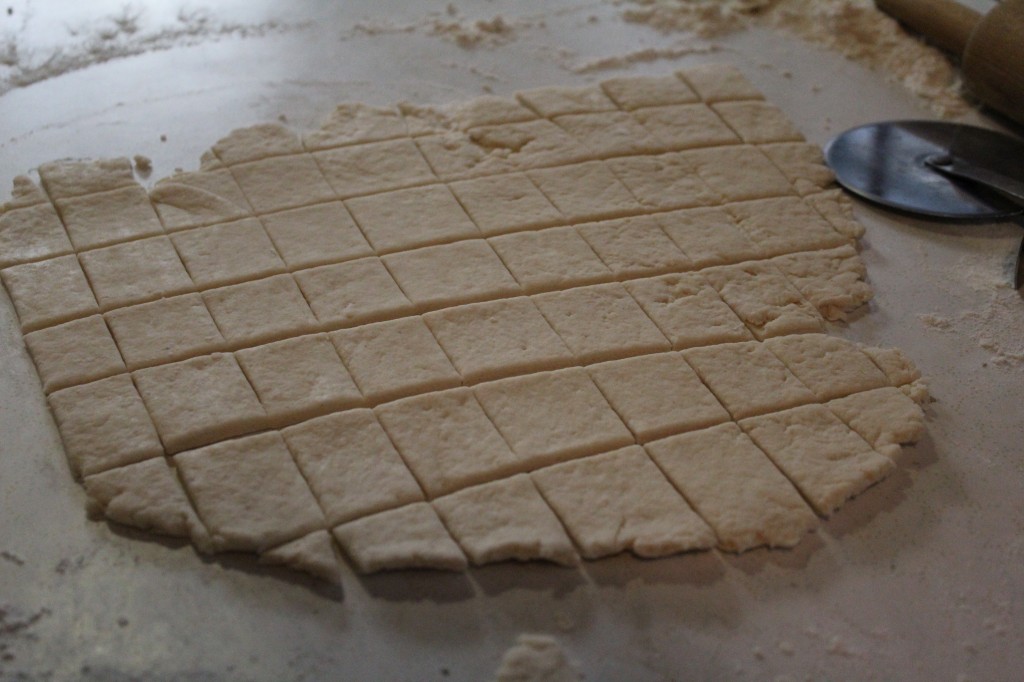 Sprinkle a small amount of flour on the counter and roll your dumpling dough out to 1/8 inch. Cut into squares with a pizza cutter.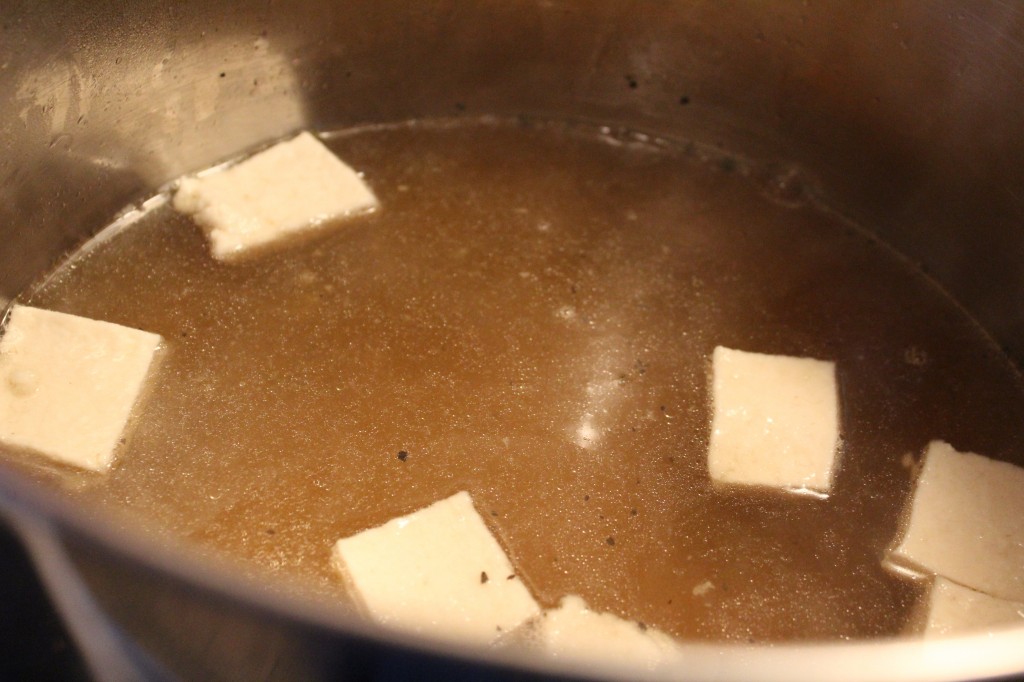 In a large stock pot, bring the 8 cups of chicken broth to a simmer and add in the dumplings. Stir gently, so the dumplings do not stick together.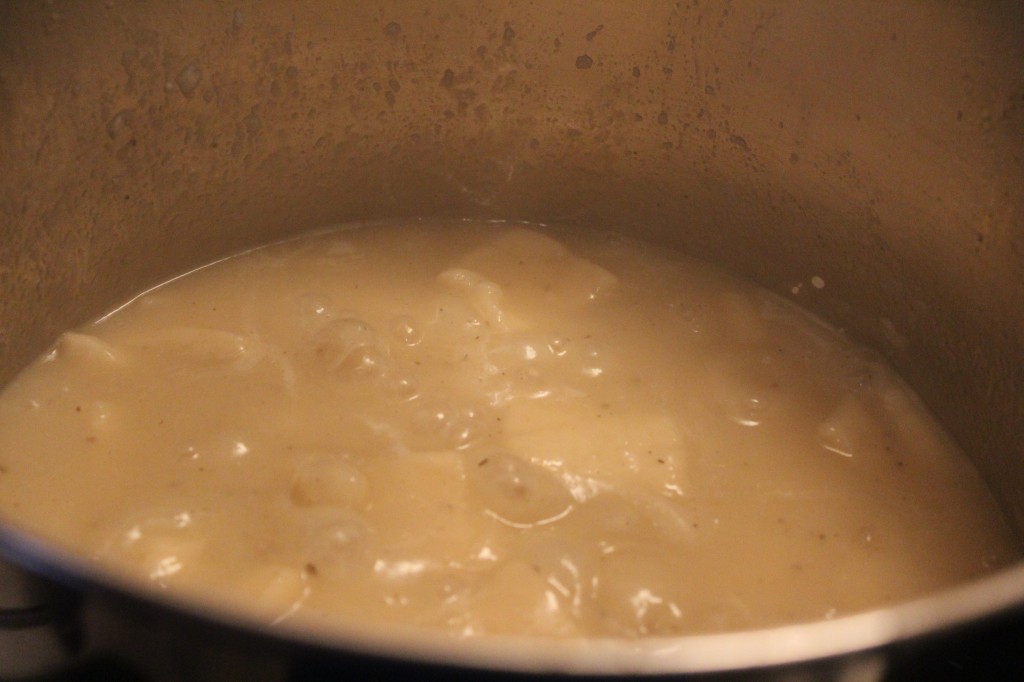 The dumplings will need to cook about 2o minutes at a slow simmer. The broth will thicken from the flour on the dumplings. Occasionally stir gently to keep the dumplings from sticking to the bottom of the pan.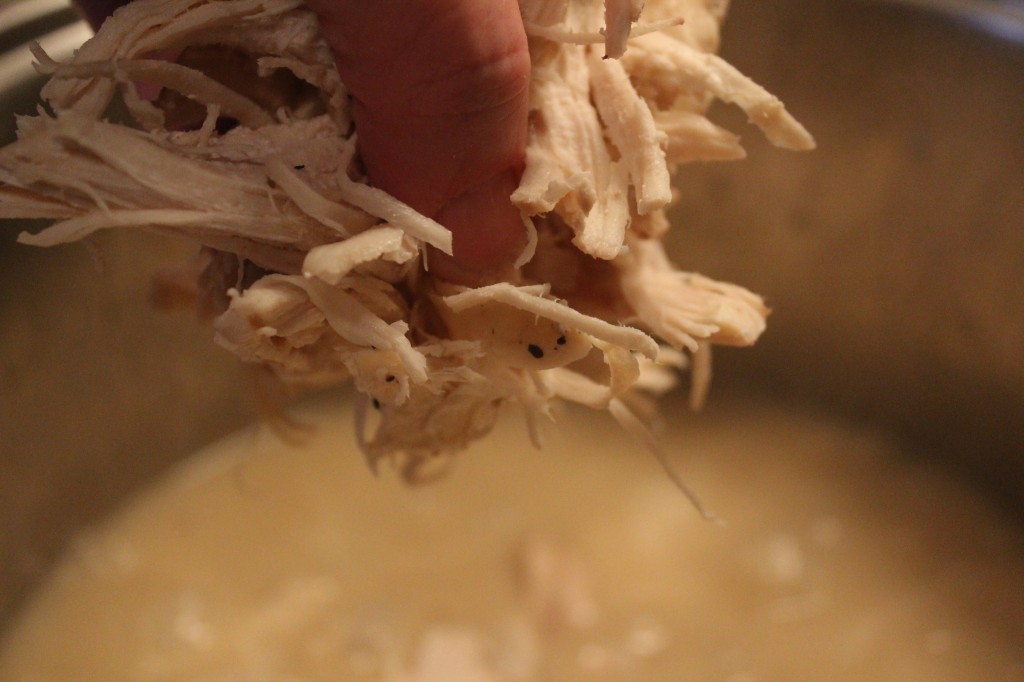 Lastly, stir in the shredded chicken. Simmer until the chicken is heated through.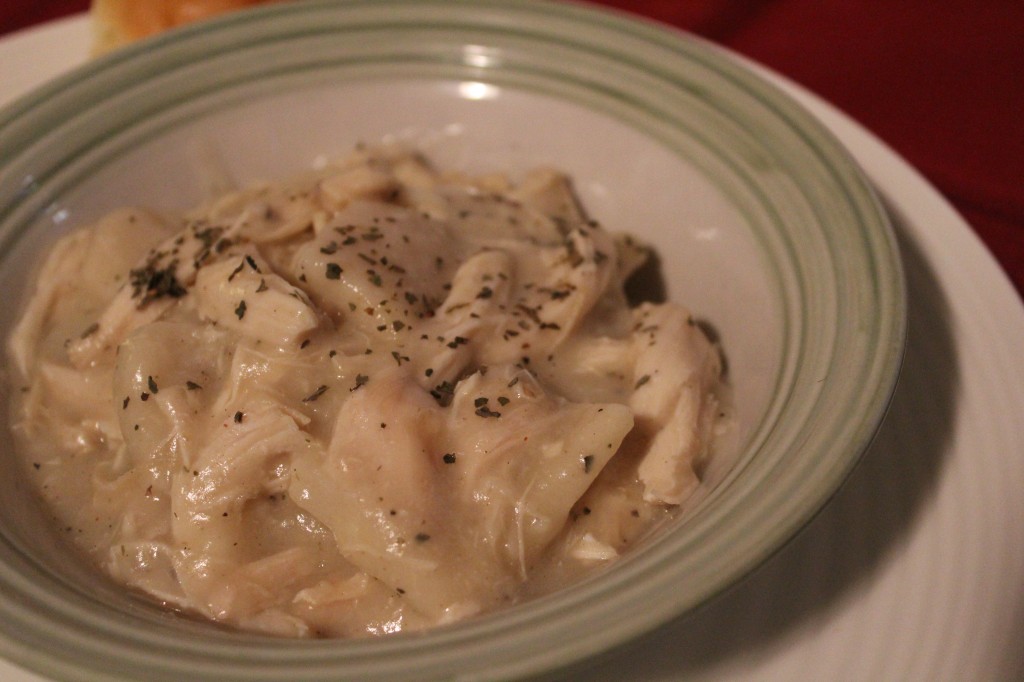 Look, it is done already. I sprinkled some parsley on top of my dumplings to add a little color.
Can  you see the big chunks of chicken and all those tender dumplings?
There you go!
A whole bowl of comfort…all ready for your fork!
Enjoy!
Becky
Here is the recipe:
Adapted from Southern Living
Ingredients:
1 – 3 1/2 pound whole chicken or 3 large chicken breast (you would like to have a total of 5 cups of shredded cooked chicken.)
8 cups of chicken broth
1/2 teaspoon garlic powder
1 teaspoon salt
1/2 teaspoon pepper
1/2 teaspoon dried basil
Dumplings:
3 cups self rising flour
1/2 teaspoon poultry seasoning
1/3 cup shortening
2 tablespoon butter
1 cup of milk
garnish with parsley
Directions:
Bring chicken, broth, salt, pepper, basil and garlic powder to a boil. Turn down and simmer for one hour. I did my chicken in my electric pressure cooker.
When done remove chicken and reserve the broth. Let the chicken cool for 30 minutes then skin, remove the bones and shred the chicken. Try to skim as much fat off as  you can from the broth.
To make the dumplings, In a large bowl combine your self rising flour and poultry seasoning. With a pastry blender, cut in the shortening and butter. Stir in the milk to make a dough. Turn the dough out on a lightly floured surface and roll dough out to  1/8 inch. Using a pizza cutter, cut the dumplings into 1 inch squares.
In a large stock pot, add the reserved chicken broth. Bring the broth to a simmer, and then add the dumplings. Stir gently to keep dumplings from sticking together. Cover and simmer dumplings for 20 to 25 minutes. Stir often so they do not stick.
When dumplings are done cooking and the sauce has thickened from the flour on the dumplings, add in your shredded chicken. Gently simmer until the chicken is heated through. Garnish with parsley is  you so desire.
Here is a couple of other recipes you might want to give a try:
Blackberry/Blueberry Oat Cake         Chocolate Brownie with Macaroon        Strawberry Cake