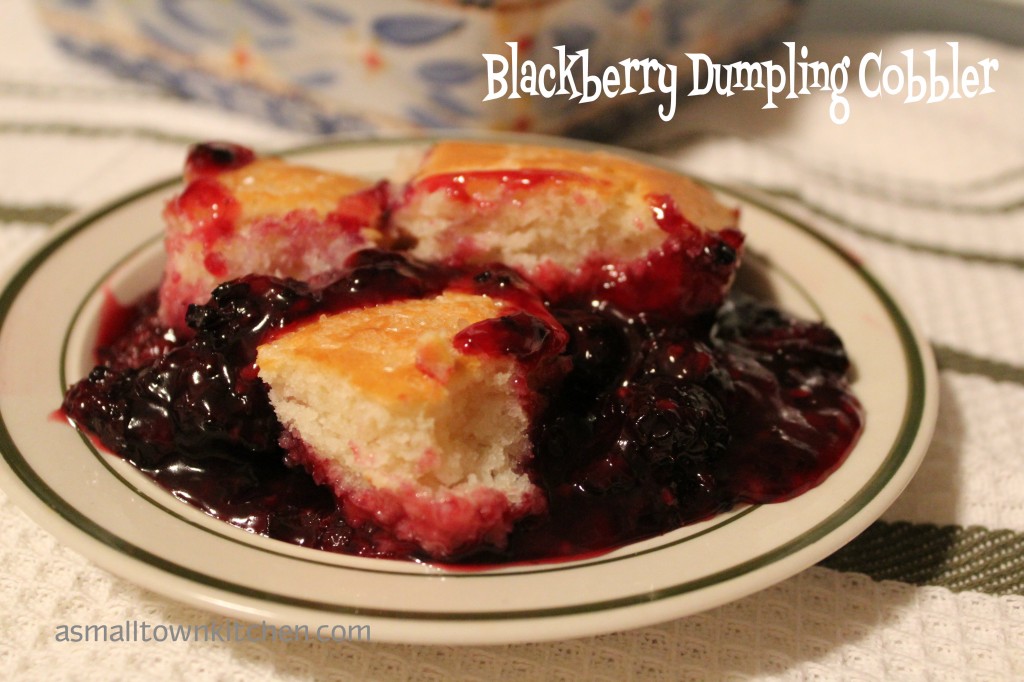 Do you like to go and pick berries?
You do??
I do too!!
I love to pick berries. Blueberries, strawberries, raspberries, gooseberries and of course blackberries.
One of my favorite memories of picking berries was way back when Oldest Daughter was about 2 years old. My older sis Niener Wiener and I, went to my Aunt Pat and Uncle Larry's house way out in the country to pick wild blackberries. Aunt Pat gave us careful directions of where to park the car and the best place to climb over the barb wire fence. Bet you all did not think I could climb over a barb wire fence. Well, actually you don't climb over a barb wire fence, not unless you are like 7 feet tall…..if you think about it, you will understand why. To get over the fence, you actually pick a place in the barb wire fence that is kinda loose and stretched out and you put your foot on the one string of barb wire fence, while you hold the other string way above your head and you climb through. It helps to have someone hold the top string so you can concentrate on not getting your bottom caught on a barb. Worse comes to worse. I have even shimmied under a barb wire fence if you can find a good place were the ground sinks down.
Anywho…I was talking about picking berries not climbing fences. I get off track so easily… : )
Niener Wiener and I made it through the barb wire fence and walked across a long field until we spied our beloved wild blackberries. We have already crossed a one lane bridge over a creek, parked the car on a gravel road, climbed a barb wire fence…now we just have to watch out for thorns. Wild blackberries are full of thorns. It helps to wear long sleeves and to take your time. Niener and I picked until we pretty much picked all the branches clean and headed back to Aunt Pat's with our haul of juicy berries. We were hungry, bleeding and hot.  Aunt Pat had bowls of Campbell's tomato soup waiting for us for lunch. We had picked so long, she about gave up on us stopping for lunch.  We had so much fun. I remember making my first batch of blackberry jelly from those berries.
It was a great day.
So many precious memories.
I want more of those days!
So, because I love blackberries, and Company loves blackberries, and it is one berry that Oldest Daughter does not particularly like of because of the seeds….please…..really……I am always looking for new recipes for blackberries. I seen this Blackberry Dumpling Cobbler recipes and I could NOT pass up giving it a try.
Well not just one try….I made it three times to get it just right.
Just for you!
Here is what you need to make this simple cobbler.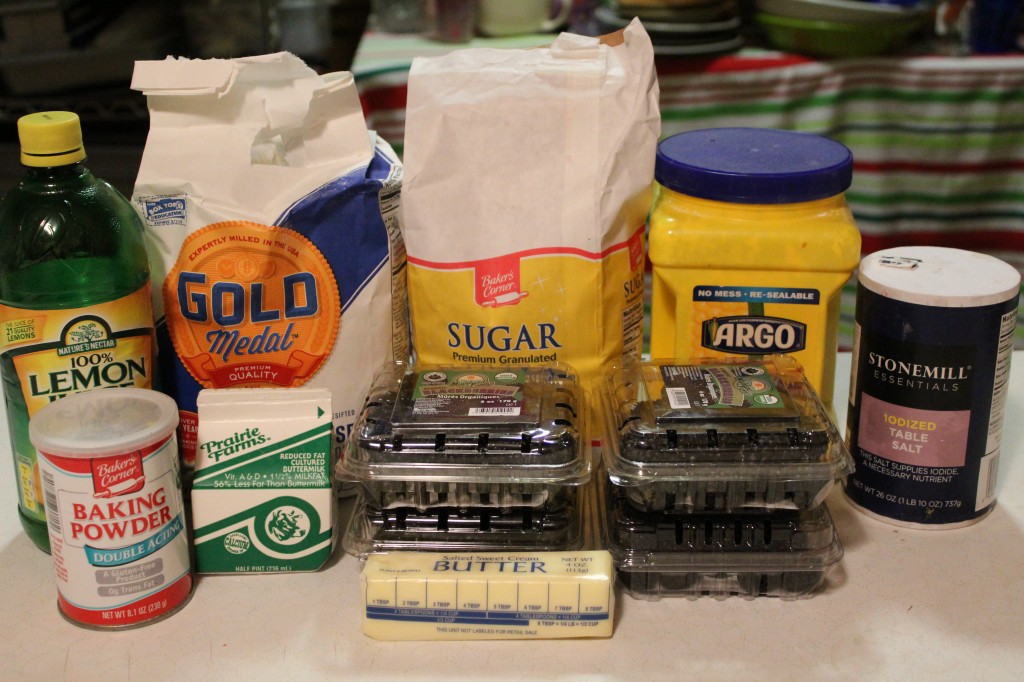 You will need about 4 cup of blackberries, sugar, butter, almond flavoring (sorry I forgot to put it in the picture) salt, buttermilk, baking powder, flour, cornstarch and lemon juice.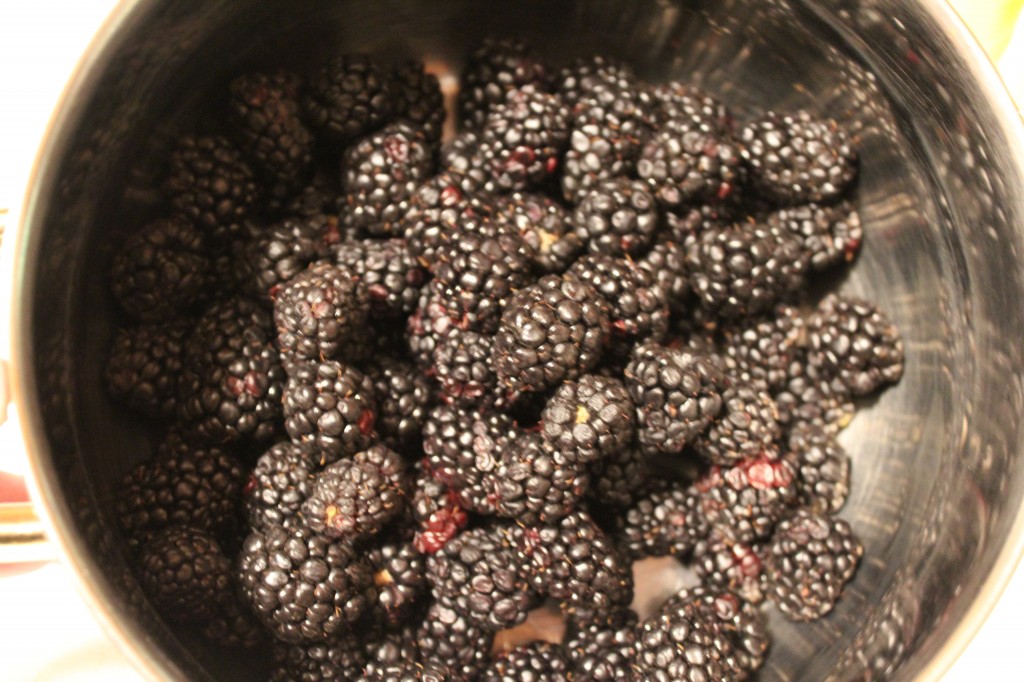 First thing you do is put the blackberries in a medium size sauce pan.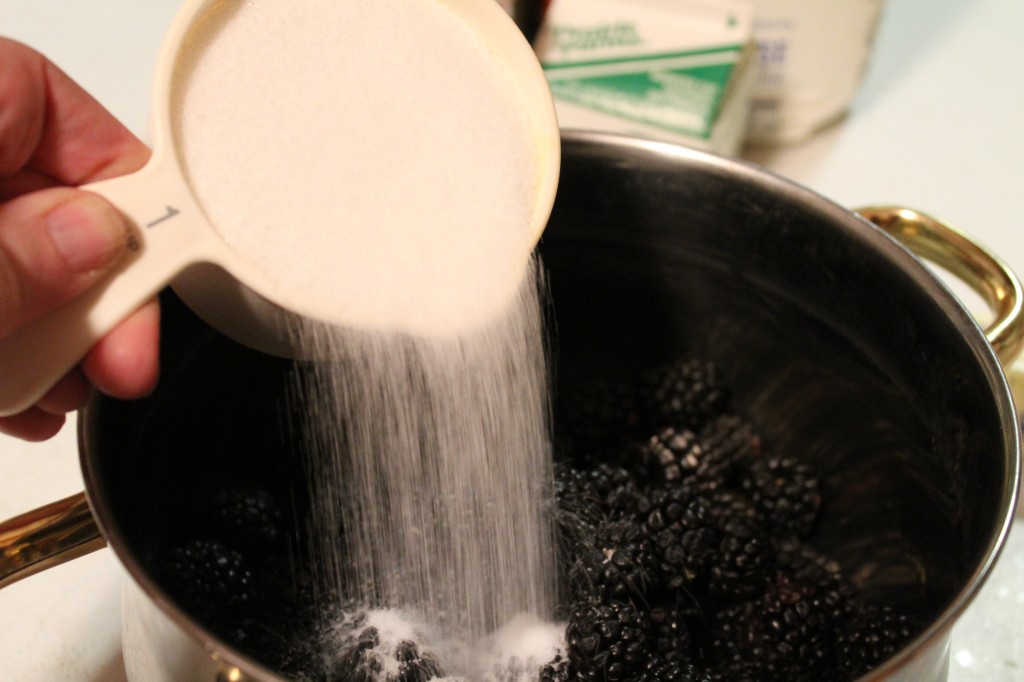 Pour in your sugar.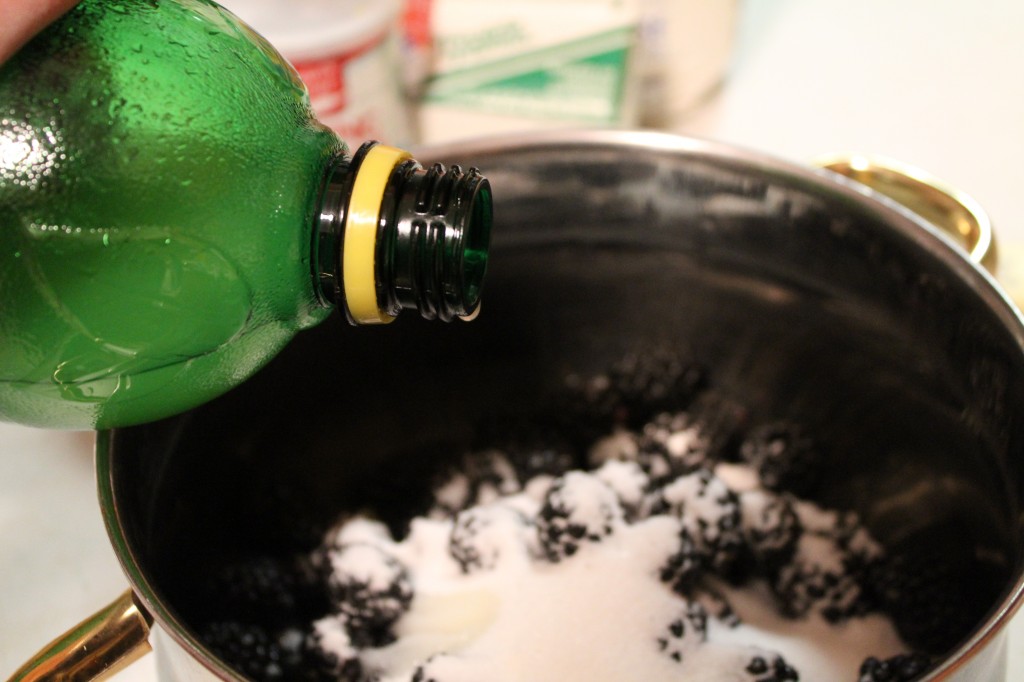 Add in  your lemon juice.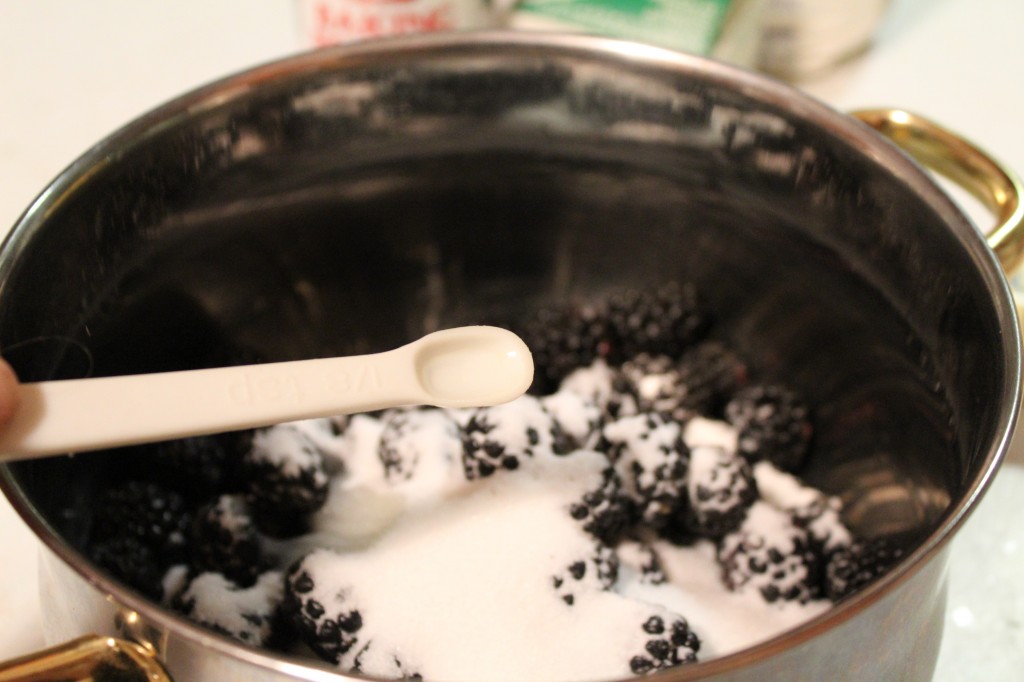 A small amount of almond flavoring.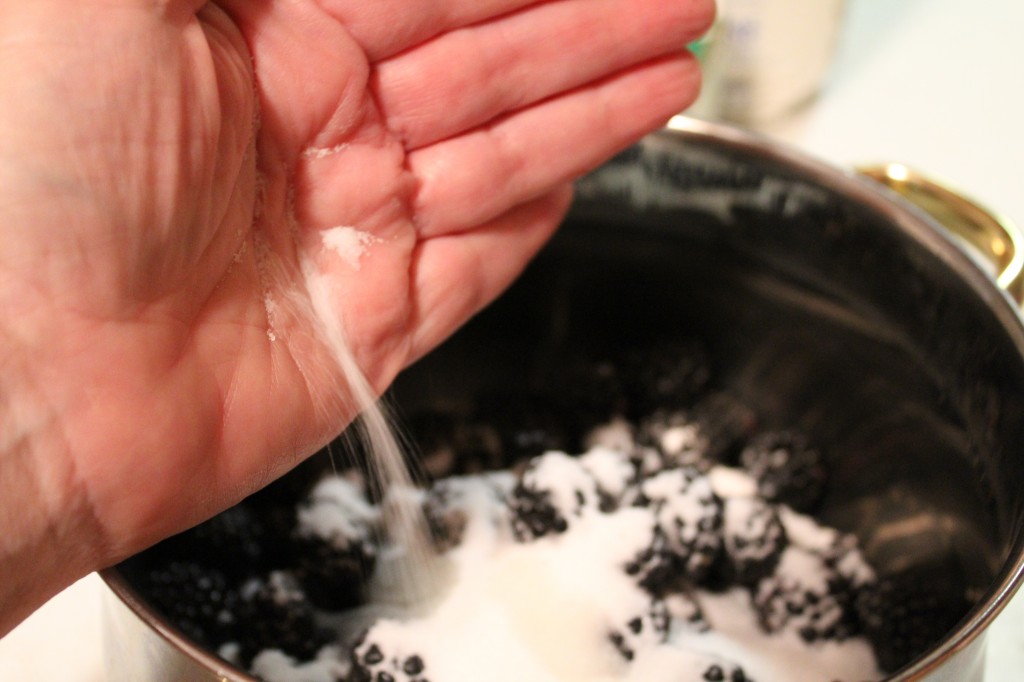 A dash of salt.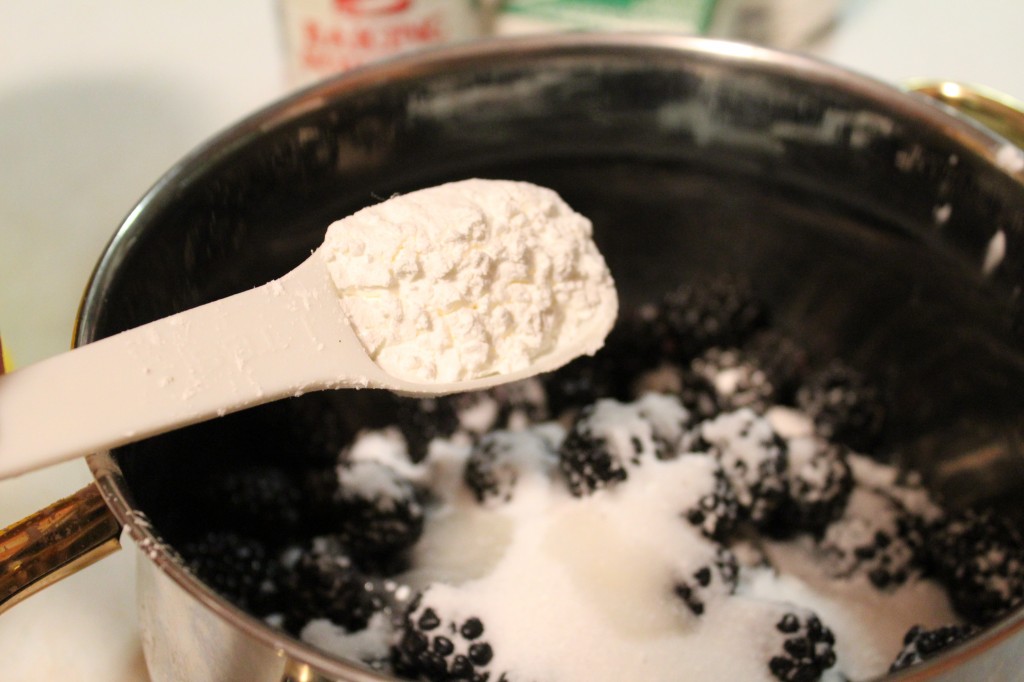 Time for the cornstarch for thickening.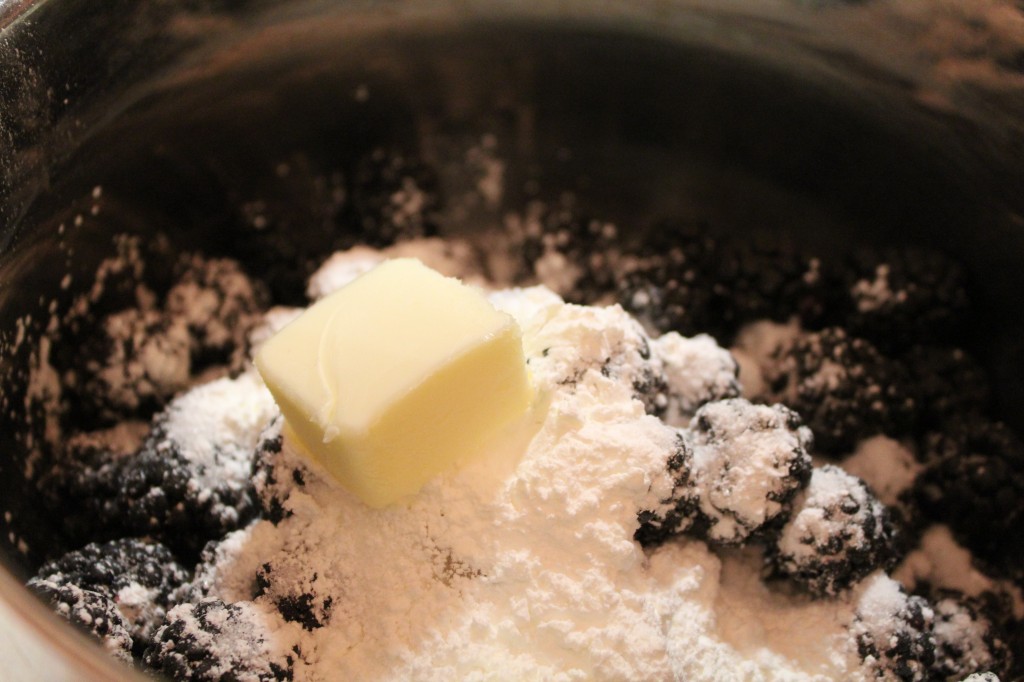 Some yummy butter.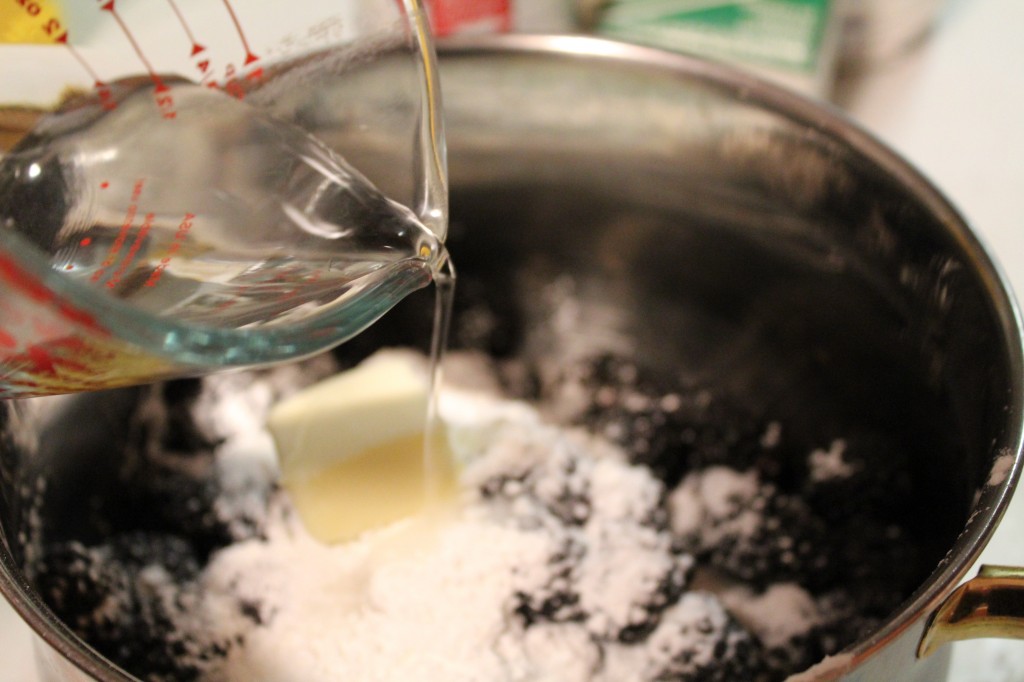 Last but not least, pour in the water.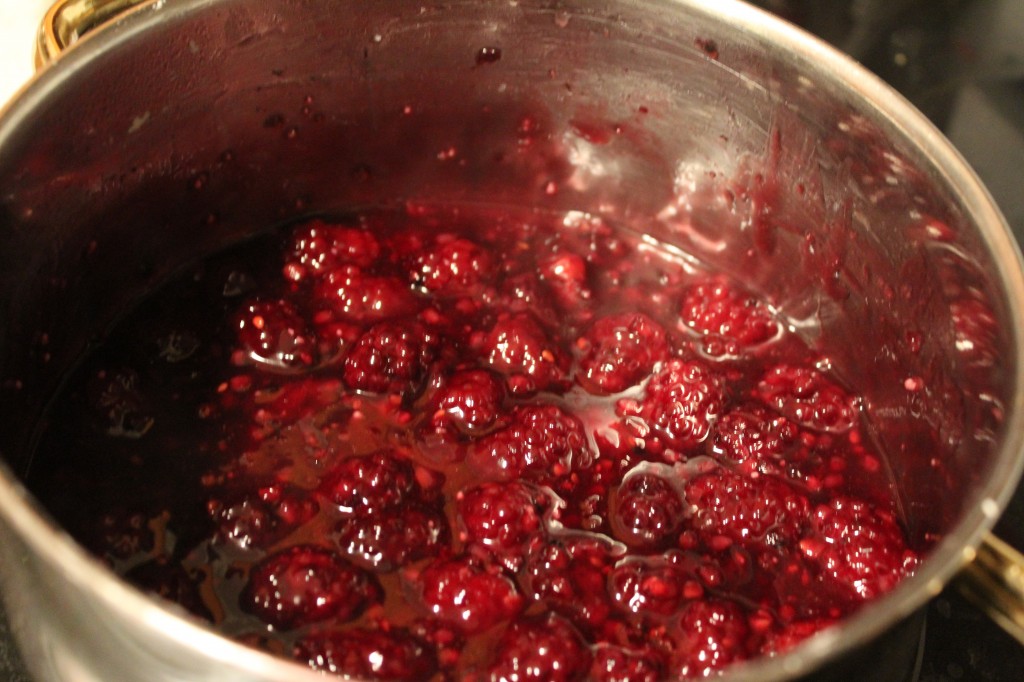 Over medium heat, cook the blackberry filling mixture until it bubbles and becomes thick.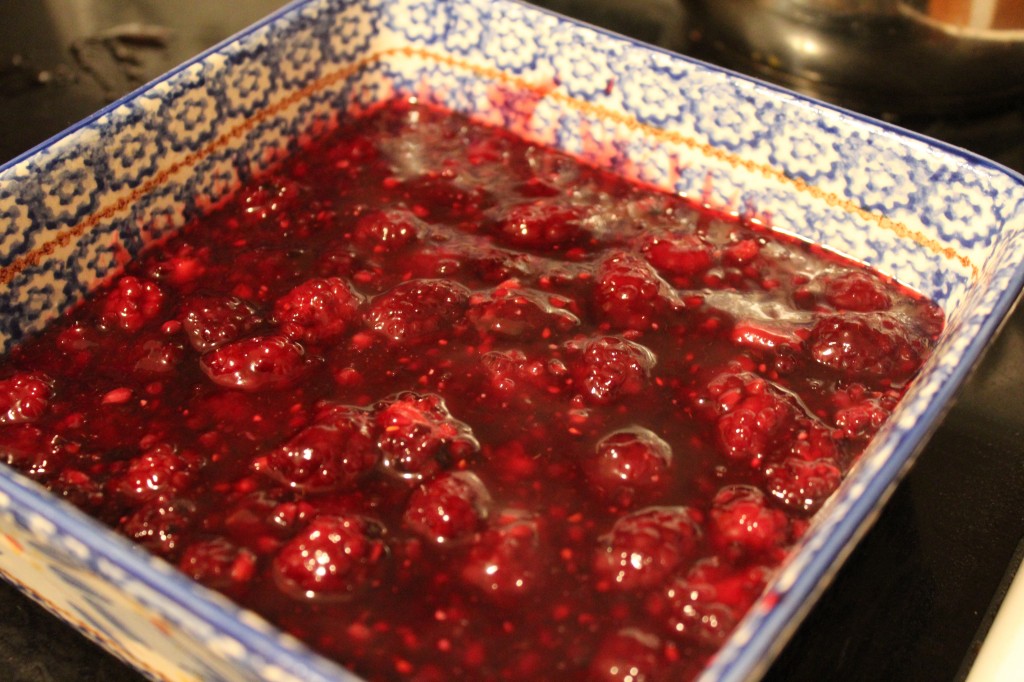 Pour the filling into a 9 by 9 baking dish.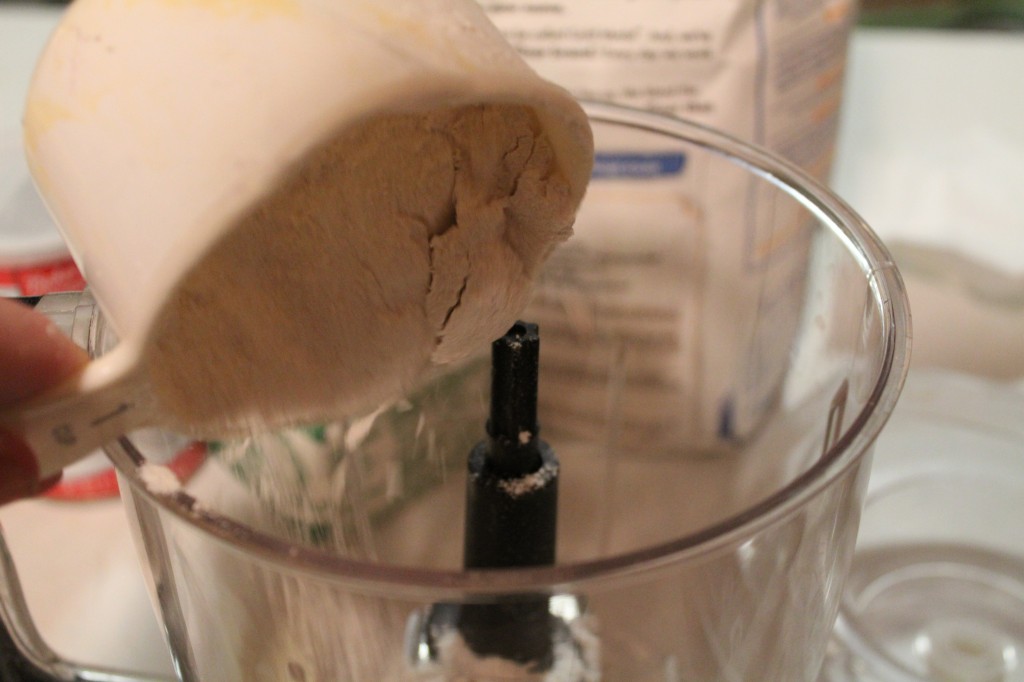 Now it is time to make the dumplings. I used my little pulse blender to make my dumplings, but you can you your pastry cutter to add in the butter.
First thing I did was measure out the flour and add it into my little blender. You can do this in a bowl.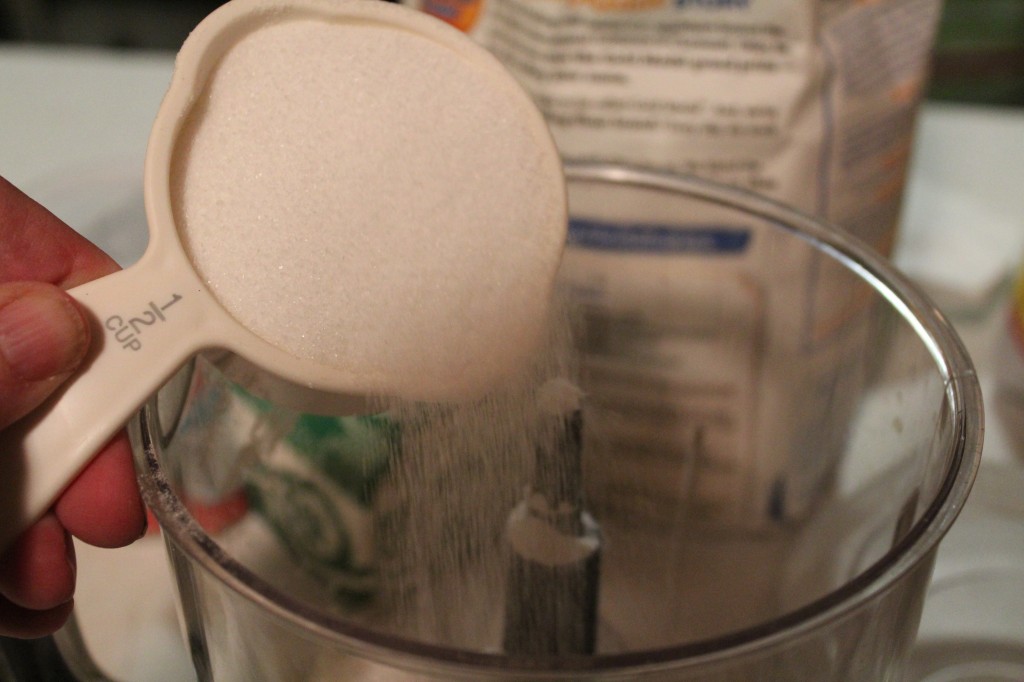 I added in the sugar next.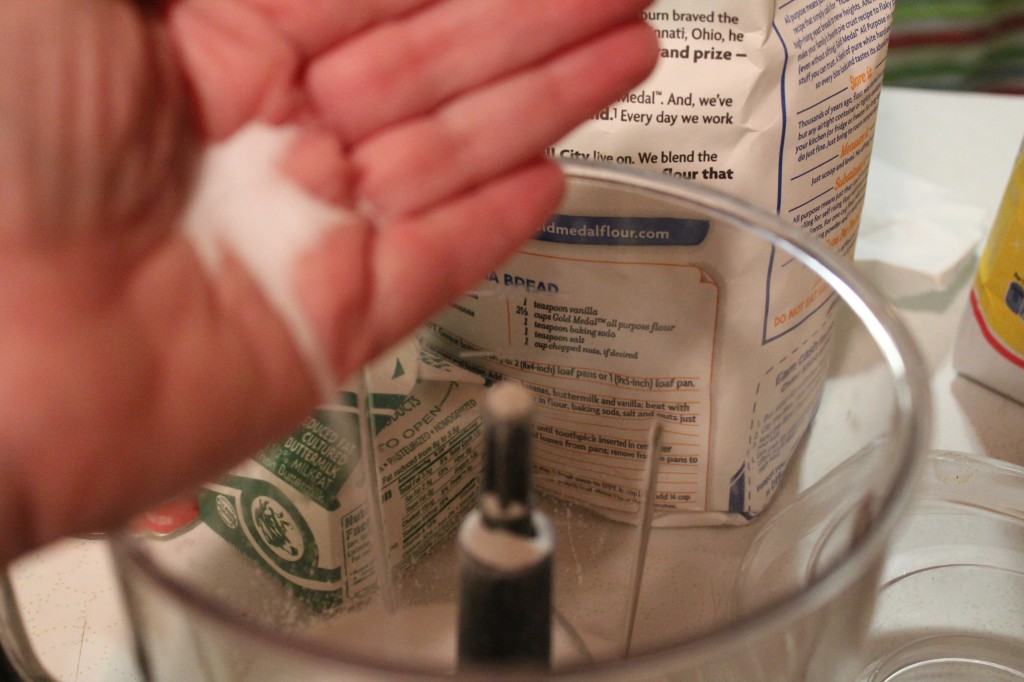 Added in some salt.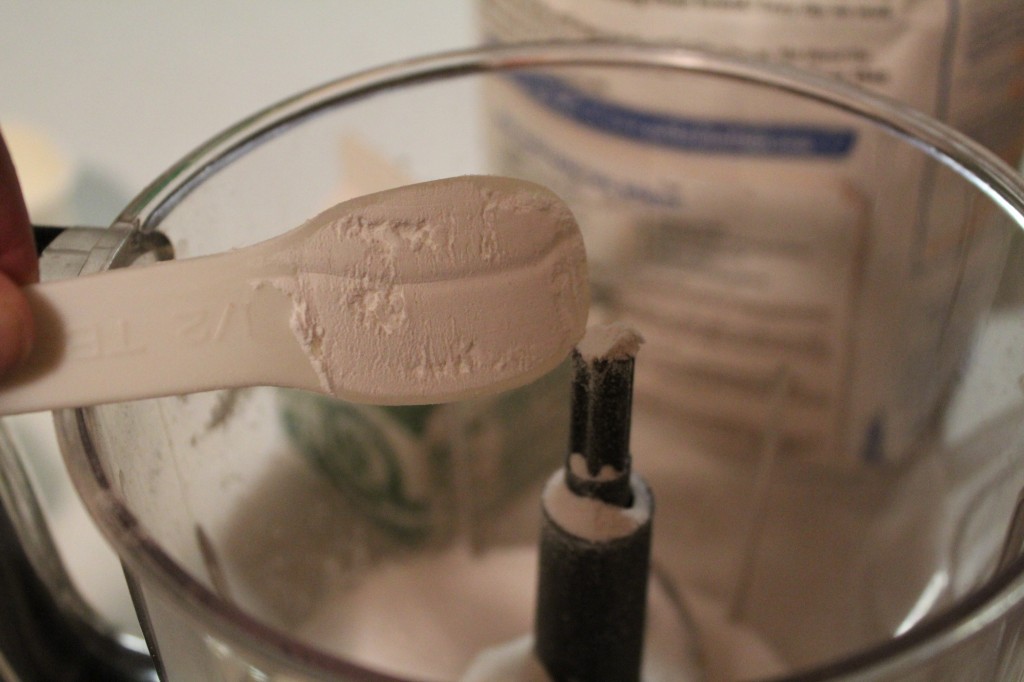 Next, I added in my baking soda.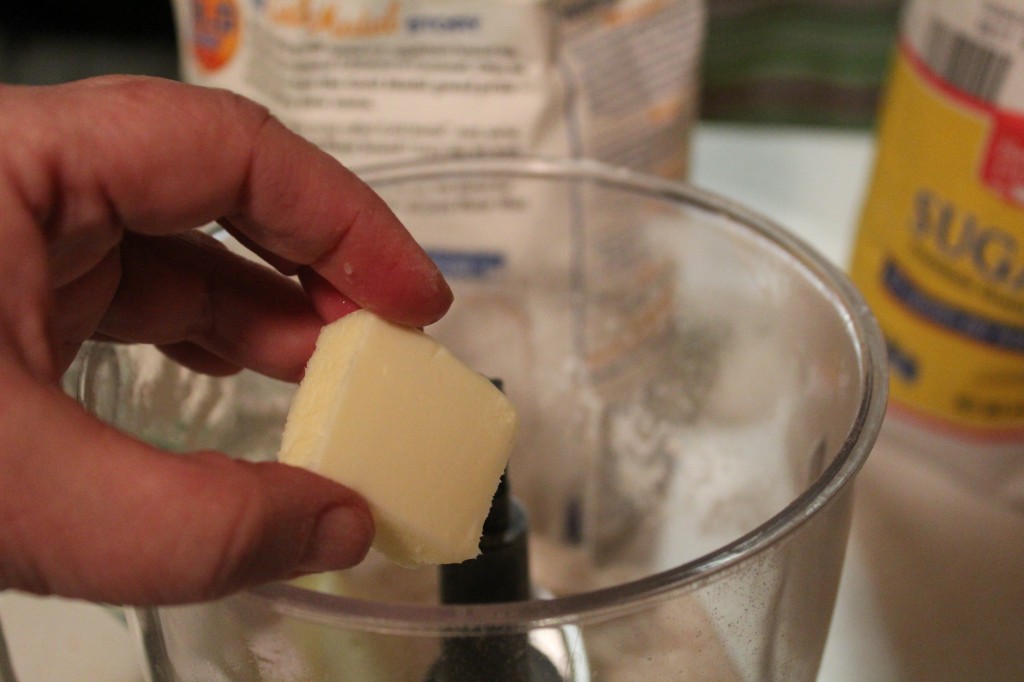 I mixed the dry ingredients together for a couple of pulses to mix the dry ingredients together. You can do this in your bowl with a spoon. Then I started adding in my butter.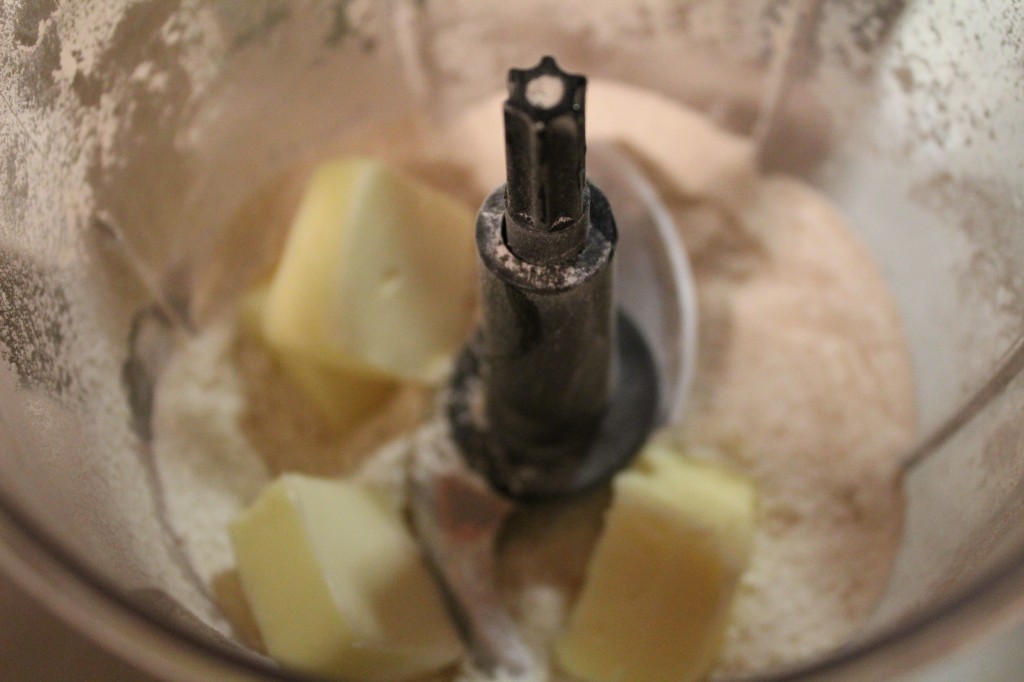 I pulsed the cold butter a few times to get the dumpling mixture to look grainy. You can cut in your butter with a pastry blender if you are not using a little blender.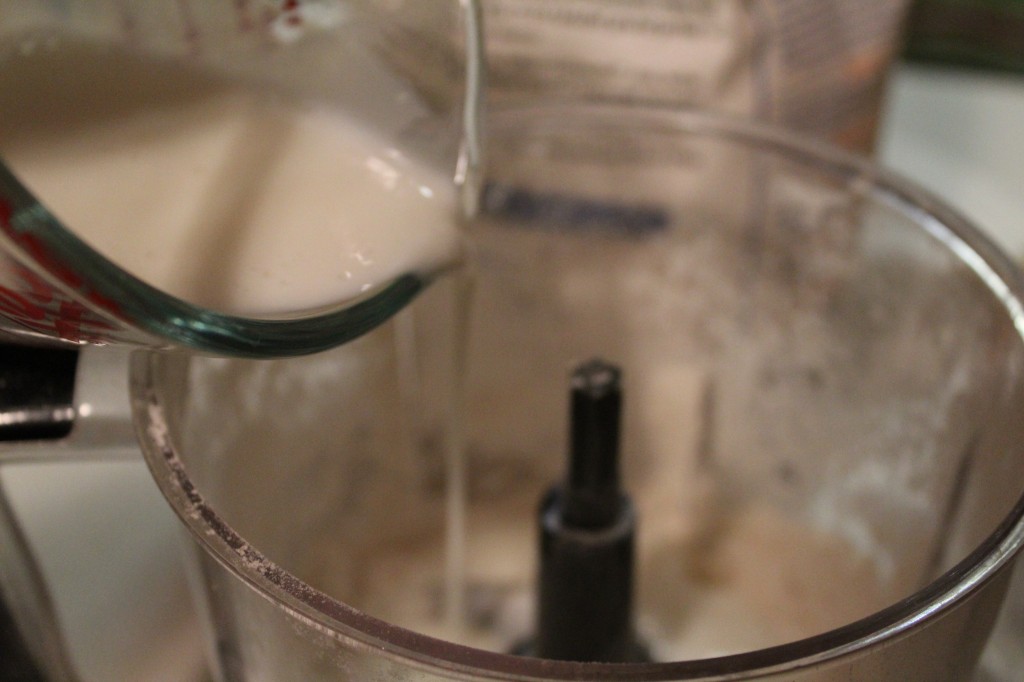 Add in your buttermilk. Only add in enough buttermilk to make a soft dough that you can spoon out.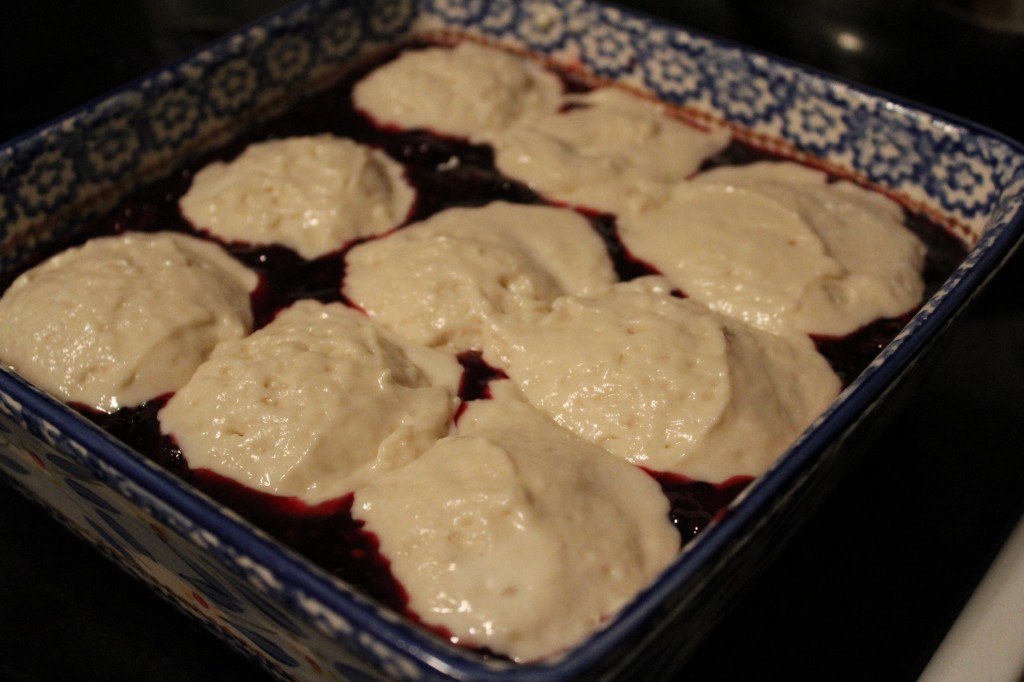 Dollop  your dumplings on top of the blackberry filling.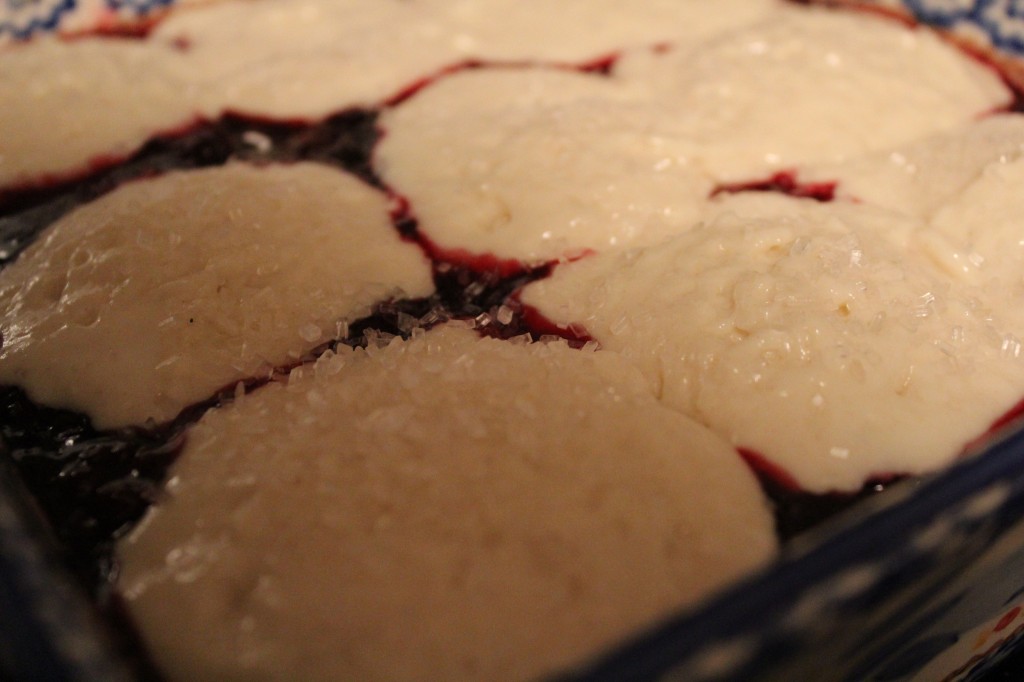 I sprinkled sanding sugar on top of the dumplings to give them a sweet top and to add a little crunch. Put the cobbler in the oven, preheated to 350 and bake for 25 minutes, or until the filling is bubbly and the dumplings are cooked through.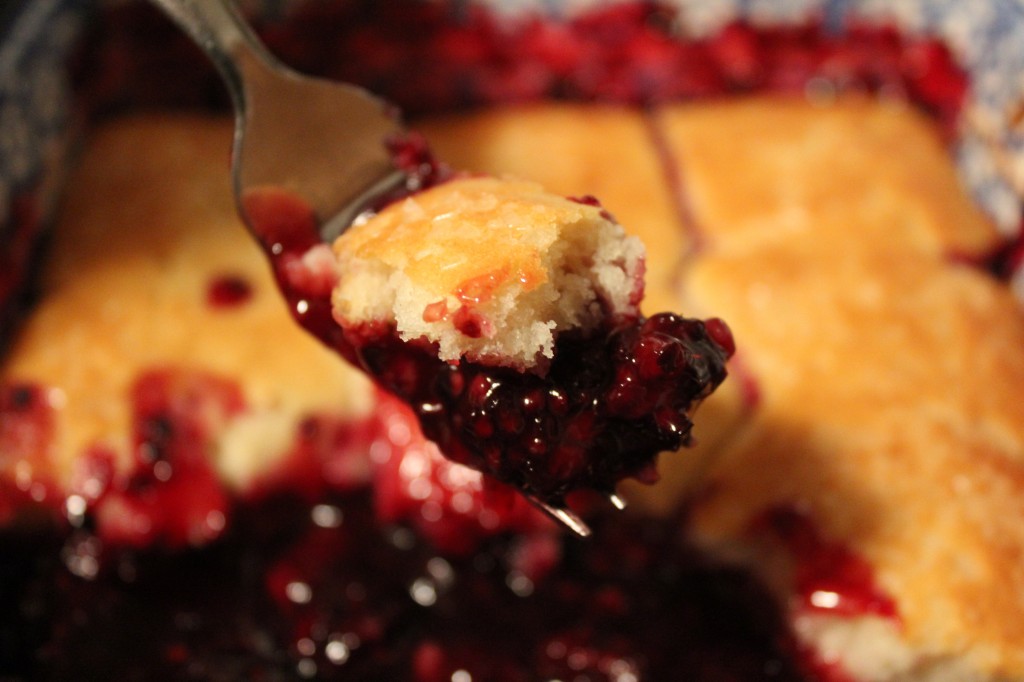 Don't you want to take a bite?
You have to pick some blackberries first.
Or….buy some at the store. : )
Enjoy!
Becky
Blackberry Dumpling Cobbler
Recipe Adapted from Old Church Cookbook
Ingredients:
Blackberry Filling:
1 tablespoon cornstarch
1 tablespoon flour
1 cup sugar
1 tablespoon butter or margarine
1/3 cup water
4 cups blackberries
1/4 teaspoon salt
1/4 teaspoon almond flavoring
Dumplings:
1 cup flour
1/2 cup sugar
1/2 cup milk or buttermilk
1 1/2 teaspoon baking powder
1/2 teaspoon salt
1/4 cup butter cut into squares
Sanding Sugar optional
Directions:
In a medium saucepan, cook all of the blackberry filling ingredients, on medium heat, until the filling becomes thick. Pour the filling in a 9 by 9 baking dish.
In a medium size bowl, whisk together the flour, sugar, baking powder and salt. With a pastry blender, cut in the butter until they are small pea size pieces. Stir in the milk or buttermilk until the mixture comes together. If you feel that dumplings are a little dry, add in some milk a tablespoon at a time.
Spoon the dumpling on top of the filling. Sprinkle with sanding sugar.
Bake in a preheated 350 degree oven for about 25 minutes or until the filling is bubbly and the crust is light brown. (make sure the center dumplings are cooked all the way through).
Serve warm with some ice cream or by itself.
Enjoy!
Becky
Here are a few other blackberries recipes you may want to try.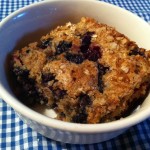 Oatcake with Blackberries and Blueberries