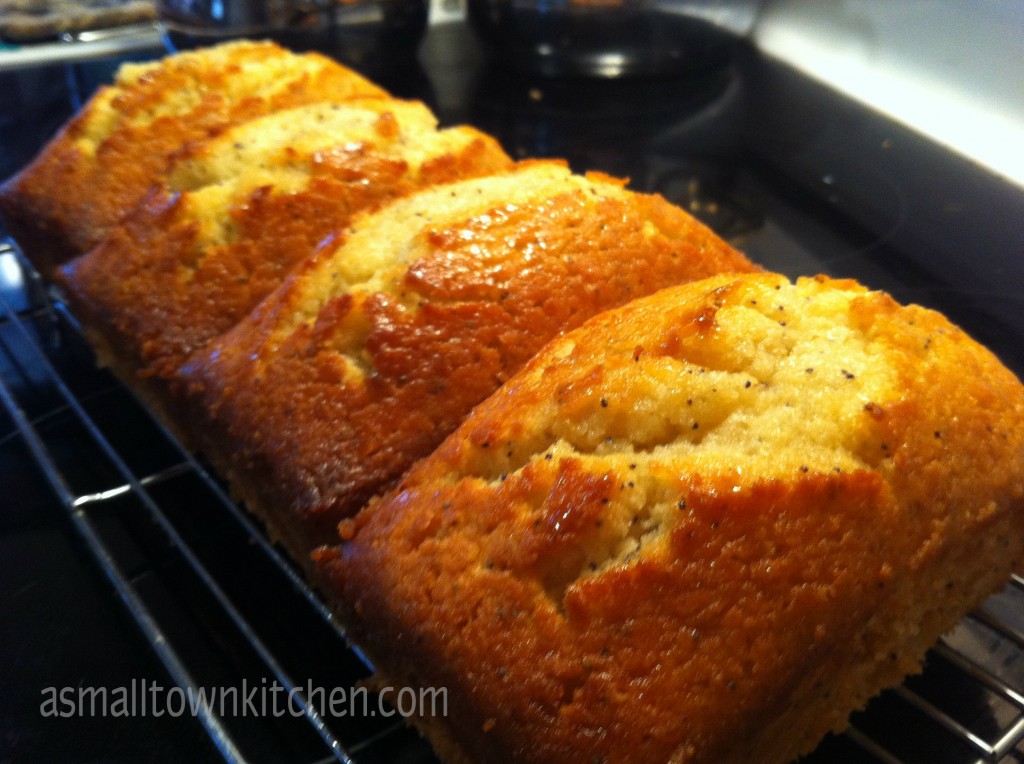 I made candy yesterday.
Today is baking day.
This is my favorite poppy seed bread recipe. It comes from a old local cookbook that was published in way back in 1973.
Pretty Old uh?
Sometimes, oldies are goodies.
A nice lady named Judy Wollard submitted this recipe. I do not know who Judy is, or if she is still alive, but she must be nice if she shared her recipe.  The cookbook belonged to my ex Mother In Law, Jackie. She belonged to the American Business Women's Association. The ABWA compiled a cookbook of favorite recipes and sold them to raise money. You could buy a copy for $2.00 each. I wonder how much money they made.
Jackie loved a good recipe. She left behind recipes she typed up on index cards, recipes she had cut of newspapers, and recipes she wrote down from her friends.
She had beautiful handwriting.
My children still ask for me to make some of her recipes.
Funny how a recipe can last longer that you can.
I love her recipes.
My family does too. When I asked them what they wanted on their goodie tray, they all said poppy seed bread.
This poppy seed bread is sweet and has a nice aroma of almond and butter with a dash of vanilla. While it is hot from the oven you pour on a orange juice and sugar glaze for an extra measure of moistness. Sounds perfect right?
It is.
Thank you Judy for sharing such a delicious recipe for my holiday goodie trays.
Thank you Jackie, for leaving me your cookbook.
Here is how you can make this holiday bread in your kitchen.
Becky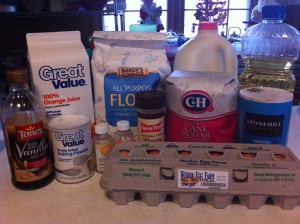 You will need, eggs, vanilla, baking powder, almond flavoring, butter flavoring, poppy seeds, sugar, salt, oil milk, flour and orange juice.
In a large mixing bowl, add the flour, salt, baking powder and poppy seeds. Next add the sugar. Mix all the dry ingredients together.
Add the oil, milk and butter and almond flavoring.
Add the vanilla and eggs. (that is baby college girl cracking the eggs) and mix together.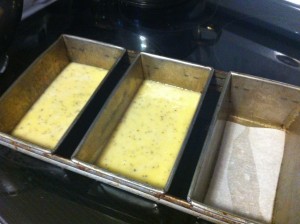 Evenly pour batter in small loaf pans lined with parchment paper. Or you can do two regular size loaf pans also.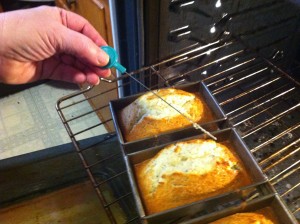 Bake until when you insert a cake tester in the bread and it comes out clean. This bread is not quite done.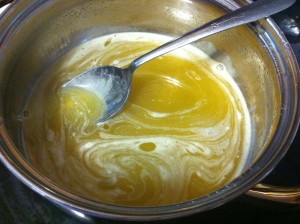 While the bread is baking, heat the orange juice, sugar, vanilla, and almond and butter flavoring.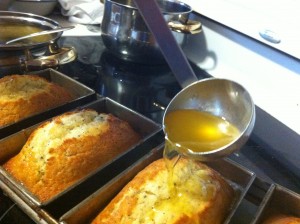 When the bread comes out of the oven, pour warm glaze over each loaf. If you want to, you can take a skewer and poke holes in the bread to allow the glaze to enter the bread easier.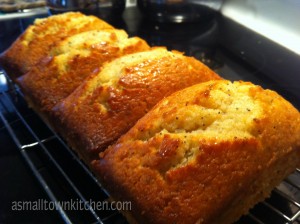 Take a knife and run around each loaf of bread to loosen from the sides of the pan. Take the bread out and cool on a cooling rack.
This is an oldie but goodie recipe.
Why change perfection?
Enjoy!
Becky
Poppy Seed Bread
Ingredients:
3 cups flour
1 1/2 teaspoon salt
1 1/2 teaspoon baking powder
2 1/4 cups sugar
1 1/2 tablespoon poppy seed
1 1/2 cup milk
1 1/8 cup oil
3 eggs
1 1/2 teaspoon vanilla
1 1/2 teaspoon almond flavoring
1 1/2 teaspoon butter flavoring
Glaze:
1/2 cup orange juice
3/4 cup sugar
1/2 teaspoon vanilla
1/2 teaspoon almond flavoring
1/2 teaspoon butter flavoring
Heat up glaze ingredients in a small sauce pan until the sugar is dissolved. When the bread is still warm from the oven, pour glaze over each loaf.
Directions for the bread:
Preheat oven to 350 degrees
In a large bowl mix together flour, salt, baking powder, sugar and poppy seeds. Add oil, milk, eggs and almond, vanilla, and butter flavoring.
Mix the dry and wet ingredients together until all the dry ingredients are moisten.
Pour batter equally into 2 regular size loaf pans or 5 small loaf pans.
If you are baking regualr size loaves, bake for 30 to 40 minuts. If you are baking smaller size loaves, bake until the center comes out clean when tested with a tooth pick or cake tester, aprox. 20 to 25 minutes.