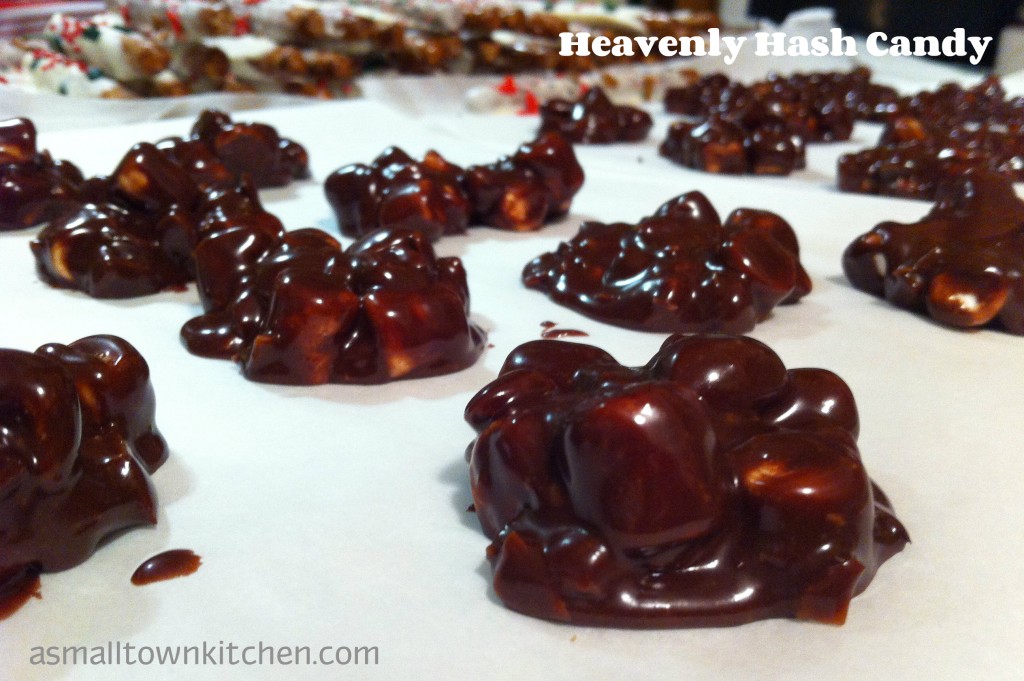 I must be feeling a little nostalgic. Yesterday, I made those cute and delicious,  strawberries in winter candy and today I am making another childhood favorite, heavenly hash candy.
I think it has something to do with marshmallows. I love anything to do with marshmallows. Marshmallow cream, marshmallows on top of sweet potatoes, on top of a steaming mug of cocoa and of course grabbing a handful right out of the bag for a snack. This candy is full of marshmallows.
I think I need an intervention!
Anywho, when I happen to run across a picture of this candy, it brought back memories of family gatherings and tables full of great food, I knew I had to add heavenly hash to the trays of goodies. They are full of marshmallows and nuts (I used almonds) and all coated in creamy chocolate goodness.
I will have to admit it took me a couple of tries to get it right. I am not sure if I mis-measured the sugar or I did not boil the milk and sugar for the full two minutes. The first batch just would not set up. I was not just going to give up, and I thought I would try it again. This time I took extra time to make sure I measured everything correctly and boiled the milk and sugar the full two minutes. This does not mean simmer either, make sure you boil it for two minutes to insure the candy will set up. I just finished my fourth third batch and the candy set up like a dream.
I know it will for you too.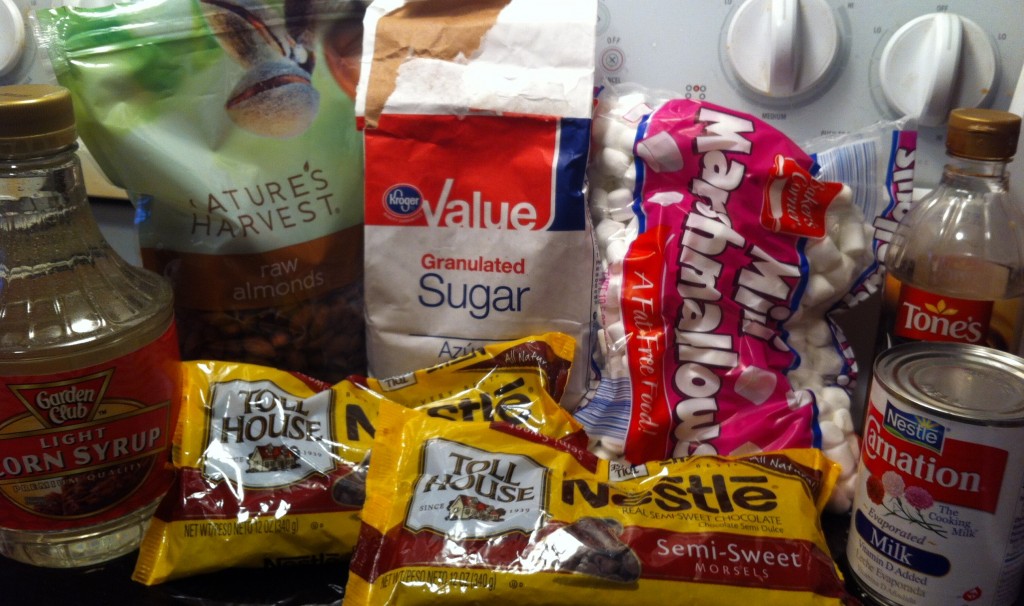 Here is everything you will need to make Heavenly Hash Candy.
First thing you need to do is measure out one cup of evaporated milk. Put the milk in a medium size sauce pan and add one cup of sugar. Do not worry about using a candy thermometer. I was just curious to see what temperature the milk would get when I boiled it.
Now, add three tablespoons of corn syrup. Stir the milk, sugar and corn syrup until the sugar dissolves. Bring the milk mixture to a rolling boil and boil for two minutes. The mixture will look really foamy when it boils.
Let the hot milk mixture cool for two minutes. Then, add in the chocolate chips (two cups) and one teaspoon of vanilla.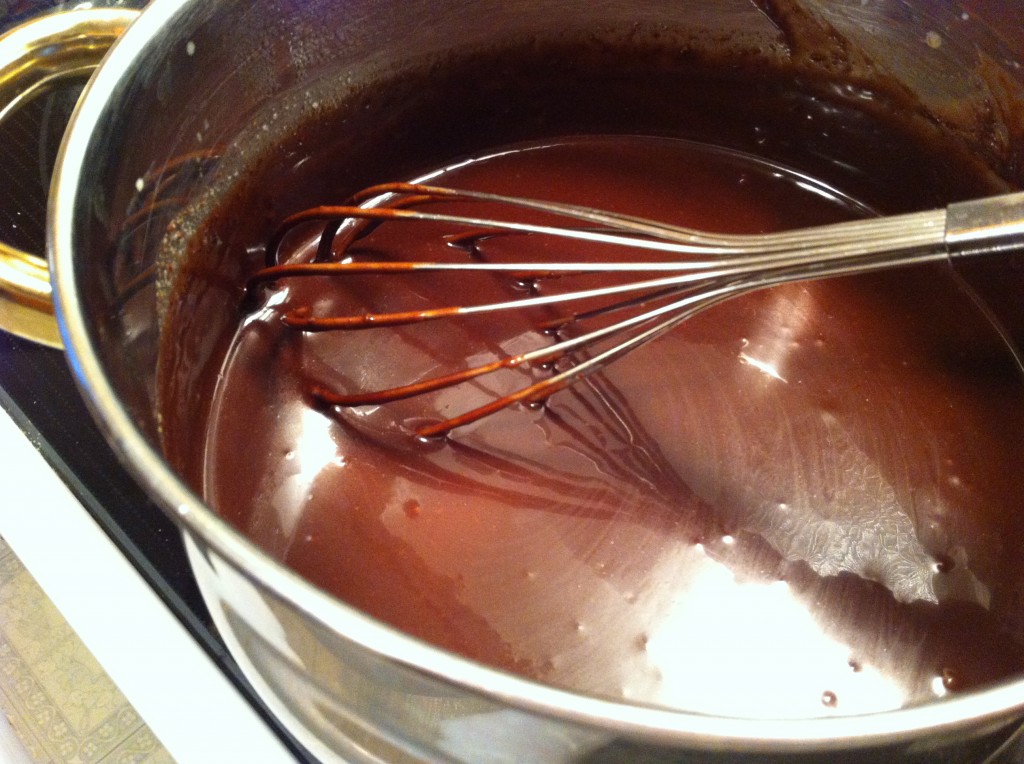 With a whisk, whisk the chocolate chips and vanilla with the hot milk mixture until the chocolate chips are melted. Let the chocolate mixture cool for 20 minutes.
After the chocolate has cooled for twenty minutes, stir in two cups of miniature marshmallows and 2 cups of chopped nuts. I used almonds. I left some whole and some  I just did a rough chop on.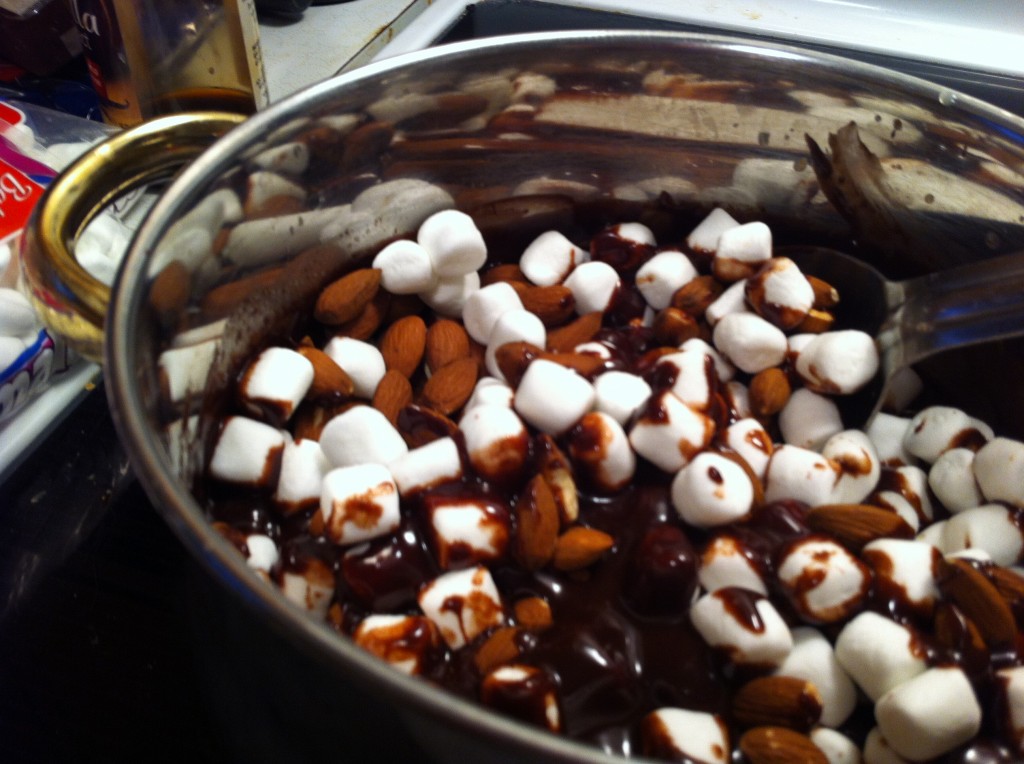 With a large spoon, stir all everything together until the marshmallows are well coated in chocolate.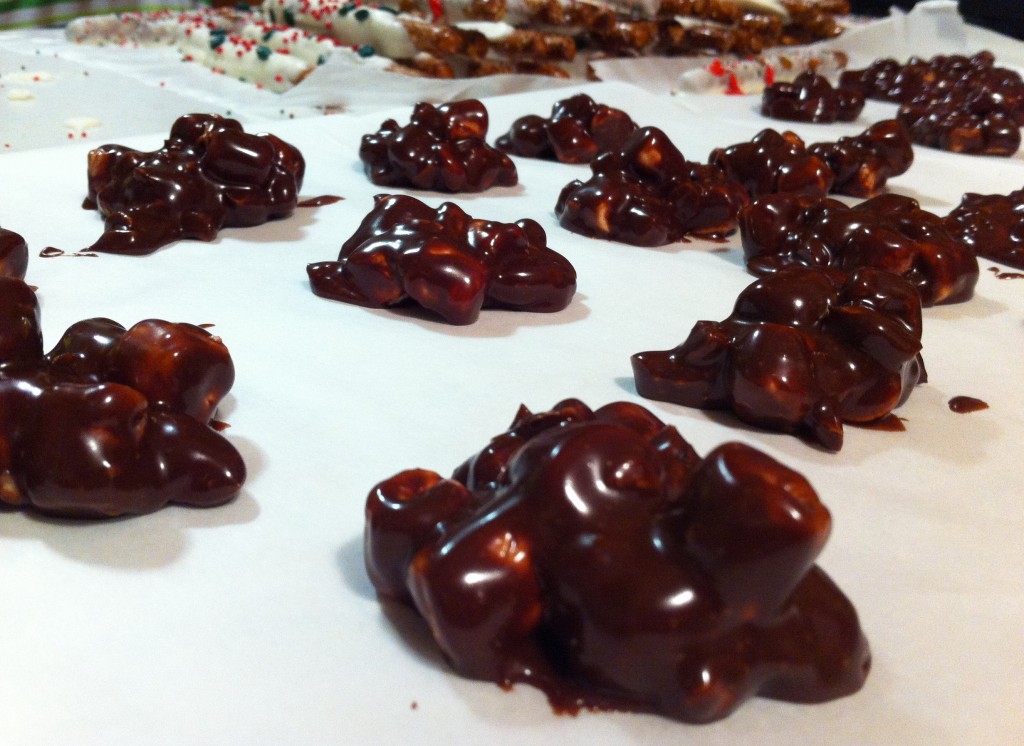 Using a spoon, scoop out the candy onto parchment paper to set up. This candy will set up faster in the fridge, but I just mine set up on the counter.  If you want, you can spread the candy in a parchment lined pan and cut into bars. I store the candy in the fridge until I am ready to fill my trays.
Bring a little bit heaven to your holiday candy making with these heavenly hash chocolate candies. I am sure your little angles will love them.
Here is the recipe:
Heavenly Hash Candy
Ingredients:
1 cup of evaporated milk
1 cup of sugar
3 tablespoons light corn syrup
2 cups of semi sweet chocolate chips
1 teaspoon vanilla
2 cups chopped nuts (I used almonds, leaving some whole and some I did a rough chopped)
2 cups miniature marshmallows.
Directions:
In a medium sauce pan, heat the evaporated milk, sugar and corn syrup, stirring until the sugar is dissolved. Bring the milk to a full boil and boil for a full two minutes (no short cuts here). Let the milk cool down for 2 minutes and add the chocolate chips and vanilla. Stir, until all the chocolate chips melts. Let the chocolate mixture cool for 20 minutes. When the chocolate mixture has cooled, stir in the marshmallows and the nuts. Stir until all the marshmallows are coated in chocolate. With a spoon, scoop out the candy and place on parchment paper to set up. Store in the refrigerator.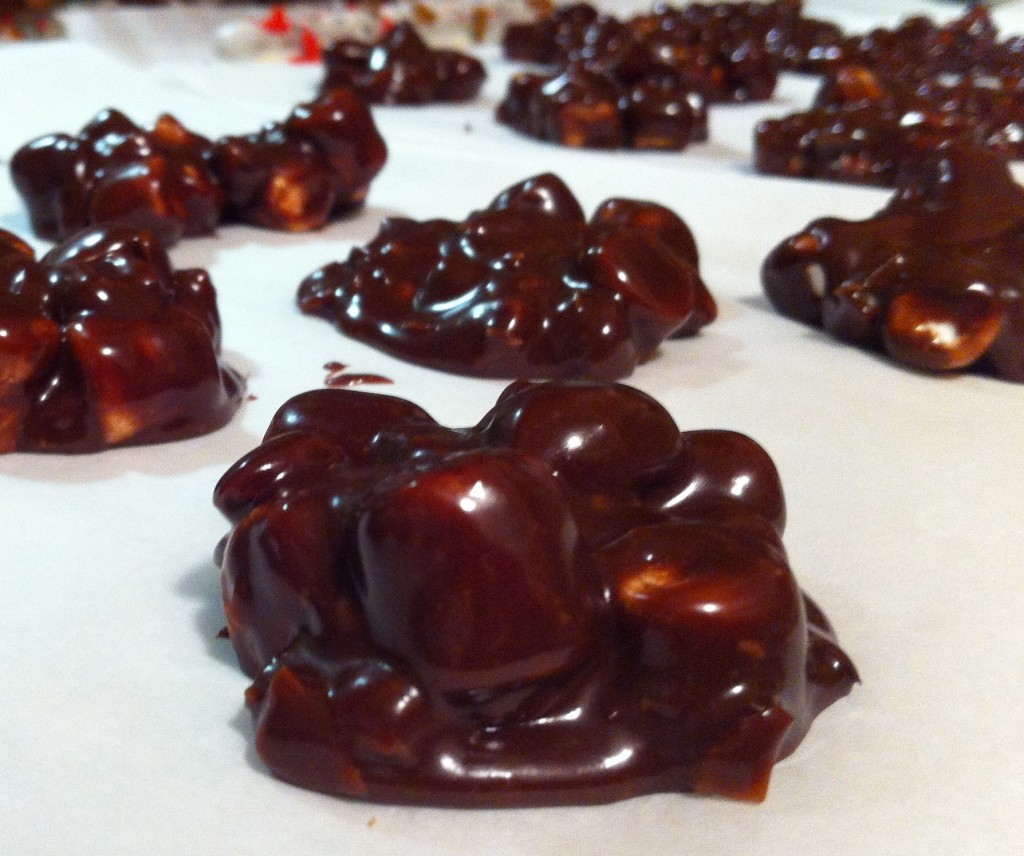 I hope your goodie making is going faster than mine!
Happy Candy Making,
Becky
Other post you might enjoy reading.