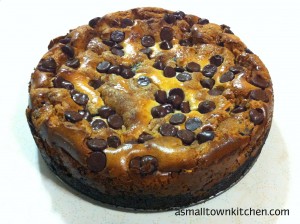 Have you ever used the excuse you had to make something just to buy the magazine the recipe was in?
Whew…I thought I was the only one that did that.
Tonight, I did just that! I was looking at all the great fall baking magazines at Sam's Club. I was in recipe heaven! I kept going back and looking at this recipe in a Better Homes and Garden Holiday Baking magazine.  It was a cheesecake that had cookie dough in it. Hmmmmm…I did need to make a dessert tonight for a lady's day church lunch tomorrow.
Perfect!
I can buy the magazine, make the cheesecake for tomorrow and not feel an ounce of guilt over buying the magazine. The bonus was, I had almost everything at home to make it. I bought the couple of items I needed (eggs and cream cheese) and headed home to make a cheesecake. My granddaughter helped me to make this cheesecake. We had it in the oven in less than 20 minutes. If I can do this with a 10 year old, I know you can whip this up in no time at your house.
 For the Crust. First thing you need to do is crush the chocolate sandwich cookies. I did mine in a food processor. You can do yours in a zip lock bag and pound them with a rolling pin. Depends if you have had a bad day or not. 
I guess I had a pretty good day.
Next, add the sugar and melted butter to the crushed cookies.
Put the cookie mix in a 9 inch spring-form pan and press onto the bottom and up the sides, 1 and 1/2 inch.
I started using a spatula. It was faster just to use my hands.
For the filling. In a large mixing bowl, add your cream cheese, sugar, brown sugar, vanilla, and flour. My granddaughter is adding the ingredients. Don't you love her green sparkle nail polish : ) ?
Stir in the milk.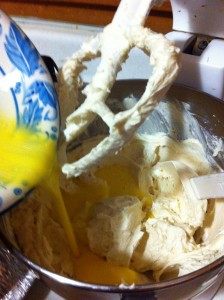 Add in your lightly beaten eggs. Mix together.
Take two cups of the cream cheese mixture an pour over the crust. Top the mixture with half of the cookie dough, a teaspoon at a time.
Pour the rest of the cream cheese mixture over the cookie dough. Add remaining cookie dough to the top and sprinkle with chocolate chips. Put the spring-form pan on a shallow baking dish. Put it in the oven at 350 degrees and bake for about an hour.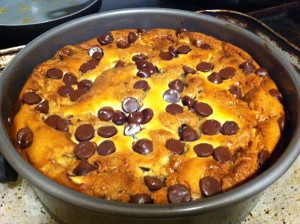 This is what mine looked like when it came out of the oven.
I hope the church ladies will be impressed. : )
I am happy I had a great excuse to buy a new magazine full of recipes : ).
I will let you know tomorrow if I have any left : ).
Enjoy!
Becky  
Chocolate Chip Cookie Dough Cheesecake
adapted from Better Home and Gardens Holiday Baking magazine
For the crust:
1 3/4 cup of finely crushed chocolate sandwich cookies.
1 tablespoons sugar
3 tablespoons melted butter
In a mixing bowl, mix crushed cookies, sugar and butter together. Press mixture onto the bottom and up the sides of a 9 in spring form pan.
For the filling:
3 – 8 ounce packages of cream cheese (softened)
3 eggs (slightly beaten)
1/2 cup sugar
1/2 cup brown sugar
2 tablespoons flour
1 teaspoon vanilla
1/4 cup milk
1 roll of refrigerated chocolate chip cookie dough.
1/2 cup chocolate chips
In a large mixing bowl, cream the cream cheese, sugar, brown sugar, vanilla and flour until combined. Beat in the milk until smooth, then stir in the eggs.
Pour half the mixture (about 2 cups) over the chocolate cookie crust. In spoonful amounts, dap half the cookie dough onto the cream cheese filling. When you are done, pour the rest of the filling over the cookie dough and cream cheese bottom. Top the second layer with spoonfuls of cookie dough, then sprinkle with chocolate chips.
Put the springform pan onto a shallow baking dish and place a 350 degree oven. Bake for approximately one hour.
A couple of helpful hints. Make sure the bottom of the spring-form pan is securely locked in. (why would I know that?)
The next time I bake this I will lower the temperature 10 degrees to 340 degrees. I thought it looked a little on the brown side and I only baked it 55 minutes.
Make sure you put it on a shallow pan. The butter from the cookie dough will leak out the bottom. If you put it on a cookie sheet you just might set off your smoke alarms. (been there done that).