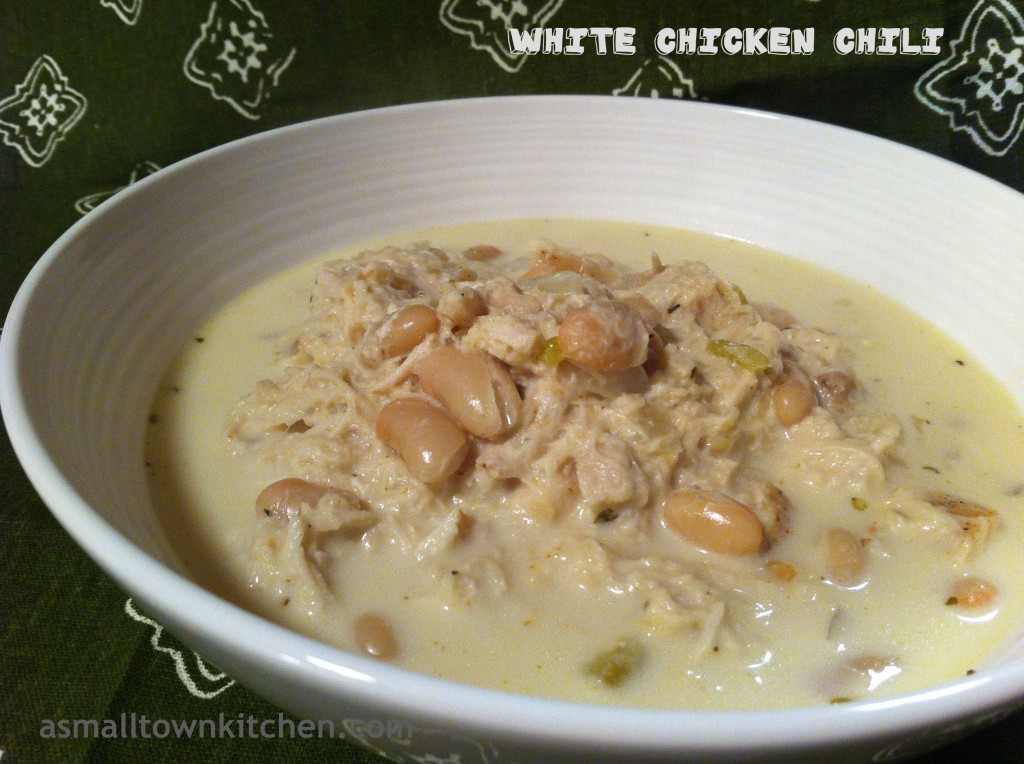 Today was my Thursday/Friday day at school.
I took the day off tomorrow. Yippee!
PIC and Sparkle is picking me up around 9 am and we are heading to the big city for a three day girls weekend.
I somehow managed to get all my copies made, substitute teacher plans made, take care of some student issues and leave work on time.
Miracles do happen.
I needed to pack tonight and get some laundry finished for the trip. This meant that dinner needed to be fast and simple and good. I still had a few pieces of the baked, boneless skinless chicken in the fridge. So, last night I decided I would come home today and make white chicken chili for dinner. I am sure glad that I did. With another artic cold blast to mid Missouri, this chili really took the chill away and it tasted great too.
I found this recipe years ago from Taste of Home, but have tweaked it enough to pretty much call it my own. I have made it loads of times and when I do, someone usually wants the recipe. You can make this recipe spicier if you want by adding more green chilies and red pepper. But, with my little grandgril's picky pallet and me allergic to jalapenos (and pretty much all hot peppers), I make mine pretty mild. It has white northern beans instead of red beans. Chicken instead of hamburger. Cream and chicken broth instead of tomato juice. It is white instead of red.
Are you ready to try to try a different take on chili?
I hope you give it a try. I think you will be pleasantly surprised!
Here is what you need to make this terrific chili.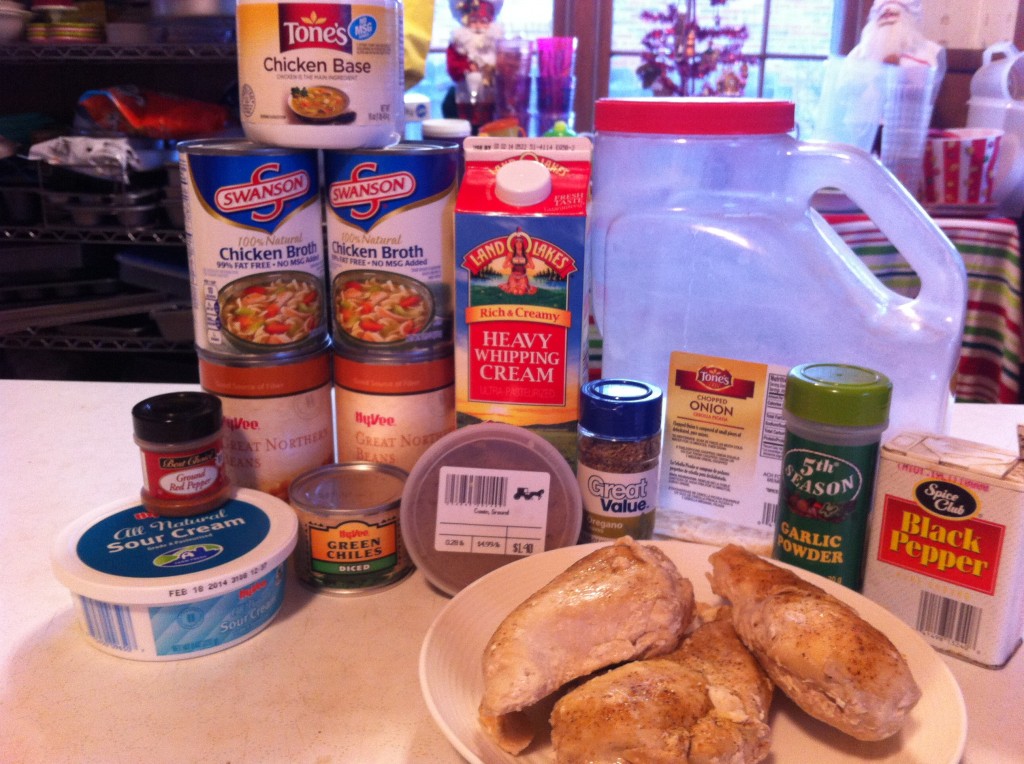 You will need some whipping cream (to cut calories you can use fat free half and half), sour cream, green chilies, chicken broth, white northern beans, onion and seasonings that include, cumin, garlic powder, black pepper, oregano and chicken soup base. I used dried onions, cause Company was coming over for dinner and I was trying to hid the onions in the chili from him. I did put in a small amount of diced onions so I could show you in the directions. BTW, Company did not notice the onions…hehe.
The first thing you will do is put a couple of tablespoons of oil in a large stock pan and heat up. Add your diced onions and sauté the onions until they are tender. Remove from heat.
Next, I cut four baked boneless, skinless chicken breast into bite size pieces. Then I added the chicken to the sauted onions.
Now you can add in the drained and rinsed white northern beans and the chicken broth.
The next ingredient I added was the can of green chilies. I measured all the spices on a plate and then added them to the chili. The spices are oregano, garlic powder, cumin, black pepper and red pepper. You will now want the chili to simmer on low for 10 to 15 minutes.
Now, you can add the whipping cream. Next add in the sour cream. Stir to mix all the ingredients thoroughly together.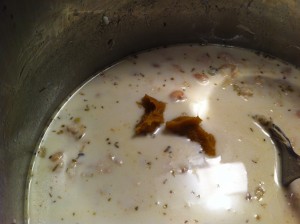 The last ingredient I add is the chicken soup base. The soup base is salty and works to add a real depth of taste to the chili as well as salting it. It is very easy to add too much of the soup base, making what ever you are cooking too salty. I added 2 tablespoons to my chili. This may seem like too much for you. So, start with one tablespoon, then taste it and add just enough to fit your taste.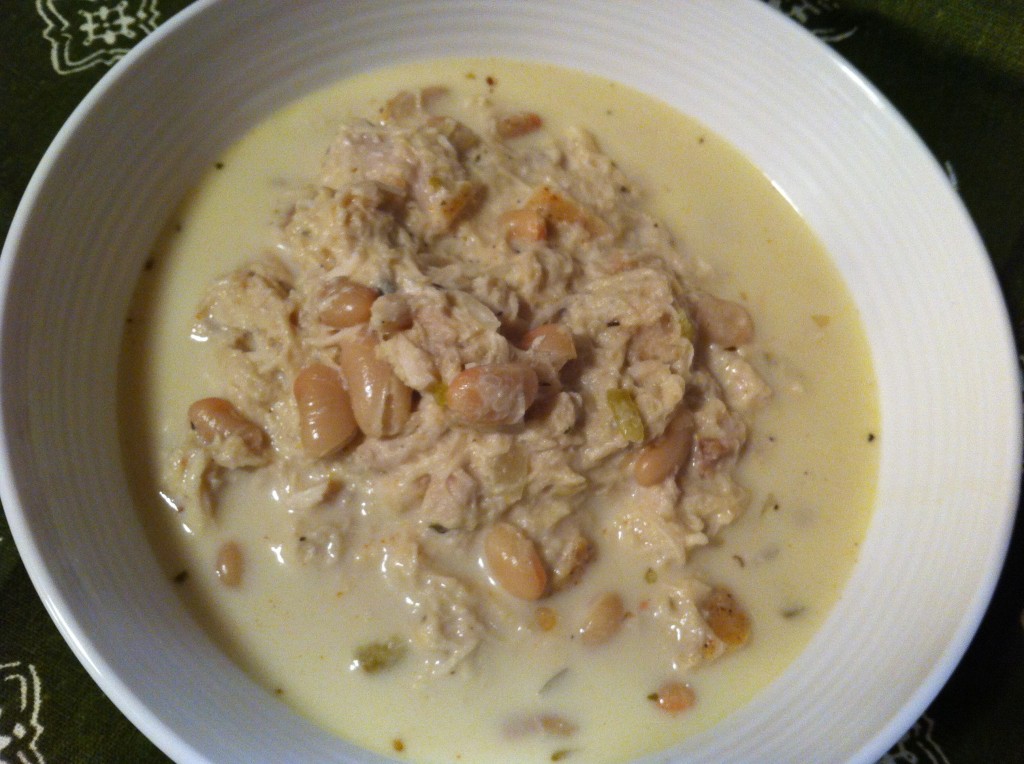 Heat the chili until it comes to a slow simmer, being careful to stir it often. This takes about 5 to 10 minutes. You do not want to boil the soup, just heat thoroughly.
Now you can serve it up, nice and hot.
As cold as it is outside, we need a little hot.
Here is the recipe:
White Chicken Chili
Adapted from Taste of Home
Ingredients:
4 large baked chicken breast. (I baked mine with season salt) Cut into bite size pieces.
1 medium onion diced
1 1/2 teaspoon garlic powder
2 tablespoons vegetable oil
2 cans chicken broth
3 cans white  northern beans, rinsed and drained
1 can green chilies
1 teaspoon cumin
1  1/2 teaspoon oregano
1/2 teaspoon black pepper
1/4 teaspoon red pepper
1 cup (8 ounces) sour cream
1 1/2 cup whipping cream
2 tablespoons chicken soup base (use less if you prefer less salt)
Directions:
In a large stock pot add the oil. Heat on medium heat and add in the diced onions. Sauté the onions until they are tender. Turn off the heat. Add in the cubed baked chicken, rinsed and drained white northern beans and the chicken broth. Stir. Put the chili back on the heat on low. Add in the green chilies and all the seasonings. Stir and simmer for 15 minutes on low. Add in the whipping cream and the sour cream. Stir to mix in. Add in the chicken soup base, one tablespoon at a time. Be sure and taste after each tablespoon to make sure you have it salted the way you like it. Heat for another 5 minutes on low being careful to stir.
You are ready to serve.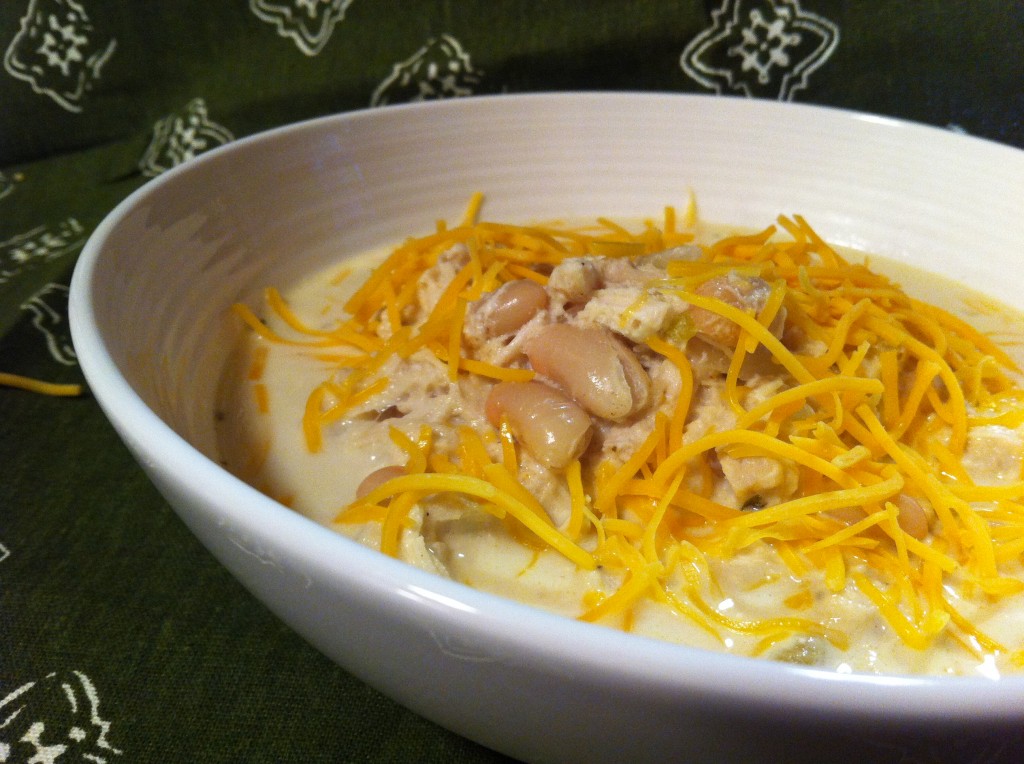 You can serve it with a little grated cheddar cheese on top if you like.
Stay warm and eat chili!
It will warm you all the way to your toes.
Enjoy,
Becky
Other post you may enjoy reading:
Mountain Dew Dumplings                        Strawberry Bread                                      Poppy Seed Bread