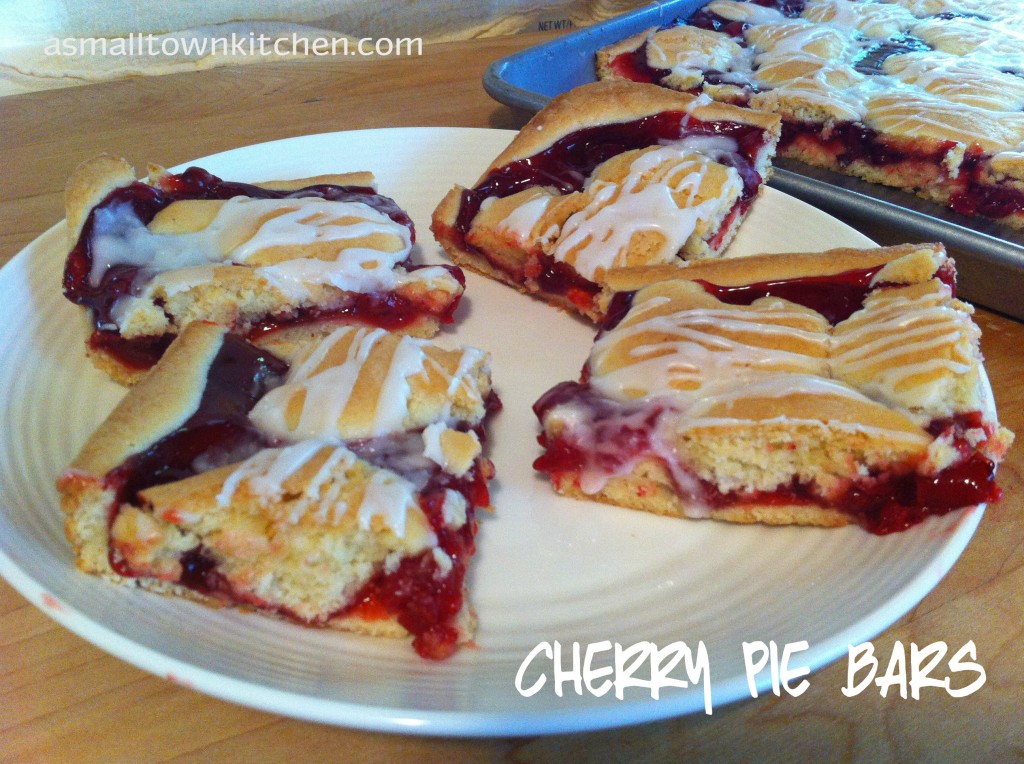 My little brother's birthday was a couple of weeks ago.
I love a great birthday party!
Especially one, with BBQ ribs and chicken.
And, birthday boy was doing all the cooking.
Little Brother was celebrating his birthday by BBQing his famous ribs and chicken and inviting Me and Company over for dinner.
All I needed to do was bring a dessert.
The big problem I had was that my little brother does not eat many sweets.  That is probably why he has kept his girlish figure…: ) He does love coconut cream pie and banana cream pie and peanut m and m's. I just did not have a ton of time to go to the store and make the pie I really wanted to make for him. So, I settled for a dessert that I already had all the ingredients for, it could bake while I was getting ready to go and it travels great.
Did I mention that it is pretty to look at too.
And, most importantly, it taste great too.
The crust is tender, it is not too sweet and if you serve it warm, a big scoop of ice cream goes perfect on top.
So Anywho, if you are looking for a pretty dessert to take to a bbq or picnic, I really recommend this one.
Just make sure you leave a piece for you at home, cause there will not be any left overs.
Here is what you need to make Cherry Pie Bars.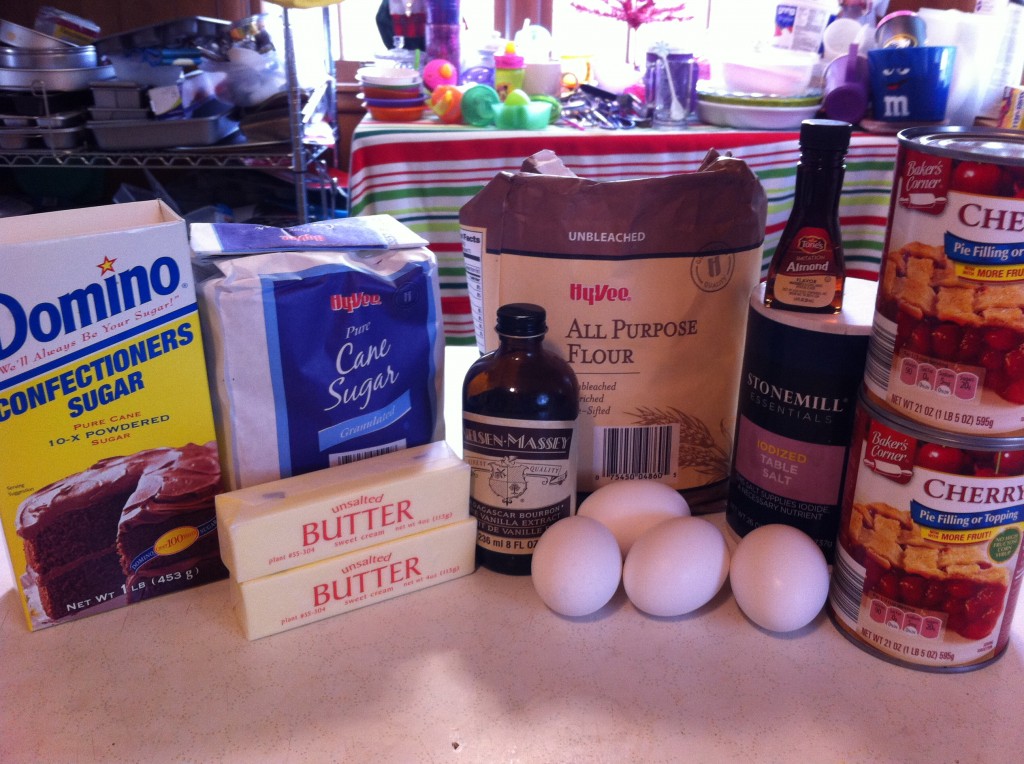 You will need some eggs, butter, vanilla, flour, powdered sugar, salt, almond extract and canned cherry pie filling. It calls for one big can, (which I did not have) so I used 2 smaller cans and it was the perfect amount.
First thing you do is cream the butter and sugar together in a large mixing bowl with a mixer. I used my stand mixer.
Next, add in the eggs, one at a time, beating the each egg in before adding the next one.
Add in the vanilla and almond extract. Lastly mix in the flour and salt. Now  you have the crust part all done.
Scoop half of the crust onto a greased 9by 13 baking dish. (I used my jelly roll pan). Spread the crust out evenly on the bottom of the pan.
Cover the crust with the pie filling. Spread it out evenly on the crust.
With the left over crust, with a teaspoon, drop teaspoonful's on top of the cherry pie filling. It looks and taste better if you try to evenly drop the crust. Now, pop the bars into a preheated 350 degree oven and bake for about 30 to 35 minutes.
While the cherry pie bars are baking make your glaze. In a medium bowl, whisk together the powdered sugar and water.
Whisk in the vanilla and almond extract. Whisk together until you do not have any lumps.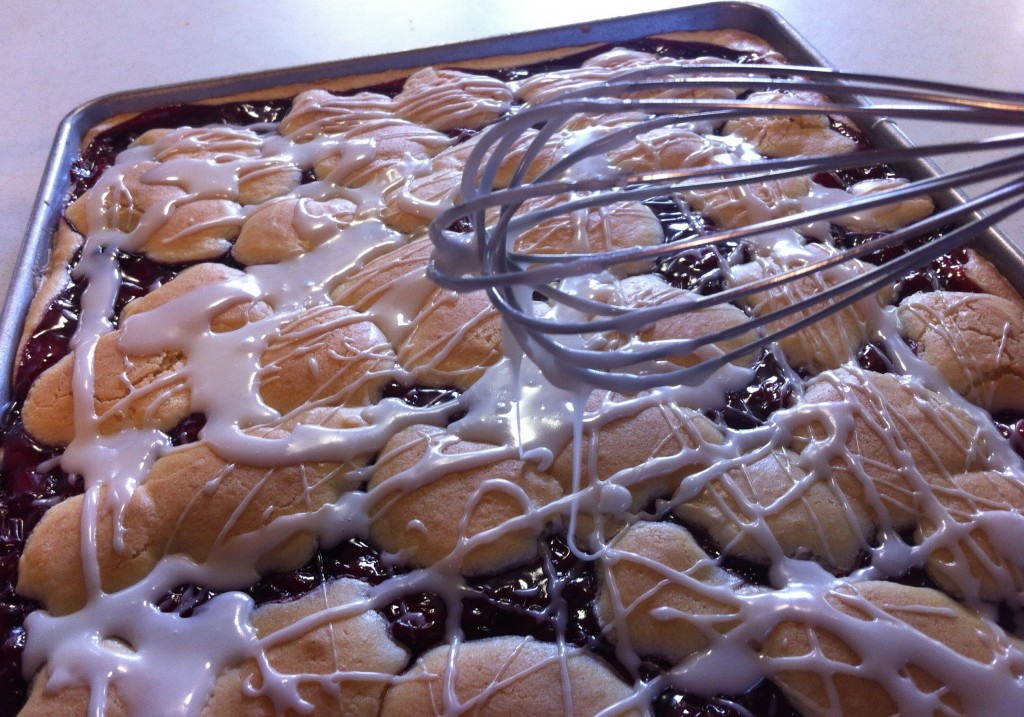 After the bars are baked and cooled, drizzle the glaze over the cherry pie bars. The glaze really adds a finishing touch!
Memorial Day is this weekend and this would be the perfect dessert to bake, take and share.
Here is the recipe:
Cherry Pie Bars
Adapted from Taste of Home
Ingredients:
1 cup soften butter
2 cups sugar
4 eggs
1 teaspoon vanilla
1/4 teaspoon almond extract
3 cups flour
1 teaspoon salt
1 can (21 ounce) cherry pie filling
Glaze
1 cup powdered sugar
1 teaspoon vanilla
1/2 teaspoon almond extract
2 teaspoon water or milk
Directions:
Grease a 9 by 13 baking sheet. Preheat oven to 350 degrees.
In a large bowl using a mixer, cream together the butter and sugar. Add the eggs, one at a time. Mix in the vanilla and the almond extract. Add in the flour and salt. Divide the dough in half. Press half of the dough evenly on the bottom of the greased baking sheet. Evenly spread the cherry pie filling over the dough. With a spoon, drop spoonfuls of dough evenly across the top of the cherry pie filling. Bake in the oven for about 30 to 35 minutes. Cool completely. Whisk together the ingredients for the glaze and drizzle evenly (this is the fun part) over the top of bars.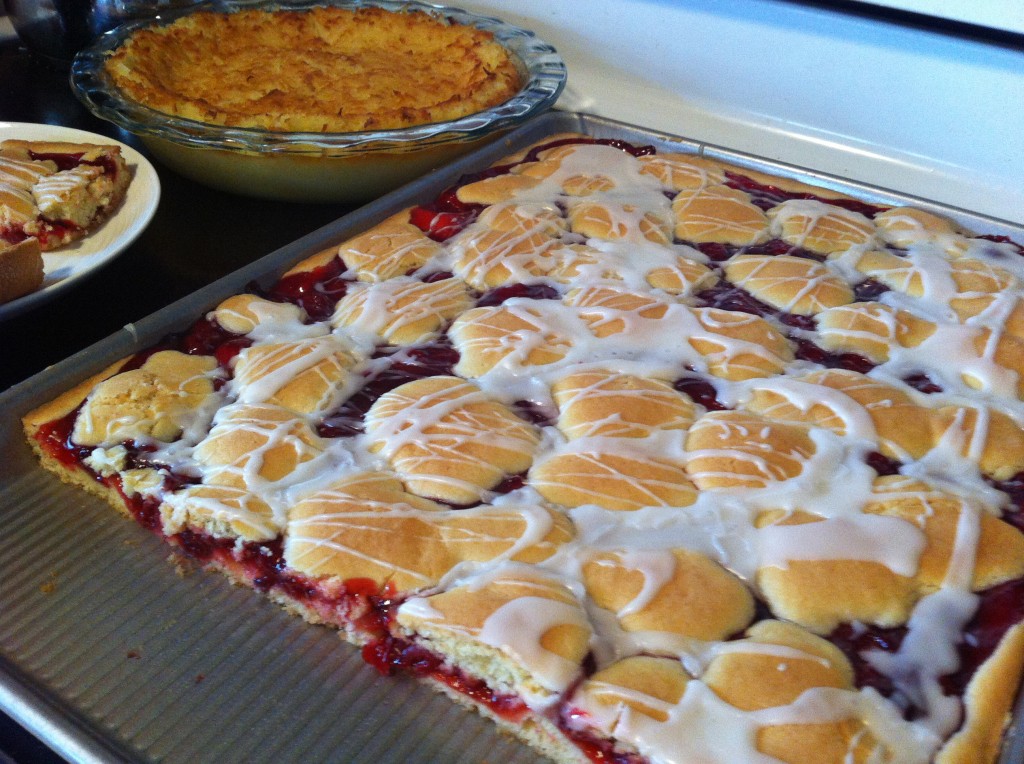 Now all you have to do is slice you a (few) pieces. See that pie way in the back on the left hand side? That is a make it own's crust Coconut Pie. See, I did try to make the birthday boy a pie he would like to eat. The desserts were good enough to bribe little brother into bringing back left over ribs. : )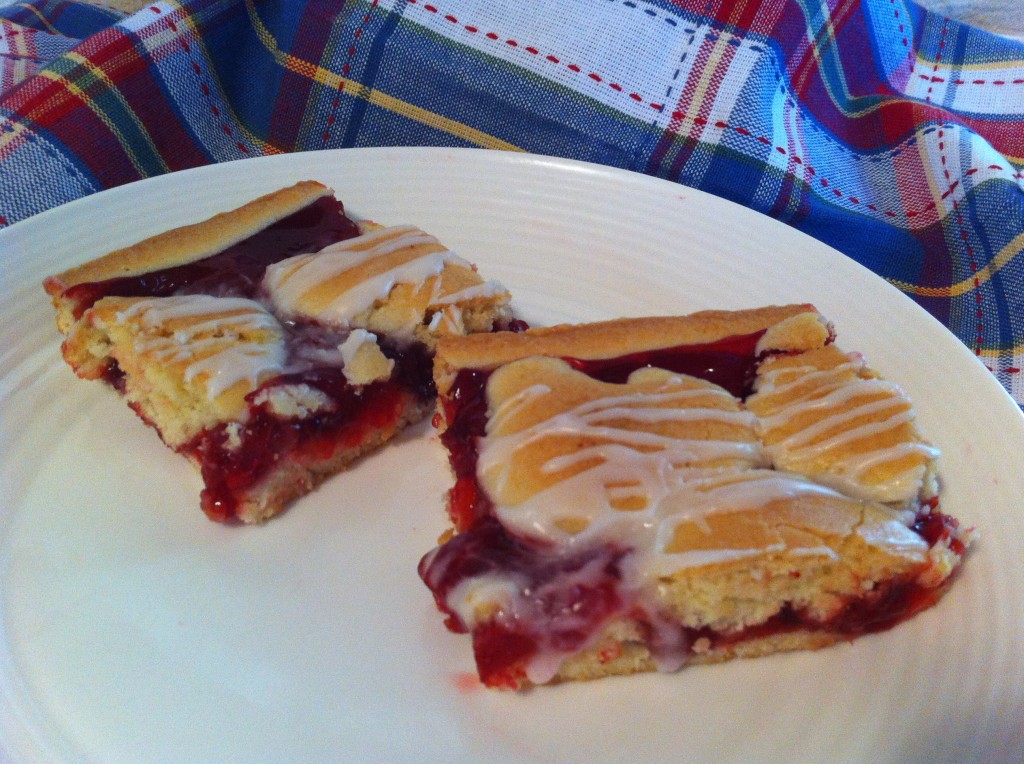 Besides being pretty, these are yummy and addictive.
Enjoy!
Becky
Other post you may enjoy reading:
  Farmer's Oatmeal Cake            Frozen Fluffy Strawberry Pie             Mom's Light Bread