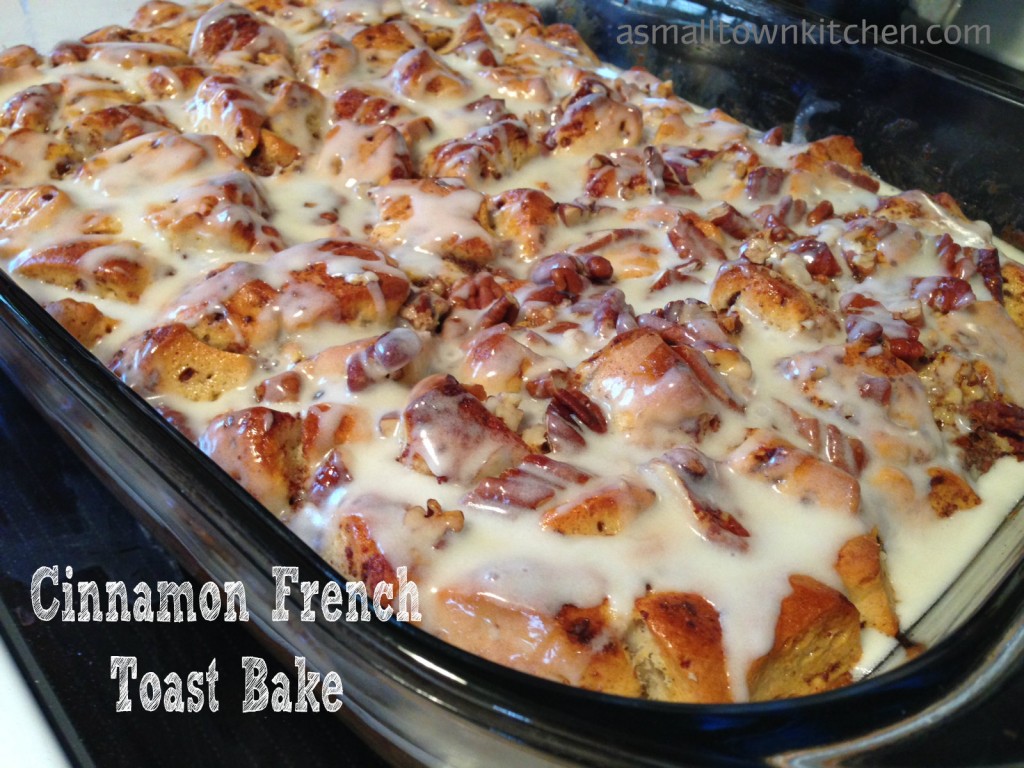 I bet you thought I would never post another recipe! I am so sorry it has taken me awhile to post a recipe. It is the end of the school year in teacher world and balancing everything can be a bit of a challenge. I have a couple of BIG functions on my to do list, but I can finally see the sun light. Whew….
I have had this post, almost done, for several weeks, just waiting until I had some uninterrupted time to put in the recipe and check my spelling. (as you have probably noticed, I write like I talk and spell like I can't). Tonight, my clothes are in the dryer, the house is quiet and I have about 20 minutes before the washing machine buzzer goes off. So, here goes with getting this post finally published.
Four reasons you should try this recipe.
I first heard of this recipe on the radio on my way to work. The DJ on the radio was raving about this French toast bake that one of his coworkers had brought in share with the crew. He had a list of the ingredients and told about how easy it was to make and especially how addictive it was to eat. Secondly, one of my co-workers asked me for a easy breakfast casserole recipe that she could make to take to a morning staff meeting. I told her about this recipe, and that I had not tried it, but the ingredients sounded great together, it was easy to make and was suppose to taste divine. Thirdly, my co-worker took a leap of faith and  made it and some people at her meeting loved it and wanted the recipe. And, now the fourth reason. I finally made this recipe for Easter Morning, when Baby College Girl was home for the weekend. While it was baking, it made the house smell like a bake shop and when it came out to the oven, everyone lined up with their plates to eat it.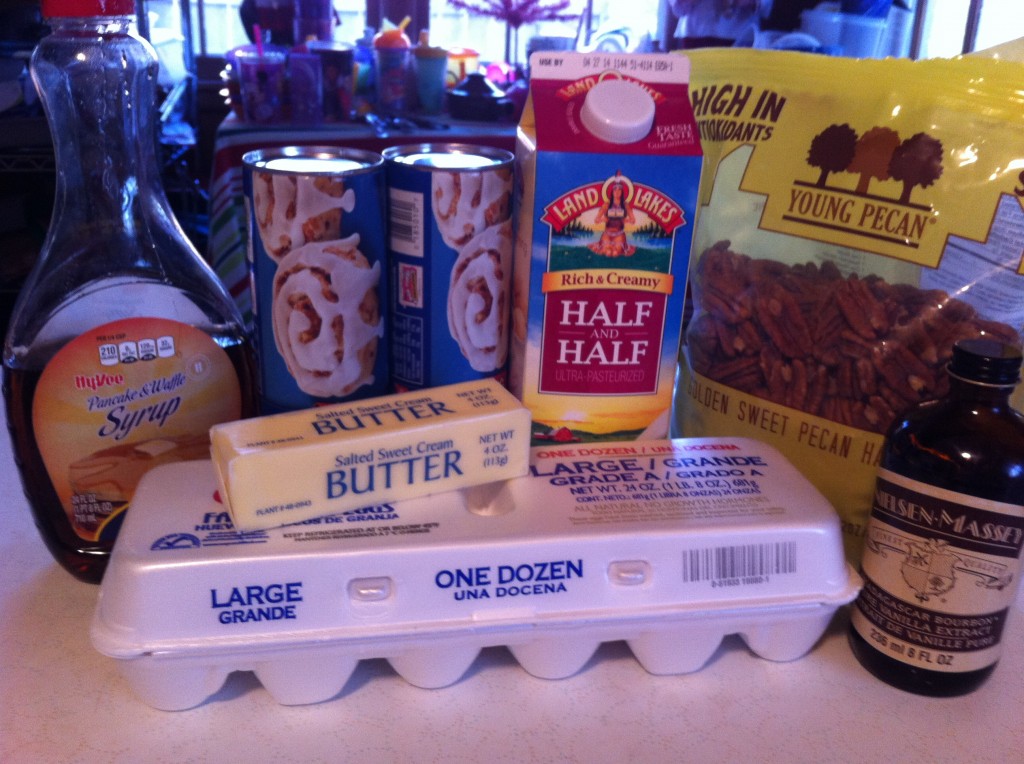 Here is what you will need. Some canned cinnamon rolls with icing (save the icing to glaze the rolls later), eggs, vanilla, butter, cinnamon, maple syrup, half and half and some pecans (which are optional.)
First, melt the butter in a 9 by 13 baking dish. Open the cans of cinnamon roll and cut each roll into 8 pieces. I used my pizza cutter for this and it worked great.
Take 6 eggs and beat them thoroughly together with the half and half.
Add some cinnamon (which I forgot to put in the main ingredient picture) and some vanilla.
Beat everything together until all the eggs are totally incorporated into the cream. Pour the egg mixture over the cinnamon rolls.
Chop up the pecans. Sprinkle the pecans on top of the rolls. I only sprinkled half of the rolls with pecans cause The Super Hero does not like nuts in his food.
Drizzle maple syrup over the top of the rolls. Bake in the oven until all the eggs and rolls are cooked through. When the casserole cools, drizzle the top with the icing from the cinnamon roll packages.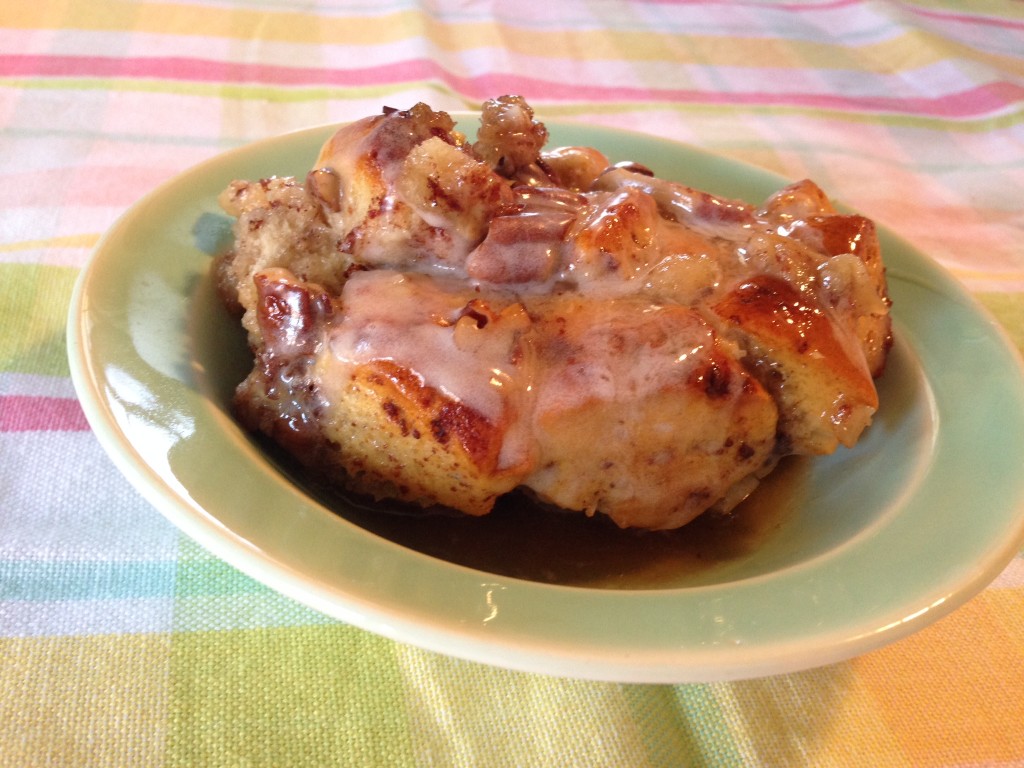 It comes out moist and delicious. It really does make a difference to let the casserole sit for 15 minutes before eating as the rolls absorb all the maple syrup that has settled on the bottom.
Are you ready for the recipe?
Here it is!
Cinnamon French Toast Bake
Adapted from the Pillsbury Website
Ingredients:
2 cans (8 rolls in each one) of refrigerated cinnamon rolls
1/4 cup butter or margarine, melted
6 large eggs
1/2 cup whipping cream (I am sure you can use half and half or another milk)
2 teaspoon ground cinnamon
2 teaspoon vanilla
1 cup pecans
1 cup maple syrup (I used my pancake syrup)
Garnish:
You garnish with the icing from the cinnamon rolls and more maple syrup (optional) and powdered sugar (optional)
Directions:
Heat oven to 375
Pour melted butter into a 9 by 13 baking dish.
Cut each cinnamon roll into 8 pieces.
Place cut roll pieces evenly into the bottom of the melted butter 9 by 13 dish.
In a medium bowl, mix together the whipping cream, eggs, cinnamon and vanilla.
Gently pour the egg mixture over the cut rolls.
Sprinkle with pecans and drizzle with maple syrup.
Bake in the oven for  20 to 25 minutes or until done.
Cool for 15 minutes.
Drizzle with icing from the cinnamon roll packages.
Drizzle with more maple syrup if desired.
Serve warm.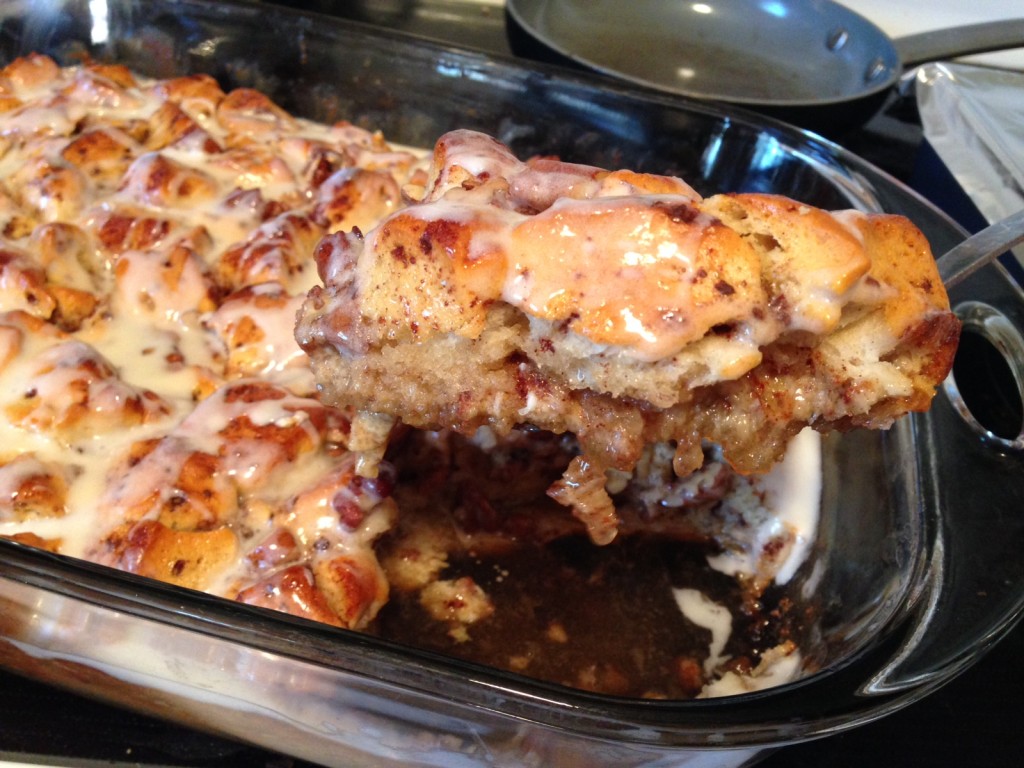 If you are looking for a breakfast casserole that is easy to prepare but does not taste like it is, give this one a try.
I was also told that the leftovers taste just as good the next day re-heat in the microwave.
I would not know, as mine was gone in one day. : )
Enjoy,
Becky
Other post you may enjoy reading:
Fluffy Strawberry Pie                      Overnight Cinnamon Rolls                Tuna Noodle Casserole