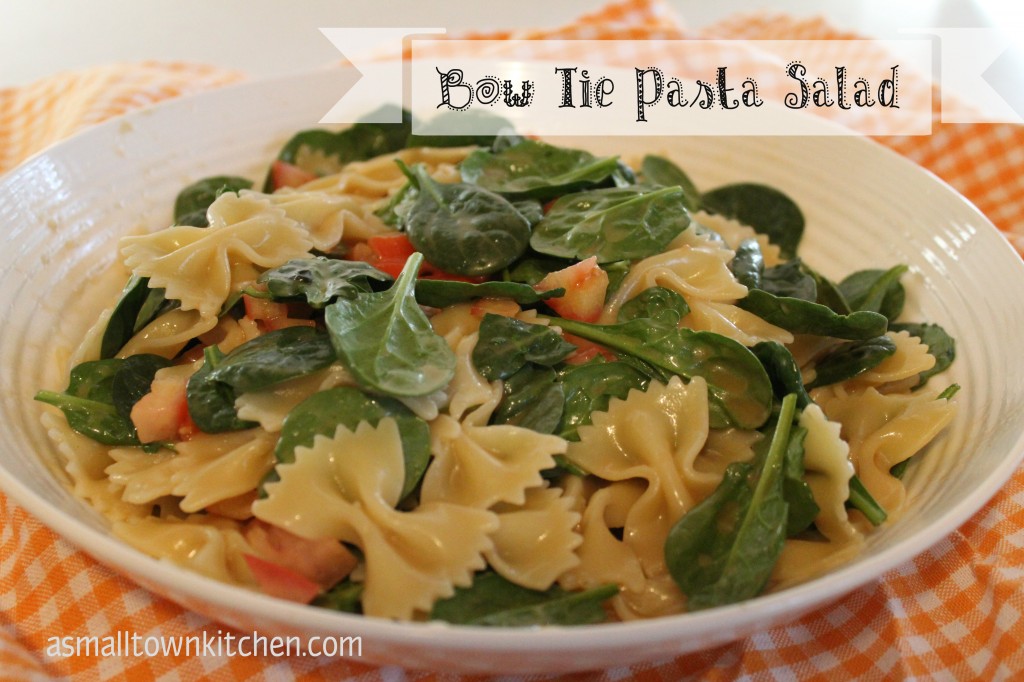 I am obsessed with this salad.
Just ask my good friend Jeanetta!
Jeanetta would bring this salad to school for teachers luncheons and I would practically follow her around to see where she sat her salad down at.
Then, I would politely (well sorta) position myself to be first in line to make sure I got some of her famous salad.
I don't know if she finally felt sorry for me or was tired of me stalking her salad, that she finally gave me the recipe.
Yippe!
I just love how all these simple everyday ingredients come together to make this yummy summer (or anytime) salad.
It has all those things in a salad that I love!
Pasta….come on who does not love pasta???
Tomatoes…..ok…not every body loves tomatoes…but then the same ones that don't eat tomatoes…eat ketchup…..mmmm you got to wonder about them. Yes, I am talking about my super hero son who does not eat tomatoes!
Fresh spinach….fine, not everyone loves spinach, not sure why….I must be kin to Popeye cause I love spinach; cooked or fresh!
A little bit of red onion…I have to sneak them in cause Company hates onions….what he does not taste does not kill him…hehe..
AND last but not least the dressing seasoned with oriental  ramen noodle seasoning packets.
YUM!
Anywho, with summertime approaching and all the backyard BBQing starting, you might need a simple, party pleasing, great tasting, easy to make pasta salad!
Here is what you need!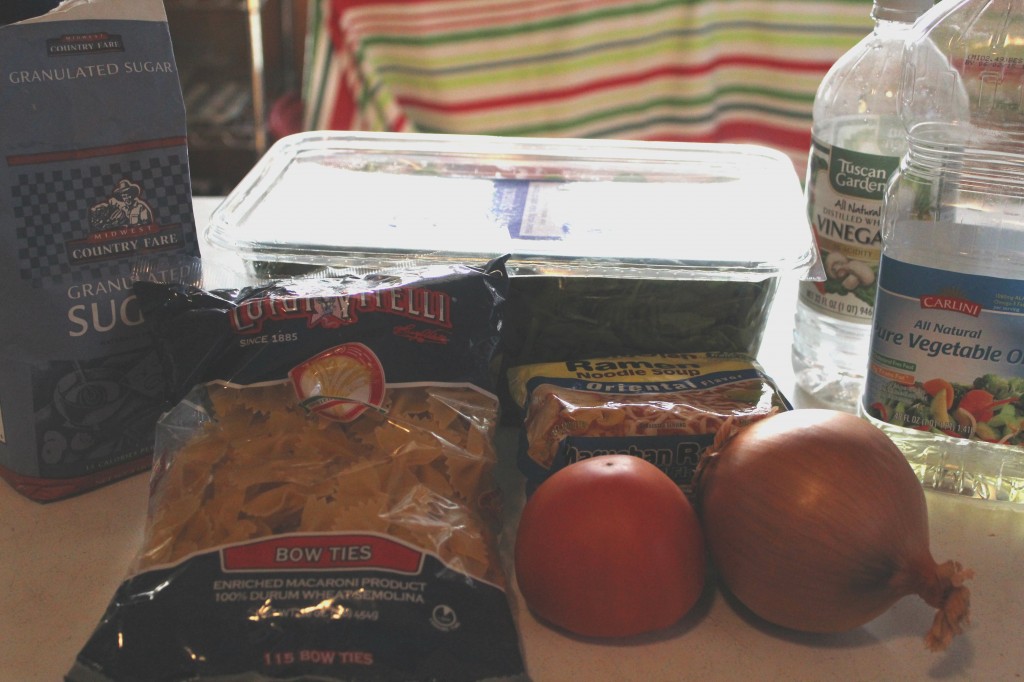 For the dressing, sugar, vegetable oil, vinegar and 2 packets of oriental ramen nooodle seasoning packets. For the salad, bow tie pasta, tomatoes (I usually use cherry tomatoes cut in half) sweet red onion (I had to use yellow cause I was out of red) and fresh spinach.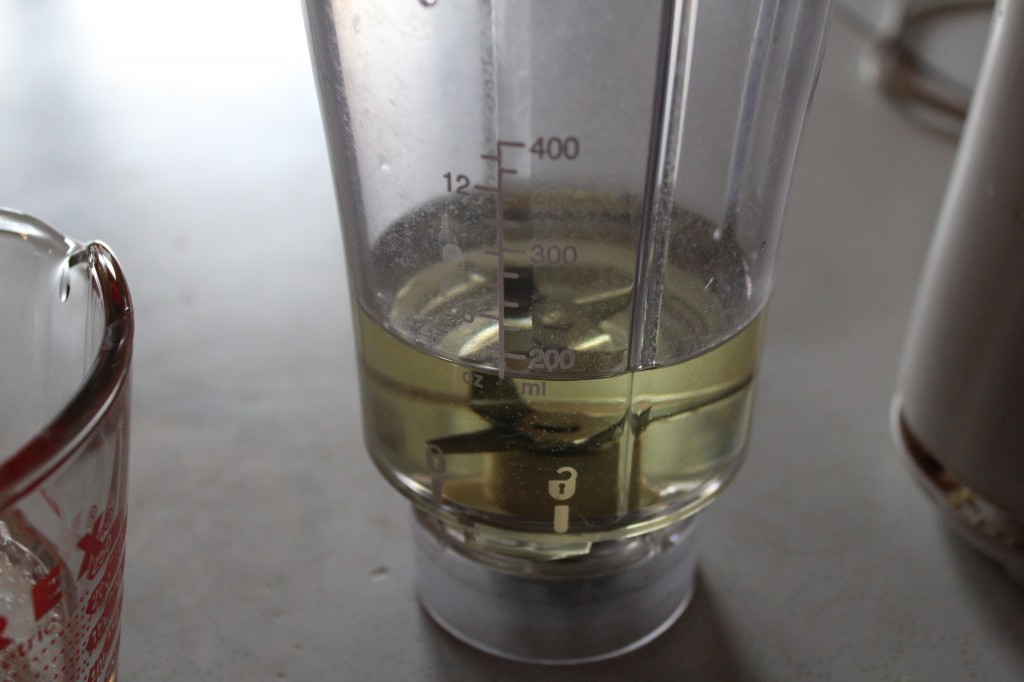 Let's make the dressing first. In a little blender or a big blender, pour in your oil.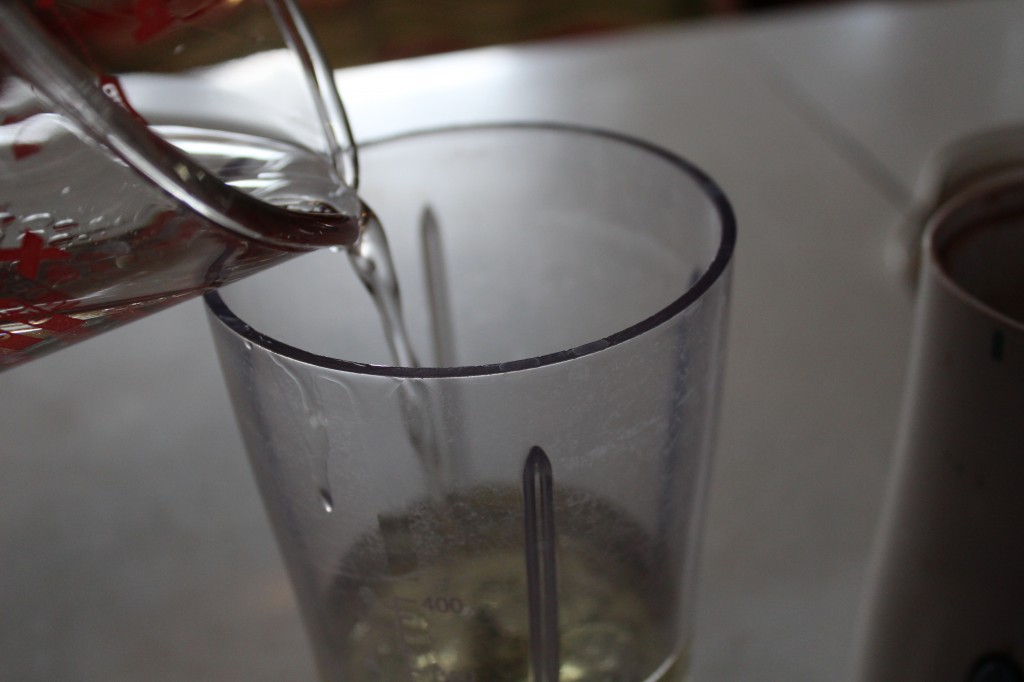 Now, add in  your vinegar.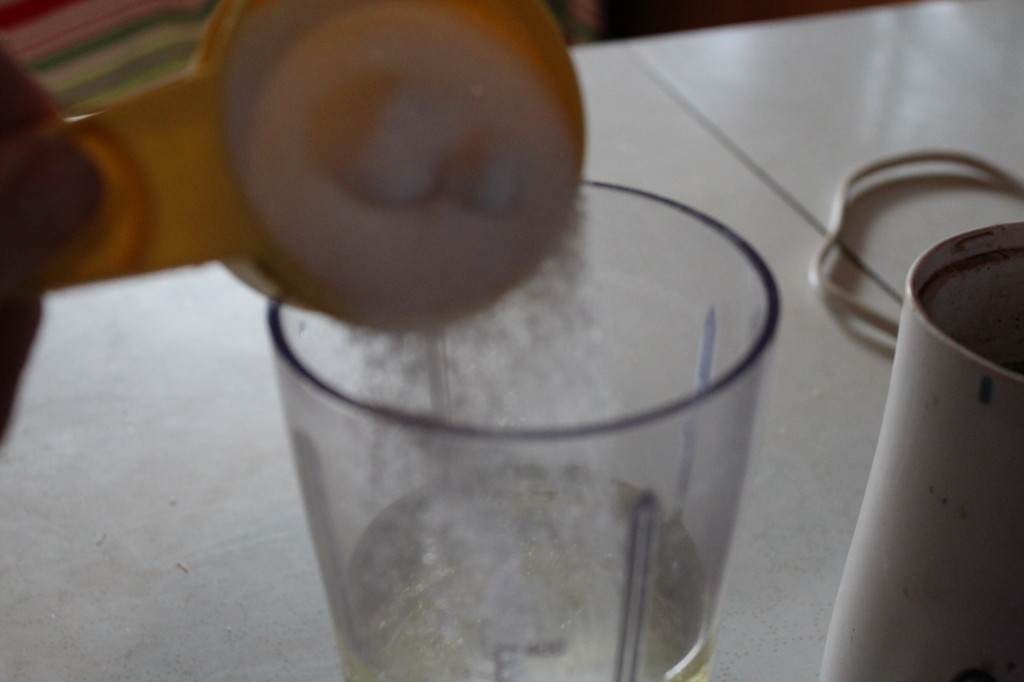 Toss in your sugar.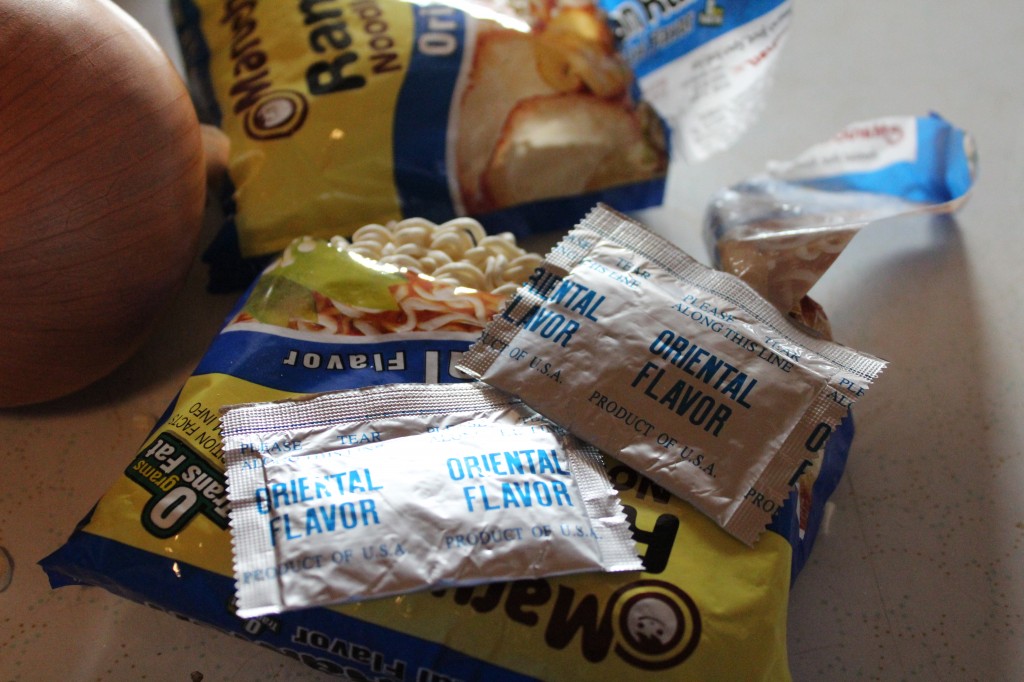 Now add in the secret ingredient of two packets of oriental flavor ramen noodle seasoning packets.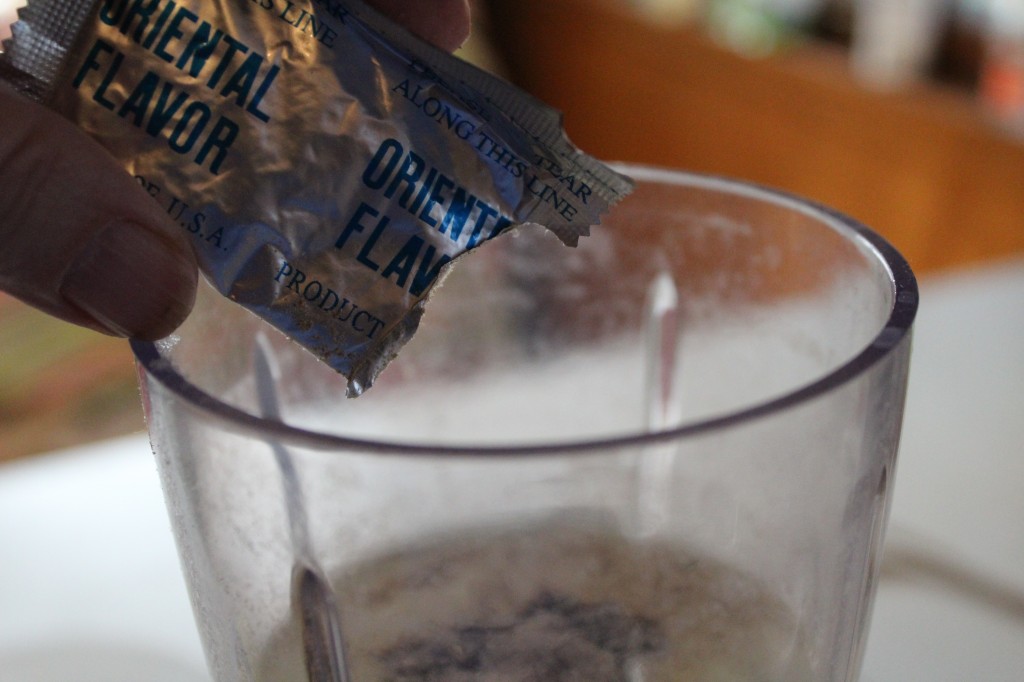 Just sprinkle them in.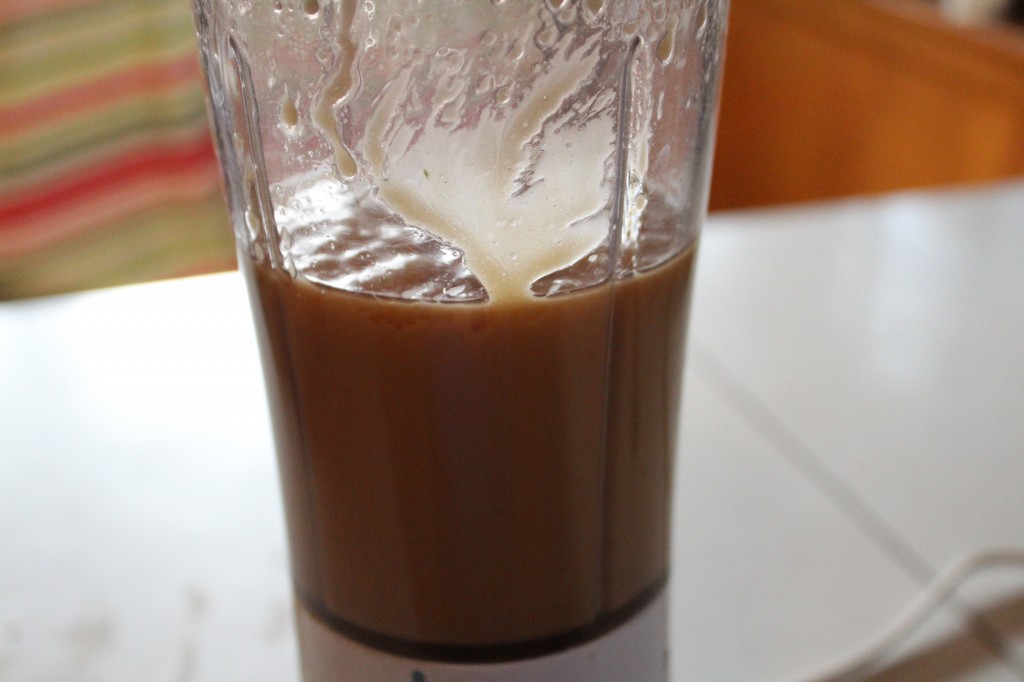 Using  your blender, blend the dressing until it is smooth and thick. The oil and vinegar should totally be emulsified.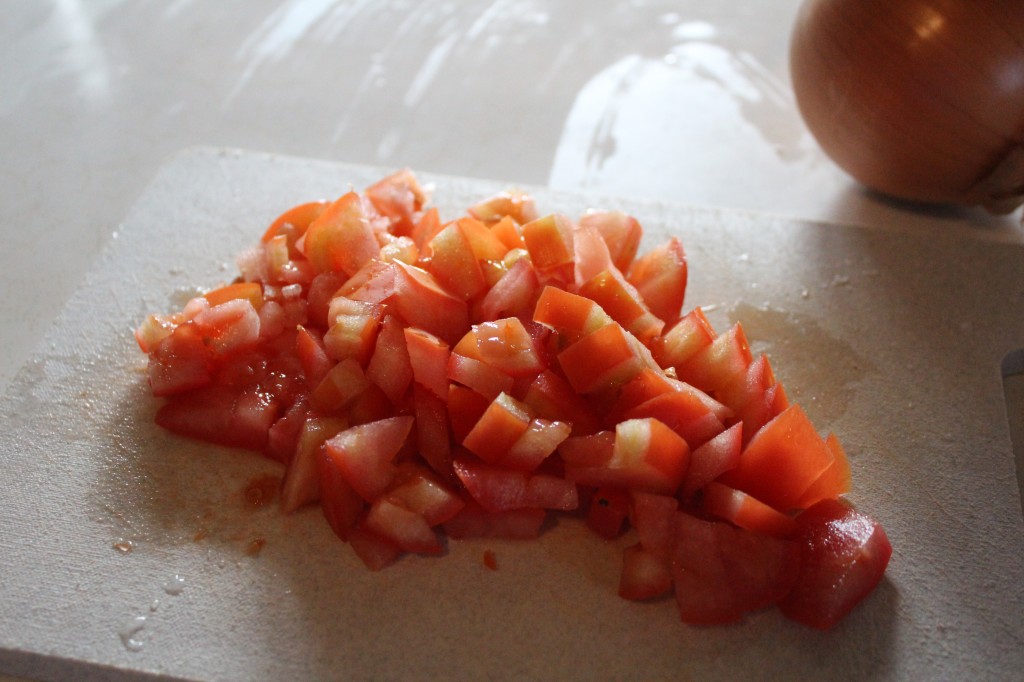 Now chop up your tomato, or if you are using cherry tomatoes, cut the cherry tomatoes in half. Also finely chop up a half of a red onion.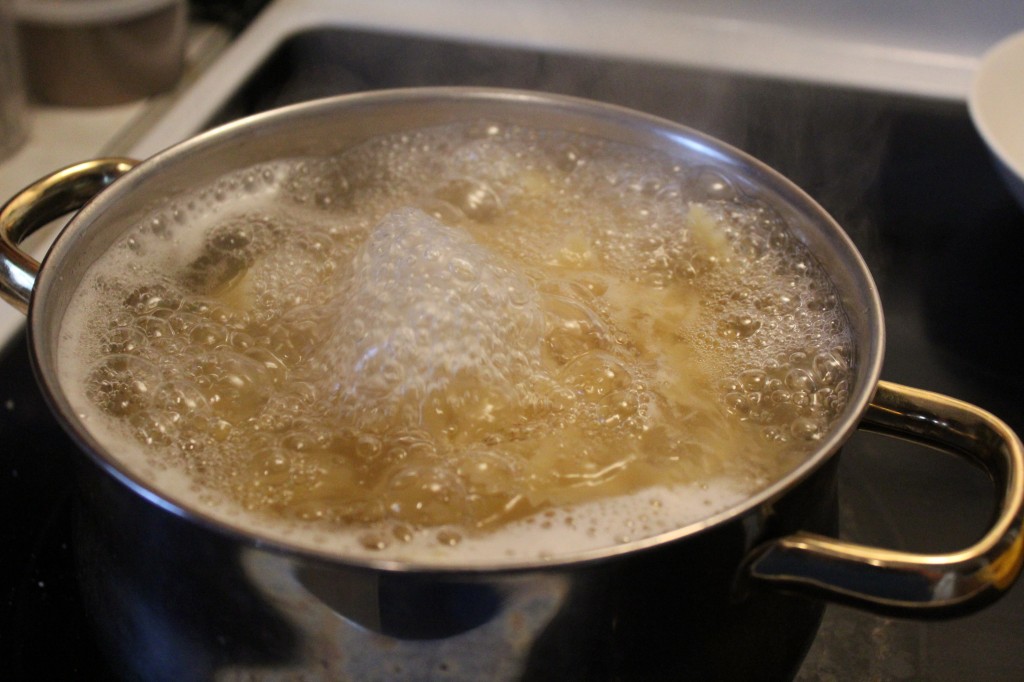 Start some salted water to boil and boil bow tie pasta following the directions on the box.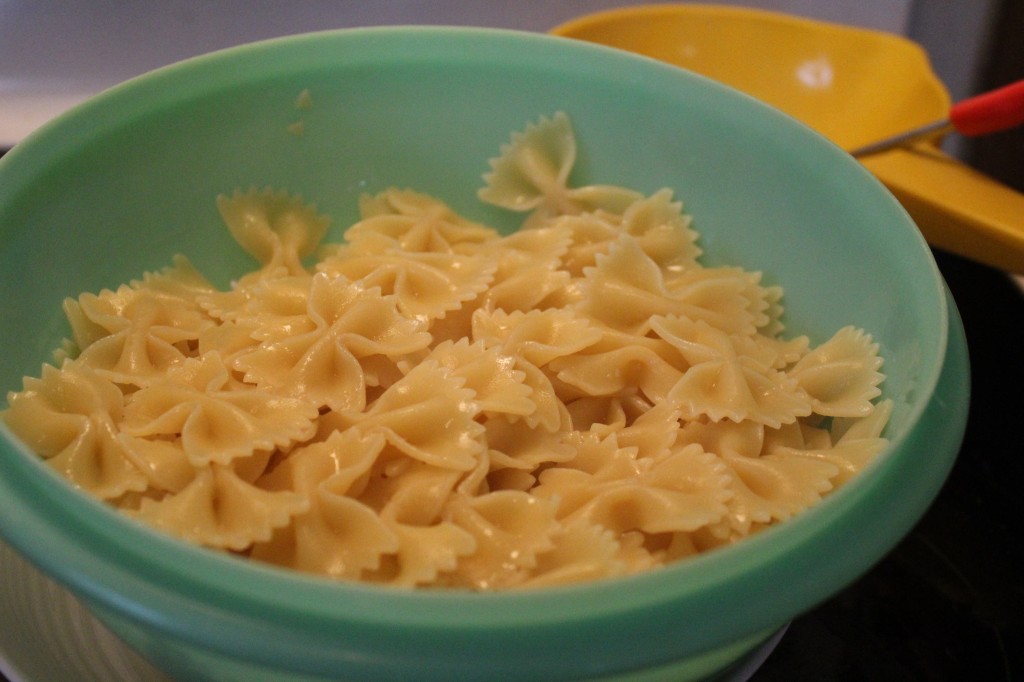 When finished cooking, run cold water over the pasta to cool.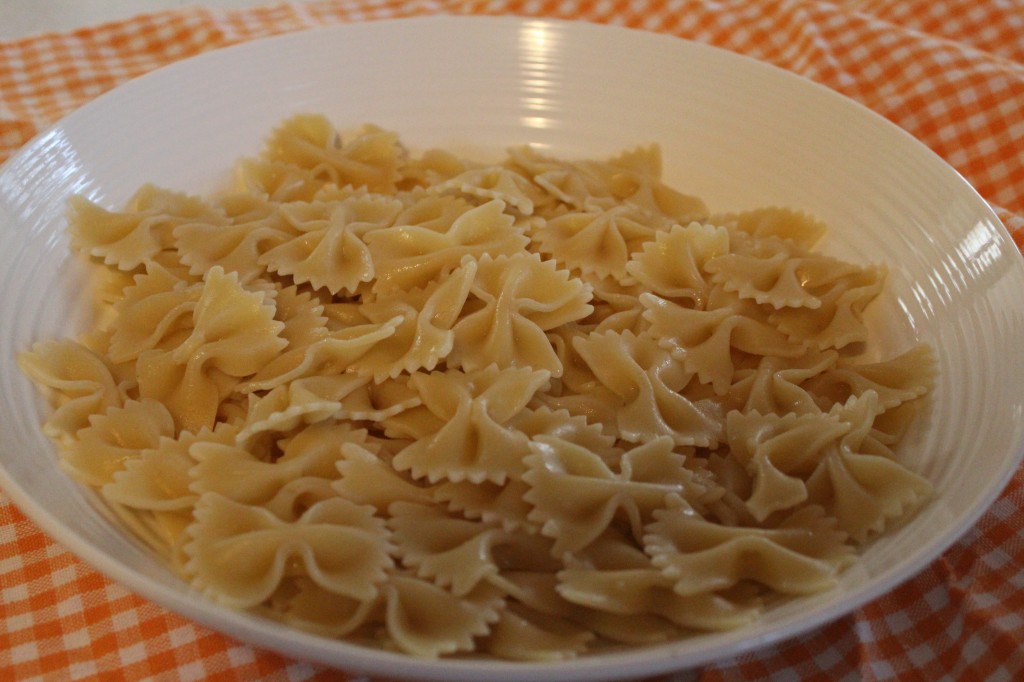 Now it is time to assemble the salad.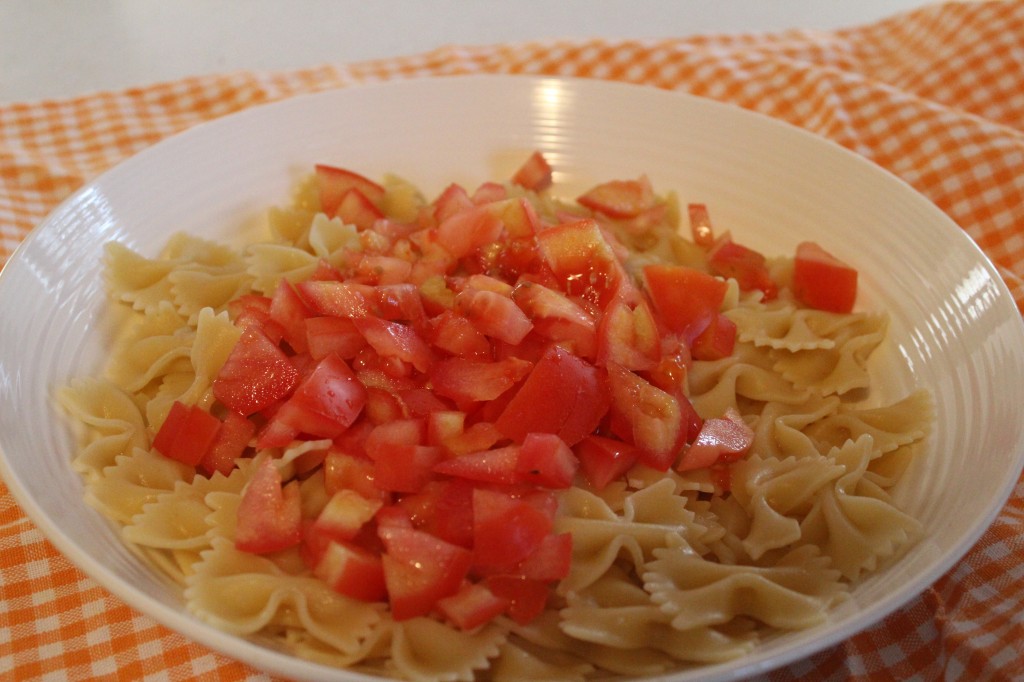 In a large bowl put in the cooked and cooled pasta. Add in the tomatoes.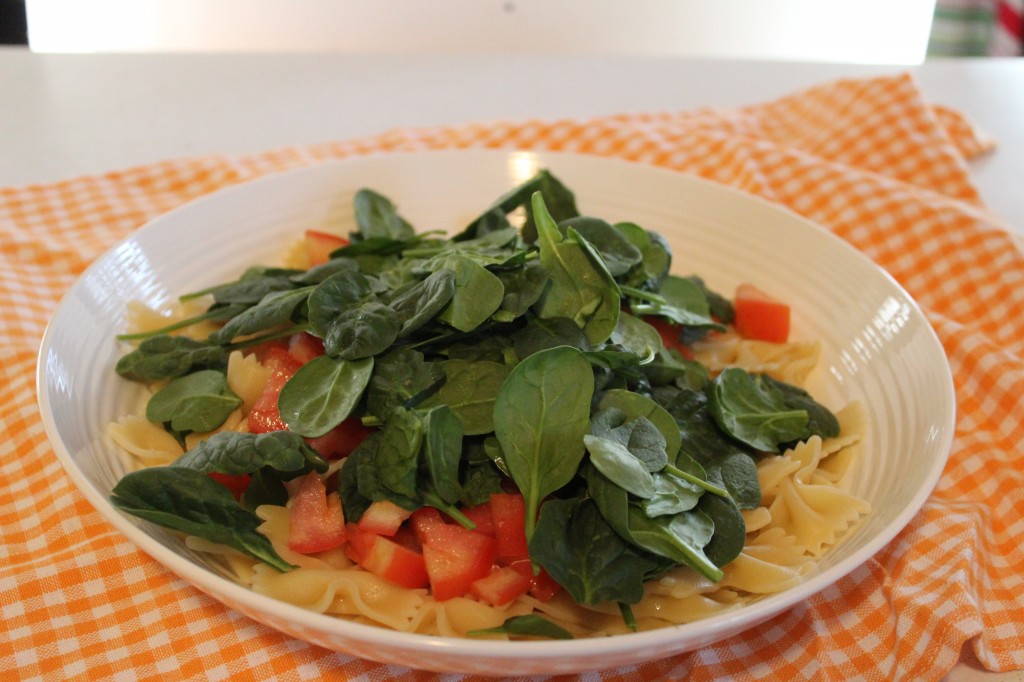 Add in the diced onions and the spinach.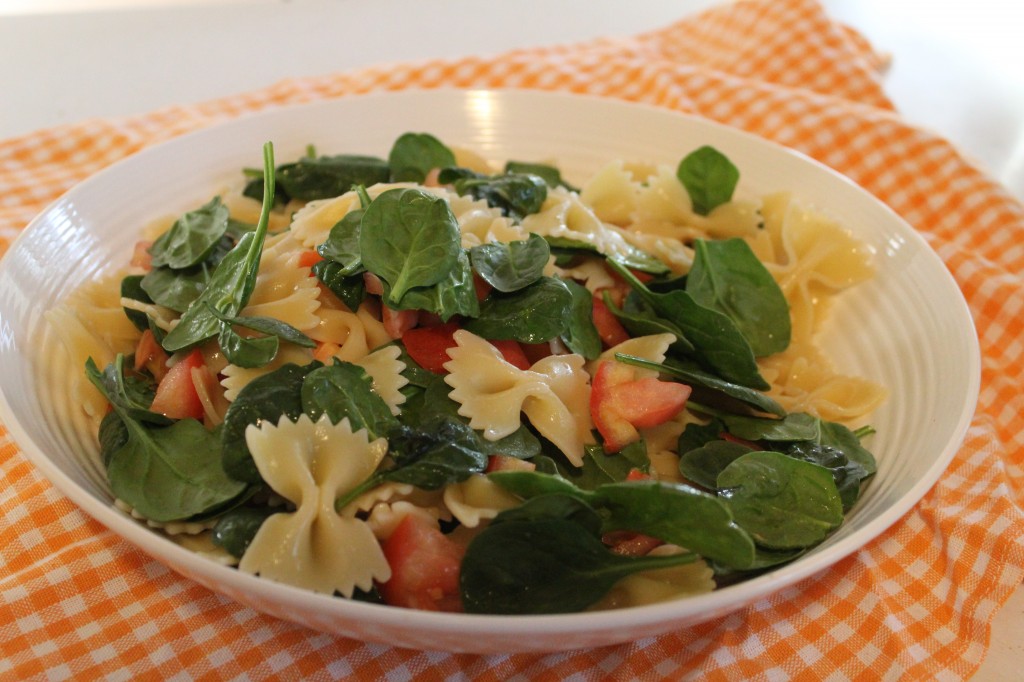 Toss and the salad ingredients together.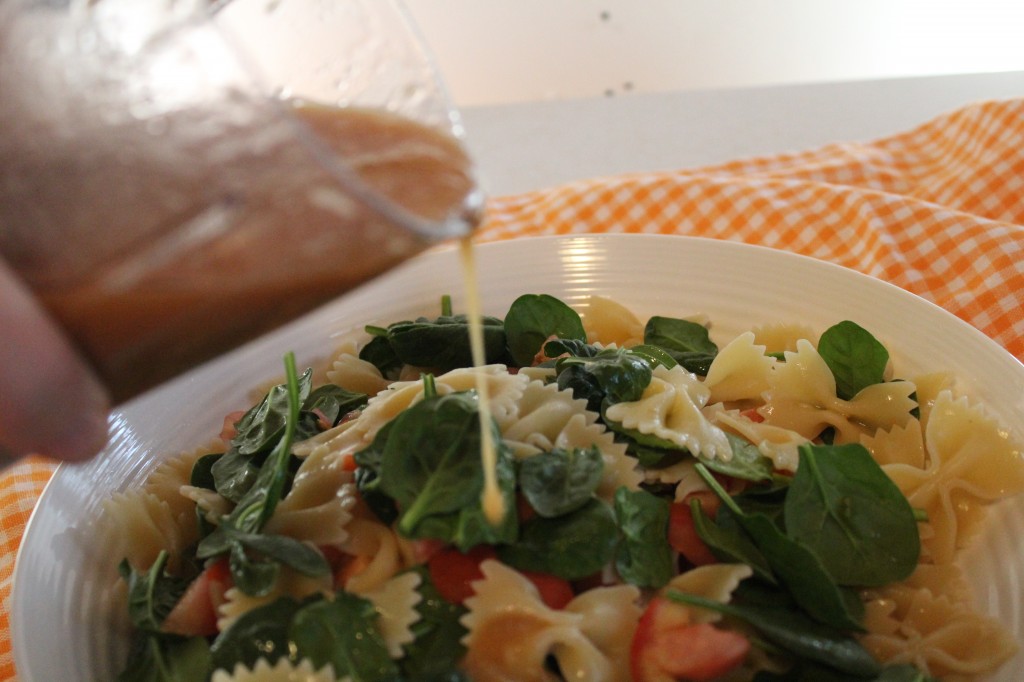 Now drizzle on the amount of dressing that you like.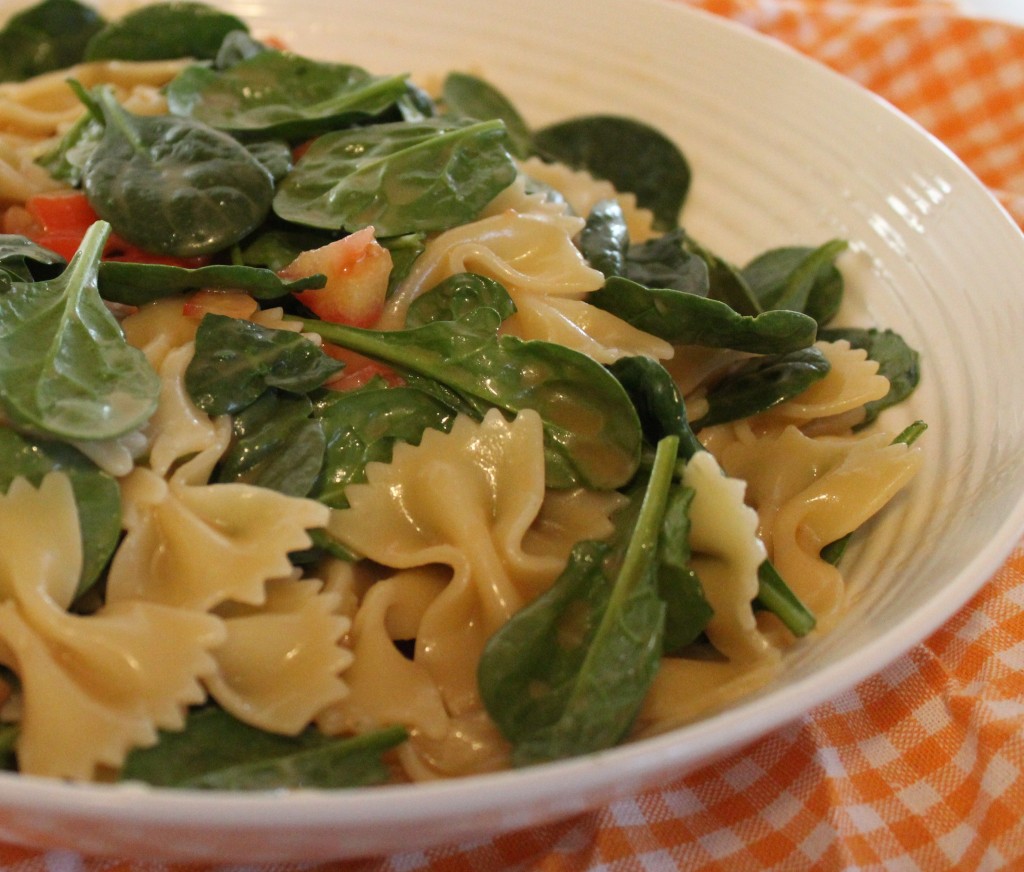 All you need now is a fork!
Here is the recipe:
Courtesy of my friend Jeanetta!
Bow Tie Pasta Salad
Ingredients:
1- 16 ounce box bow tie pasta
2 to 3 cups of fresh baby spinach
2 cups cherry tomatoes sliced in half
1/2 sweet red onion diced
3/4 cup vegetable oil
1/2 cup vinegar
1/2 cup sugar
2 seasoning packets from oriental flavor ramen noodle packages.
Directions:
Slice the cherry tomatoes in half. Dice the red onion.
Cook pasta according to the package directions. Drain and let cool.
In a blender, blend together the vegetable oil, vinegar and sugar. Add in the oriental flavoring packets. Blend until fully emulsified.
In a large bowl combine the cooked pasta, tomatoes and onions. Toss together .
Right before serving, add in 2 cups of spinach leaves. Toss.
Drizzle with dressing in the amount that you like. Toss and serve.
Enjoy!
Becky
Here is a couple of other post you may enjoy reading:
St. Louis Style Oven BBQ Ribs                                                Grilled Steak Burgers