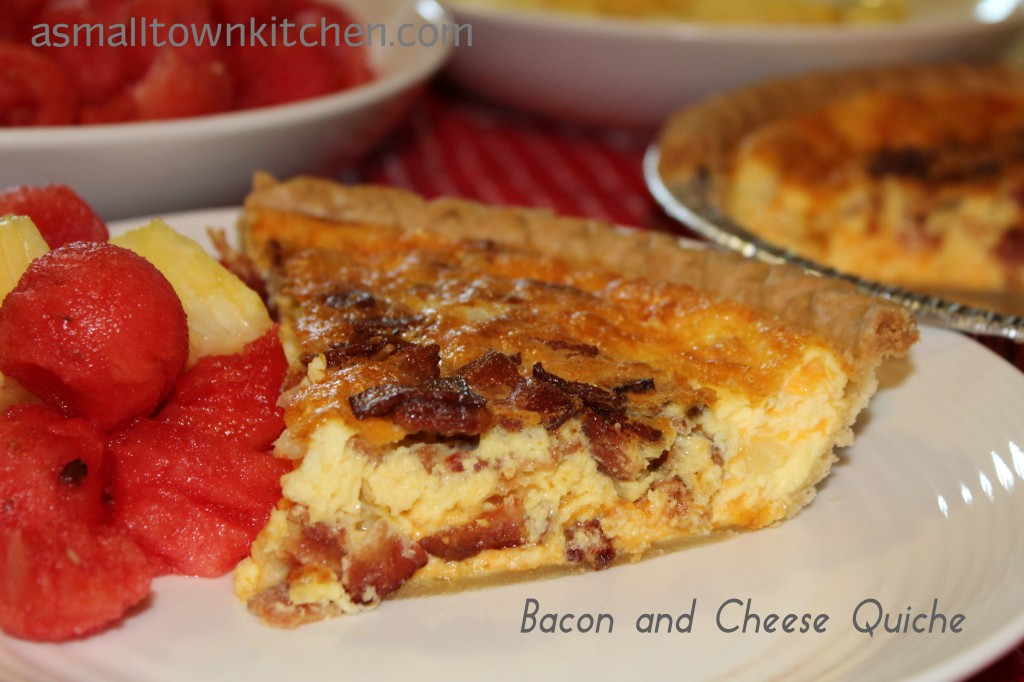 Hello All! I again apologize for the long delay in posting recipes. Long story short, I got pretty sick with a sinus infection. I knew I was feeling tired, head hurting, taking sinus medicine at all hours…thinking it was all due to school starting, allergies…you know regular "ya, I don't feel good, but I have too much to do to give it much attention." Well anywho, after much delay I finally went to the doc and yes I have a ear and sinus infection. I have been on antibiotics for a few days now, and I am starting to feel so good, I am almost excited to go back to school tomorrow….almost…haha.
The girls in the chicken coop, aka backyard chickens, are laying eggs like mad. They are popping out between 4 to 6 eggs a day. So, after months of feeding them and cleaning up the poopy chicken coop, I am finally rolling in eggs. Now, if they could lay me a golden egg. Yes, I am a dreamer! They have laid over 200 eggs in about 6 weeks time. I am having a blast sharing eggs with a couple of the Super Hero's friends at work, Nierner Wiener and now I am saving up eggs for when Baby College Girl comes to visit in 3 weeks.
But, in the meantime, I needed to use a few eggs. Personally, I don't eat many eggs. I will eat boiled eggs, occasionally. I will a deviled egg, occasionally. I love to make omelets, over easy eggs, scrambled and fried hard….you just won't see me eat them.
Strange, I know!
Going back to my story…..I needed to use up some eggs, so last night I made two quiches. One with onions and one with out onions, cause some guy named Company does not like onions, (strange, I know) so I decided to be nice and make him happy.
I am going to show you how to make one with onions, but I was told the quiche tasted great without them….personally I think the onion one would taste better.
This recipe is super easy and it did not take long at all to make. Which means, I will be making more quiches around here.
Here is what you need: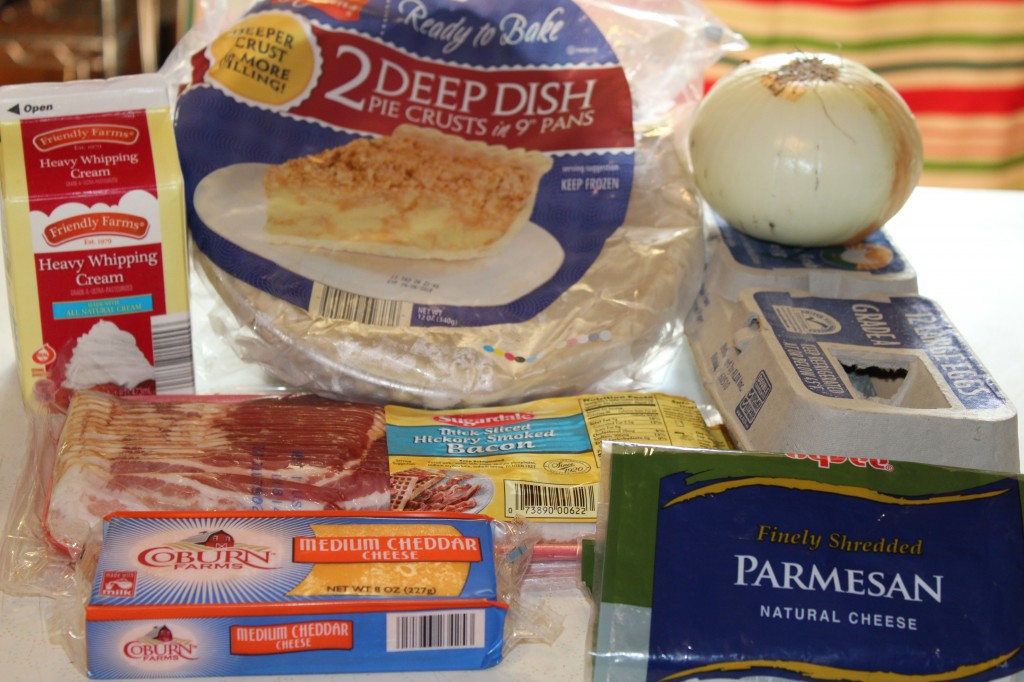 You will need a frozen 9 inch deep dish pie crust, (but by all means you can make your own crust) 5 slices of bacon fried and crumbled, some grated cheddar cheese, some parmesan cheese, whipping cream (you can also use half and half) and of course eggs.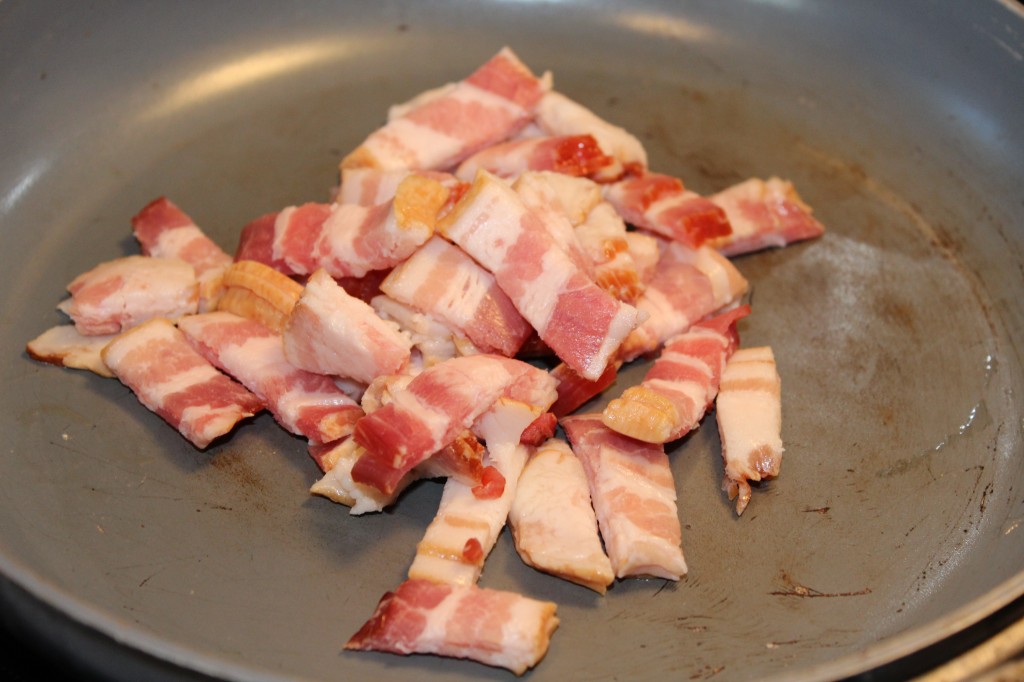 I cut up my bacon before I fry it because I think it fries better and gets crispier.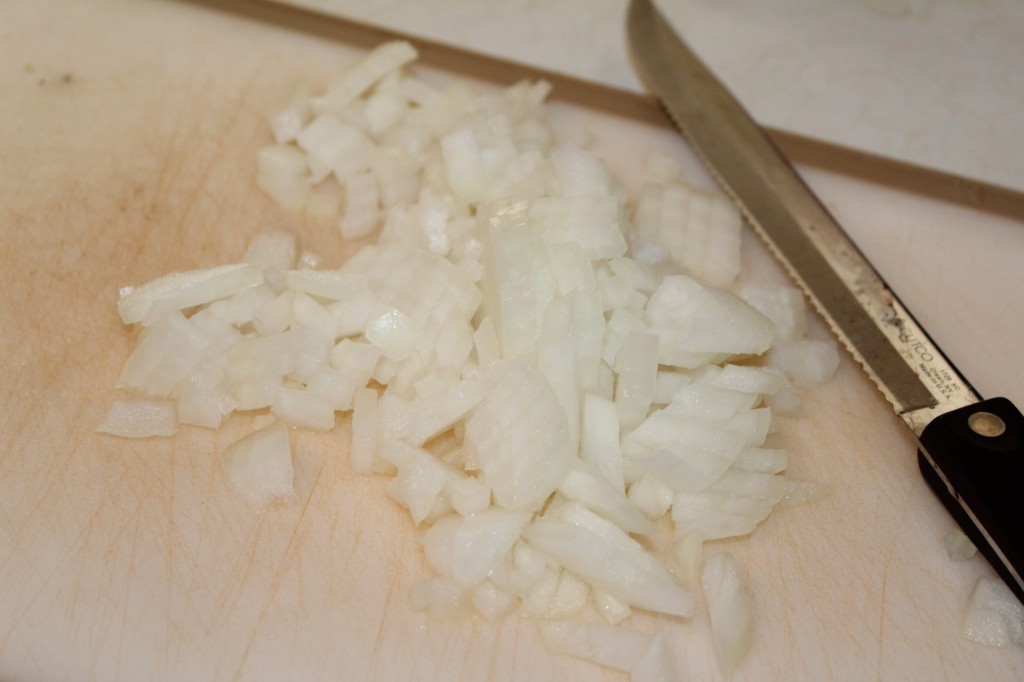 Dice up 1/2 cup onion.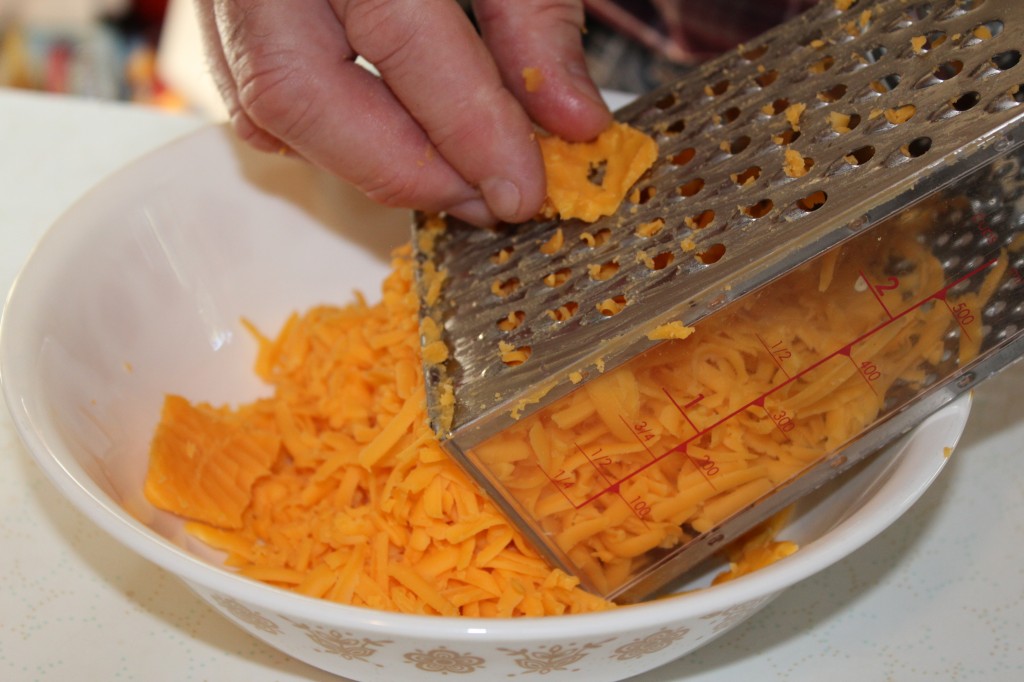 You will need 5 ounces of grated cheddar cheese. You can buy it already grated, but I talked Company into grated me some fresh cheddar cheese.
Now, it is time to start assembling your quiche. First put the grated cheese in the frozen pie crust first, then top with the diced onions.
After the cheese and the onion, add the parmesan cheese and the crispy bacon pieces.
I used a blender, but you can do this with a mixer or just with a fork, what ever method you choose to blend you eggs and whipping cream together till smooth.
Pour the egg and cream mixture into the pie crust. Some of the bacon bits will float to the top. Bake at 400 degrees for 13 minutes then turn the oven down to 350 degrees and bake an additional 25 to 30 minutes, or until crust is brown the quiche does not giggle with moved.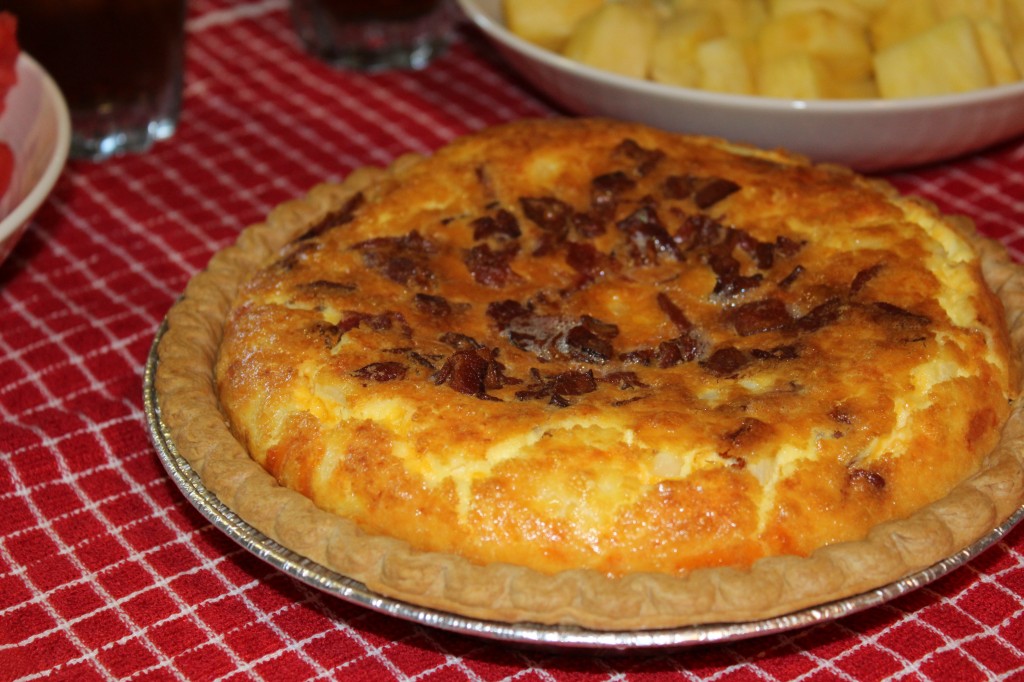 Here is the Bacon and Cheese Quiche right out of the oven. It will puff up real big then as it cools it will slowly go back down.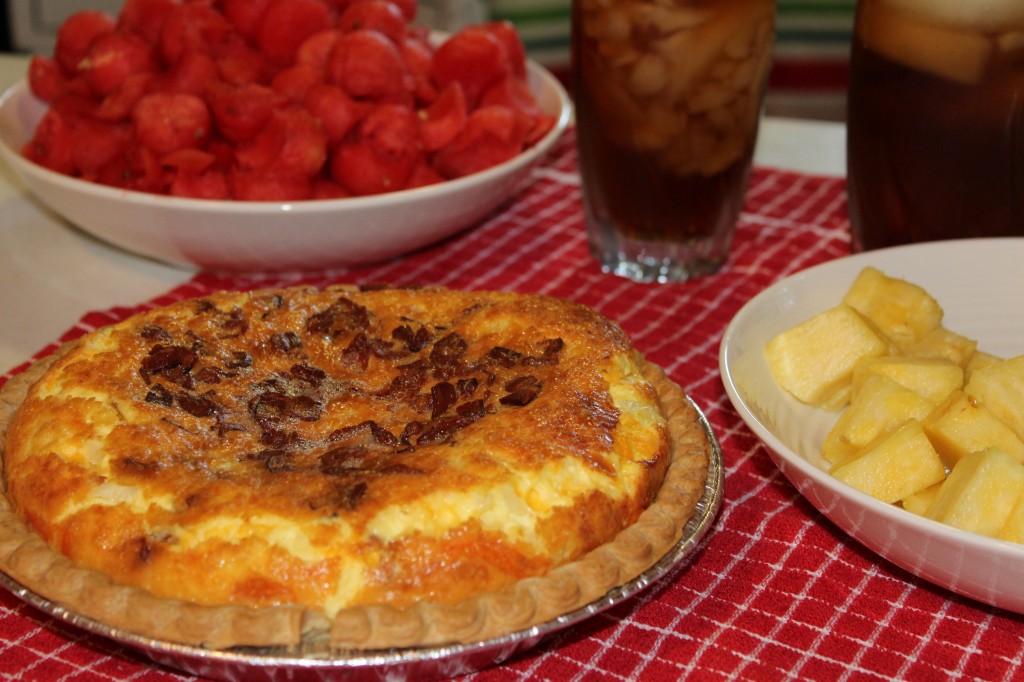 I cut up some fresh pineapple and seedless water melon, poured us some tea and everyone thought we had a feast. There was even enough left over for lunch today. Woot Woot!
Here is the recipe:
Bacon and Cheese Quiche
Adapted from Alrecipes
Ingredients:
5 slices of bacon (I used thick slab) fried and crumbled. (you can also use 3 ounces of REAL bacon bits not imitation)
1/2 cup  diced onions
5 ounces of shredded cheddar cheese
3 ounces of grated parmesan cheese
1 (9 inch) frozen deep dish pie crust
4 large eggs slightly beaten
1 cup cream or half and half
Directions:
Preheat oven to 400 degrees.
Layer the cheeses, onion and bacon in the unthawed pie crust. (you could also combine the cheeses, onion and bacon in a bowl first then put in the pie crust)
Mix the eggs and cream together until smooth. Pour over the cheese mixture.
Bake in a preheated 400 degree oven for around 13 minutes. Turn the oven down to 350 degrees and continue baking for another 25 to 30 minutes, or until top turns brown and center is cooked completely.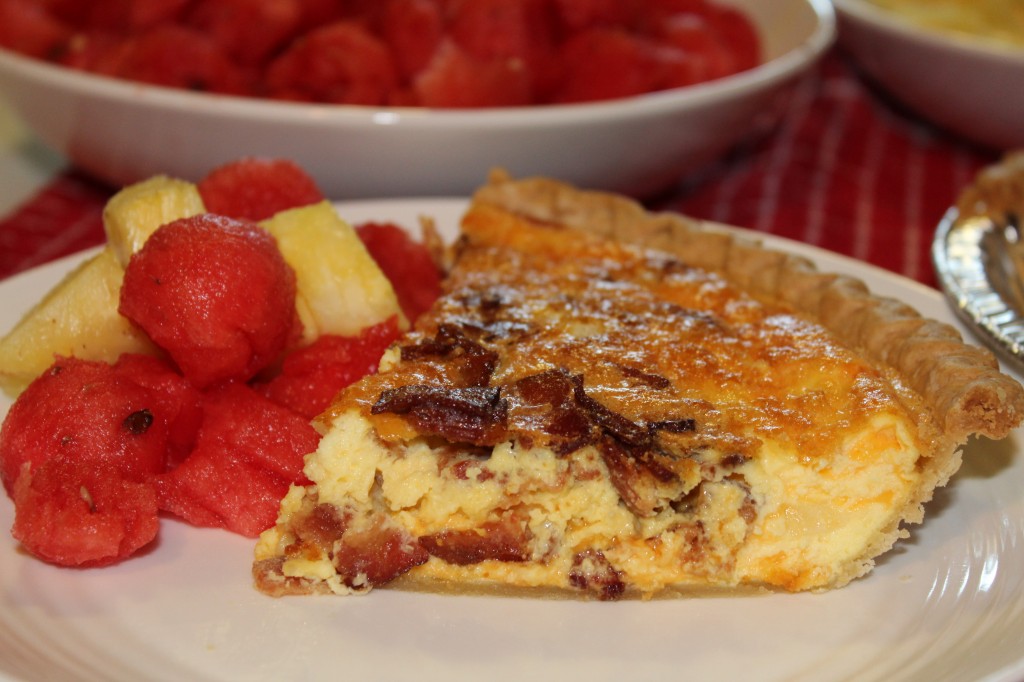 Here is a little close up of all that bacon goodness!
Enjoy and eat eggs!
Becky
Other Post you may enjoy: (With fall close approaching, I added a couple of my FAVORITE squash recipes)
            Deviled Eggs                   Butternut Squash Soup       Sausage Stuffed Acorn Squash