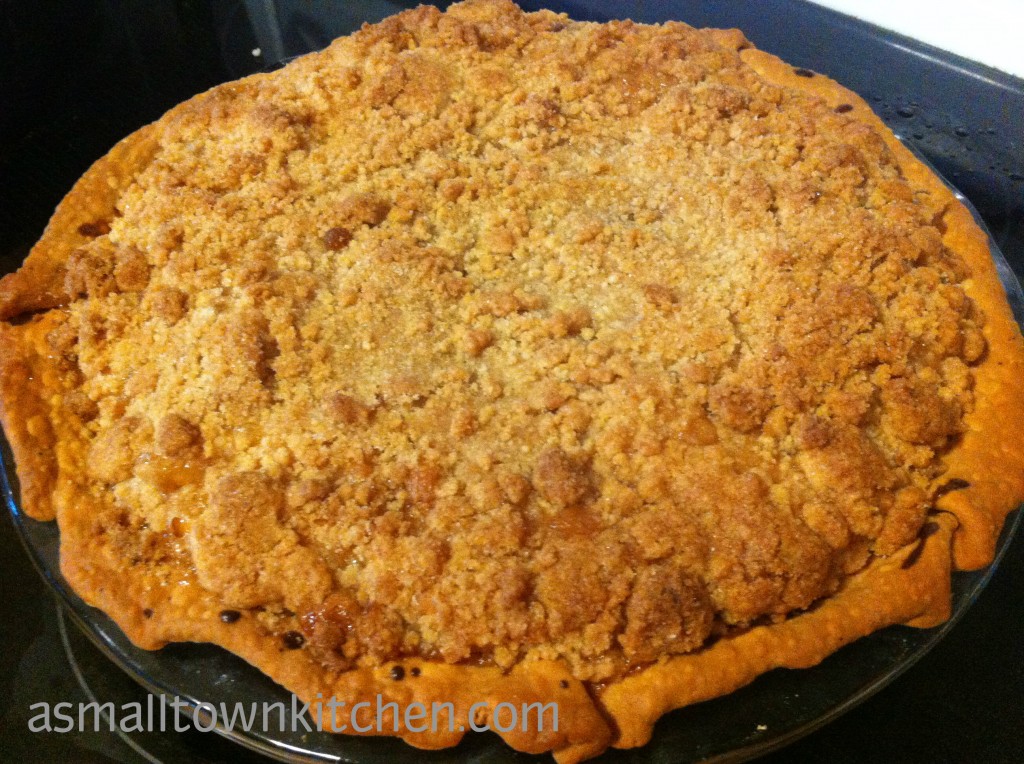 Have you ever heard of the saying, "Second times a charm?"
Well, with this pie, there almost wasn't a second time.
About a month ago my baby college girl, was home for the weekend. As parents of college students already know, when college students are home they want to eat all their favorite home cooked foods.
This meant I had to make an apple pie.
A friend of mine at work gave me the November 2012  issue of Martha Steward "Living," magazine. It has some pretty amazing looking pies with the recipes in the issue. I found one pie that intrigued me, it was Apple Sour Cream Pie. I thought this pie would, fill the bill, for helping baby college girl get over her apple pie craving. We went to the store and bought 6 golden delicious apples (yes, golden ones not those old Granny ones) and some sour cream. Luckily I had every thing else at home.
I really thought I read the recipe correctly .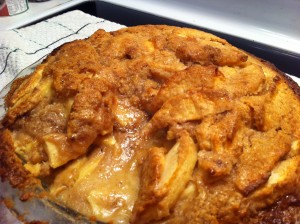 But when I took it out of the oven 45 minutes later, it came out all soupy looking. I ended up having to bake it longer.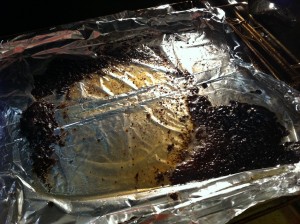 The pie all had part of the butter from the crumb topping spill over and burn in the emergency catch pan underneath the pie.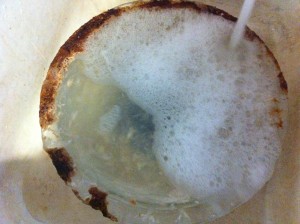 The crumb topping was so baked on, I  even had to soak my brand new pie plate to get it clean….that was the last straw. I need Martha's Stewarts number. Something was wrong with this recipe!
Don't worry, I did not call Martha Stewart. I could not fit her into my schedule : )
I did look carefully over the recipe again, the picture in the magazine looked so divine, and even though it was a soupy looking pie, it still tasted great.  What could have possible gone wrong?…..mmmm….. I read the recipe a second time……it said to do this, bake the apple filling first for 45 minutes (really) and then it said to do that, after you bake the apple filling add the crumb topping on top of the apples and bake for another 35 to 40 minutes, (no way)….how did I overlook these two important things….
OOPS!
It pays to read the whole recipe even when it goes on over to the next column. Sorry Martha!
So, to redeem myself and this apple pie recipe, I decided it was time to make Apple Sour Cream Crumb Pie again and serve it on Turkey Day.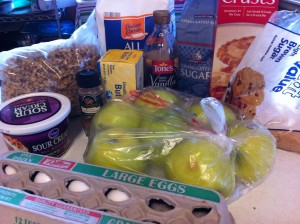 I re-bought the apples, I was glad they were still on sale for .99 cents a pound.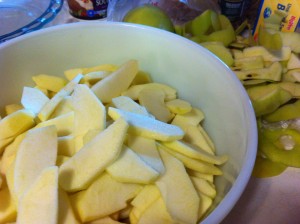 Peel, quater and slice 6 medium size golden delicious apples.
In a medium size mixing bowl combline, sugar, flour and cinnamon.
Add the vanilla, beaten eggs, and lastly the sour cream.
Mix all the filling ingredients together, pour over the apples and mix until all the apples are coated.
In a pie plate, place pie dough in it for a bottom crust. Add the sour cream apple filling and pop the pie into the oven. I put my big old catch pan underneath the pie, just in case I had any boil overs.
 While the pie is baking, make your crumb topping.  (I did not add the walnuts in the topping because my son does not like nuts)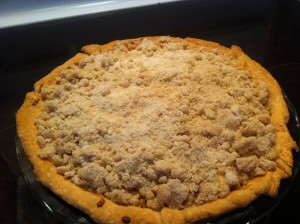 Top the apple pie with the crumb topping. Place pie back into the oven and bake for another 35 to 40 minutes or until the topping is brown.
It came out beautiful. Look at the emergency catch pan….not a drop of burnt butter on it. Success…relief….uh….apologises to Martha.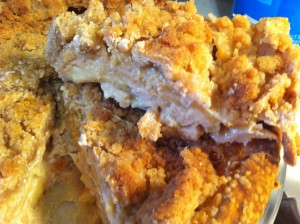 Take Two, Apple Sour Cream Crumb Pie came out perfect.
Tasted great too!
Second time is a charm!
Apple Sour Cream Crumb Pie
Recipe adapted from Martha Stewards Living Magazine Nov. 2012 issue.
Filling:
1 cup of granulated sugar
1/2 cup flour
2 teaspoons cinnamon
pinch of salt
16 ounces sour cream
2 eggs, room temperature and lightly beaten
2 teaspoon pure vanilla extract
6 golden delicious apples, peeled, cored, and sliced into 1/4 inch wedges.
Crumb Topping:
1/2 cup packed light brown sugar
1/2 cup granulated sugar
1/2 cup all purpose flour
1/2 teaspoon salt
1 stick (1/2 cup) butter cut into small pieces
1 cup chopped walnuts
Pie Crust:
I used a store bought refrigerated pie crust. I rolled it out on a slightly floured surface to enlarge it to fit my10 inch pie plate.
Directions:
Place store bought pie crust in the pie plate to form a bottom crust.
Prepare the filling by mixing together the sugar, flour, cinnamon, salt, sour cream, eggs and vanilla.
Pour the filling over apple slices. Stir together to coat the apples.
Pour the apple filling the in the crust.
Bake at 350 degrees for 45 minutes or until the apples are golden brown and the filling is bubbling.
While the pie is baking prepare the crumb topping. With a fork combine the brown sugar, granulated sugar, flour, cinnamon, salt, walnuts and butter. Refrigerate until the pie comes out of the oven. You want the mixture to be cold when you put it on top of the hot pie.
When the pie comes out of the oven, crumble the crumb topping evenly over the  pie. Bake until the topping is set and the apples are tender, about another 35 to 40 minutes.
I did make changes to this recipe. I increased the amount of cinnamon that goes into the apple filling. I  decreased the amount of butter for the crumb topping to 1 stick. Lastly, I decreased the baking time for the crumb topping to 30 to 40 minutes.
Oh! and I almost forgot! I used a store bought refrigerated pie crust……I mean…not everyone can be Martha Stewart!
If you don't succeed the first time…try, try, again…..it does work like a charm!
Enjoy,
Becky