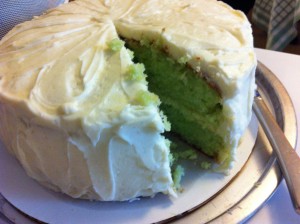 You are never to old to plant a lime tree. My 94 year old dad proved that by planting a lime tree 6 years ago. On a family vacation to Florida six years ago, my dad bought a little lime tree that came in a box at a souvenir shop. He carried that little box home and told everyone he was going to plant a lime tree. We did not remind him that we live in Missouri, and lime trees do not exactly grow in Missouri. Anywho, my dad planted this little tree in a pot and six years later…..ShaZaam…he has limes.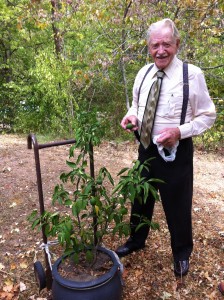 He hauled his lime tree outside in the summer and hauled it back inside in the winter….for six years. Last year he had four limes, but this year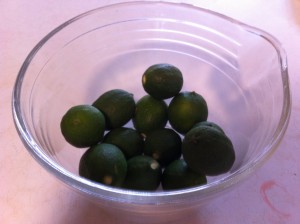 he had about a dozen. Guess who got the limes……yeppers….me!
Now, that I had Dad's limes, I needed to find a great recipe using lime juice. I had recently watched a show featuring Trisha Yearwood's lime cake. Ding, Ding, Ding..lime cake it is.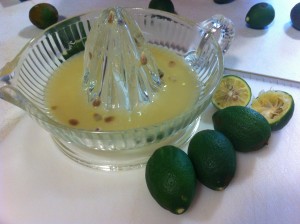 First, for the glaze,  you need to squeze the limes to get the juice out. You might try microwaving them for 10 seconds and then rolling them on the table before squeezing to get more juice out. I still needed to buy more lime juice at the store to make up the difference. Save the juice to make the glaze.
In a mixing bowl, add lime jello. Then add the sugar to the lime jello. See that little speck of green…that is the lime jello : )
Next, add the flour, salt, baking powder and baking soda. Stir and mix well. Next, add the eggs, oil, orange juice, lime juice and vanilla.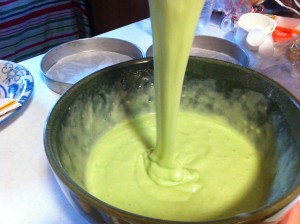 Next, mix together until combined. Don't you love the green color from the lime jello??
Prepare your pans. You can bake this cake in a 9 by 12 sheet cake pan or bake it in two layer pans. Since we were celebrating Dad' harvest from his lime tree, I decided to make a layered cake. I alway spray my pans lightly with a vegetable spray and cover the bottom of the pans with parchment paper. I never have to worry about losing half my cake from geting stuck in the pan.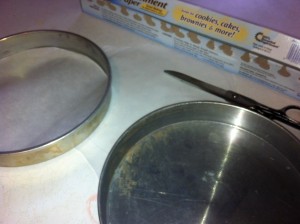 Put even amounts of batter into each pan. Place in a preheated 350 degree oven and bake for 35 minutes.
While the cake is baking, it is now time to get out all that lime juice.. In a mixing bowl, mix the lime juice and confectioners sugar together. I had to microwave mine to get all the sugar to dissolve.
When the cakes come out of the oven, cool the cakes for 5 minutes. Remove cakes from pans and place on a cooling rack.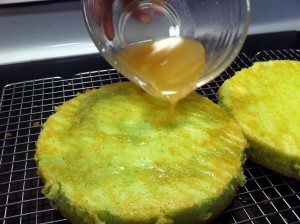 While cake is still warm, pierce the cake with a fork or skewer and pour the glaze over the cakes. Allow cakes to cool completely.
Time to make the cream cheese icing. Cream the butter and cream cheese together in a mixing bowl.
After you are finished creaming them together, add the powdered sugar.
Almost done!!! Time to ice the cake.
I always ice a cake passed the edge of the cake. It makes it easier to ice the sides. Place the other cake on top, and ice top and sides.  All finished!
Now, it was time to pack up the cake and take it to Mom's and Dad's for our dessert. My Dad bought me an antique cake carrier for Christmas, and it was perfect to take the cake for the drive to Mom's and Dad's.
All packed up! Kinda like putting a baby in a car seat : )
Who gets the first piece?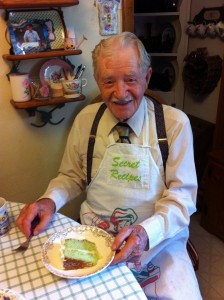 Dad does!
Key Lime Cake recipe adapted from Trisha Yearwood's recipe
Ingredients:
For the Cake:
1 – three ounce package of lime flavored gelatin
1 1/3 cup of sugar
2 cups sifted all purpose flor
1/2 teaspoon salt
1 teaspoon baking powder
1 teaspoon baking soda
1 cup vegetable oil
3/4 cup orange juice
1 tablespoon lime juice
1/2 teaspoon vanilla extract
5 large eggs, slightly beaten
For the Glaze:
1/2 cup key lime juice (it takes about 25 key limes or 4 large limes)
1/2 cup confectioners sugar
For the Icing:
1/2 cup butter at room temperature
one 8 ounce package of cream cheese room temperature
one pound box confectioner's sugar
NOTE: I doubled the icing recipe because I was making a layered cake. I did have left over icing so try making 1 and 1/2 recipes of icing)
Directions:
Preheat oven to 350 degrees
In a large mixing bowl, mix the gelatin, granulated sugar, flour, salt baking powder and soda. Stir to mix well. Add the oil, orange juice, lime juice, vanilla and eggs. Mix until well combined. Pour the batter evenly i the pan and bake for 35 minutes. Be sure and check you cake often at the end, the cake tends to get very brown on top. When done, cool the cake in the pan for about 5 minutes and then place on a cooling rack.
For the glaze: While the cake is still hot, mix the lime juice and confectioners sugar together. If you are having a hard time getting the sugar to dissolve try microwaving the glaze for a minute. Pierce the cake and while the cake is hot, pour the glaze over the layers. Let cool completely.
For the icing: Cream the butter and cream cheese. Beat in the confectioners sugar until mixture is smooth. (I added some vanilla paste, just cause I love those little specks of vanilla beans). Spread the icing on the top of the bottom layer of cake. Place the top layer on and ice the top and sides.
This cake was moist and tangyingly good! So different and so divine!
Pucker up with lime cake!
Enjoy,
Becky