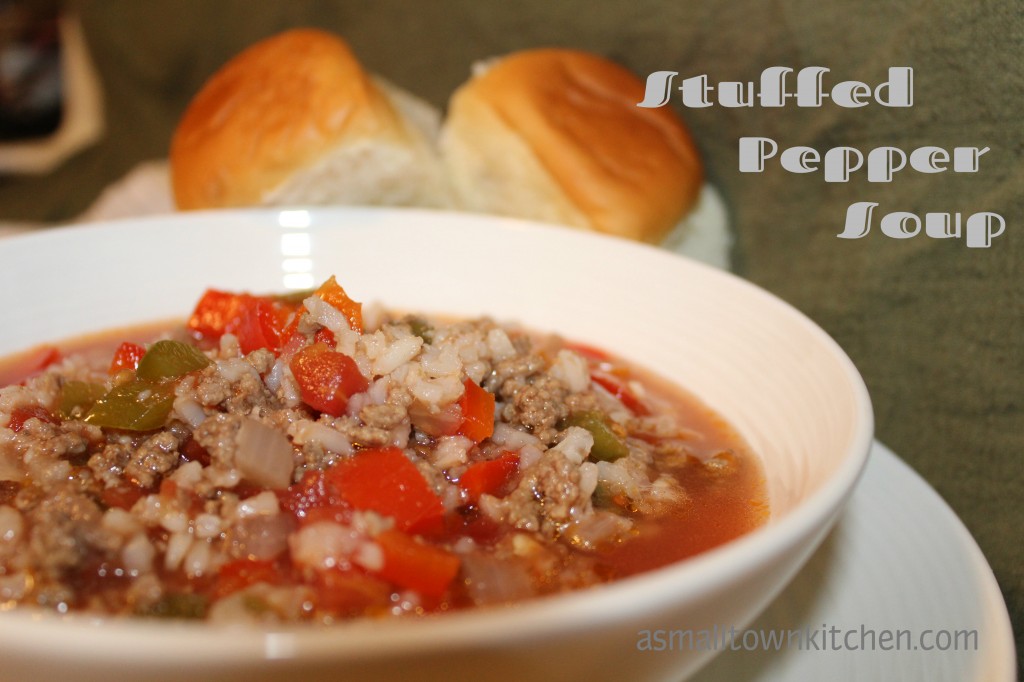 Soup….glorious soup….awwww so delicious!
I just want to break out into a song when I find a new soup recipe that is easy to make, taste great and will go into my freezer for school lunches.
Seriously….why buy soup in a can, when you can make some pretty awesome soup at home.
What I love most about soup it that is a meal on spoon. Every spoonful is brimming with deliciousness…..you can use a big spoon or a little spoon…but I suggest a BIG spoon.
I know that I have posted several….or maybe more than several….(Minerva how many equals several?) soup recipes in the last few weeks.
But I have NO willpower. I could not resist making this recipe last night for my baby college girl. Baby College Girl came home yesterday for a quick 8 hours to do some wedding planning….yes this is big news I have not told you about yet…and to go to her dentist for a filling and cleaning. Oh…and most importantly to spend a whole three hours with me! We were trying to decide to either just go out to dinner or make something quick at home. After a bit, we decided we could visit better and have more quality time together if we just stayed home and make a quick dinner.
That is what eating at home is all about right? Eating at home at the table, sharing funny stories, getting our feet tickled by a three year old who was hanging out under the table, laughing and gobbling down soup and rolls.
It was a perfect visit with my baby girl!
Anywho, I caught my eye on this recipe when I was shopping at a flea market looking at cookbooks. Since I have an addiction to cookbooks, I have a rule that I have to find ONE recipe in a cookbook that I promise myself I will make, before I can buy it. When I seen this recipe for Stuffed Pepper Soup, it looked interesting, had simple ingredients and would not take long to make.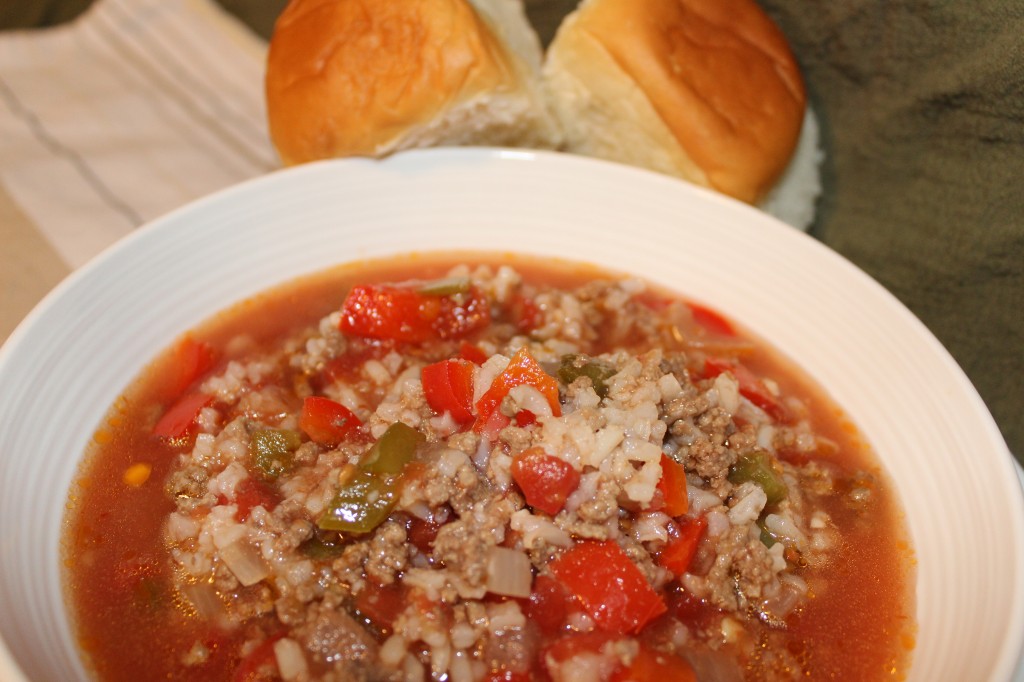 Looks Delicious doesn't it?
So glad I bought that cookbook. I hope you are too!
Here is what you need to make this recipe.
Now, before we go any farther, you will need MORE chicken stock than 2 cans. You will need 5 to 6 cans depending on how much liquid you want in your soup. When I took the picture, Oldest Daughter was not home yet from the store. You need red and green peppers, onion, salsa, diced tomatoes, garlic, hamburger and cooked rice. After you make the soup you season it with salt and pepper.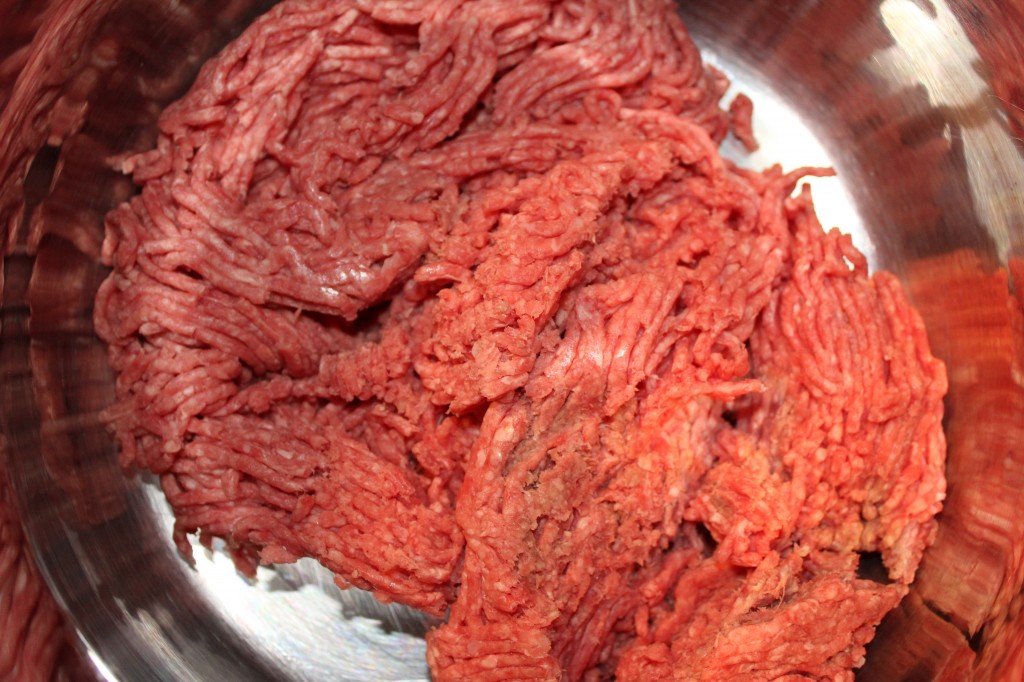 First thing you do is start browning two pounds of hamburger.
While the hamburger is browning, dice up the green and red peppers and the onion. (yes, Company picked out all the onions out of the soup…so I should have diced them up smaller…hehe)
Brown and drain the grease from the hamburger.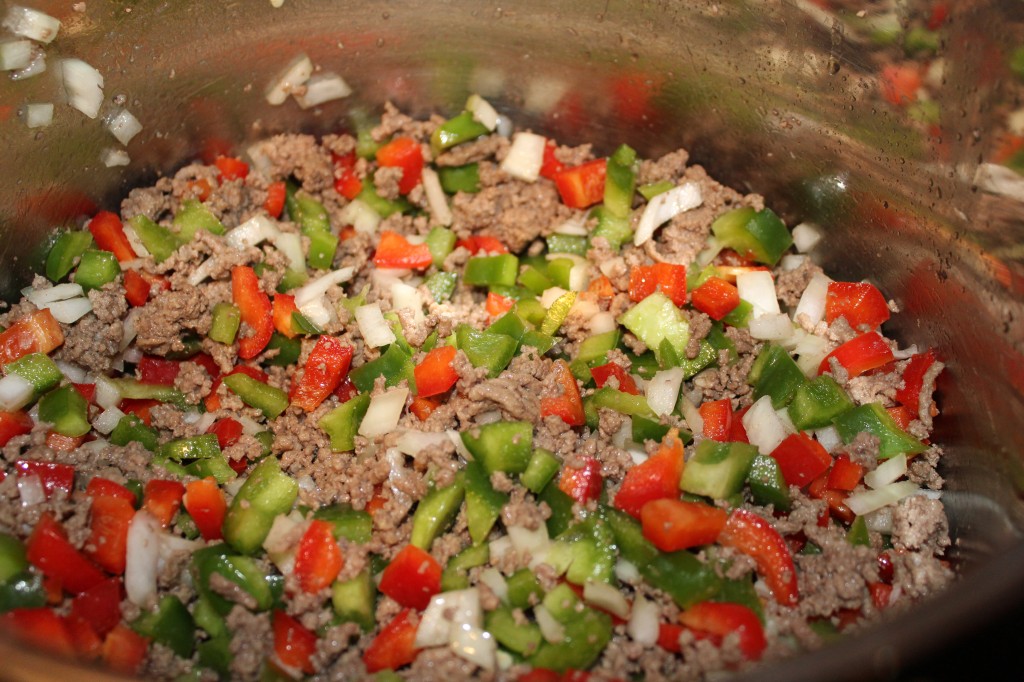 Add the chopped veggies to the hamburger.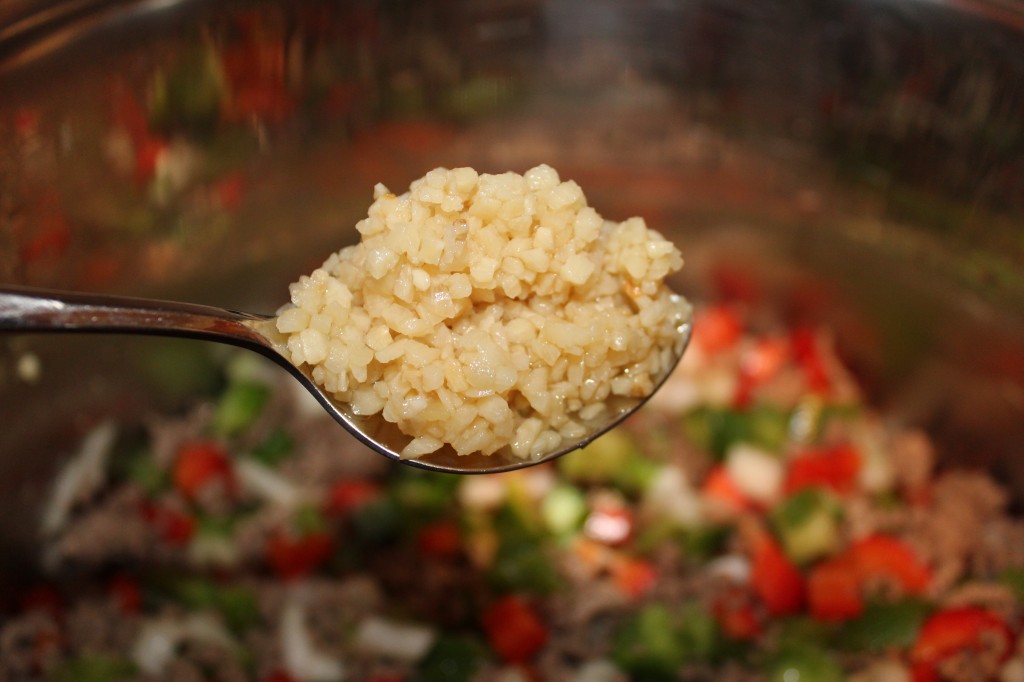 Don't forget the minced garlic.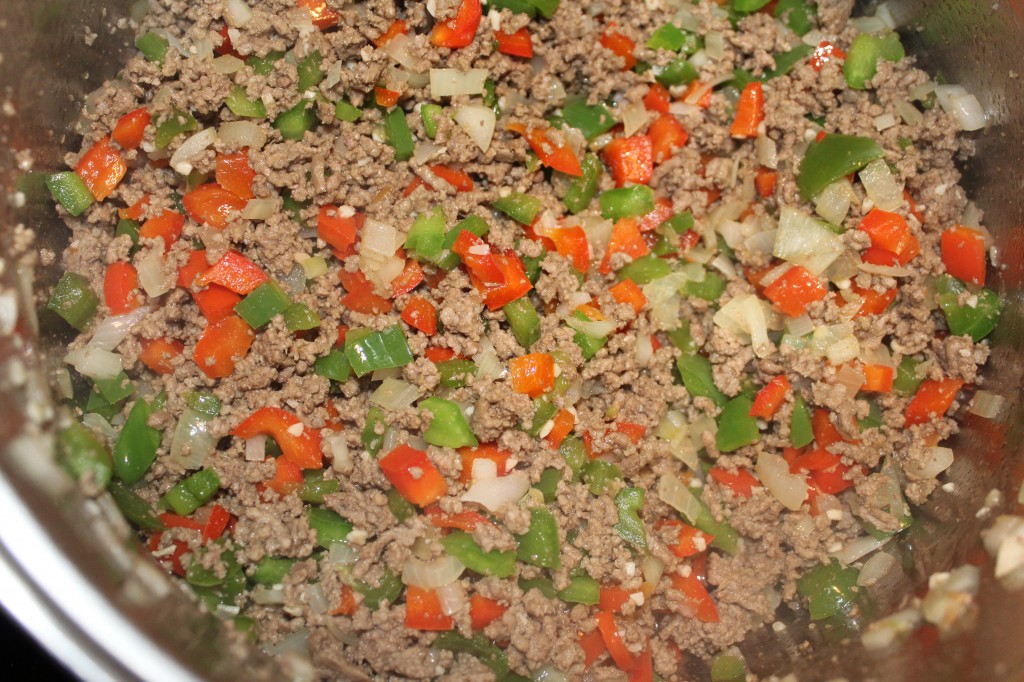 Cook the veggies with the hamburger for a few moments, until the veggies begin to get soft. Make sure and stir while you are doing this.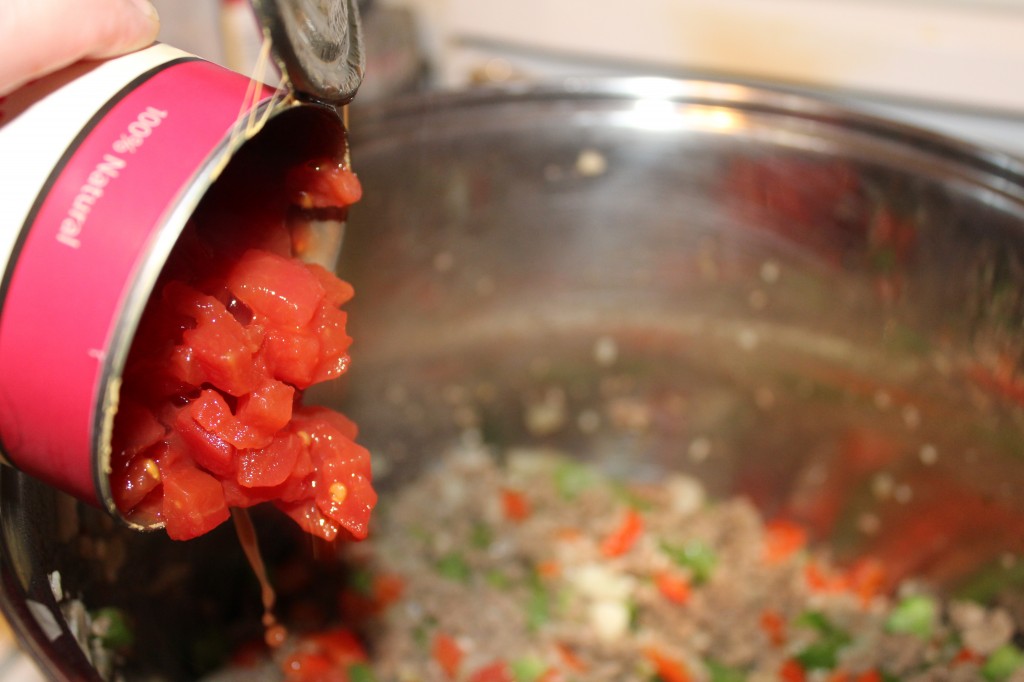 Time to add is some diced tomatoes.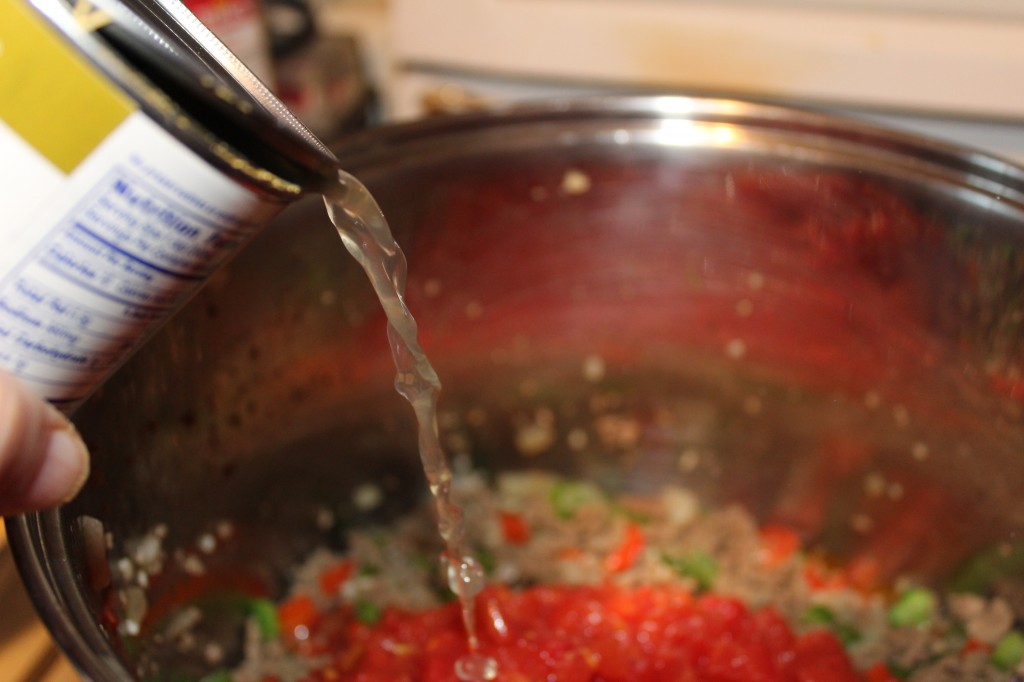 And some chicken broth/stock.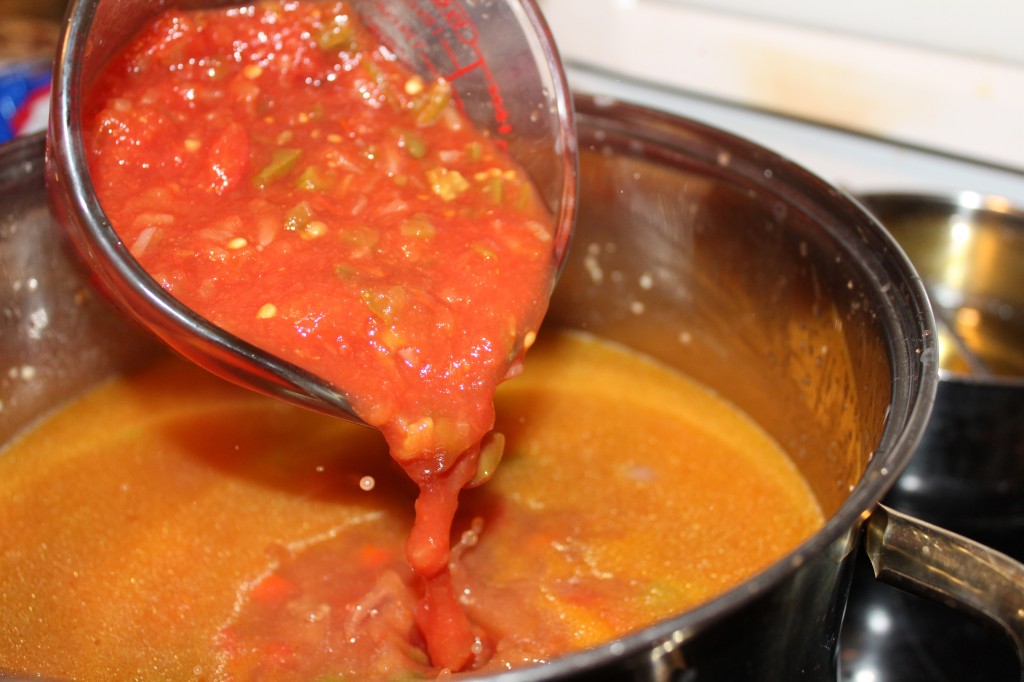 Pour in 2 cups of salsa. I used mild because I am allergic to jalapenos and I also cook for a three year old. But, if you like spicier salsa, go for it!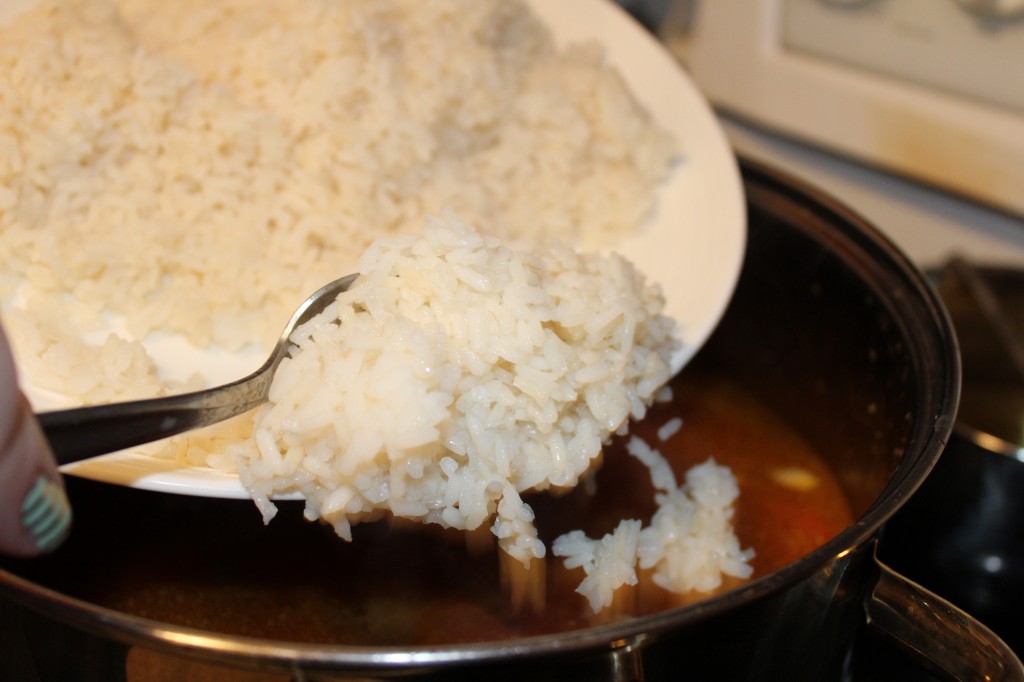 Add in four cups of cooked rice.
Season to taste with salt and pepper.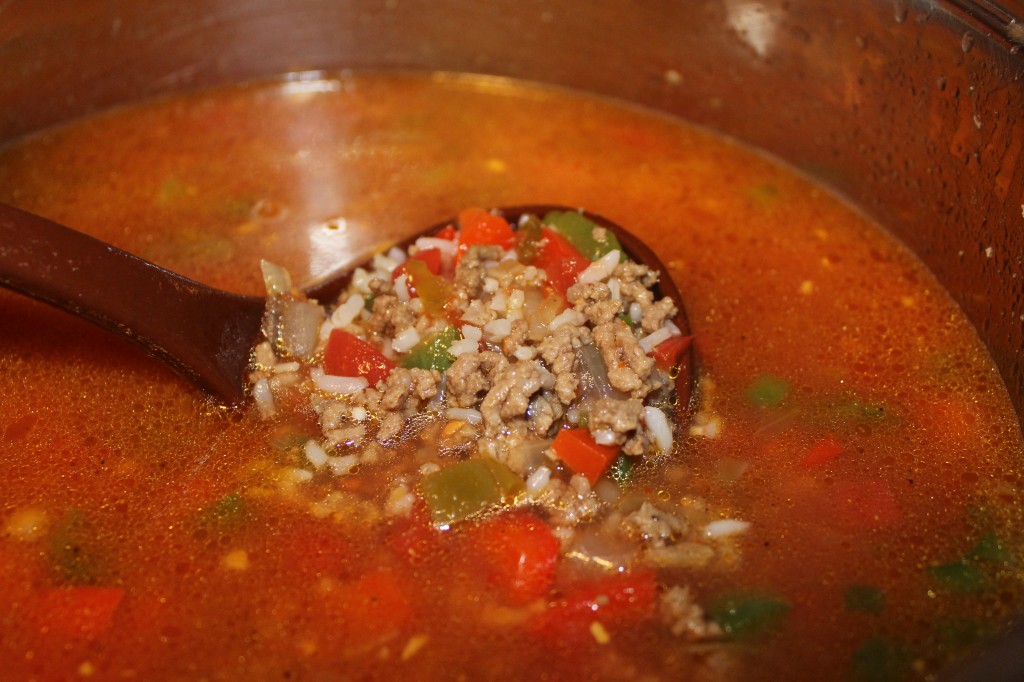 Heat through.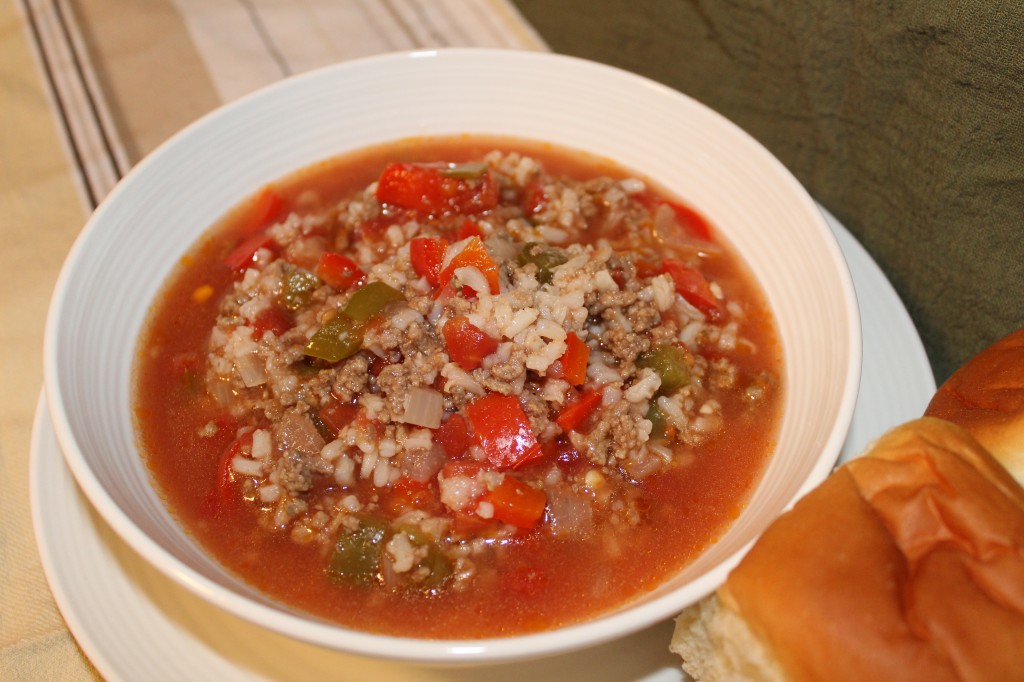 Now, it is time to make a big bowl and get a BIG spoon and dig in.
Here is the recipe:
Stuffed Pepper Soup
Recipe from a semi old church cookbook called, "Please Pass the Salt and Pepper."
Ingredients:
2 pounds of hamburger
2 red peppers diced
2 green peppers diced
1 yellow onion dice
1 tablespoon mined garlic
5 to 6 cans of chicken stock (about 2 1/2 quarts to 3 quarts)
2 cups of salsa (pick the amount of heat you want, I used mild)
2 regular cans of diced tomatoes
4 cups of cooked rice
salt and pepper to taste
Directions:
In a large stock pot, brown the hamburger and drain all the grease off. Add in the diced onion, red and green peppers and garlic. Saute all together for several minutes or until the veggies turn somewhat soft. Add in the tomatoes, chicken stock, salsa and the cooked rice. Season to taste with salt and pepper. Heat on medium until the soup is heated through.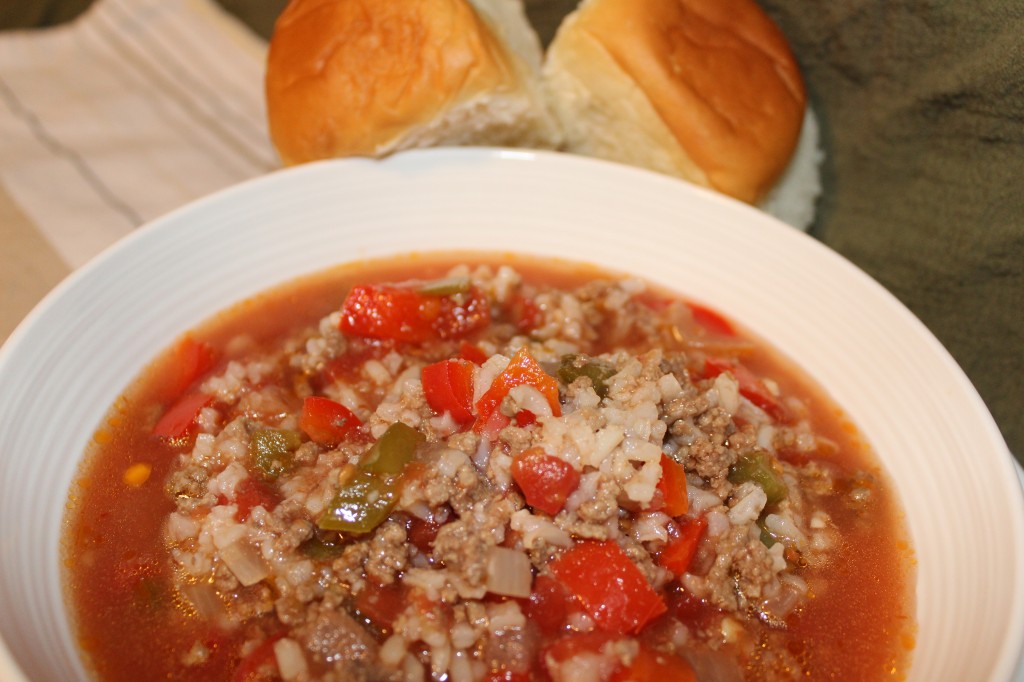 Enjoy!
Becky
Other Posts You May Enjoy:
Strawberry Bread                      Buttermilk Chocolate Cookies      Stuffed Acorn Squash