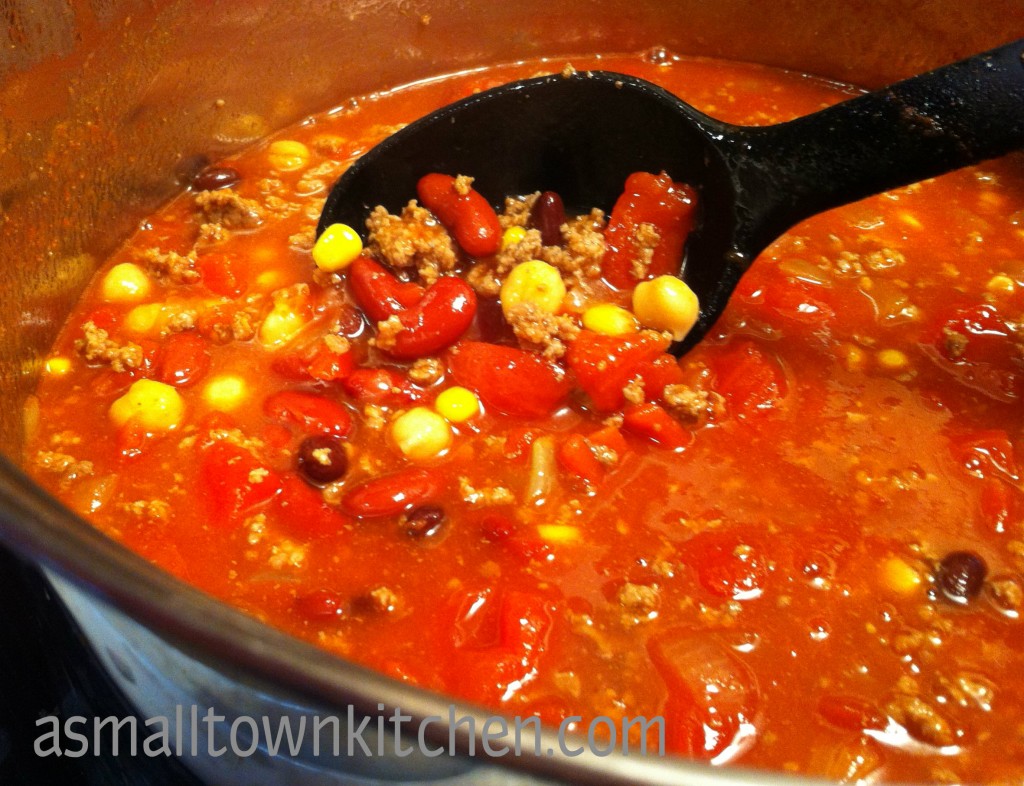 Baby, it's cold outside. A north cold wind had stolen our last days of 80 degrees and replaced them with nights of freeze warnings and highs of 50's. Sweater weather has arrived!!! This must mean that I do not have to worry about mowing the yard or shaving my legs again until spring!! Yippee! Long pants, jackets and even a pair of gloves will be coming out of hibernation from the back of my closet. I just pray that everything still fits : )!
 Please forgive me Lord for eating all that ice cream all summer while we had a draught and 100 degrees weather, even though I did not venture far from my air conditioned house but only to buy more ice cream….and maybe some toppings…..oh, and that can of whipped cream.( I might as well confess everything!)
Now that it is cold outside and the furnace is officially turned on 69 degrees, I am ready to trade my ice cream spoon for a soup spoon. What better way to start, then with some taco soup? Taco soup is a very forgiving soup. Just look in your cubbard and see what kinds of beans you have. Look for a couple of cans of diced tomatoes, vegetable juice or tomato juice. Check out the freezer for some frozen corn to add that speck of yellow color. Don't forget the taco seasoning. If you want to add a little more kick to your soup, you can use rotel tomatoes. Set your taste buds on fire and put it out with a chaser of milk. It really is up to you.
I hit the jackpot! I found some hamburger and corn in the freezer, a half a onion in the fridge, beans, diced tomatoes and juice in the pantry and some taco seasoning in the cabinet. Whooohooo….perfect taco ingredients!
First thing you do is brown the hamburger in a big soup pot. After it is browned put it in a strainer to drain the grease.  While the hamburger is draining, saute the onions in the same pot.
Add the hambuger back in with the onions and stir. This is when I lightly salt the hamburger and add the taco seasoning.
Add 2 cups frozen corn.          One can garbonzo beans.         One can of light kidney beans.
Add one can black beans.       Two cans diced tomatoes.       Stir together.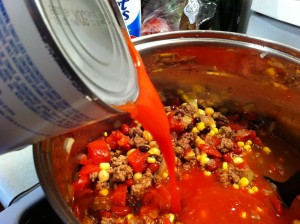 Pour in one large can of juice.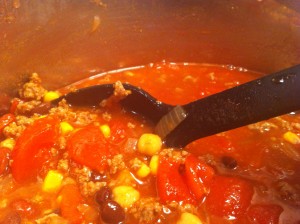 Simmer all the ingredients for 10 minutes or until corn is cooked through.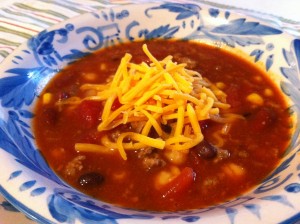 Serve with shredded cheese and even a dallop of sour cream. (I was out of sour cream….dang-it!)
My girls and I (yup, baby college girl is home for the weekend) ate our soup standing up in the kitchen around the counter. We laughed, ate, told stories and practically licked our bowls clean.
 Soup will do that to you!
 It is warm and inviting and you can eat it with a spoon.
Same as ice cream.
Anybody want a scoop?
Enjoy!
Becky
Taco Soup
Ingredients:
2 pounds of lean hamburger
1 small onion diced
2 cups frozen corn
1 can garbanzo beans
1 can black beans
1 can light kidney beans
2 cans dice tomatoes ( you can use rotel tomatoes if you want it spicier)
1-46 ounce can of vegetable juice or you can use tomato juice
2 packages of taco seasoning
salt to taste.
Directions:
Brown the hamburger in a large stock pot. Drain the hamburger. Saute the diced onions in the stock pot while the hamburger is draining. Add the hamburger back in with the onions and stir. Lightly salt the hamburger (not too much) and add the taco seasoning. Stir to combine. Add in undrained cans of garbanzos, black beans, kidney beans and diced tomatoes. Add in the frozen corn. Stir to mix together. Pour in the vegetable juice. Simmer for 10 or until the corn is thoroughly cooked.
Serve with shredded cheese and garnish with sour cream.
Makes about 10 large bowl fulls.