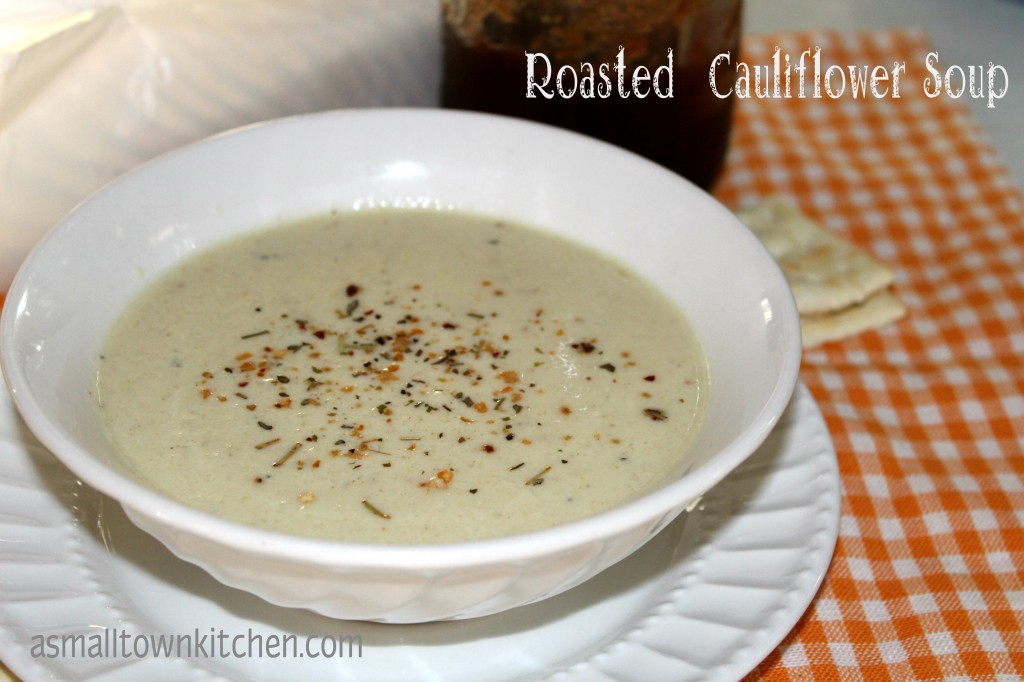 Have you noticed the chill in the air?
It is officially Fall!
Are you a soup eater?
I am!
I can eat soup year round, (and do).
This past summer school, the foods class (taught last summer by another teacher) made a whole selection of healthy food. My class was lucky enough to get to sample everything! One of the recipe they made was this delicious Roasted Cauliflower Soup. Everyone was so surprised how rich and so unlike cauliflower it tasted. I could have eaten the whole pot. I have been wanting to make this recipe since July and even bought the cauliflower to make it one time, but the stars did not align for me to get er done. So, two weeks ago I bought another cauliflower and it has been tucked in the back in my fridge (still looking great) until I finally got it to make soup.
I finally got it made today.
Anywho, I changed it up just a bit, nothing major. I just had to use what I had on hand, and it still tasted great. I am going to give you the original recipe and let you know what I used to make mine.
So, here we go!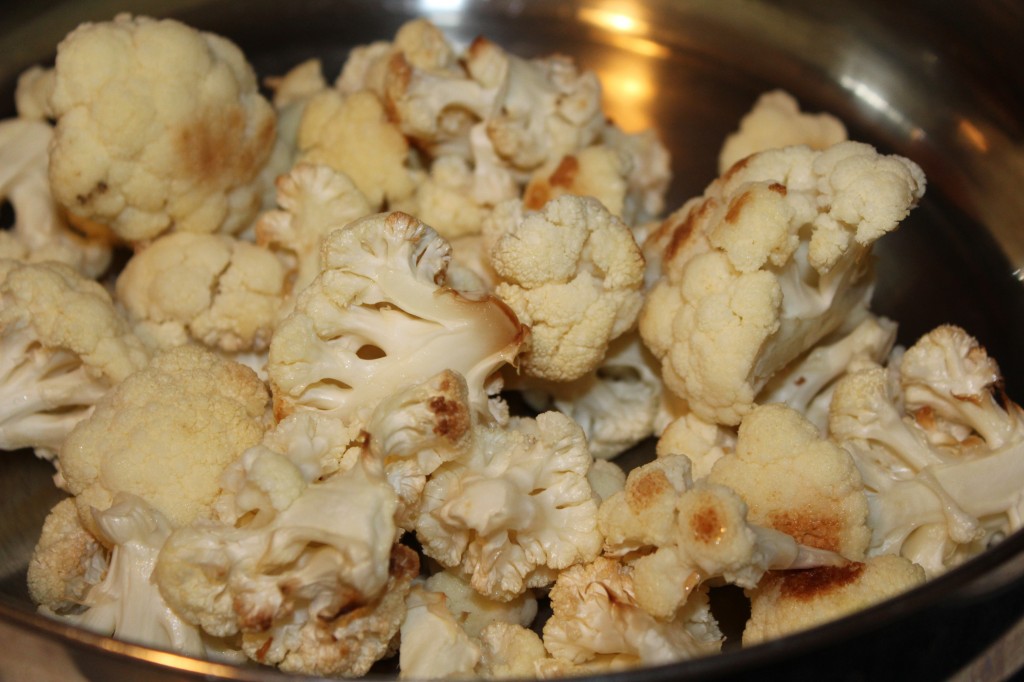 You need 10 cups of roasted cauliflower or one large cauliflower. To roast it you just cut the cauliflower up, drizzle with some olive oil and roast on 400 for 30 minutes. You were suppose to roast the dice onions and garlic too, but I forgot and it still tasted great.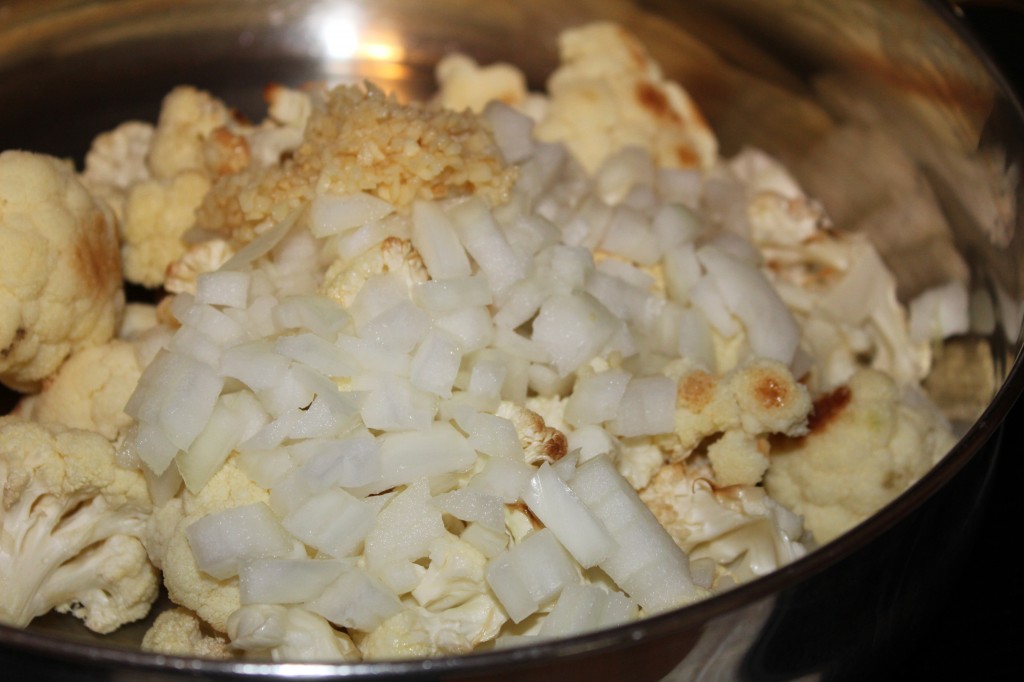 Add in one large onion, diced.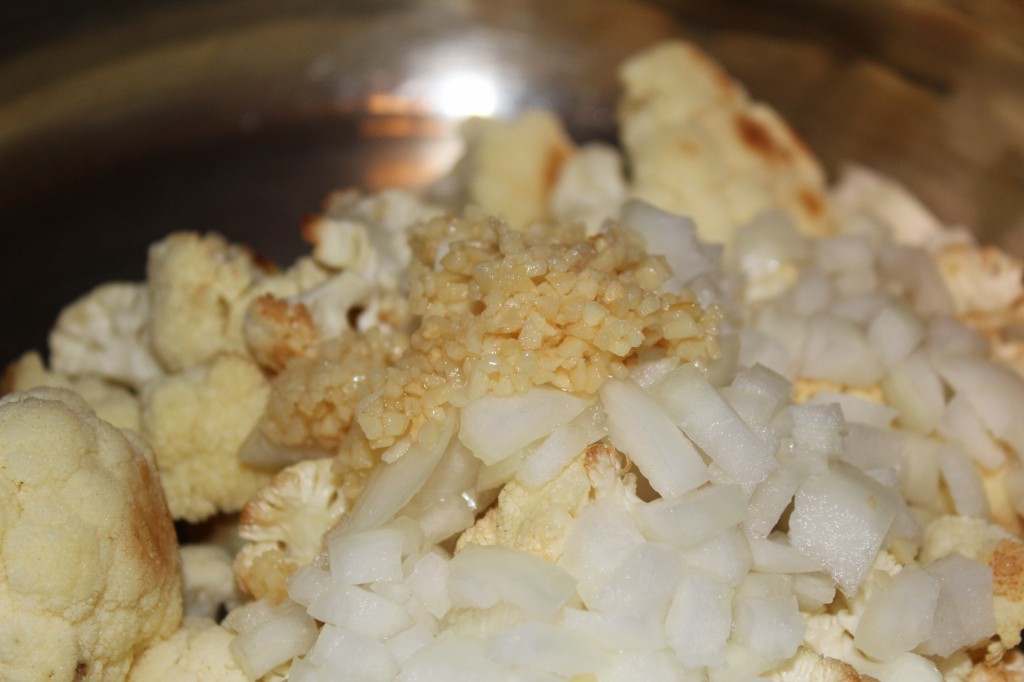 Add in two garlic cloves, diced. I used a table spoon of dice garlic from a jar.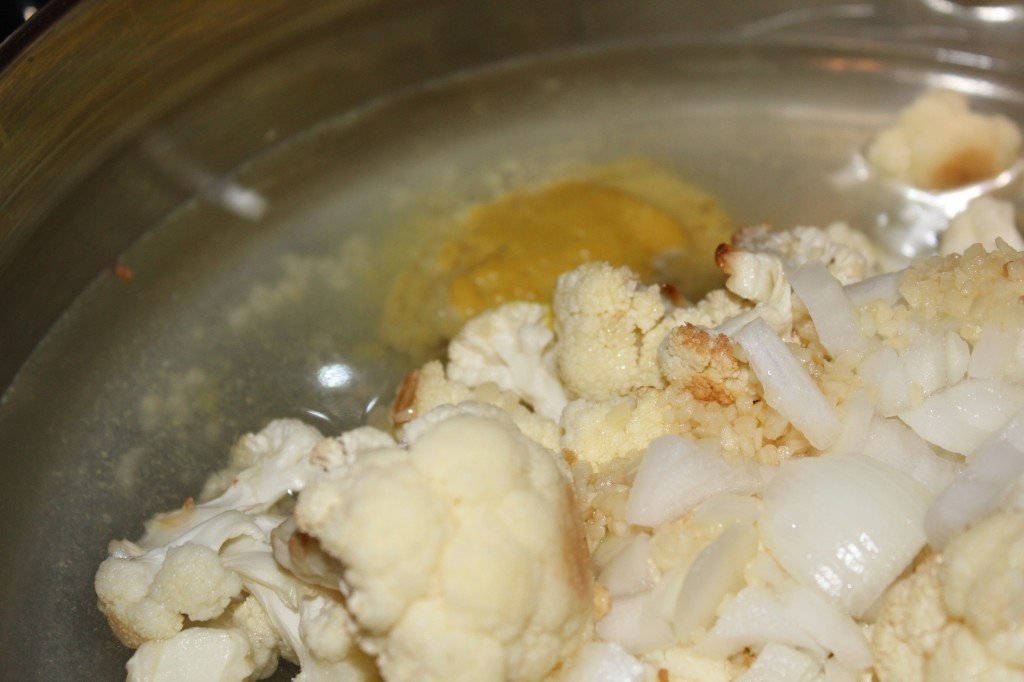 Now, you add in one cup of water and two can of chicken broth. I was out of chicken broth, so I used water and my chicken soup base. The base if very salty, so if you choose to use it instead of the chicken broth, be careful how much you add to the water. I used about 2 tablespoons.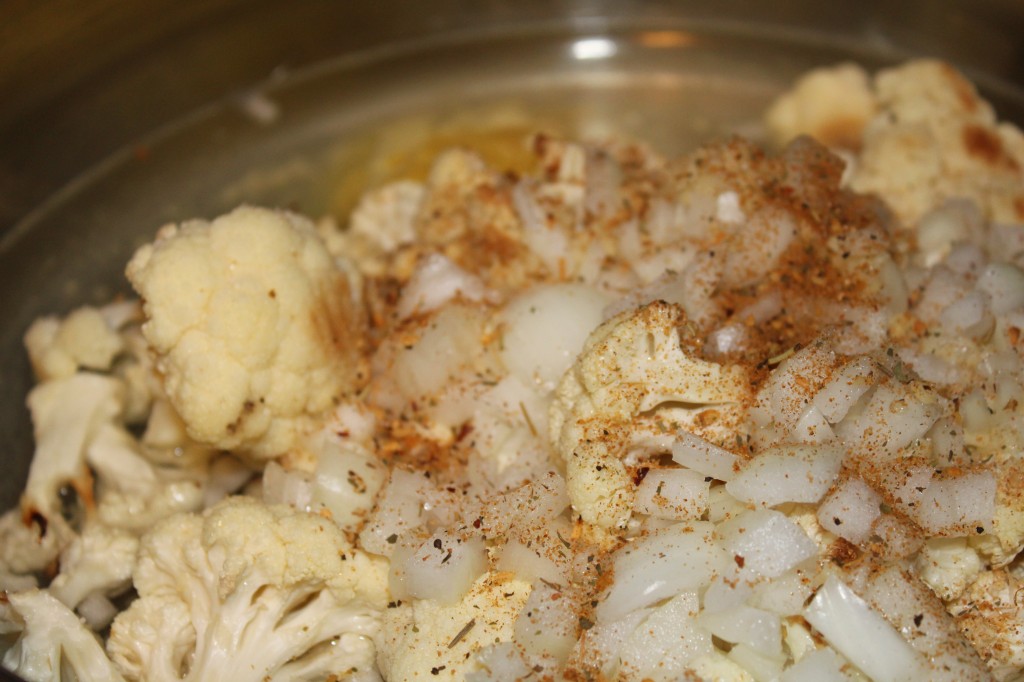 Next, you add the seasoning. The recipe calls for thyme and a bay leaf. Well………..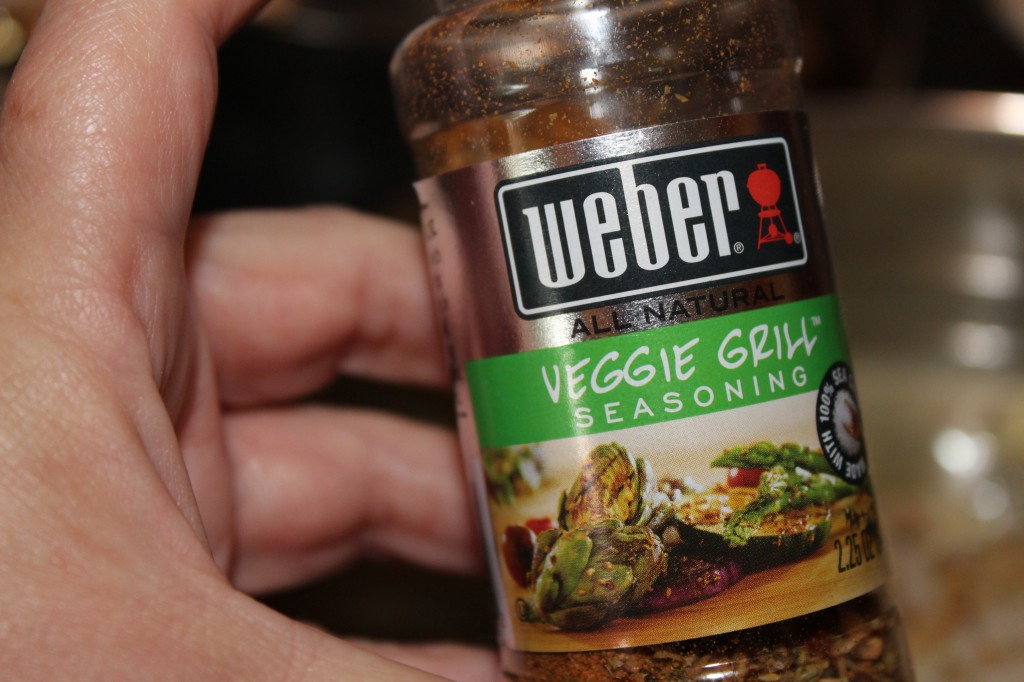 I decided to use my veggie grill seasoning instead. I like the color it adds and the flavor. The only thing to watch out for is that it has garlic in it too, so you could really taste the garlic in my soup. I love garlic, so I did not mind.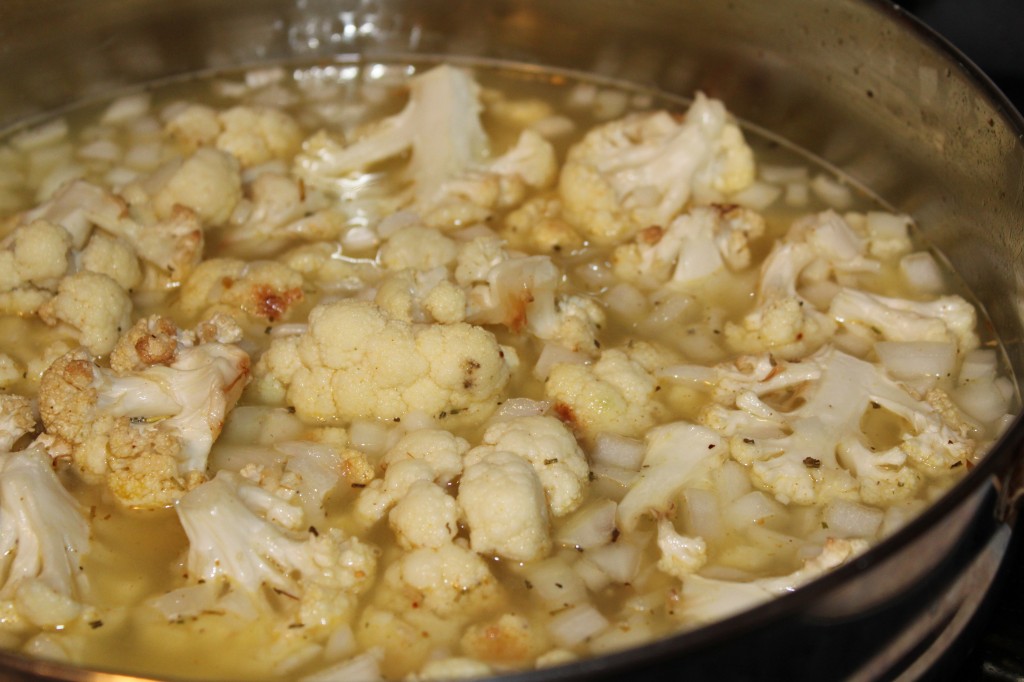 Now, you simmer for 30 minutes until the cauliflower is really tender.
This a smooth pureed soup. I first tried using my immersion blender but it was taking too long and I was hungry. So, I switched to my blender. You can use a food processor too, just used something to puree the soup until smooth.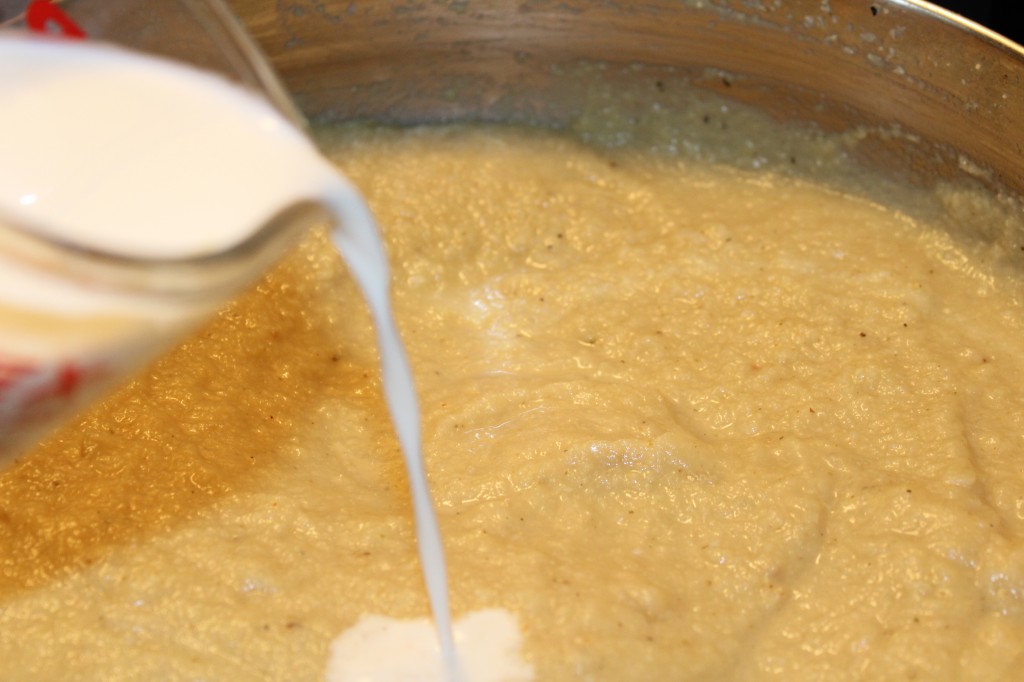 The only left to do before you can eat the whole of pot of this soup…cause you will want too….is pour in one cup of half and half. I think  you could use whipping cream or fat free half and half (if you want to save on some calories).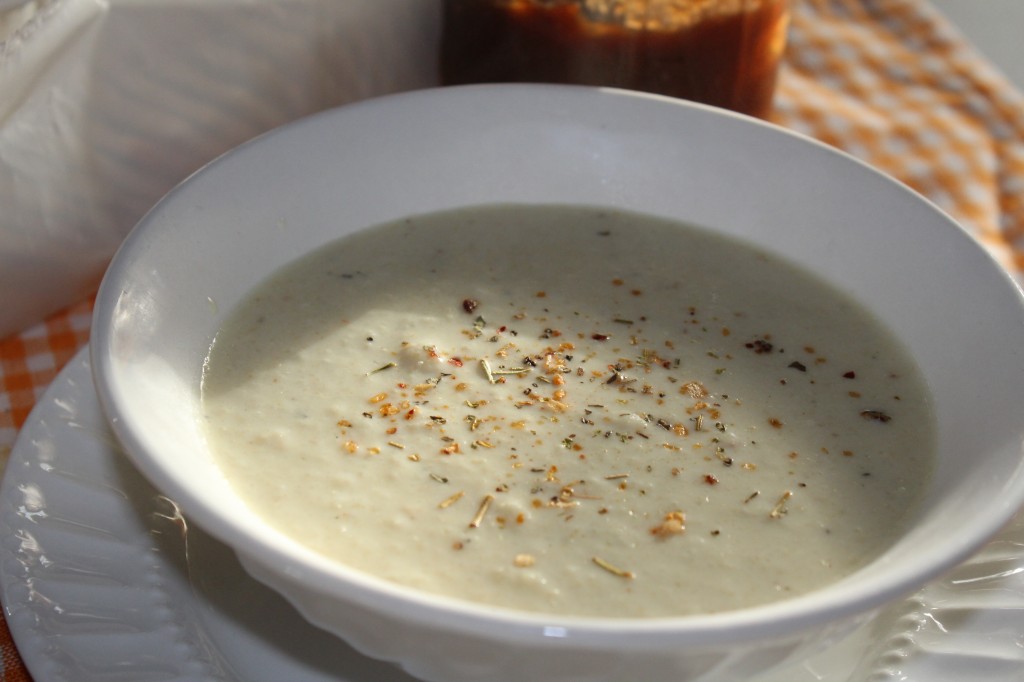 I just ladled some soup into a bowl and sprinkled a touch of veggie grill seasonings on top to add a little color.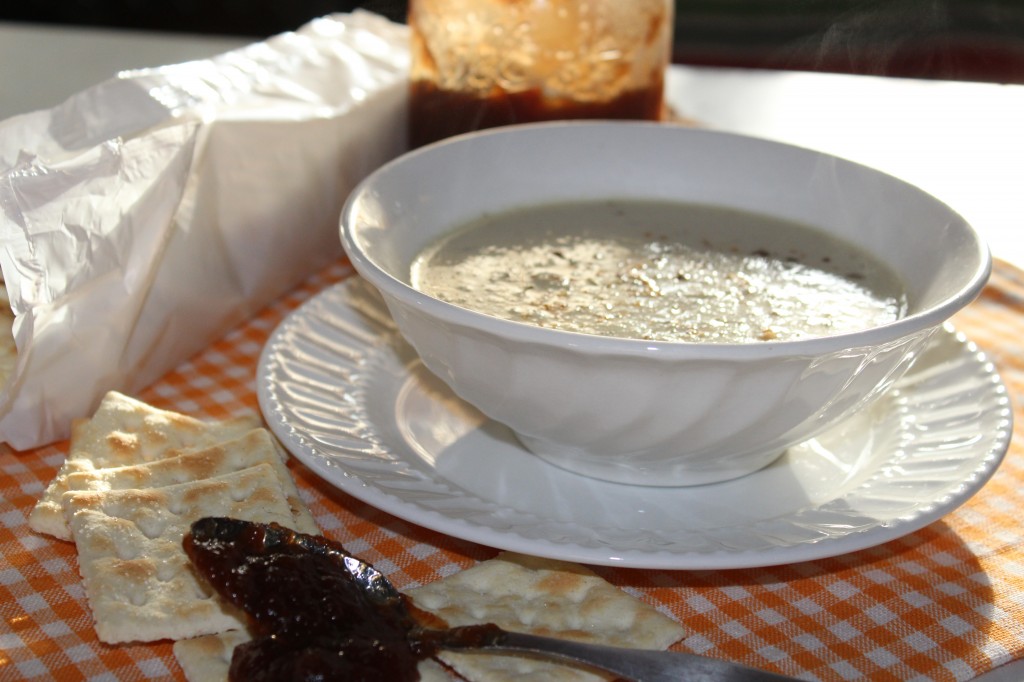 I found some crackers and got out some of my home made apple butter (the best batch I have ever made), to eat with my soup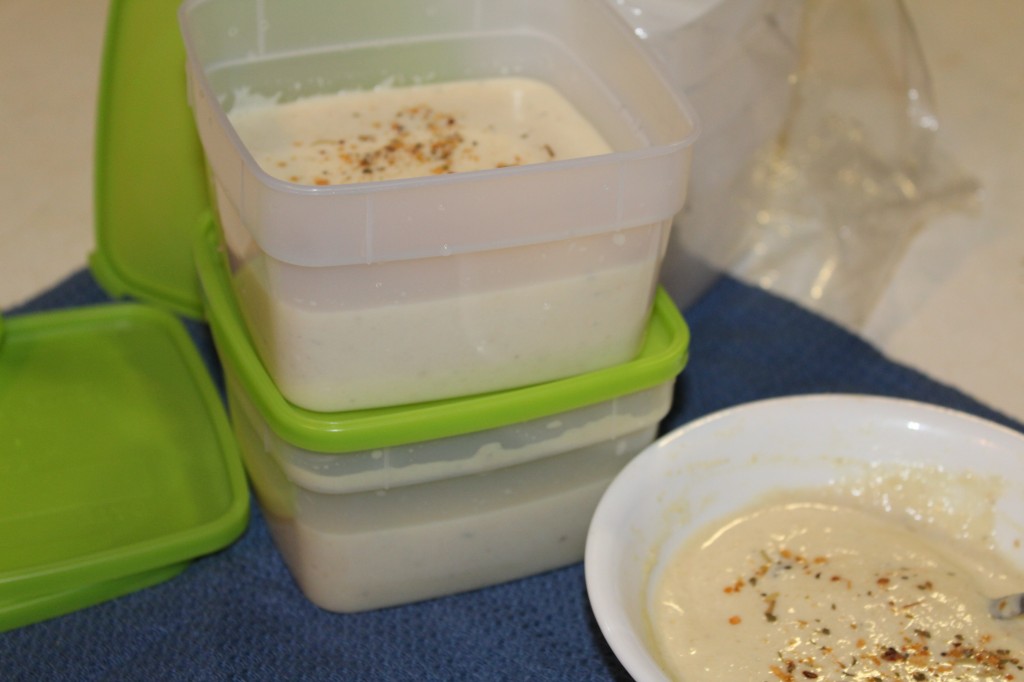 The rest of the soup went into freezer containers. I can take these to school for lunch.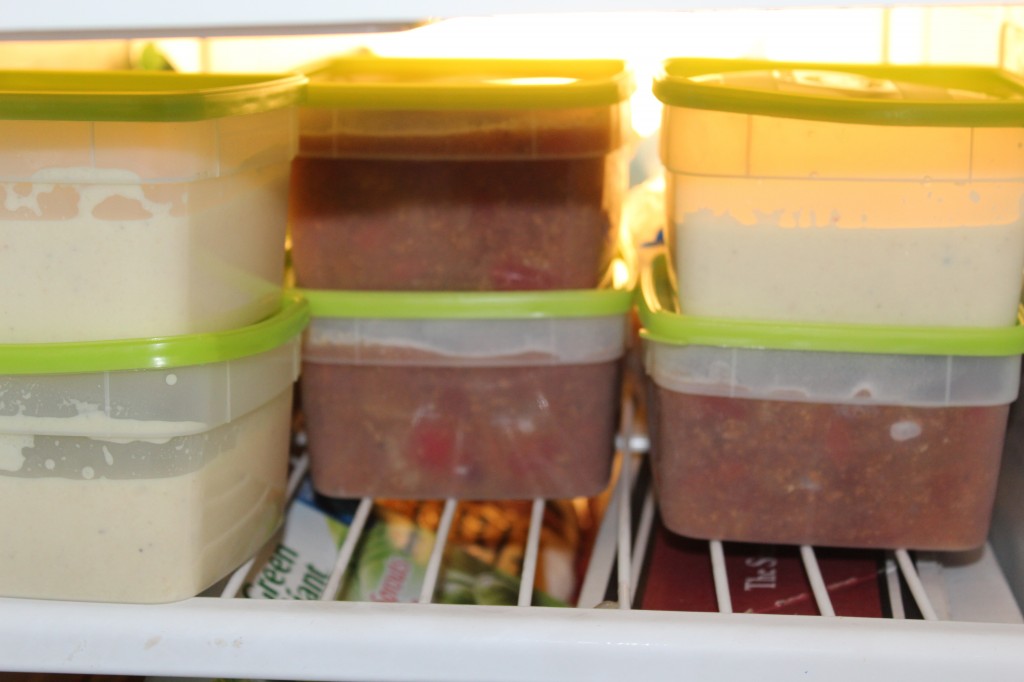 The soup is in the freezer next to the Shoney's Cabbage Soup I made a couple of weeks ago. I will get that terrific soup recipe posted later this week.
Here is the recipe:
Roasted Cauliflower Soup
Adapted from Better Homes and Garden
Ingredients:
1 large Cauliflower, cut into florets (10 cups)
1 large onion, sliced
2 cloves garlic, cut in half
2 tablespoons olive oil
2—14 1/2 ounce cans chicken broth
1 cup water
1 bay leaf
1 teaspoon snipped fresh thyme or 1/4 crushed dried thyme
1 cup half and half or light cream
1 teaspoon salt
1/8 teaspoon pepper
Directions:
Preheat oven to 400 degrees. In a large roasting pan combine cauliflower, onion and garlic. Drizzle with oil, toss gently to coat. Spread vegetables in an even layer. Roast,  uncovered for 30 minutes, stirring once.
In a 4 quart Dutch oven or stock pot, combine the roasted vegetables, broth, water, bay leaf and thyme. Bring to a boil and reduce heat. Simmer, covered, for 20 minutes. cool slightly. Remove and discard bay leaf. Transfer vegetable mixture in batches to a food processor or blender. Cover and process of blend until smooth. Returned pureed mixture to saucepan. Stir in half an half, salt and pepper. Heat through.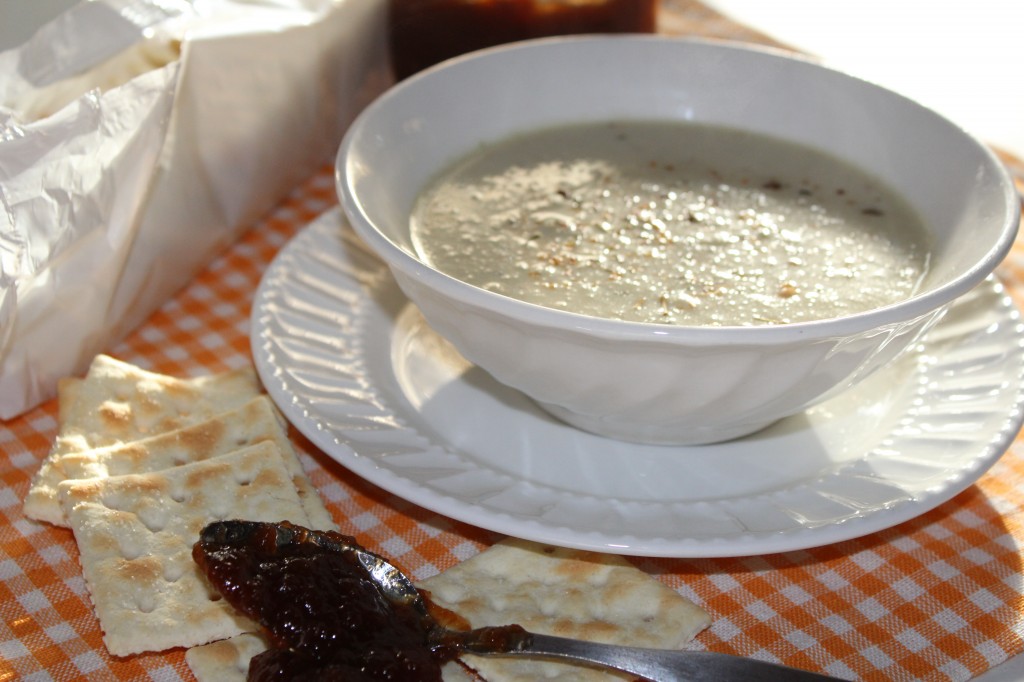 Happy Fall!
Becky
Other Post You May Enjoy:
The BEST Chicken Pot Pie             Coconut Cream Cake                    Southern 7up Biscuits