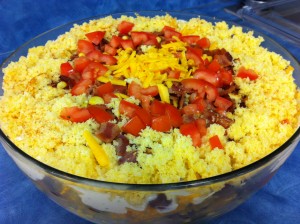 The first time I had ever heard of cornbread salad was when I went to my long time friend Barb's house for her annual Brunch and Ornament Exchange. Barb always has the most fabulous food. You look at her table loaded down with all sorts of delectable treats and you just want to take the serving spoon and take a big bite out of everything.  A couple of years ago, I spied a different looking salad. Hesitantly, I asked what it was and was told…Cornbread Salad. I put a small scoop on my plate, made my way through the crowd….she has BIG parties….and tasted this strange looking concoction. I was in love after the first bite.
Today, one of our teachers at my school had his annual, "Beginning of School BBQ" for his students. I was lucking enough to be invited and decided to make this salad to share with fellow teachers and his students. They too, looked hesitantly as the salad….I was the first brave soul to take a scoop, (well, I was the first in line haha) after telling them what it was….they took a small bite….and as with me, it was love at first bite. I hope it will be with you too.
Enjoy!
Becky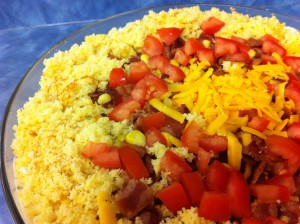 Cornbread Salad
1  8 1/2 ounce Box Jiffy mix (you can use another brand but I like the sweetness in this mix)
1 (1 ounce) package of dry ranch style dressing mix
1 cup sour cream
1 cup mayonnaise
1/2 cup chopped sweet red peppers
1/2 cup chopped sweet orange peppers
1/2 cup chopped onion
3 large tomatoes (I took the pulp and seeds out)
1  (16 ounce) pinto beans drained and rinse ( I have also used black beans and or kidney beans)
2 cups frozen sweet corn
2 cups grated cheddar cheese (I usually need a little more cause…well…I like cheese haha)
10 slices bacons that has been cooked till crispy and crumbled.
Directions:
Bake the corn bread mix according to the package. Cool. Stir together the dry ranch dressing, mayonnaise and sour cream.  Dice the tomatoes, onions, red and orange peppers. In a large bowl combine the  peppers, tomatoes, onions, rinse and drained pinto beans and corn.  In a large glass bowl, (because you can see the pretty layers) start layering the salad. Layer half the cornbread on the bottom. Top with half the veggie mixture. On top of the the veggies, put half the cheese. On top of the cheese put half of the bacon. Now dollop half the dressing on top of the bacon. Repeat all the layers again. I always save a little (or use a little more bacon and cheese and cornbread) to garnish on top.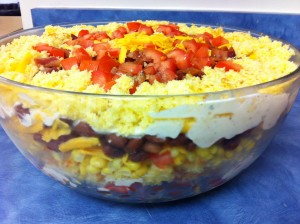 Can you see the layers? The one I made in this picture, I left all the vegetables and beans separated and layered them individually in the salad. Taste the same but just adds more layers.
Anyway you decided to make it, it will be a fabulous addition to your meal.