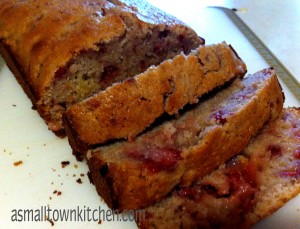 I heard a new food term at school this week.
It was the, "must goes."
Must Goes?
What the heck is a must go??? Funny you asked, because I did too. A young man in my class asked me if I ever had heard of the term, " Must Goes?"
NO….
Well, must goes, are all the left over food in your fridge that you need to eat, cook it something or throw out. You know…they Must Go or be thrown away.
I had some fresh strawberries in the fridge that had, MUST GO, all over them.
Life is like a bowl of strawberries, but sometimes it puts you in a jam. (my feeble attempt at humor)
Take some, must go strawberries and an old cookbook, put them together and you get a recipe for strawberry bread.
This is a simple recipe to follow and it really taste divine. Perfect on a rainy weekend morning. My kids grabbed a warm piece right after I said," berry dig in!" In a posting from last week, my son tried some corn cob jelly. When he got his slice of strawberry bread he told me he would rather not try the jam again and just use butter. UMP…. : ) no need for me to worry about everyone eating up my corn cob jelly!
Well anyway back to the bread.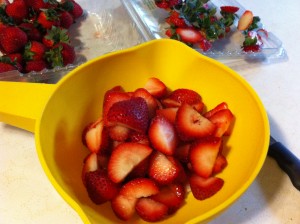 First thing you need to do is wash, stem and slice your strawberries.
My strawberries were really not that sweet. So, I  sprinkled them with sugar and let them drain while I got the pans ready. This is how much juice drained off. I did not want the extra moisture to go into the bread. I took the drained strawberries and mashed them with a fork into smaller pieces.
Next thing I did was get my pans ready. I always lightly spray my pans with vegetable oil and line the bottom with parchment paper. Normal bakers would probably do this first….oh well…. I never said I was normal….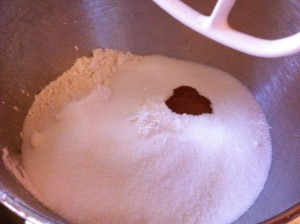 In a mixing bowl add the flour, sugar, baking soda, salt and cinnamon and mix together.
Crack four eggs into a bowl and beat lightly. Next, measure out one cup of oil.
Add in the beaten eggs, the vegetable oil and lastly the smashed strawberries.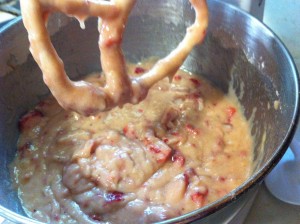 Mix it all together, being careful not to overbeat. If you mix too much it makes the bread tough.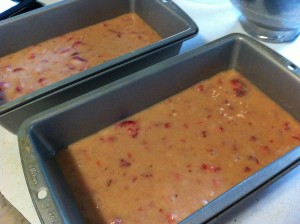 Pour bread evenly into two baking pans. It took about 3 cups of batter for each loaf of bread.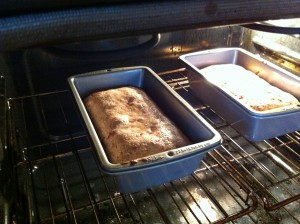 Put bread in a preheated 350 degree oven and bake for 45 to 55 minutes. This is a picture of my bread after about 20 minutes in the oven.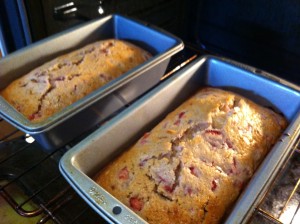 In about 50 minutes, my bread looked like this. Don't worry about the cracks!
Here is the first loaf sliced up without a glaze.                    Here is the second loaf with a key lime glaze drizzled on top.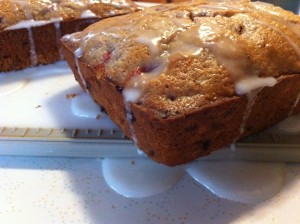 Here is the mess I made on the counter. OOPS
Now I "MUST GO" eat some stawberry bread!
Enjoy,
Becky
Strawberry Quick Bread
Ingredients:
2 1/2 cups sliced and smashed strawberries
3 1/3 cup flour
2 cups of sugar
1/2 teaspoon cinnamon
1 teaspon salt
1 teaspoon baking soda
1 teasoon vanilla (I accidentally forgot to add)
1 cup vegetable oil
4 beaten eggs
1 1/2 cup chopped pecans, optional (my son hate nuts, no option for me)
Directions:
Wash, stem, slice and drain strawberries. After they have drained for about 20 minutes, smash with a fork
In a large mixing bowl, mix together flour, sugar, cinnamon, salt and baking soda. Pour in the beaten eggs, oil, vanilla and smashed strawberries. Mix together, being careful not to over mix.
Pour batter into two prepared bread pans and bake in an 350 degree oven for 45 to 55 minutes.
I made a little bit of key lime glaze to pour on top for fun. I had some left over juice and I just added powdered sugar to it to get the right consistency. Drizzle glaze over warm bread.