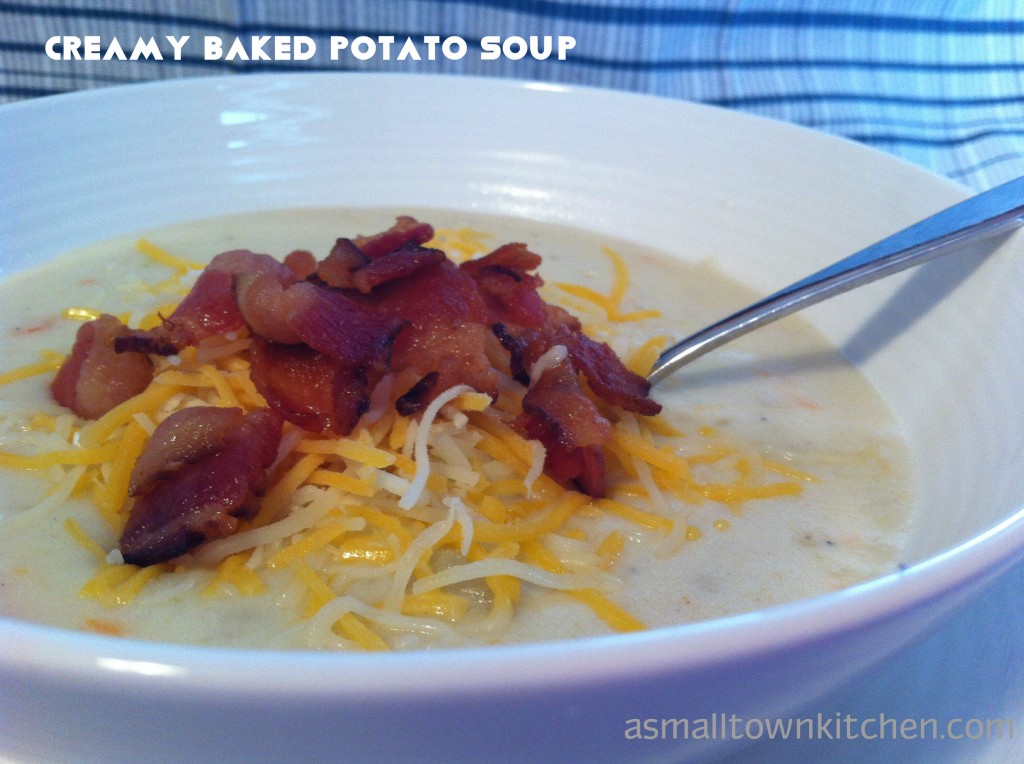 Some things never change.
My grades are due by Wednesday morning, and I have waited till the last minute (again) to grade them. My bad. I could add, "grade finals early,"to my New Years Resolutions, but I have a feeling it would not help. Not one little bit.
I think, I will only wait until I absolutely have to, have my finals graded.
Oh well.
Anywho, to help me along with grading my finals. I am eating some creamy baked potato soup that I made yesterday.
Food always cheers me up.
Oldest Daughter who does not cook, was hinting at wanting some potato soup last week. With the recent, artic air, 5 inches of snow on the ground and not to mention school being cancelled today, what better way to cheer anyone up than with a bowl of creamy baked potato soup. Of course a day on a warm beach in Florida would also do the trick. : )
If you are in the mood for some soup, why not make it potato soup.
Here is what you need to make Creamy Baked Potato Soup: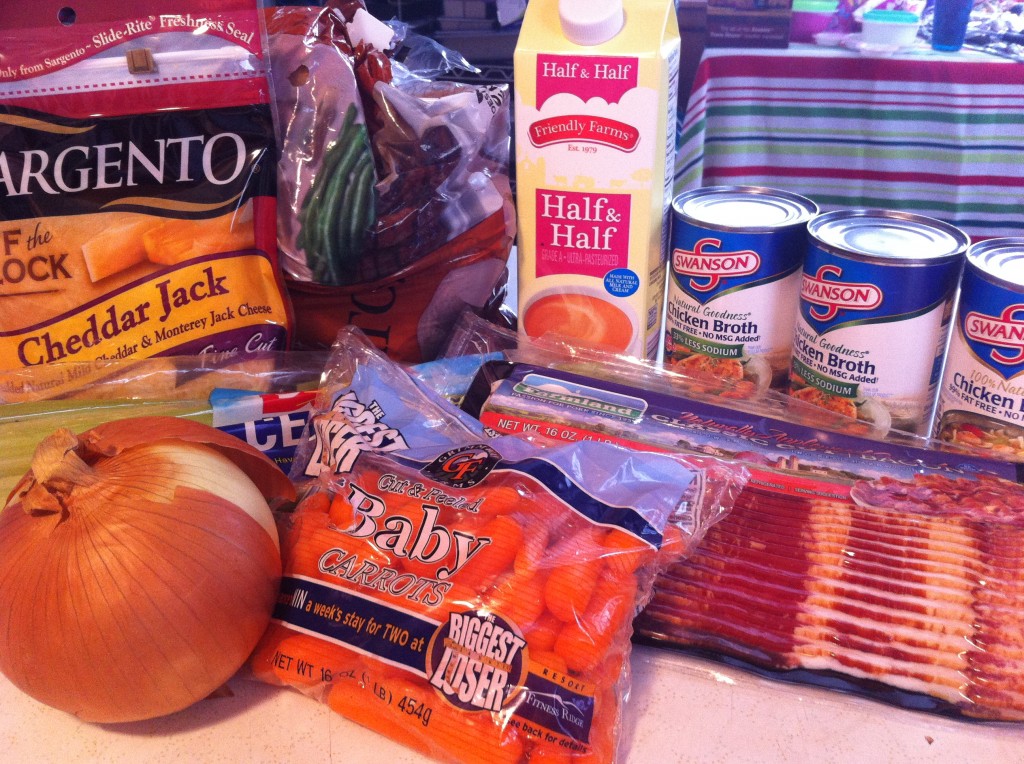 You will need some potatoes (of course),  carrots, celery, onion, half and half, chicken broth, butter and flour. (I forgot to put the butter and flour in the picture) You can garnish your soup with bacon bits and cheese. I seasoned the soup with salt and pepper. If you want to cut down on the calories just use fat free half and half or regular milk.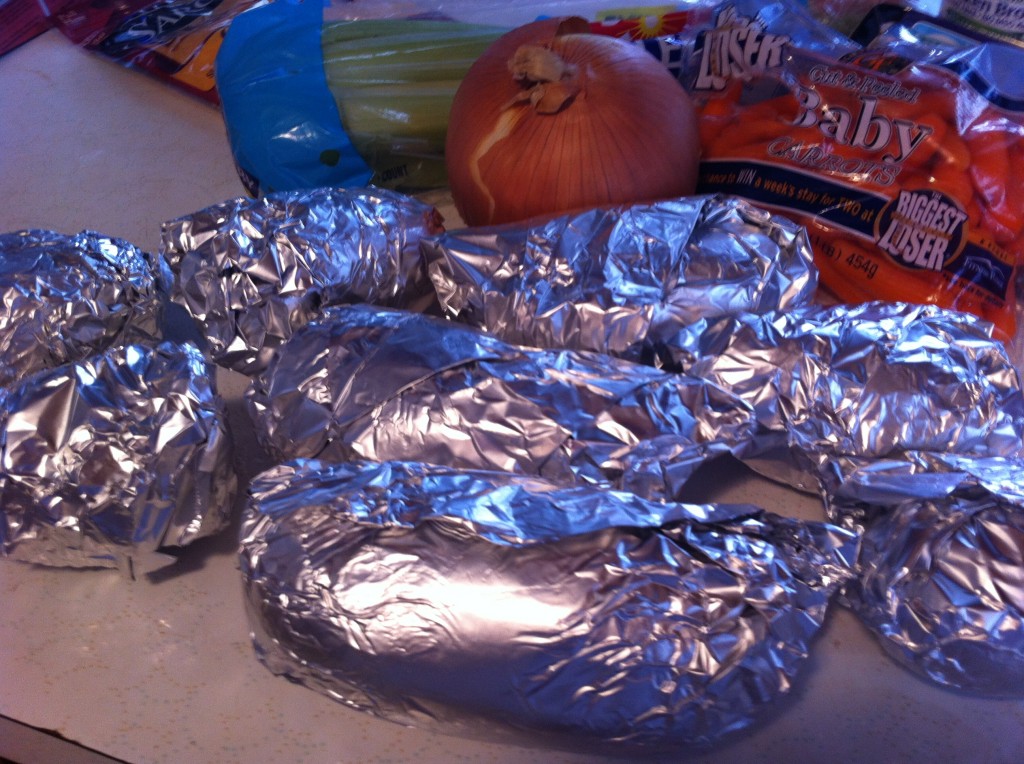 The first thing I did was wash off 8 large potatoes and wrap them in foil. Put them in a 400 degree oven and bake until they are tender.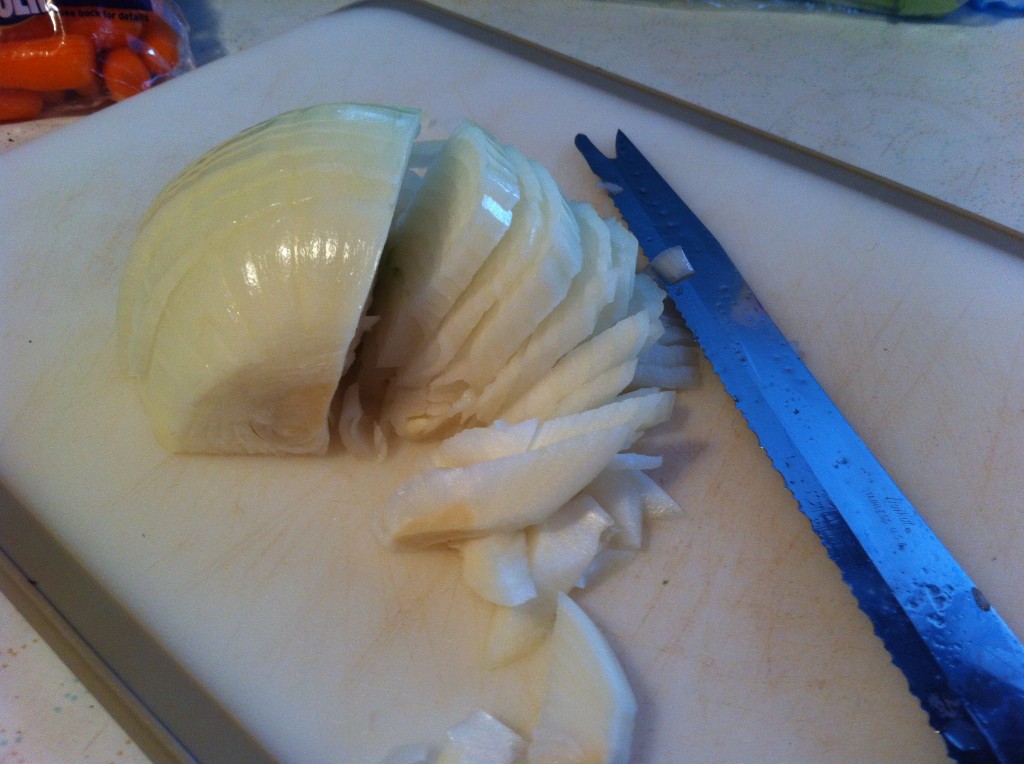 While the potatoes are baking, I chopped up half of a large onion.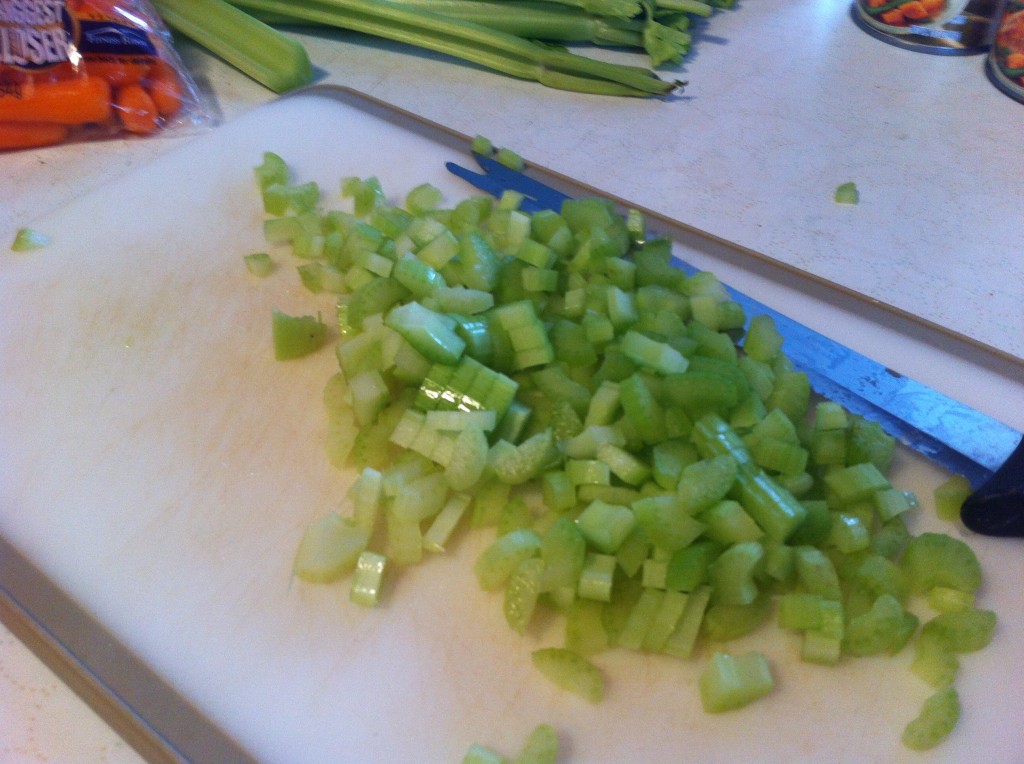 I also chopped 3 celery stalks.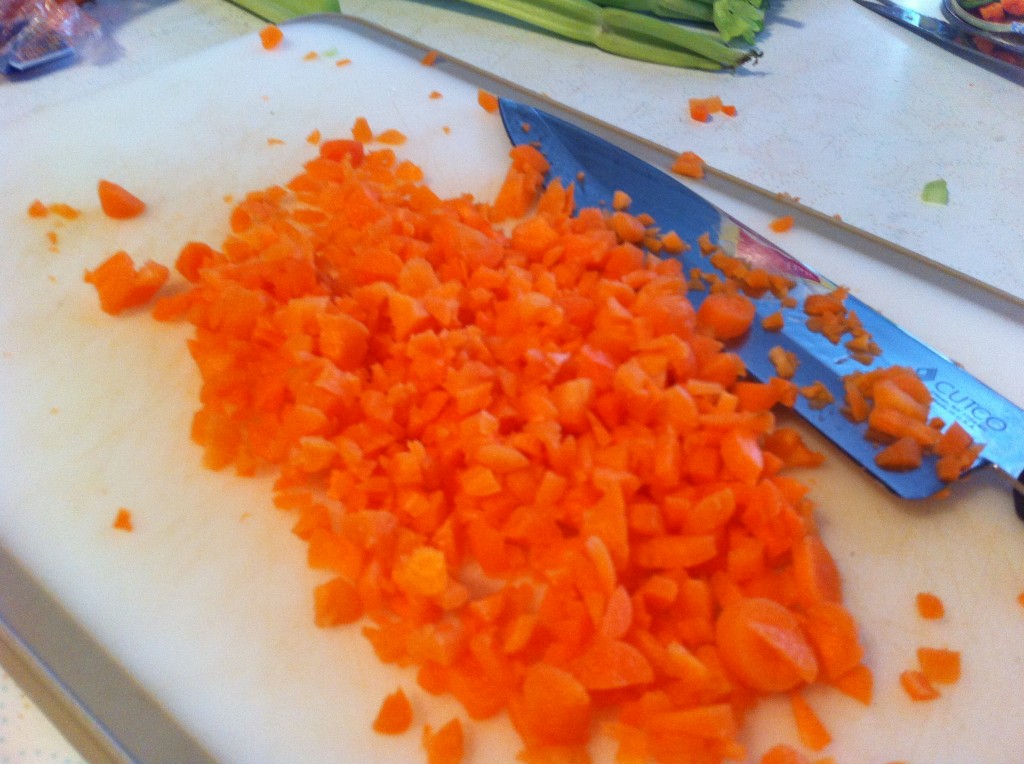 I had to use little carrots, because that was all I had. But if you are using large carrots, dice up 2 large carrots.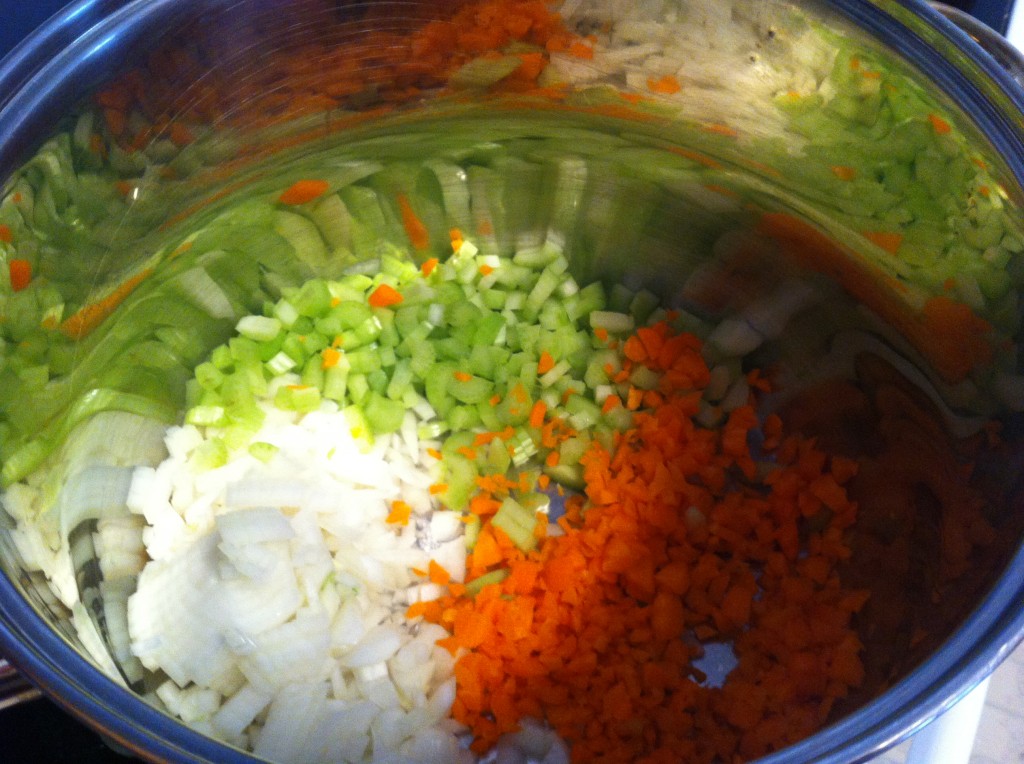 Put the diced, onion, carrots and celery into a large stock pot.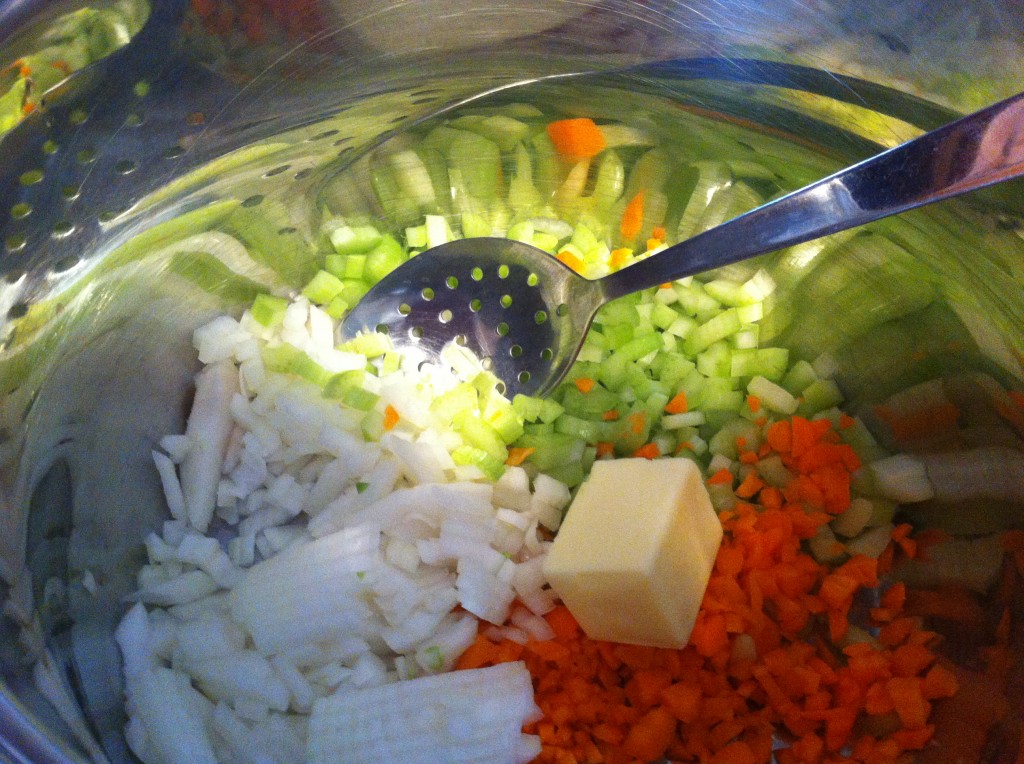 Add four tablespoons of butter to the diced vegetables. Turn the heat on medium.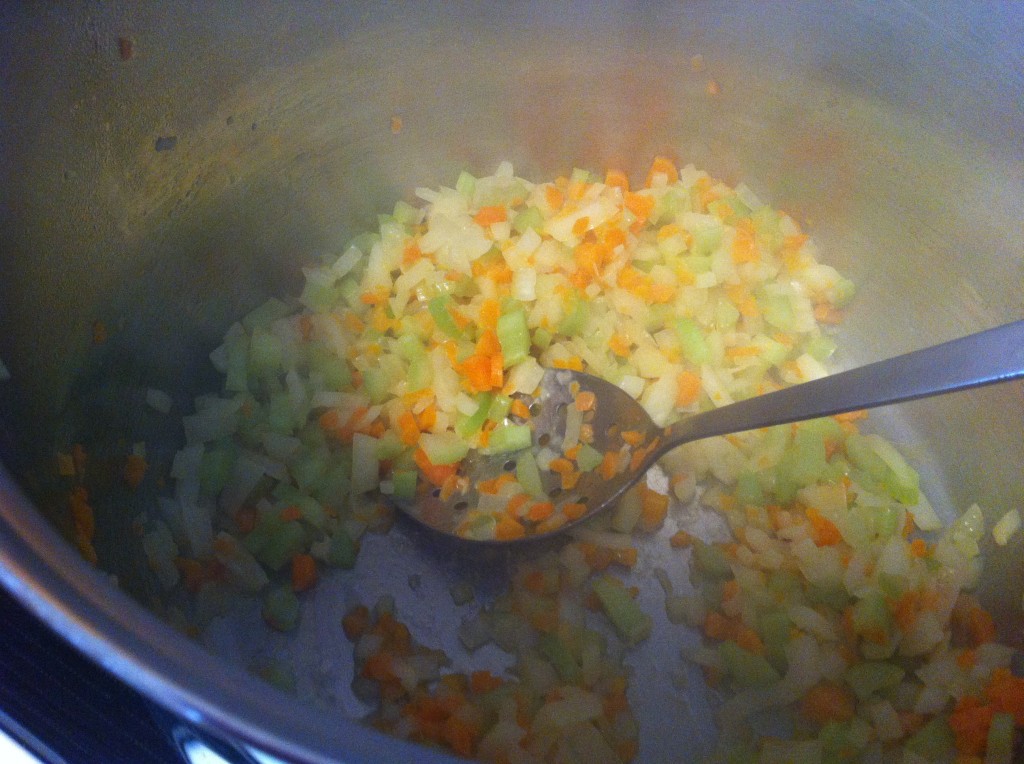 Saute the vegetables until the are translucent and tender. Be sure and stir the vegetables while you are doing this.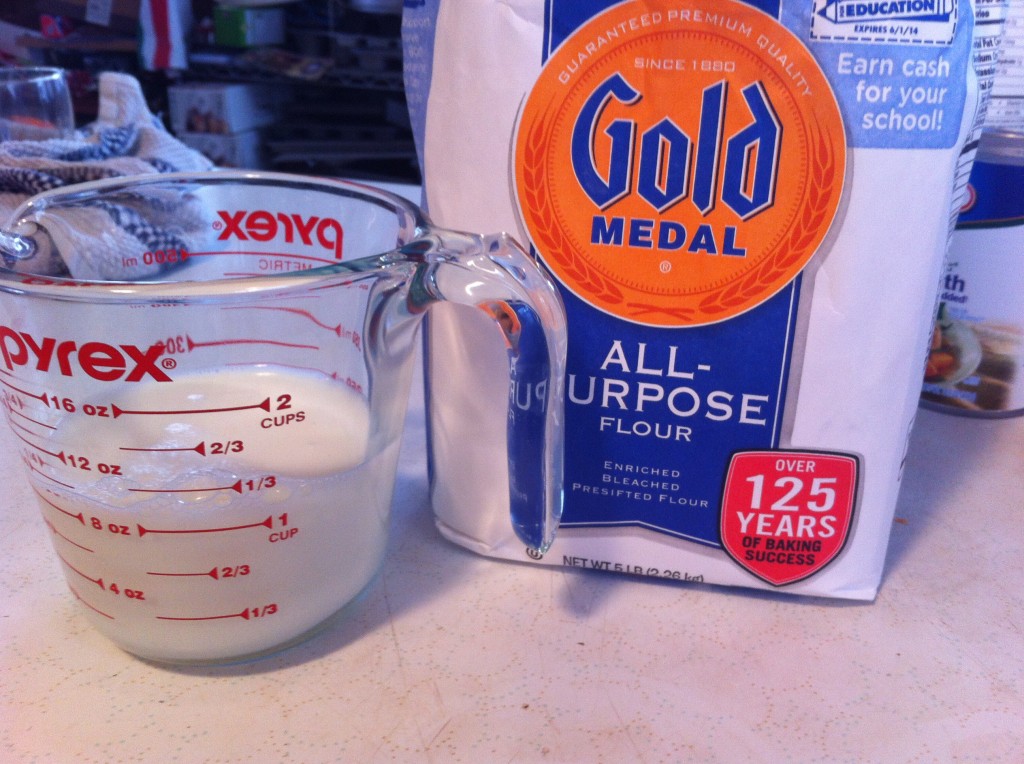 Now, you are going to make a slurry of half and half and flour.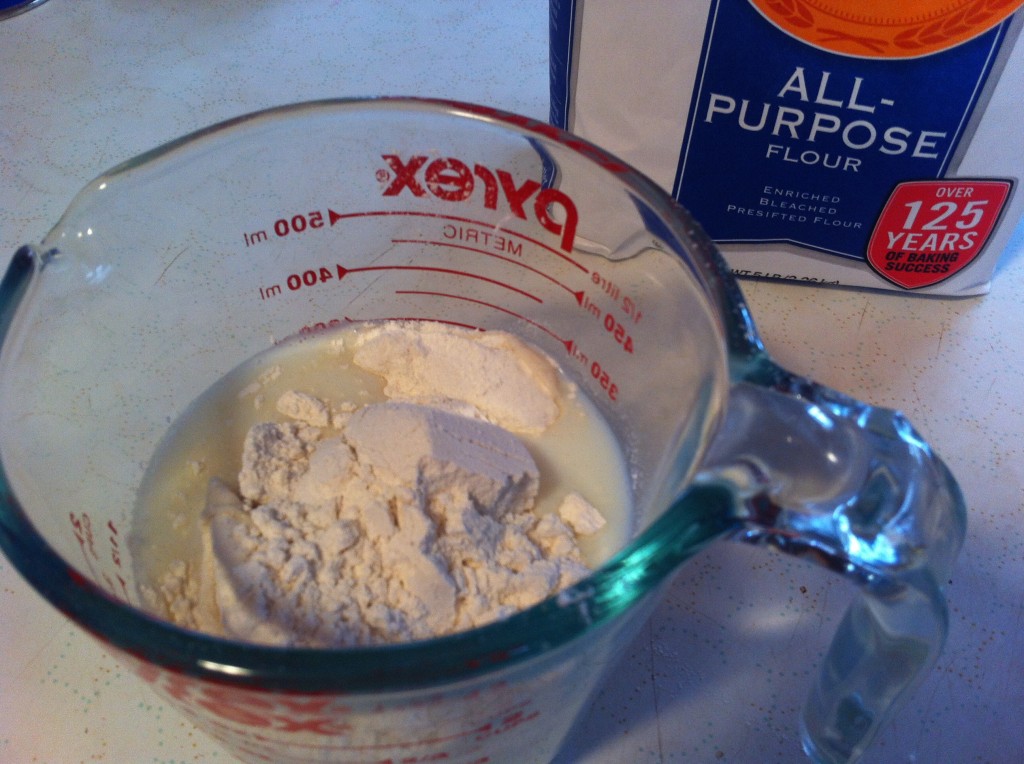 Take 2 cups of half and half and add in 12 tablespoons of flour.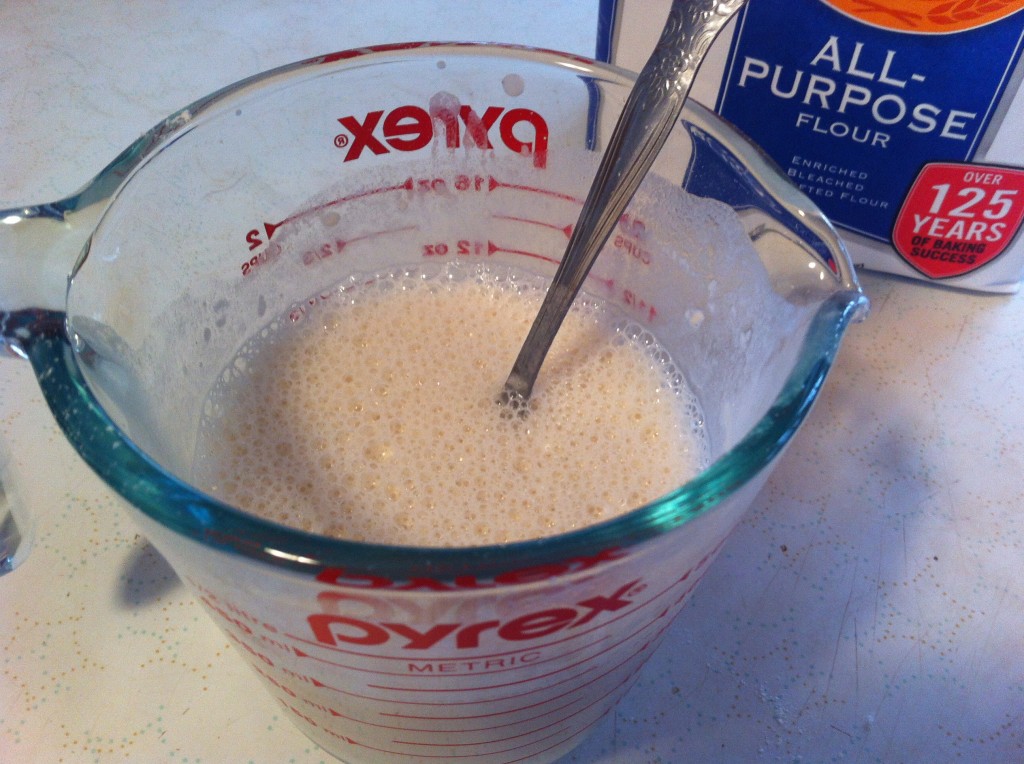 Stir the half and  half and flour together completely, making sure to get all the lumps of flour stirred in.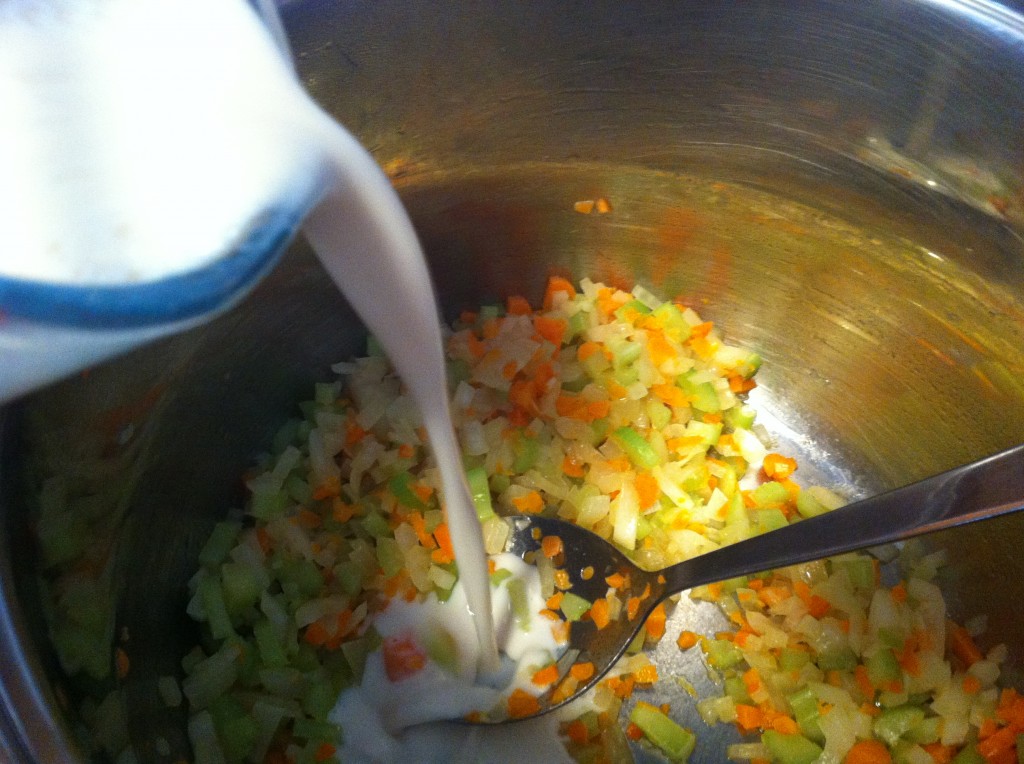 Add the half an half and flour slurry to the sauted vegetables.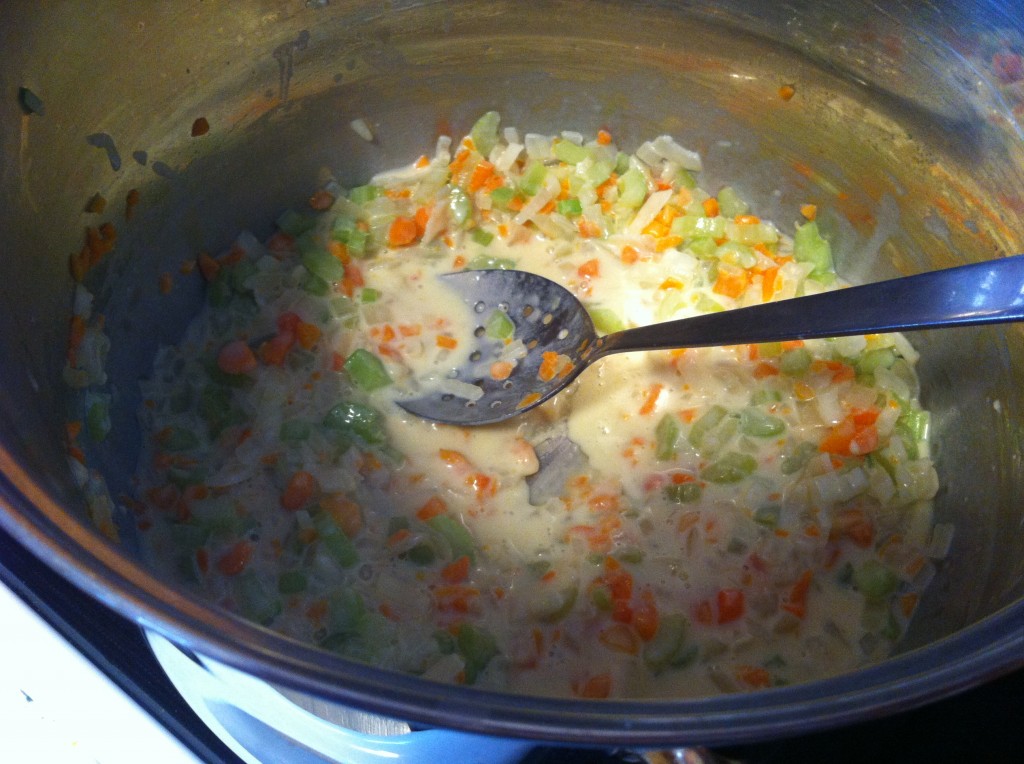 Simmer the mixture until it thickens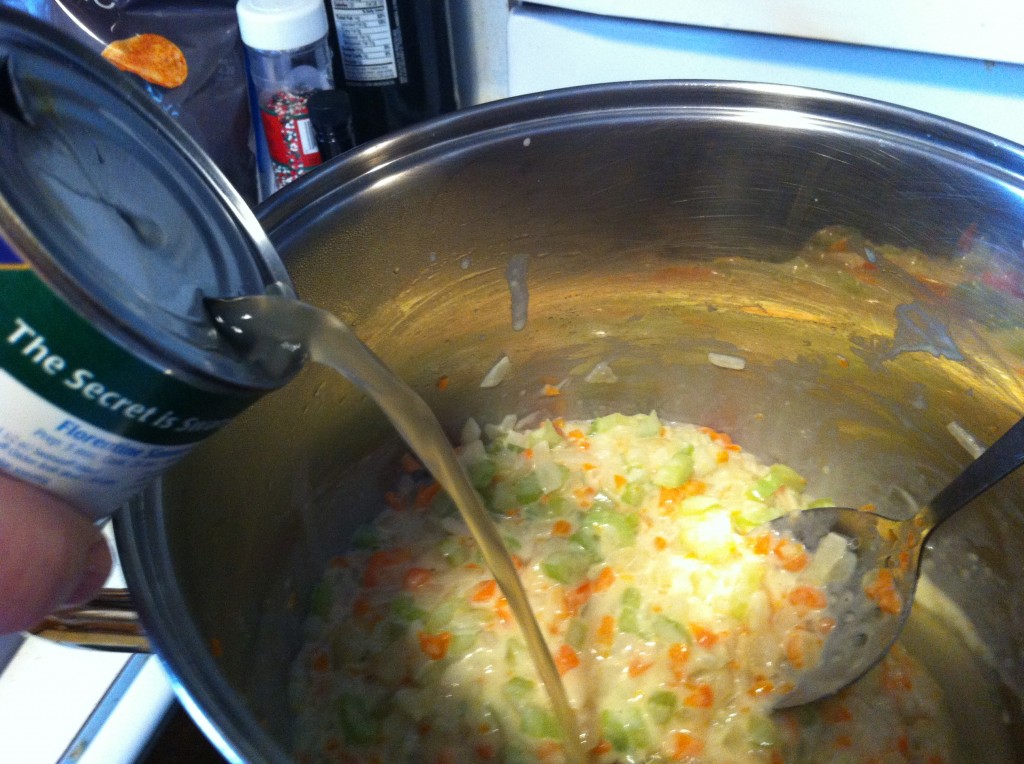 Pour in three cans of chicken broth.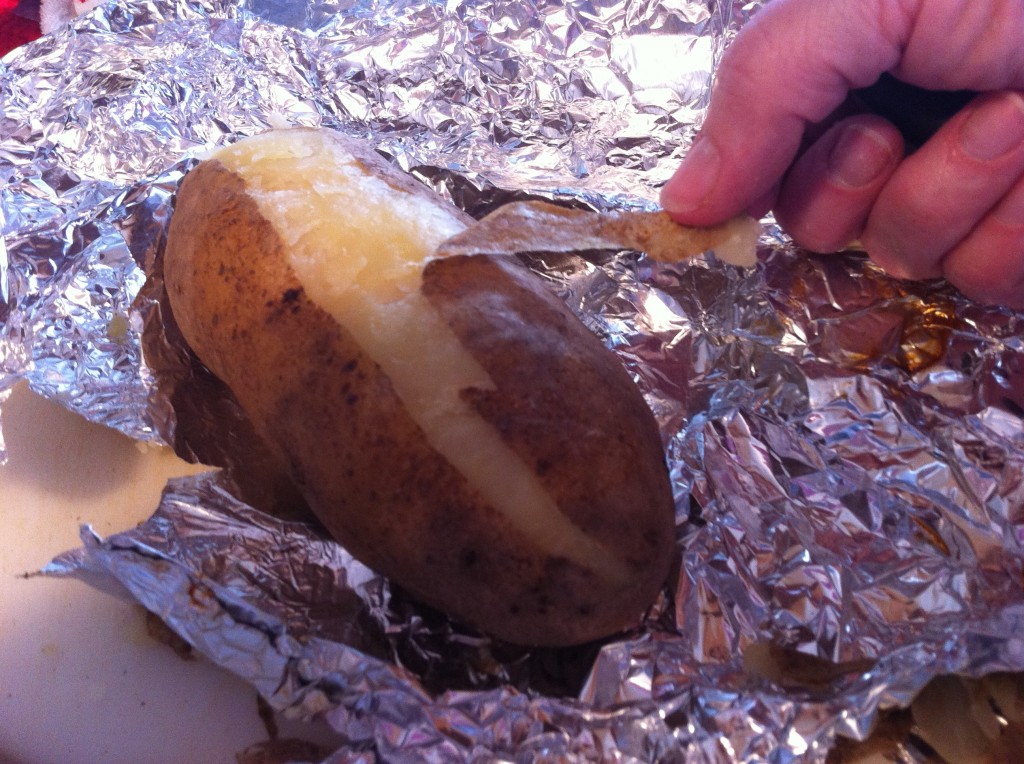 While the soup is simmering on low (make sure and keep checking it or take it off the heat), check and see if the potatoes are baked until tender. If they are, take off the foil and cool slightly and peel off the peelings. The peelings should peel off real easily.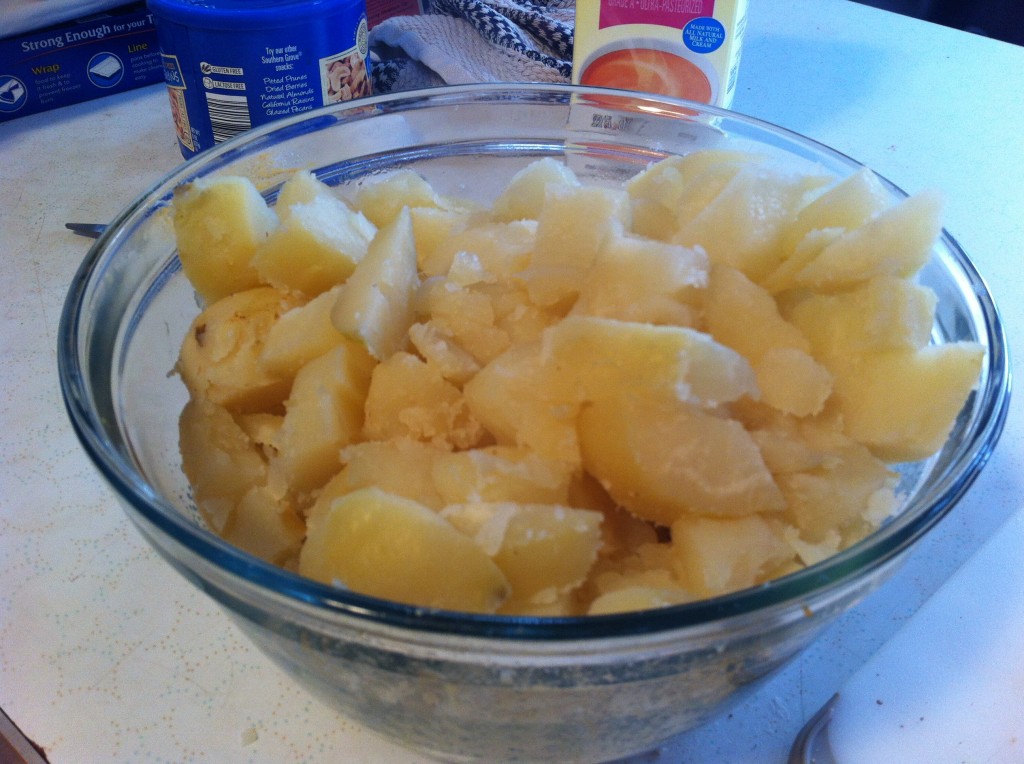 With a knife, dice the potatoes up. You should have a medium size bowl full of baked, diced potatoes.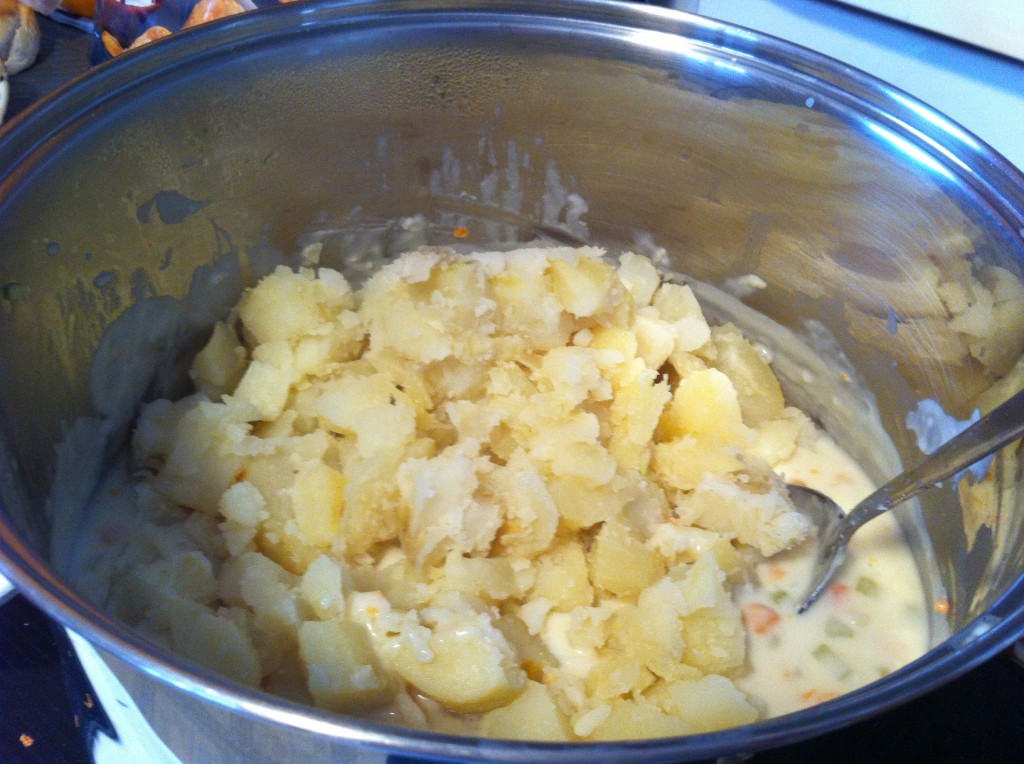 Add the diced potatoes to the soup and stir. Bring to a simmer on low heat. Stirring constantly so your soup will not stick to the bottom. The potatoes have a habit of sinking right to the bottom of the pan and staying there where they could burn.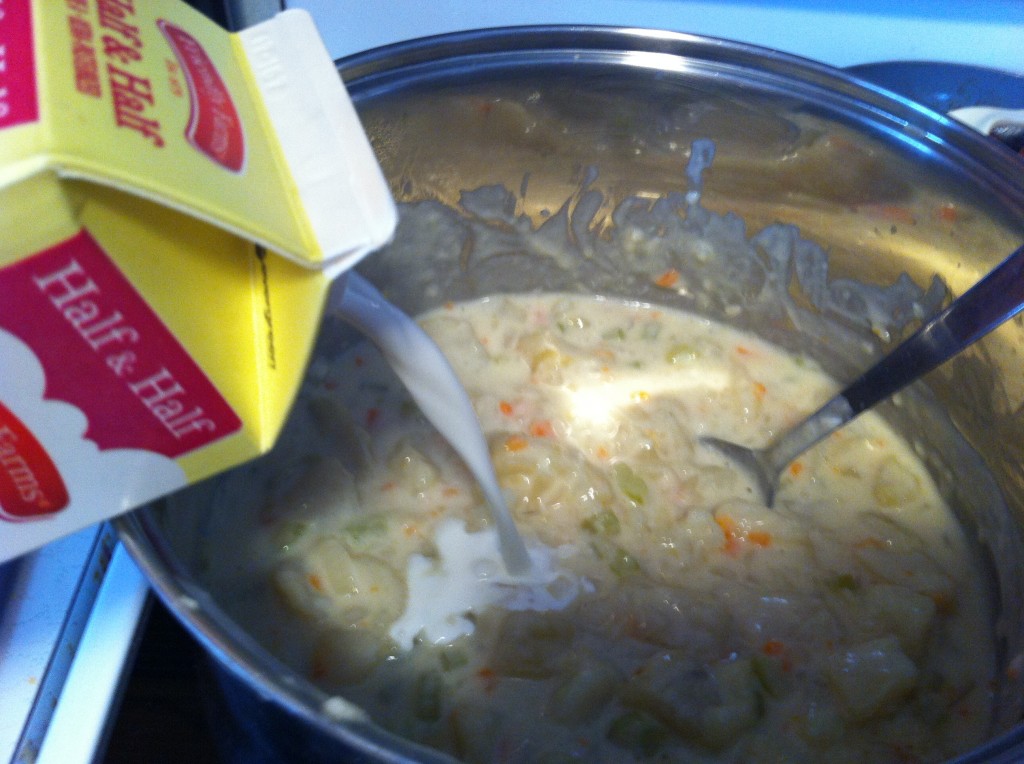 Your soup will be very thick and you will want to add the rest of the quart of half and half (2 cups). Keep stirring so the potatoes will not stick on the bottom of the pan. (how would I know this ?)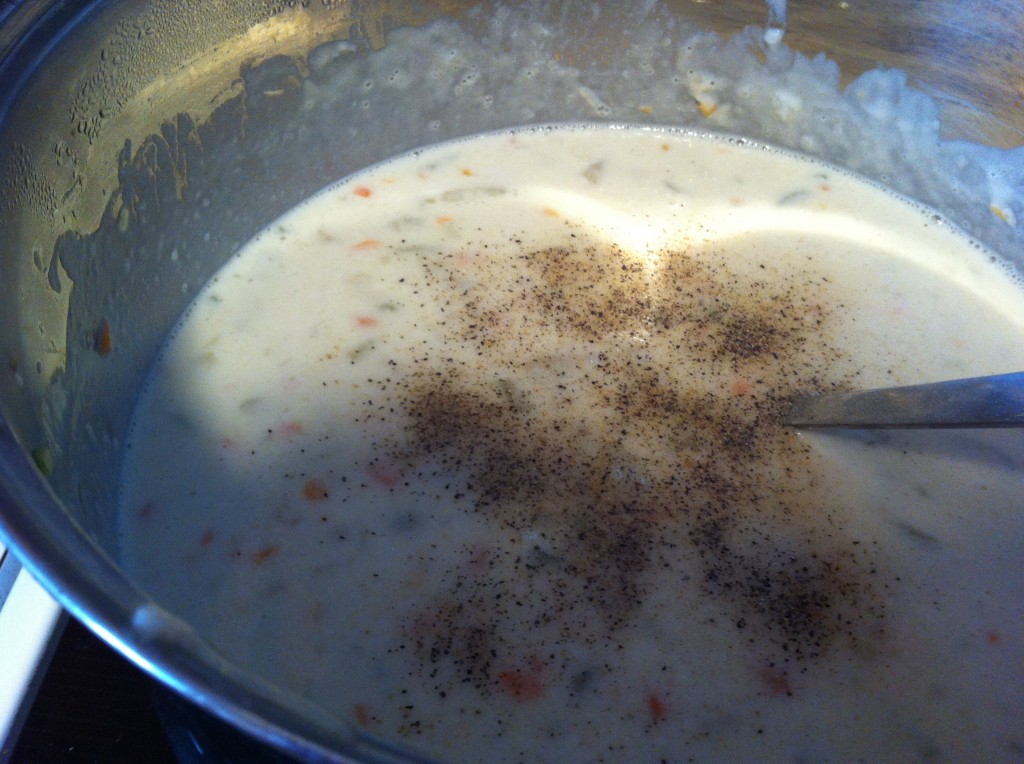 Now, take the time to taste  your soup and add in pepper and enough salt to  your liking.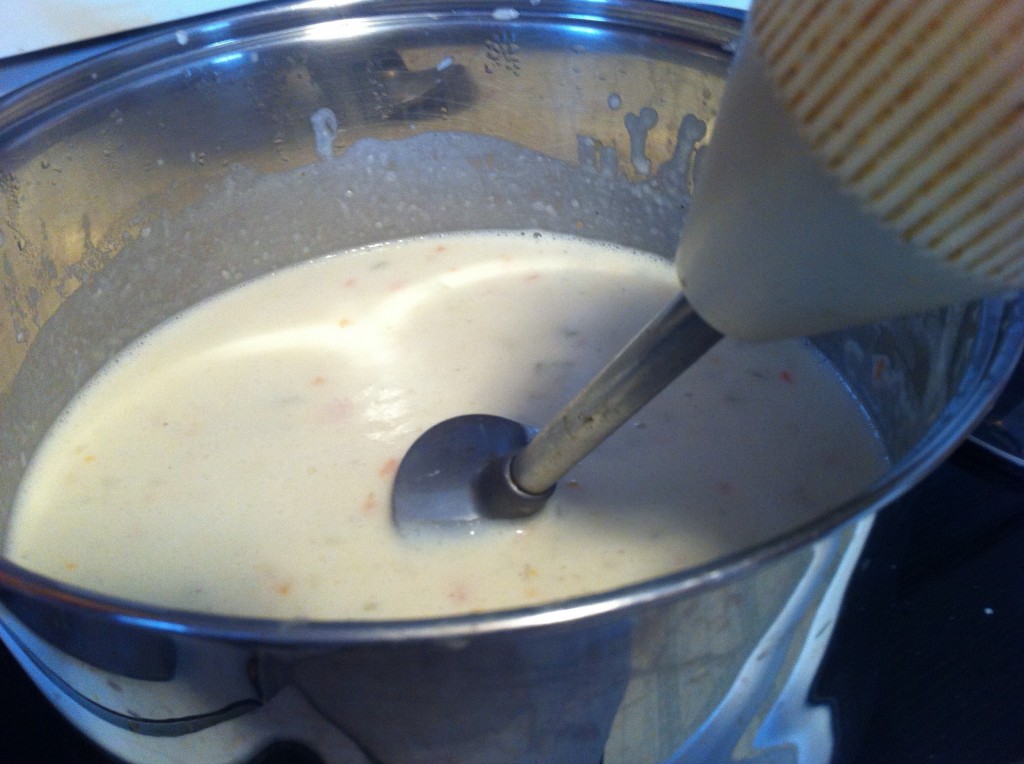 If you like chunky soup, stop here. I like mine kinda chunky and kinda smooth. So I take out my handy dandy immersion blender and blend some of the chucks of potatoes. I am careful not to blend up all of the potatoes. This just gives the soup a smoother, thicker texture. If you do not have an immersion blender, just take 3 cups of soup out and blend it smooth in a blender. Then add the blended soup back in.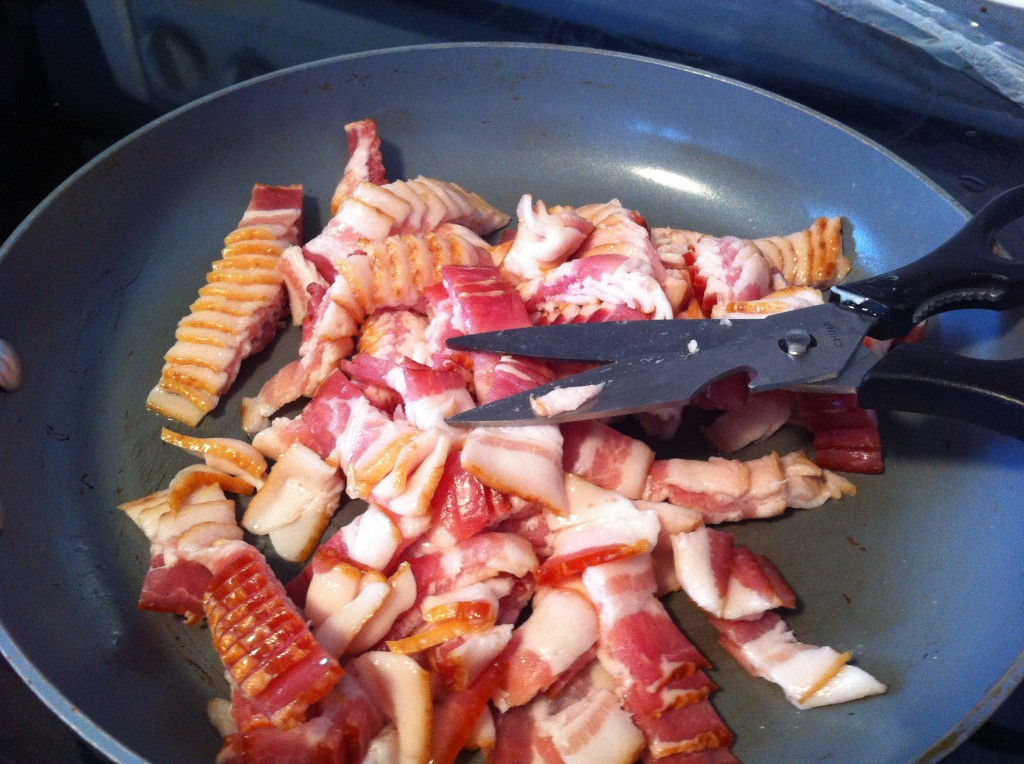 To make the bacon bits, I took my kitchen shears and cut the bacon into chucks.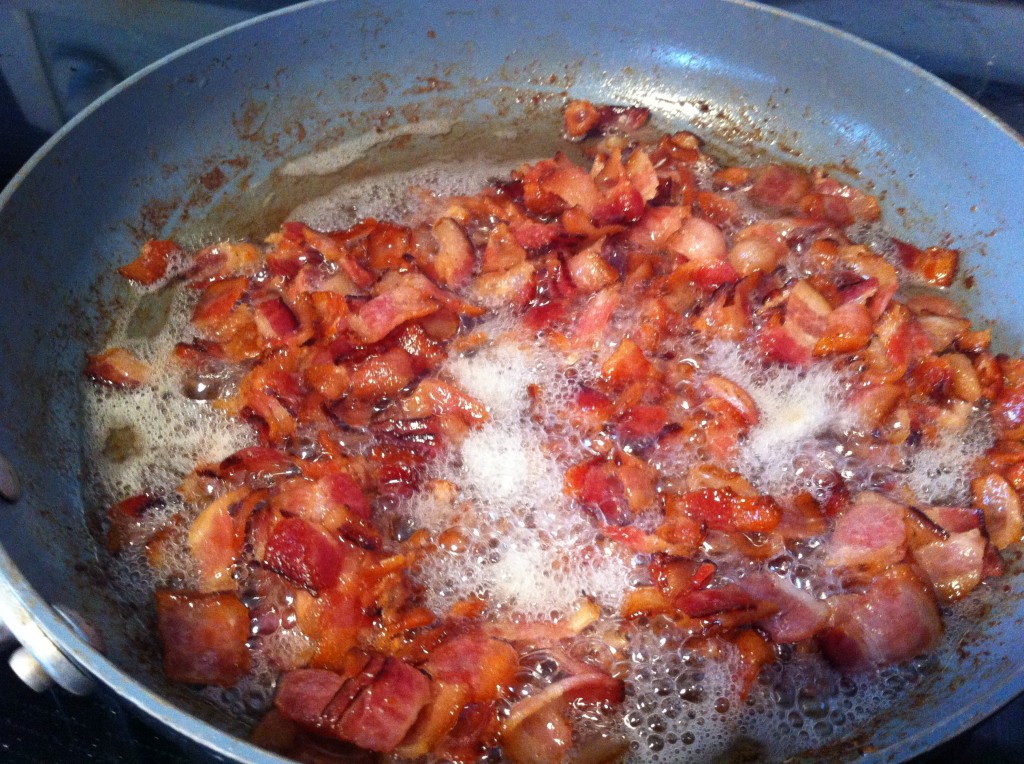 Then, I fried the little pieces of bacon until they were crisp.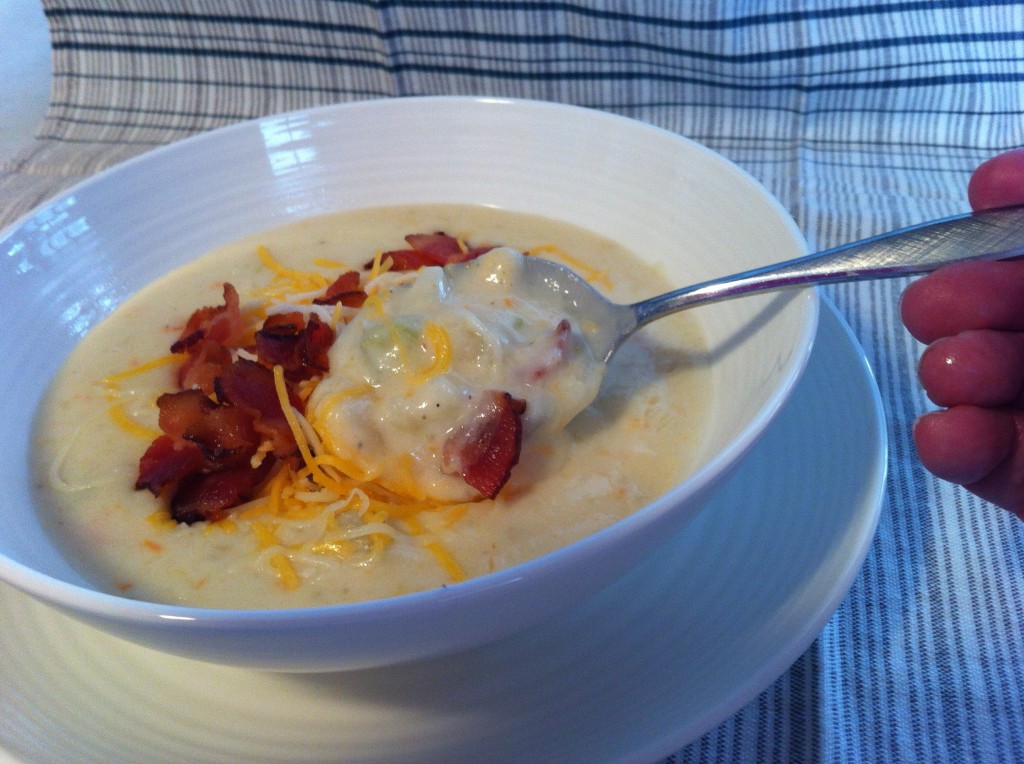 Now, it is time to scoop some steamy, creamy soup in a bowl and garnish with bacon pieces and cheese. Can you see the chunks of potatoes I left in the soup?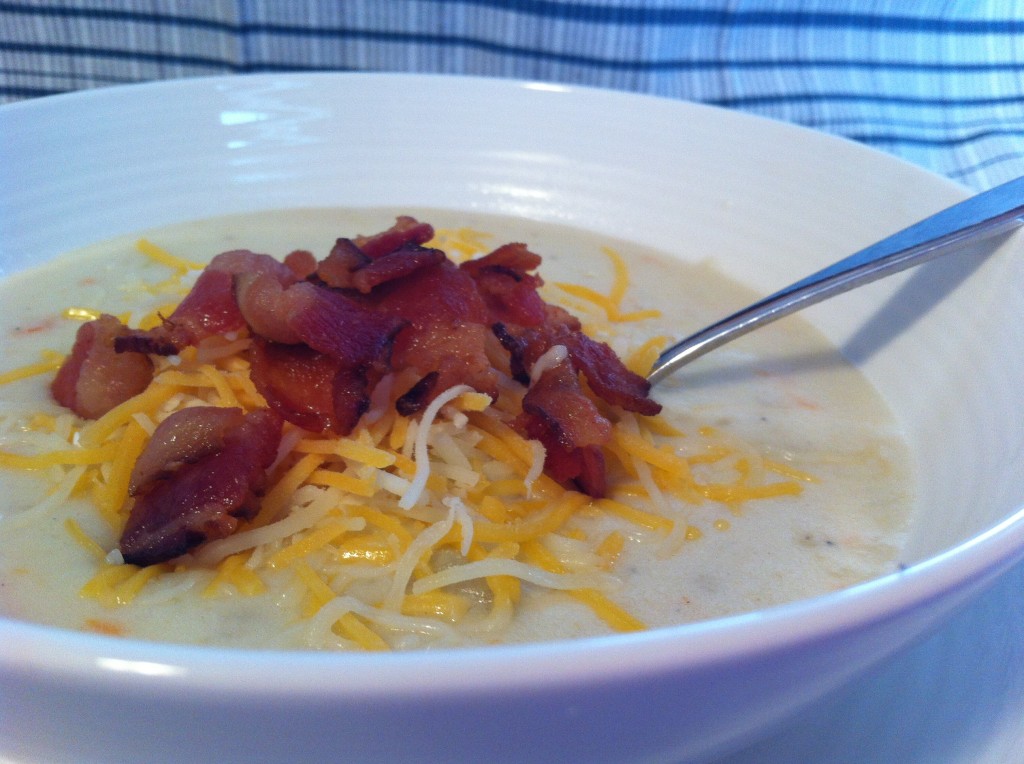 This picture makes me want another bowl.
I hope everyone is staying warm inside and eating soup…really good soup!
Becky
Here is the recipe.
Creamy Baked Potato Soup
Ingredients:
8 large potatoes, (you will bake them and then cube them up)
1 quart of half and half
3 cans of chicken stock
one half of a large onion (diced)
3 celery stalks (diced)
2 large carrots (diced)
12 tablespoons of flour
salt and pepper to taste
Garnish
1 pound of bacon (cut into small pieces and fried till crispy)
1 cup of shredded cheese. I used cheddar jack
Directions:
Wash, then foil 8 large baking potatoes. Bake in a 400 degree oven until tender. When the potaotes are done, peel the potatoes and cube/dice. (depending on how big you like your potato pieces to be). Dice the onion, carrots and celery. Sauté the diced vegetables in a large stock pot with 4 tablespoons of butter. Sauté until tender. Make a slurry using 2 cups of the half and half and the flour (12 tablespoons.) Make sure to stir all the flour lumps out of the slurry. Add the slurry to the vegetables and cook until it thickens. This will help get rid of the raw taste of the flour. Now add in the three cans of chicken stock and stir. Simmer on low, stirring often, until all the vegetables are very tender. Now, add in the diced potatoes. Stir the soup and the potatoes together. Add in the rest of the half and half (2 cups). Simmer on low, stirring often as the potatoes sink and can burn. I use an immersion blender and blend the soup for a couple of minutes. This makes a real creamy consistency. I do not blend out all of the potatoes just some of them. You can use a blender too. Just blend about 3 cups of the soup until smooth and add it back to the soup. The soup is ready when it comes to a simmer and all the potatoes are tender.
Fry the bacon to make bacon bits.
Garnish the soup with bacon bits and cheese.
This is all there is to making creamy baked potato soup.
Easy Peasy Nice and Easy and so good.
Becky
Here are some other soup post you might enjoy:
 Chicken Gnocchi Soup                              Cheese Soup                                                Taco Soup