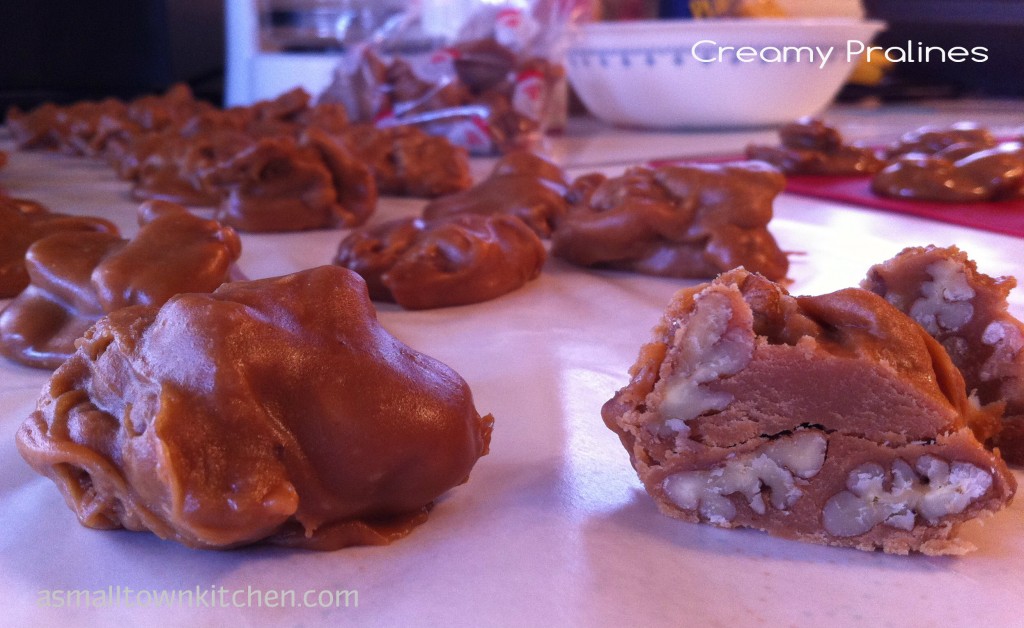 As I look back on the candies I made or tried to make (divinity) it seems I wanted to make candies that I loved to eat growing up. I learned how to make pralines in college in one of my foods classes. That is where I learned how to use a thing called a candy thermometer and how to put your hot sugar syrup in water to see if it was a hard crack, soft ball….you know what I am talking about. A few years ago I went on vacation to Savannah with PIC  (sister in law) and my niece Sparkle (my nick name for her).  I loved walking down by the riverfront, watching the candy masters make batch after batch of fresh, warm, melt in your mouth pralines.
I don't know if you call them praw-leens or pralines…just give me some.
I found this old recipe for creamy pralines. I don't know if I if they are quite as good as the candy masters in Savannah, but they are pretty close. On these cold winter days here in Mid Missouri, a little taste of the South sounds pretty darn good. Do not be intimidated to make pralines. The trick is to stir the candy while it is cooling off until it starts turning a little dull and then you quickly scoop them out in little puddles on parchment paper. Wait till they set up (if you can) and then make some hot tea and indulge with one or two or more pralines.
Sounds good to me : )
Hope it does to you too.
Anywho, here is what you need to make these creamy pralines.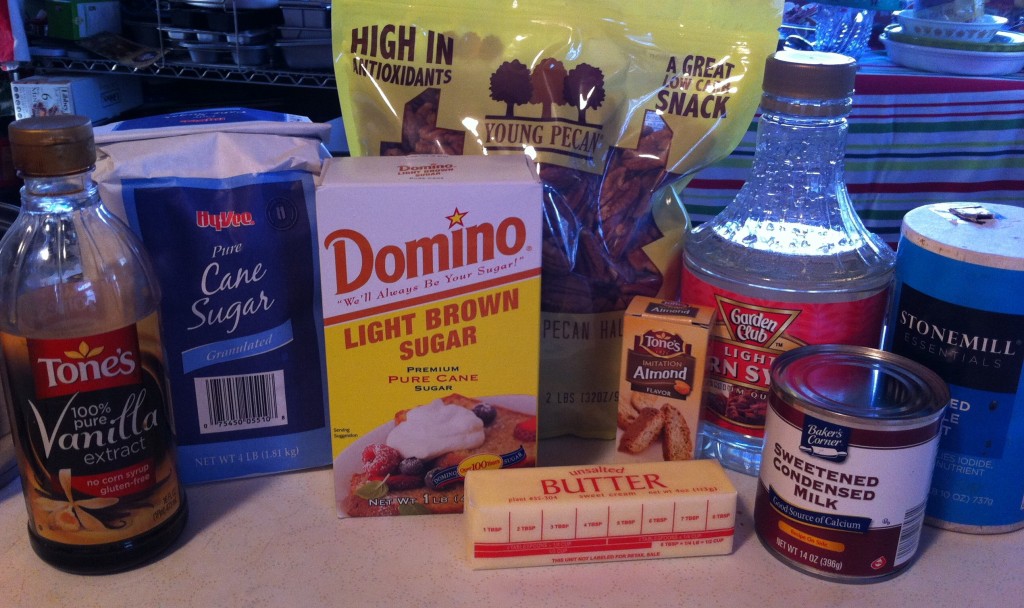 This recipe has sweetened condensed milk in it instead of half and half or regular milk.
The first thing I did was cut up my butter into little cubes, so it will melt faster and easier.
I set up the pan with the candy thermometer next. The thermometer snaps on the back top of the pan.
Pour in the sweetened condensed milk and firmly packed brown sugar into the in the heavy saucepan.
Add in the granulated sugar and toss in the cubed butter.
Pour in the corn syrup and add the salt.
Stir gently and heat on low until the butter melts. Turn the heat up to medium and stir continuously until the candy reaches a soft ball stage or 238 degrees.
Heat up the mixture until it reaches 238 degrees on a candy thermometer. It will start to thicken up and boil.
When the mixture reaches 238 degrees, remove from the heat. Add the pecans, vanilla and almond flavoring.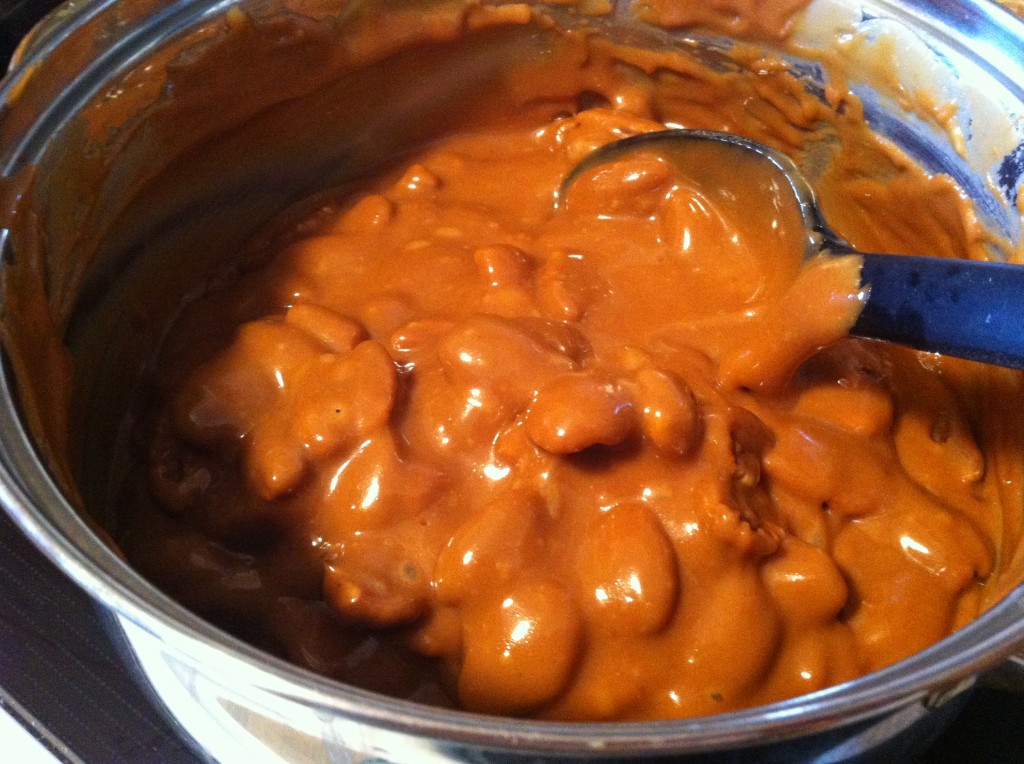 Stir in the pecans and flavorings. Beat the mixture with a spoon until it starts to thicken.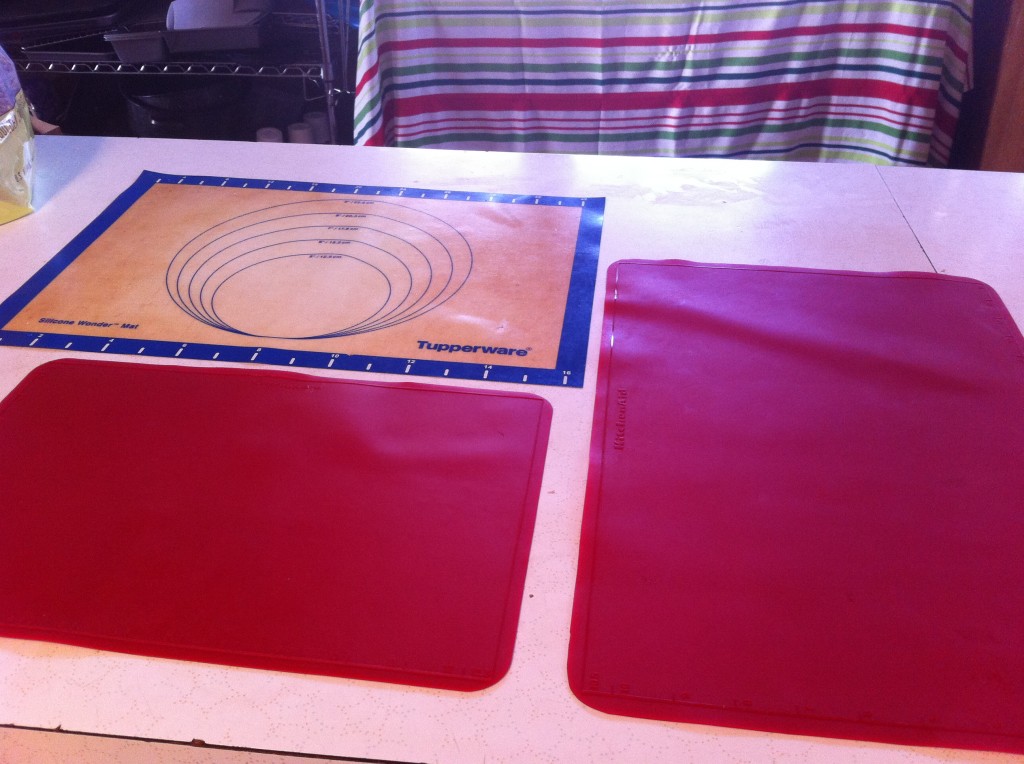 Have an area prepared to drop the candy on. I used silicone sheets, but you can use parchment paper also.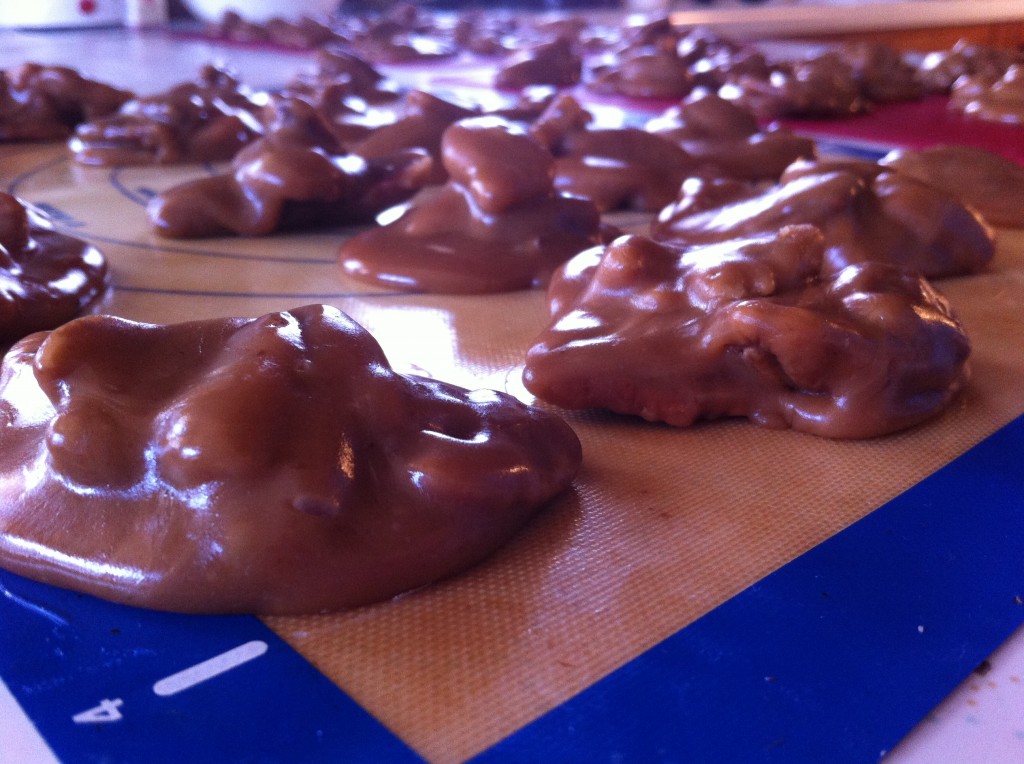 Working quickly, drop by rounded tablespoon onto a prepared surface. Let stand until firm.
Don't you just want to grab one and eat it? I do.
Here is the recipe.
Creamy Pralines
Recipe Adapted from Old Southern Living Cookbook
Ingredients:
1 cup sugar
1 cup firmly packed light brown sugar
1 – 14 ounce can of sweetened condense milk
3/4 cup butter or margarine cut up into cubes
1/2 cup light corn syrup
1/8 teaspoon salt
3 cups of pecans
1 teaspoon vanilla
1/2 teaspoon almond flavoring
Directions:
In a heavy saucepan, on low heat, stir together the sugar, brown sugar, butter, sweetened condensed milk, corn syrup and salt. After the butter has melted, turn the heat to medium. Stirring continuously, heat the mixture to soft ball stage or 238 degrees. Take the mixture off the heat and add the pecans and flavoring. Beat the mixture together with a spoon. Continue beating until the mixture cools slightly and starts to thicken. Work quickly (before the candy sets ups) and with a tablespoon, spoon out spoonfuls onto parchment paper. Let sit until the candy cools and becomes firm.
Makes approximately 3 dozen pralines.
If you can't make it to Savannah anytime soon, and you are craving some pralines, give this recipe a try.
I know you can make them.
Enjoy,
Becky