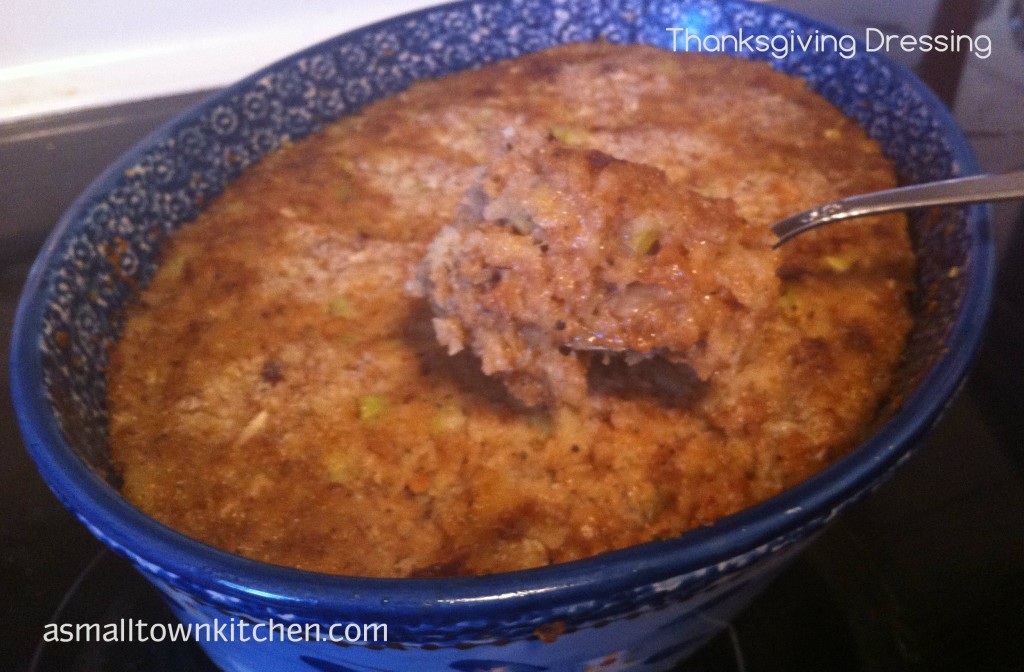 Are you a dressing or stuffing eater? Well, to be honest, I am not. But, it does not mean I do not want to make a great tasting dressing for Thanksgiving! I have tried the cornbread with sausage and other doodads in it and it tasted fine (the little bit I tried). I just still was not satisfied with what I made. My sister in law, PIC, always told me how much she loved the dressing her mom made each year.  PIC's mom is a great cook, so I knew her dressing would taste fabulous, I just had to re-create it, somehow.
So….for the last several years…yep years folks, I have been perfecting on this simple, yet totally terrific dressing. It has a crispy buttery top crust and a moist and flavorful inside. For several years I tried adding extra sage, or poultry seasoning or garlic and it was too over powering. Last year I just trusted the Pepperidge Farm folks with the seasonings they put on their bread crumbs and just add just a touch of sage and you know what happened, it was the best one I made…after years of trying to get it just right.
The best part in all of this, is that I finally wrote the recipe down so I do not have to worry about trying to remember what I did or adding any unnecessary seasoning. If you are looking for a simple, uncomplicated and the perfect compliment to your turkey and gravy, give this dressing recipe a try.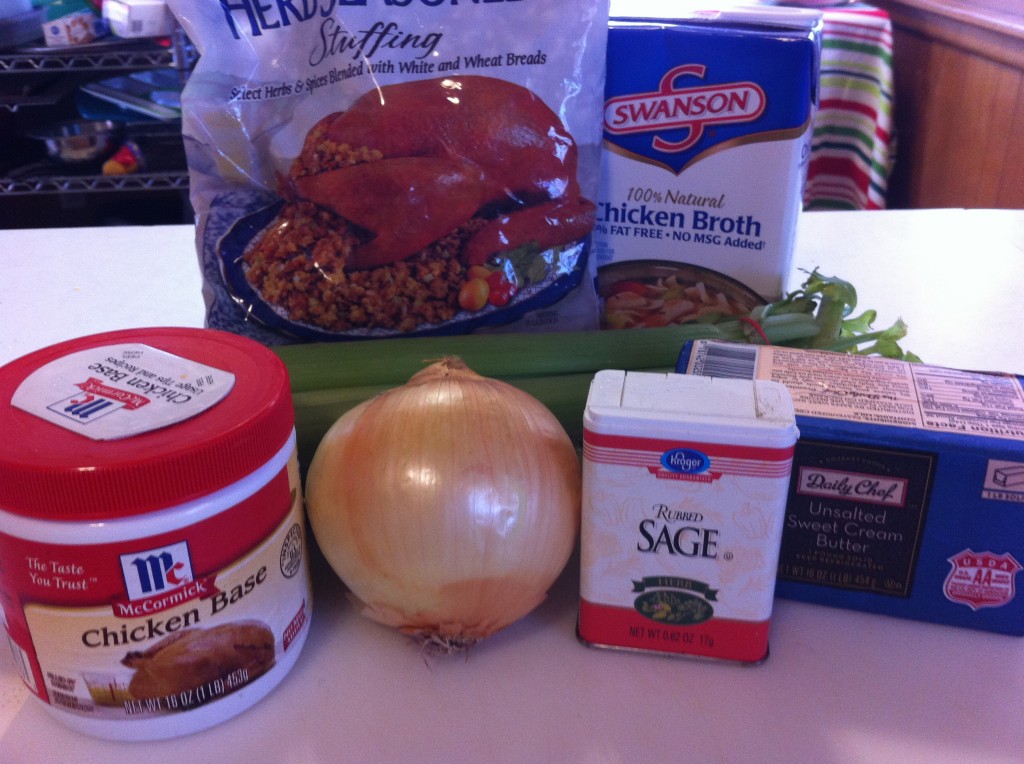 Here is what you need to make this special dressing for Thanksgiving, or Christmas or any other time you want to make dressing.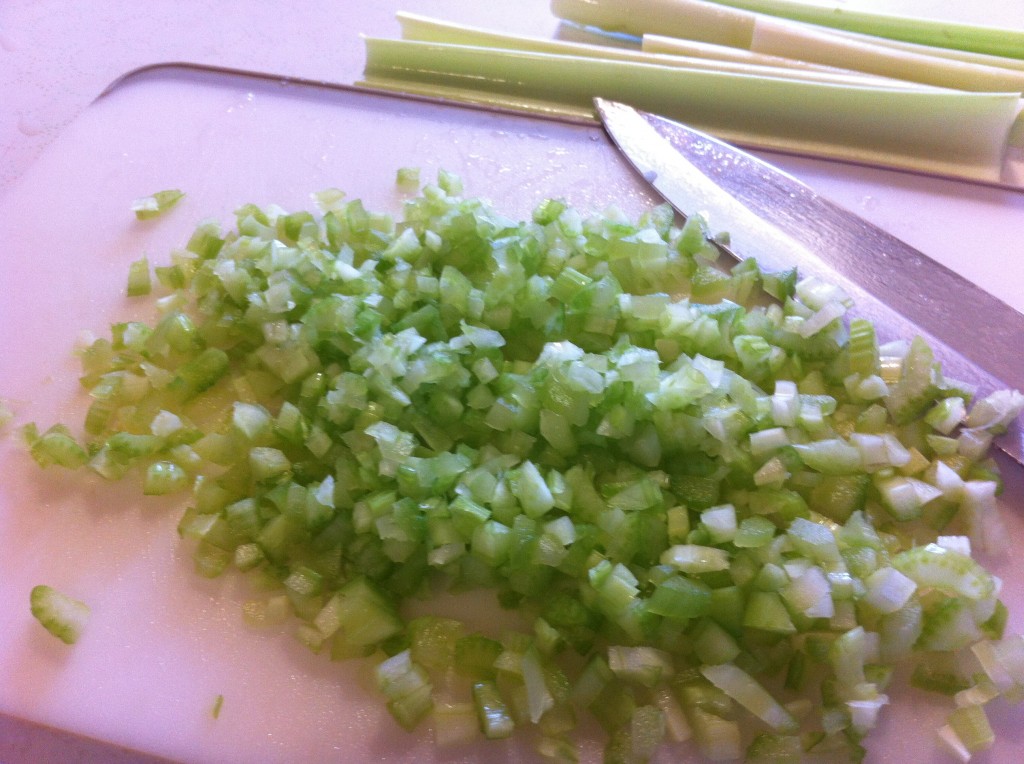 The first thing  you need to do is chop up the celery and onion into small pieces.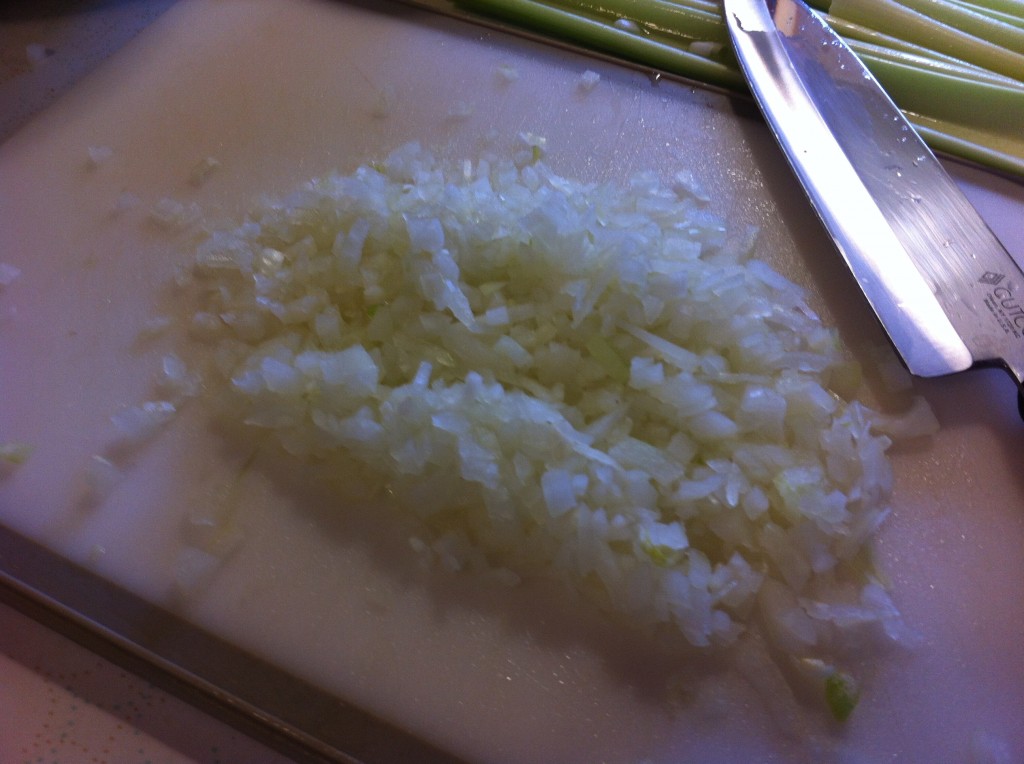 Here is the onions all chopped up.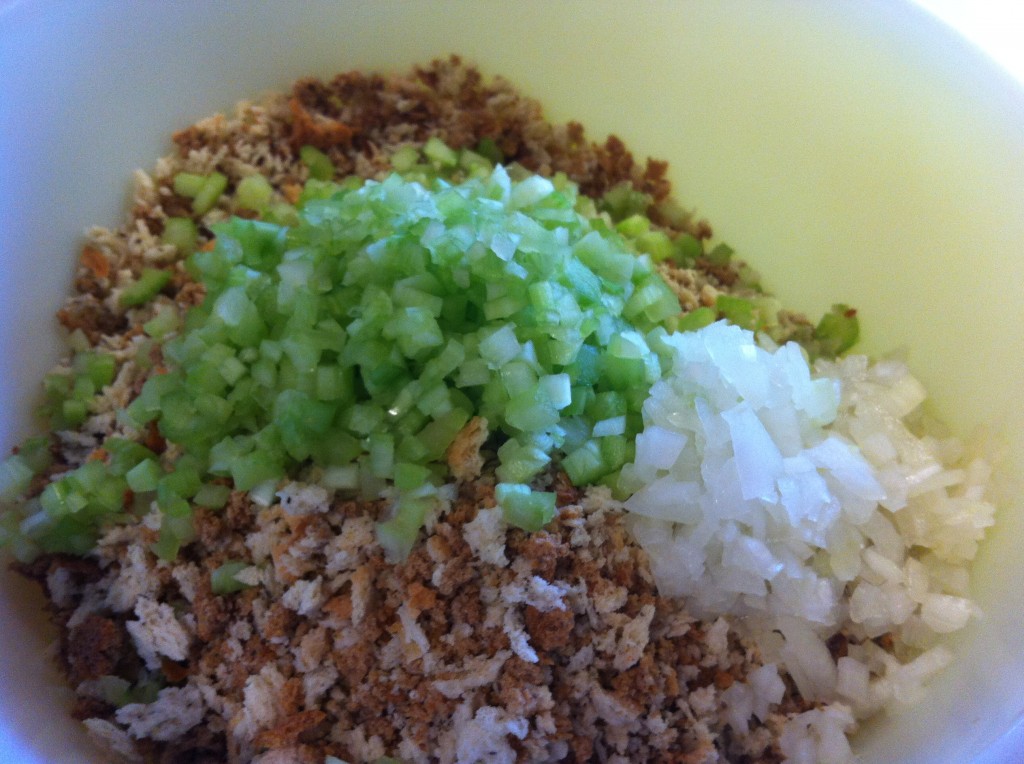 In a bowl, put the seasoned bread crumbs and the chopped celery and onion.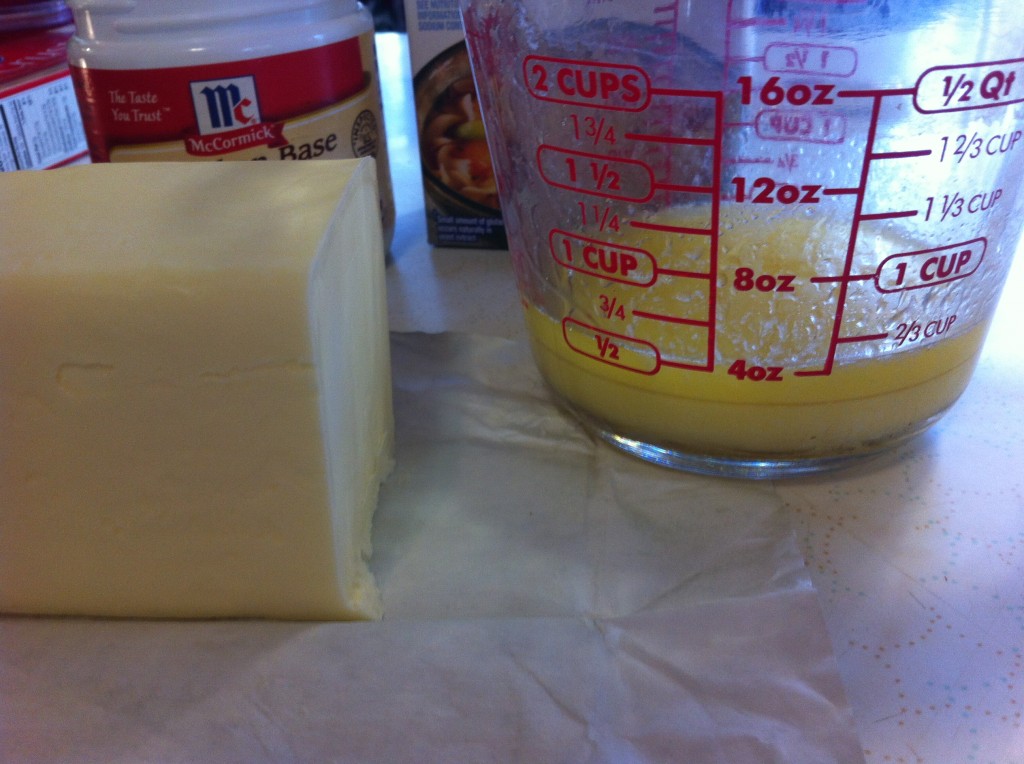 Melt the butter.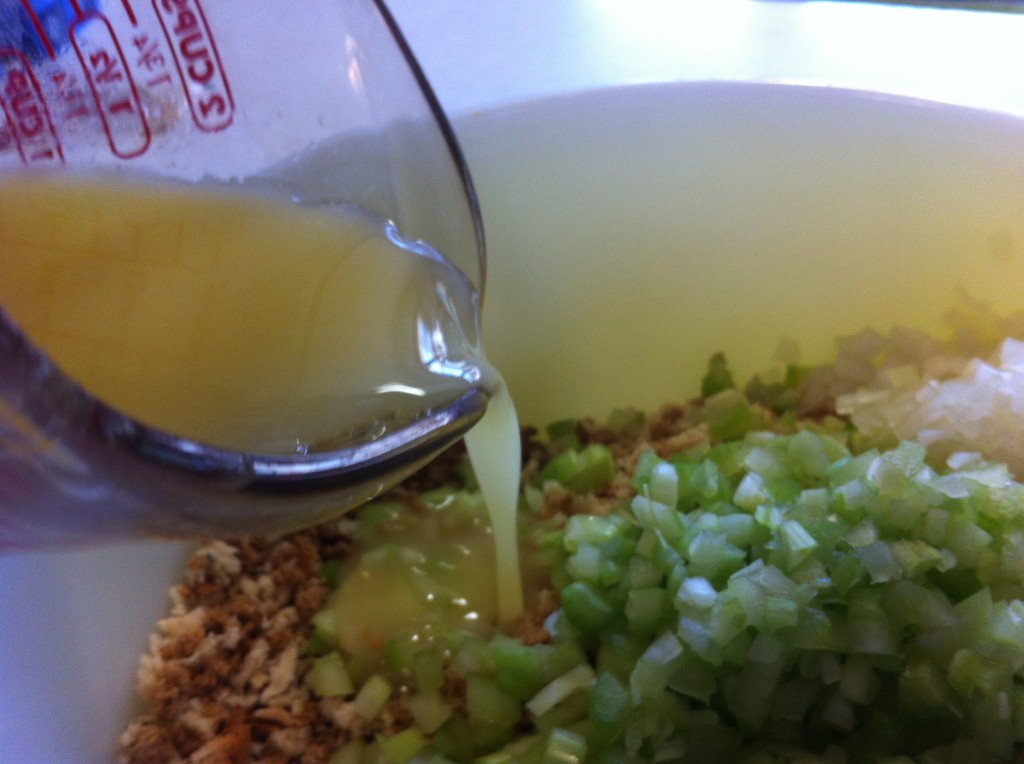 Pour the melted butter into the bowl with breadcrumbs, celery and onions.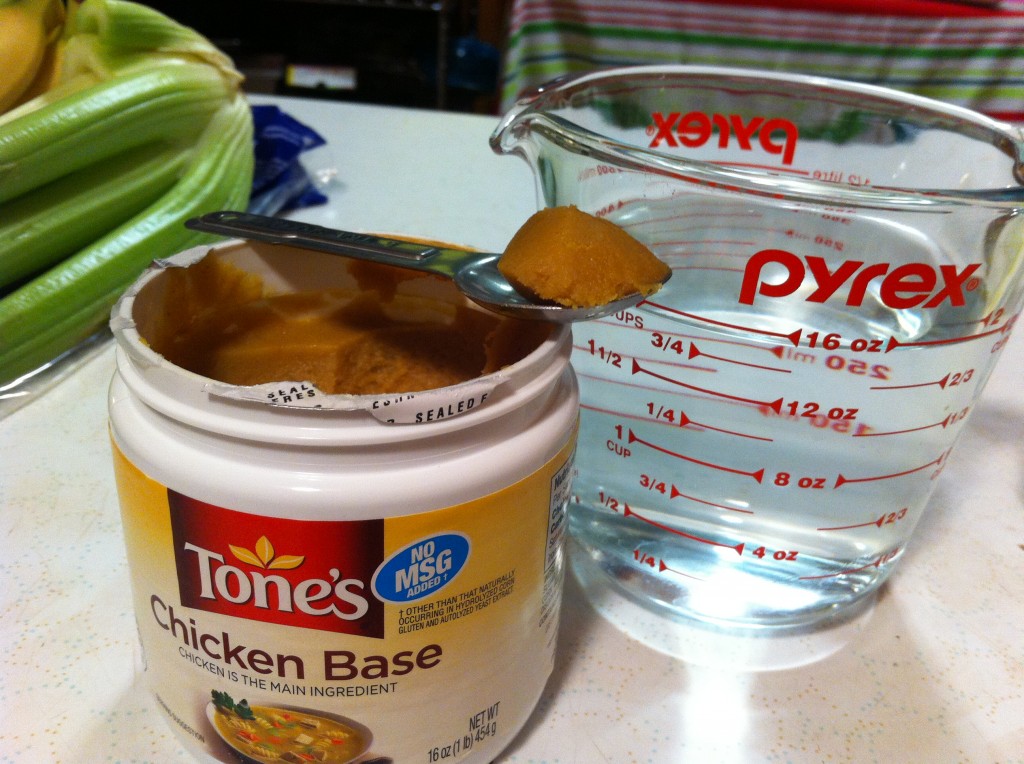 Make the chicken soup base. I add the base to water and then heat it in the microwave to help dissolve it. The reason I use half chicken base and half chicken stock is that the soup base has a real rich taste and it adds a little salt to the dressing too.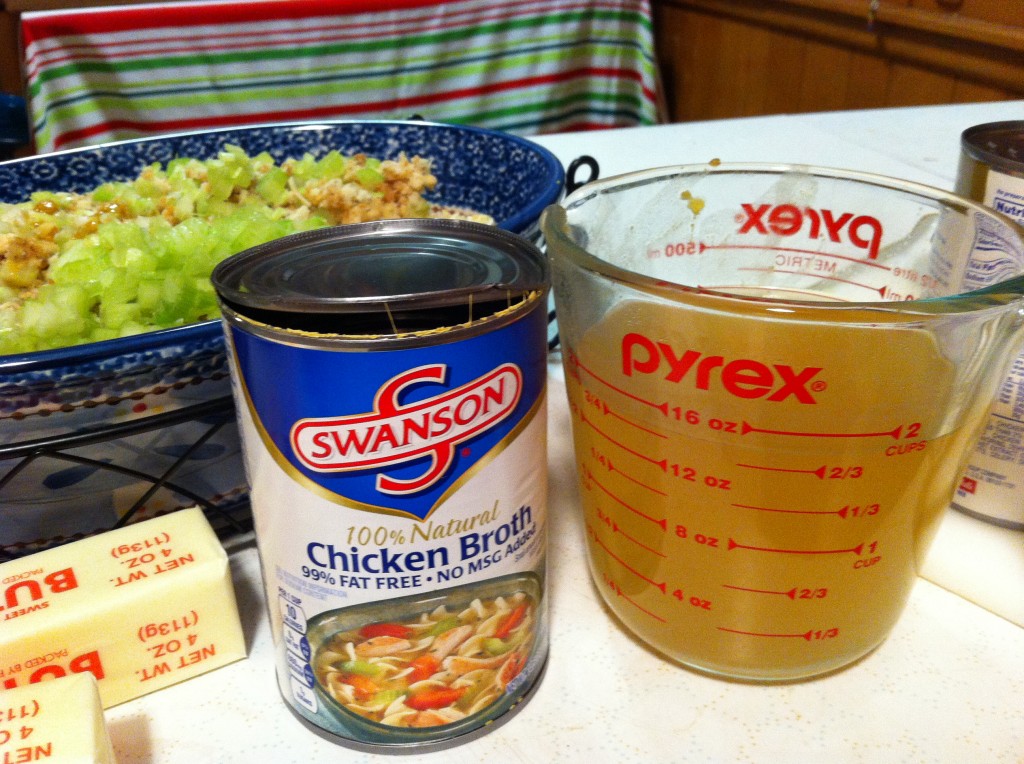 Measure out the chicken broth.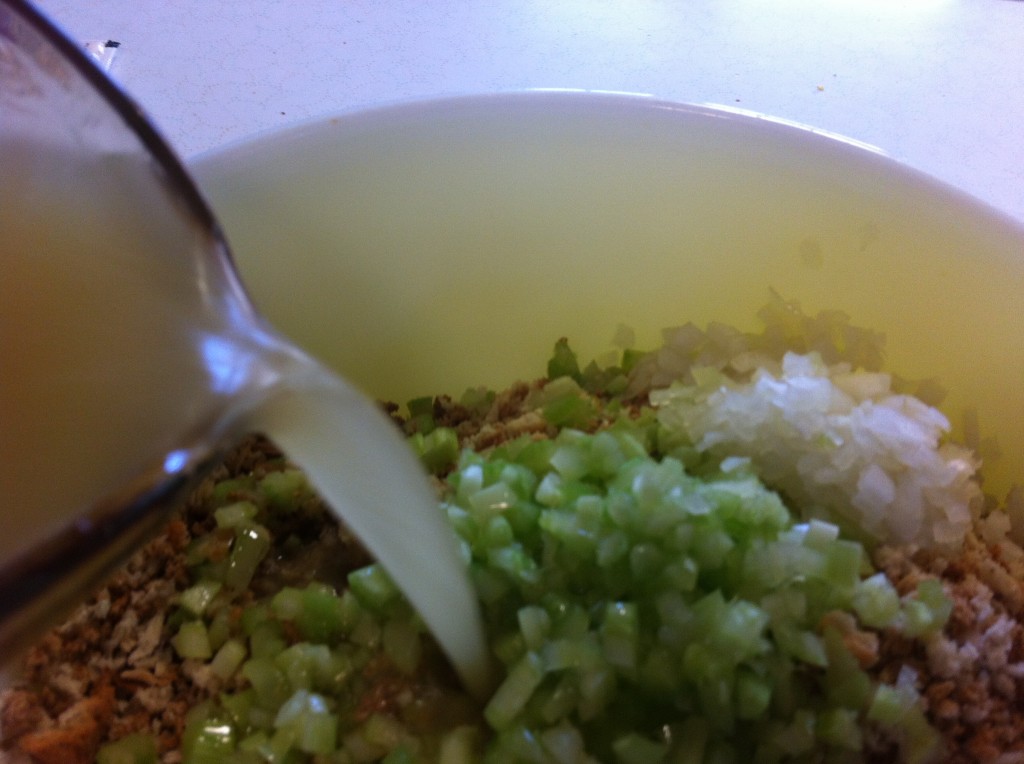 Pour in the chicken soup base and the chicken broth.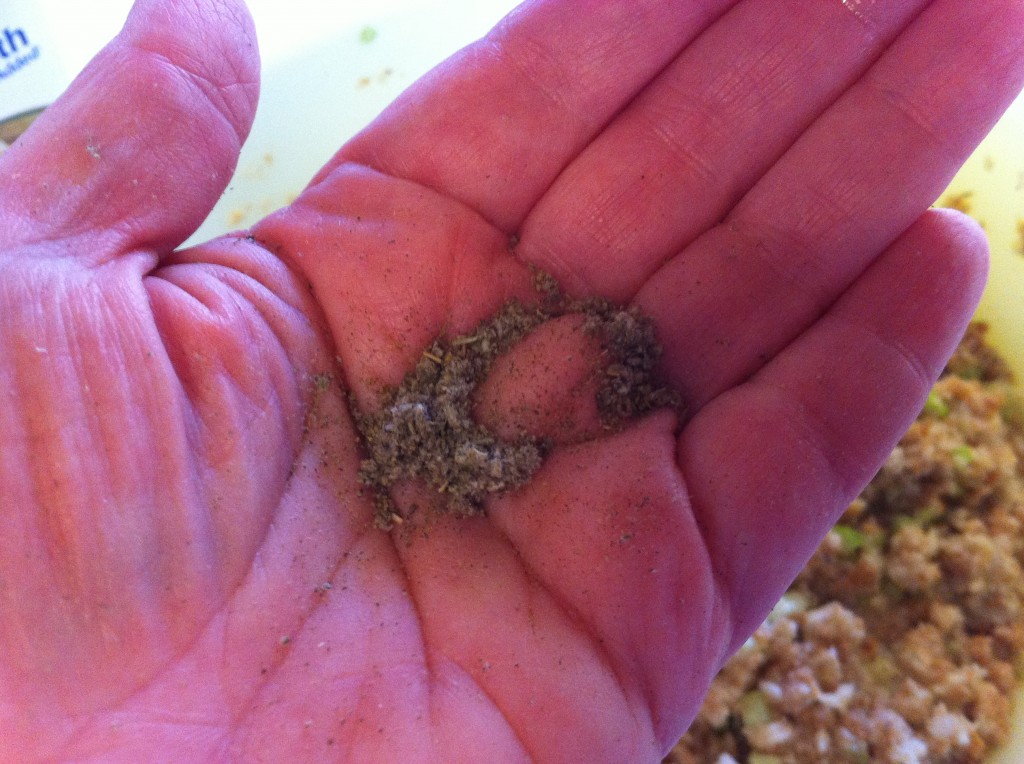 Add a small amount of sage. If you add too much, it can over power your dressing pretty fast.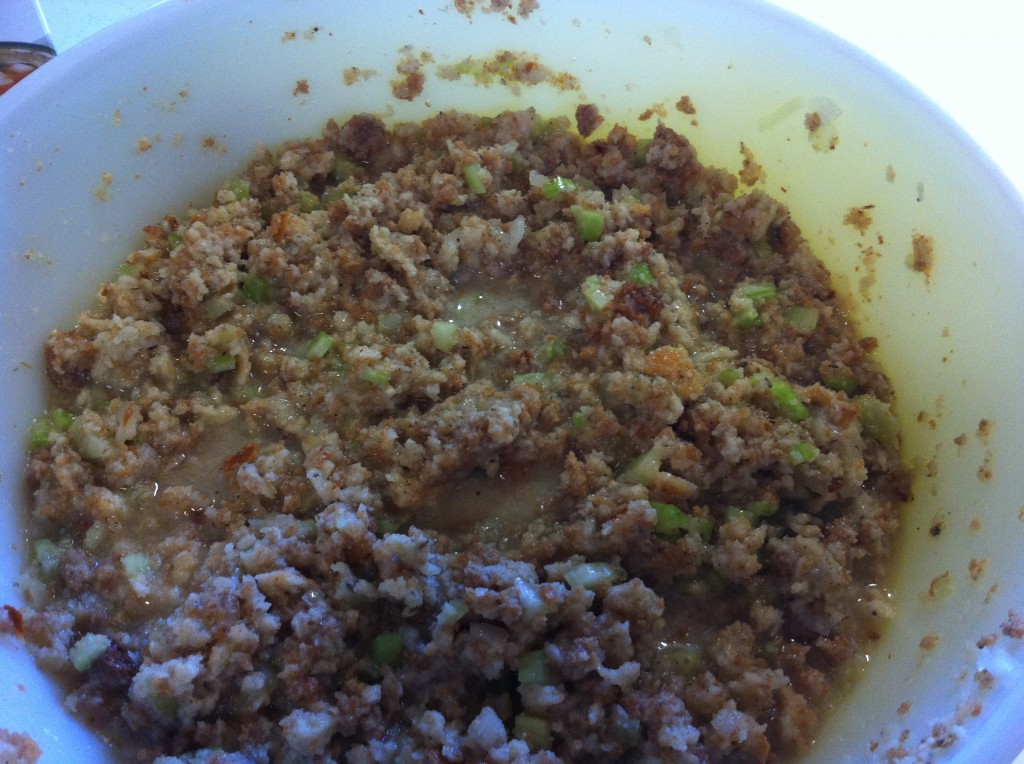 Stir every thing together.
Put the dressing in a casserole dish and level smooth. Put small pats of butter on top. I usually make my dressing the day before I bake it. I think it taste better if it made the day before because the flavors really come out. This Thanksgiving, I had to make it and bake it in the morning and it was still gobbled up. So you choose what works best for you.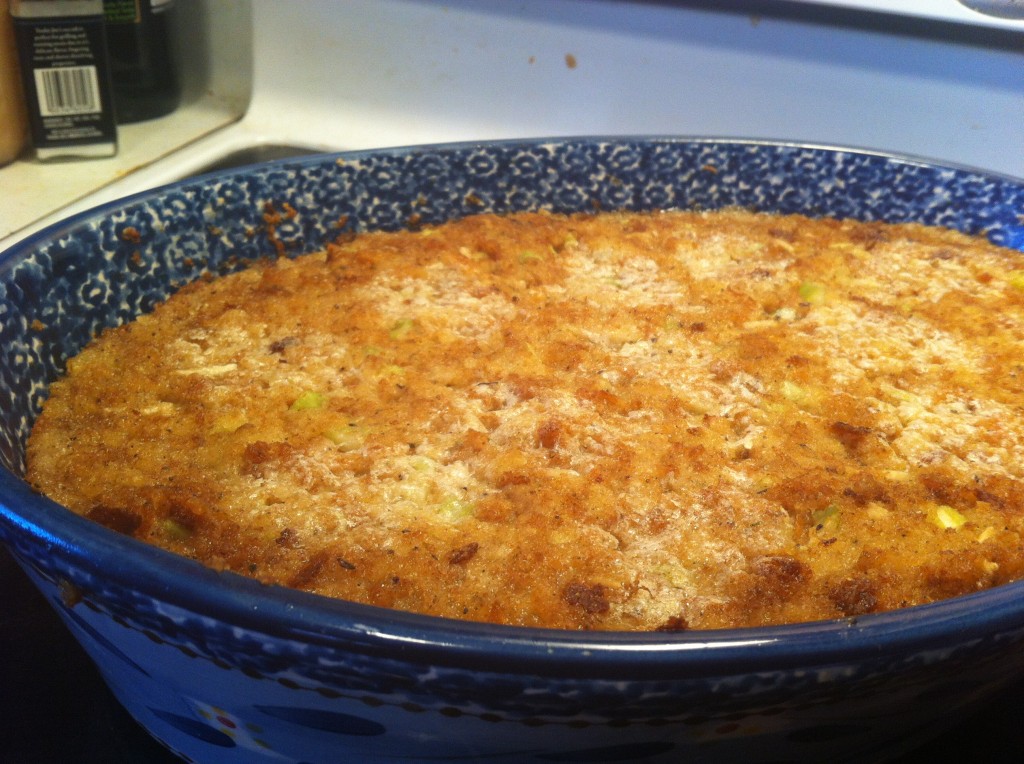 Bake at 375 degrees for around 46 minutes or until the top gets a little crispy and it is heated all the way through. If you make your dressing the day before and you take it right out of the refrigerator to bake it may take a little bit more time to bake.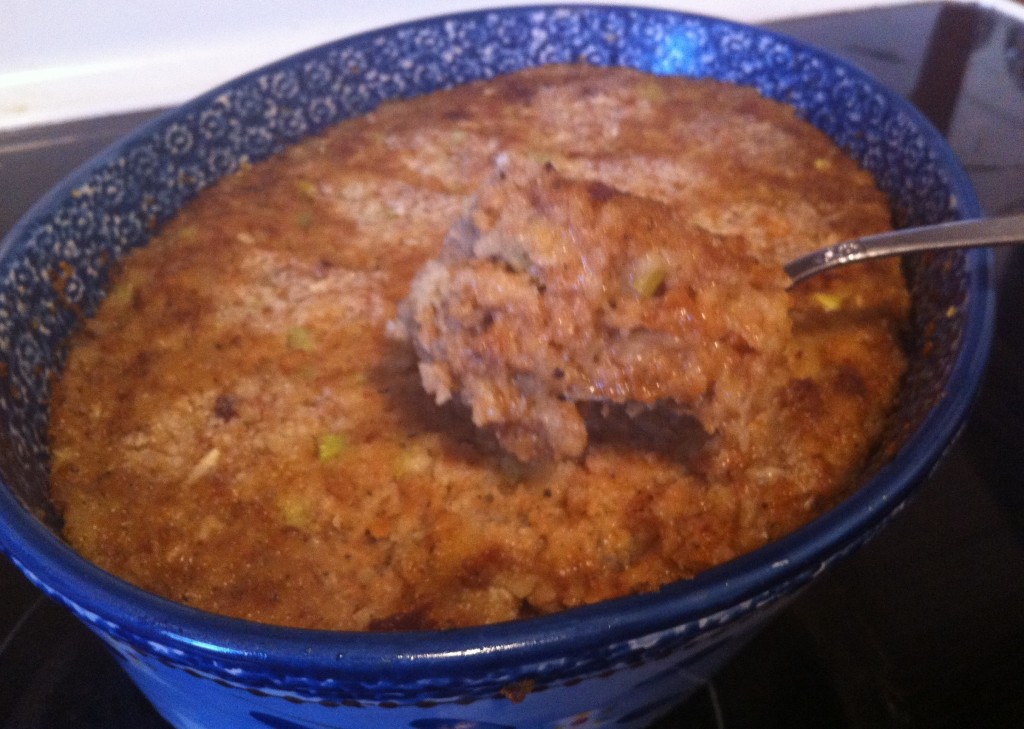 Now it is time to scoop it out and watch it disappear.
One thing I figured out about making dressing, it is that people are passionate about their dressing. This recipe can be tweak it you need too. If you like more onions, celery or sage, just add a little more and if you don't add a little less.
Me…I am leaving it as it is cause PIC thought it was great and my Daddy told me it was the best I have made so far. Who wants to argue with a 95 year old…not me : )
Here is the recipe:
Perfect Thanksgiving Dressing
Ingredients:
1 – 14 ounce package of Pepperidge Farms Herb Seasoned Stuffing Bread Crumbs
1/2 cup melted butter
2/3 cup chopped celery
1/3 cup chopped onion
1/2 teaspoon sage
2 cups of chicken broth made from chicken soup base
2 to 2 and  1/2 cup chicken broth (canned broth such as Swanson)
Extra butter (around 1/4 cup) to put pats of butter on top
Directions:
In a large bowl, add the herb seasoned bread crumbs, celery, onions and sage. Stir to combine. Pour in the chicken soup base and the chicken stock, along with the melted butter. With a large spoon, mix everything together. Spoon the dressing into a greased casserole dish and level off with the back of a spoon. Arrange small pats of butter on top of the dressing. Bake in a preheated 375 degree oven until the butter on top is melted and the top gets slightly crispy and the insides are heated through.
I know that Thanksgiving is over this year, but Christmas is right around the corner and you made need a perfect, uncomplicated dressing recipe.
Enjoy!
Becky