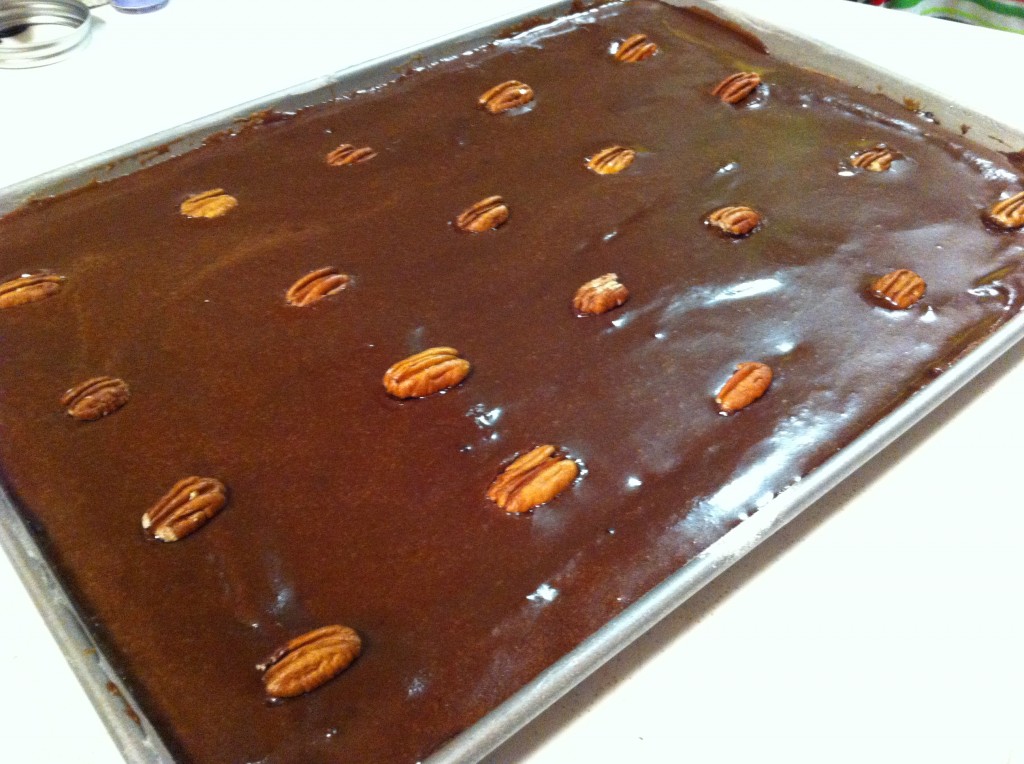 Niener Wiener made me do it! Now, Jeanie Beanie wants the recipe…; )
Yes, Niener Wiener was the one that talked me into making Texas Sheet Cakes.
It all started  with a silent auction to raise money for the old cemetery down by The Old Home Place.
Brother Robert made two roasters full of his famous chili, Auntie Corene made her famous pies (which I bought a whole one to take home to the child who does not cook) and I brought two large Texas Sheet Cakes that Company helped me bake the night before.
I don't know if you have ever made Texas Sheet Cakes before, but they are easy, they feed a crowd and they taste good too! All winners in my book.
You can find several recipes for this cake. One is made with sour cream, one made with buttermilk, one with more eggs, one with more cocoa….YES, it does get a little confusing as to which recipe to use. As I am a creature of habit, I just use the same recipe I have been using for years. It is tried and true and has never let me down. I just put pecans as a decoration on the icing cause the Super Hero does not like nuts, but you can add chopped pecans to the icing, or not use nuts at all. It is up to you….I mean, we really are just eating it for the chocolate…right?
If you need a dessert recipe for a tailgate this weekend, or need a cake to snack on for movie night, you might try making a Texas Sheet Cake. And…you don't even have to be in Texas to eat it.
Here is your step by step instructions: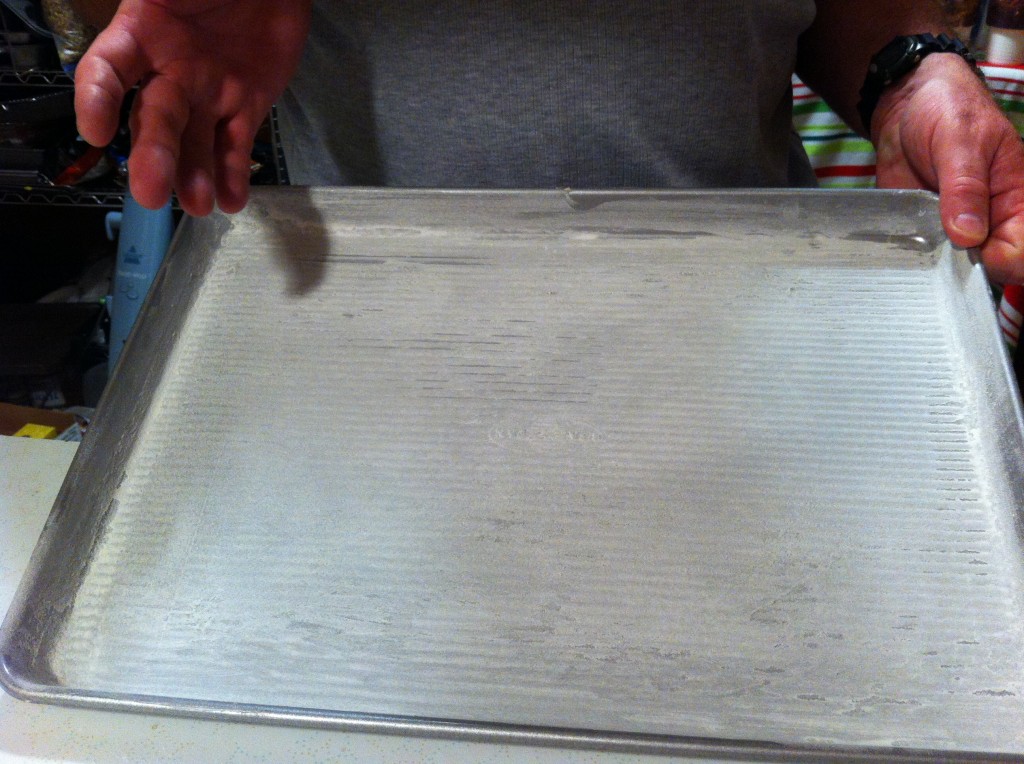 First, get your pan ready. You will need a 10 inch by 15 inch sheet cake pan. I used some vegetable shortening and flour to put on the sides and bottom of the pan. Yes, that is Company holding the pan. I did not realize he was such a ham!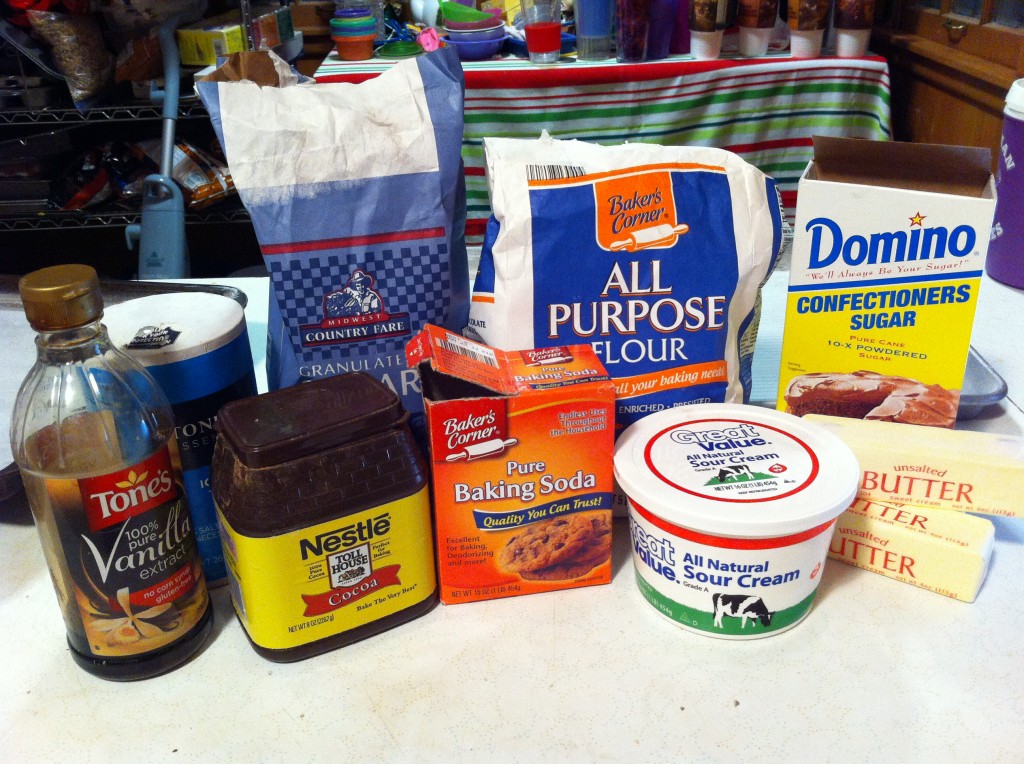 Here is what you will need to make this cake. I was so excited that I did not have to buy a thing and had plenty of everything to make two cakes. I forgot to put the milk in the picture…oops my bad!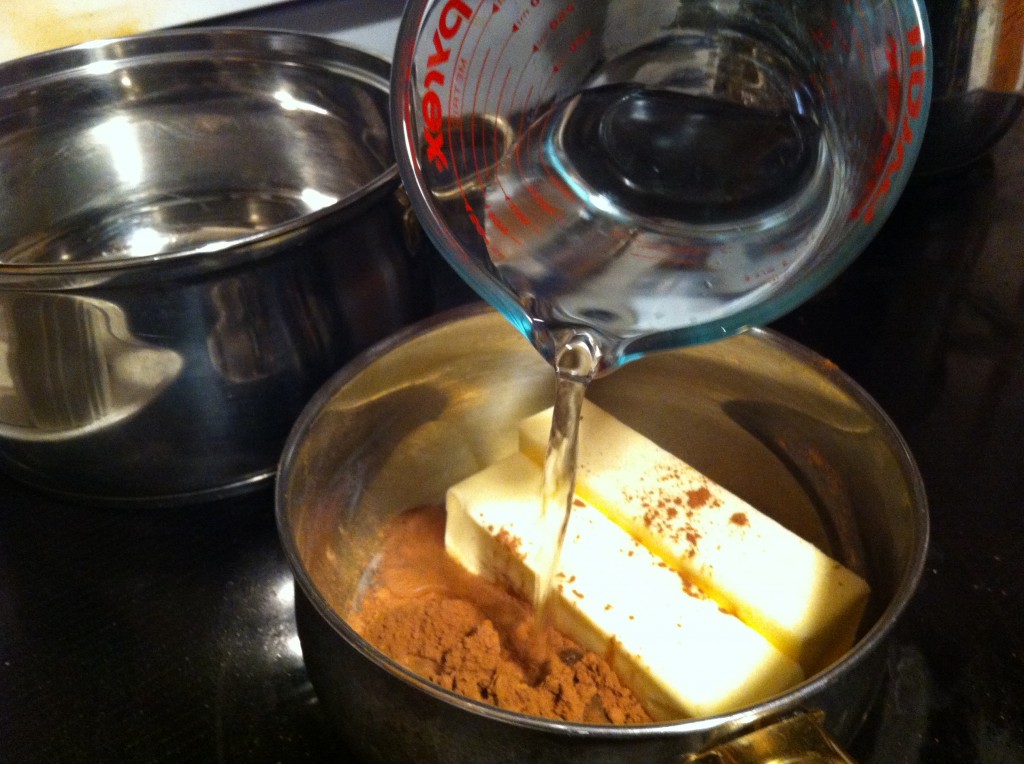 In a sauce pan bring the cocoa, water and the butter to a boil.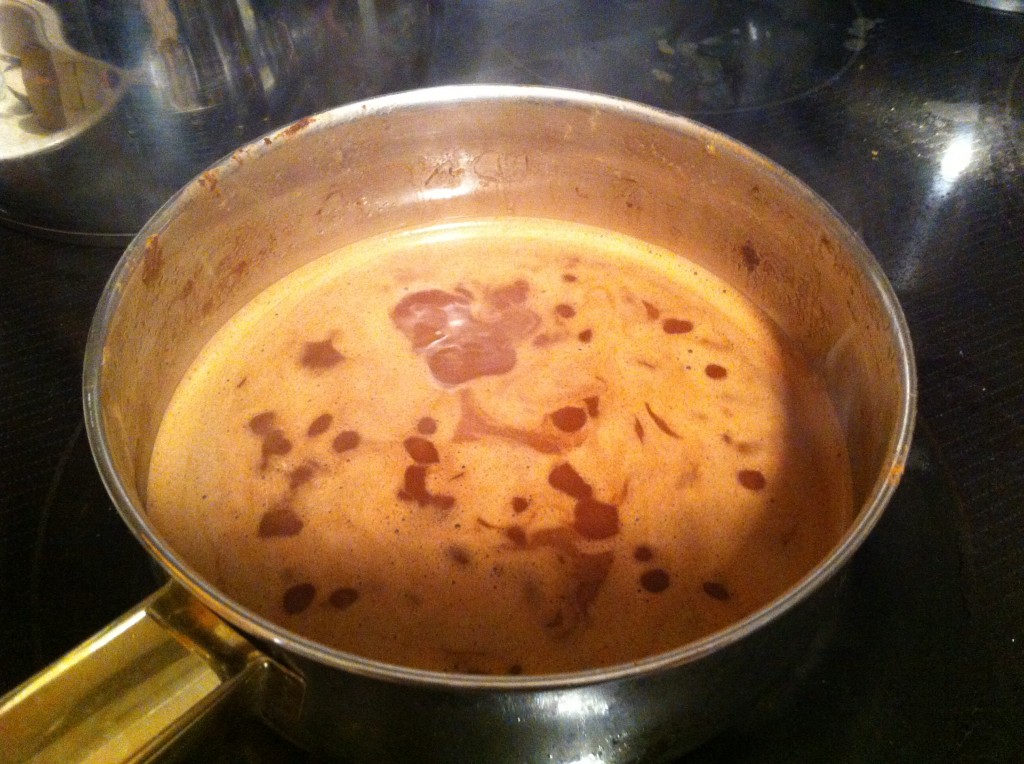 After you bring it to a boil, take it off the heat to cool slightly.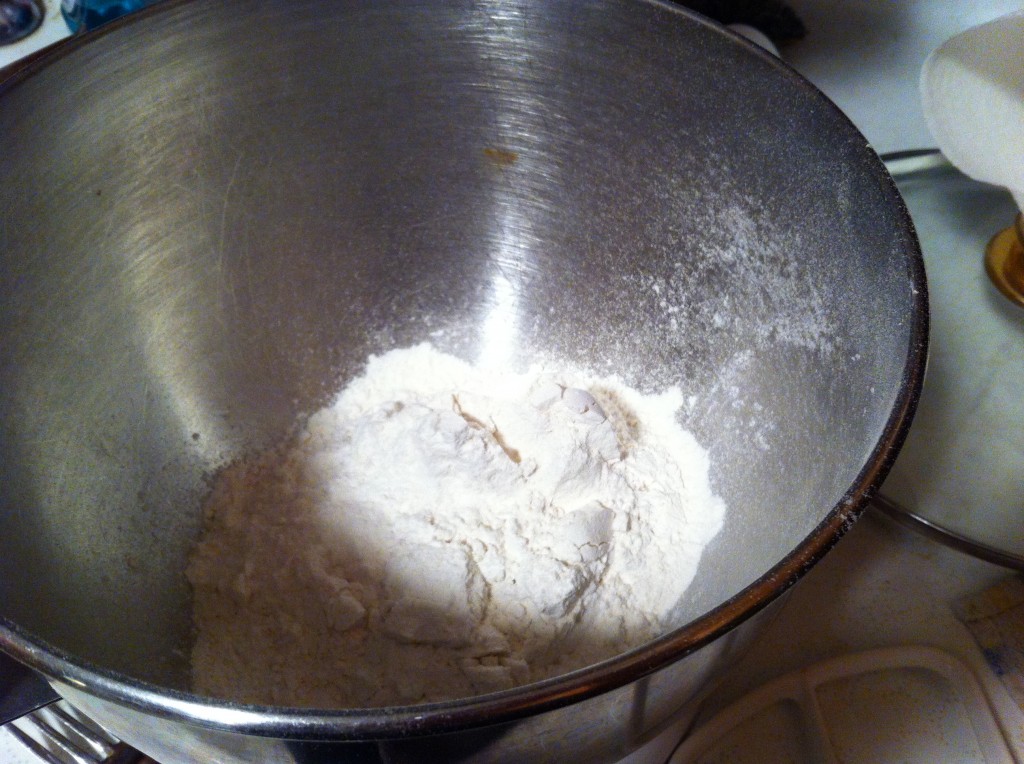 In a large mixing bowl, add the flour.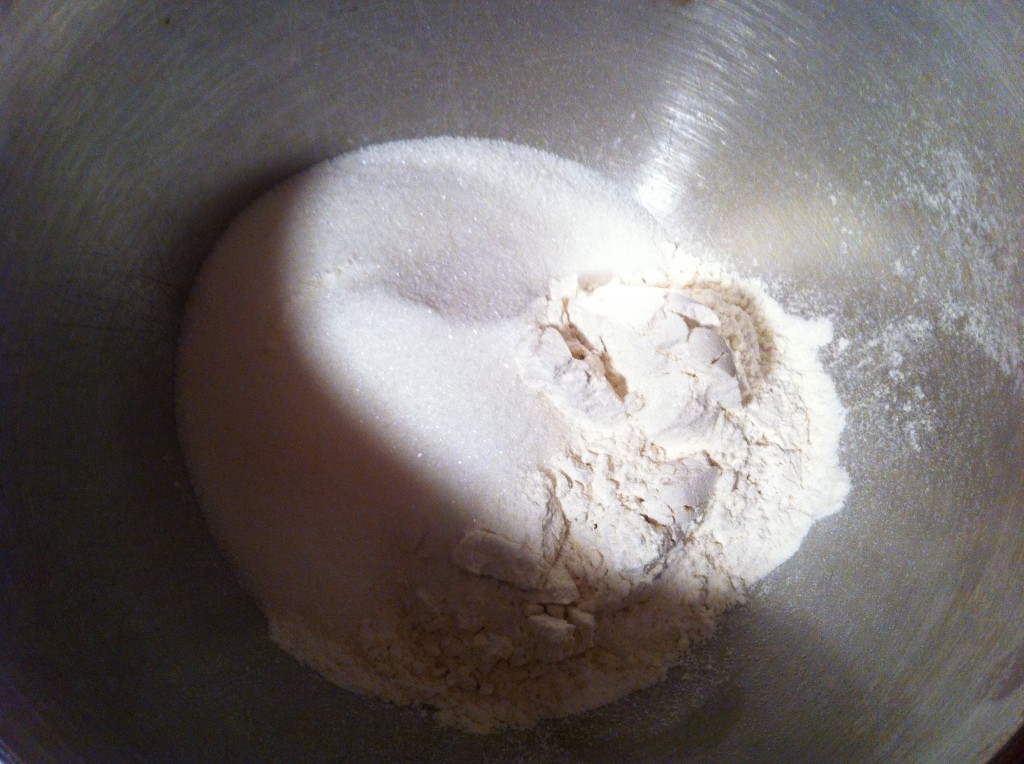 Now, add the sugar to the flour.
Now, add in the baking soda and the salt.    Stir all the dry ingredients together.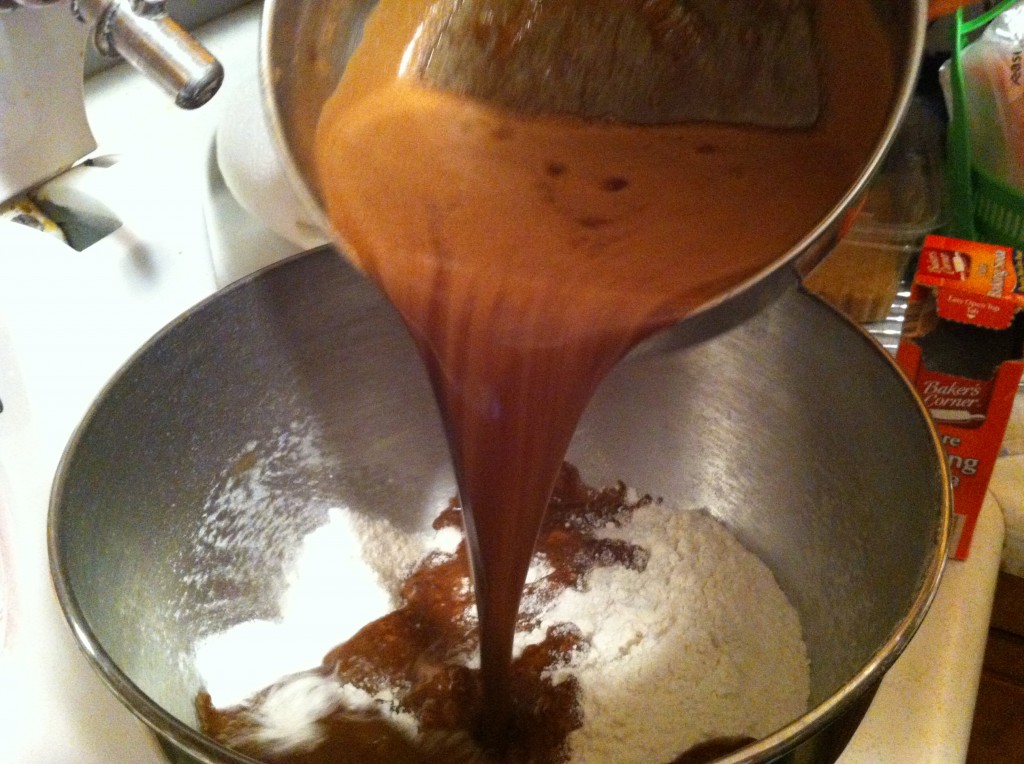 Now, we get to the fun part. Pour the warm cocoa mixture into the flour mixture.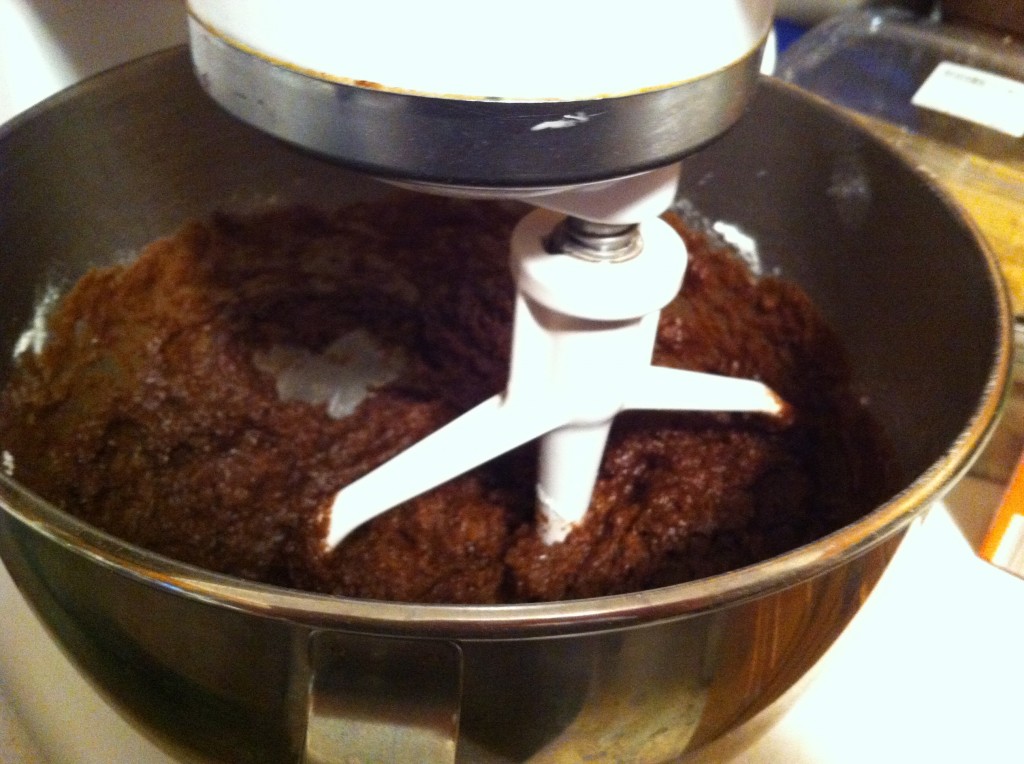 Mix lightly together.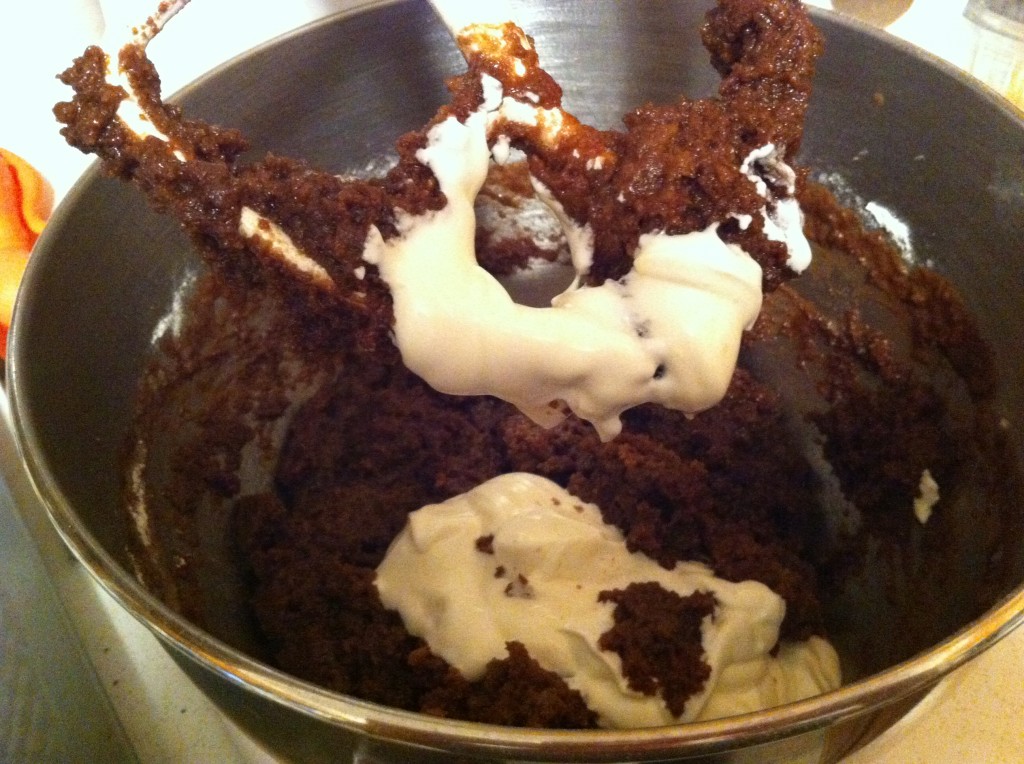 Now, add in the sour cream and lightly mix together until everything is incorporated.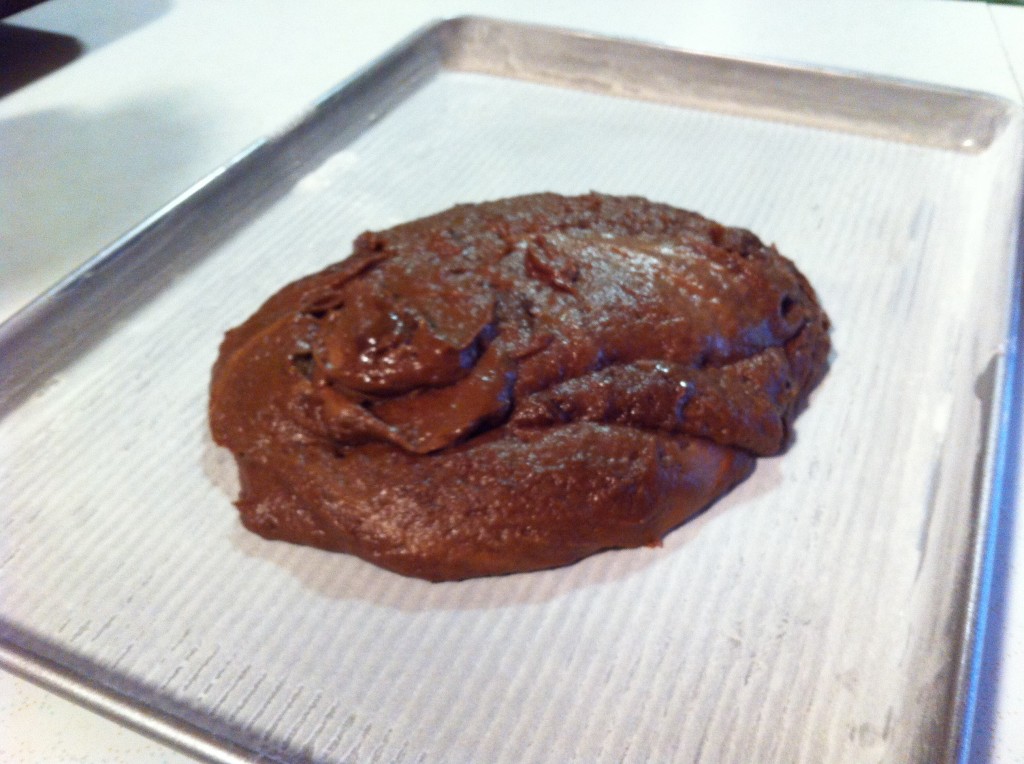 Pour into the prepared sheet cake pan.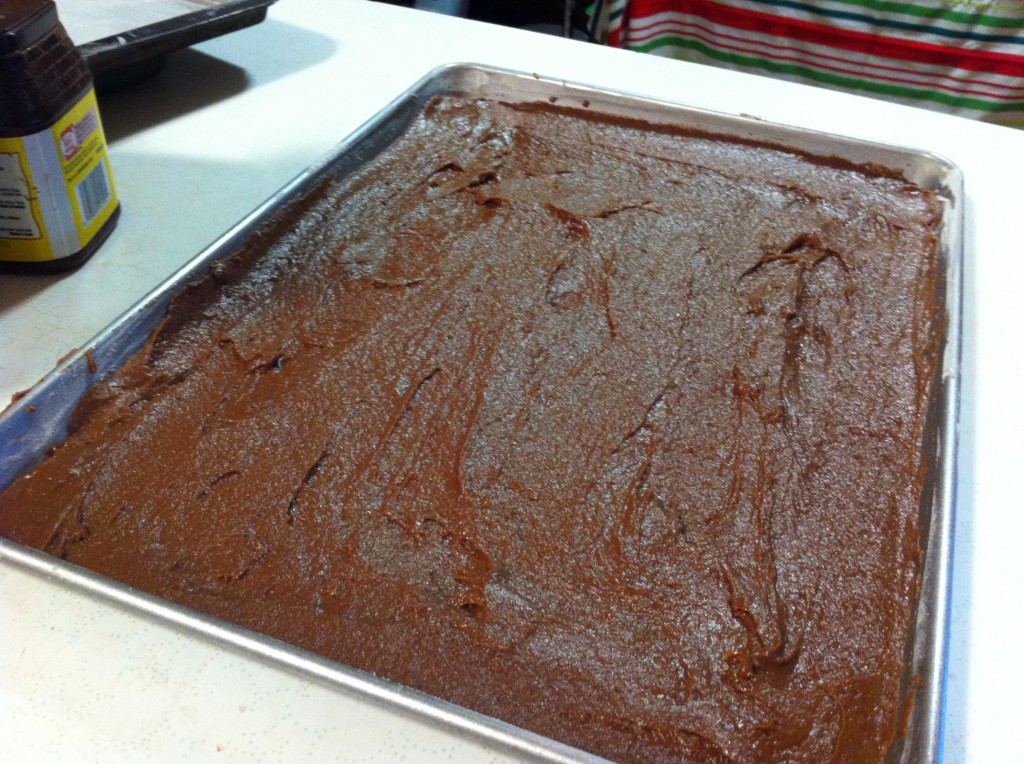 Spread batter evenly in pan. Put the cake in a preheated 350 degree oven and bake for about 20 minutes.
While the cake is baking start making the icing.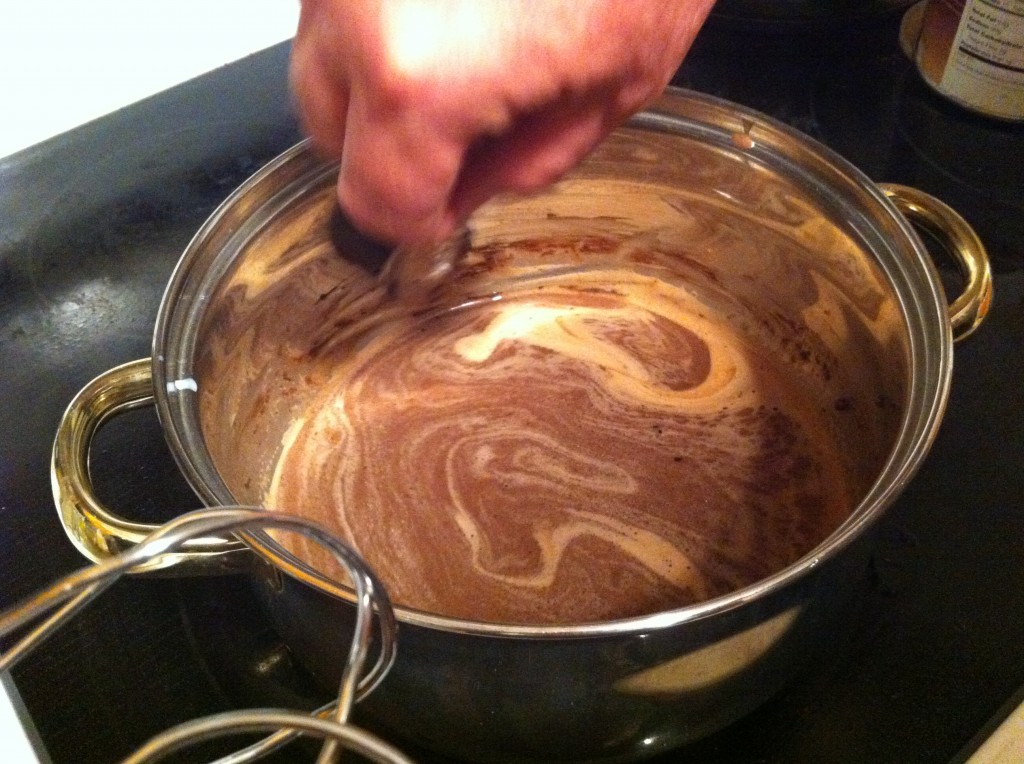 To make the icing, get out a large sauce pan stir together the butter, milk and cocoa.
Stir the cocoa mixture until it comes to a boil and then add the vanilla.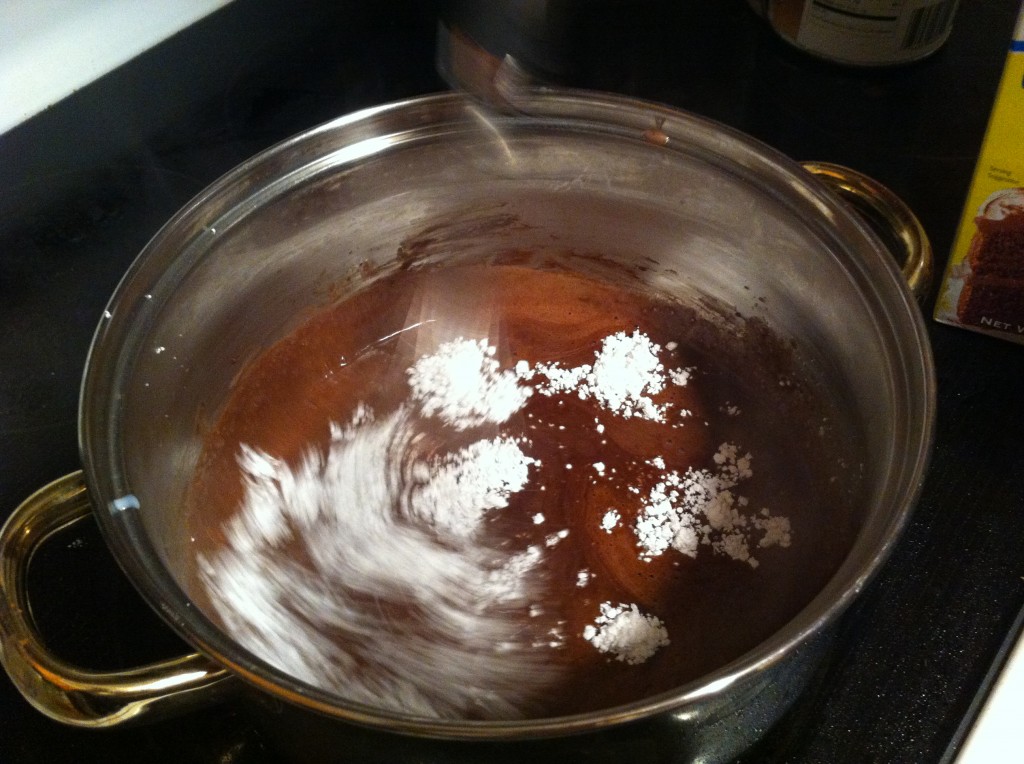 Now, while the mixture is warm, whisk in the powdered sugar. Company is doing the whisking here not me. Whisk in all the powdered sugar, making sure you get all the lumps outs.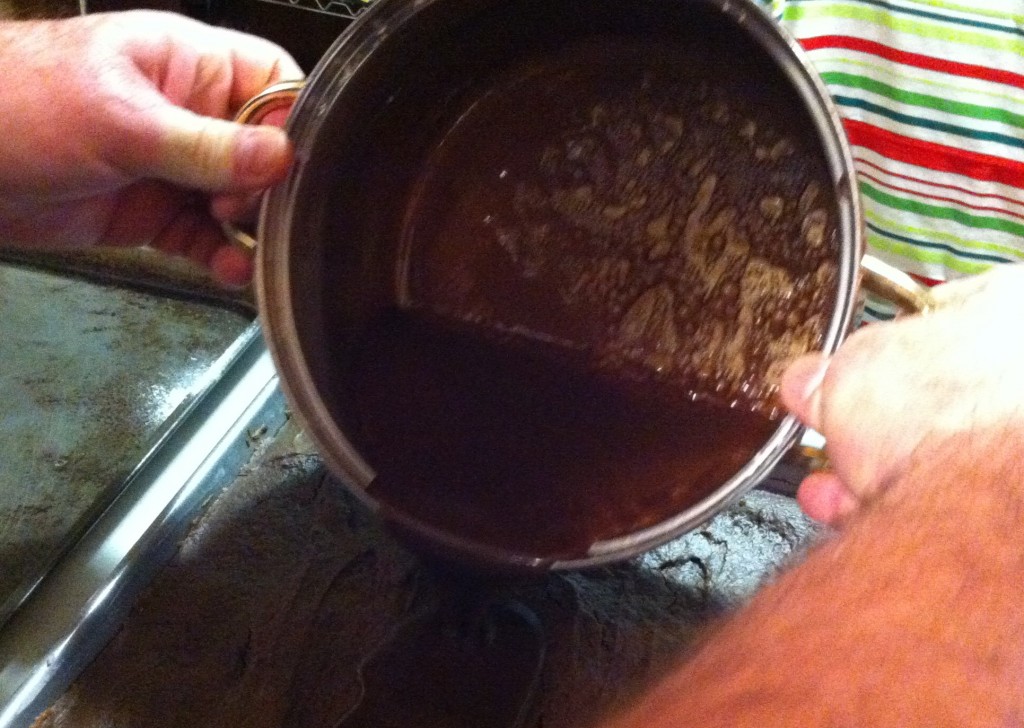 While the icing is till hot, pour it over the warm sheet cake. Company had to pour the icing on the cake too….gee…LOL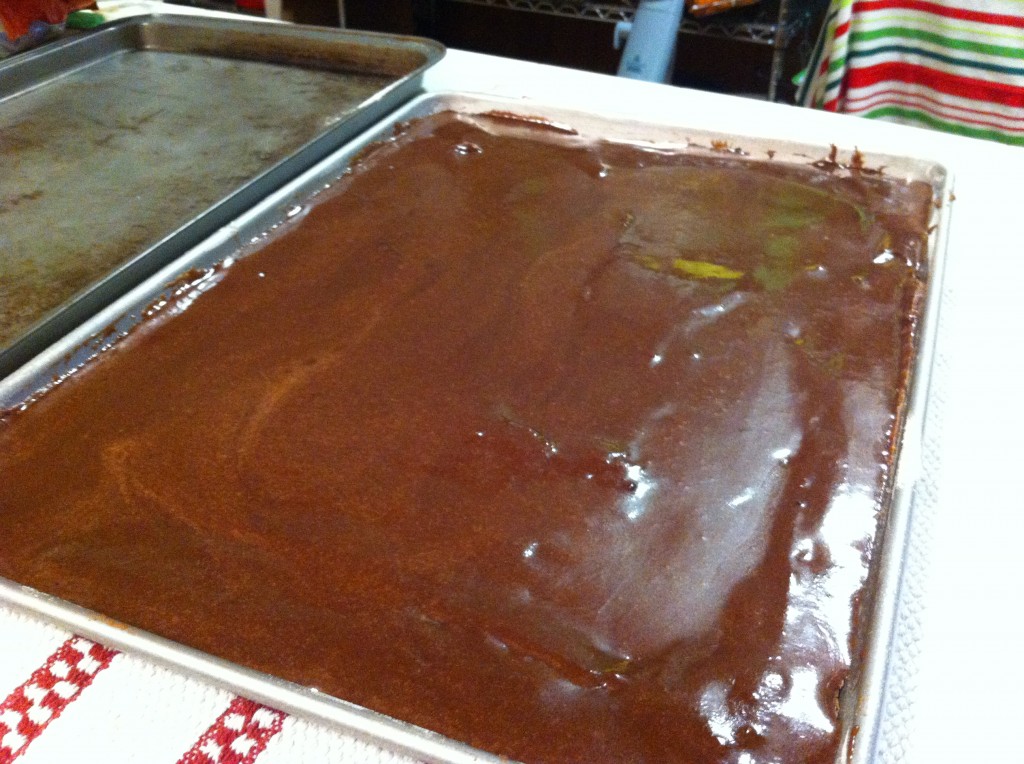 Spread the icing around while it is still warm to cover all the edges of the cake.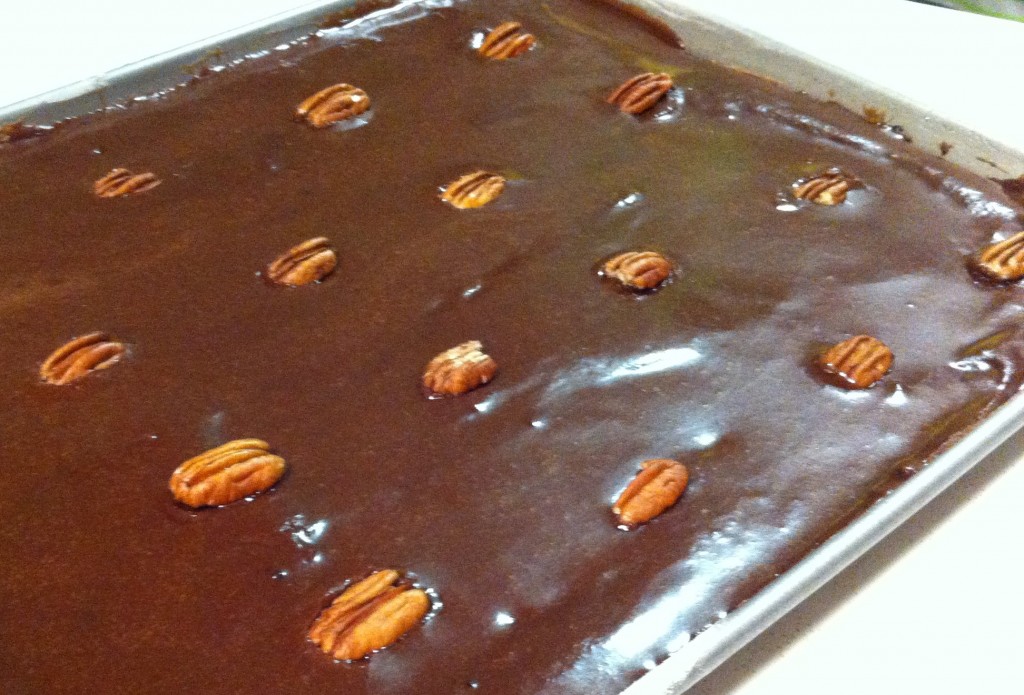 You can decorate the top with pecans halves if you want to.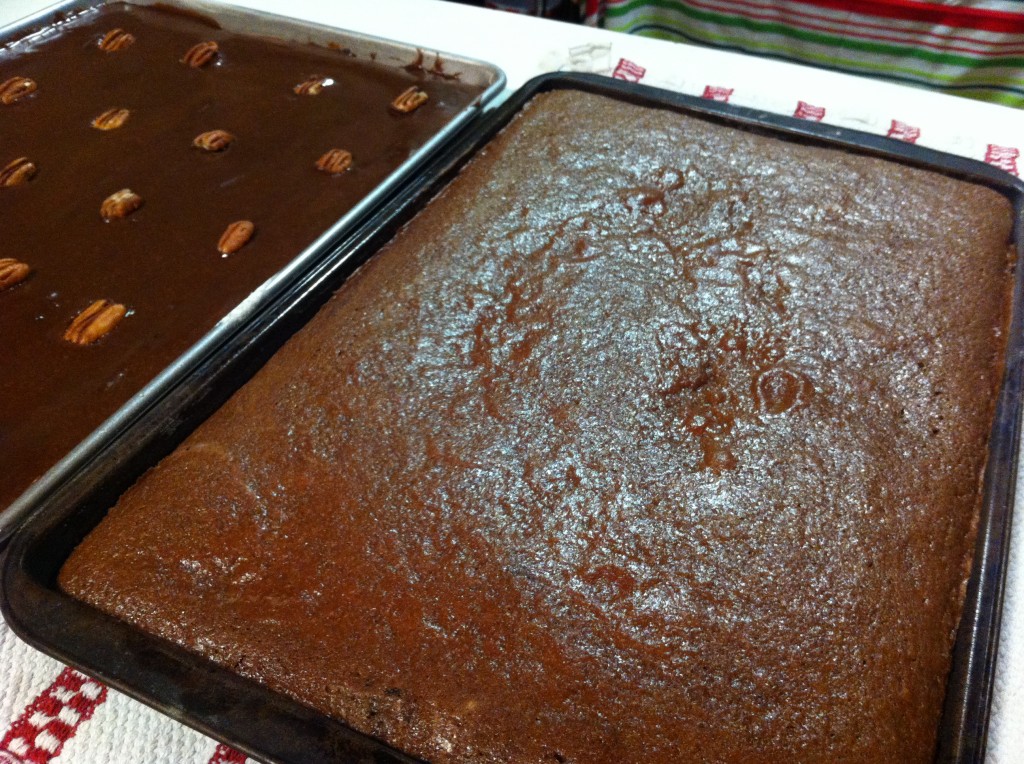 If you make one, you might as well make two : ).
In case you are wondering, this cake does not contain eggs. If you want a lighter cake, you can add two eggs if you want. The batter will not be quite as thick but it will work : ).
Here is the recipe:
Texas Sheet Cake
Ingredient for the Cake:
2 cups of flour
2 cups of sugar
1 teaspoon baking soda
1/2 teaspoon salt
1/2 cup sour cream
1 cup butter
1 cup water
5 tablespoons unsweetened cocoa powder.
Ingredients for the Icing:
6 tablespoons milk
5 tablespoons unsweetened cocoa powder
1/2 cup butter
4 cups powdered sugar
1 teaspoon vanilla
pecans or walnut optional
Directions:
Preheat your oven to 350 degrees.
Prepare a jelly roll/sheet cake pan. 10 inches by 15 inches. I coated mine with vegetable shortening then with flour.
In a large sauce pan bring the water, cocoa and butter to a boil. Set aside to cool.
In a large mixing bowl, stir together the flour, sugar, baking soda and salt.
Pour in the warm cocoa mixture and blend together.
Add in the sour cream to the batter and mix all together.
Pour batter into greased pan and bake for around 20 minutes.
While the cake is baking prepare your icing.
In a large sauce pan, bring the milk, cocoa and butter to a simmer. Add the vanilla.
With a whisk, whisk in all the powdered sugar until all the lumps are dissolved.
While the icing is sill warm, pour over the warm cake.
Spread the icing out while it is still warm to cover all the edges of sides of the cake.
Decorate with nuts if you wish.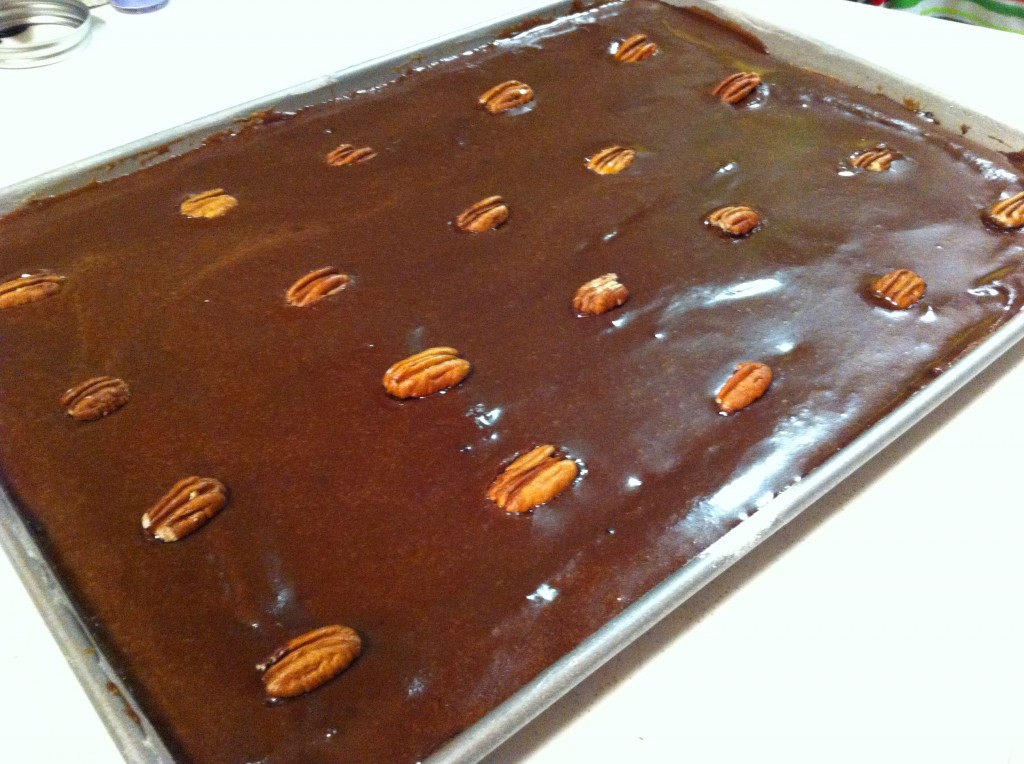 The only question  you need to ask yourself now, is how big you want to cut your piece of cake!
Enjoy!
Becky