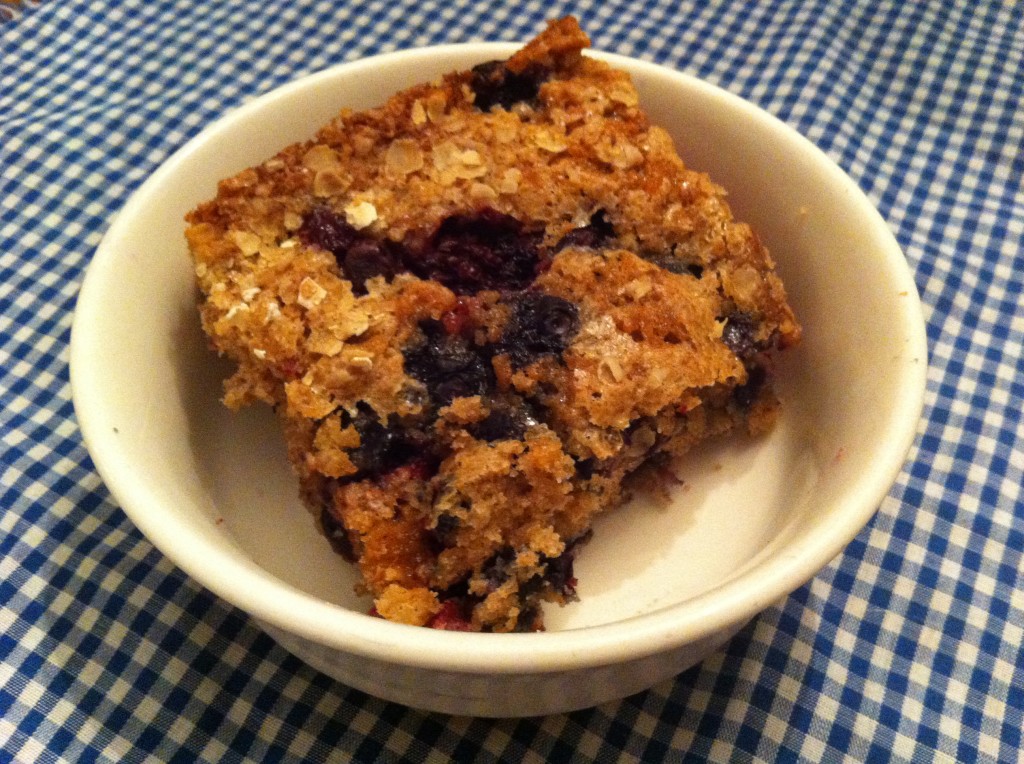 A few weeks ago I had to take the Princess to her regular mammogram appointment. For those of you who do not know my mom had breast cancer about 5 years ago. She is cancer free now…yippee! But goes in every 6 months for her cancer screening.
Anywho…..I drove to Mom's and picked her up and drove her to her appointment.
We got there in plenty of time and sat down to wait until it was her turn. On the table, in the waiting room, was a Martha Steward magazine. UMMM…maybe there is some recipes in there, I thought as I reached for the magazine.
That is when it happen!
Some crazy lady in the waiting room decided to start talking to me.
Clutching Martha Steward to my chest I sat back down and started looking through the magazine. Absentmindedly, nodding yes, occasionally looking up and smiling and telling her that I agree and yes it was ok to live in the Ozarks and drive to the big city for appointments cause the doctors are better and that Yes, McDonalds has the best tasting fries (if you do not like salt on your fries) around and who invented a machine that squishes your breast down like a pancake to get an xray….Still looking through the magazine I finally see a recipe that looks like one I would like to try. I really do not want to steal this magazine from the waiting room….I would never do that…cough cough…but I just wanted to write the recipe down real quick…..That is too bad to hear that you big toe hurt in those new shoes, I hate it when my feet hurt too….I really want this recipe. In the midst of all this talking, The Princess had already gone in and had her mammogram and was waiting on me. Desperation seized me, cause I really wanted this recipe….So I did what all 80's Ladies would do….I pulled out my IPhone and took a picture of it!
I smiled to the crazy lady and mom smiled at her too and we waved goodbye  and went out of the waiting room.
Mom asked me who was that? I don't know who she is but I bet she is kin to us cause we are kinda crazy too!
I know that this has happened to you in a waiting room…..and it was probably me doing the talking.
Most importantly, I have this moist delicious recipe to share with you.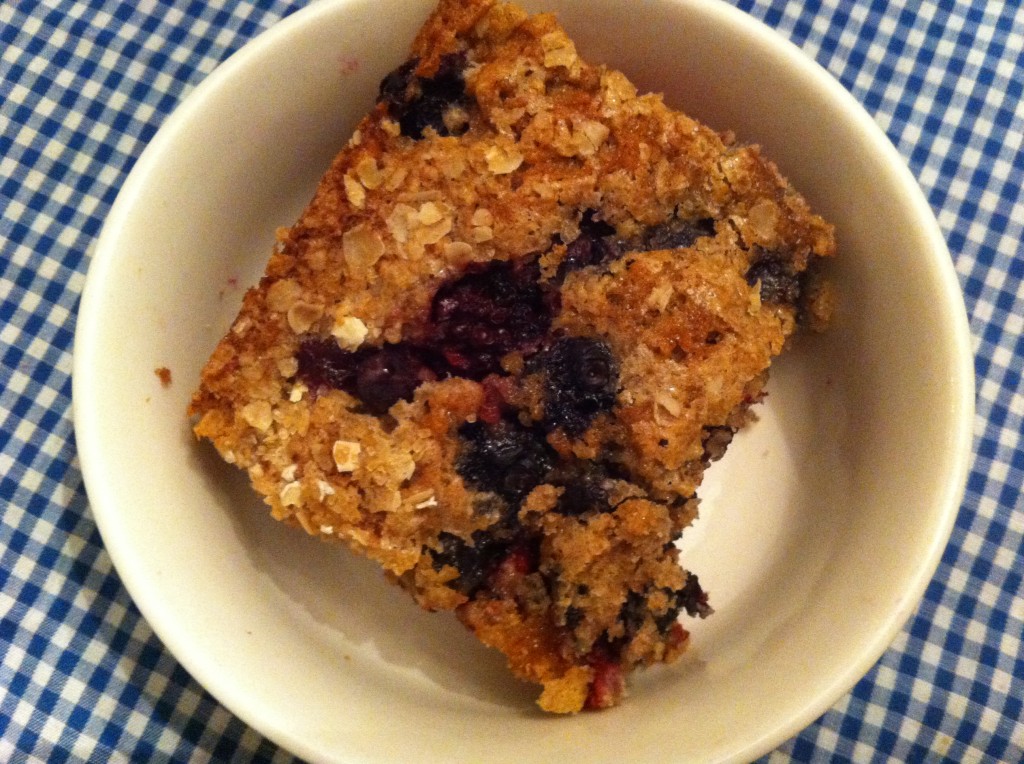 I have made this cake twice now and everyone who has tried it loves it. The oatmeal in it gives it a rustic texture, the berries add so much tenderness and flavor and the sugar on top adds the crunch appeal!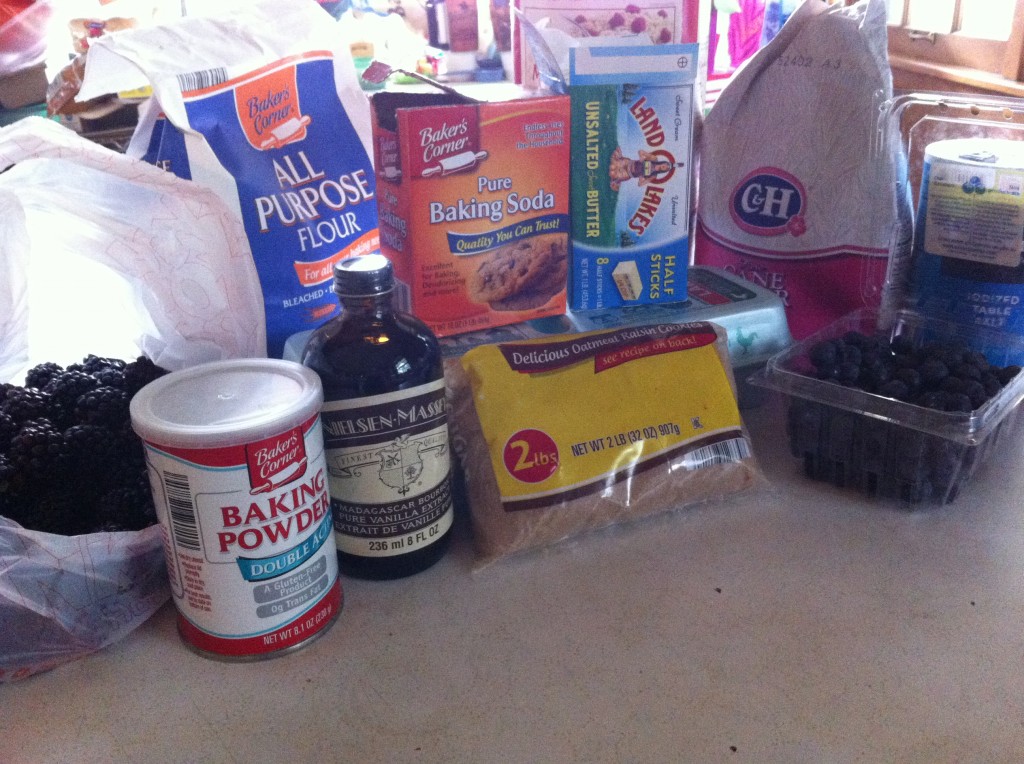 This is all you need to make this recipe. Sorry you can't see the quick cooking oats in the back, the sunlight was coming in too strong to get a good picture)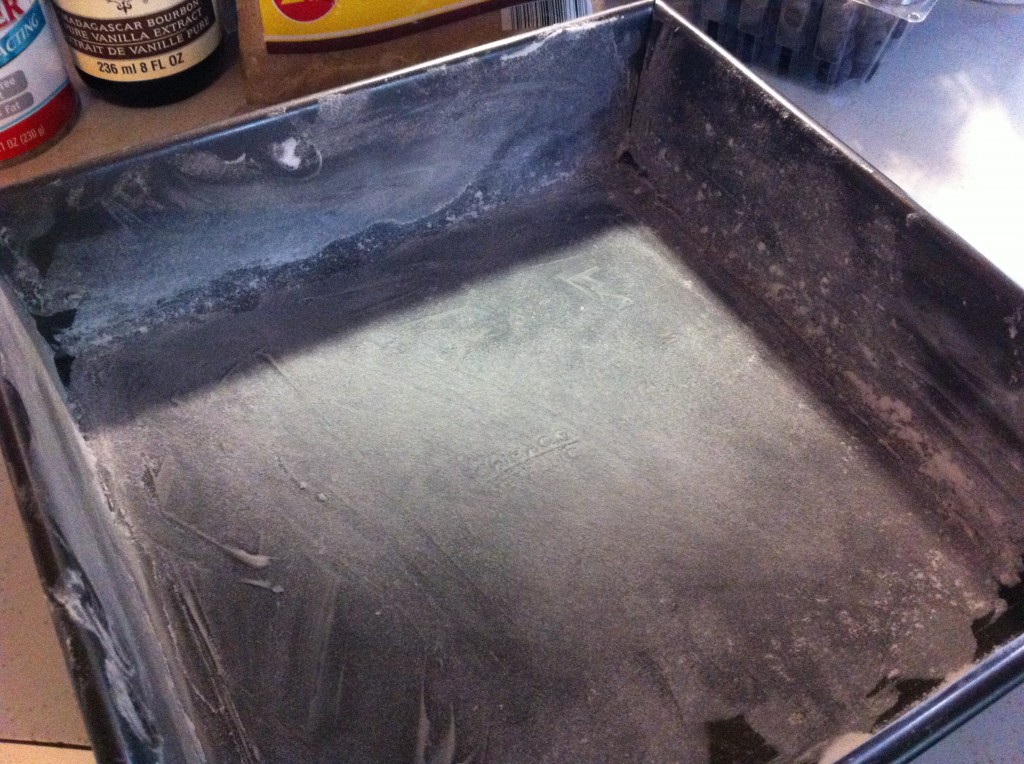 First thing, is prepare a 8 x 8 inch pan but putting butter on the inside and coating it with flour, shaking off the excess flour.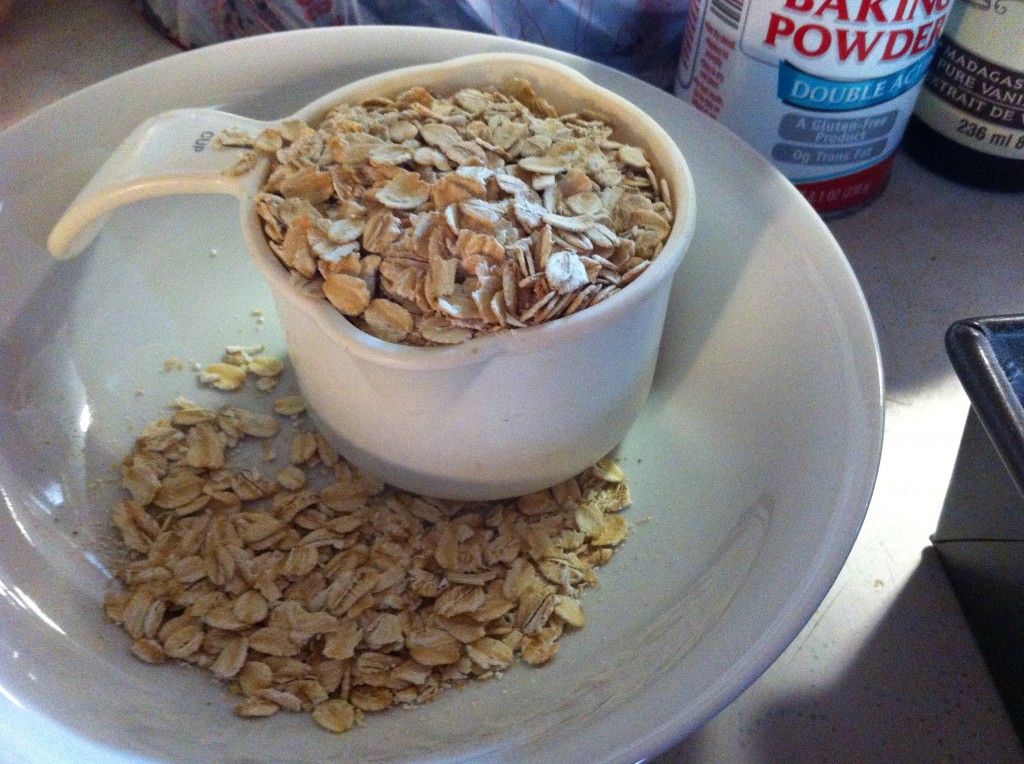 Measure out one cup of oats.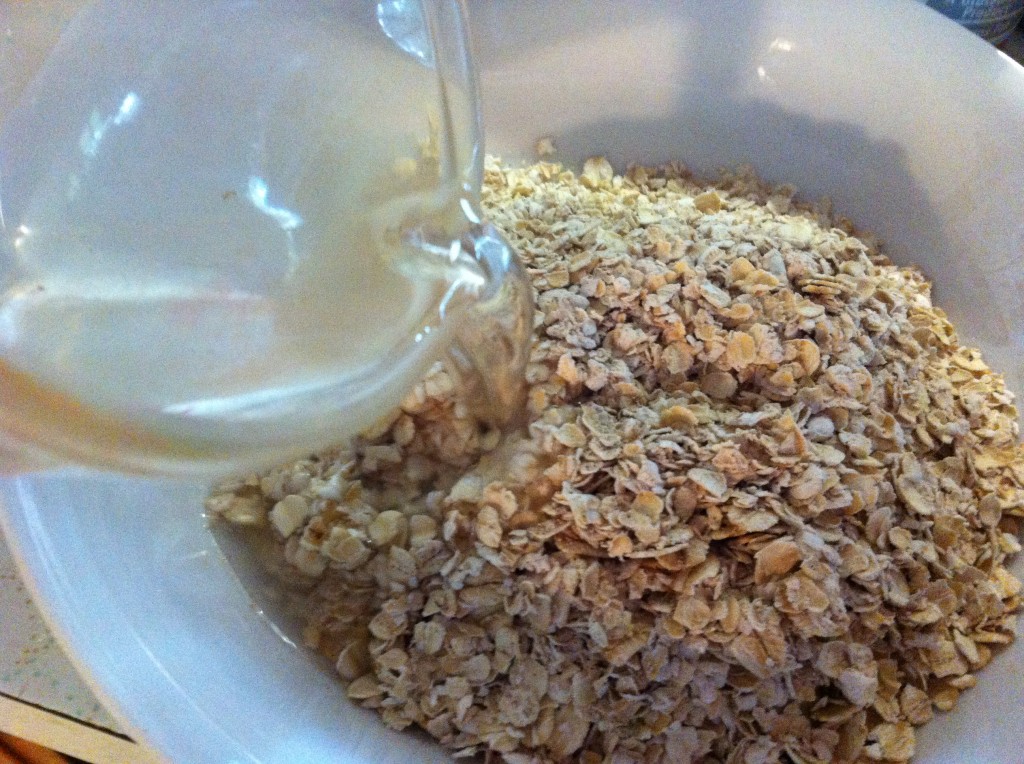 Add water to the oats to soften them up.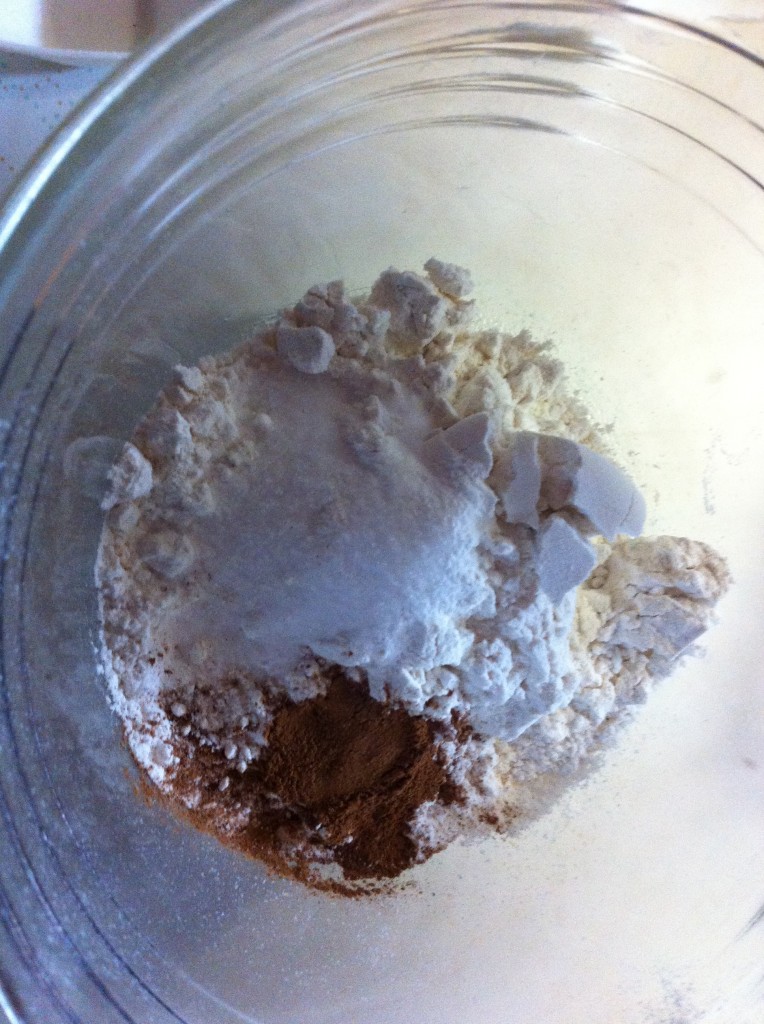 In a separate bowl, add flour, salt, baking soda, baking powder and cinnamon.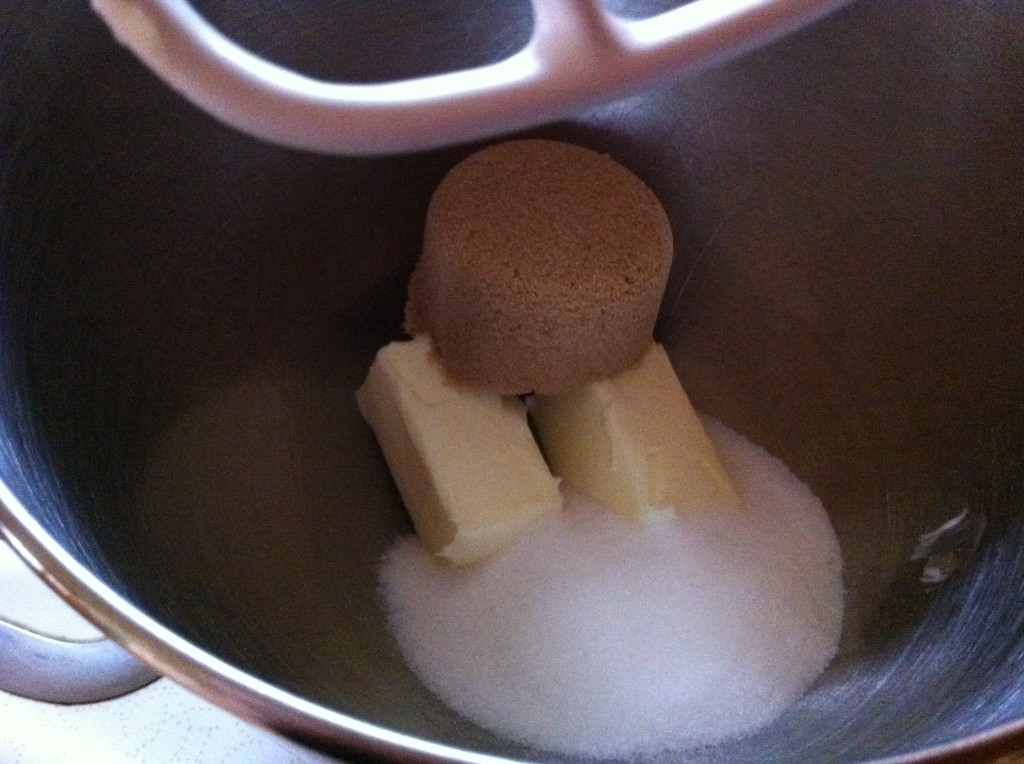 In a mixing bowl, cream together the butter and sugar and brown sugar.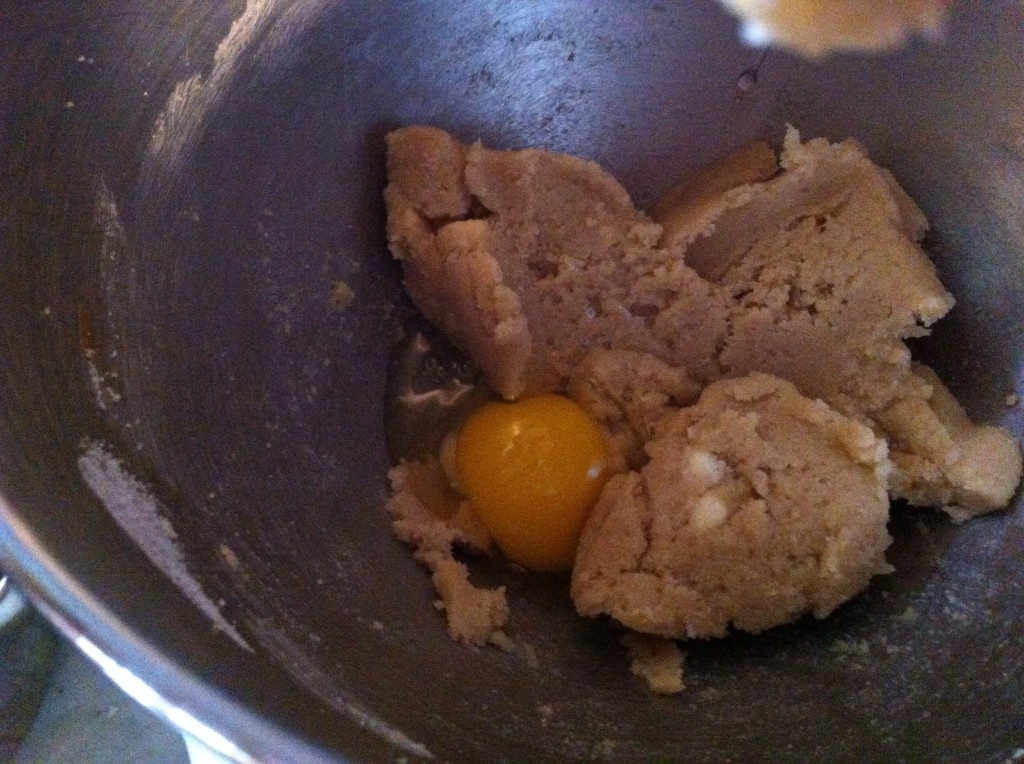 Add one egg and mix.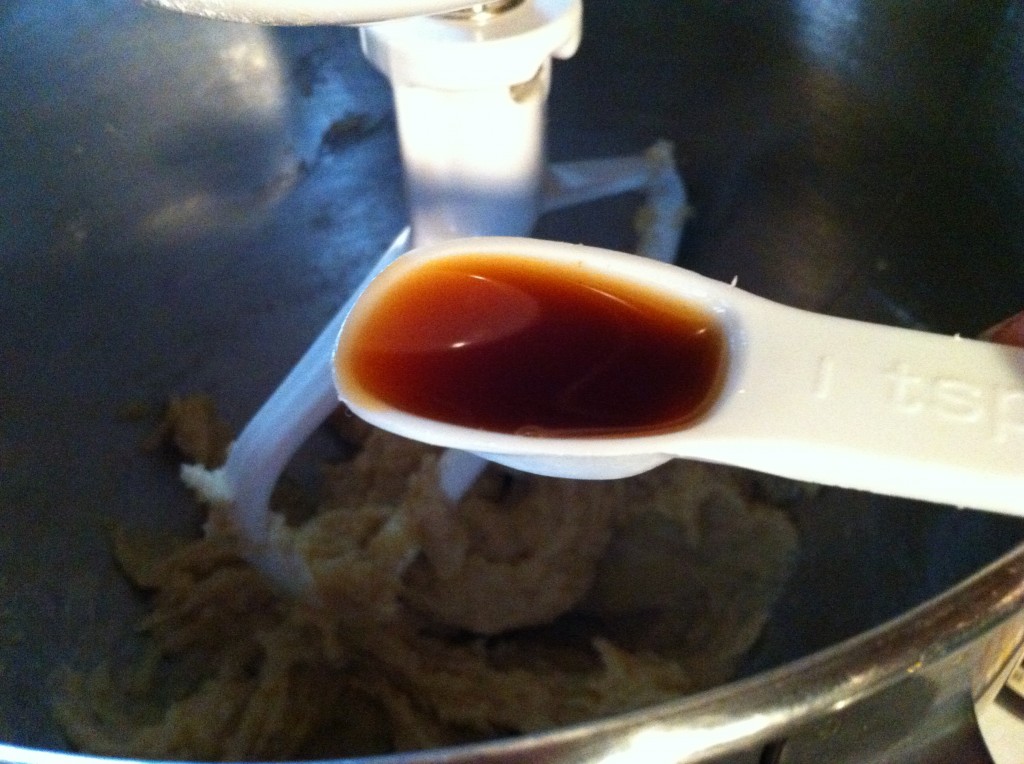 Add vanilla and combine.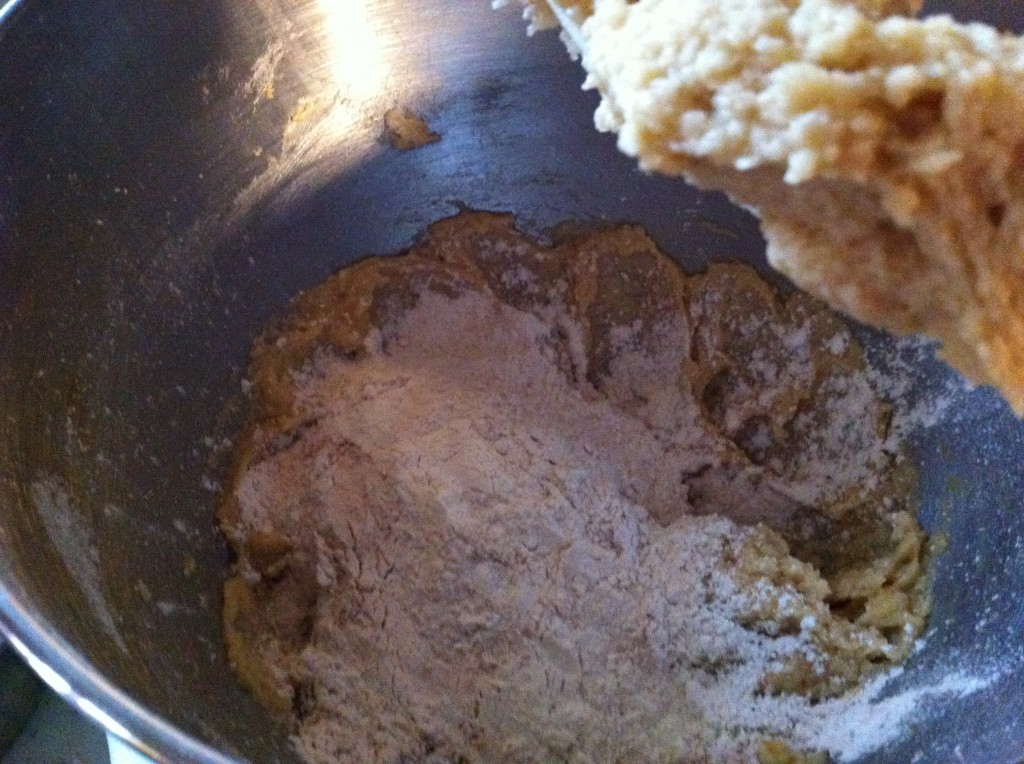 Add the flour mixture and gently combine.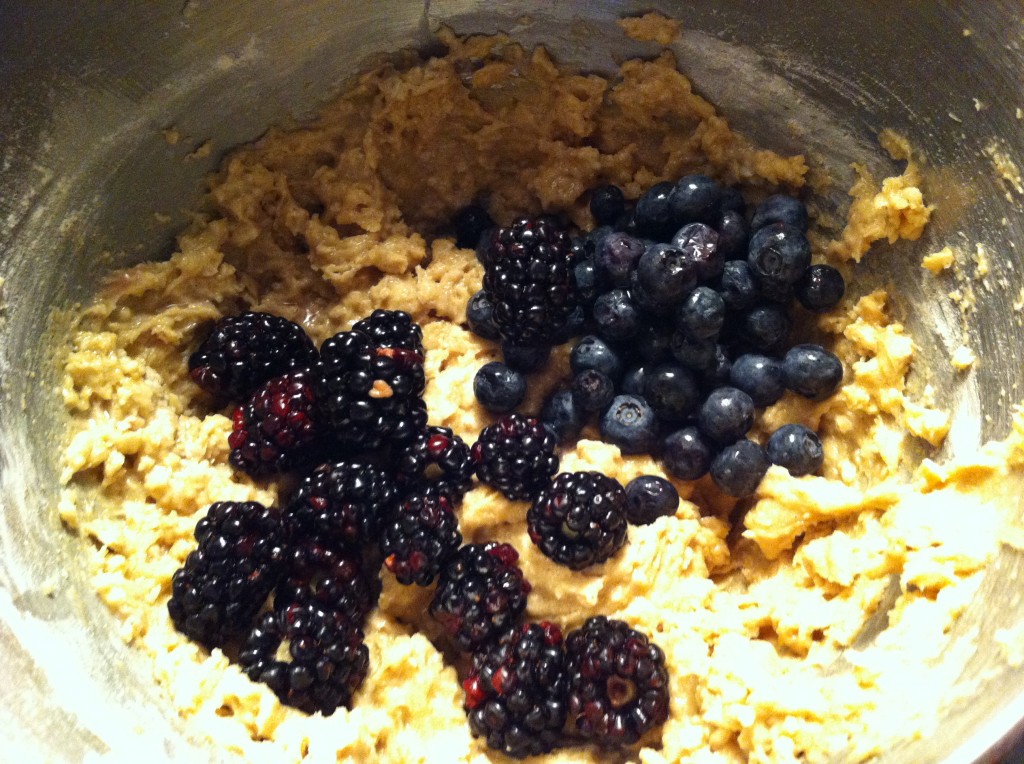 Add half of the blackberries and blue berries.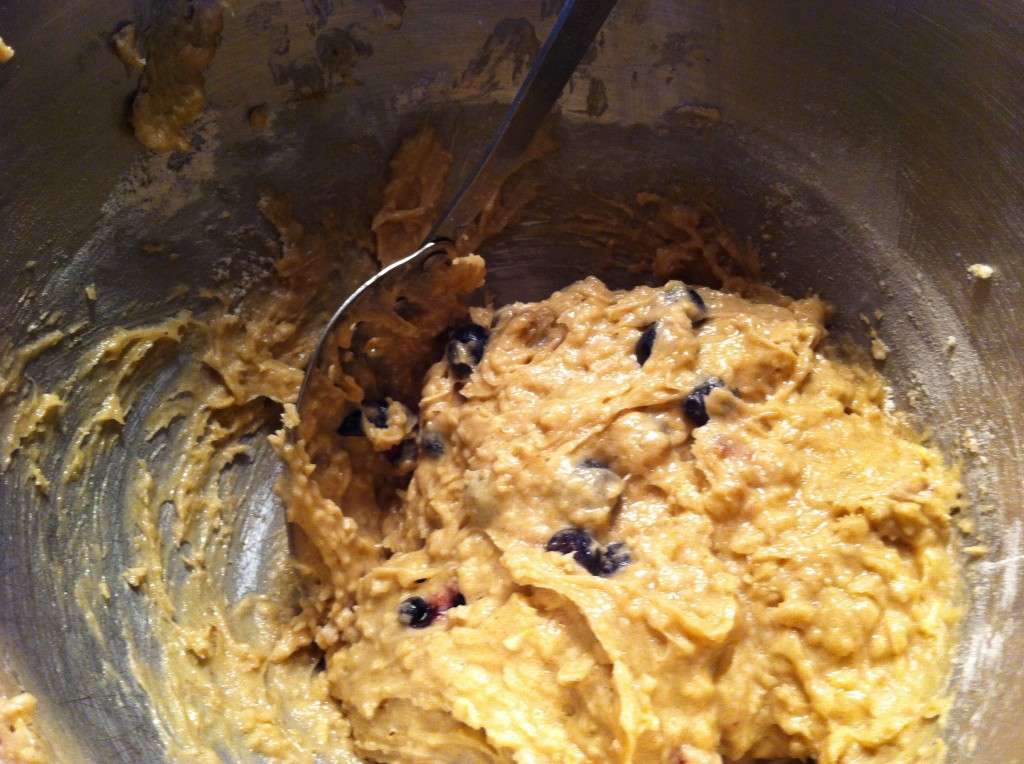 Gently fold in the berries.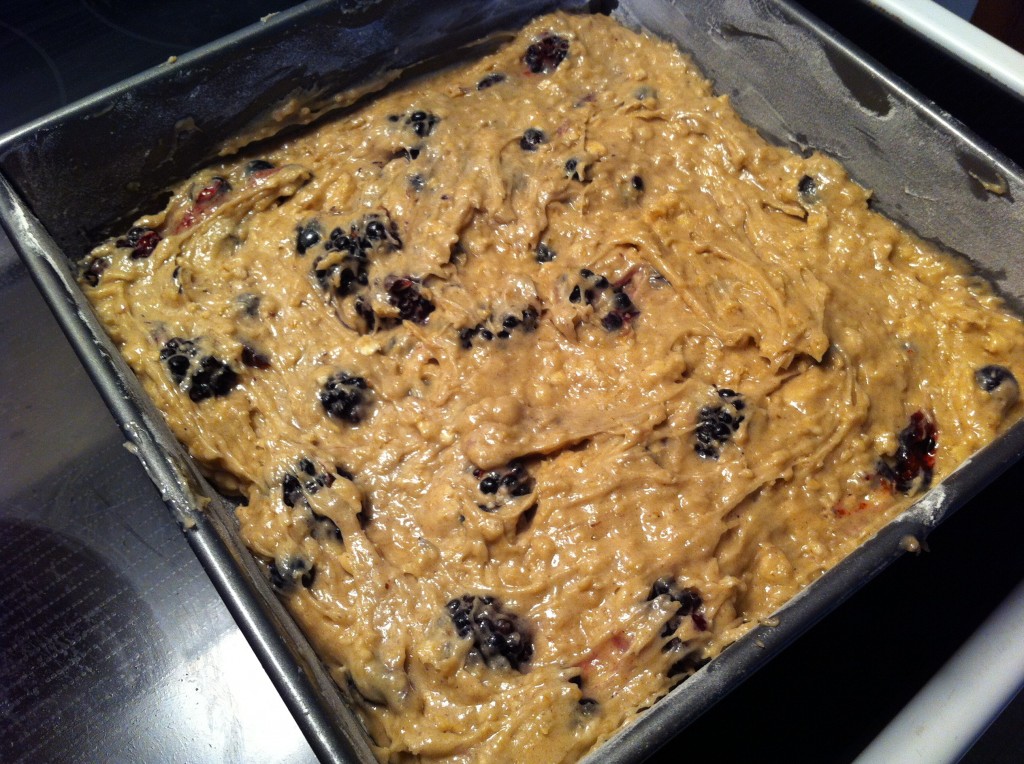 Spread batter evenly in pan.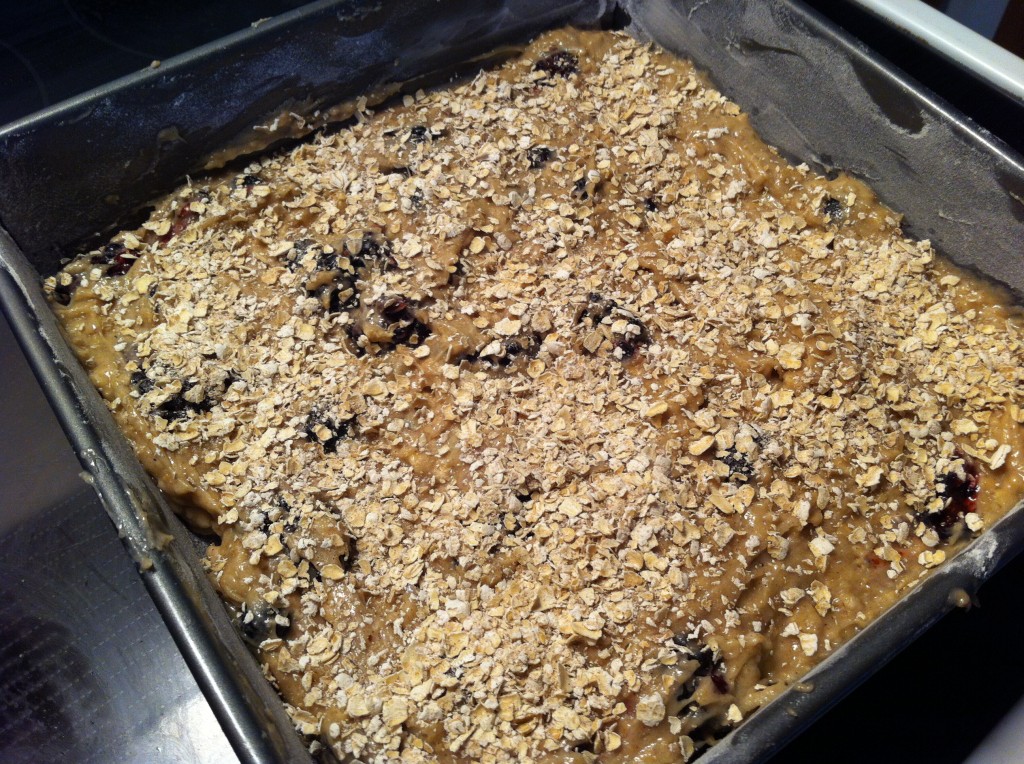 Top it with some oats.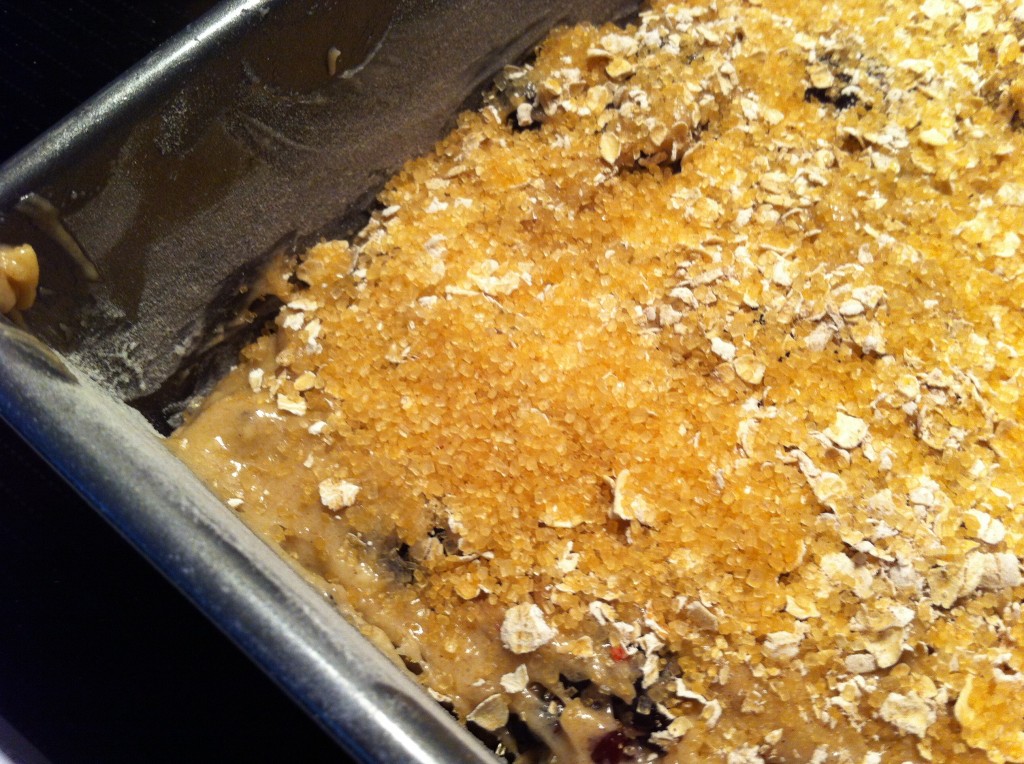 Some sugar. You can use regular sugar, sanding sugar or you can use what I used and it was unrefined sugar I got from the Amish store.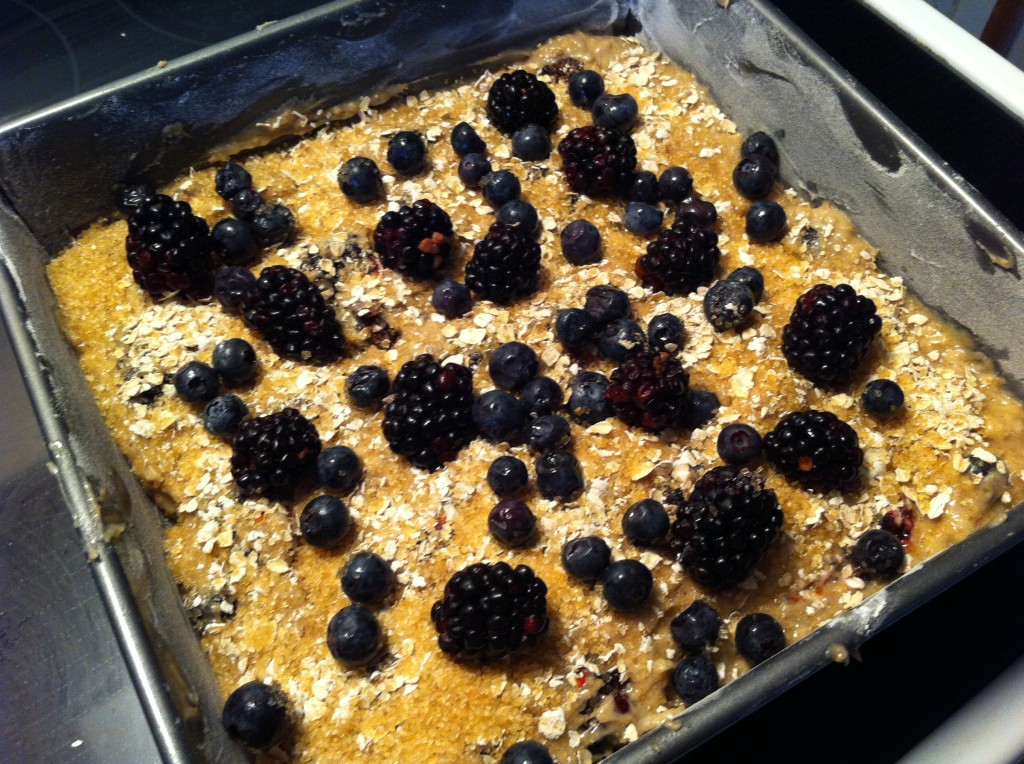 Lastly, sprinkle the rest of the berries on top and put in a preheated 350 degree oven.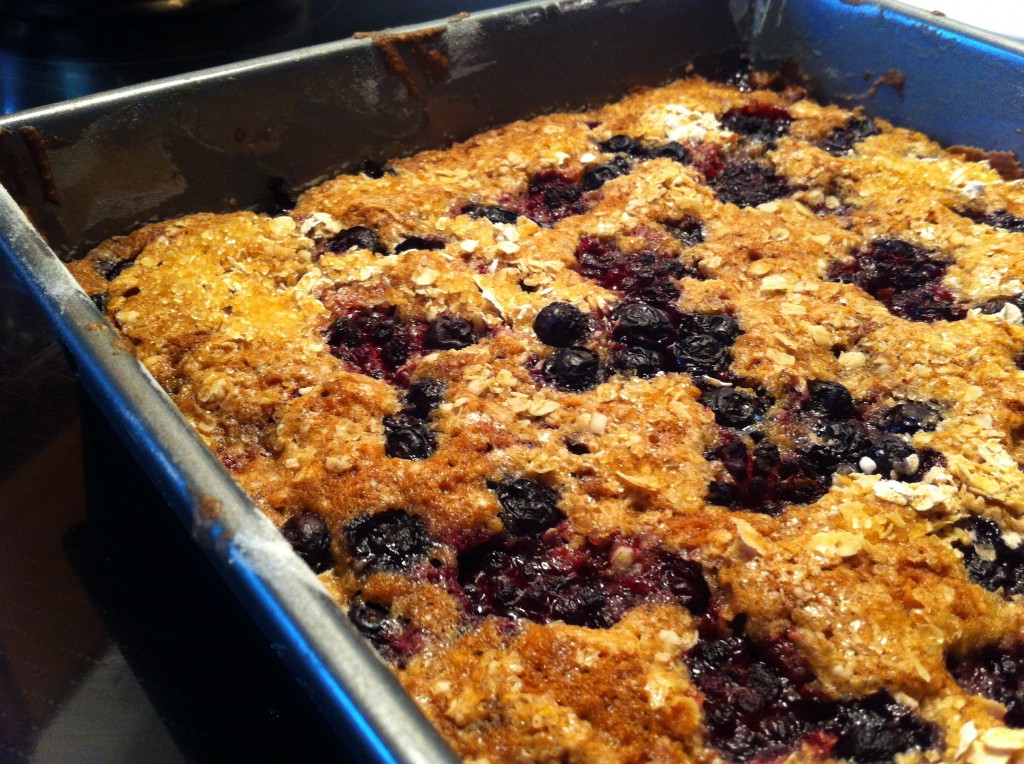 It comes out looking like this. The berries have popped open and sunk in a bit and the sugar on top has added a crunch.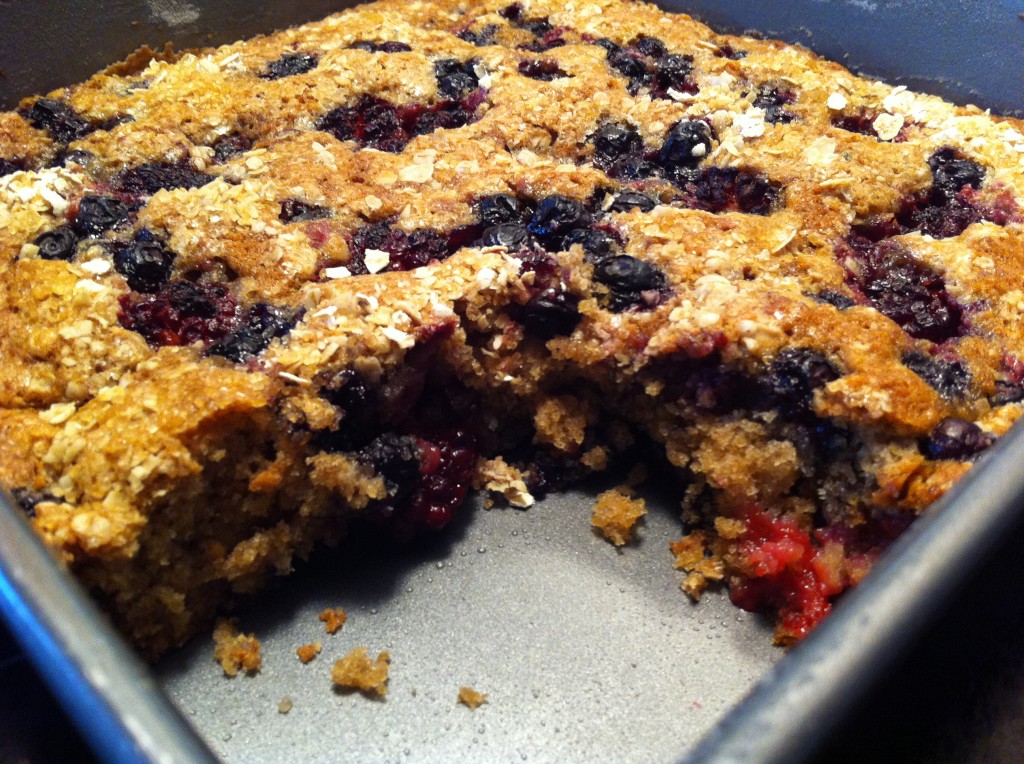 Take a look at the inside. It is full of berries. This cake is not too sweet either.
Ok…for all my crazy friend out there that wanted this recipe and to the crazy lady in the waiting room….I am honored to have you as my friends.
Till we meet again…in the waiting room or at Mickey D's ordering French fries…just remember to ask for more salt!
Enjoy!
Becky
Here is the recipe
Oat Cake with Blackberries and Blueberries
Adapted from Martha Steward
Ingredients:
1 cup of quick cooking oats (plus 3 tablespoons for sprinkling on top of cake)
2/3 cup of water
1/2 cup of butter
3/4 cup of flour
1/2 teaspoon of baking powder
1/2 teaspoon of baking soda
1/4 teaspoon of cinnamon
3/4 teaspoon of salt
1/2 cup of brown sugar
1/2 cup of granulated sugar
1 large egg
1 teaspoon of vanilla
1 cup blackberries
1 cup blueberries
Directions:
Prepare  8 x 8 pan with butter and flour. Preheat oven to 350 degrees.
Combine 1 cup  of oats with water and let stand until softened.
In another bowl, combine flour, baking soda, baking powder, salt and cinnamon.
In a mixing bowl, cream together the butter and the sugars. Add egg and vanilla.
Add flour mixture to the creamed butter mixture.
Fold in 1/2 cup of each blueberries and blackberries.
Spread batter evenly into prepared pan.
Sprinkle with 3 tablespoons oats, sanding sugar and the rest of berries.
Bake for 40 minutes or until toothpick comes out clean from the center.
Cool for 30 minutes and dig in!!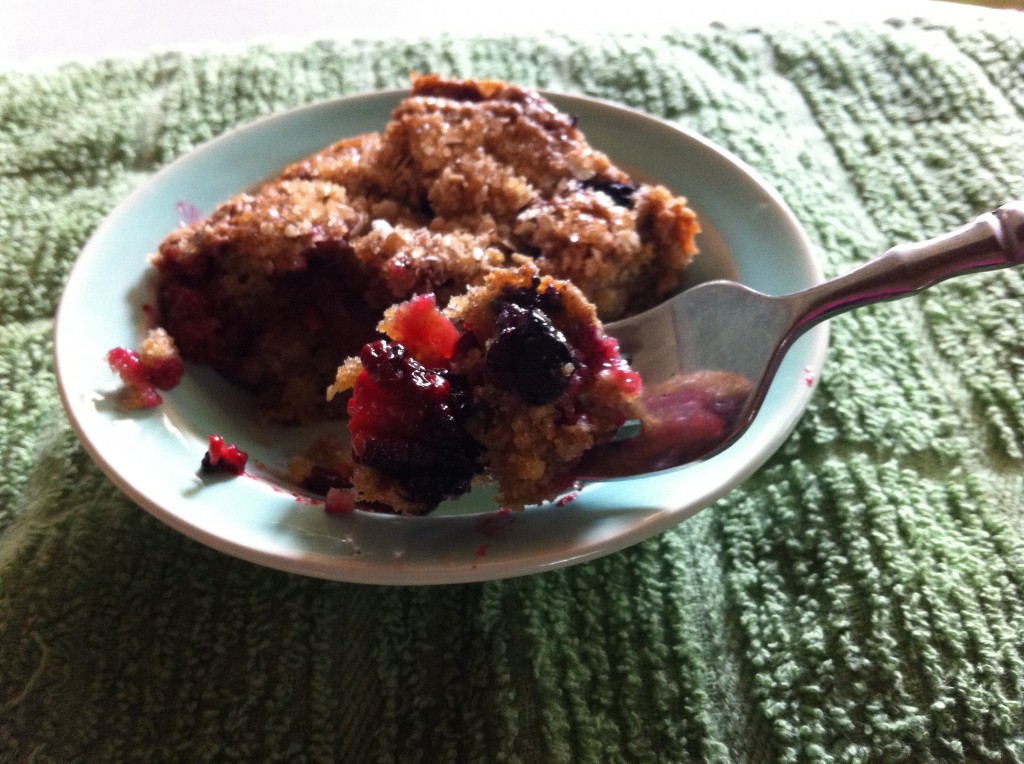 Going…Going…..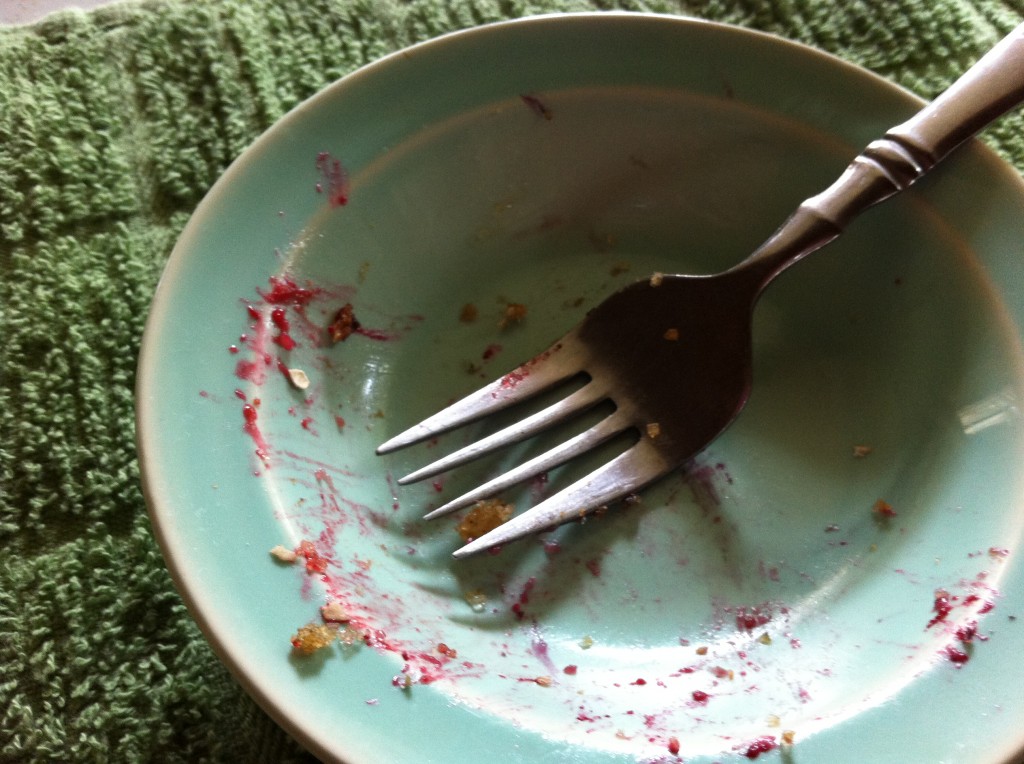 Gone!
MMMM….
Here are some recipe recipes you might enjoy trying.
Cornbread Salad                                  Praline Snickerdoodles                         Garlic Cheddar Biscuits